Kim Kardashian's decision to wear Marilyn Monroe's 1962 gown to the Met Gala has been controversial from the moment she hit the red carpet.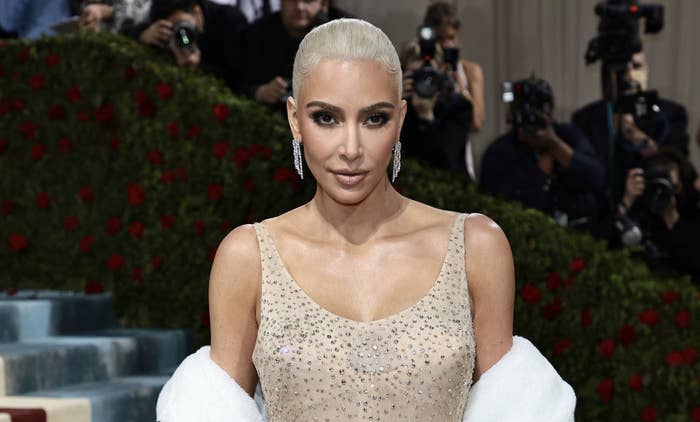 In the weeks following the Met Gala, photos showing alleged damage to the dress have been released, and naturally, people on Twitter have started sharing iconic dresses from pop culture history that they want Kim to stay away from.
Here are 17 of the funniest "Kim Kardashian better not even think about this dress" tweets:
1.
The dress Hannah Montana wore in The Hannah Montana Movie when her real identity was revealed:
2.
Princess Diana's "revenge" dress:
3.
The dress Sharpay Evans wore while performing "Bop to the Top" in High School Musical:
4.
The comic book–inspired dress Alex Russo wore in Wizards of Waverly Place:
5.
The outfit Hilary Duff wore in The Lizzie McGuire Movie:
6.
Lady Gaga's utterly unforgettable meat dress she wore to the 2010 VMAs:
7.
One of Katy Perry's many elaborate costumes from her California Dreams tour:
8.
One of Ashley Tisdale's truly iconic 2000s layered outfits:
9.
The dress Lana Del Rey bought at the mall the day of the Grammys:
10.
One of Sydney Sweeney's Euphoria looks:
11.
The dress Mia Thermopolis wore in The Princess Diaries:
12.
Bjork's swan dress from the 2001 Academy Awards:
13.
The tulle number Carrie Bradshaw wears in the Sex and the City opening credits:
14.
The gold dress Kate Hudson wore in How to Lose a Guy in 10 Days:
15.
Britney Spears' denim dress:
16.
The dress Harry Styles wore when he dressed up as Dorothy from The Wizard of Oz for one of his Harryween concerts.
17.
And finally, the dress that sparked one of the toughest debates of our generation (and I, for the record, stand by the fact that it's white and gold):
Any other dresses from pop culture history that Kim Kardashian should stay away from come to mind? Let us know in the comments!