1. Peshawar, Pakistan, 2009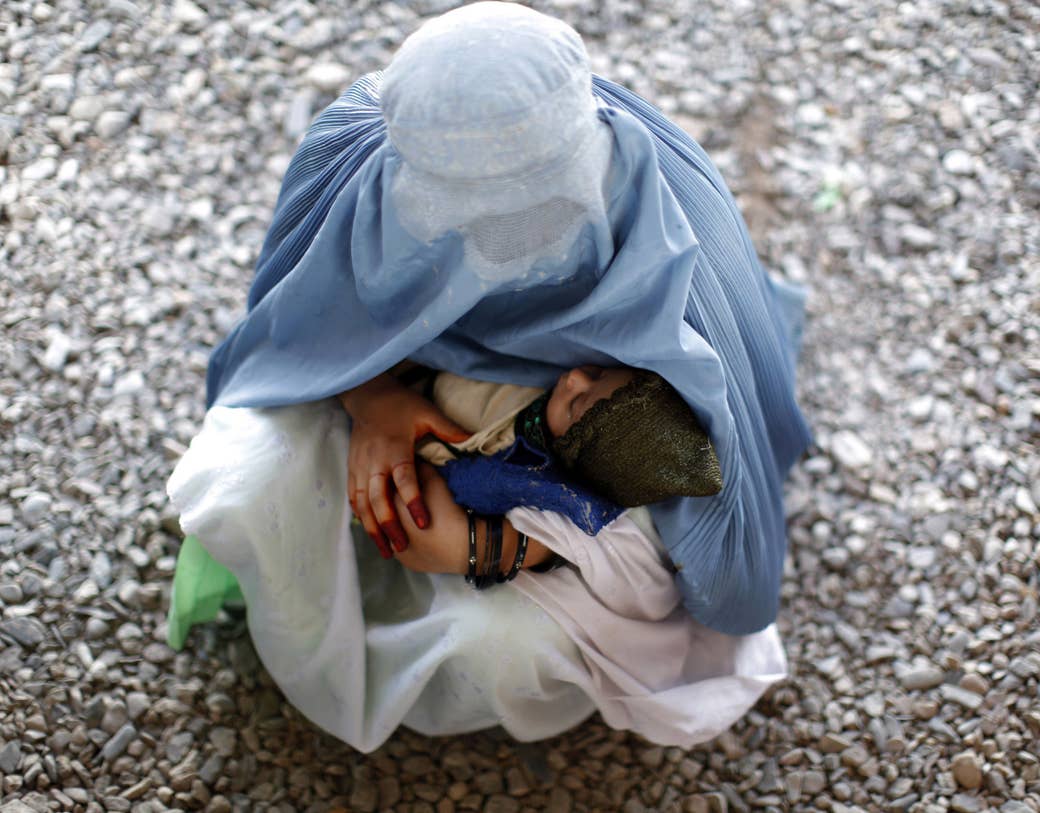 A woman holds her child at a repatriation centre in Peshawar, located in the North West Frontier Province.

2. Brasília, Brazil, 2013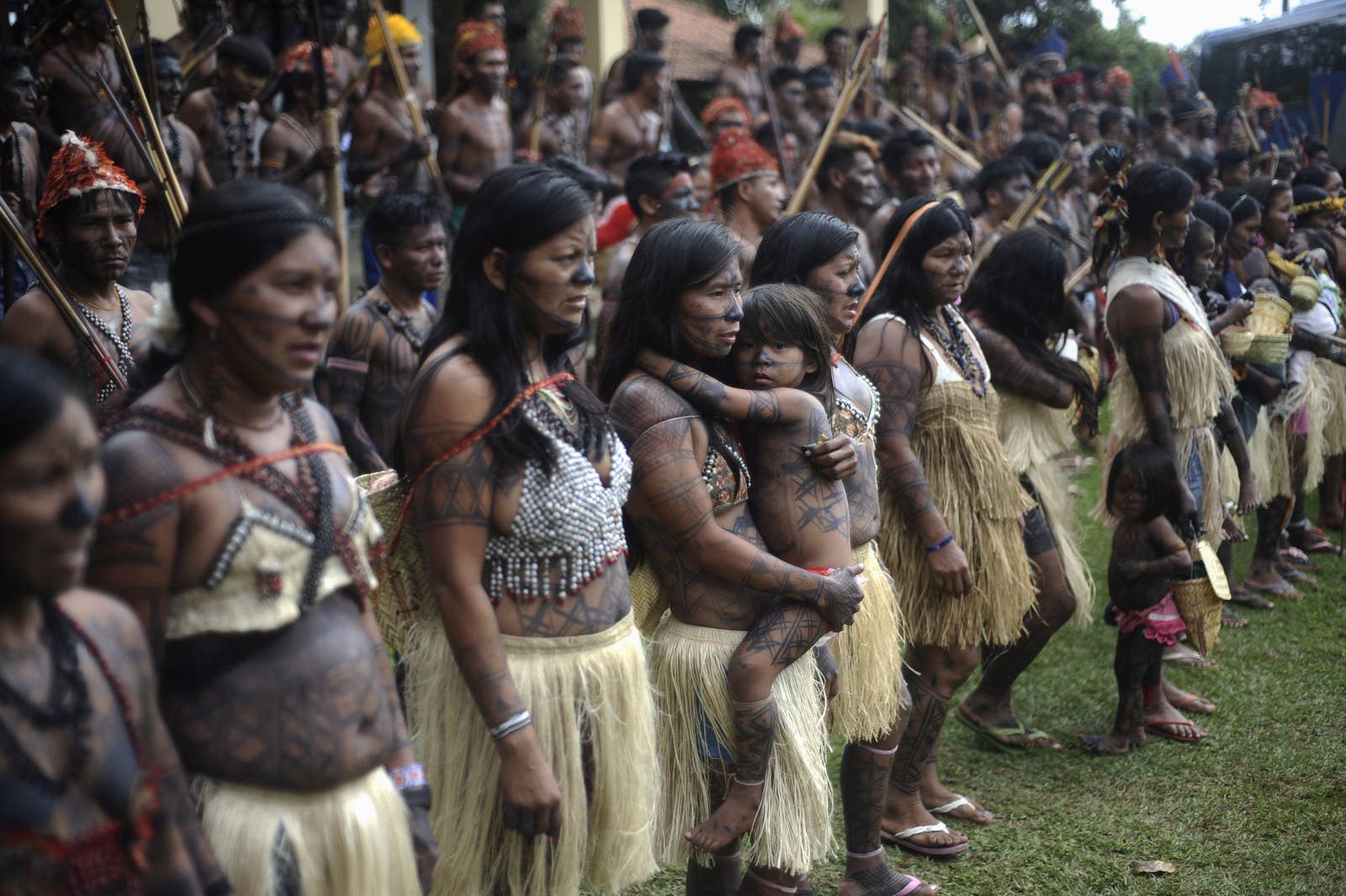 Munduruku Indian mothers attend a meeting campaigning against the construction of the Belo Monte hydroelectric dam in the Amazon, in Brasília.

3. Langui, Peru, 2012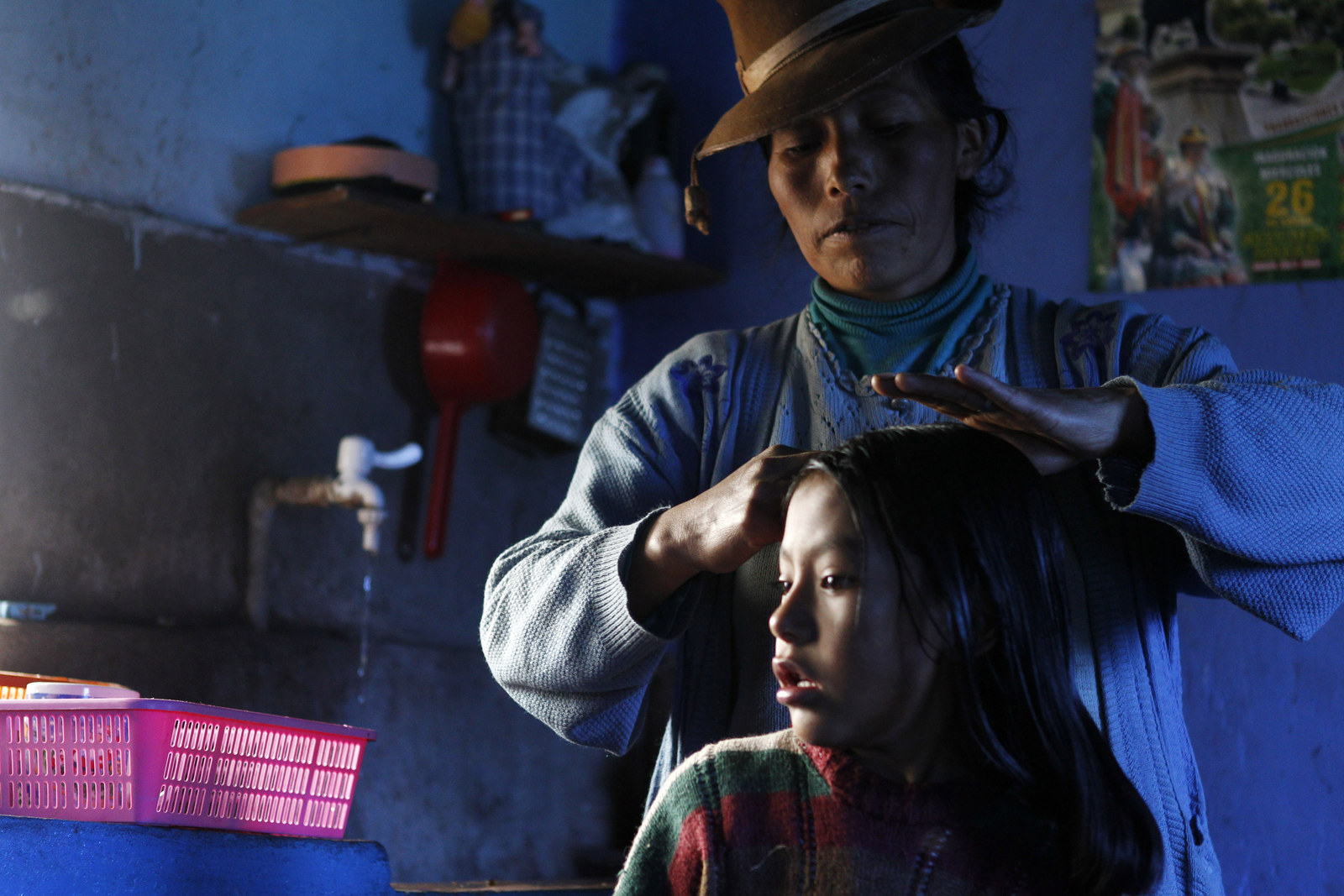 Octavia Ccahuata combs her daughter's hair in the kitchen of their house, which is part of the Hot Clean House ecology project in the Andean town of Langui in Cuzco, which uses solar power to warm houses and energy-saving technologies for cooking to counter extreme cold weather in the highlands.
4. Tokyo, Japan, 2007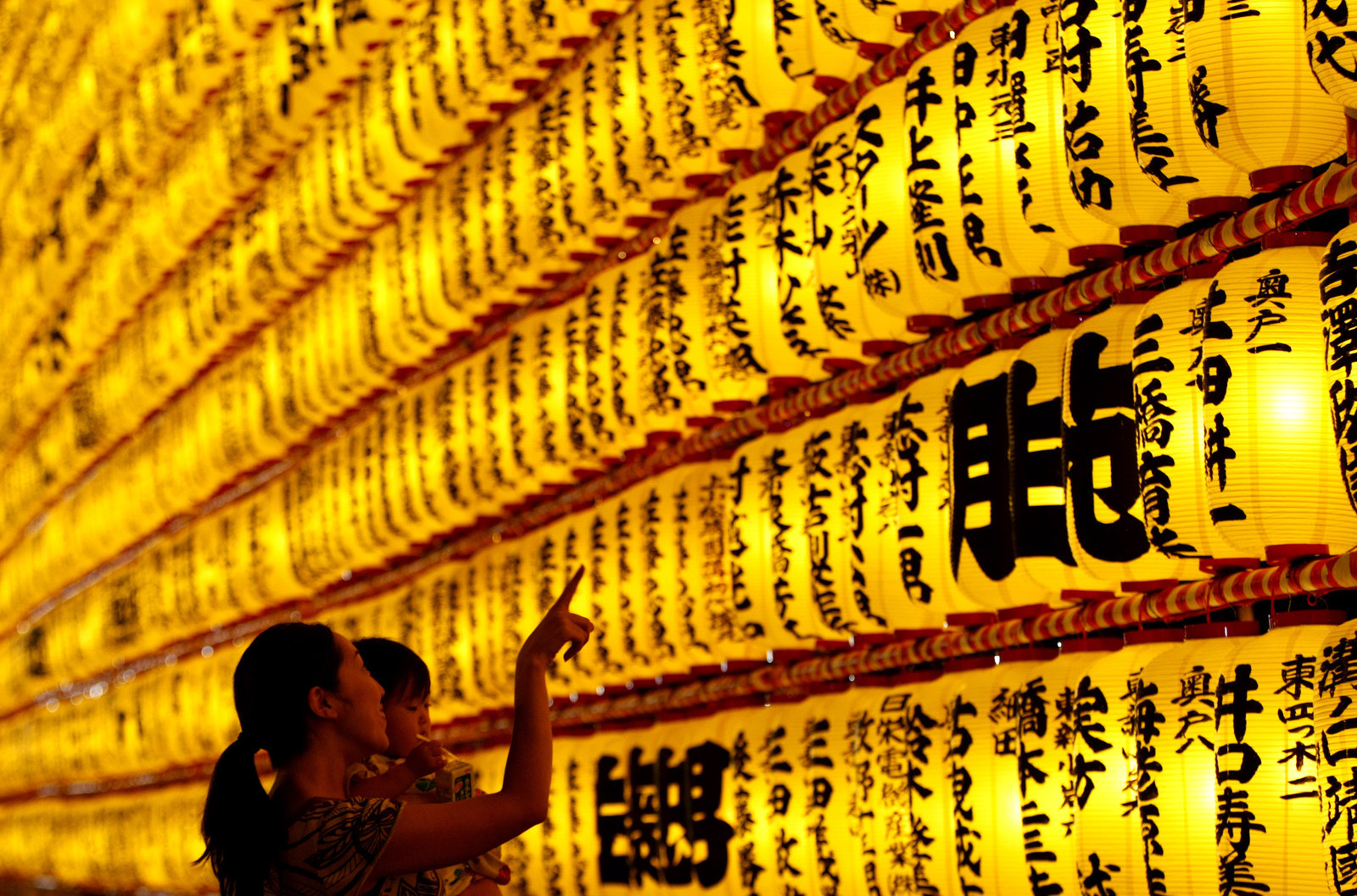 A family looks at paper lanterns during the Mitama Festival at Yasukuni Shrine in Tokyo. Over 29,000 lanterns were displayed and lit up the precincts of the shrine, where more than 2.4 million war dead are enshrined.
5. Mae Sot, Thailand, 2009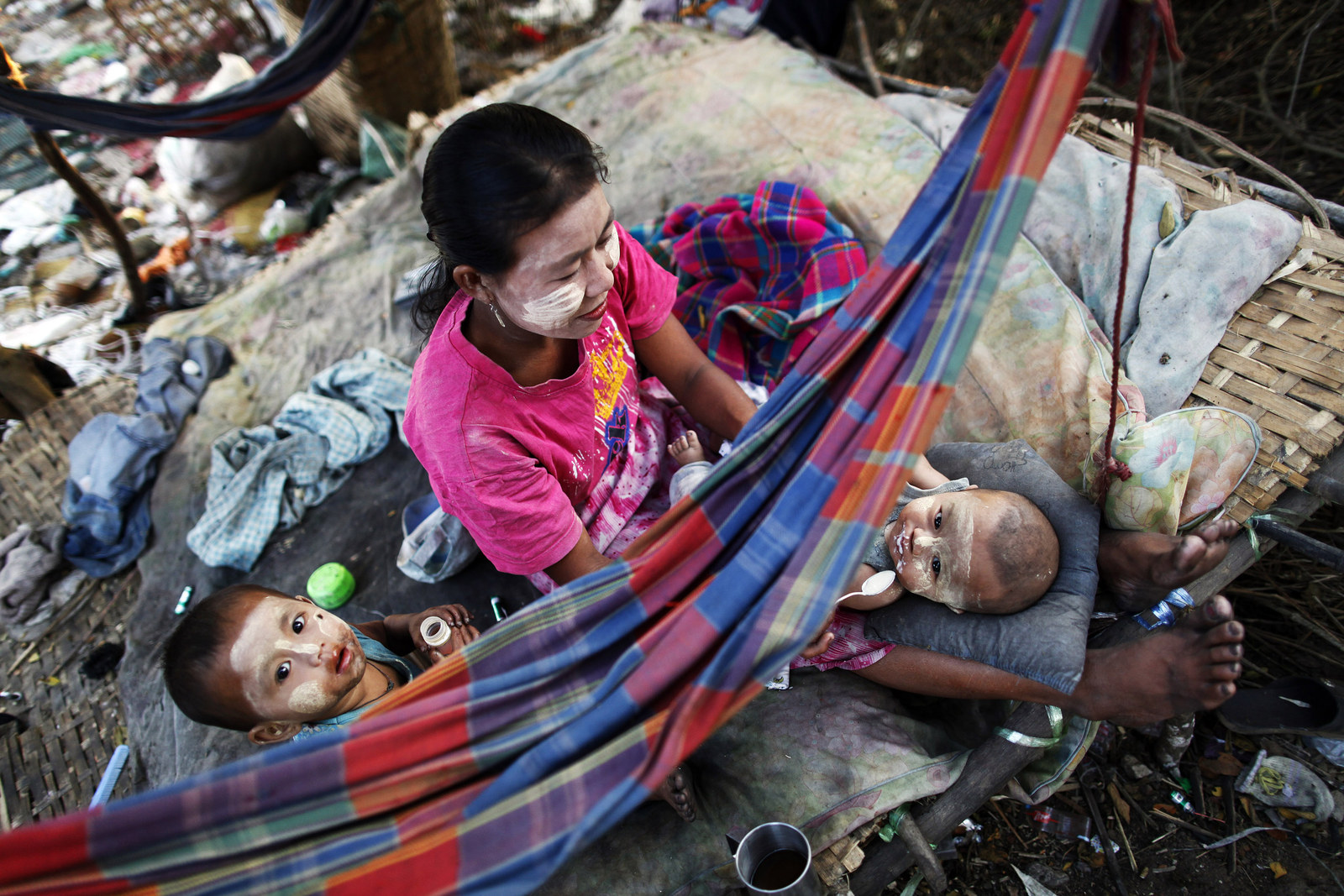 An illegal immigrant from Myanmar feeds her children at a rubbish dump site near Mae Sot. Despite terrible living conditions and the fear of being sent back to their country, several hundred illegal immigrants from Myanmar live and earn an average of $1 per day collecting plastic at the rubbish dump.
6. Xinjiang, China, 2012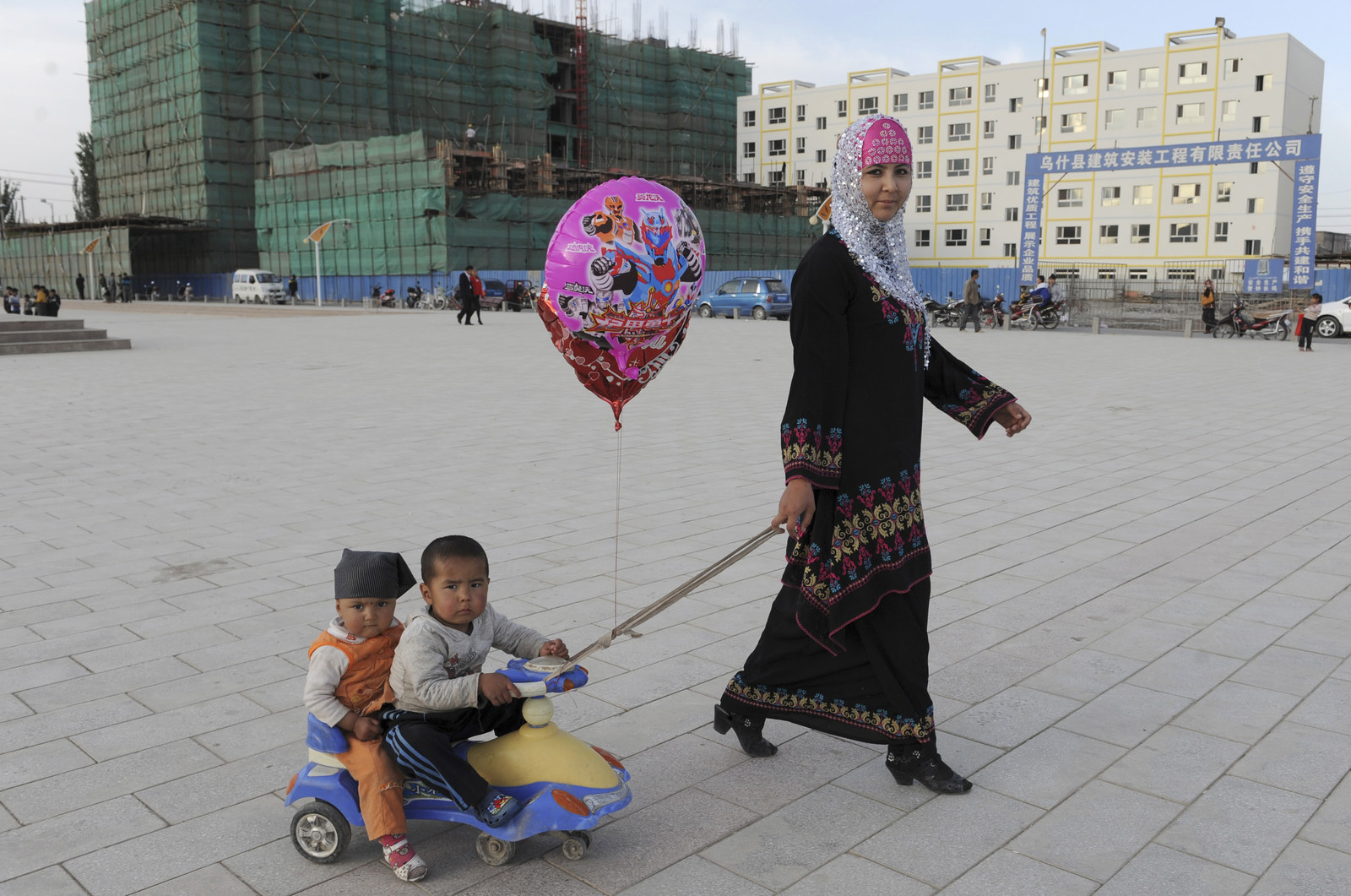 An Uighur woman pulls a buggy carrying her sons as she walks past residential buildings under construction in Uqturpan county, Xinjiang Uighur Autonomous Region.
7. Lienz, Austria, 2011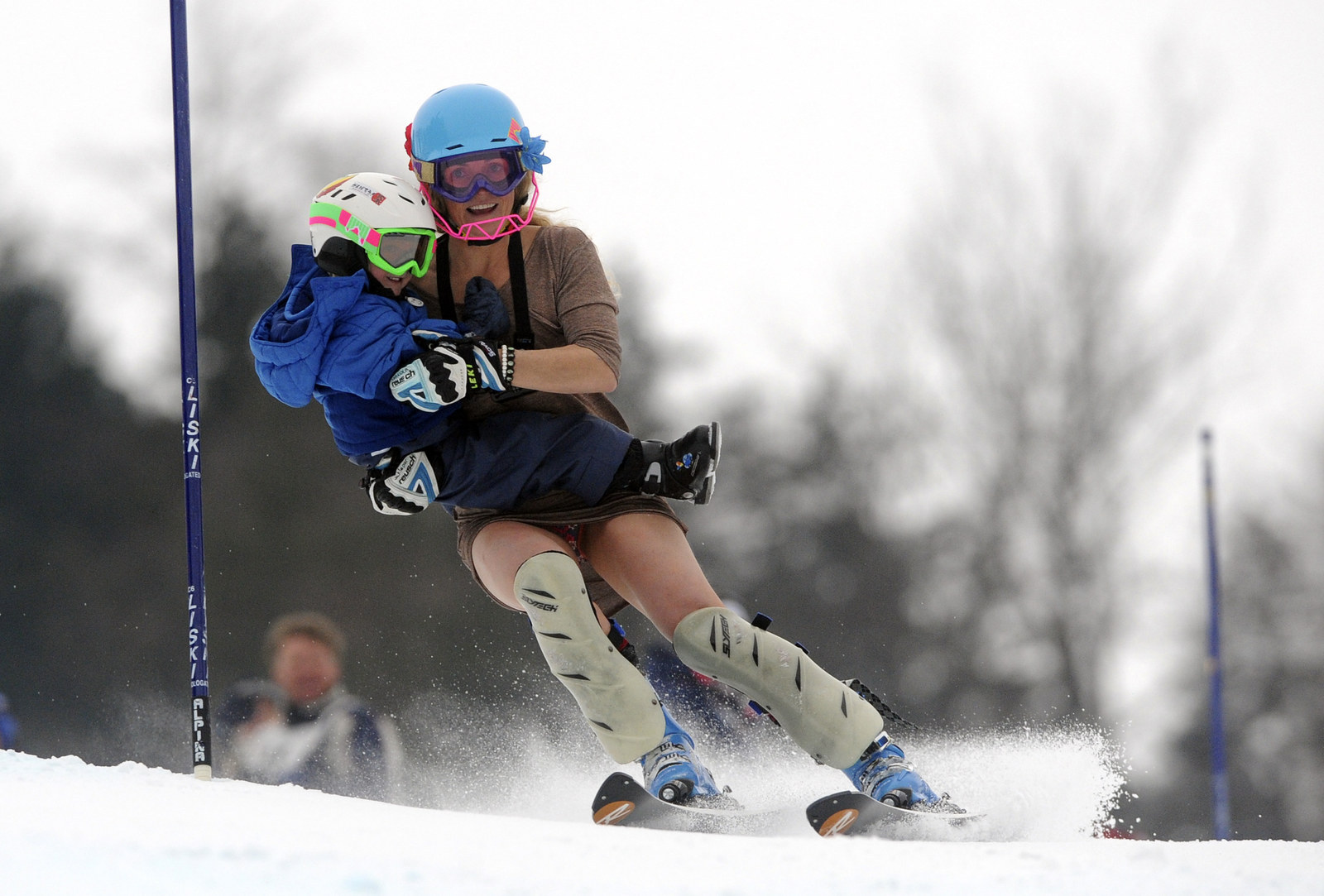 Sarah Schleper from the U.S., holding her 4-year-old son Lasse, clears a gate during her last slalom World Cup race in the Tyrolean ski resort of Lienz.
8. Diabougo, Senegal, 2007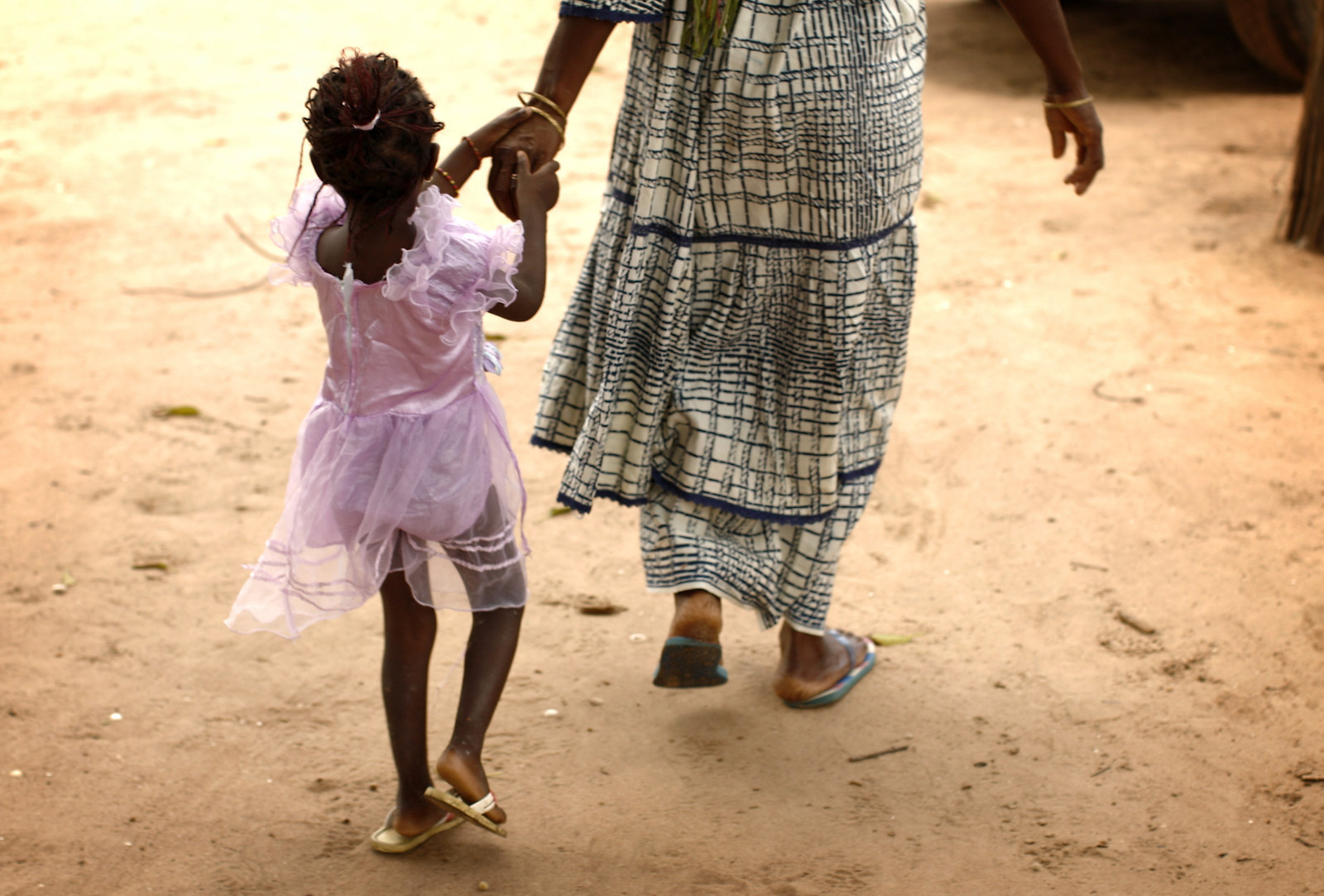 A mother and daughter walk home after a meeting of women from several communities about eradicating female genital mutilation, in the western Senegalese village of Diabougo.
9. Kerbala, Iraq, 2003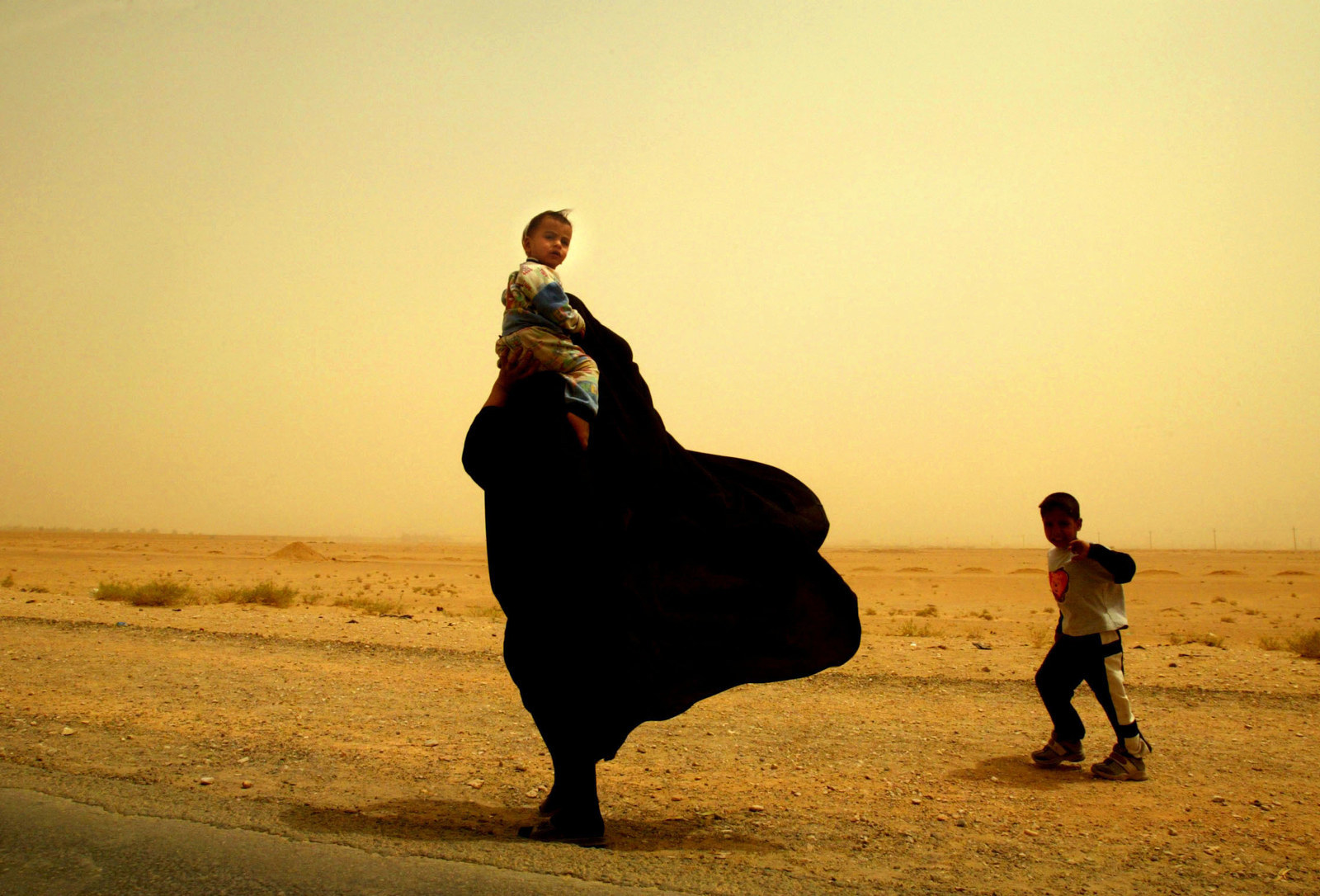 An Iraqi Shi'ite woman carries her baby and is followed by her young son as she makes her way to the central Iraqi city of Kerbala through a sandstorm in the desert. Tens of thousands of Shi'ite Muslims were bound for the holy city of Kerbala on a pilgrimage banned for nearly a quarter of a century under Saddam Hussein.
10. London, Britain, 2012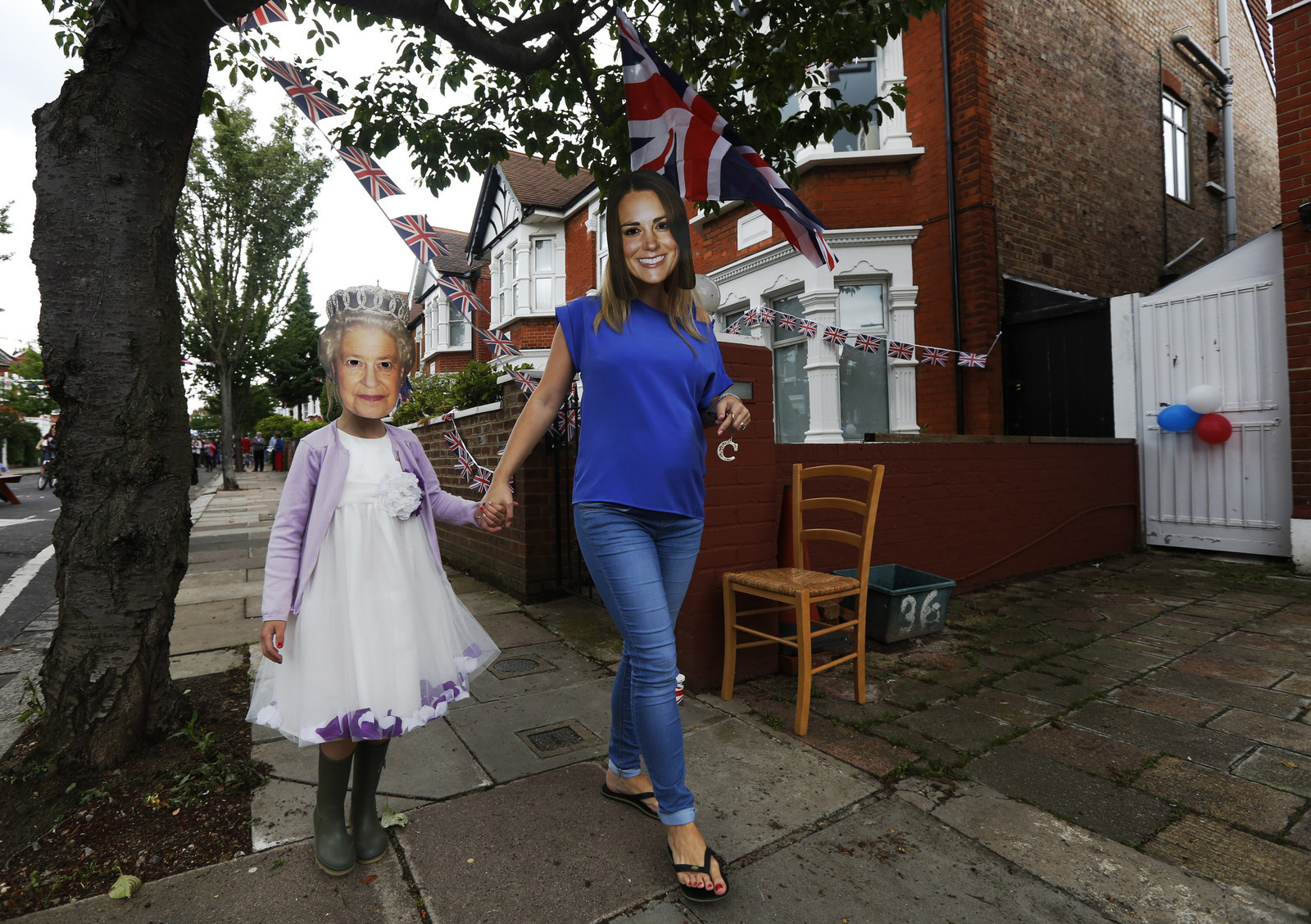 A mother and daughter wear masks depicting Britain's Queen Elizabeth and Catherine, Duchess of Cambridge, as they walk to the Goldsmith Avenue Street Party during the Diamond Jubilee celebrations of Queen Elizabeth in Ealing, west London.
11. Shenyang, Liaoning province, China, 2012
A woman who came from a rural area to find a job sleeps on a luggage as her daughter rests on top of her at Shenyang railway station in Shenyang, Liaoning province.
12. Bhaktapur, Nepal, 2013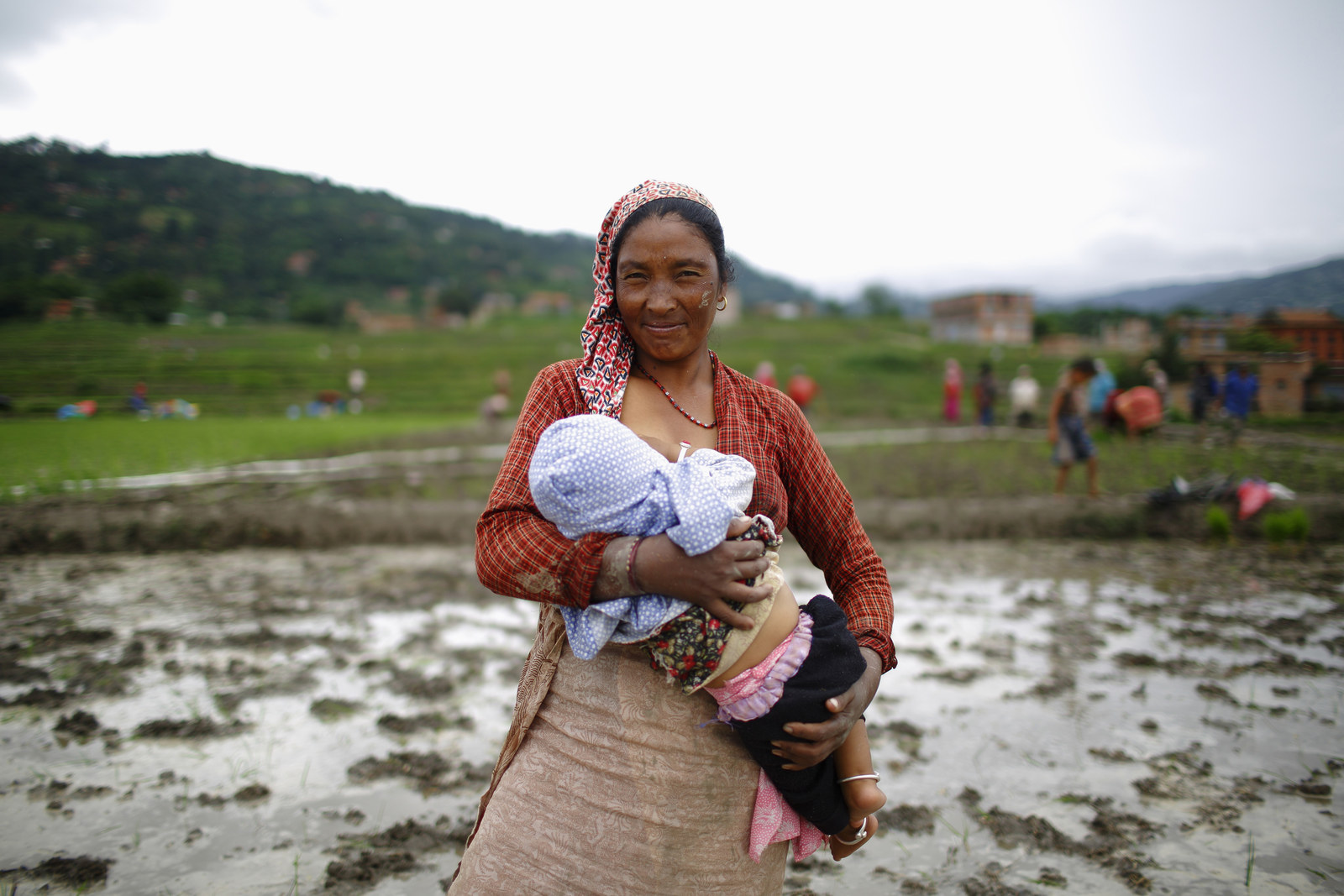 A Nepalese farmer breastfeeds her child before planting rice saplings in a rice paddy field during the Asar Pandra festival in Bhaktapur.

13. Kabul, Afghanistan, 2012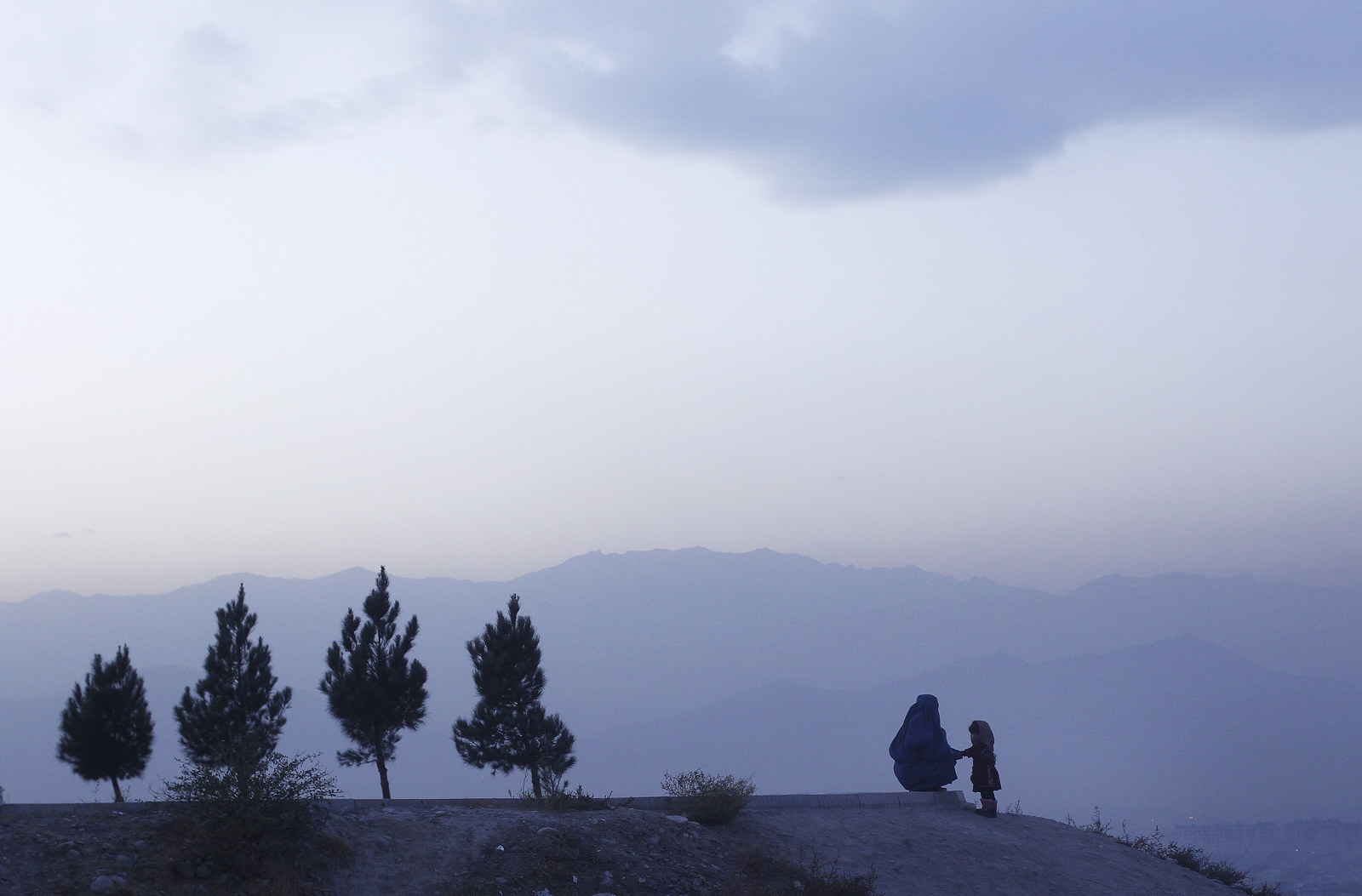 An Afghan woman clad in a burqa sits on a hilltop with her daughter in Kabul.
14. Abidjan, Ivory Coast, 2010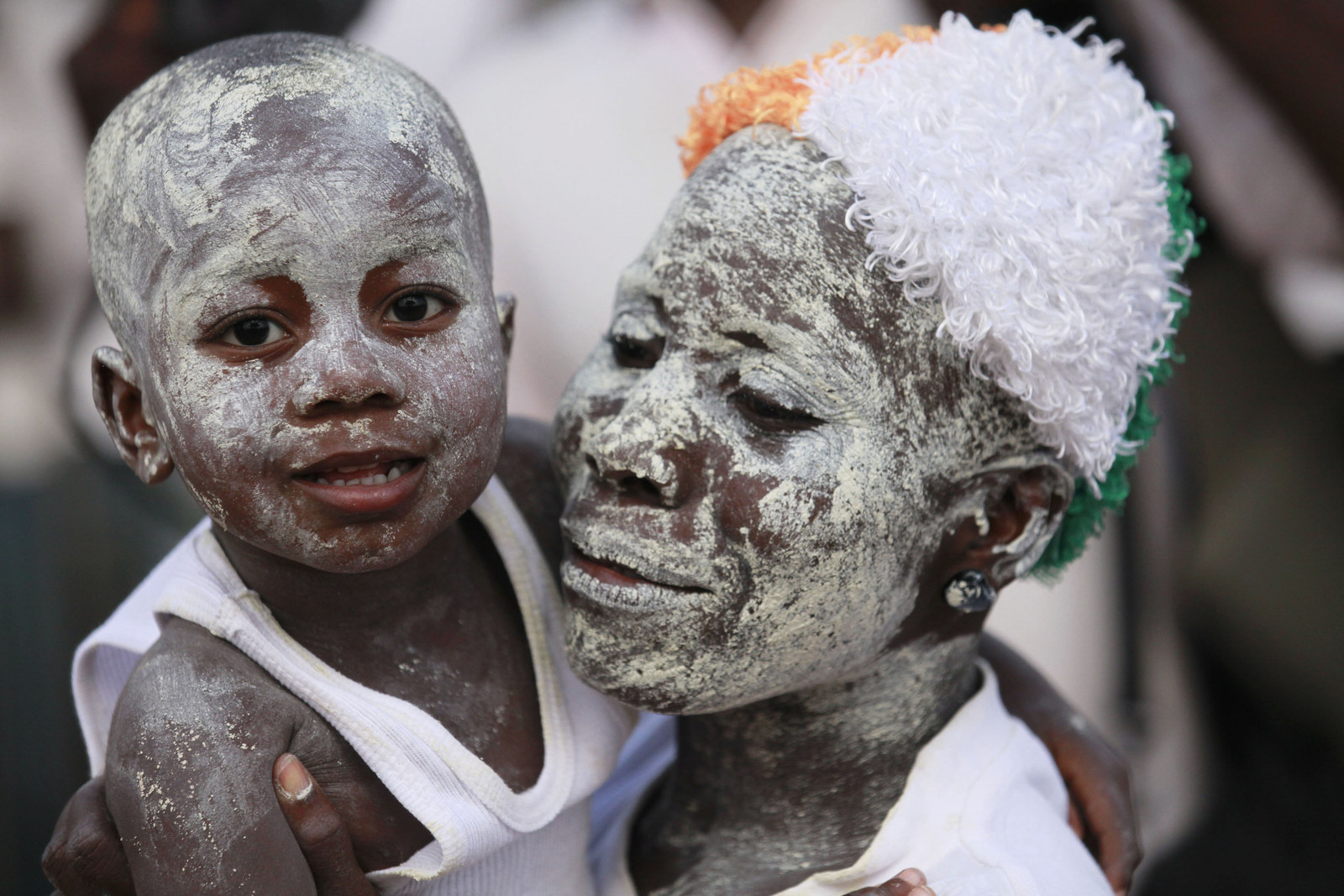 A supporter of Ivory Coast's incumbent leader, Laurent Gbagbo, carries her child, both with clay powder on their faces, during a rally in Abidjan.
15. Jakarta, Indonesia, 2009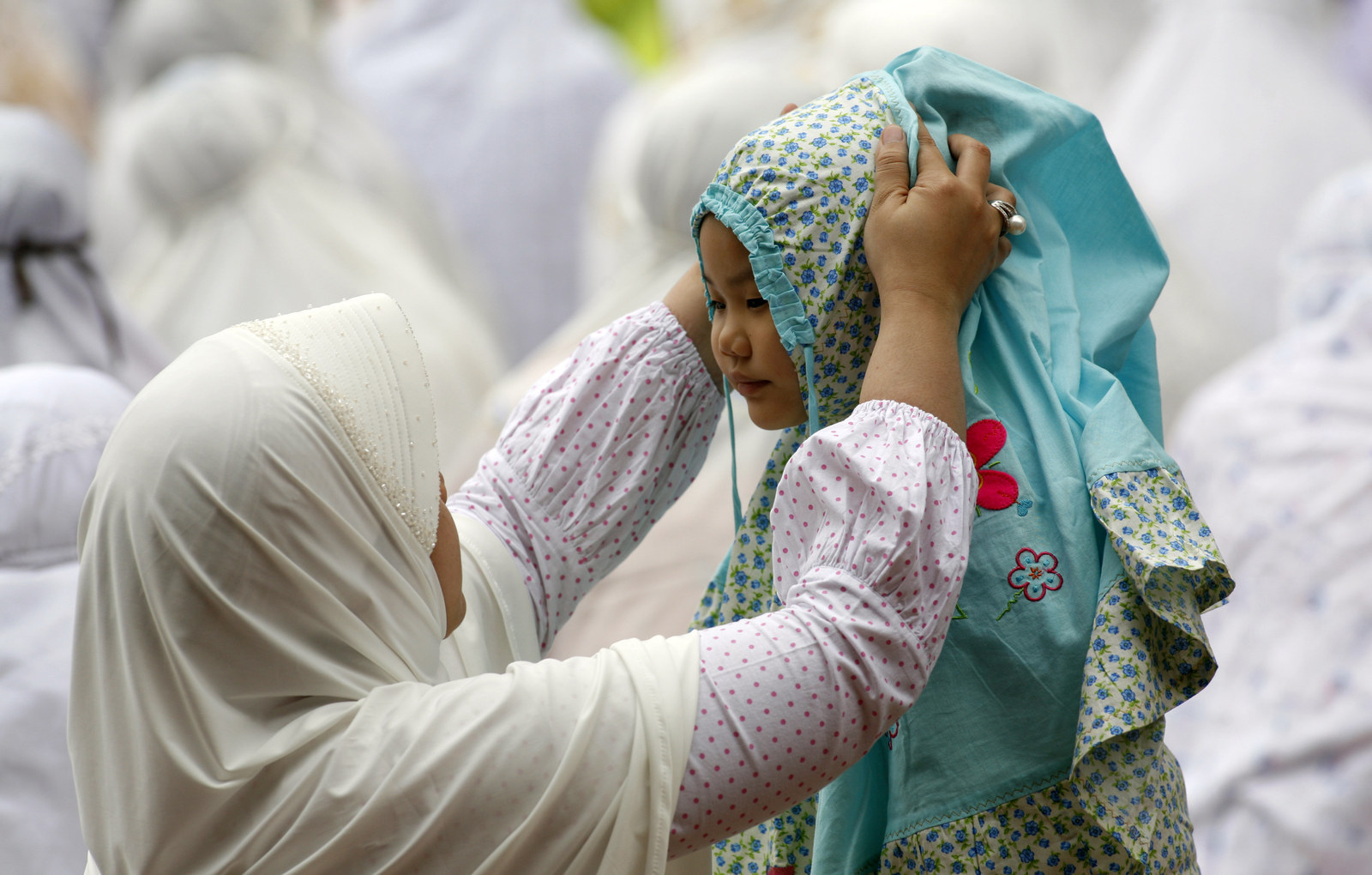 A mother adjusts her daughter's headscarf before a prayer on the occasion of Eid al-Adha at Jakarta's largest mosque, the Istiqlal. Indonesia, the world's most populous Muslim nation, celebrates Eid al-Adha to mark the end of the Haj by slaughtering goats and cows and distributing the meat to the poor.
16. Hebron, West Bank, 2007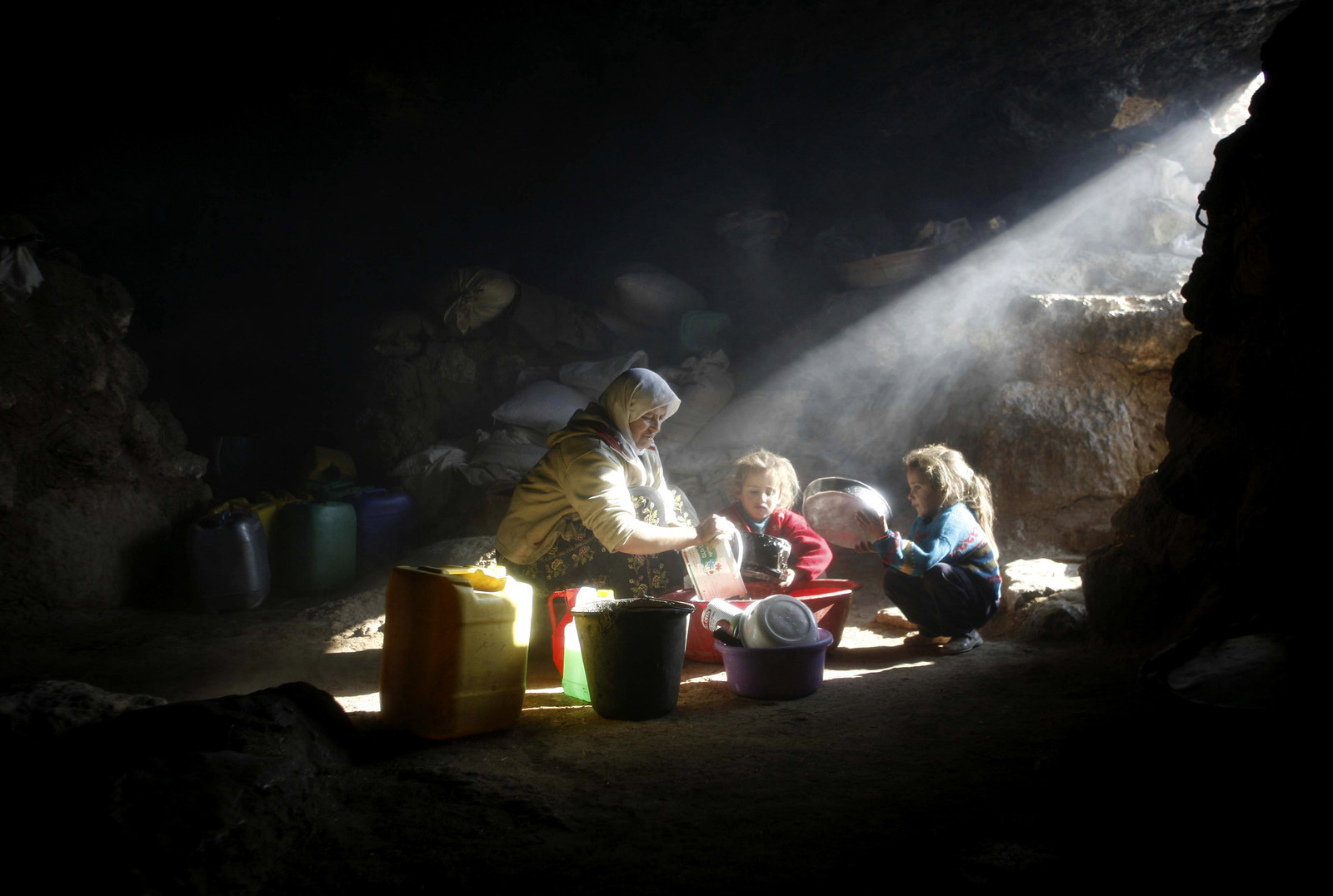 Palestinian Halimeh Saleem (left) washes dishes at her cave home in the northern Negev Desert, near the West Bank city of Hebron. The Hamdan clan, a Palestinian community of 120 members, still carry on with their ancestors' traditional way of life, living in caves and surviving on the fruits of the earth.
17. Hreasca, Bucharest, Romania, 2011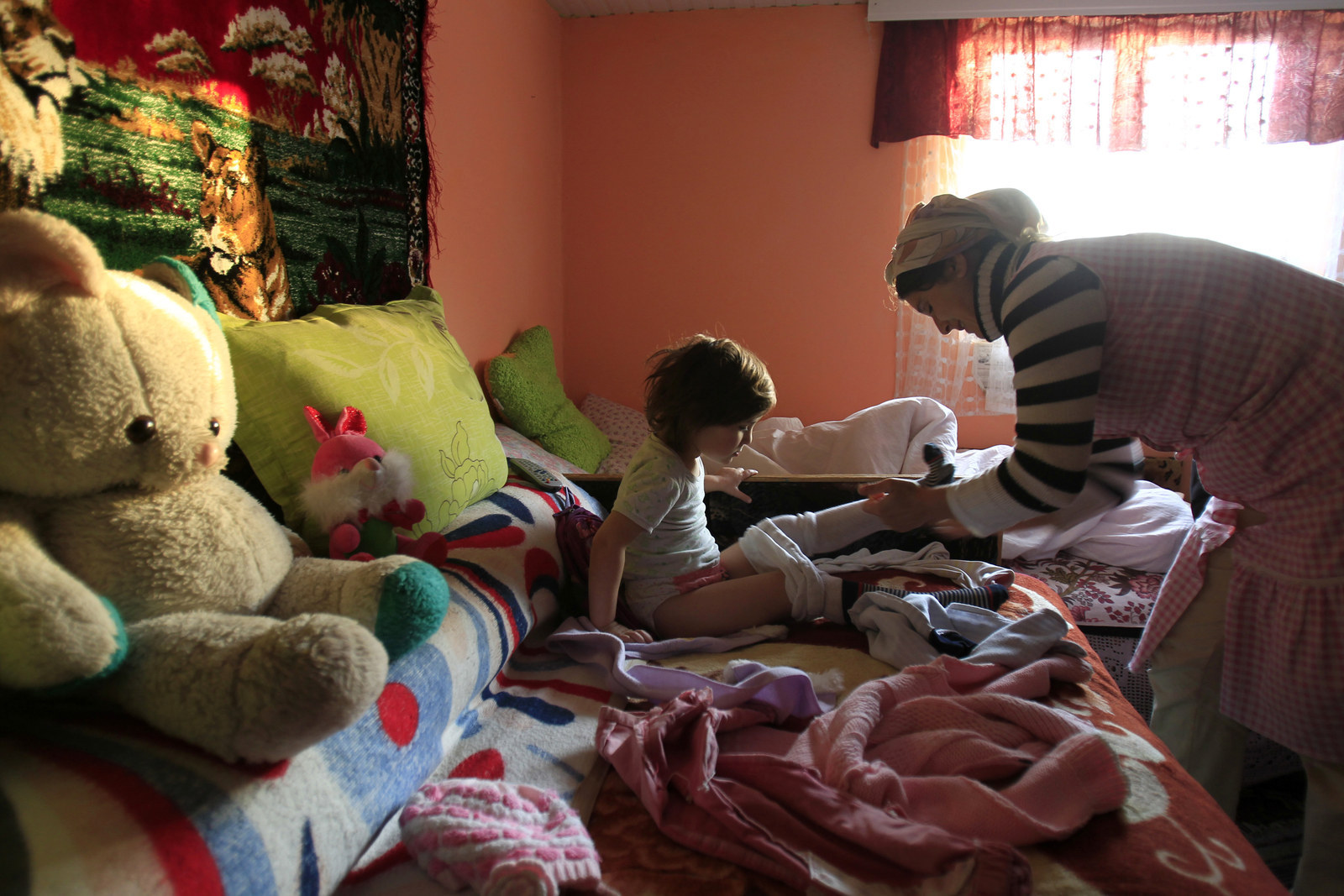 Villager Genoveva Nalbaru, 35, prepares her daughter Stefania for kindergarten in Hreasca, northeast of Bucharest. Romania is the European Union's second-poorest country.
18. Wadi Khaled, Lebanon, 2011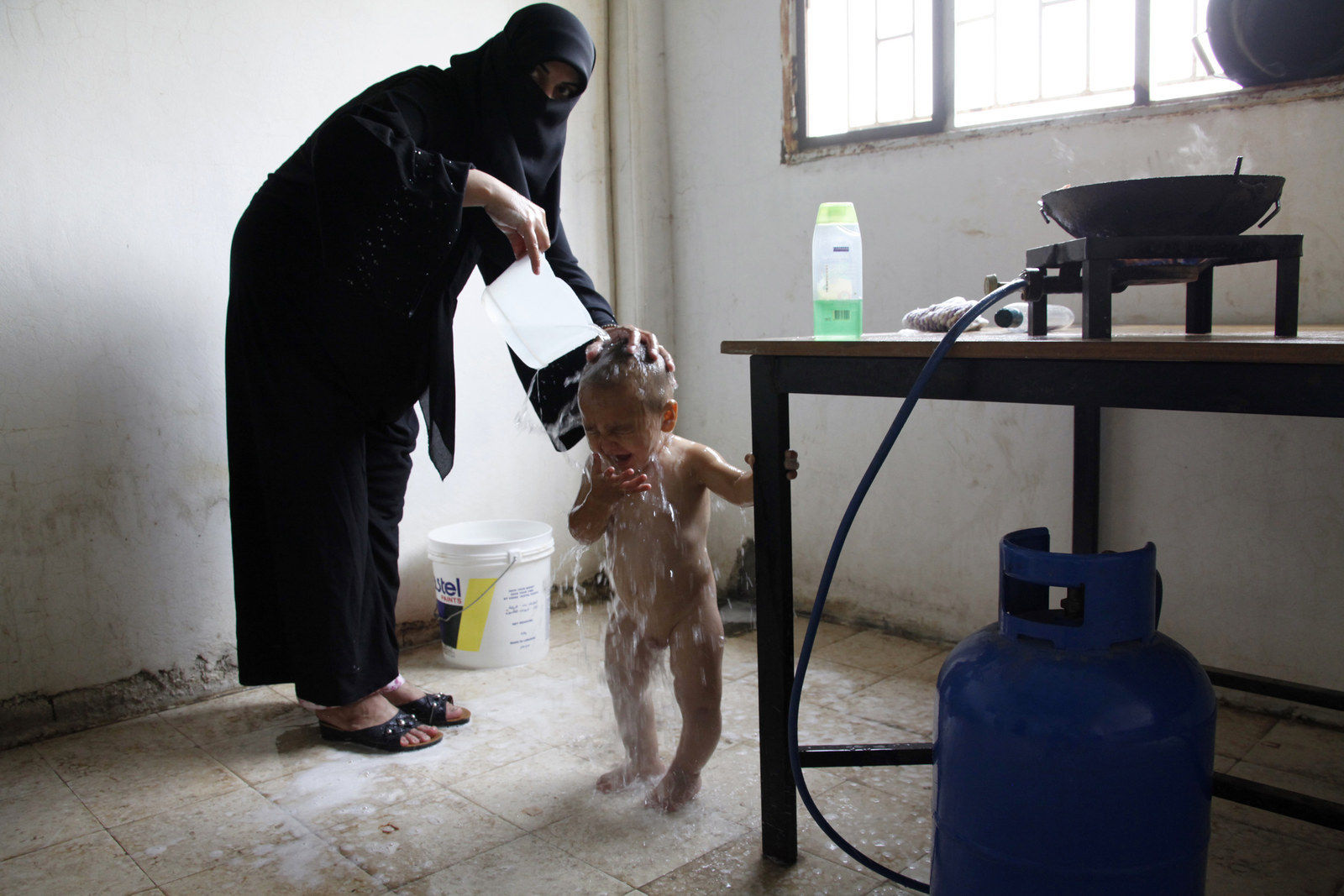 A Syrian refugee woman gives her child a shower in the kitchen of an abandoned school in Wadi Khaled area, northern Lebanon.
19. Sanaa, Yemen, 2012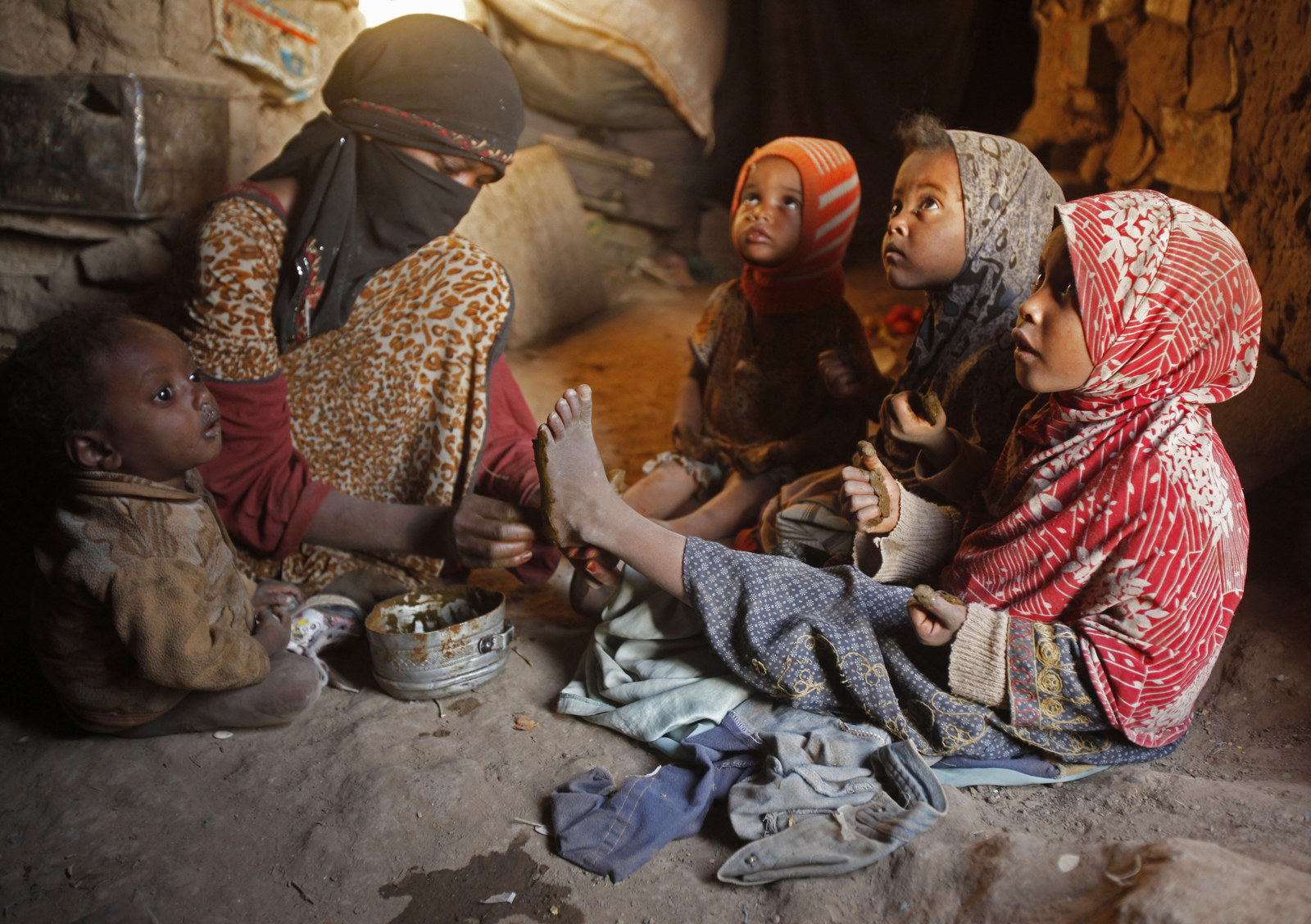 A woman applies traditional Henna dye on the legs of her daughters in their hut in a slum area of the Akhdam community near Sanaa. Yemeni Akhdam, or servants, are similar to hereditary castes, but are distinguished by their African features and the menial jobs they perform.
20. Chuor Phnom Dangkrek Mountain, Cambodia, 2008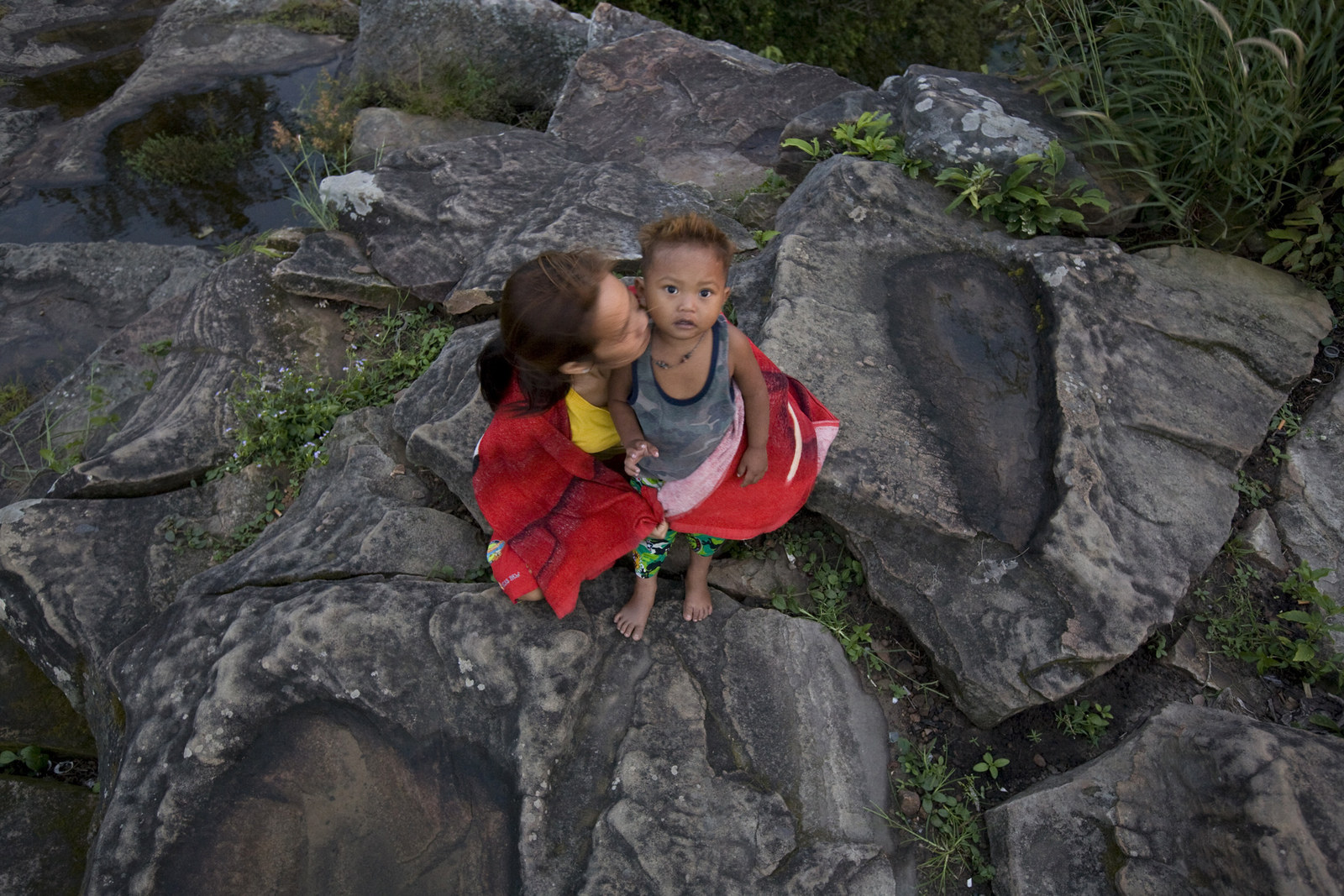 A Cambodian woman goes to kiss her son while sitting on the crest of the Chuor Phnom Dangkrek Mountain, the site of the 900-year-old disputed Preah Vihear temple. Nearly 200 Cambodian residents living near the temple had taken refuge on its grounds.
21. Krasnoyarsk, Russia, 2012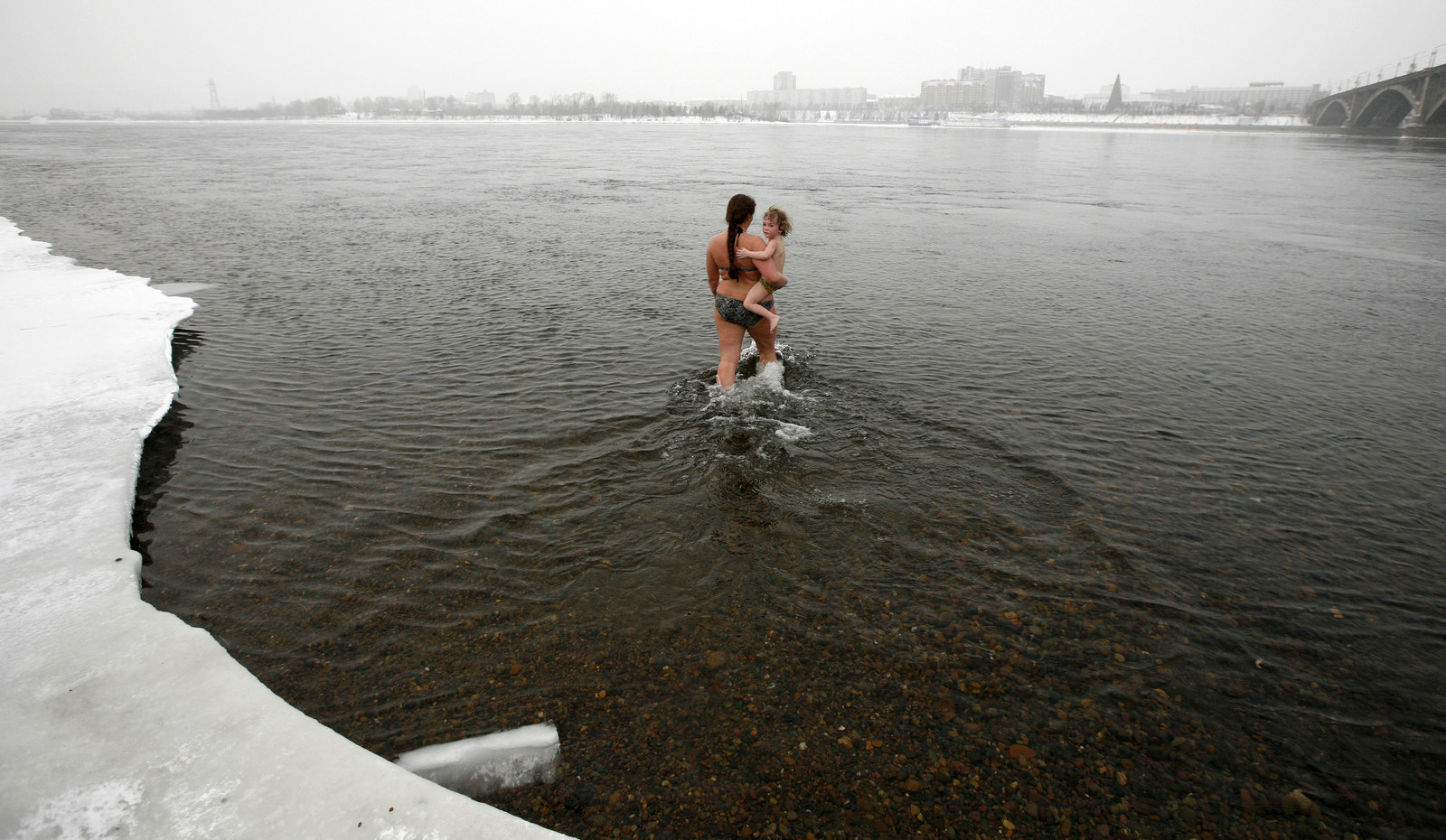 A woman, a member of the Krepysh family winter bathing club, carries her child for bathing in the Yenisei River in Russia's Siberian city of Krasnoyarsk.
22. Yogyakarta Palace, Indonesia, 2011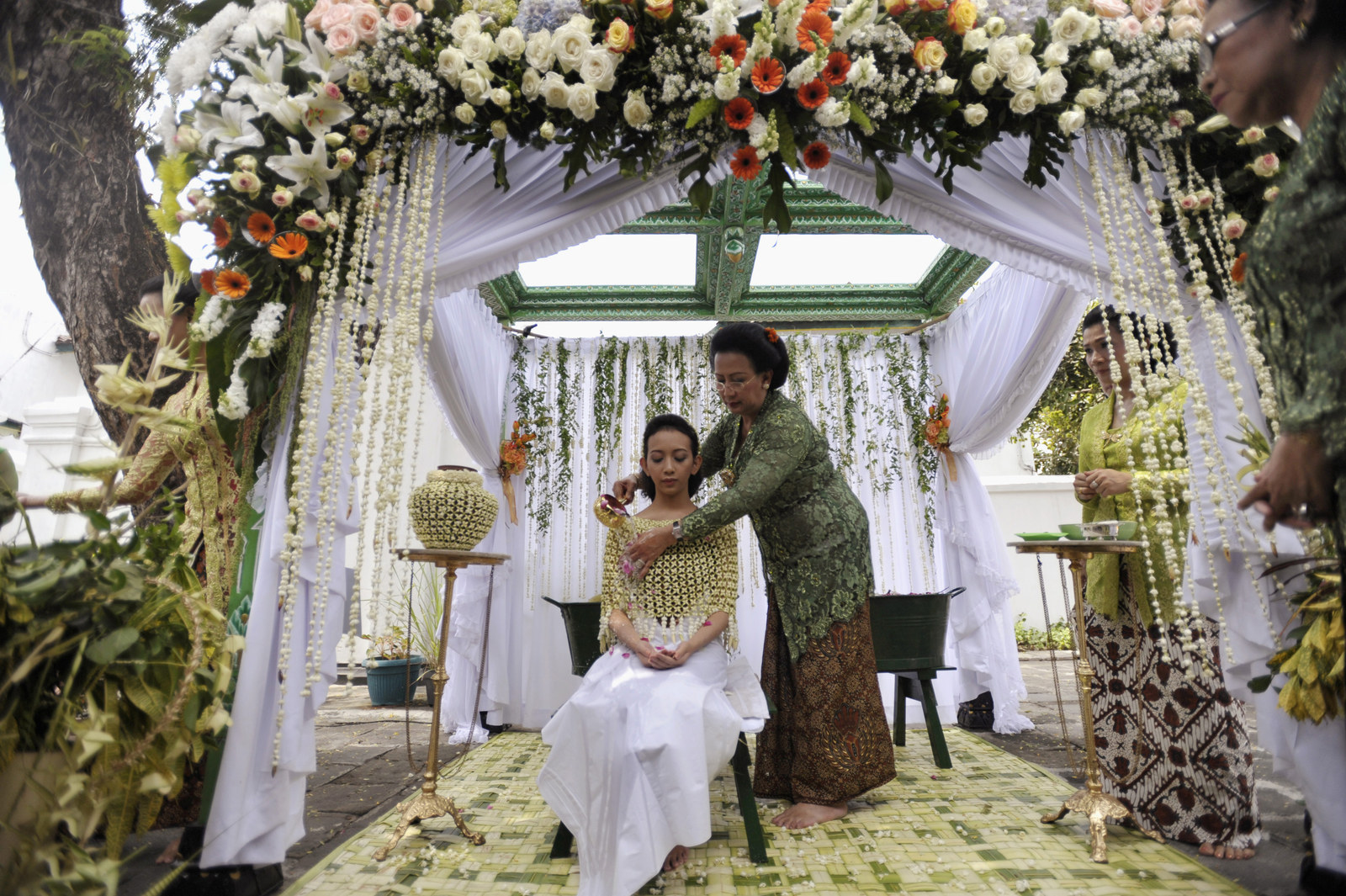 Hemas pours water on her daughter Gusti Kanjeng Ratu' Bendara during a traditional cleansing ritual the day before the latter's wedding, at Yogyakarta Palace.
23. Bhaktapur, Nepal, 2012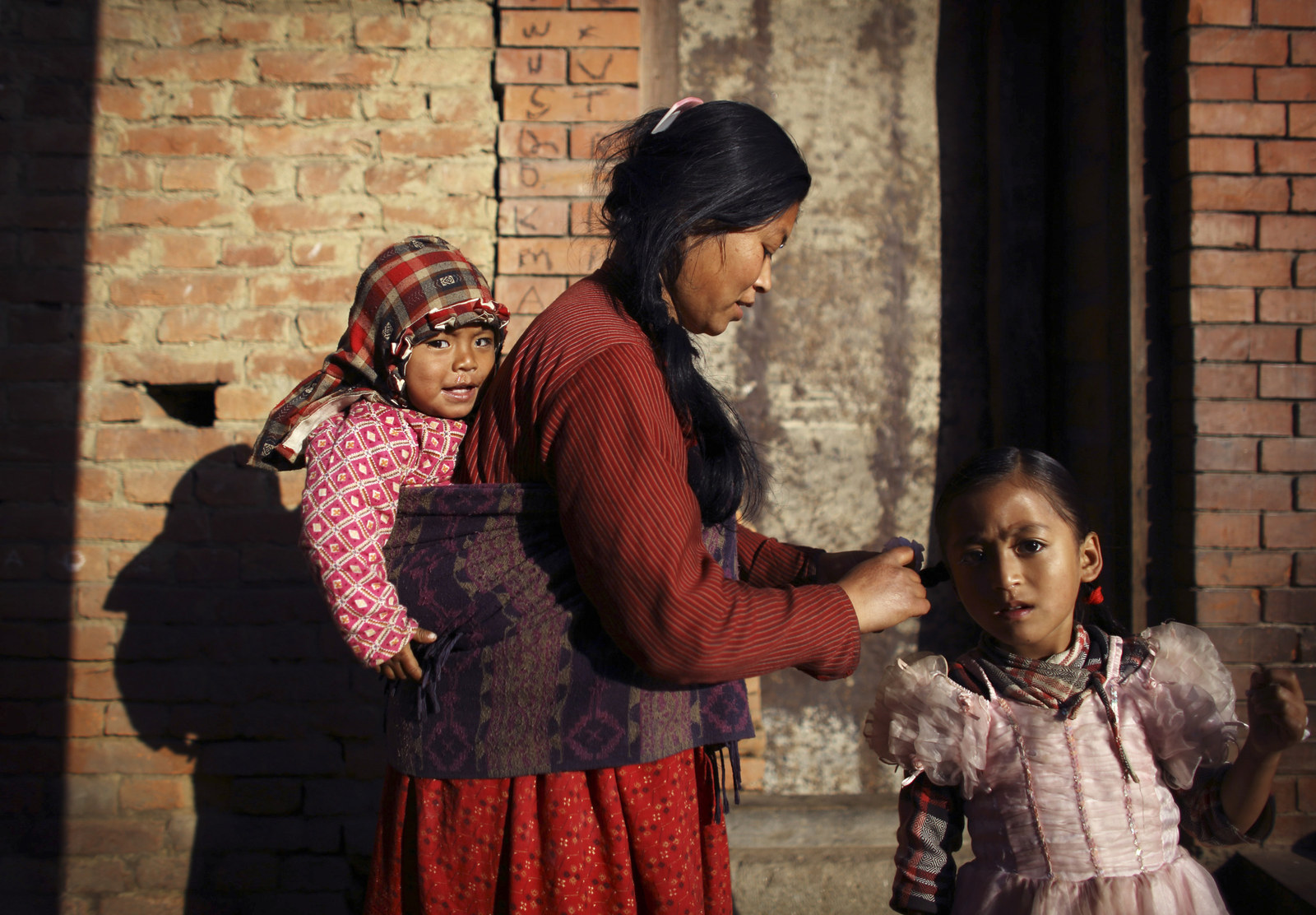 A mother carries her son on her back as she combs her daughter's hair before sending her to school in the ancient city of Bhaktapur.
24. Nairobi, Kenya, 2008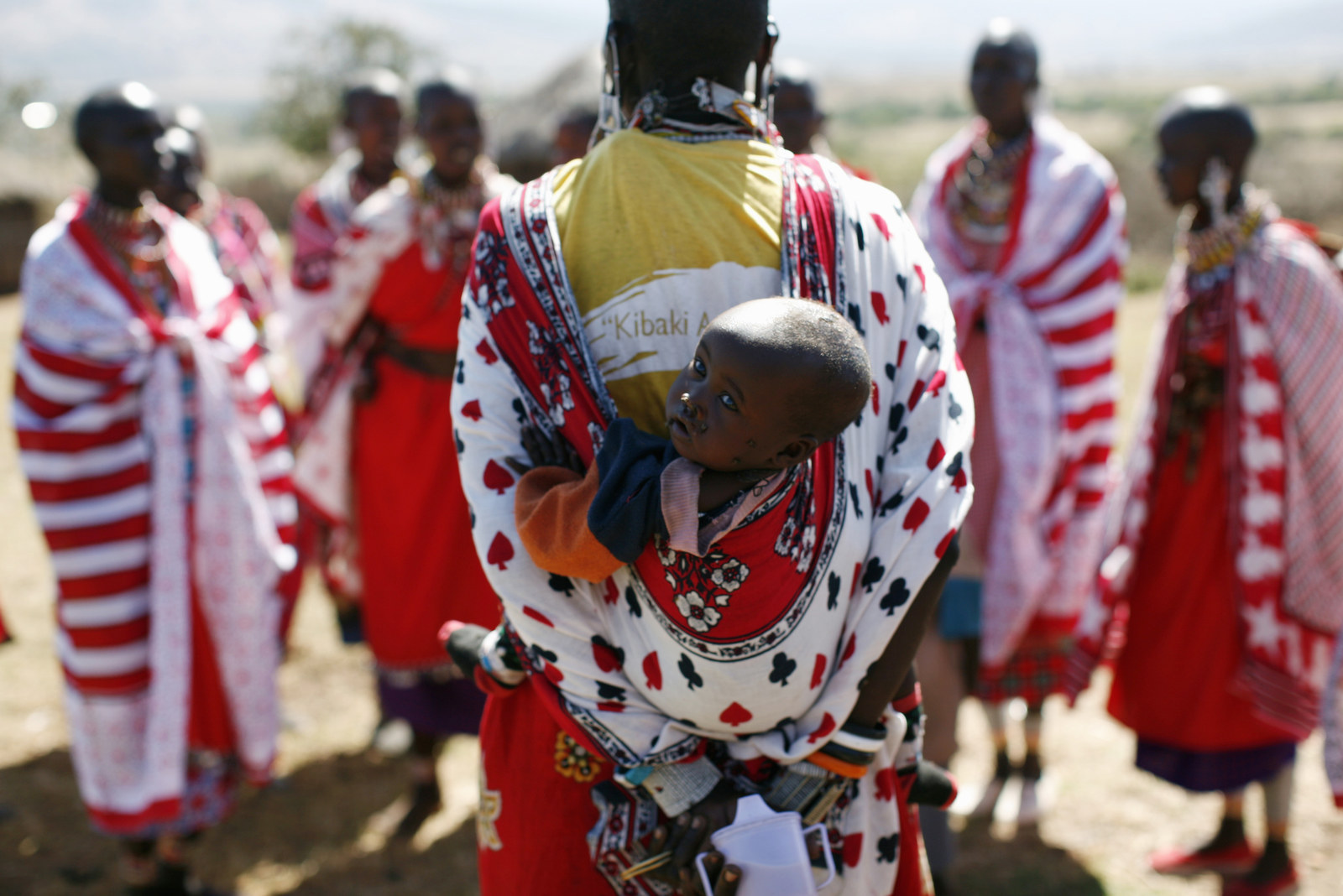 A Maasai woman carries her baby as she sings traditional songs during Emayian o nkituaak ("Blessing of Women"), a rare fertility ceremony in Kisokon village, southwest Nairobi. The women from the village were blessed to enable them have children and to ensure continuity of the community.
25. São Paulo, Brazil, 2013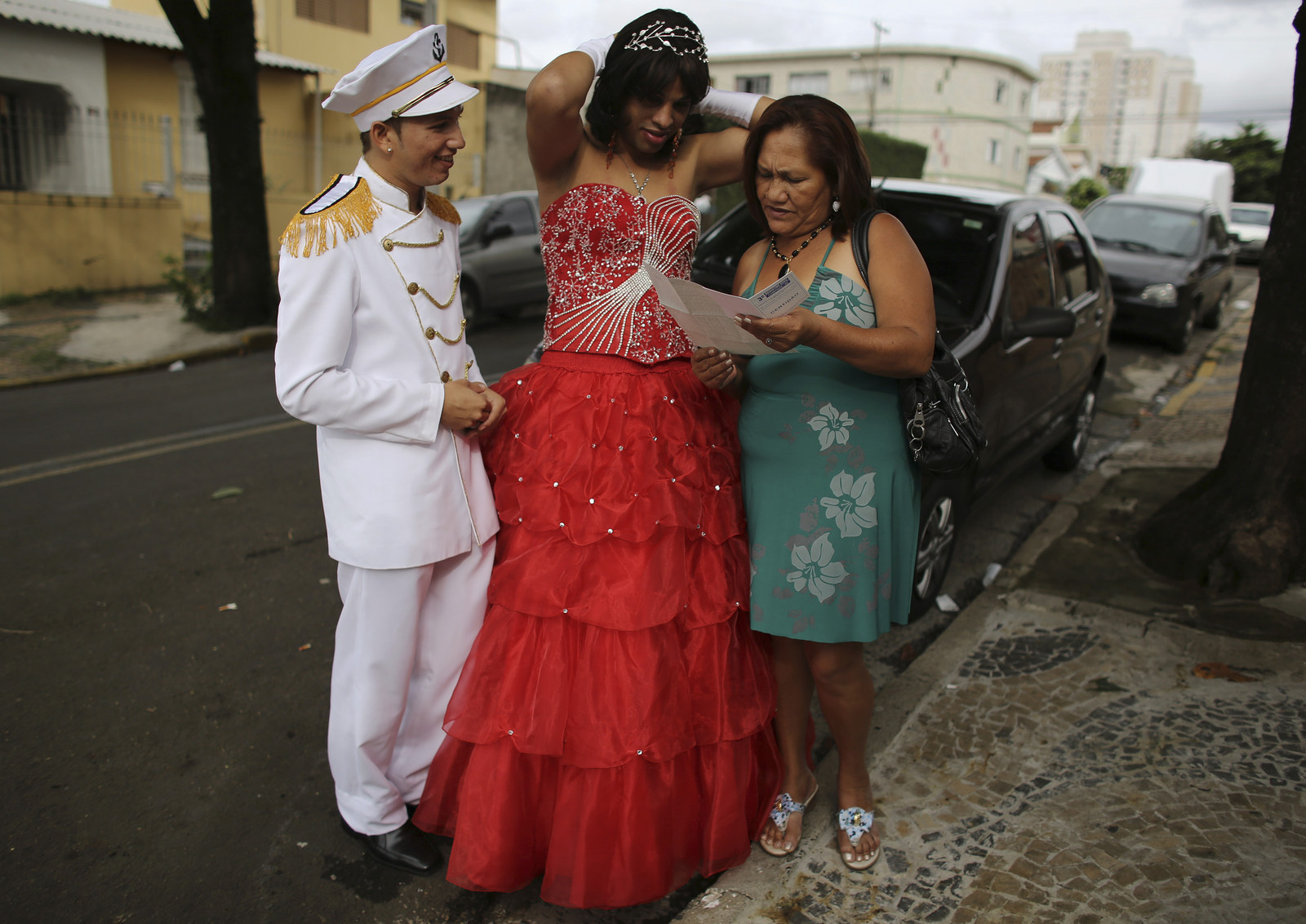 Diogo (centre), a trans person, shows her marriage certificate to her mother (right), next to her partner, Gustavo, after their wedding ceremony in Campinas, near São Paulo. The first equal marriage in Brazil occurred in the state of São Paulo in 2011.

Mercedes Santos (second right) shares a laugh with her partner Theresa Volpe (second left) while playing cards with their son, Jaidon (right), and daughter, Ava, at their home in Chicago, Illinois. Santos and Volpe are a same-sex couple raising two of their biological children as they struggle to get same-sex marriages passed into law in Illinois.
27. Ahmedabad, India, 2008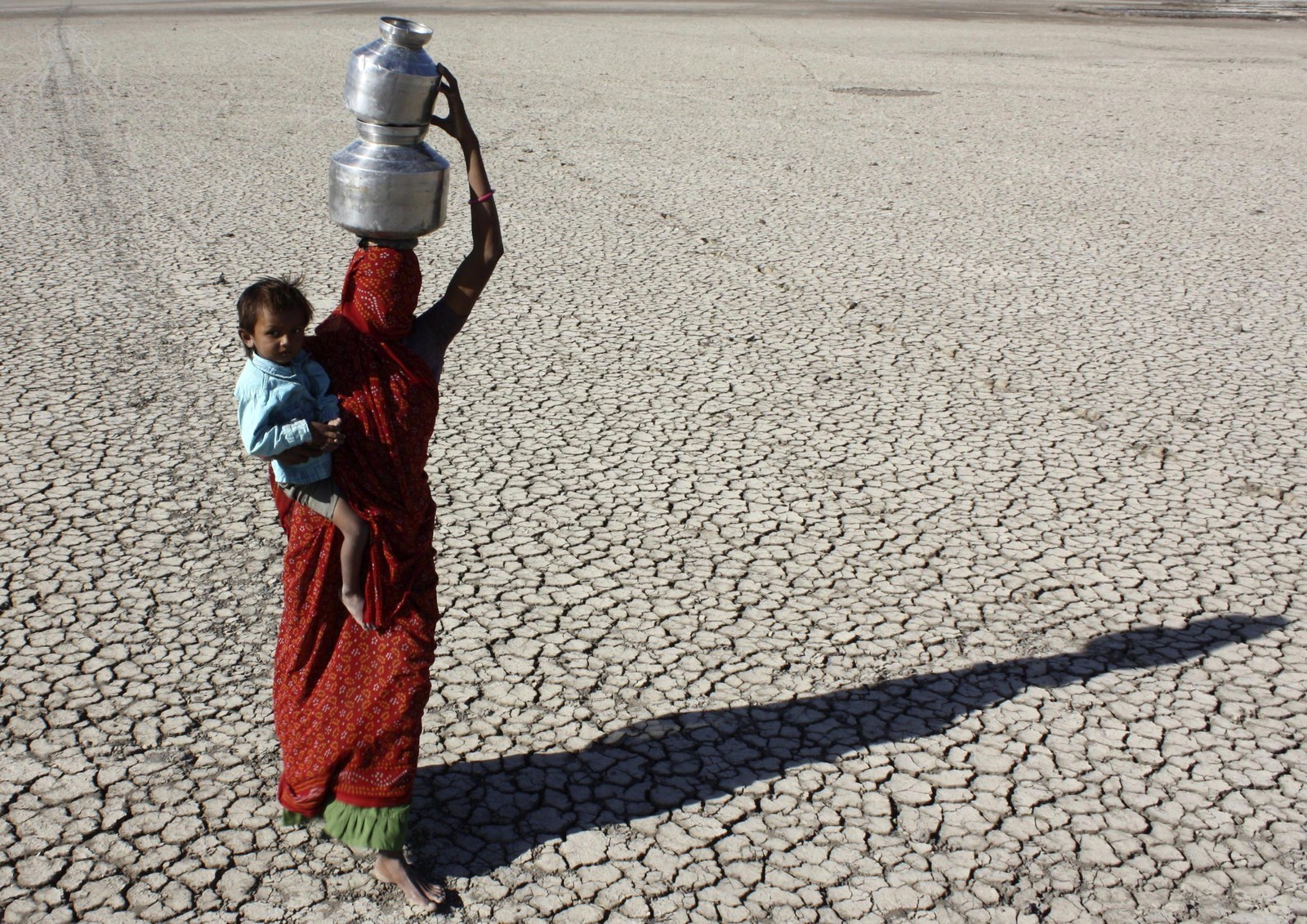 A salt worker with her child carries metal pitchers to collect drinking water at Navapura village near the western Indian city of Ahmedabad. India is the third-largest producer of salt in the world after the USA and China.
28. Jiaxing, Zhejiang province, China, 2011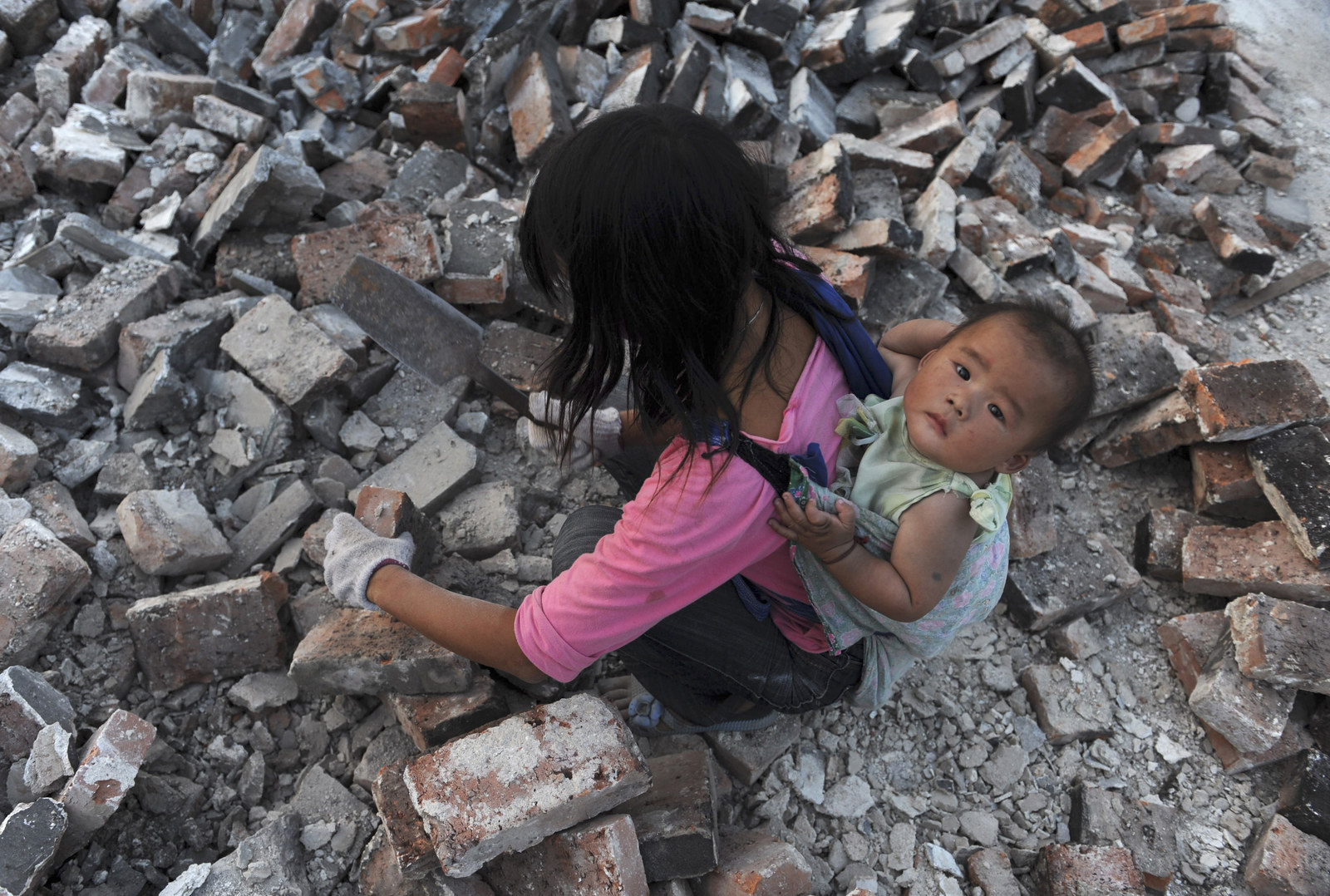 A migrant worker collects bricks as she carries her child on her back at a demolition site in Jiaxing, Zhejiang province.

29. Chino, California, United States, 2012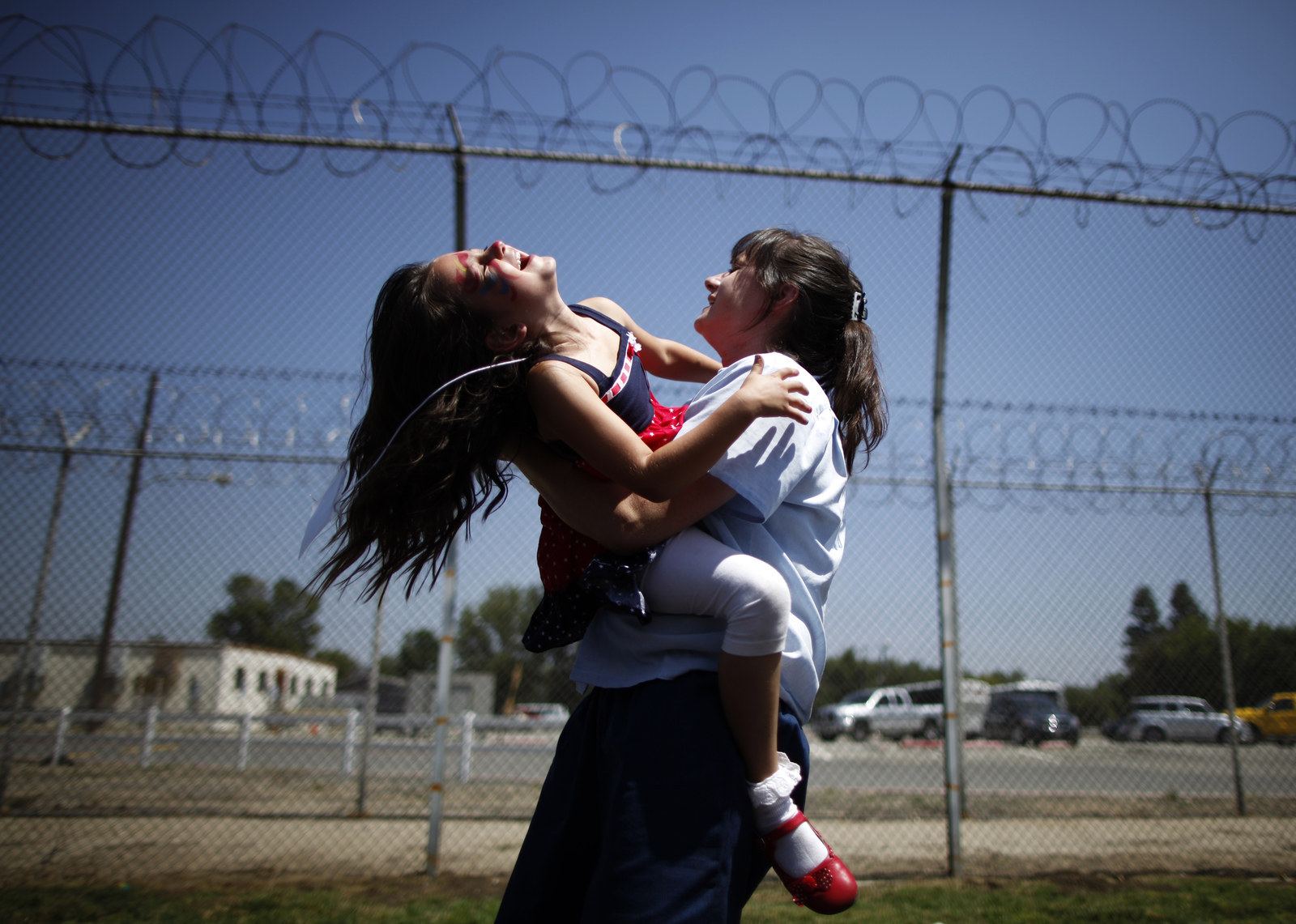 Cori Walters, 32 (right), hugs her daughter Hannah Walters, 6, at the California Institute for Women state prison in Chino, California. An annual Mother's Day event, Get on the Bus, brings children in California to visit their mothers in prison. Sixty per cent of parents in state prison report being held over 100 miles from their children.
30. Nantes, France, 2010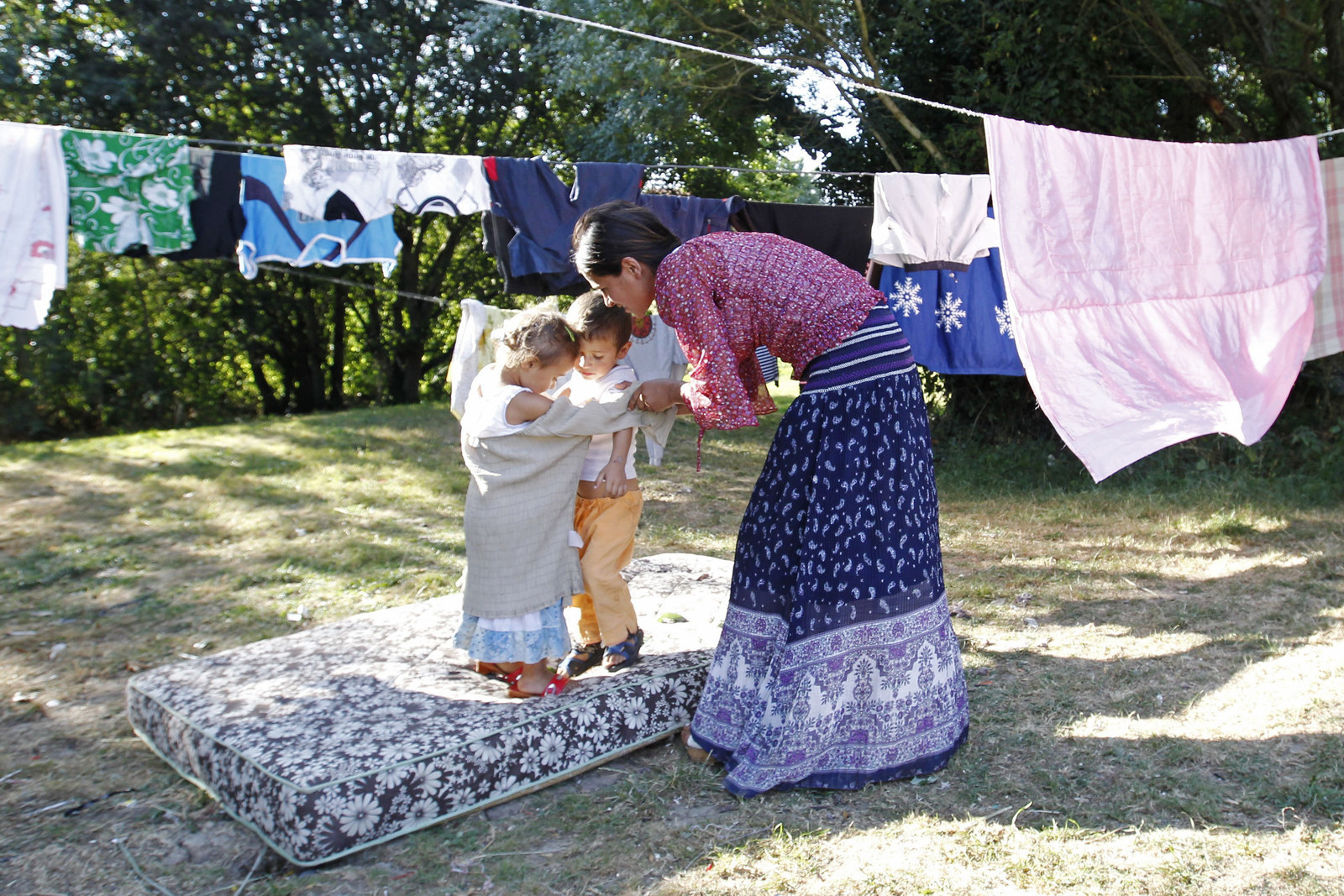 A mother tends to her children at an illegal camp of Roma in Indre, near Nantes, western France. Former French president Nicolas Sarkozy ordered the dismantling of 300 illegal camps of travelling people and Roma across France as part of a "war" on crime and urban violence that has alarmed some rights groups.

31. Benghazi, Libya, 2014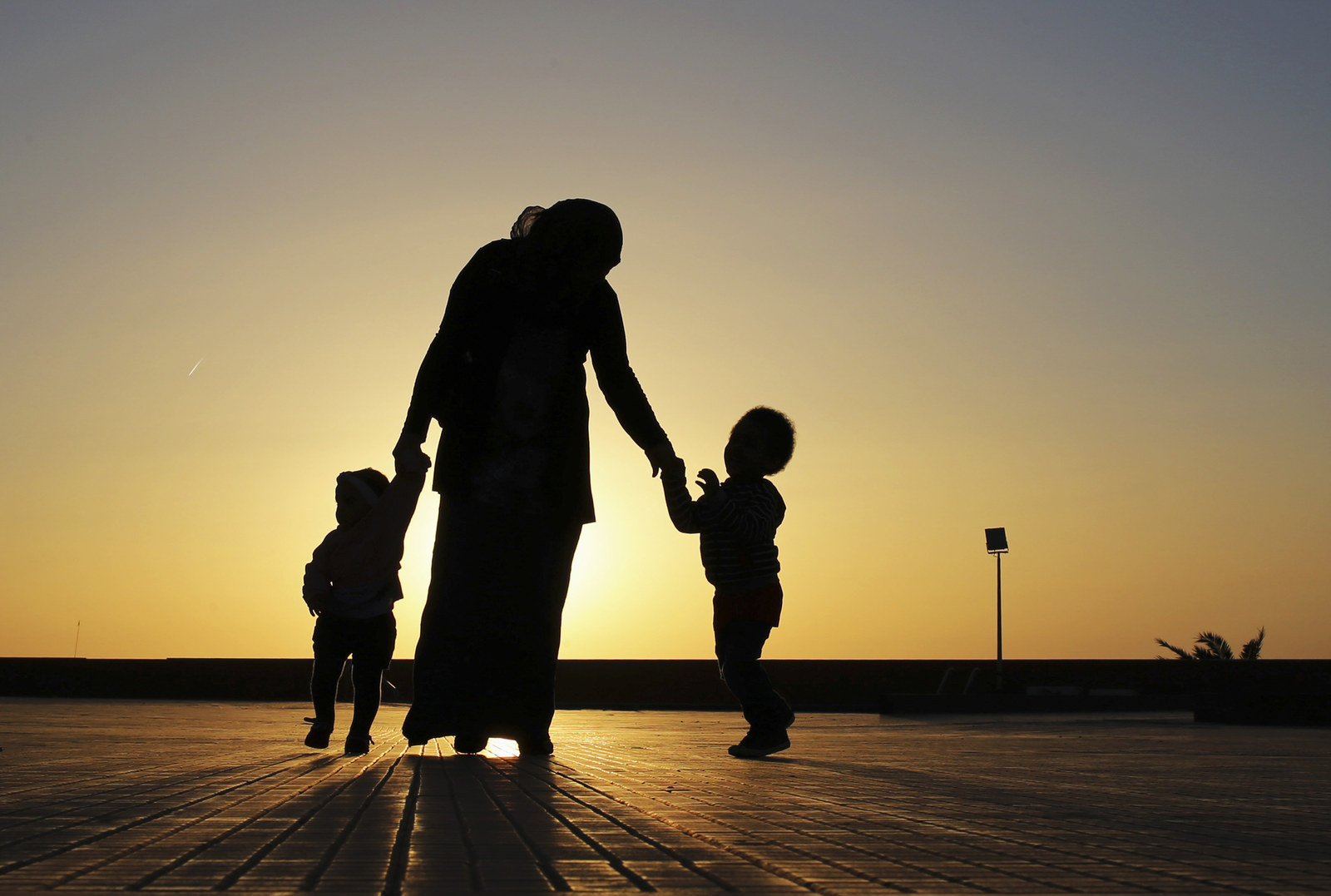 A woman walks with her two children at sunset near the seashore in Benghazi.
32. Koytash, Bishkek, Kyrgyzstan, 2011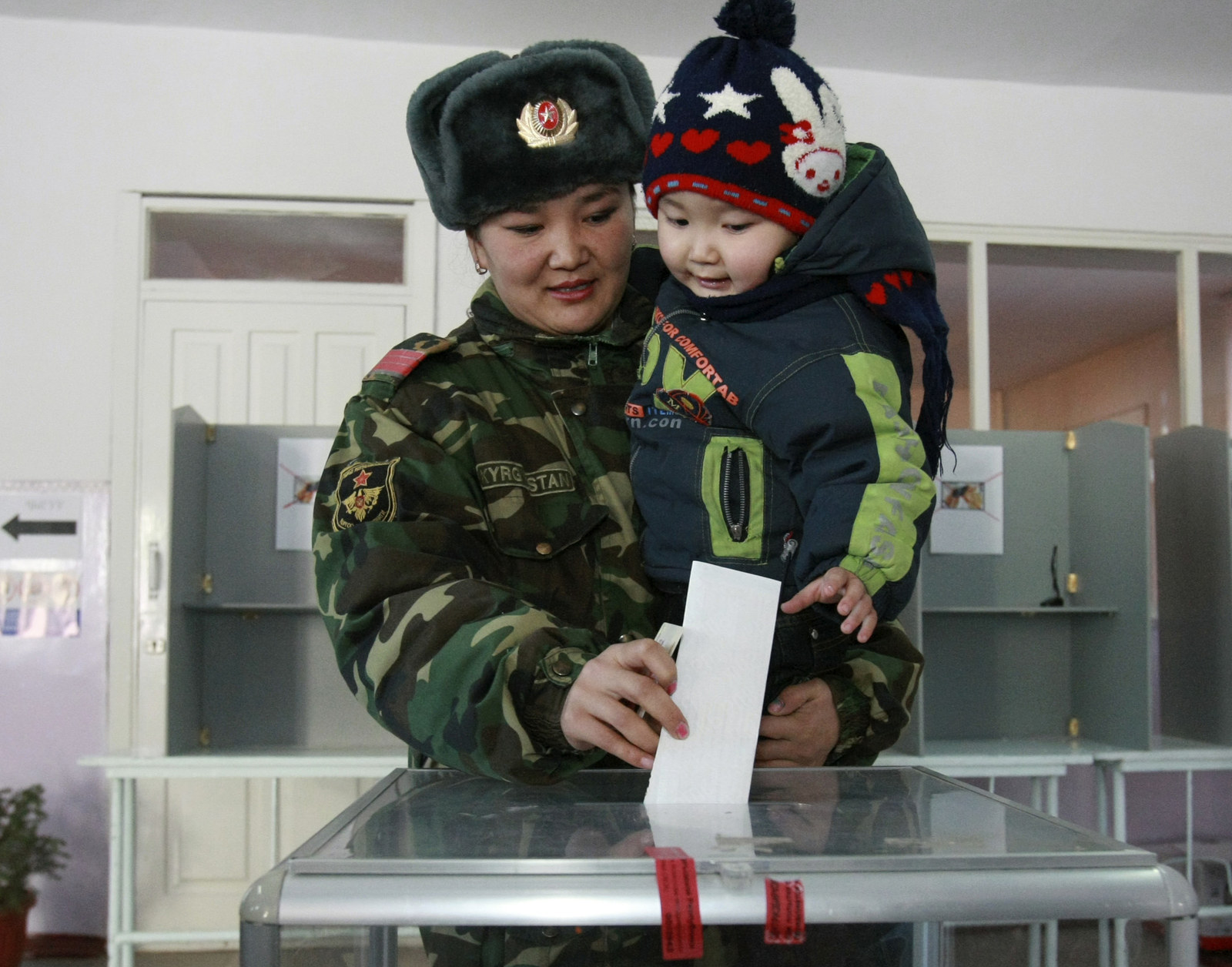 A woman representing the Koytashskoye infantry unit holds a child as she casts her ballot during the Kyrgyzstan presidential election at a polling station in the village of Koytash, outside the capital, Bishkek.
33. Los Hornos, La Plata, Argentina, 2007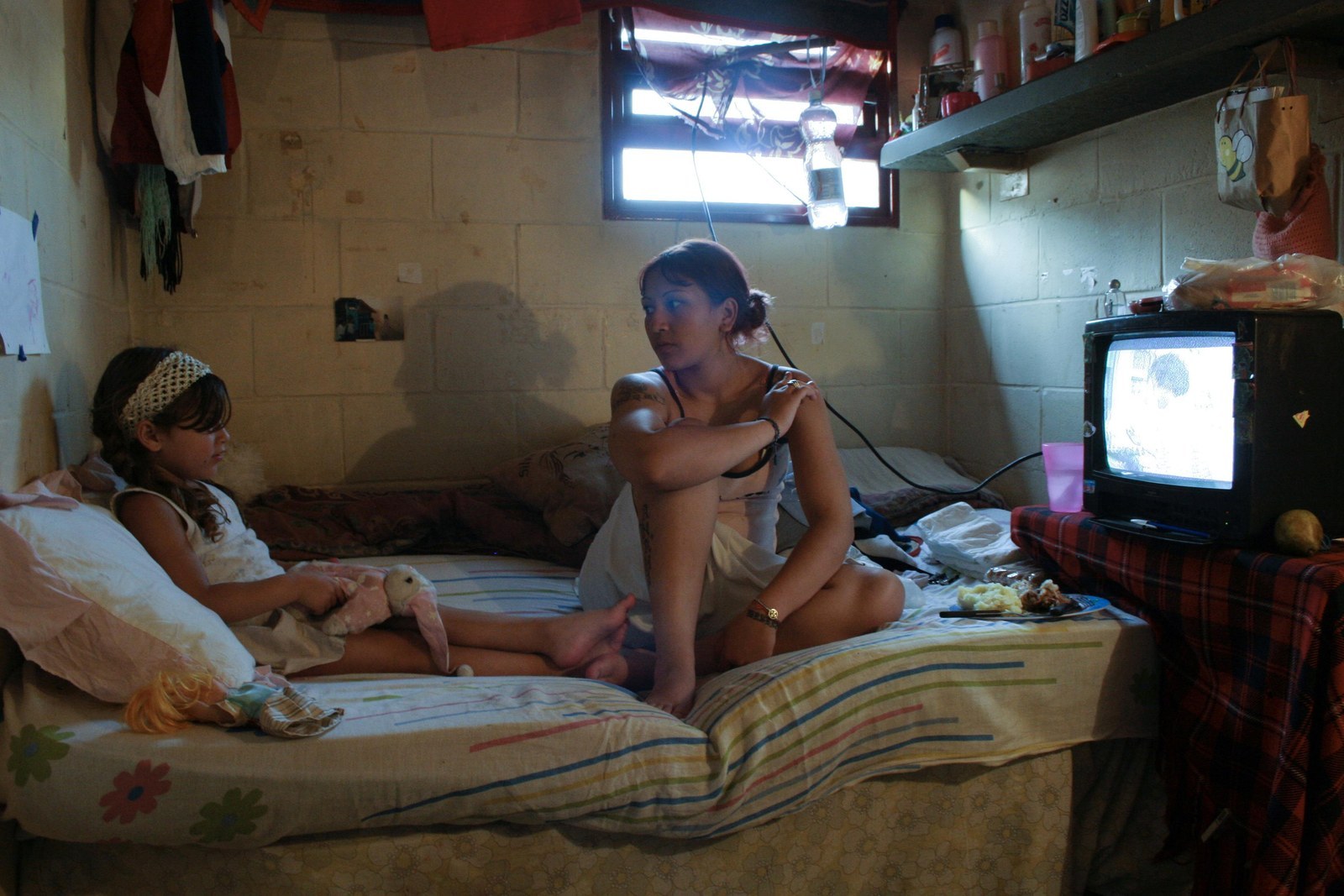 Silvia Rodas talks with her 4-year-old daughter Anahi inside her cell at the Unidad 33 prison in Los Hornos, near La Plata. Rodas was convicted of robbery and attempted homicide at the age of 19 and has done stints in all the prisons in Buenos Aires province.
34. Suruc, Sanliurfa province, Turkey, 2014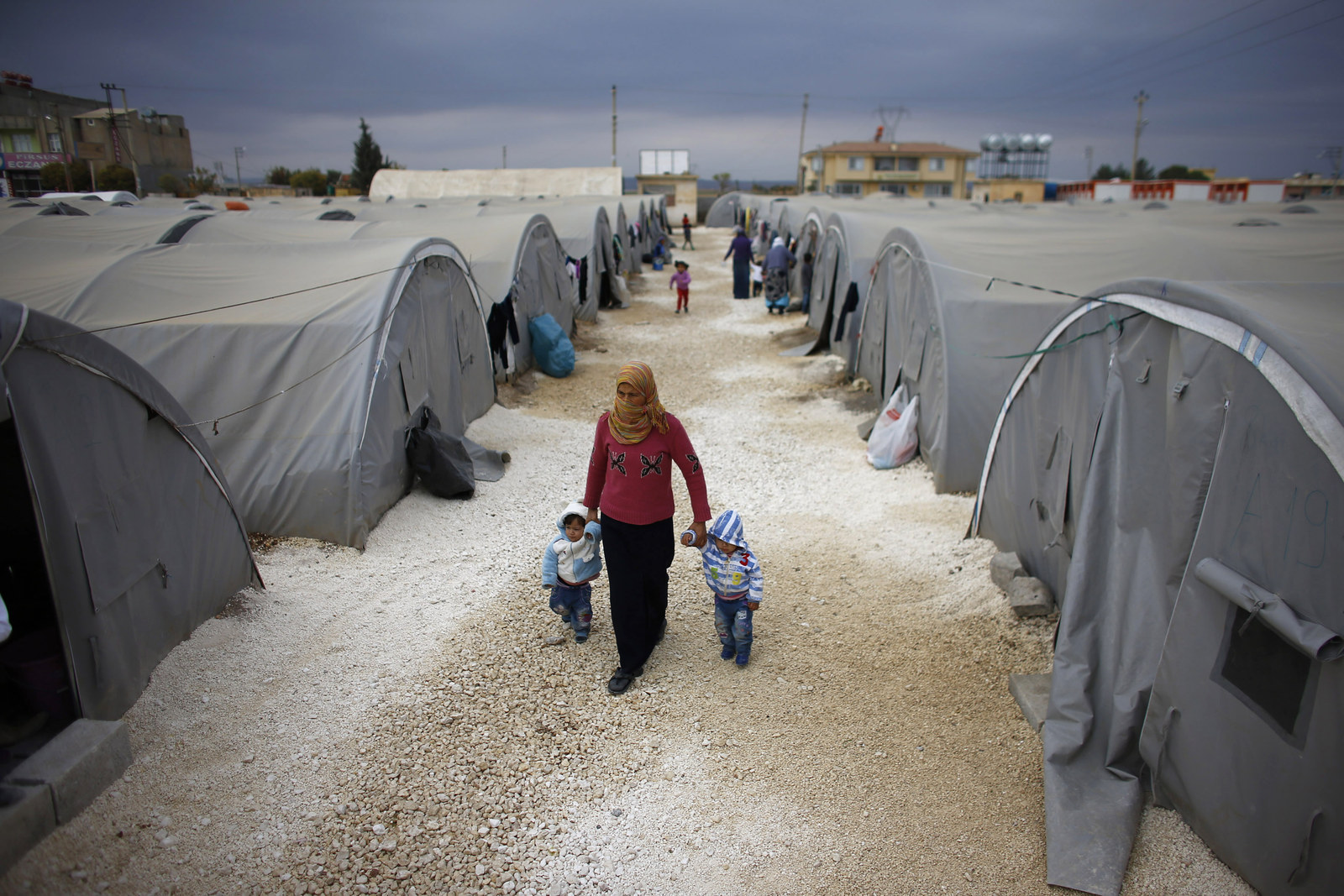 A Kurdish refugee woman from the Syrian town of Kobani walks with her children at a refugee camp in the border town of Suruc, Sanliurfa province.

35. Hefei, Anhui province, China, 2014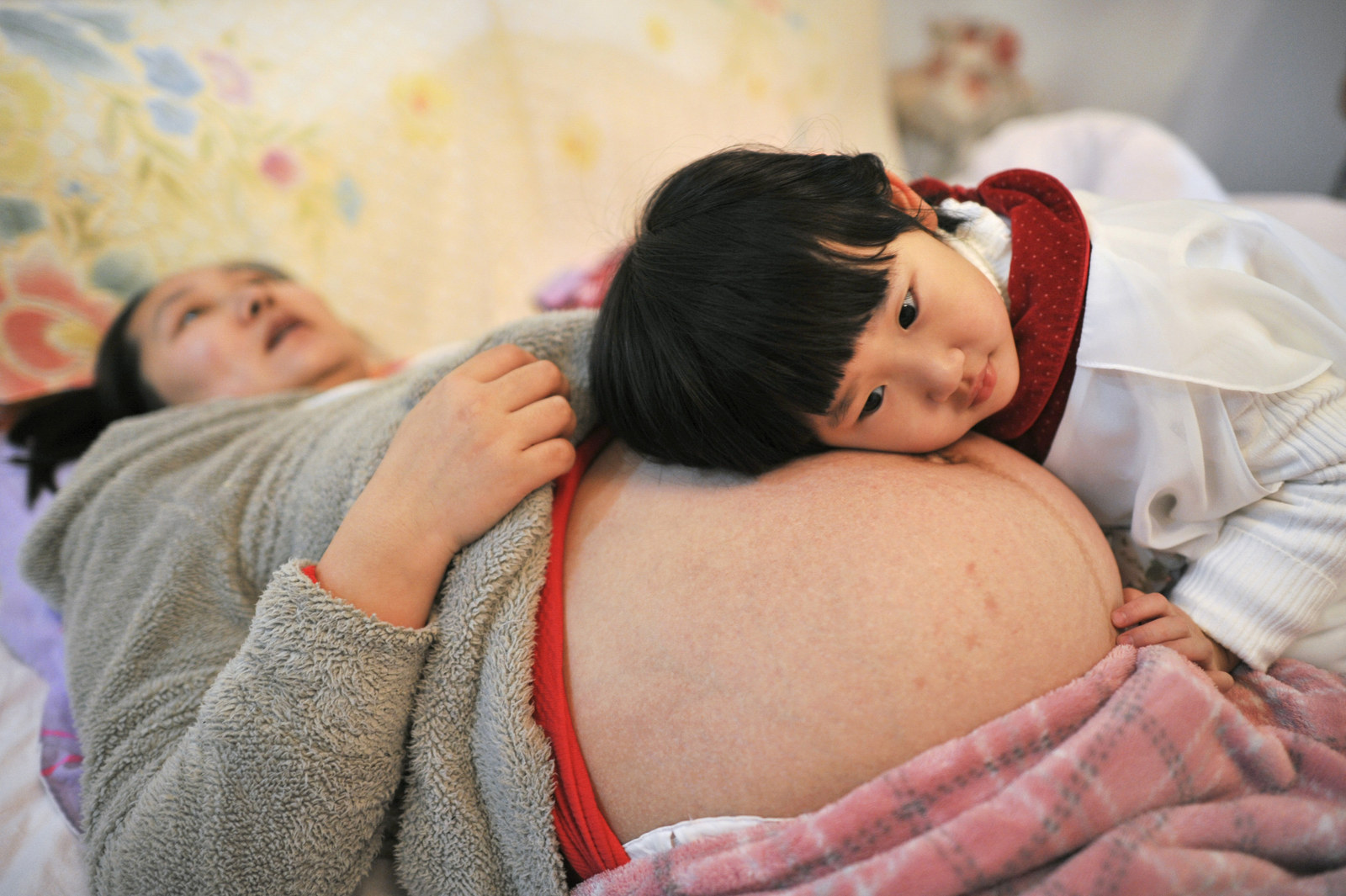 Li Yan, pregnant with her second child, lies on a bed as her daughter places her head on her stomach in Hefei, Anhui province. Li's family became the first to receive a birth permit to have a second child in the province after the Chinese government said it would allow millions of families to have two children.
36. Jabalya refugee camp, Gaza, 2009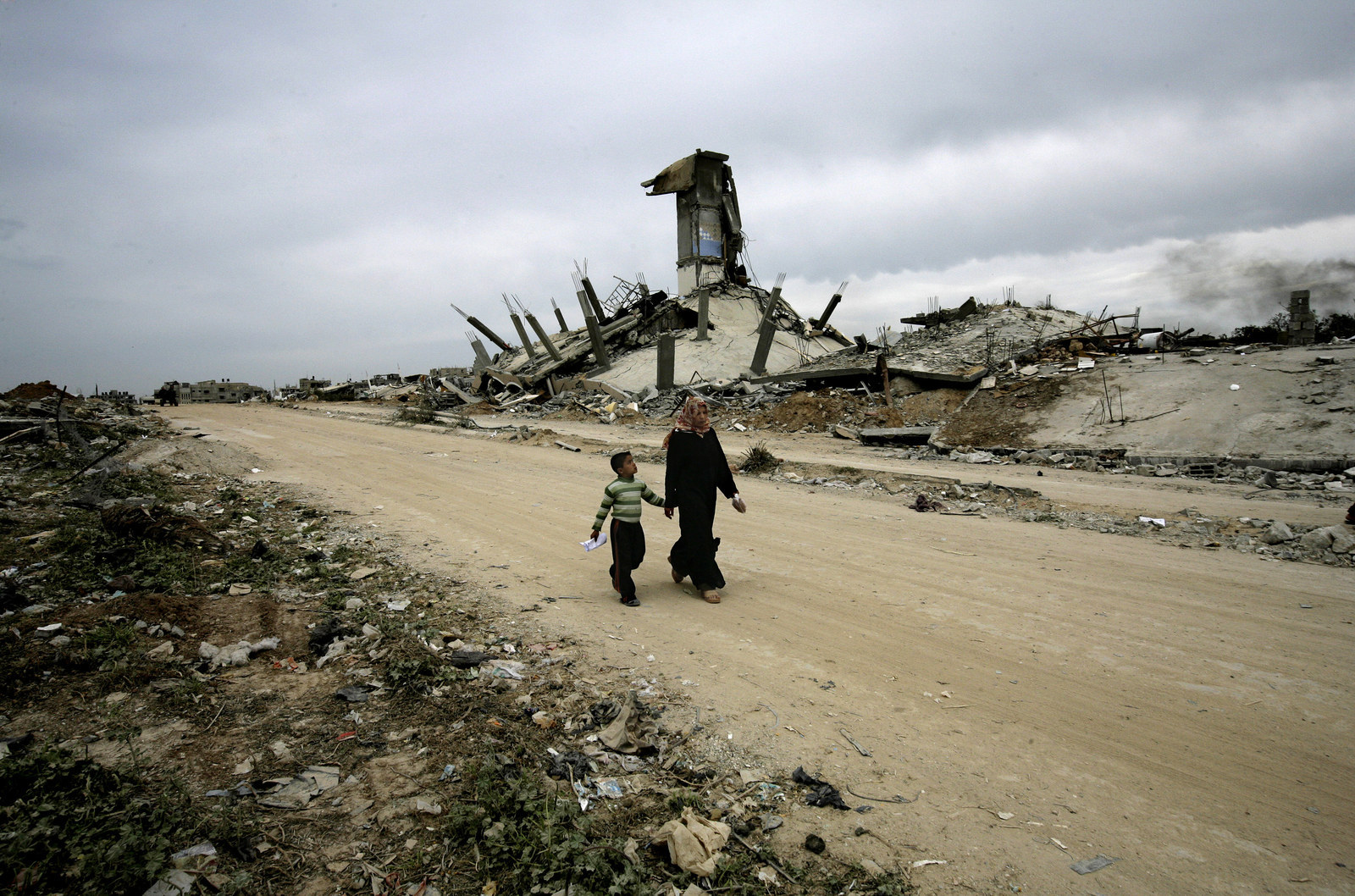 A Palestinian woman and her son walk through a badly damaged area in the Jabalya refugee camp in Gaza.
37. São Paulo, Brazil, 2012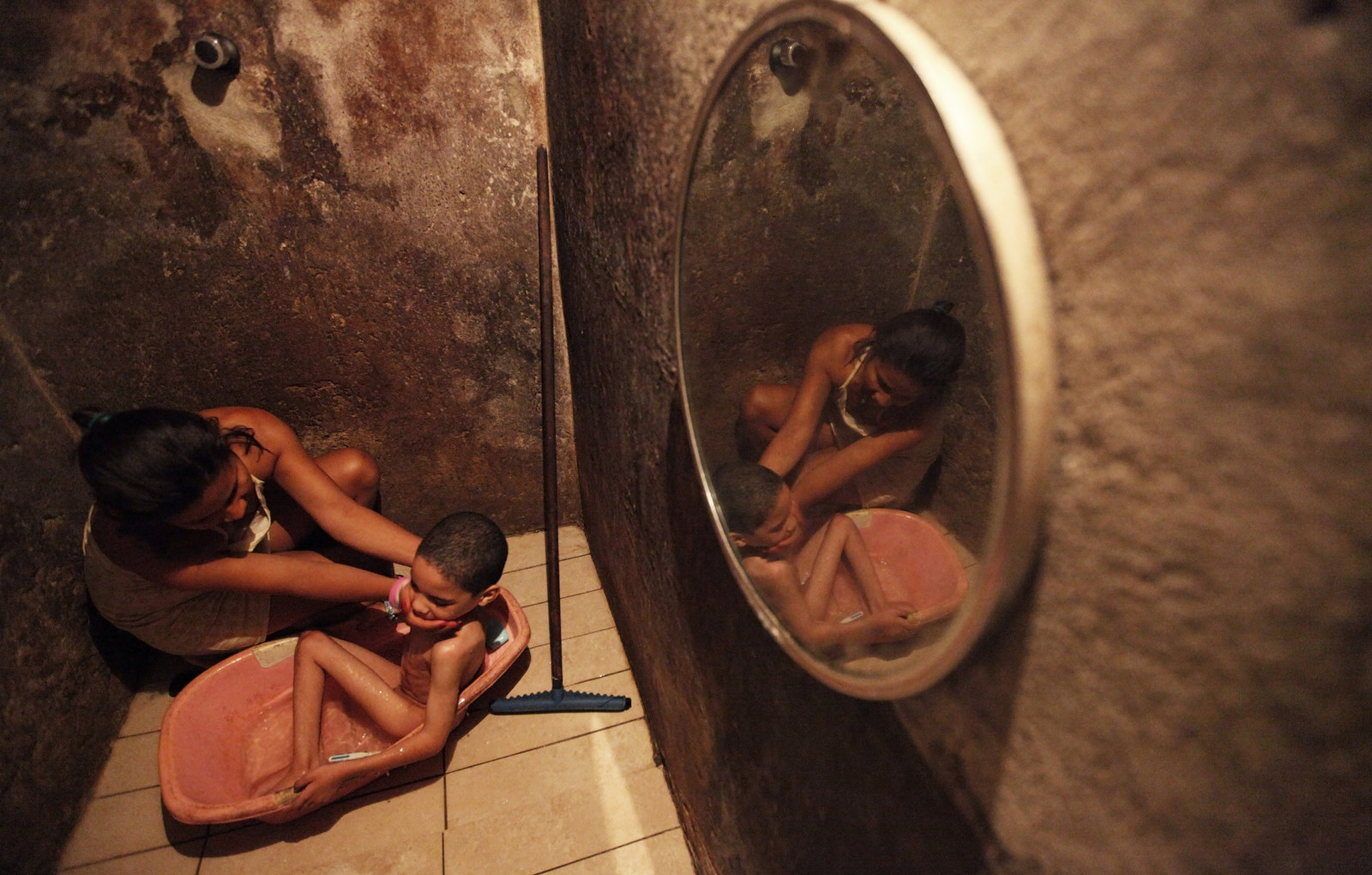 Rose Amor Divino bathes her son Dhones at home in the Brasilandia favela of São Paulo. Dhones and his sisters suffer from the disease Pelizaeus-Merzbacher, a rare genetic nervous disorder that affects coordination and intellect. Brazil's social security system, INSS, granted the family monetary assistance for only one of the three children, leaving the others to depend on the income from their father's job in a bakery.
38. Sittwe, Myanmar, 2012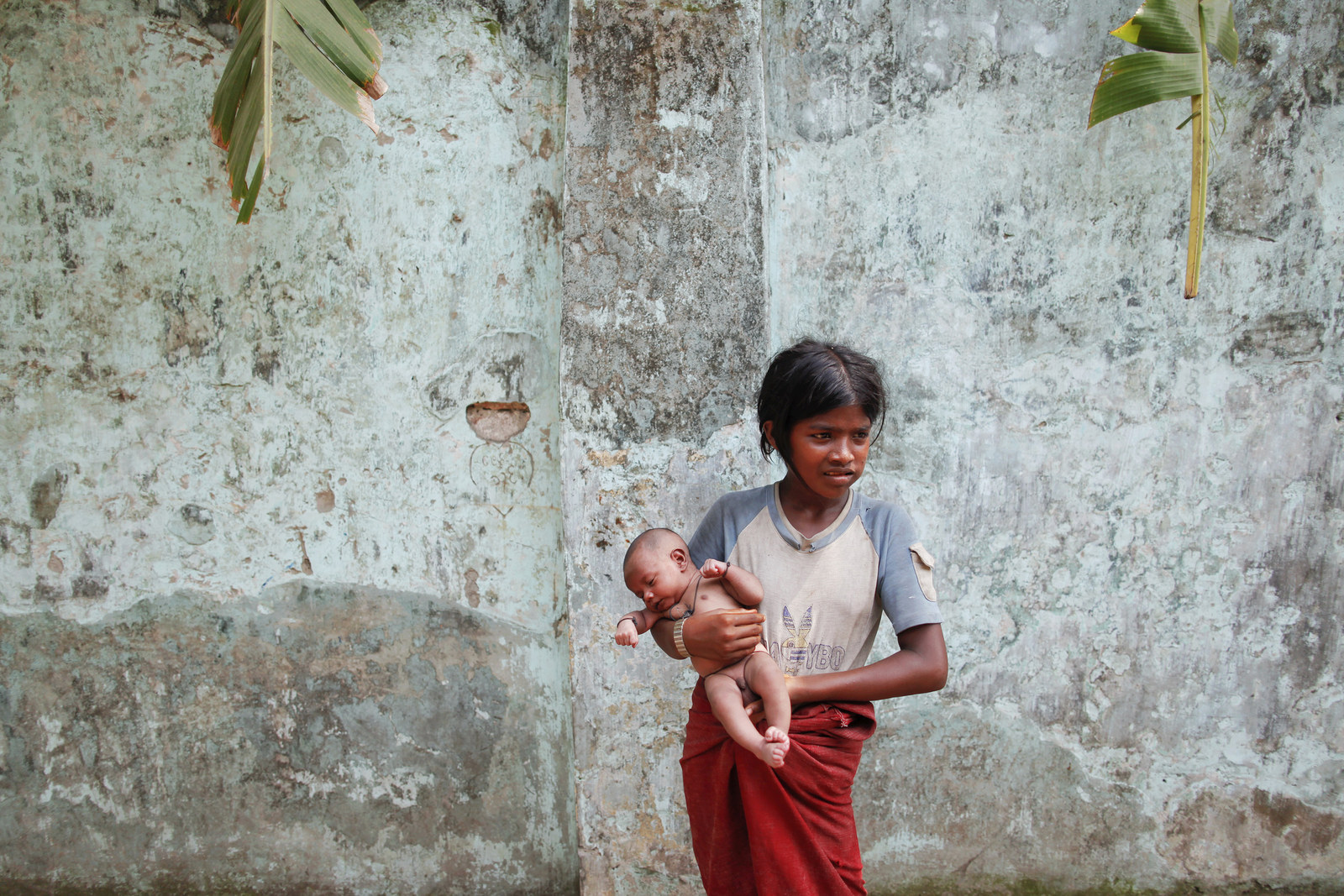 A Myanmar Rohingya woman holds her child as she waits for some aid outside a mosque after the Friday prayers in Sittwe.
39. Madrid, Spain, 2012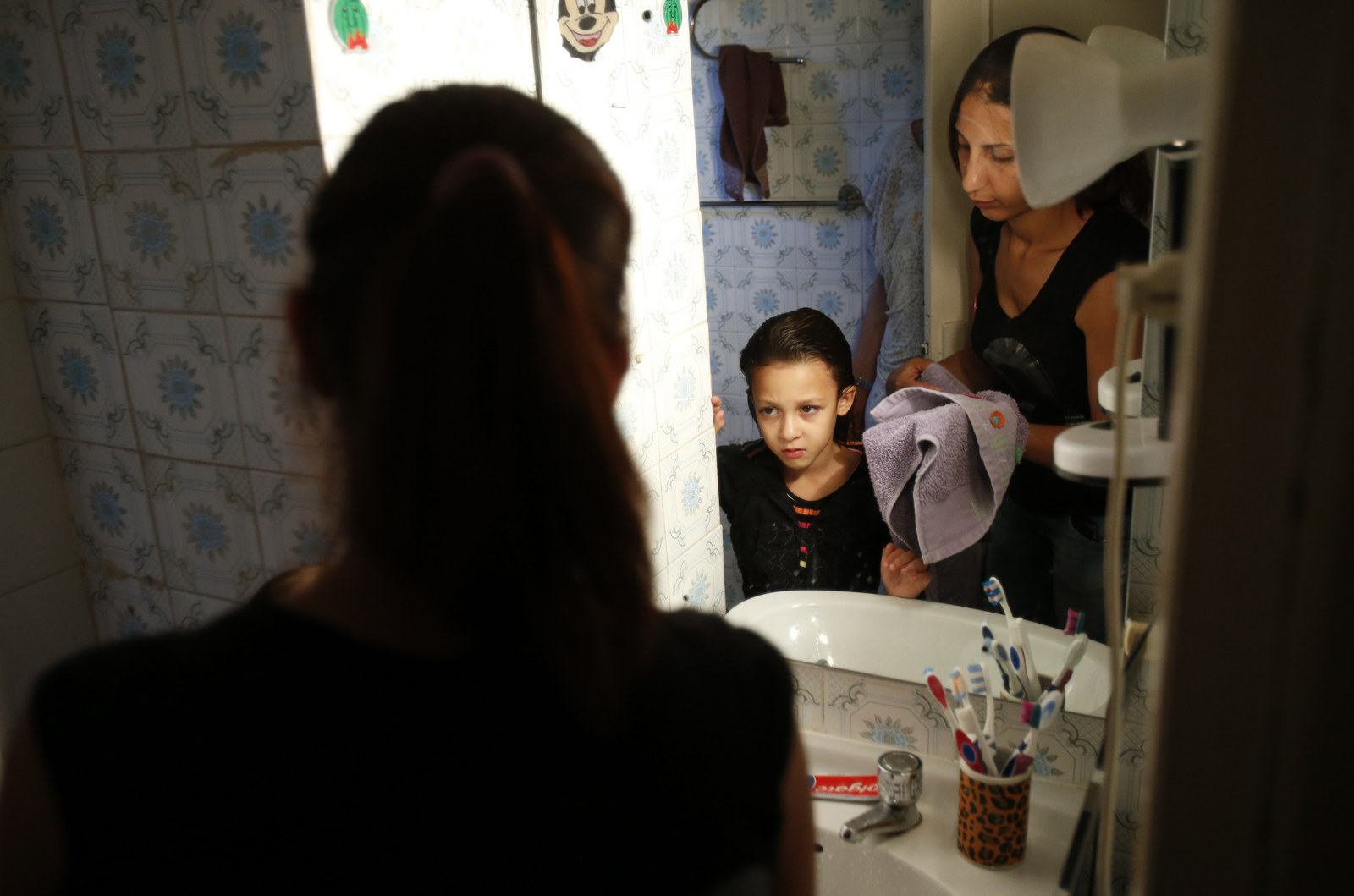 Moroccan national Hayat Loukrichi dries the hair of her daughter Hiba before learning that the family's eviction has been suspended in Madrid. The eviction was caused by their failure to pay the rent to their landlord.
40. Aweil, Northern Bahr el Ghazal, South Sudan, 2012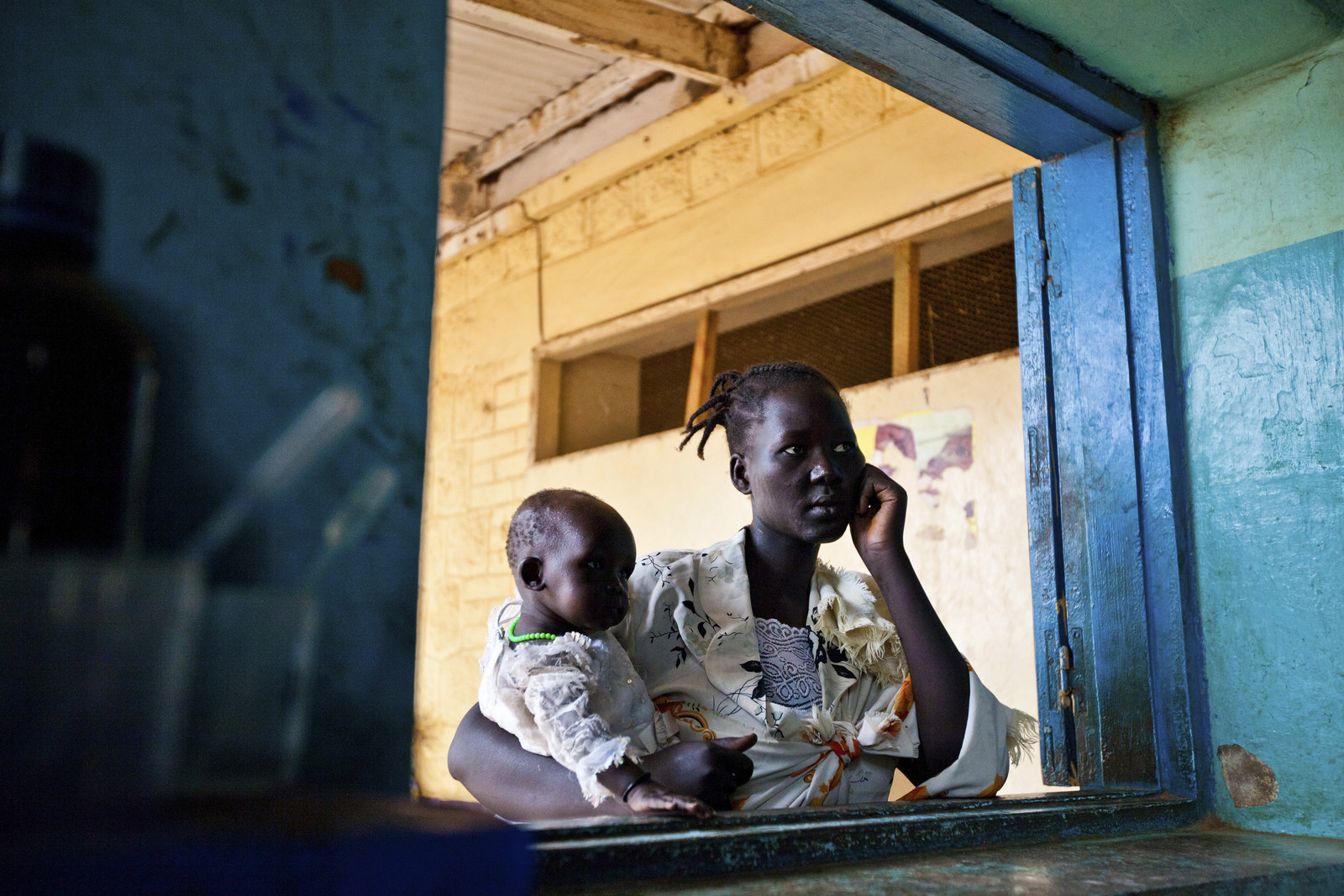 A woman and her child wait for test results at Aweil State Hospital in Aweil, the only hospital in the South Sudanese state of Northern Bahr el Ghazal. As in many developing nations, international aid is both an invaluable help to South Sudan and a crutch that sometimes enables it to avoid reality.
41. Chiang Mai, Thailand, 2012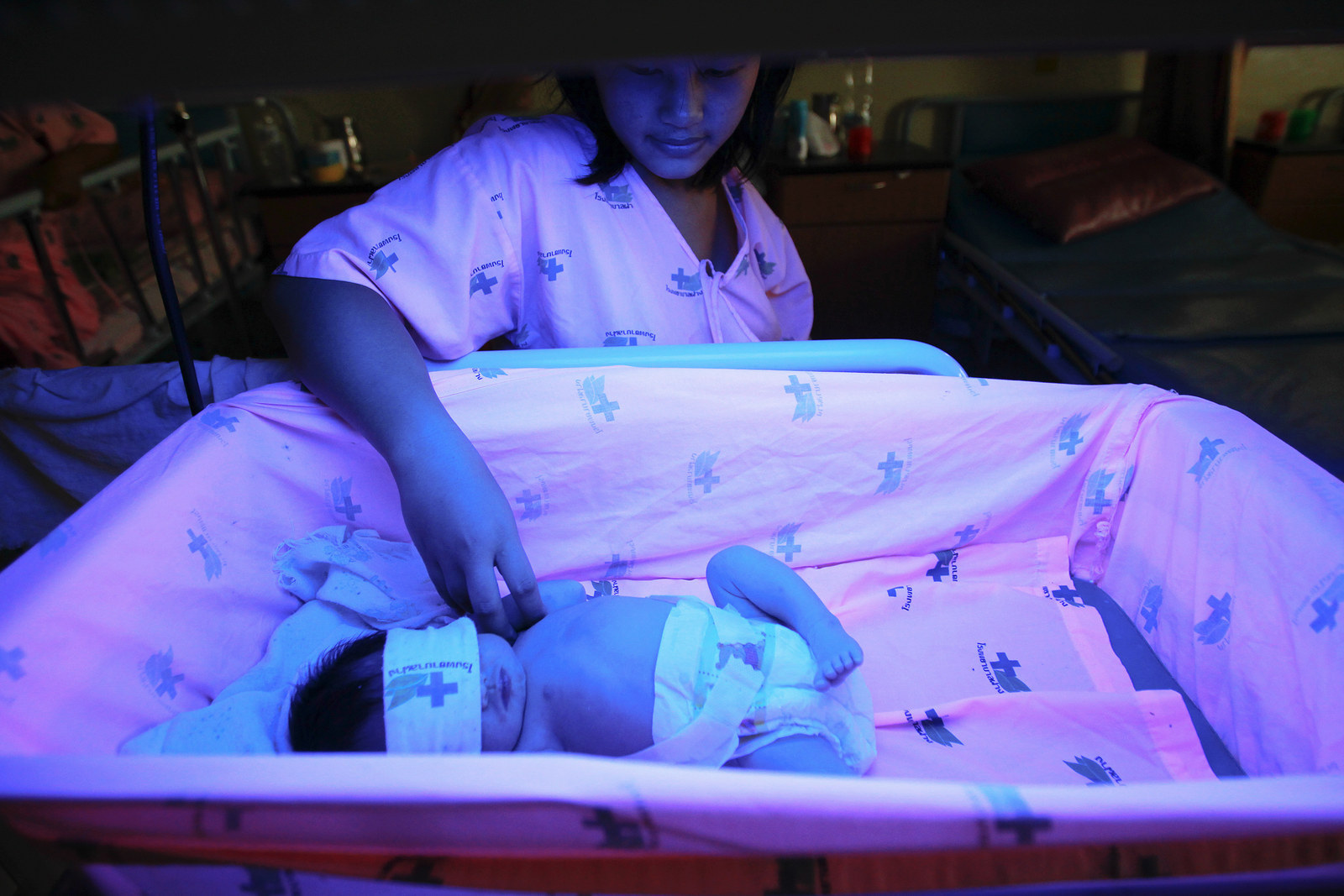 Nami, a 17-year old mother, cares for her 1-day-old baby at a hospital in Chiang Mai's Fang district. A World Health Organisation report shows the average number of pregnancies for every 1,000 girls in the 15–19 age group as 65, but that figure rises to 70 in Thailand. Teen pregnancy and early child marriage are among the major obstacles that deny the rights of 75 million adolescent girls worldwide to education.
42. Badakhshan province, Afghanistan, 2008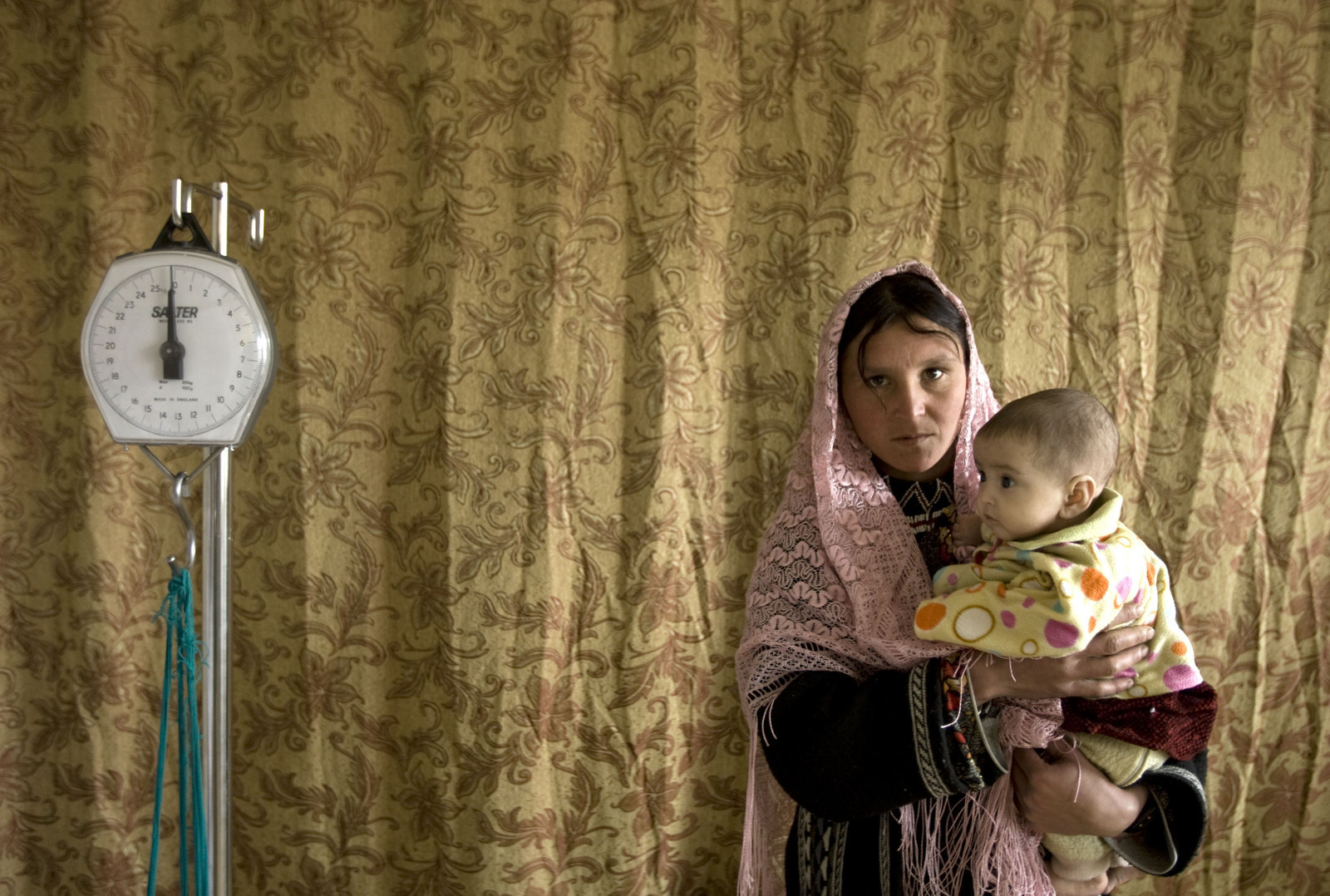 An Afghan mother holds her child as she visits a health clinic in Eshkashem district of Badakhshan province, northeast of Kabul. Afghanistan has one of the world's highest maternal mortality rates. About 1,600 Afghan women die in childbirth out of every 100,000 live births. In some of the most remote areas, the death rate is as high as 6,500.
43. La Oroya, Peru, 2009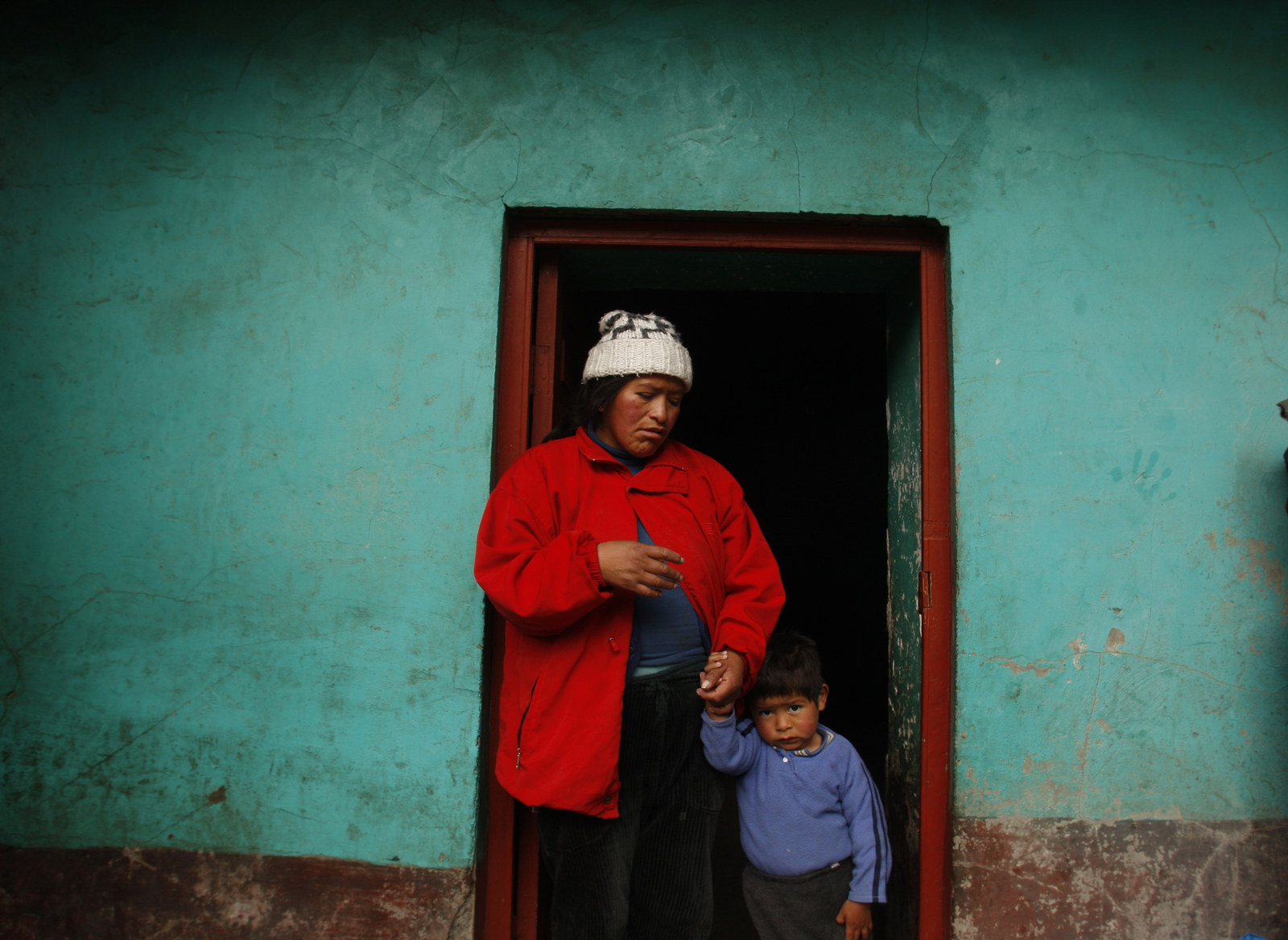 Angelica Cagincho and her son Nixon stand at her home next to the Doe Run Peru smelter in the Andean city of La Oroya, east of Lima.
44. Niomel, Guidimakha region, Mauritania, 2012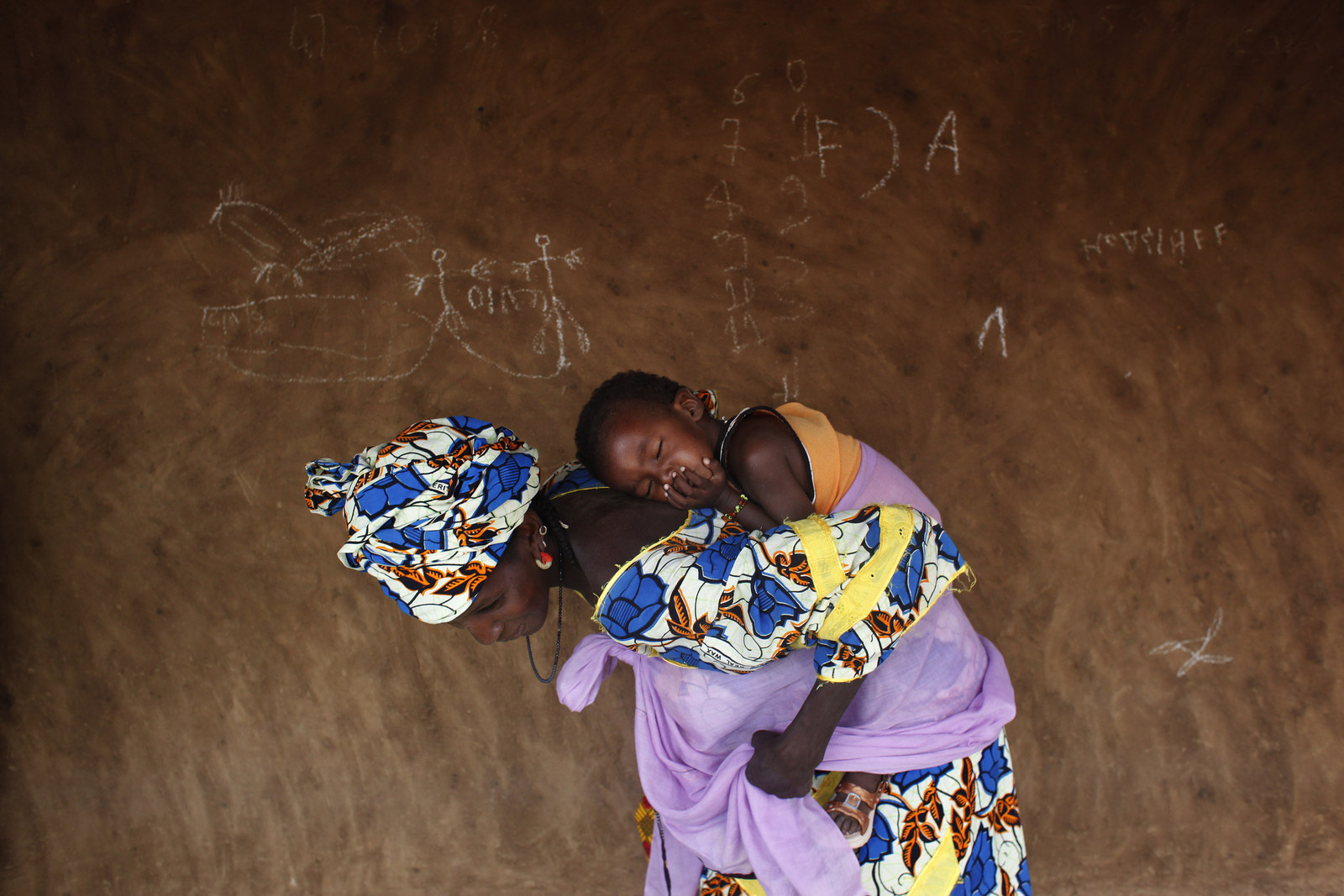 A woman wraps her sleeping baby on her back after a talk with members of the Spanish non-governmental organisation Accion contra el Hambre ("Action Against Hunger") about good sanitation and hygiene practices in Niomel, in the Guidimakha region.
45. El Rocio, 2005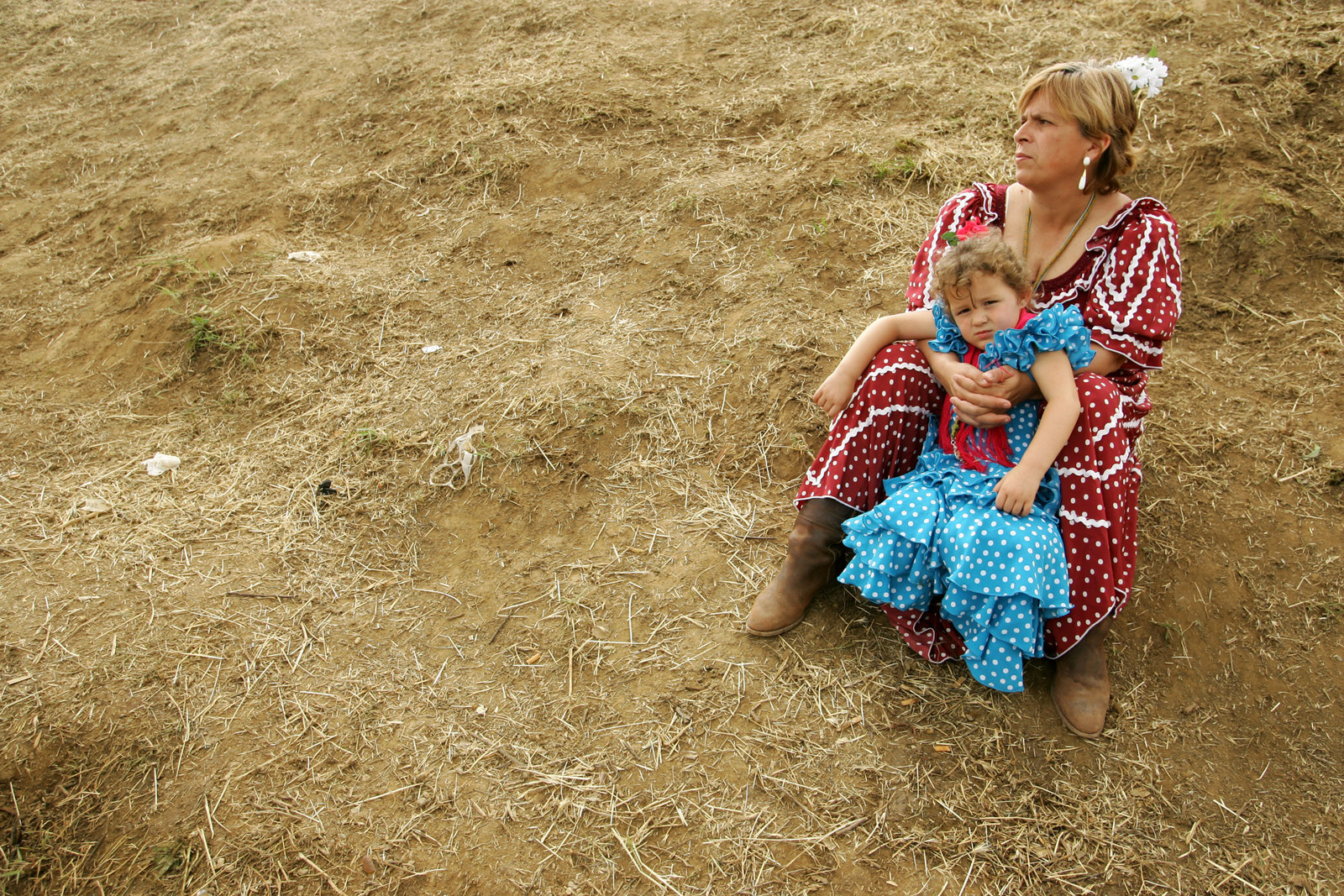 Pilgrims make a stop enroute to the shrine of El Rocio next to Quema's river. Every spring, in the biggest romeria or pilgrimage in Spain, the hundreds of thousands of devotees of the Virgin del Rocio take part, making their way to the shrine on horseback or in brightly decorated carriages that wind across the Andalusian countryside.
46. Kalmunai, Sri Lanka, 2005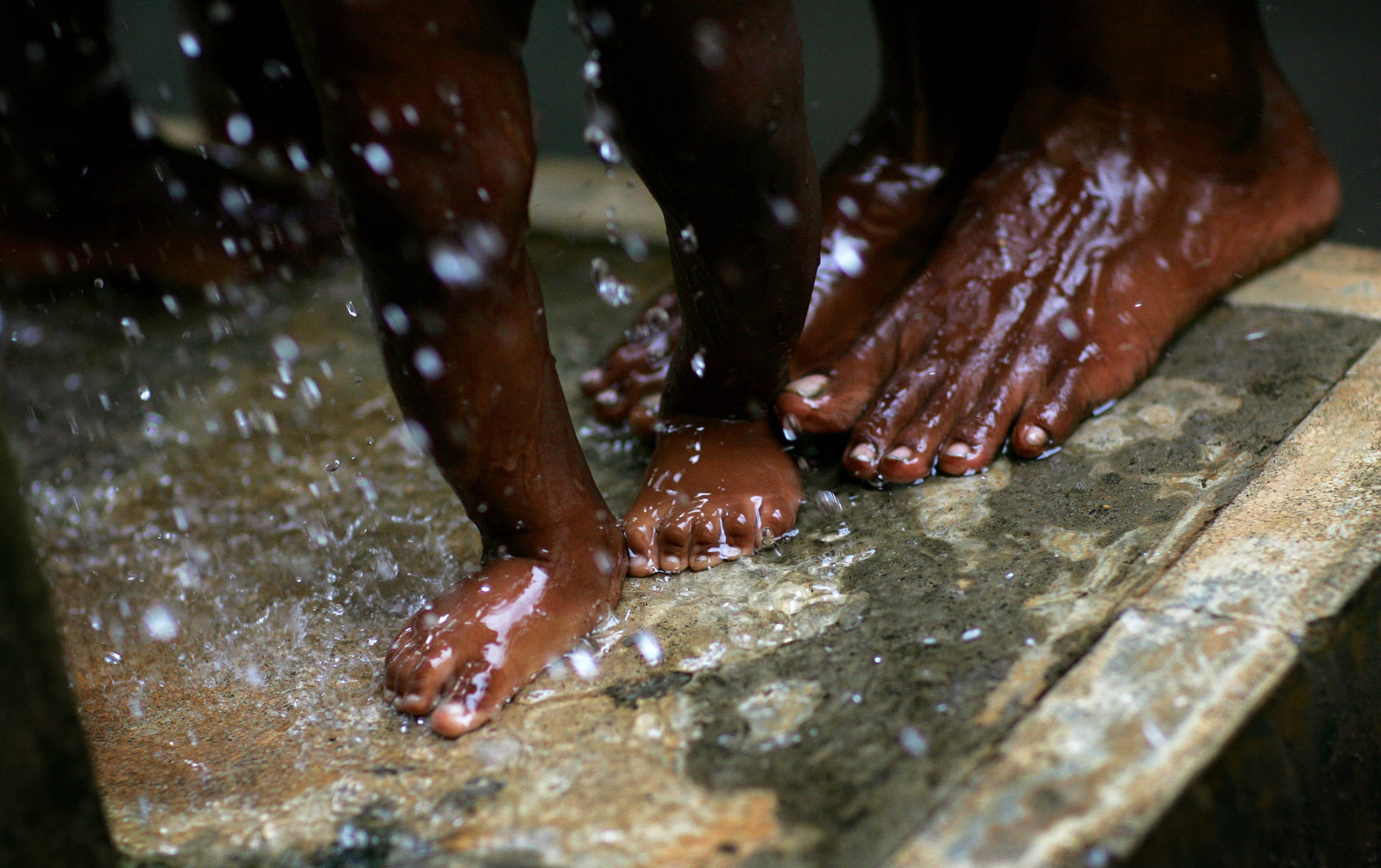 A mother washes her child in the Mahmoud Ladies School, which was being used as a refugee shelter for homeless tsunami families in Kalmunai on Sri Lanka's east coast. The death toll from the Asian tsunami on 26 December was 156,193 people.
47. Kabul, Afghanistan, 2001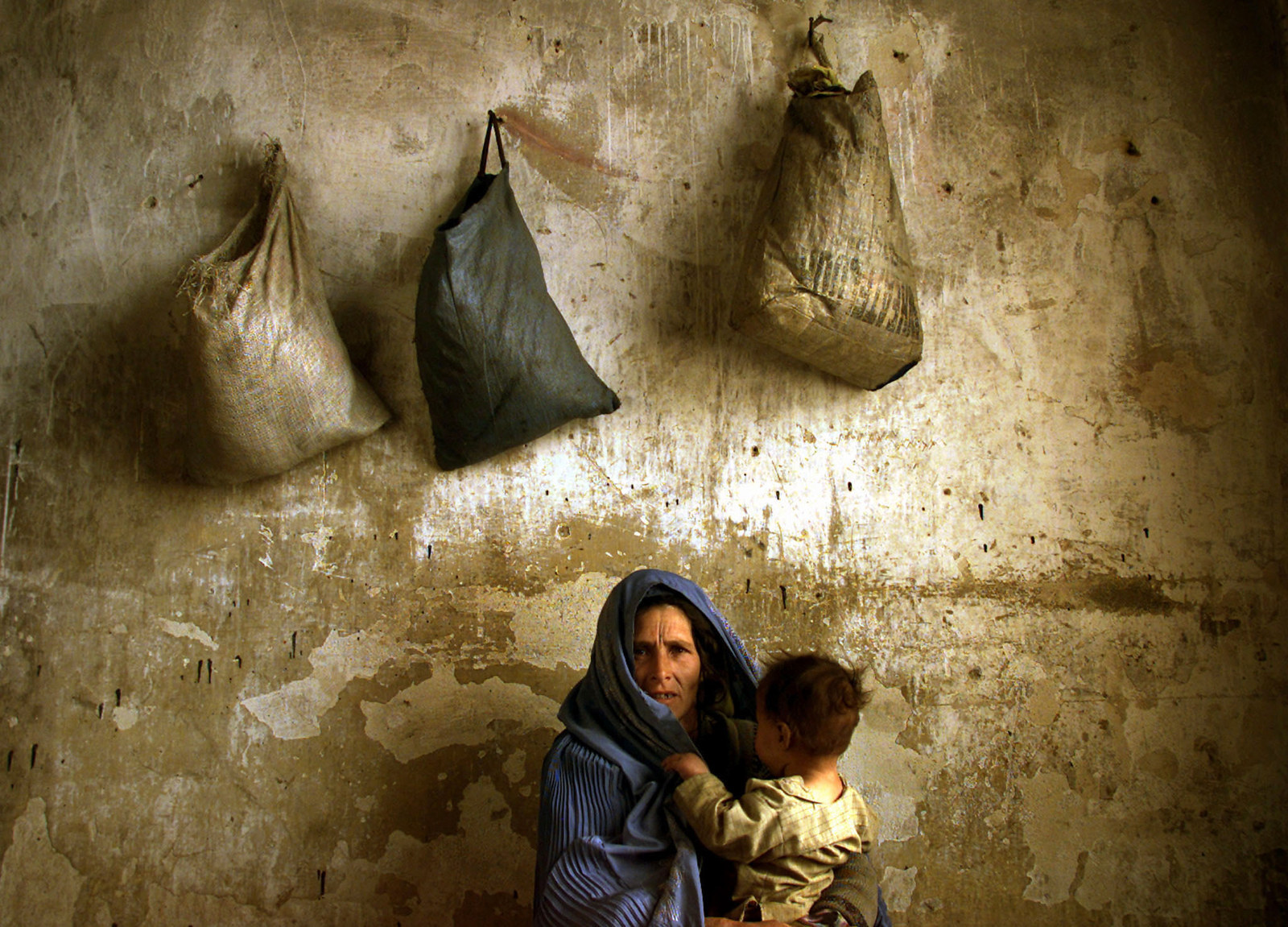 Madina, a malnourished, illiterate Afghan woman who is unsure of her own age, holds her son in their humble refugee home in a suburb of Kabul. Madina's 4-year-old daughter Maqbula was abducted and killed two years previously and had her eyes removed. Her death, and that of other children in Kabul when it was under Taliban control, sparked rumours in the city that a gang was on the prowl kidnapping children for their organs.
48. Warsaw, Poland, 2007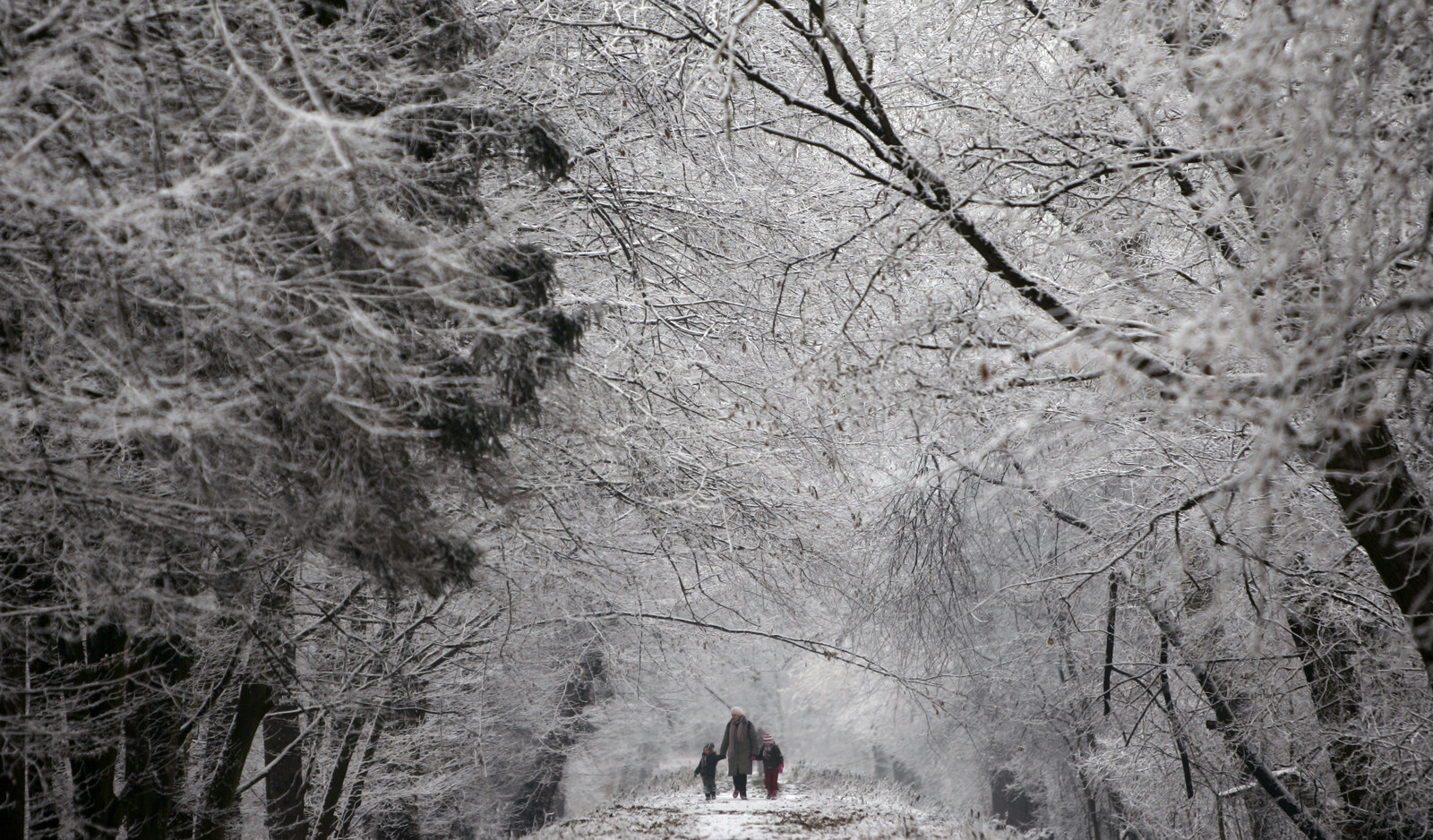 A woman and two children walk through the snow-covered Mlociny Park in Warsaw.
49. Mushake, Democratic Republic of the Congo, 2009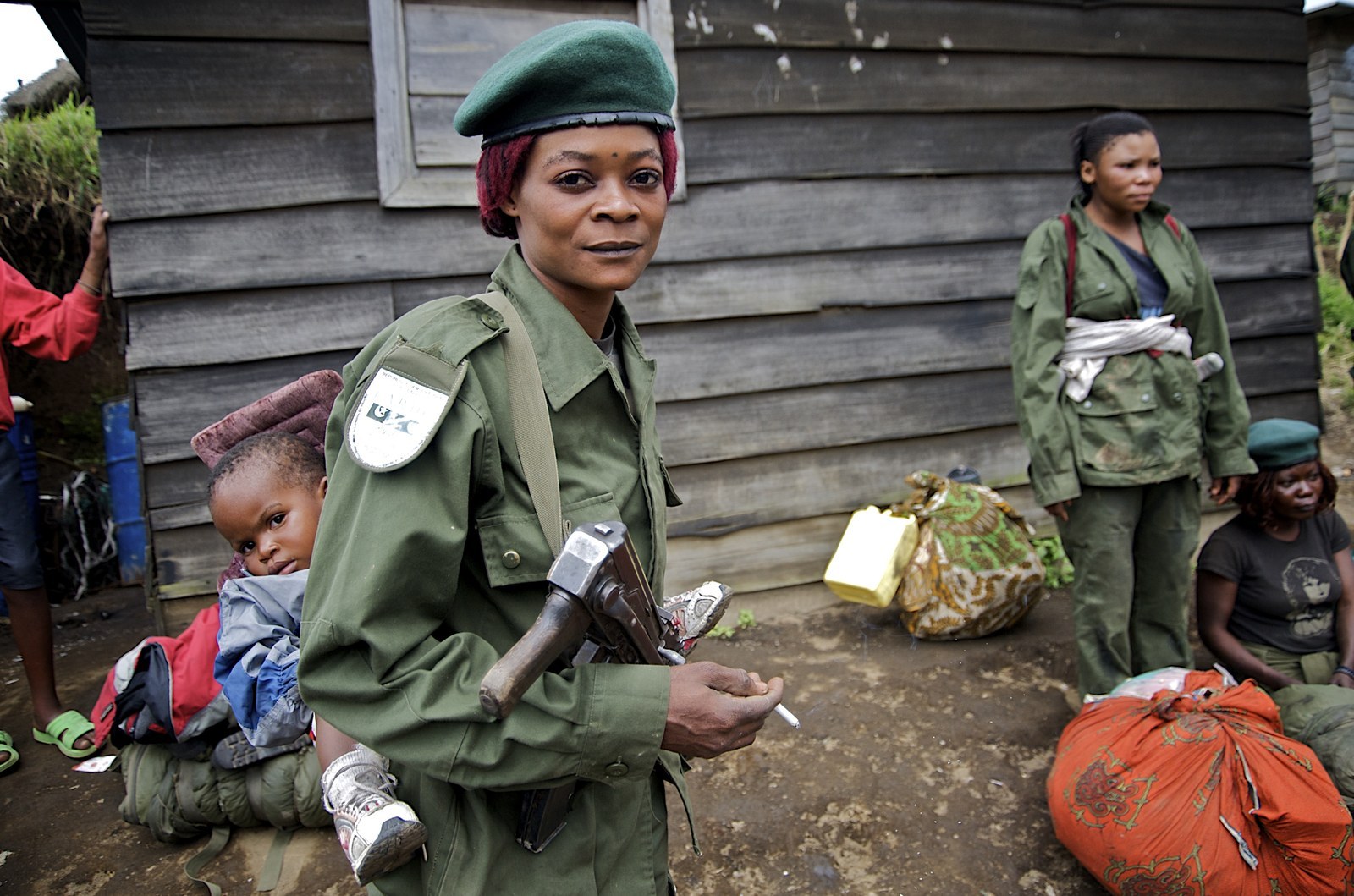 A government soldier carries her infant on her back at Mushake in eastern DR Congo.

50. Tegucigalpa, Honduras, 2013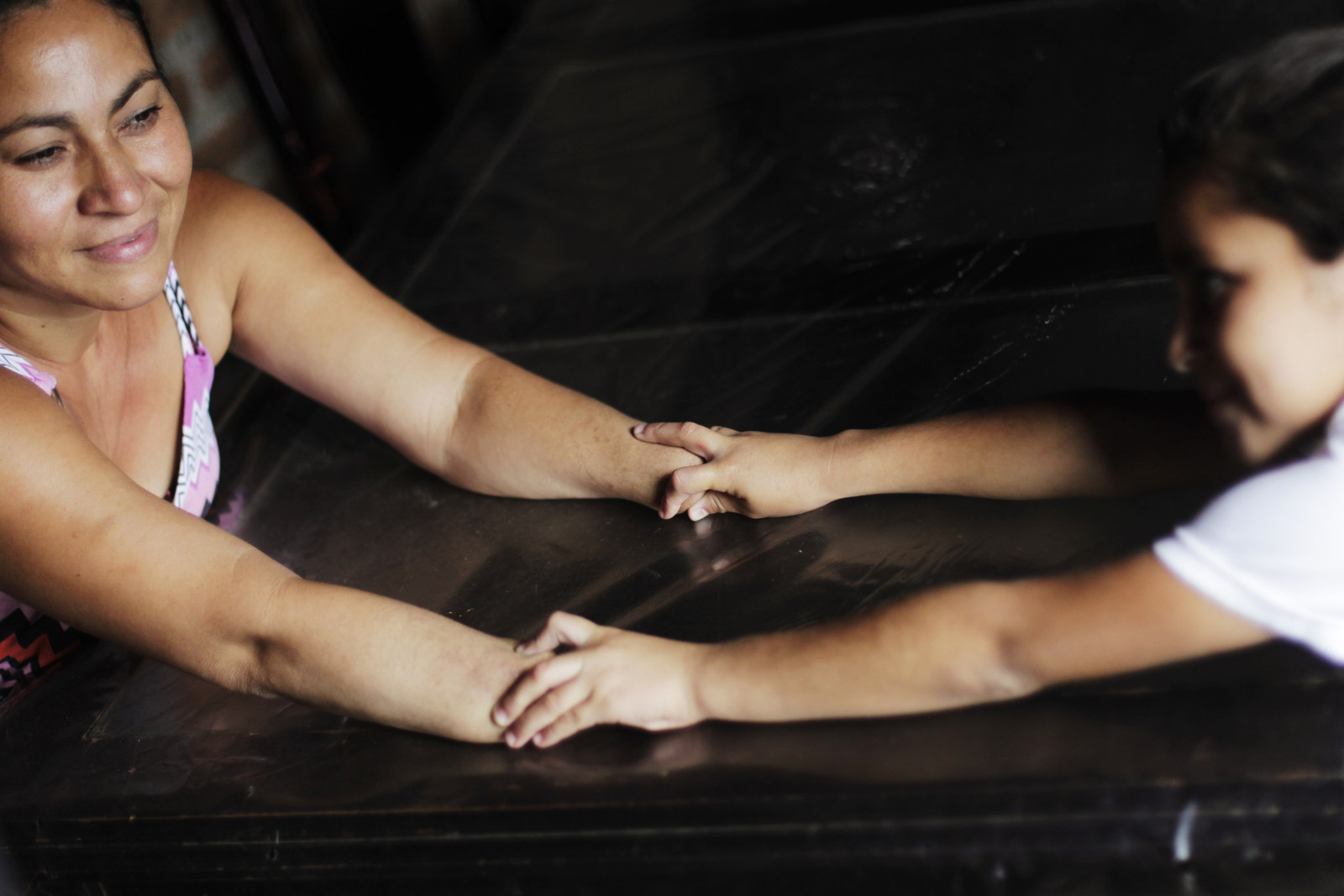 Angelica Maribel Murillo, 37, sits at a table with her daughter Braily at their home in the La Nueva Australia neighbourhood in Tegucigalpa. Murillo's husband attacked her in 2008, accusing her of having an affair, and cut off her two hands with a machete while trying to kill her. He has been on the run since then, while she raises their four children by making and selling tortillas.
51. Sittwe, Myanmar, 2013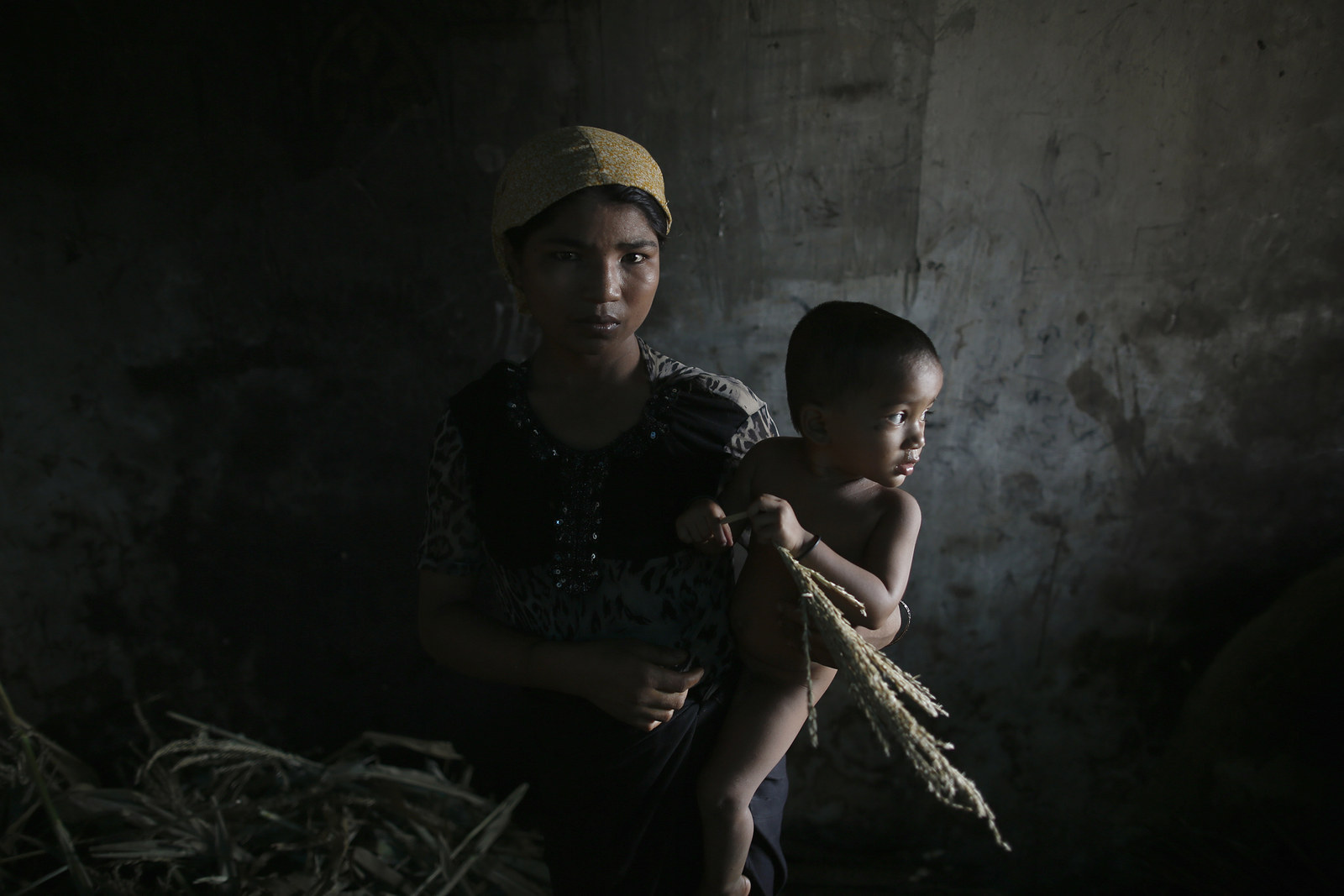 Hla Hla May, a Rohingya Muslim woman displaced by violence, holds her 1-year-old daughter Roshan at a former rubber factory that served as their shelter, near Sittwe in Myanmar.

52. Lanzhou, Gansu province, China, 2009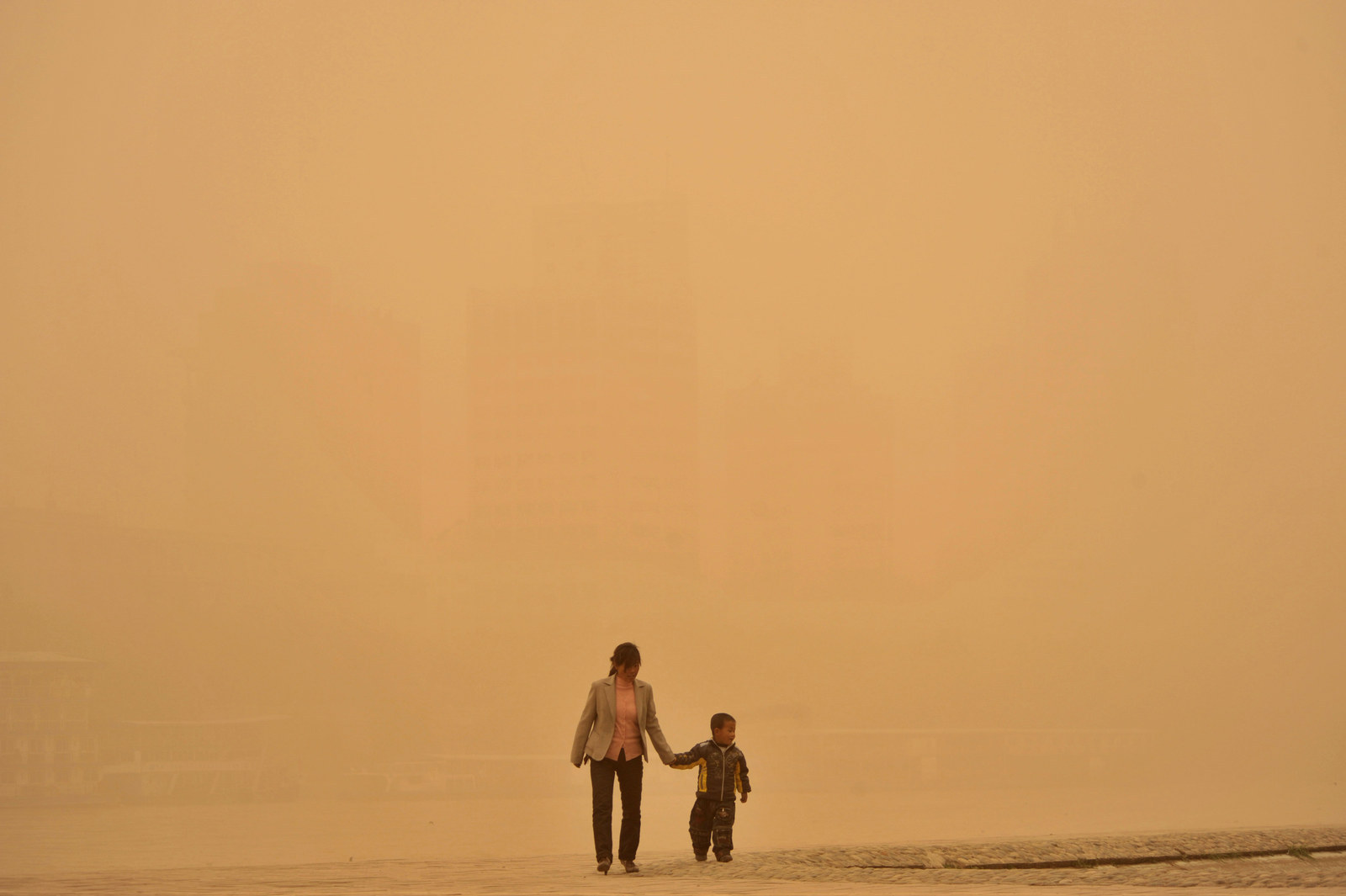 A mother and her child walk through a strong sandstorm in Lanzhou, Gansu province.
53. Near Zarqa, Jordan, 2013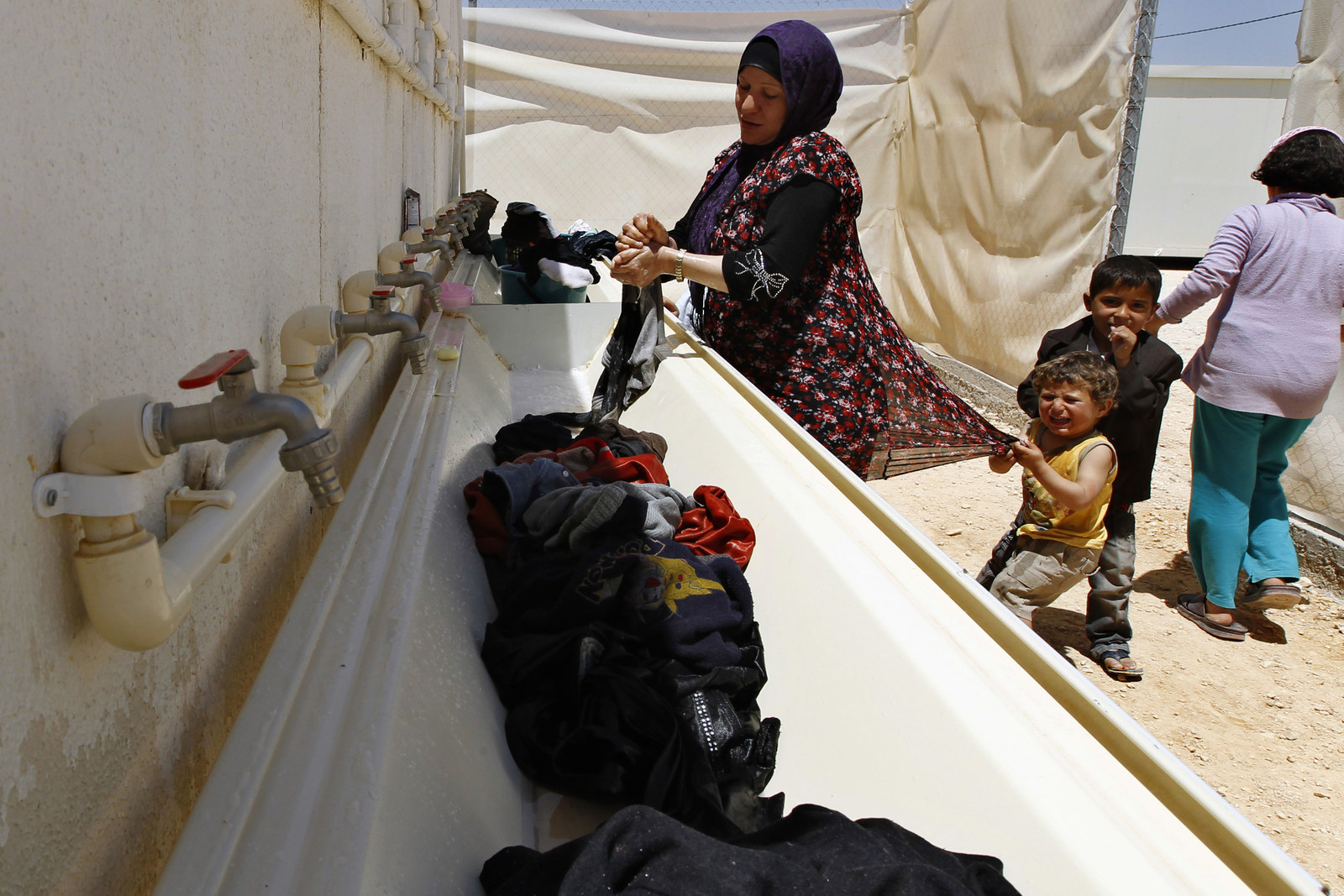 A Syrian refugee woman washes her clothes at the Mrajeeb Al Fhood refugee camp, east of the city of Zarqa.
54. Strasbourg, France, 2012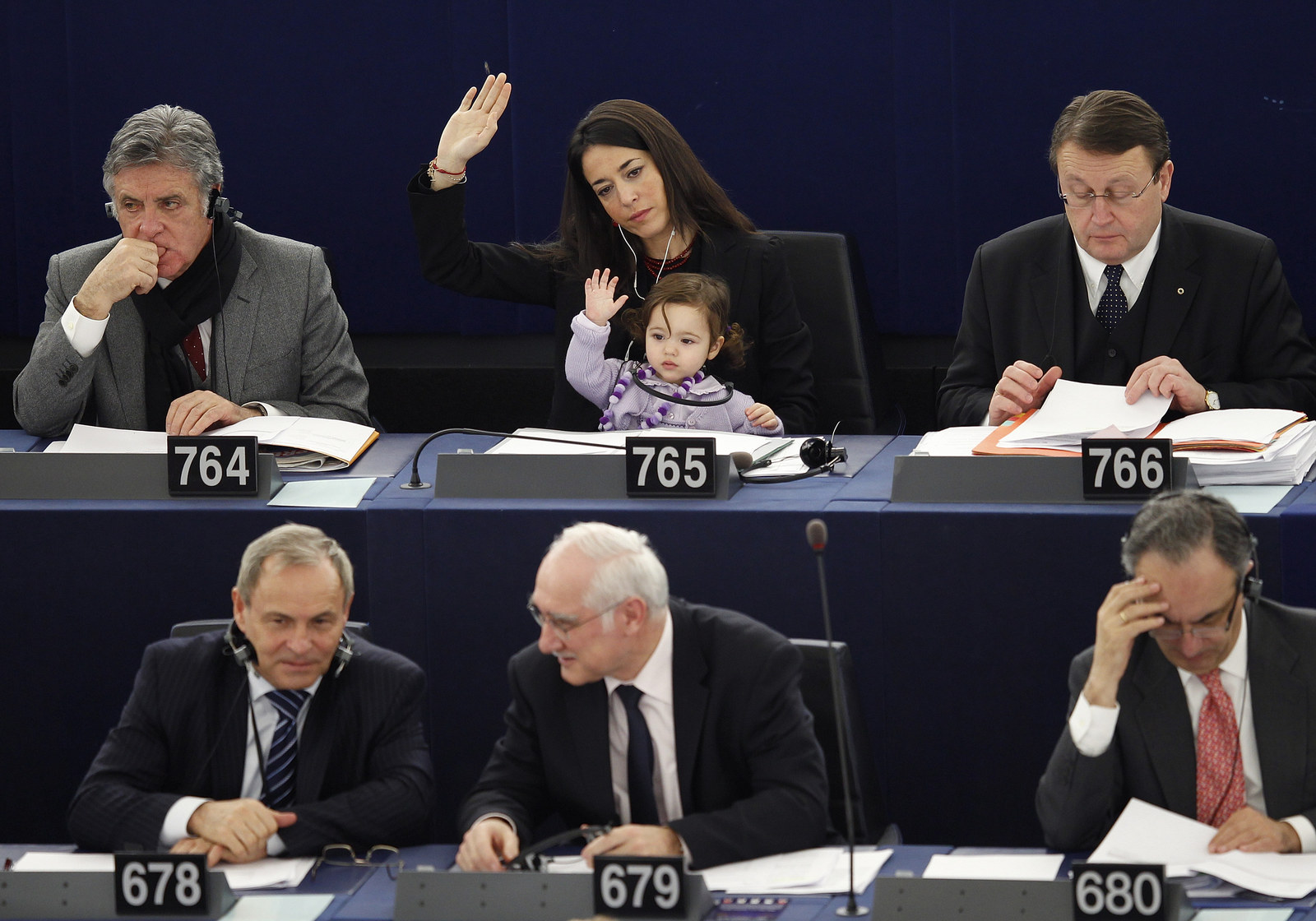 Italian MEP Licia Ronzulli (top centre) takes part with her daughter Vittoria in a voting session at the European Parliament in Strasbourg.