Zach Galifianakis And Kristen Wiig's Real-Life Legal Advice Is All You'll Ever Need
"You're allowed to defecate on someone else's lawn if their dog has done it to yours."
by
,
,
,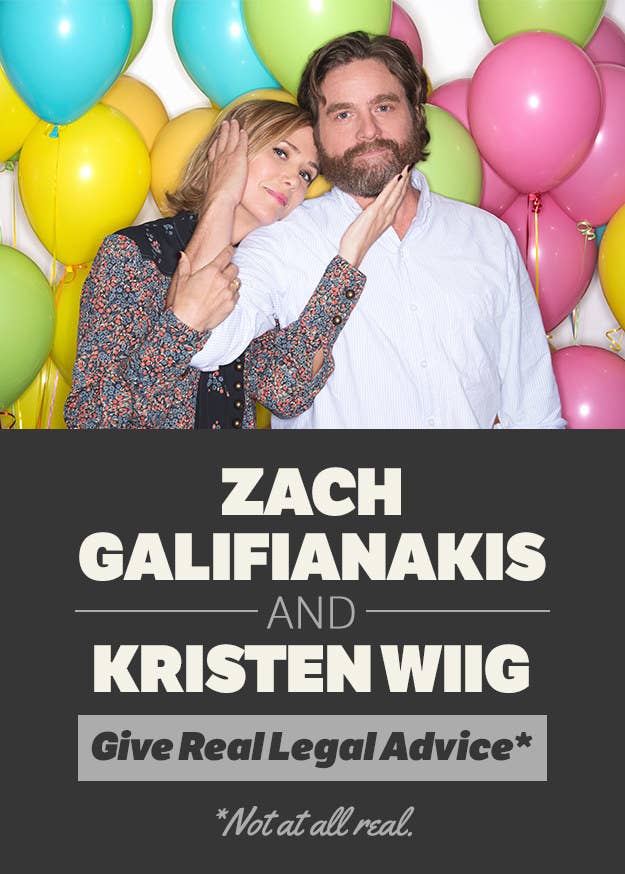 When it comes to legal issues, Zach Galifianakis And Kristen Wiig have ALL the answers. The stars of Masterminds sat down with BuzzFeed to answer some real-life law questions and, ehh, talk about poop. But seriously, they REALLY like talking about poop.
What's the best way to get out of a parking ticket? — Jordan, 25
My neighbor's dog keeps going to the bathroom on my lawn and I want to take legal action. Any advice? — Karen, 38
What is the best way to speed up my divorce? — Darryl, 42
I invented something and someone else copied it. Legally, what are my options? — Steven, 31
I used a brand of shampoo and now my hair is falling out. Should I get a lawyer? — Mariella, 34
I started talking to a girl on Tinder, but it ended up being a 50-year-old man. Can I take legal action? — Nathan, 23
Let's say you had a law firm together — what would you call it?
Make sure to check out Zach and Kristen's new movie Masterminds in theaters on September 30!