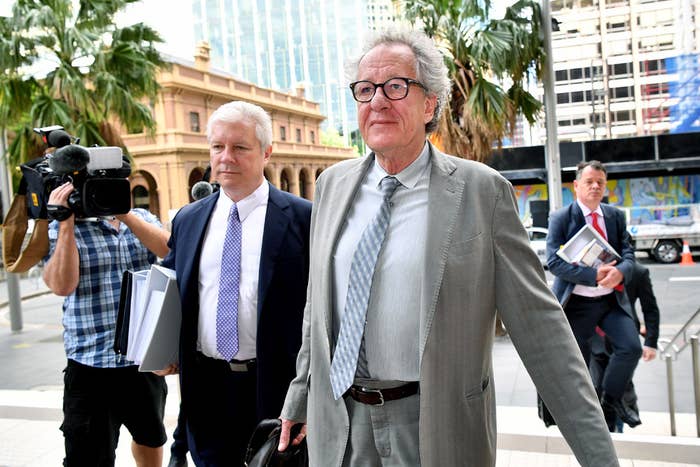 The Daily Telegraph wants to amend its defence in the Geoffrey Rush defamation case to include a proposed new witness, known only as "X", in a move that could see the trial adjourned until as late as April next year.
Rush is suing the publishers of Sydney newspaper The Daily Telegraph and journalist Jonathon Moran, after they published allegations in November 2017 that Rush had been accused of behaving inappropriately towards a female cast member during the 2015-16 Sydney Theatre Company (STC) run of King Lear.

Rush, 67, has strenuously denied the allegations. He claims publisher Nationwide News defamed him in two articles and a poster by painting him as a pervert and a sexual predator who committed sexual assault while acting in King Lear, and by suggesting his conduct was so serious that the STC pledged to never work with him again.

Nationwide News is arguing a defence of truth based on the testimony of Eryn Jean Norvill, who played the role of King Lear's daughter Cordelia in the production and alleges Rush sexually harassed her during the run of the play. She did not participate in the Telegraph's stories and was not named in them.
The Telegraph launched the shock mid-trial bid to amend its defence on Tuesday morning. A suppression order is currently in place preventing the identification of Witness X.
The court heard that last Friday, Norvill's lawyer Leon Zwier got in touch with the Nationwide News lawyers and said Witness X "might be prepared to give evidence" in the case, prompting the application.
Nationwide News barrister Tom Blackburn SC asked Justice Michael Wigney to approve the application, saying the material in the proposed amended defence could be capable of justifying some of the defamatory imputations pleaded by Rush.
"It is vitally important evidence to resolve a difficult factual dispute between the respondents and the applicants," Blackburn said.
Wigney said that if he allowed a new defence, he would have to adjourn the case until next April for availability reasons.
"That further hearing would involve an entire new set of allegations, an entire new set of witnesses, Mr Rush would have to be recalled among other things," Wigney said, adding that he was concerned about the impact such an adjournment would have on Rush.
Blackburn said "strain and stress" occur in most defamation litigation and that the "real prejudice" on Rush is the delay it would cause.

Wigney told Blackburn: "To say that's it's less than desirable is the biggest understatement I have heard in a submission before. This is extraordinary on any view of it. The end of the case. We'd have to run a whole new trial on completely separate matters."
Kieran Smark SC, representing Rush, said the application "lies fairly clearly over the line" and should not be allowed.

"When these publications were published, let's leave aside Witness X for a moment, the respondents hadn't even secured the cooperation of Miss Norvill ... They didn't even have reliable hearsay," he said.
"Having published what was a shadow of a story, they now seek permission … to run what is in substance a new and different case."
Justice Wigney has reserved his decision and is expected to hand down a judgement by Tuesday next week.

Eryn Jean Norvill was present in court to hear the application, after giving evidence on Tuesday and Wednesday and being absent on Thursday.
Earlier on Friday, the court heard evidence from Richard Marks, an LA-based entertainment attorney who has been in the business for 40 years.
Under cross-examination from Rush's barrister Sue Chrysanthou, Marks said that a character actor like Rush "ages out" of roles in the same way a leading man like Bruce Willis or Harrison Ford would.
"When he was cast as the villain pirate [in Pirates of The Caribbean] he was probably in his early 50s," Marks said. "He wouldn't be cast in that role if he was 80. At some point, just like Harrison Ford, he would age out of that role. Age does play a part in the role any actor plays."
Marks, who was testifying as an expert witness for Nationwide News, was questioned over an assertion in his expert report that the articles would have "no ongoing effect on Mr Rush's ability to obtain acting roles".

Expert witnesses testifying for Rush were more pessimistic. His agent Fred Specktor told the court he feared the allegations had damaged Rush's "psyche" and marred his ability to work, while LA-based attorney Robin Russell said the association with #MeToo was a risk a film would not take.
"Right now it's a big cloud. I've never seen anything like it," Russell said.
Marks said he did not believe there would be a "permanent cloud" over Rush if he won the case.
Asked if it was true that a movie studio simply would not "take a risk" on somebody who had had a #MeToo allegation made against them, he said: "There may be people who make that decision. I just don't think it will be the general decision.
"I believe that this allegation of inappropriate behaviour … doesn't overshadow Mr Rush's achievements and his abilities and he then becomes an actor who is ageing out of roles like any other actor."

He was also questioned over the amount of material published online about the allegations against Rush and the current court case, and if Rush could truly be vindicated by a court win.
"Just because a Federal Court exonerates Mr Rush, that doesn't mean everyone on the world wide web is going to be believe it," Chrysanthou said.

"People on the world wide web believe the earth is flat, absolutely," Marks replied.
When Marks finished giving evidence, Justice Michael Wigney said: "You'll perhaps forgive me for asking this question, which I don't mean to make light of your evidence. Has anyone ever said to you before you look and sound exactly like Jack Nicholson?"

"If I had my Ray-Ban sunglasses, which were back at my seat, and put them on, people would ask me for an autograph," Marks said.
He proceeded to walk to the back of the courtroom and put on the Ray-Bans, turning to face the public gallery and then bowing to Wigney before leaving court.
The trial continues.