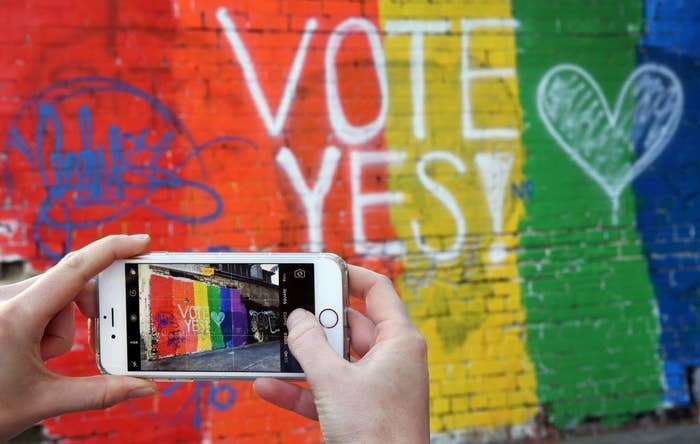 If same-sex marriage becomes legal in Australia, almost four in five people want a law that doesn't single out gay couples with religious and conscientious exemptions, a new poll has found.

The new poll comes as speculation grows over what a same-sex marriage bill should look like if Australia votes "yes" in the current postal survey, with tensions arising between opposing groups in both the government and the LGBTI community.
The Galaxy poll, commissioned by PFLAG and provided to BuzzFeed News, canvassed 1,000 Australians on their views on same-sex marriage from October 26 to 30.
In response to the question, "If the majority vote 'yes' in the postal survey, should same-sex couples be treated the same under the law compared with other couples?", 78% of respondents said yes.
This figure consisted of 98% of respondents who said they had voted "yes", and also 43% of those who said they had voted "no".
"This poll couldn't be clearer," said PFLAG's Shelley Argent. "Australians want marriage equality and we want it without any of the caveats and exemptions that will further entrench discrimination against same-sex couples."

So far, "no" campaigners have called for extensive exemptions they claim are needed to protect parents and schools, including a clause that would promise "no detriment" to people who disagree with changing the Marriage Act.
"If you're somebody in the course of your life who expresses a view of traditional marriage, you shouldn't suffer a detriment for that," junior minister Michael Sukkar told Sky News on Tuesday.

But "yes" campaigners contend this is merely part of a wider effort to roll back anti-discrimination laws already in place to protect LGBTI people.
"I think there's a problem here when people try to talk about no detriment clauses just if you don't like gay people getting married," executive director of The Equality Campaign, Tiernan Brady, told BuzzFeed News last month. "That's gay exceptionalism, and that's really worrying."
One of the most talked-about options for a same-sex marriage bill was penned by Liberal senator Dean Smith and co-signed by four lower house government MPs: Tim Wilson, Trent Zimmerman, Trevor Evans and Warren Enstch.

The bill would continue the current exemption for religious ministers to refuse to marry any couple; provide a window for current civil celebrants to be afforded the same exemption; and allow religious organisations to deny goods and services to same-sex couples wanting to wed, such as refusing to hire out a church hall.

Earlier this week, the West Australian reported that conservative government MPs are working on 60-100 amendments that would drastically rework the Smith bill, which they believe is inadequate.
It is backed in its current form by leading "yes" group The Equality Campaign and the Labor opposition.
But some advocates within the "yes" campaign say its provisions go too far. Long-time marriage equality campaigner Rodney Croome hit out at the groups that had already endorsed the bill, saying their actions were hasty.

"Labor and The Equality Campaign have acted precipitously in endorsing the Smith bill before proper consultation could take place," he said.
"I am concerned that the exemptions in the Smith Bill are too wide and set a bad precedent when it comes to allowing discrimination against LGBTI people in the name of religion."
Croome pointed to the provision allowing current civil celebrants to register as religious celebrants as one issue with the bill.

"Despite being delegated by the government to perform a government duty, a 'religious' celebrant would be free to ignore anti-discrimination laws that everyone else has to obey," he said.
"To obtain an exemption they don't even have to demonstrate a genuine religious affiliation or conviction, so their exemption could be based purely on prejudice."
Croome said more consultation was needed on the bill "to ensure the legislation we have all fought so hard for guarantees full equality and has broad based support among the people most affected by it".
But Brady rejected that The Equality Campaign had jumped the gun, saying LGBTI people had been "extensively consulted" throughout the process that led to the Smith bill.
"This Bill is a good bill which is the product of a national consultation process, Senate hearings and a cross party consensus from the Coalition, Labor and the Greens ... This must be a moment that unites the nation not divides it. To win this we need all parties to reach across the aisle and work together to deliver equality for all Australians," he said.
"After 22 failed marriage equality bills we are not prepared to snatch defeat from the jaws of victory. The LGBTI people of Australia, their families and supporters have waited long enough."
Anna Brown, co-chair of The Equality Campaign and director of legal advocacy at the Human Rights Law Centre, said the Smith bill "delivers marriage equality without affecting the religious celebration of marriage, in line with the roadmap set by the historic cross party consensus Senate report agreed on earlier this year".
"If the YES campaign is successful, this bill provides a crucial pathway forward to allow marriage equality to be introduced in line with the long held wishes of the nation," she said.