Leading "yes" campaigner Tiernan Brady says some conservative proposals for religious exemptions to same-sex marriage are a "dangerous slippery slope" to rolling back anti-discrimination law in Australia.

His comments come amid political manoeuvring over what a bill for same-sex marriage should and shouldn't include in the event of a "yes" vote in Australia's postal survey on the issue.
"I hope and believe the public will vote yes to marriage equality in Australia," Brady, who is the director of The Equality Campaign, told the BuzzFeed News political podcast Is It On?.

"What cannot happen is that then becomes an opportunity for people to unravel our anti-discrimination laws that have served this country well, not just LGBTI people, but all of us well.

"It's a dangerous slippery slope, ironically, that some people on the conservative side of this argument are putting forward, that this is their moment to really dismantle anti-discrimination law.
"I think we have to do everything we can to make sure that never happens."

On Tuesday, the opposition Labor caucus resolved to support a private members' bill for same-sex marriage, penned by Liberal senator Dean Smith and four lower house Liberal MPs, in the event of a "yes" vote.
The bill would continue the current exemption for religious ministers to refuse to marry a couple; provide a window for current civil celebrants to be afforded the same exemption; and allow religious organisations to deny goods and services to a same-sex couple wanting to wed, such as refusing to hire out a church hall.
But leading "no" group, the Coalition for Marriage, was deeply critical of the decision, labelling the Smith bill "woefully insufficient" and accusing Labor of not taking concerns about same-sex marriage seriously.
The group has repeatedly claimed that Australians who do not support same-sex marriage will be unable to legally voice that opinion after same-sex marriage is legalised.
Spokesperson Lyle Shelton told BuzzFeed News he wants a "no detriment clause" in any legislation passed if there is a "yes" vote.
He defined the clause as a section of legislation that ensures there is absolutely no negative impact on any single person for any reason in relation to same-sex marriage.
"Isn't that what no consequences means?" he told BuzzFeed News. "I'm not a legal expert, but obviously we've been involved in this issue for a long time and looked at the impact on freedom of speech and freedom of religion."
"Whatever mechanism it is, I don't really care," he added.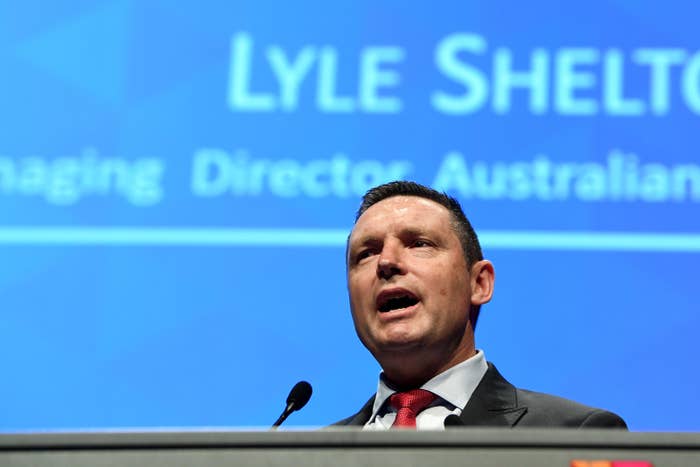 The Archbishop of Sydney Glenn Davies, who recently announced the Diocese of Sydney had donated $1 million to the "no" campaign last month, also called for a no detriment clause in August.

"In particular, an 'anti-detriment' clause to protect individuals or organisations from detriment, for expressing the view that marriage is between a man and a woman, must complement the broader religious freedom protections," he said.
But Brady dismissed the proposal as a phrase that "doesn't mean anything".
"That is already the law," he said. "My impression of the phrase 'no detriment clause' is the same as 'clean coal'. I think it's an invented phrase. It doesn't mean anything. It's just a nice cover for something else."
He also hit out at the "no" campaign for suggesting a no detriment clause in relation to same-sex marriage, but not doing the same when it comes to other deviations from religious rules.
"I think there's a problem here when people try to talk about no detriment clauses just if you don't like gay people getting married," Brady said. "That's gay exceptionalism, and that's really worrying."
Brady said there are many religious rules around marriage that Australians don't adhere to on a daily basis, such as having sex before marriage, and remarrying after a divorce.
"There has never once been a discussion about having no detriment clauses for people against divorcees getting remarried, or people being refused marriages because they used contraception," he said. "But now just because LGBTI Australians may be in a position where finally they're allowed to get married, same as everyone else, we hear about these no detriment clauses."
Labor has pledged to support the Smith bill in its current form, while the Greens and the Nick Xenophon Team have no formal position. Cross bencher David Leyonhjelm will vote for the legislation, but will attempt to amend it to allow service providers to refuse to serve same-sex weddings.
Brady also said the "no" campaign has been granted a "fool's pardon" during the campaign.
"There's almost an element of — not just the media, but all of us — hearing some of the things ['no' campaigners] say about gay people, or the things they've done in this campaign, and shrug their shoulders and go 'Oh, that's only the boys'," he said.
Brady cited former minister Matthew Canavan's suggestion that people upset by the debate should "grow a spine" and stop being "delicate little flowers", saying he felt he would have been subject to far more criticism if he'd said the same thing about "no" campaigners who feel maligned.
"There was ink by the barrel for when someone who purported to be on the 'yes' side did something stupid, and I'm not convinced that was the case for the other side," he said.
The interview with Tiernan Brady will feature in BuzzFeed Australia's podcast 'Is it on?'. You can listen to it this weekend. View it on iTunes and subscribe here.