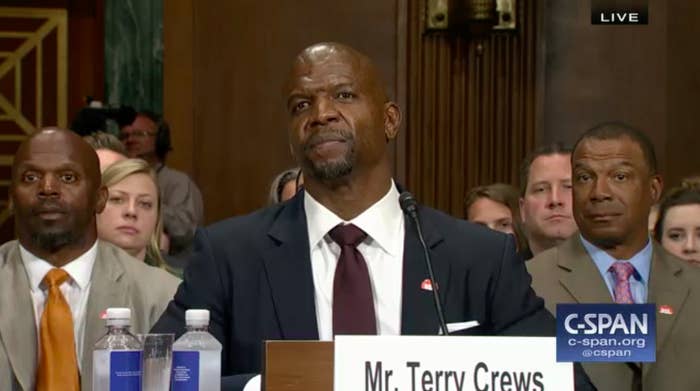 Terry Crews said that he will no longer be a part of The Expendables film franchise because a producer on the project asked him to drop his sexual assault case against Hollywood agent Adam Venit.
"I've done three movies called The Expendables with Sylvester Stallone," Crews said in a testimony to the US Senate Committee on the Judiciary Tuesday morning. "The producer of that film called my manager and asked him to drop my case in order for me to be in the fourth installment of the movie, and if I didn't there would be trouble."
Crews is suing Venit and his agency, William Morris Endeavor Entertainment (WME), alleging that the agent groped him at a 2016 party. Venit denied his claims.
In February, the Brooklyn Nine-Nine actor made a similar claim against Expendables producer Avi Lerner, alleging that he was protecting Venit. (Venit represents Stallone.) Lerner has also been sued for sexual harassment by a former employee, but he has dismissed the woman's allegations and called them "all lies."
Crews told the Senate committee on Tuesday that he felt compelled to pull out of the Expendables franchise in order to "take a stand."
"This same producer is under his own sexual assault investigation and abusers protect abusers," Crews said in the hearing. "And this is one thing I had to decide... Am I going to be a part of this or am I going to take a stand? And there are projects I had to turn down."

Representatives for Lerner and Venit did not immediately respond to requests for comment on Tuesday.
Crews was invited to Congress to testify about the Sexual Assault Survivors' Bill Of Rights and the statute of limitations for sexual assault survivors. Also speaking was Amanda Nguyen, an advocate for sexual assault survivors who was recently nominated for the 2018 Nobel Peace Prize.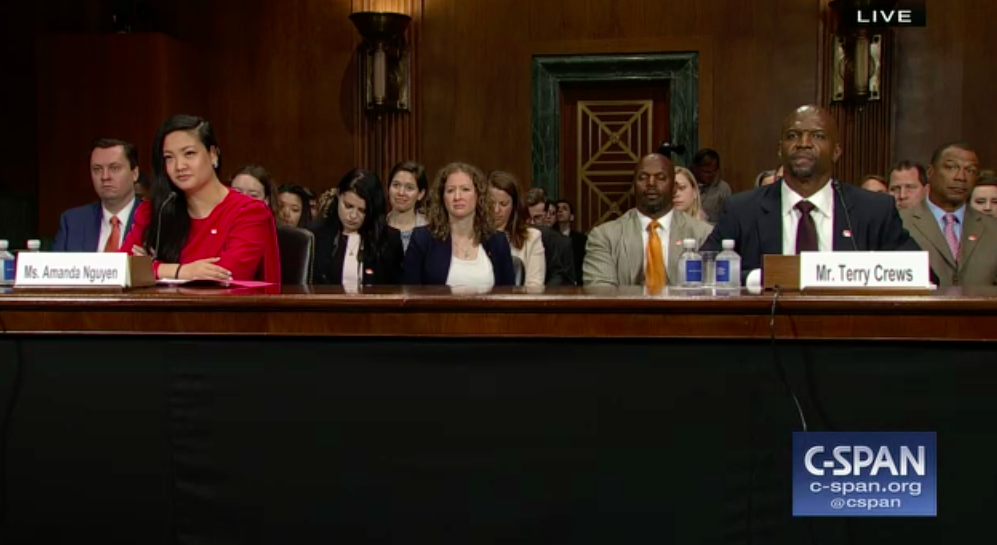 During the hearing, Crews spoke generally about the culture of toxic masculinity.
"When you look at the culture with men not holding other men accountable, it turns into something that no one wants," Crews said. "A community that totally looks the other way while men, women, and children are being raped."
Crews said that the #MeToo movement and the women who accused Harvey Weinstein of sexual assault inspired him to come forward with his own story, which he recounted before members of the Senate.
"I sit here before you in this committee just as an example because a lot of people don't believe that a person like me could actually be victimized," he said. "And what happened to me has happened to many, many other men in Hollywood and since I came forward with my story, I have had thousands and thousands of men come to me and say, 'Me too.'"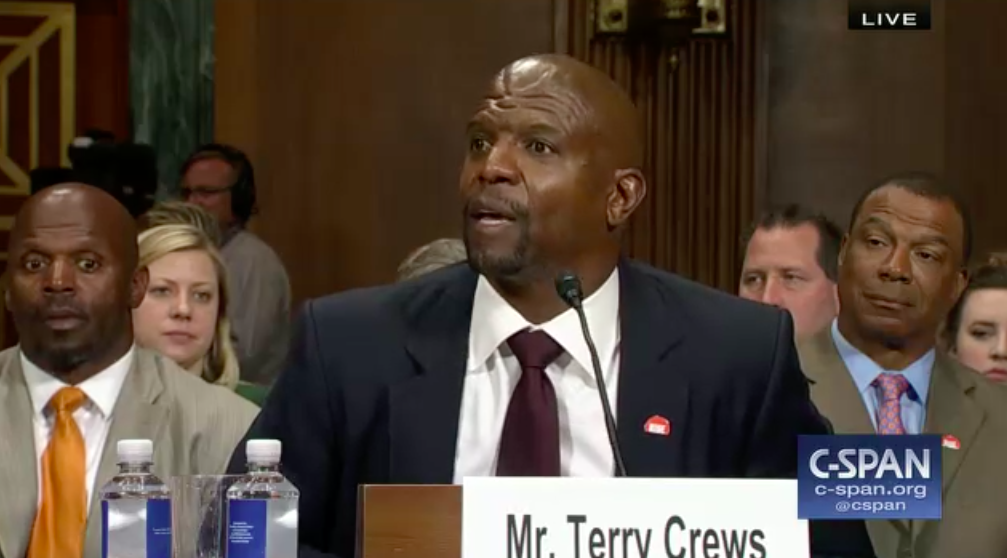 The actor also said that the Survivors' Bill "is a critical bill that must be enacted in all 50 states."
"Every man, woman, and child deserves to be seen as equal under the law," Crews said. "This bill creates long-term change and gives power and control back to survivors. All survivors must be protected."