1. ...could I do this?
2. I bet I could have been an Olympic gymnast if my parents had started me when I was 3.
3. Actually I bet my parents probably looked at me and said: "Yeah, let's just make sure that one doesn't drown in Jell-O, or whatever."
4. WOW VAULTING IS TERRIFYING. Vaulting should award points for not landing in the audience.
5. Simone Biles just did something more incredible than I have ever achieved in my life and she looks about as satisfied with it as someone who just gave birth to a roll of toilet paper.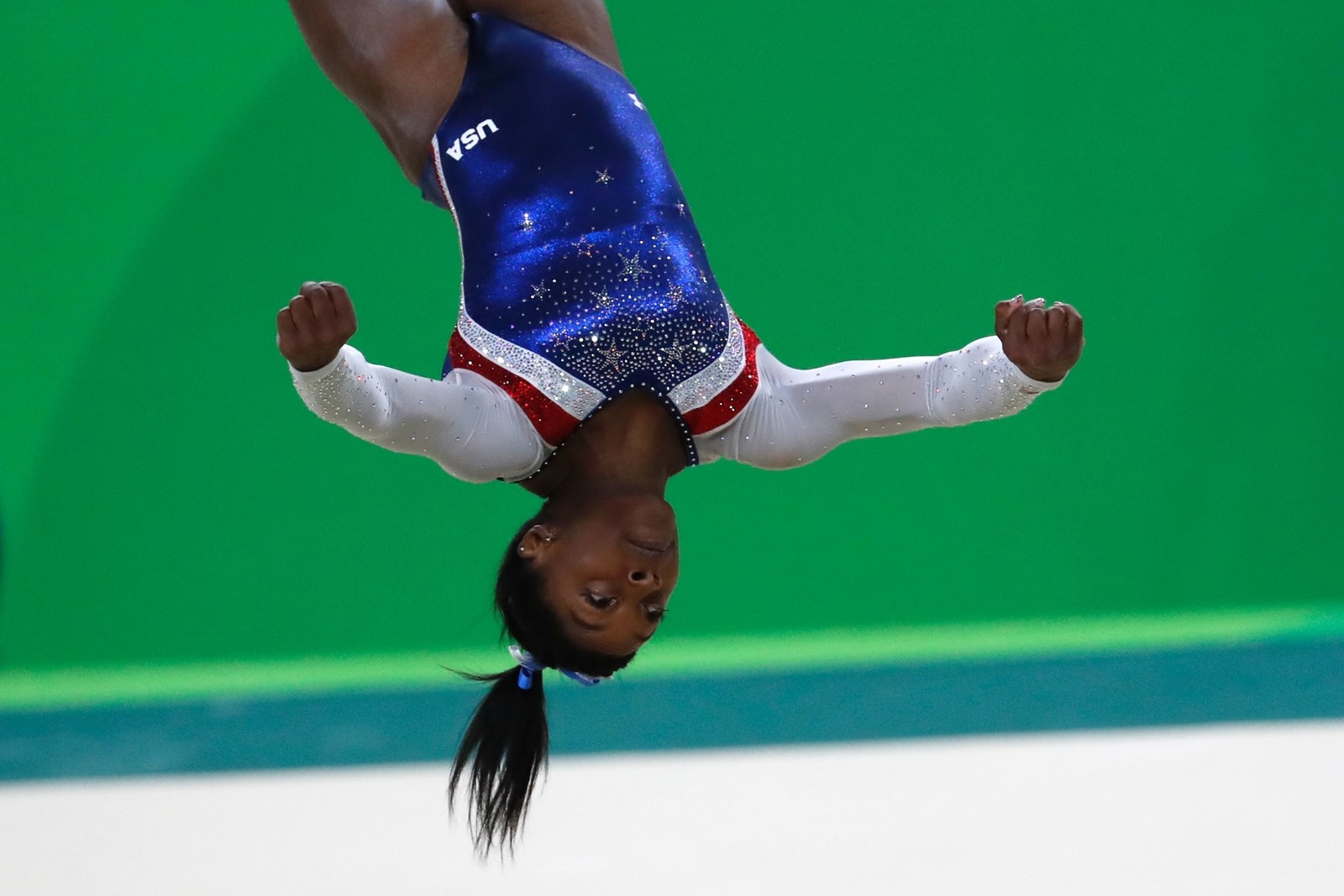 6. Like, I once ate a chicken nugget that fell on the ground and by once I mean I'm doing it right now.
7. HOW ARE THESE SCORES SO LOW?!
8. She lost points for hopping while landing?!
9. Look, taking a hop after landing with an incredible level of energy onto the floor is just how physics works. Are we really punishing these incredible, talented young women for physics?
10. I know they are pros and can handle it, I'm just really worried for them, OK?
11. Wow, every floor routine is basically what I think I look like while dancing alone in my room.
12. Were I not someone who eats ground nuggets.
13. I feel like there's actually four medals you can earn: bronze, silver, gold, and Making Márta Károlyi Smile.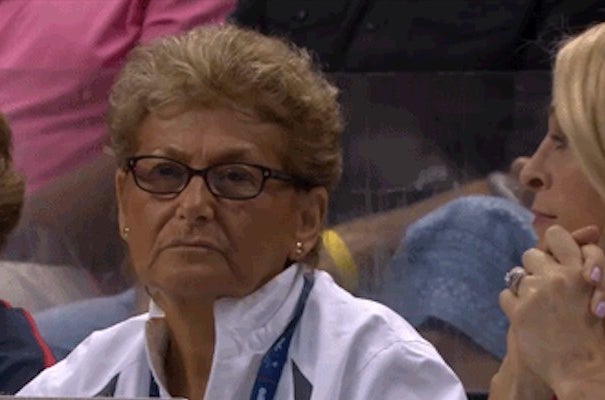 14. HOW AM I SO NERVOUS. I'M NOWHERE NEAR AN OLYMPICS.
15. SORRY I CAN'T BREATHE RIGHT NOW, I'M WAITING FOR LITTLE ROCKET PEOPLE TO FINISH DOING A GOOD JOB AT STUFF.
16. Can I sign up for whatever class you all attended where you learned how to give yourselves nonbumpy topknots and ponytails?
17. I have carpal tunnel just watching this vault.
18. I bet everything these ladies own is covered in a thin layer of chalk.
19. I have never seen so many bedazzled remixes of different countries' flags in my entire life.

20. So...it's not possible to get a perfect score in this sport, right? Like, ever?
21. Like if Simone Biles isn't getting perfect scores, can we all drop the ruse that getting a perfect score in gymnastics is even possible?
22. I CAN'T EVEN DO A HANDSTAND ON LAND.
23. The commentators are explaining why this vault is hard, but, like, don't worry, guys, it already looks pretty flipping hard to me.
24. I'm just glad all these ladies are using their powers for good, because I could equally envision a world where you wouldn't want to meet a gang of disgruntled gymnasts in a dark alley.
25. OK, but some of the things y'all are doing actually look like someone is messing around in Photoshop.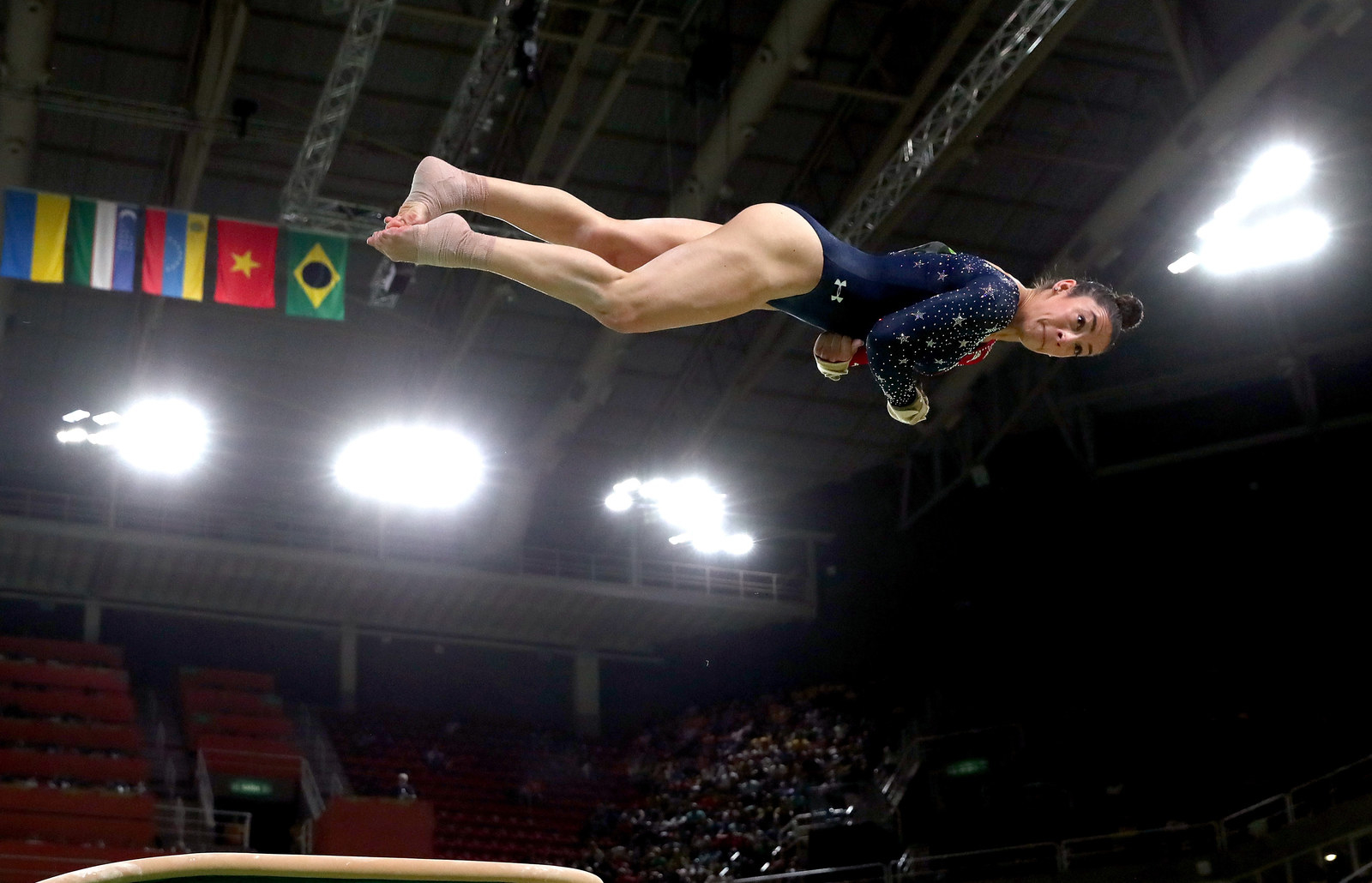 26. Commentator: "Her air awareness is a little off on those double pikes right now" Me: ::NODS AS IF I AM AT ALL FOLLOWING WHAT HE IS SAYING::
27. How are you bending your body in half like that on the lower uneven bar? And why don't the men have to do that, as well?
28. Is it weird that the US gymnastics team is so dominant that I am always a little bit rooting for some other country to do even close to what the US team can do?
29. How am I so proud of a bunch of women from every country who are almost certainly not my own daughters?
30. OK but seriously, Laurie Hernandez needs to drop that eyeliner tutorial, tho.
31. Ah, Olympic Gymnastics: my once every four years reminder that there are 16-year-olds with better resumes than me.
Watch the women's gymnastics individual all-around final featuring Simone Biles tonight in primetime at 8 p.m. ET on NBC.