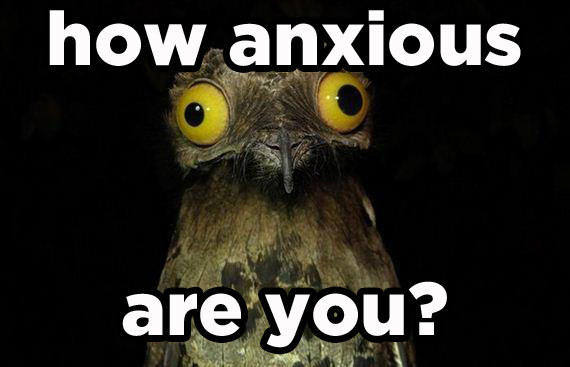 When your boss wants to speak with you.

A text message that says, "Call me."

When you text someone, and they don't text back for a few hours.

Accidentally farting and having everyone hear it.

Parties where you don't know anyone.

Not knowing whether or not you've locked a door.

Random, unexplained twinges of pain.

Having your parents find out about anything.

Not knowing what to do in a natural disaster.

When people around you laugh at something and you don't know what they're laughing about.

Waiting for someone to accept your Facebook friend request.

A text message that just says "OK."

Anything with the word "surprise."

Hearing honking in traffic and thinking it's directed at you.

Having to use a public bathroom.

Gross stuff on door handles.

Accidentally liking a tweet or a Facebook status from someone you like-like.

Someone coughing near you.

Spiders crawling on you while you sleep.

Getting pulled over for texting while driving.

Telling jokes that fall flat.

Needing to approach someone that you don't know very well in order to start a conversation.

Someone judging you for day-drinking.

Dirty clothes on the floor.

Trash that hasn't been taken out for more than a day.

Checking your snail mail.

Phone calls from unknown numbers.

A Gchat from from someone you haven't spoken to in awhile.

Getting gray hair or wrinkles/Eventually getting gray hair or wrinkles.

Being too big for your fat pants.

Spilling food on yourself.

Your 401K or lack of a 401K.

Grandma asking if you've been to church lately.

Family members starting drama.

Not being invited to a party.

Your relationship status.

A sink full of dirty dishes.

The feeling that you've forgotten something.

Having to poop in public.

Anything you've read on the internet.

A tweet you've written and then immediately regretted.

A zit right before an important event.

Not having anything to wear.

Not knowing what your weekend plans are.

When someone who you don't usually talk to wants to "have a chat."

Making someone who is in a bad mood repeat something they've already told you.

What someone thinks of you.

Running into someone you don't want to talk to.

Not remembering if you have enough change in the meter.

Driving on with the gas gauge on E.

Being stuck in an elevator.

Not knowing where the nearest public bathroom is.

Being at the cashier at a store and not having enough money.

Shaking hands with someone who looks sick.

Anyone finding out that you're stalking them on the internet.

That someone might notice your body flaws.

Being invited to a party with a confusing dress code like "California casual" or "creative cocktail" or "business garden party".

That someone might have seen you talking to yourself.