1.
"In Love Actually when Keira Knightley's character Juliet is watching the wedding video and says in this horrible simpering voice 'oh I look rather pretty'."
2.
In The Notebook where Noah pretty much threatens to kill himself unless Allie agrees to go out with him.
3.
This line in Mean Girls.
4.
The Wedding Planner's fucked up storyline.
5.
It may be iconic now, but this quote in Notting Hill...
6.
And, actually, the whole movie's storyline: "SHE'S FAMOUS. SHE'S NOT GONNA ENTER A STRANGER'S HOUSE JUST BECAUSE HE POURED HIS DRINK ON HER AND IMPULSIVELY KISS HIM BEFORE LEAVING." –batrxsyxa
7.
The poem Kat wrote in 10 Things I Hate About You.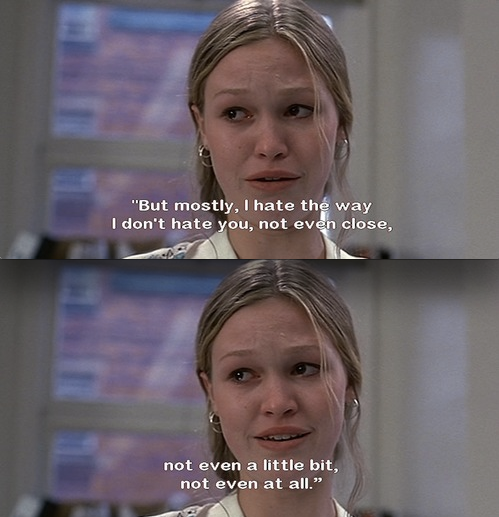 8.
The Never Been Kissed creepy storyline.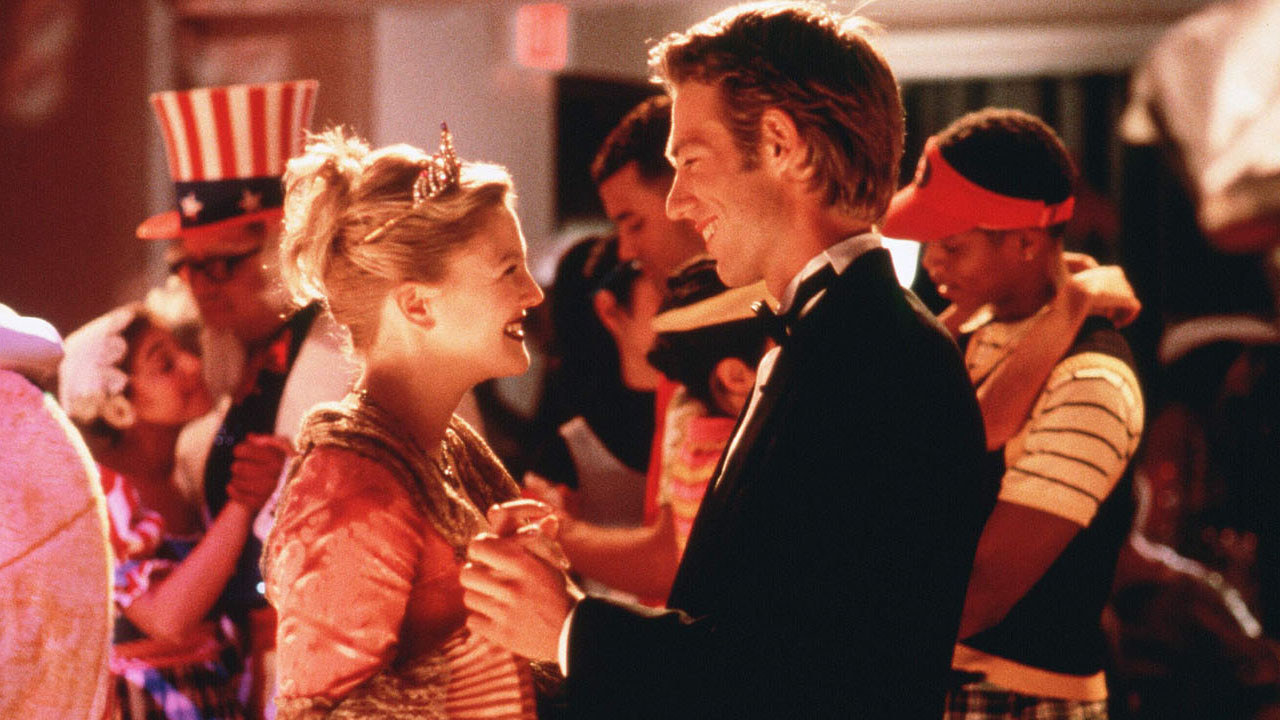 9.
When Katherine Heigl and James Marsden sing "Bennie and the Jets" in 27 Dresses.
10.
"Is it still raining? I hadn't noticed."
11.
Jamie and Aurelia's relationship in Love Actually.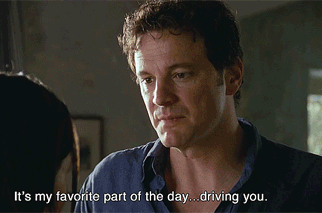 "In Love Actually when Jamie and Aurelia get together... Colin Firth being followed by a mob that thinks he's going to buy the girl is hilarious, but come on. Learning another language and chasing a woman you've said like ten words to? And Aurelia learning English 'just in case?' Ugh... gag me. Would NEVER happen!!!" –Abokman
12.
In 13 Going On 30 when Lucy tricks Matt into signing over the photo rights and she takes all of Jenna's ideas to Sparkle and Jenna watches her vision drift away.
13.
In A Cinderella Story at the pep rally when Sam says to Austin: "Waiting for you is like waiting for rain in this drought. Useless and disappointing."
14.
The Something Borrowed fucked up friendship storyline.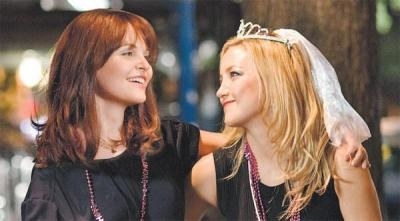 15.
At the end of Valentine's Day when Jennifer Garner's character just gets done beating the hell out of a heart piñata and she says "now that's open heart surgery".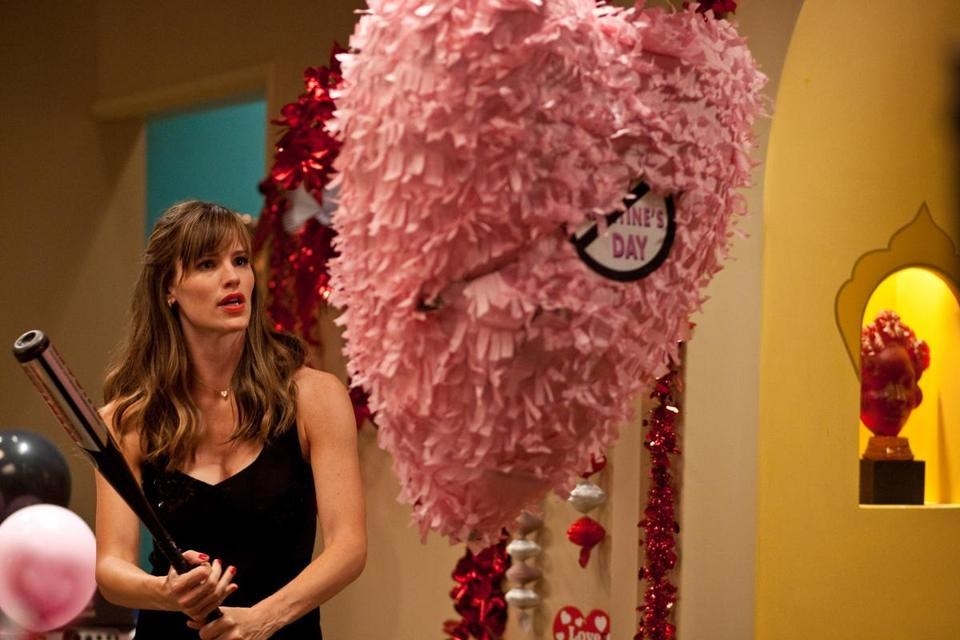 16.
The 27 Dresses storyline. He's a writer for a local newspaper, you idiot! OF COURSE he was writing an article about you!
17.
In Love Actually when he tells his best friend's new wife he loves her. What a piece of shit friend!!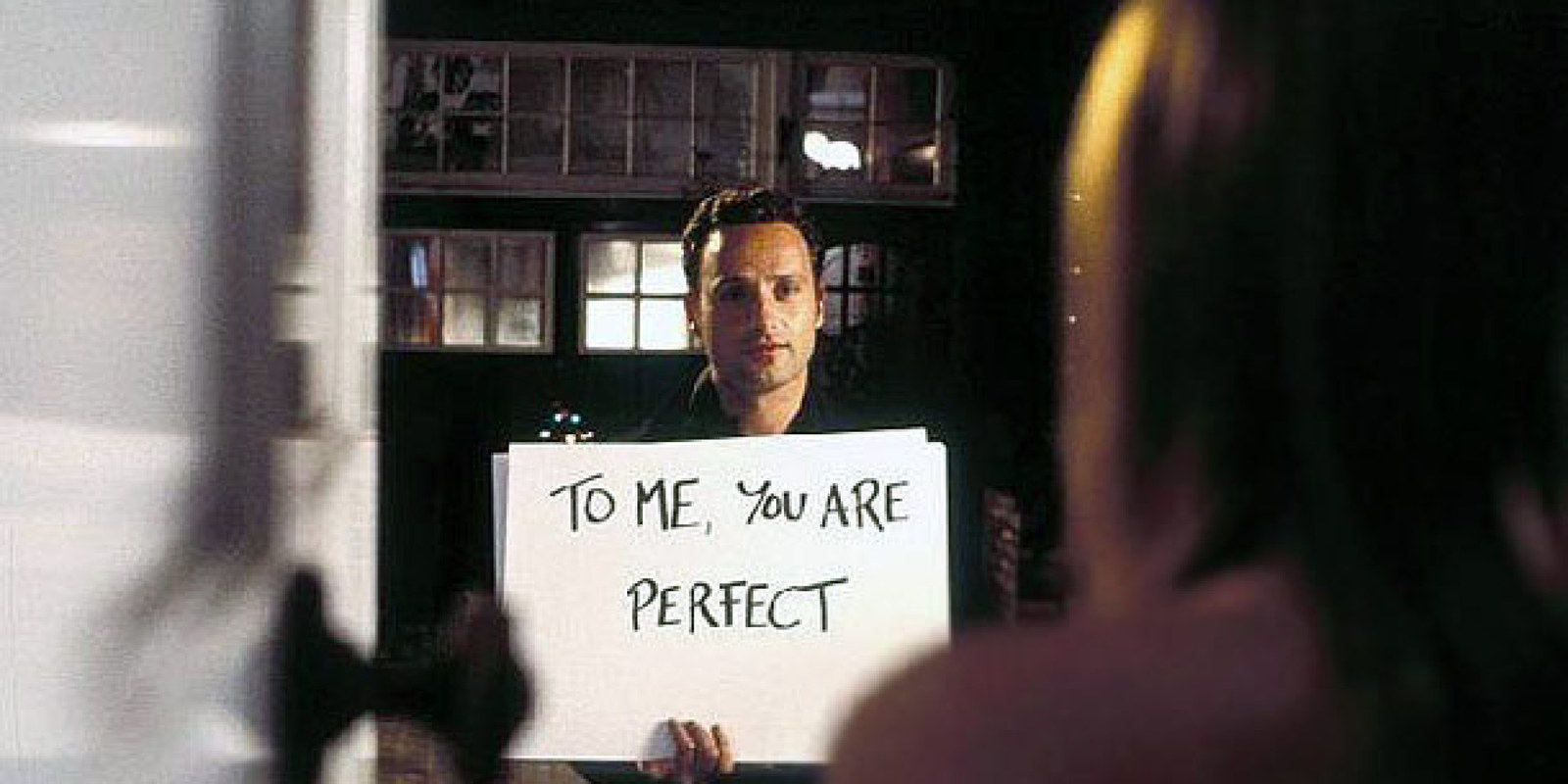 18.
Literally everything about the dude in The Back-up Plan.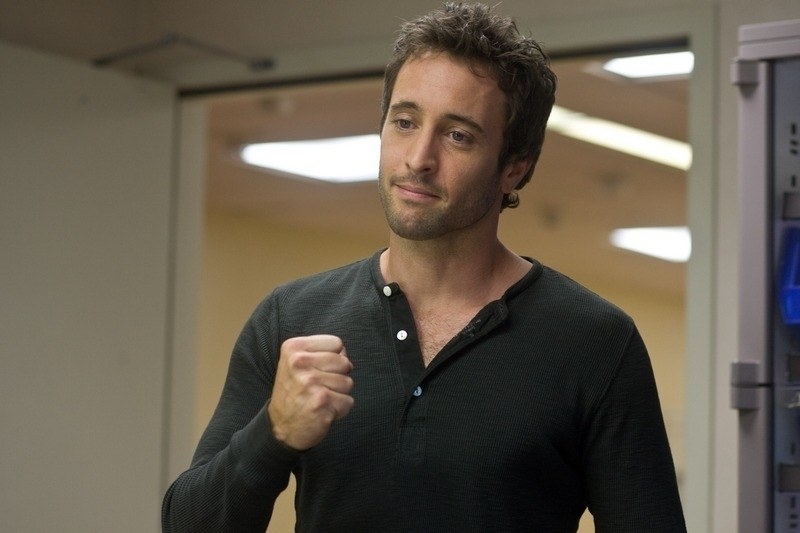 19.
The Dirty Grandpa storyline where Zac Efron's character decides to cheat on his fiancée for a free spirit girl he's just met.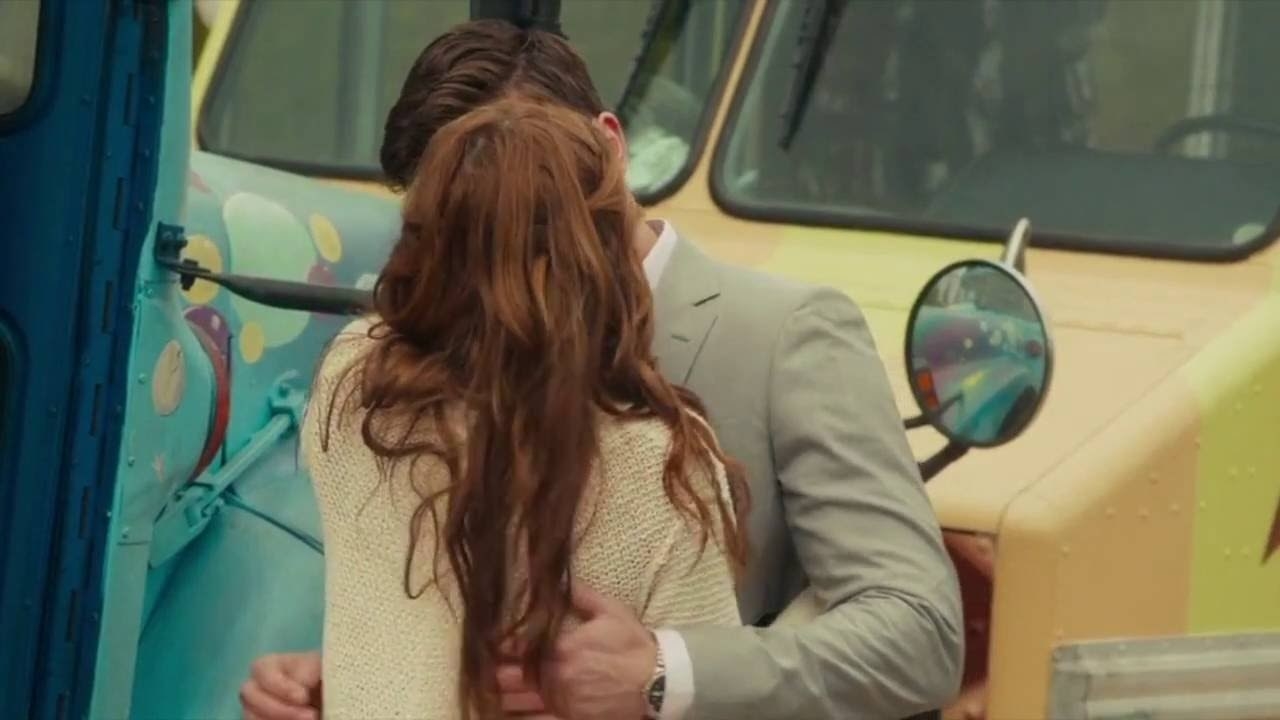 20.
The long distance "happy ever afters" in The Holiday.
21.
Crazy, Stupid, Love's storyline.
22.
But particularly the bit when Jessica gives a 13 year old that she babysits naked photos of herself!
23.
The "Thriller" dance in 13 Going On 30.
24.
Harry in Love Actually.
25.
Cher dating her step brother in Clueless.
26.
The ending of How to Lose a Guy in 10 Days.
27.
And how is it that she just dropped the act for like a day and he fell in love with her?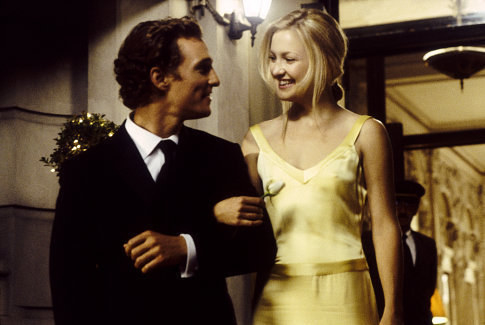 28.
When they give Mia a makeover in Princess Diaries and straighten her hair.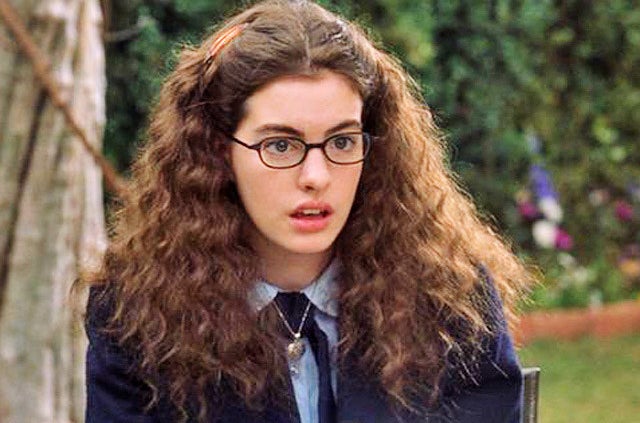 "I have really curly hair and was very self-conscious of it as a little girl. Why can't Mia have beautiful, curly, hair? I love this movie, but this still bothers me to this day." –Meg Koeller, Facebook
29.
Meg Ryan hiding in the closet with her radio in Sleepless in Seattle.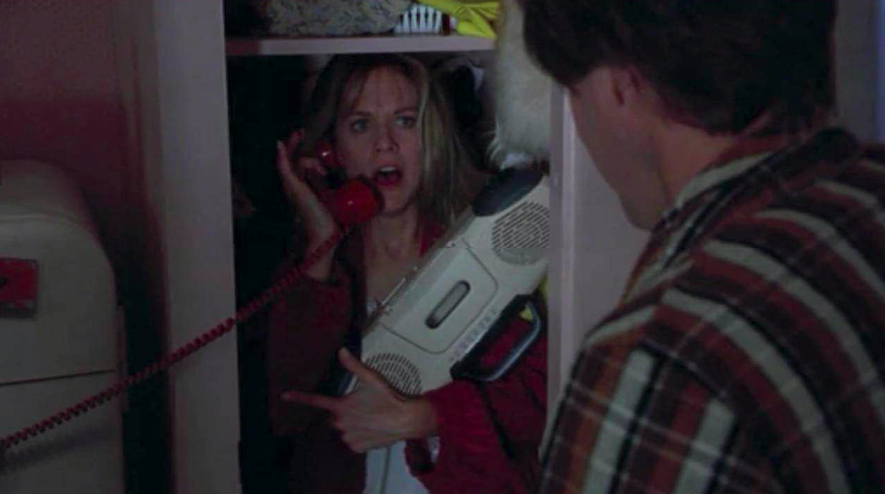 30.
The fact that in Sweet Home Alabama Reese Witherspoon is just a straight-up cow.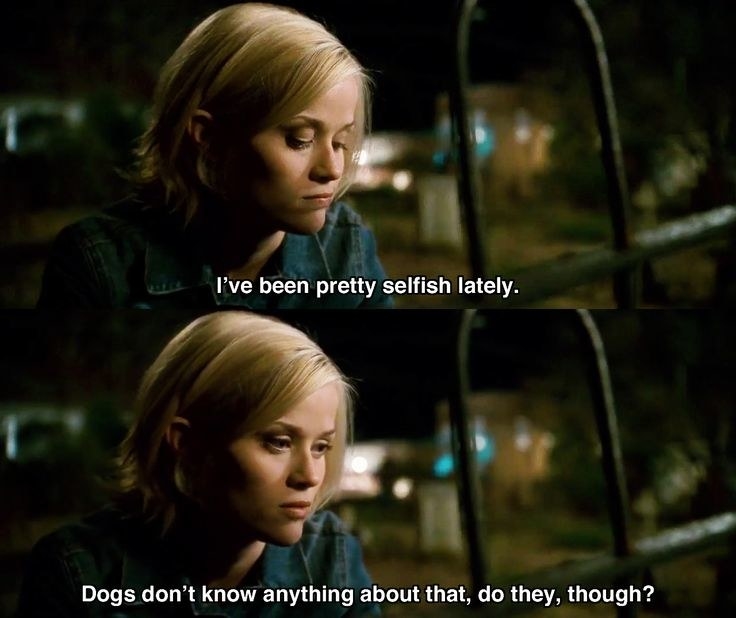 31.
In The Devil Wears Prada, when Nate thinks he's more important than Andy's job.

32.
When "Mr. Perfect" Mark Darcy had the audacity to read Bridget Jones's diary.
33.
And this line from The Notebook.
Disagree with any of these or have more of your own? Tell us about it in the comments!