Here's How "Star Wars" Fans Are Reacting To The Proposed "Last Jedi" Remake
"It is the year 2076. 'The Last Jedi' has been remade 32 times. And still, no one is happy."
In case you missed it, there's a fan-driven pseudo-business proposal floating around Twitter right now to fund a full-scale remake of 2017's The Last Jedi.
Seth Rogen had questions about small issues like, oh, procuring the same $200 million budget it took to make the first one, as well as copyright issues with Disney: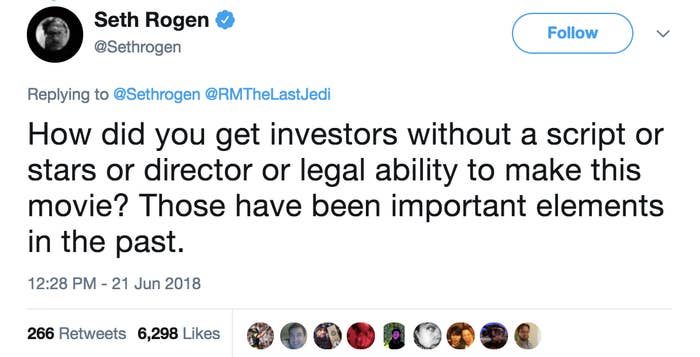 1.
So then, of course, everyone else started weighing in:
2.
There are already some solid script suggestions:
3.
Really, some interesting creative directions that could be taken:
4.
Veeery solid:
5.
Yes, I can see it now:
6.
Mmhmm, yep:
7.
Ahh, very good, including that classic Star Wars setting:
8.
They've already got the memes covered:
9.
Some people would like to see cross-fandom interactions:
10.
Others would like to shine the spotlight on other central Star Wars character:
11.
And, of course, this proposed remake has opened up a whole slew of other possible remakes, like a John Hughes overhaul:
12.
Or Pitch Perfect 2, obviously:
13.
Or the sequel to another timeless classic:
14.
So many possibilities:
15.
Maybe even some time travel:
But seriously, I'd watch four straight hours of Luke Skywalker aggressively and unceasingly chugging green alien breastmilk.