In case you missed it, there's a fan-driven pseudo-business proposal floating around Twitter right now to fund a full-scale remake of 2017's The Last Jedi.
Seth Rogen had questions about small issues like, oh, procuring the same $200 million budget it took to make the first one, as well as copyright issues with Disney: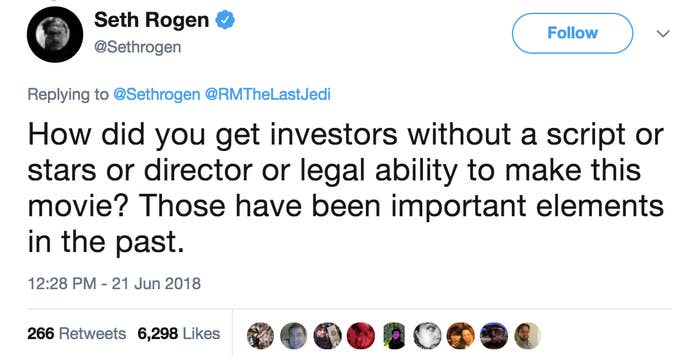 And even Last Jedi director himself Rian Johnson weighed in: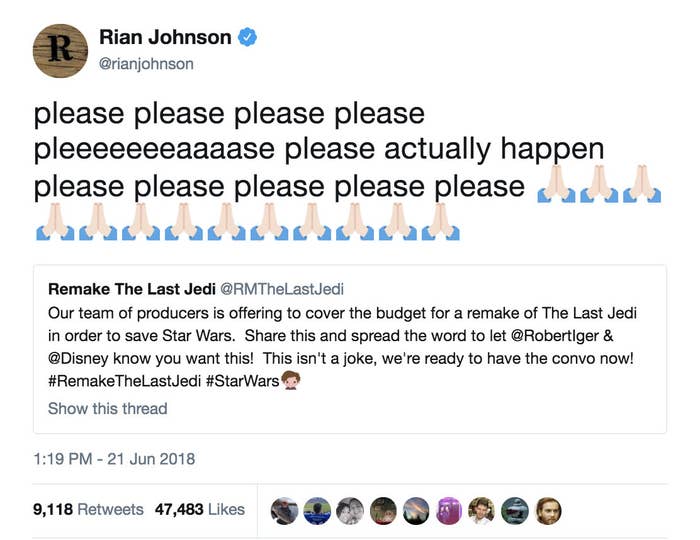 1.
So then, of course, everyone else started weighing in:
2.
There are already some solid script suggestions:
3.
Really, some interesting creative directions that could be taken:
4.
Veeery solid:
5.
Yes, I can see it now:
6.
Mmhmm, yep:
7.
Ahh, very good, including that classic Star Wars setting:
8.
They've already got the memes covered:
9.
Some people would like to see cross-fandom interactions:
10.
Others would like to shine the spotlight on other central Star Wars character:
11.
And, of course, this proposed remake has opened up a whole slew of other possible remakes, like a John Hughes overhaul:
12.
Or Pitch Perfect 2, obviously:
13.
Or the sequel to another timeless classic:
14.
So many possibilities:
15.
Maybe even some time travel:
But seriously, I'd watch four straight hours of Luke Skywalker aggressively and unceasingly chugging green alien breastmilk.