When I moved back in with my parents during the pandemic, one of the many things I did during quarantine was roam around their house and collect ancient artifacts from my childhood — and boy, did I come across some millennial gems.
Here are some that brought me all kinds of nostalgia, and maybe they'll do the same for you, too!
1.
This iconic 1998 Spice World: The Tour tour book from the Spice Girls: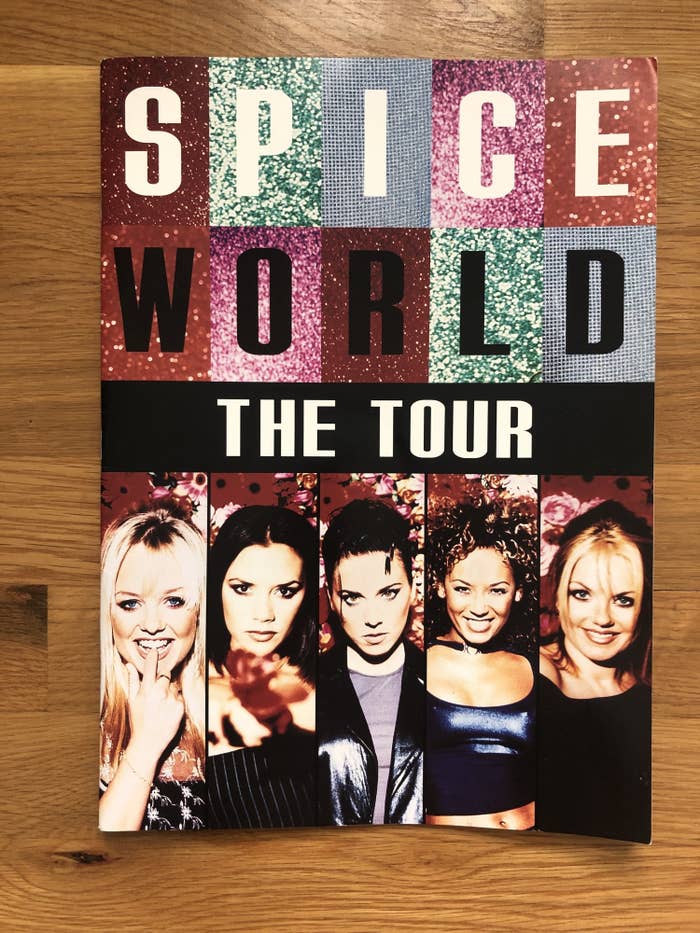 (Check out this cute little message the girls wrote to their fans 🥺💖)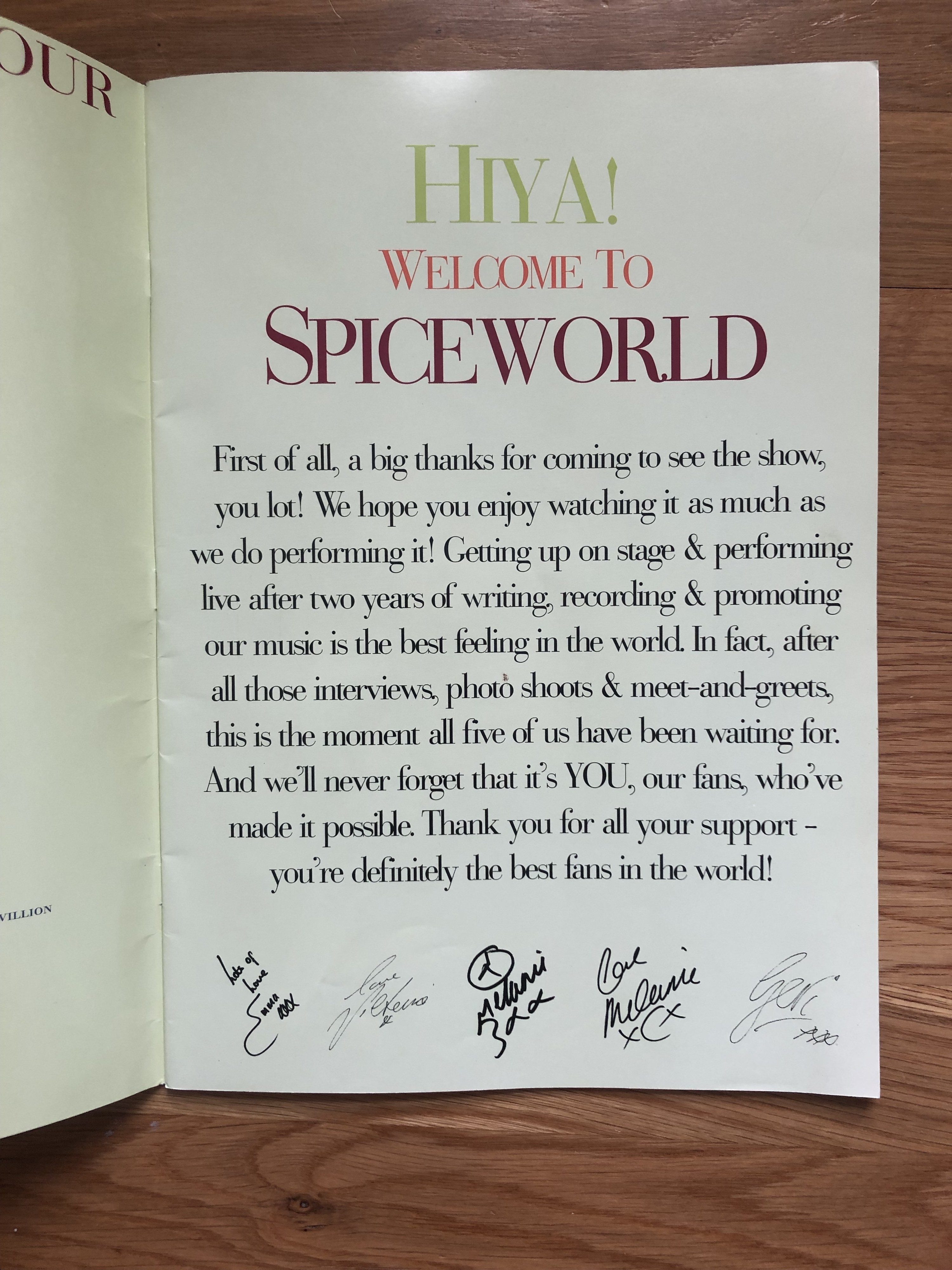 2.
This Teen People magazine from 1998 featuring the Backstreet Boys: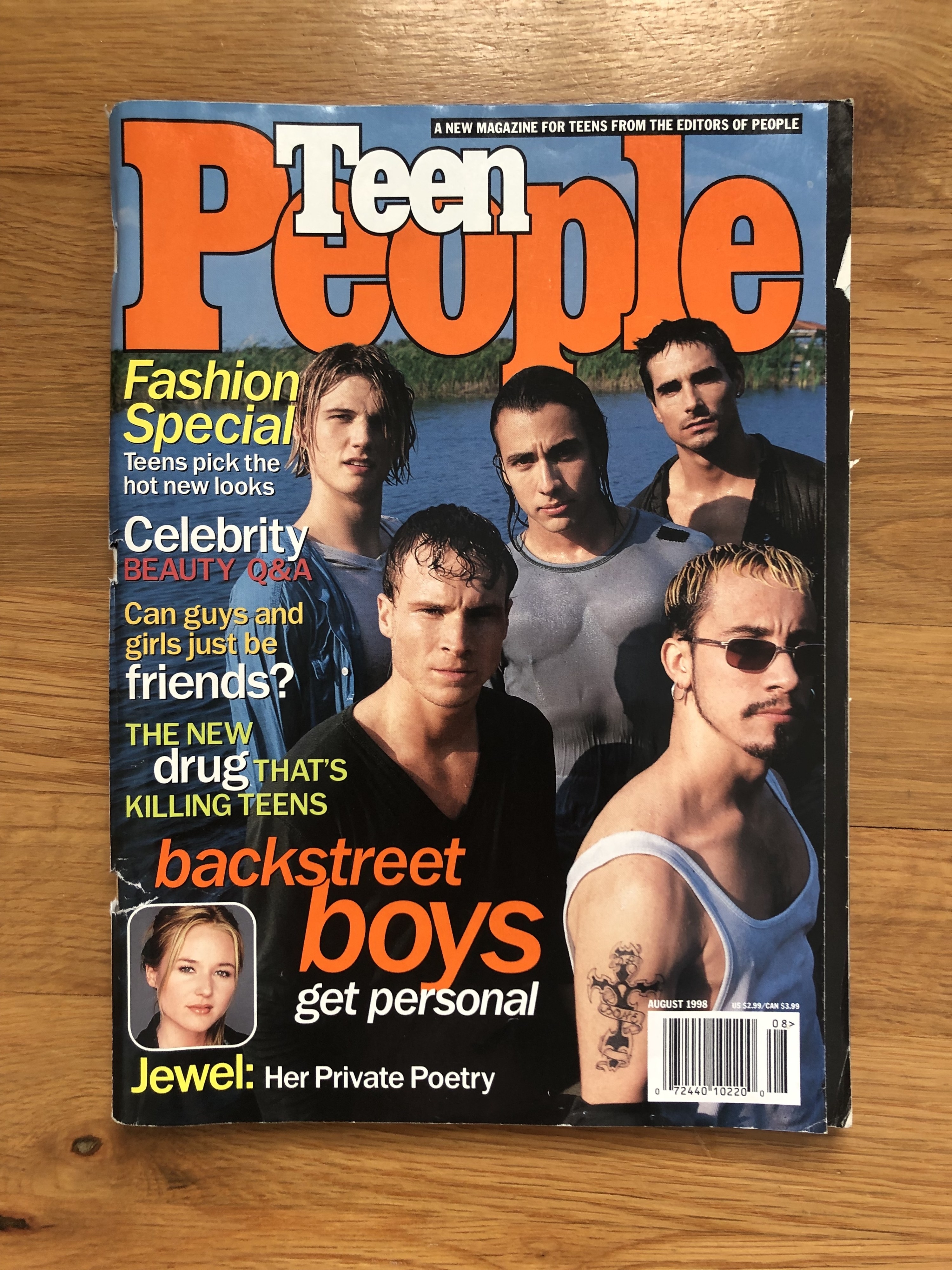 3.
This Harry Potter and the Sorcerer's Stone video game I spent hours trying to master on PlayStation: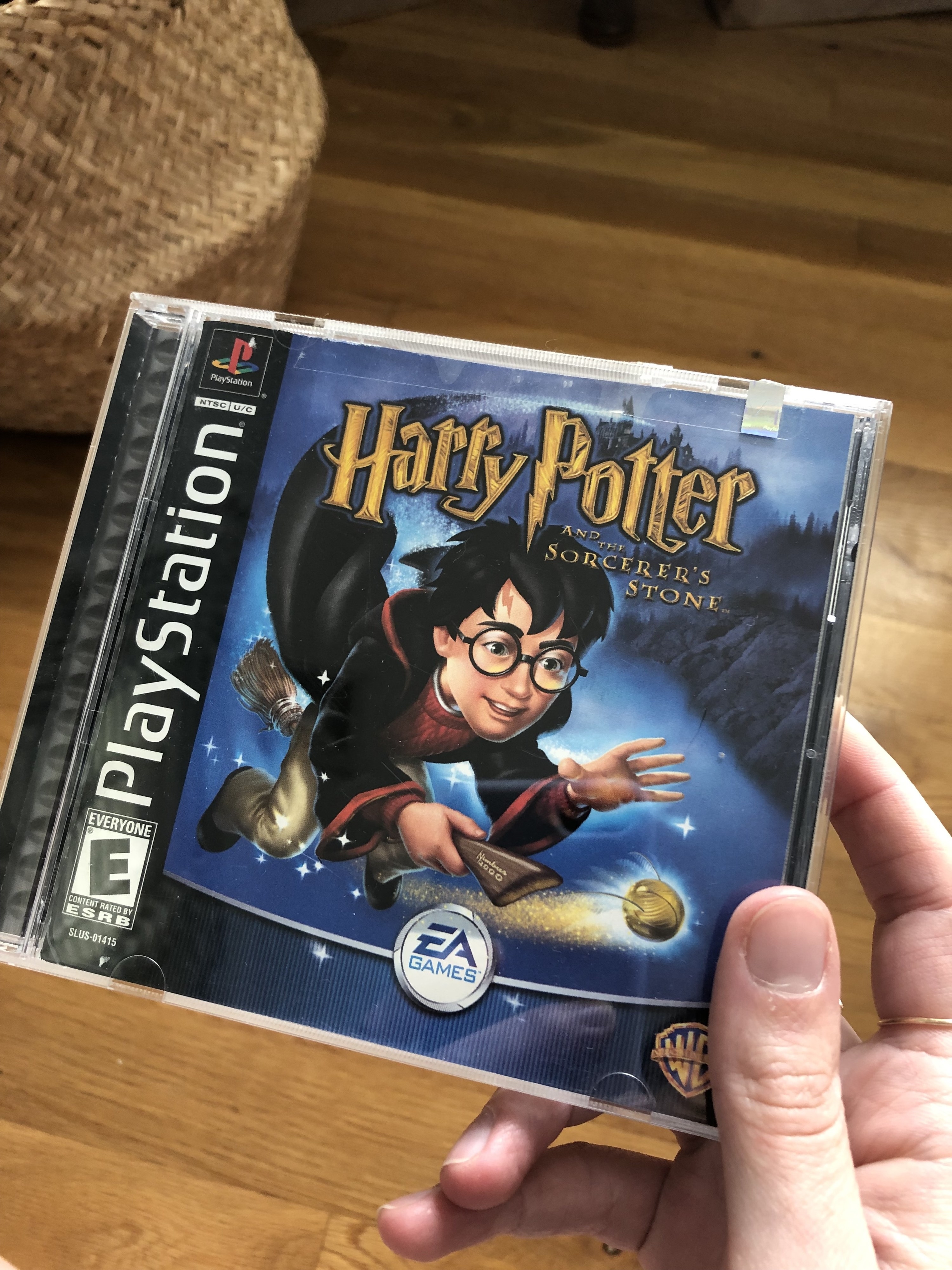 4.
This composition book I decorated with my favorite musicians (who still own my heart today), like Beyoncé, Missy Elliott, Kelly Clarkson, Avril Lavigne, and Jennifer Lopez: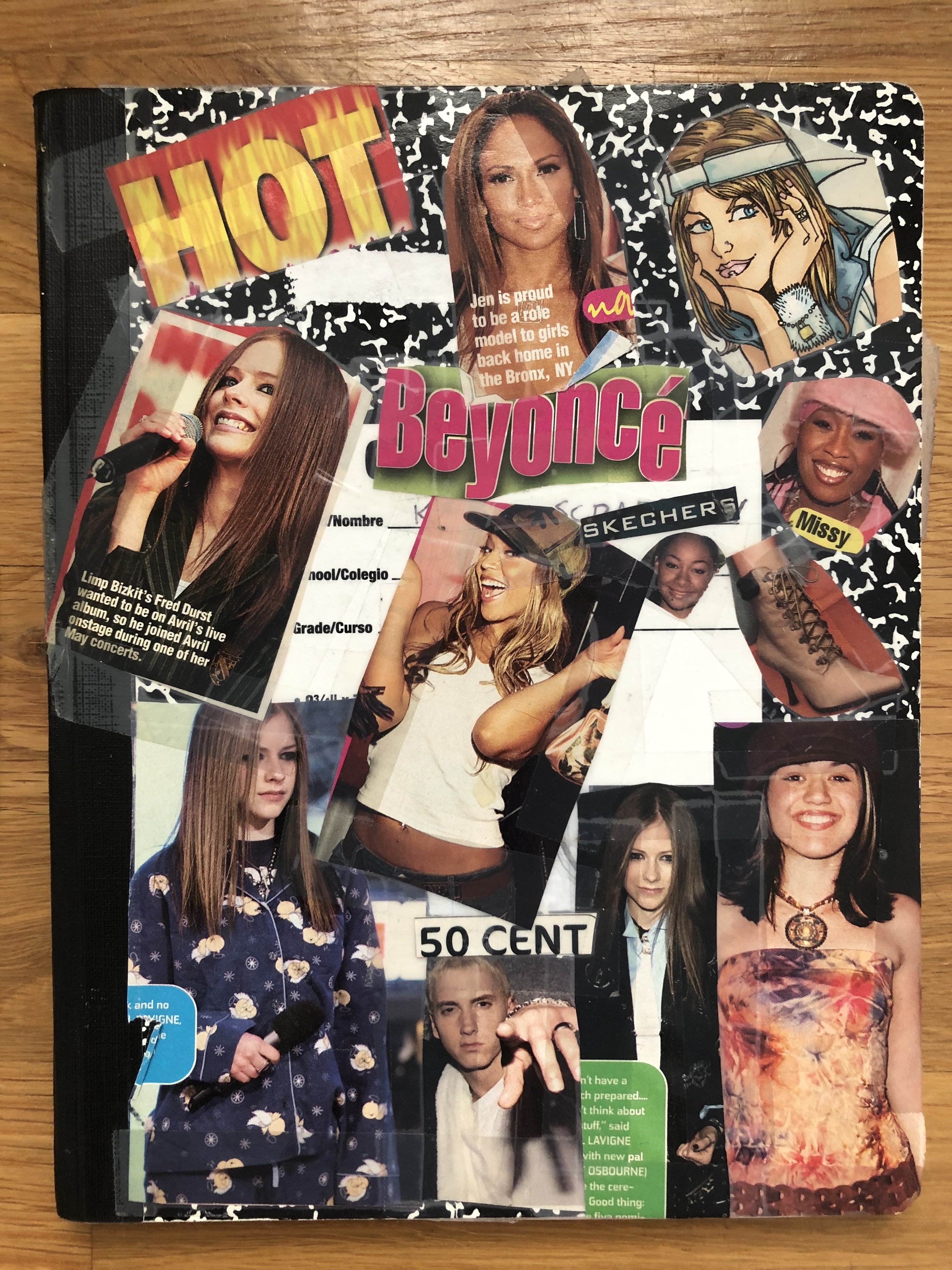 5.
This Keroppi tin lunchbox I used in my preschool days: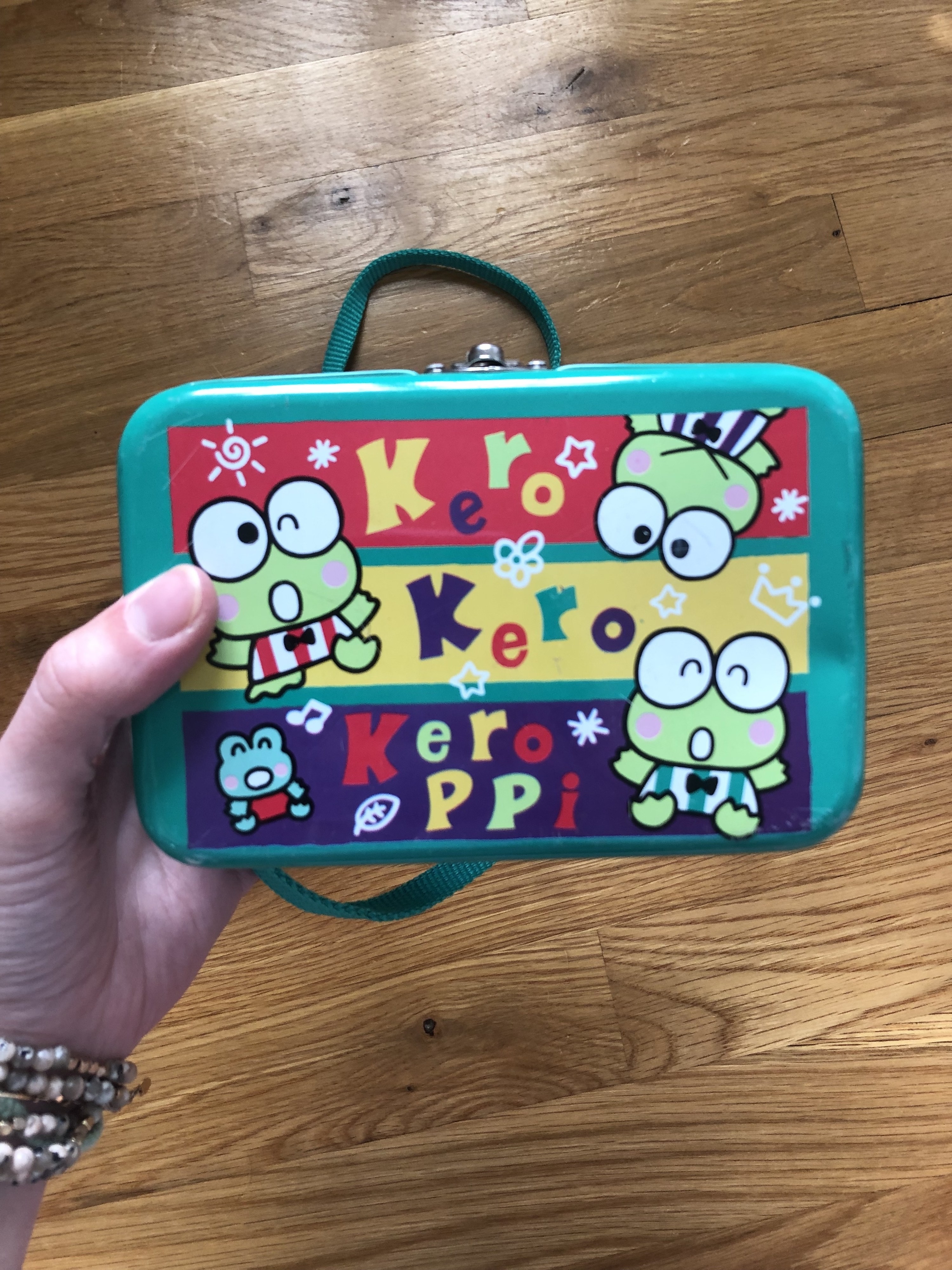 6.
This one-of-a-kind VHS tape of Shrek (2001):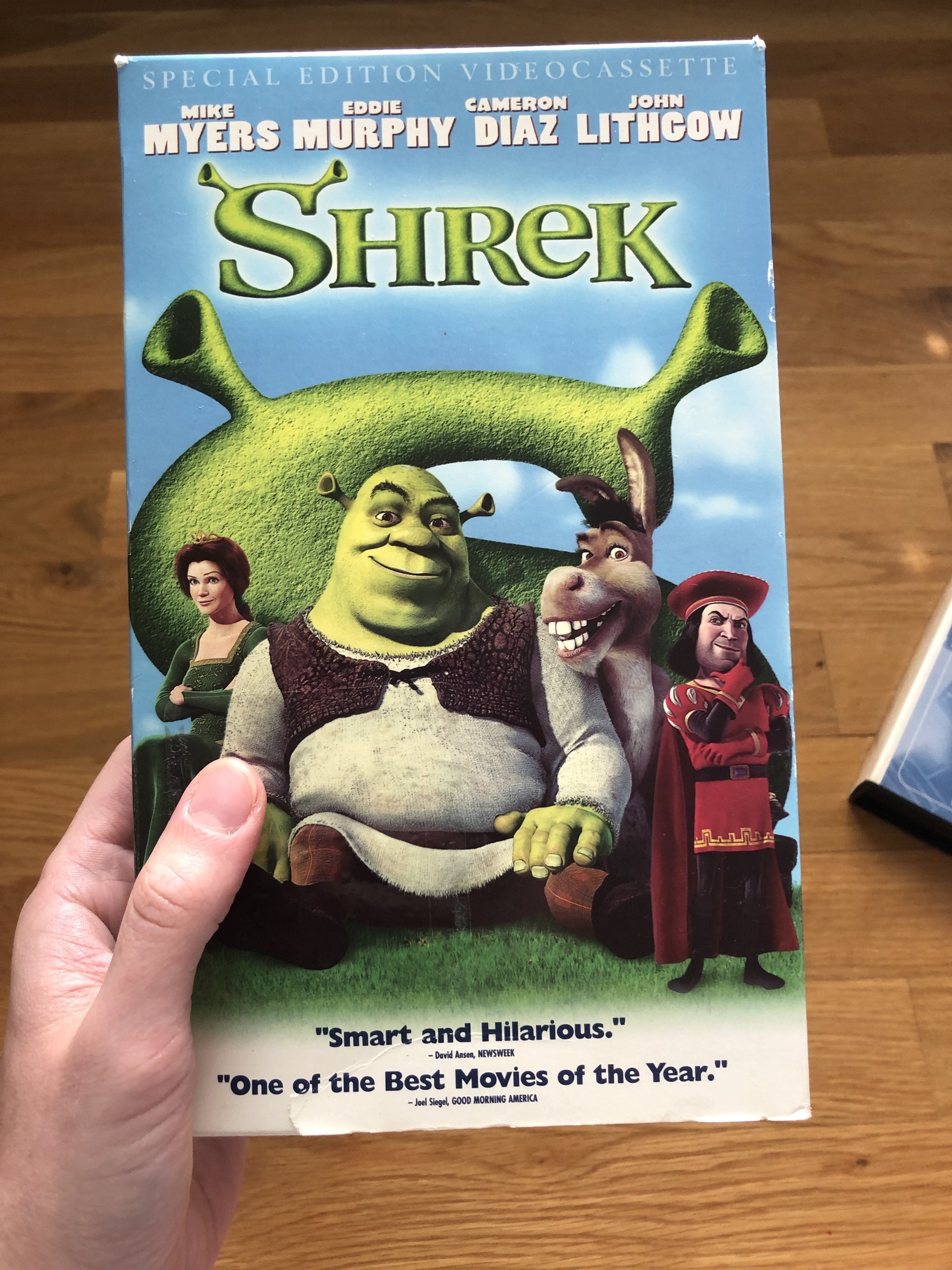 7.
And this VHS tape of Scream 2 I forgot to return to Blockbuster in the late '90s: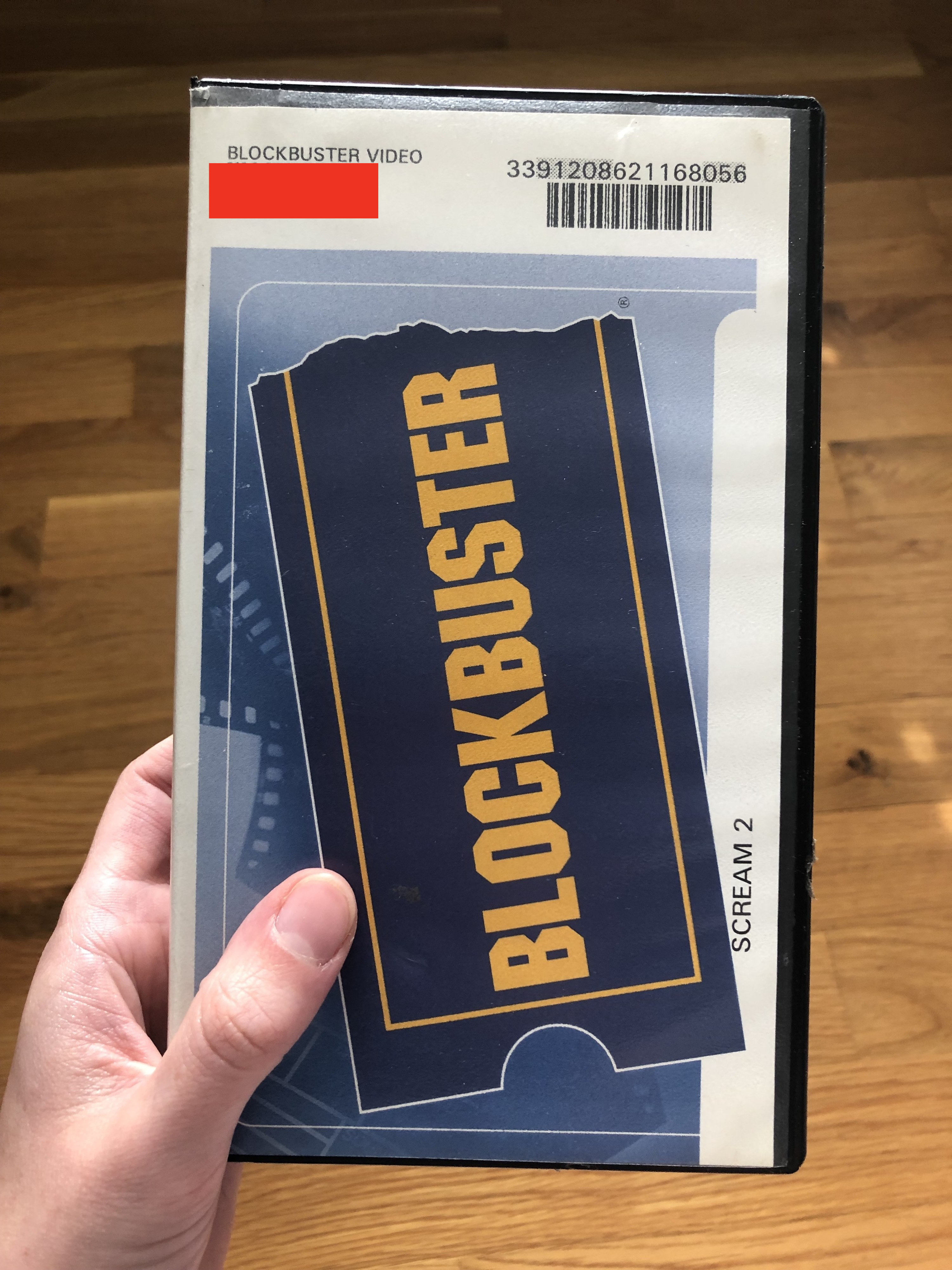 8.
This Italian charm bracelet from the early '00s, featuring hella cool charms like a turtle, a soccer ball (shoutout to Saturday morning soccer!), and my name spelled out in the most unique way:
9.
These iconic CDs that I've been listening to on a stereo this month: Britney Spears' Oops!... I Did It Again (2000), Jennifer Lopez's This Is Me... Then (2002), Vitamin C's self-titled album Vitamin C (1999), and Now That's What I Call Music! 5 (2000):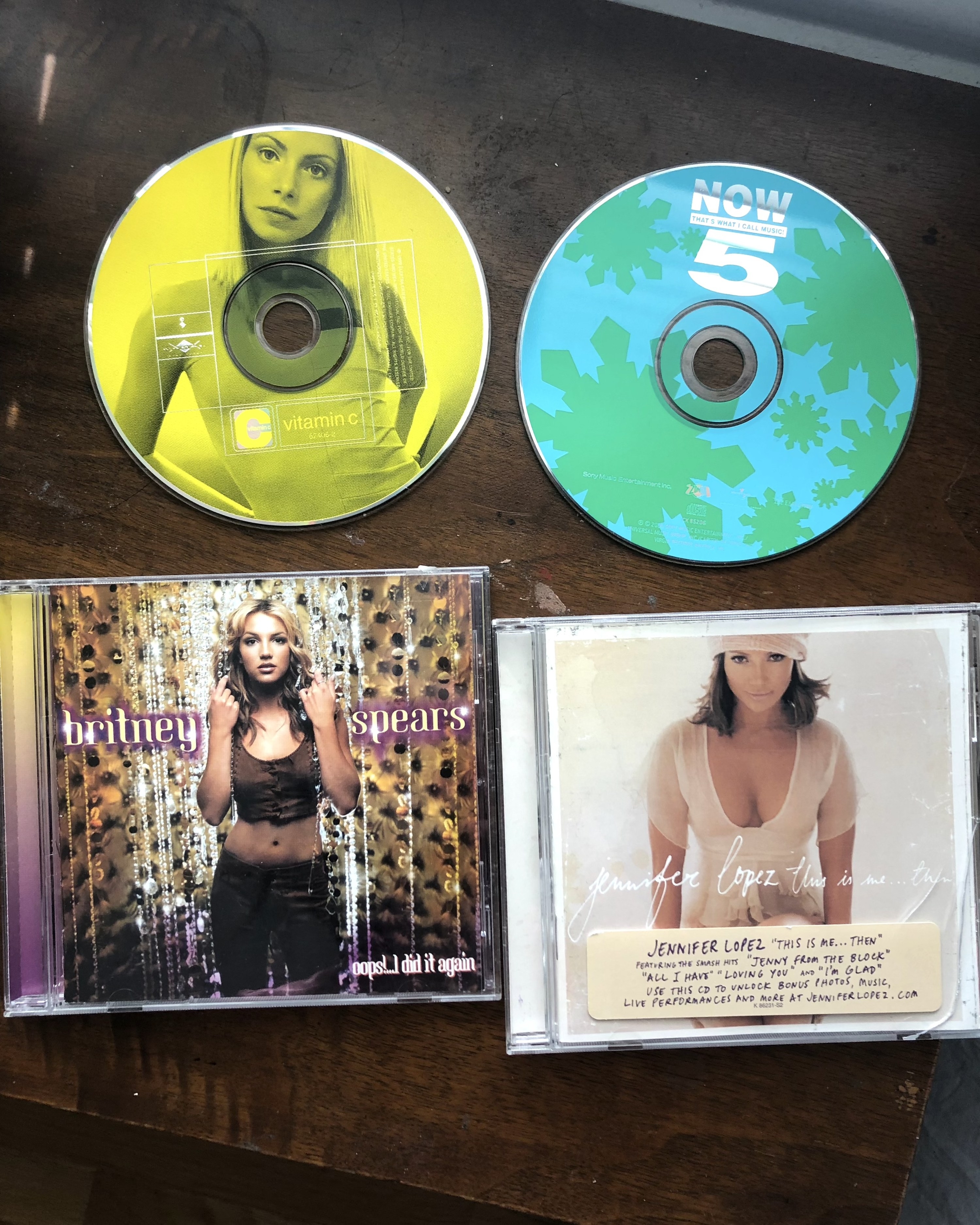 10.
This colorful Spice Girls nameplate necklace I sometimes wear when I want to transport back to the '90s: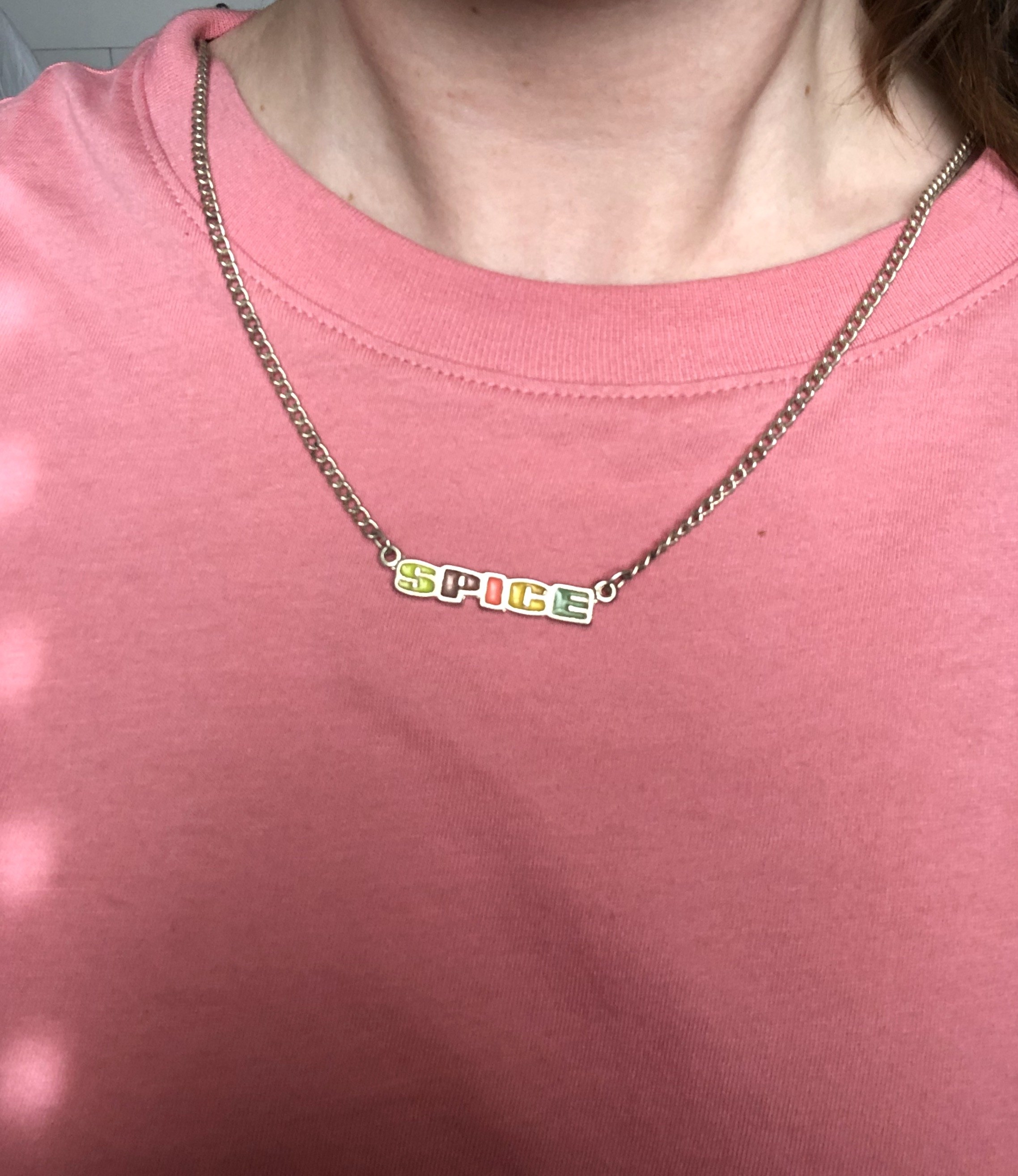 11.
These photo booth stickers I took at Limited Too after a long shopping spree: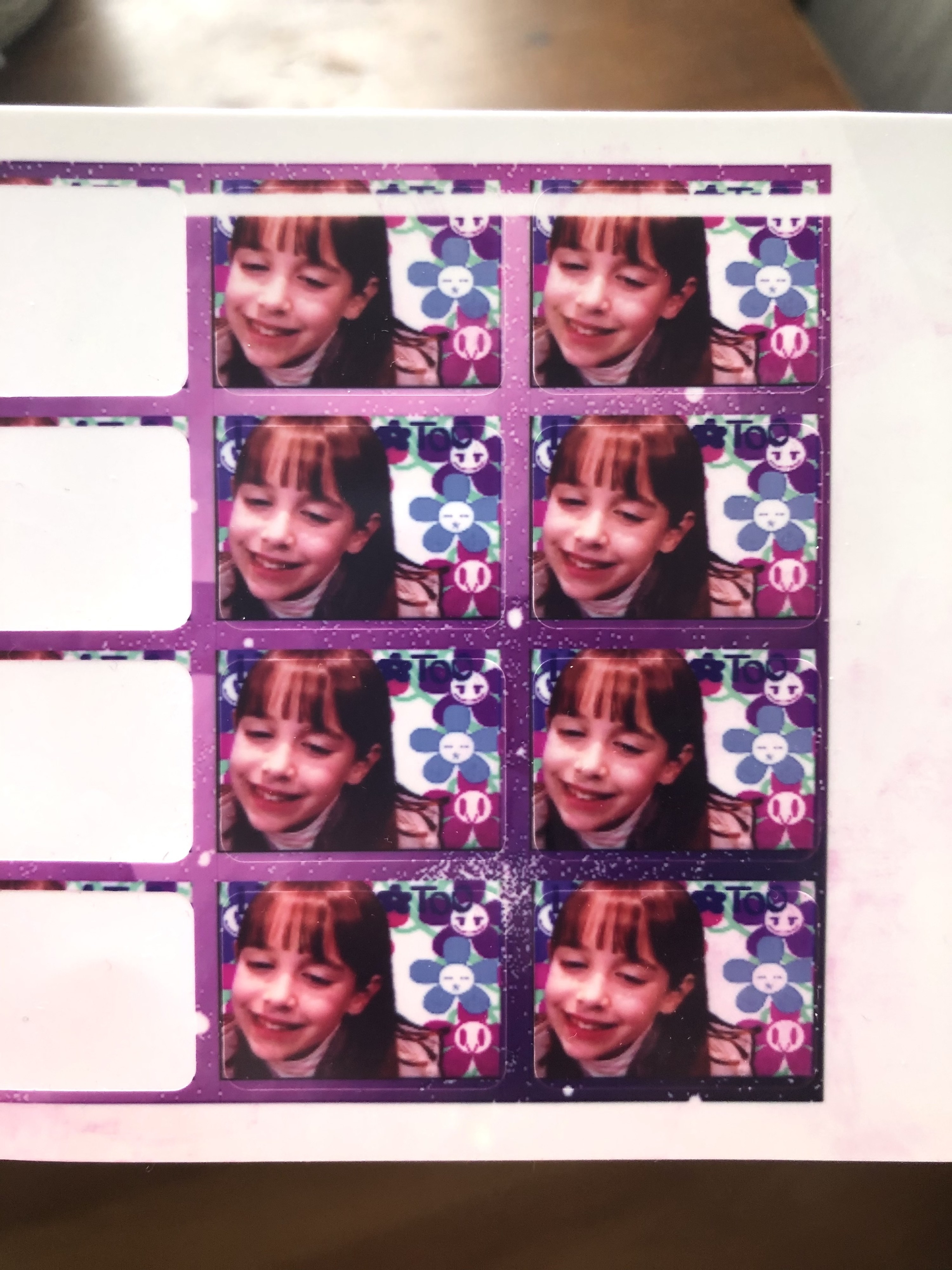 12.
Where I probably bought this blue fluffy robe with clouds all over it — shoutout to Limited Too's sleepwear!!!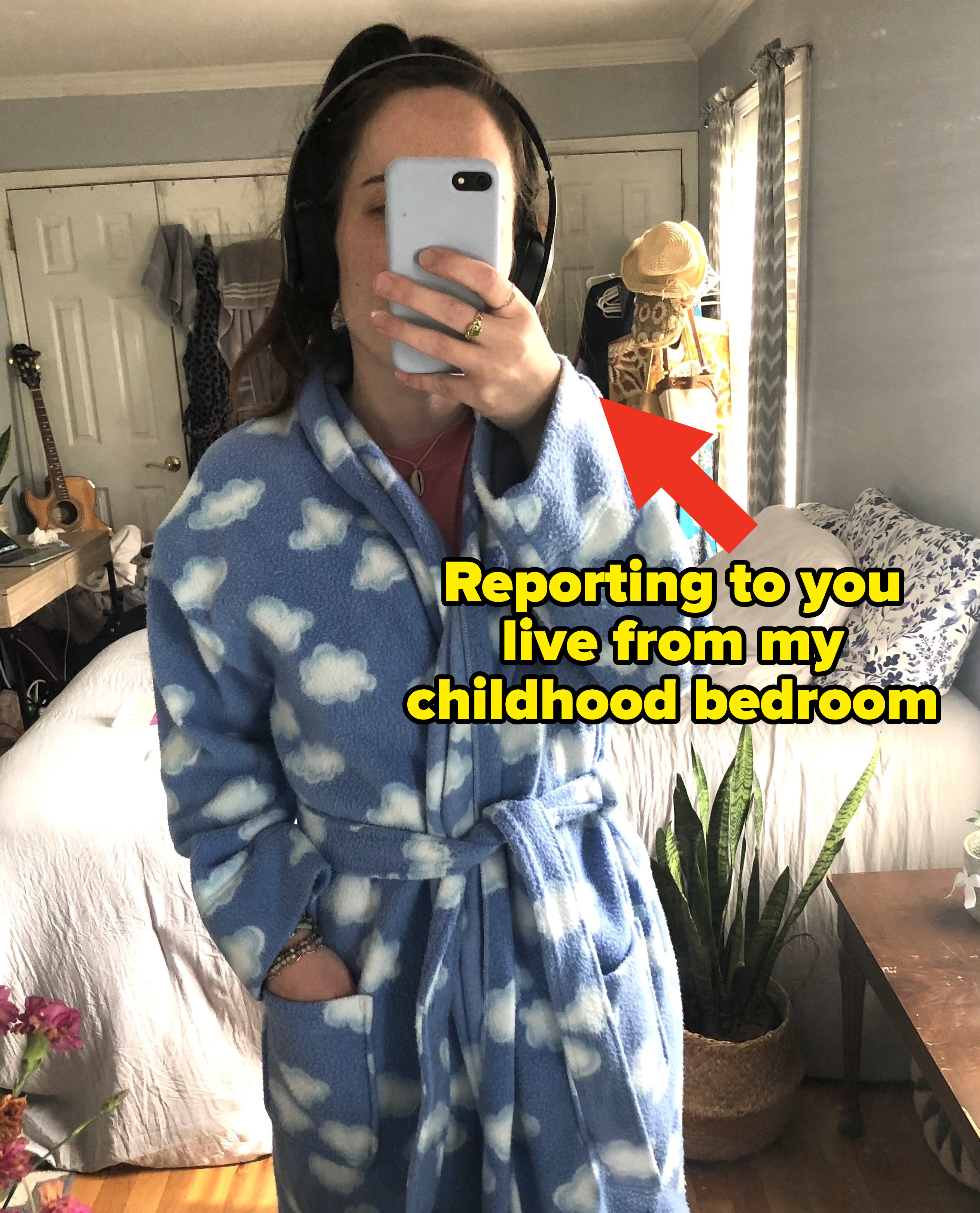 13.
These Bratz dolls wearing legendary '00s outfits: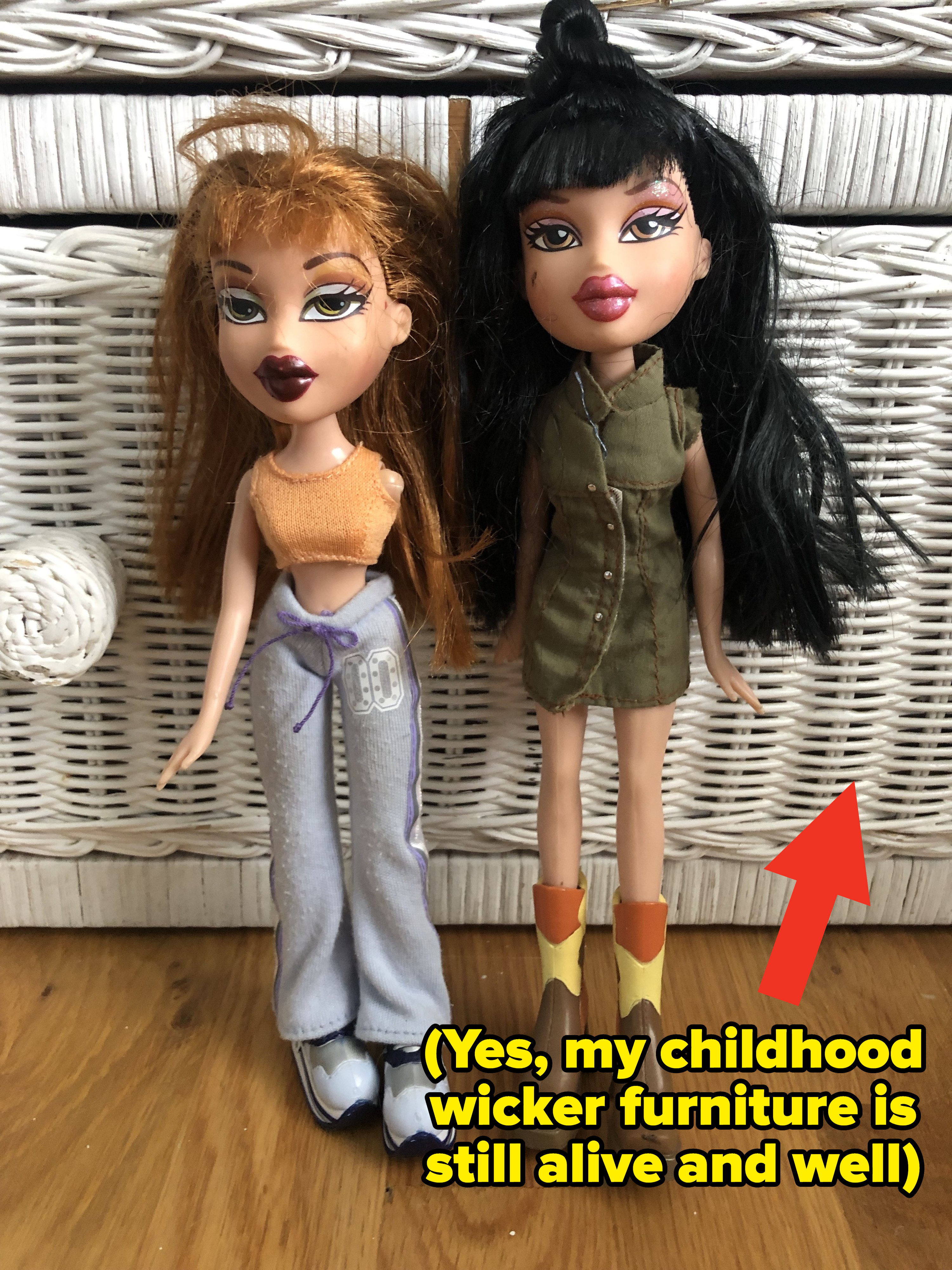 14.
This Livestrong bracelet I used to wear every single day in middle school: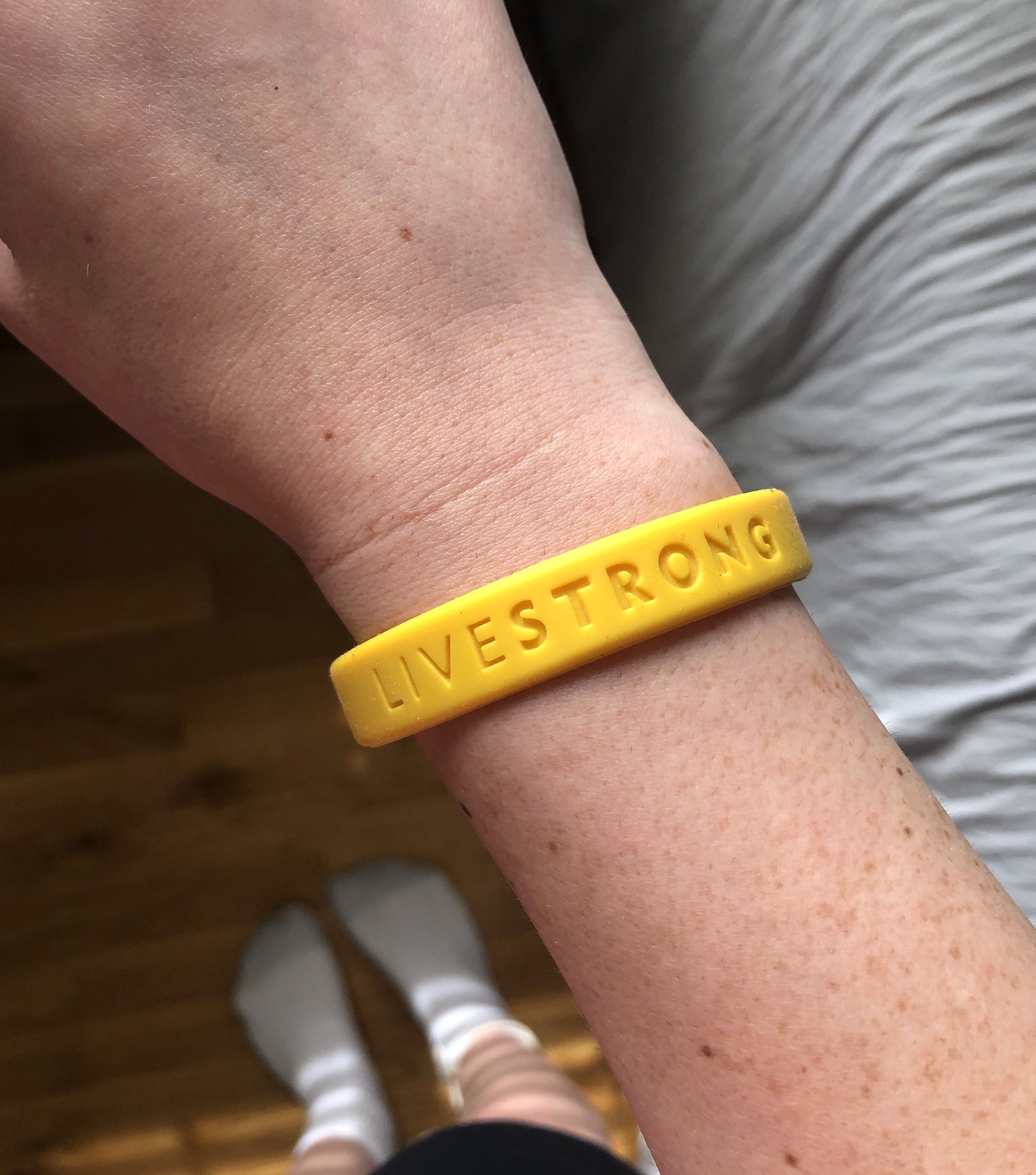 15.
These Pokémon trading cards I'd play with on the morning bus to school, featuring Snorlax, Bulbasaur, and Squirtle: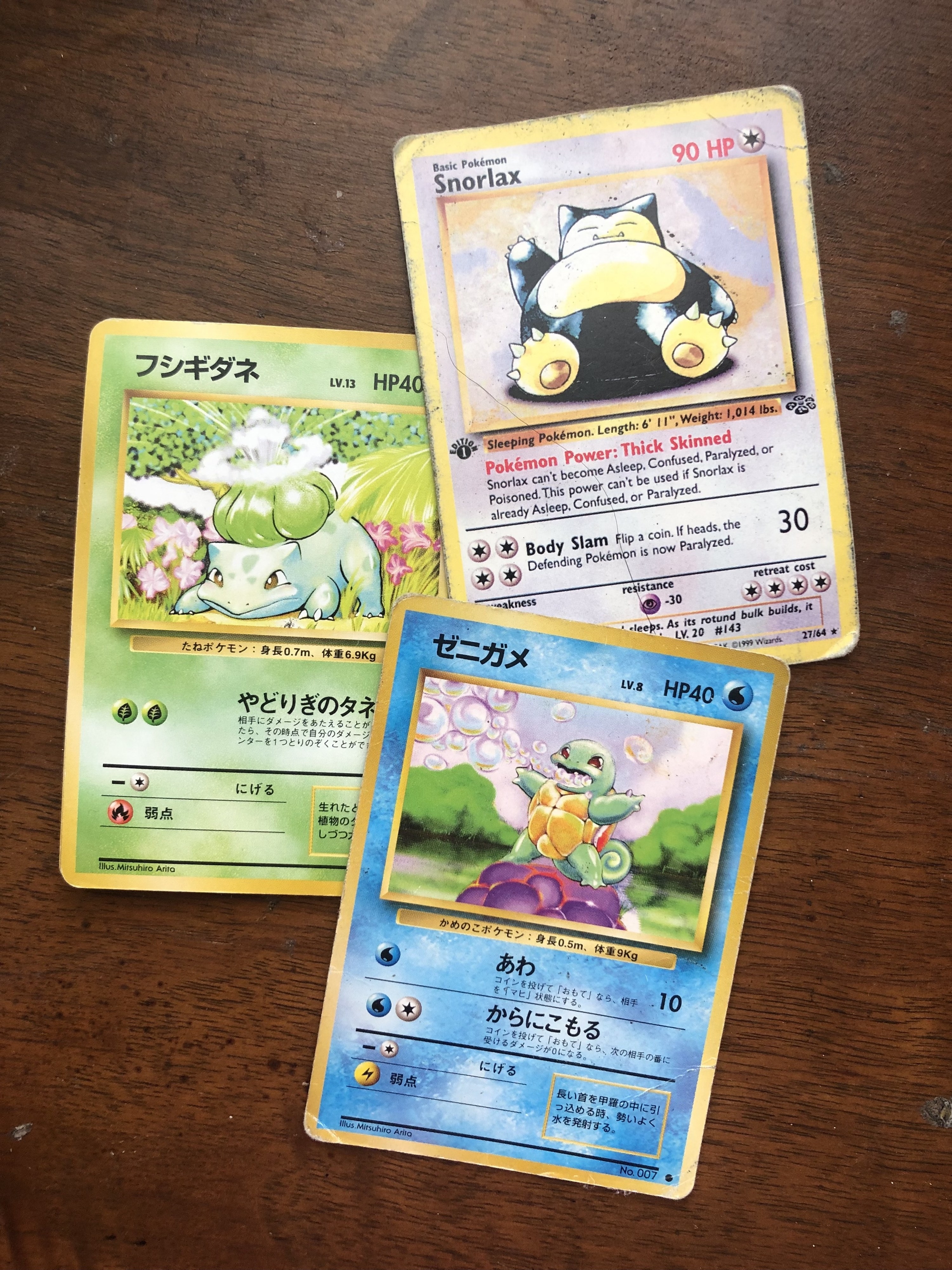 16.
These two cuddly Care Bears, rightly named Funshine Bear and Love-a-Lot Bear: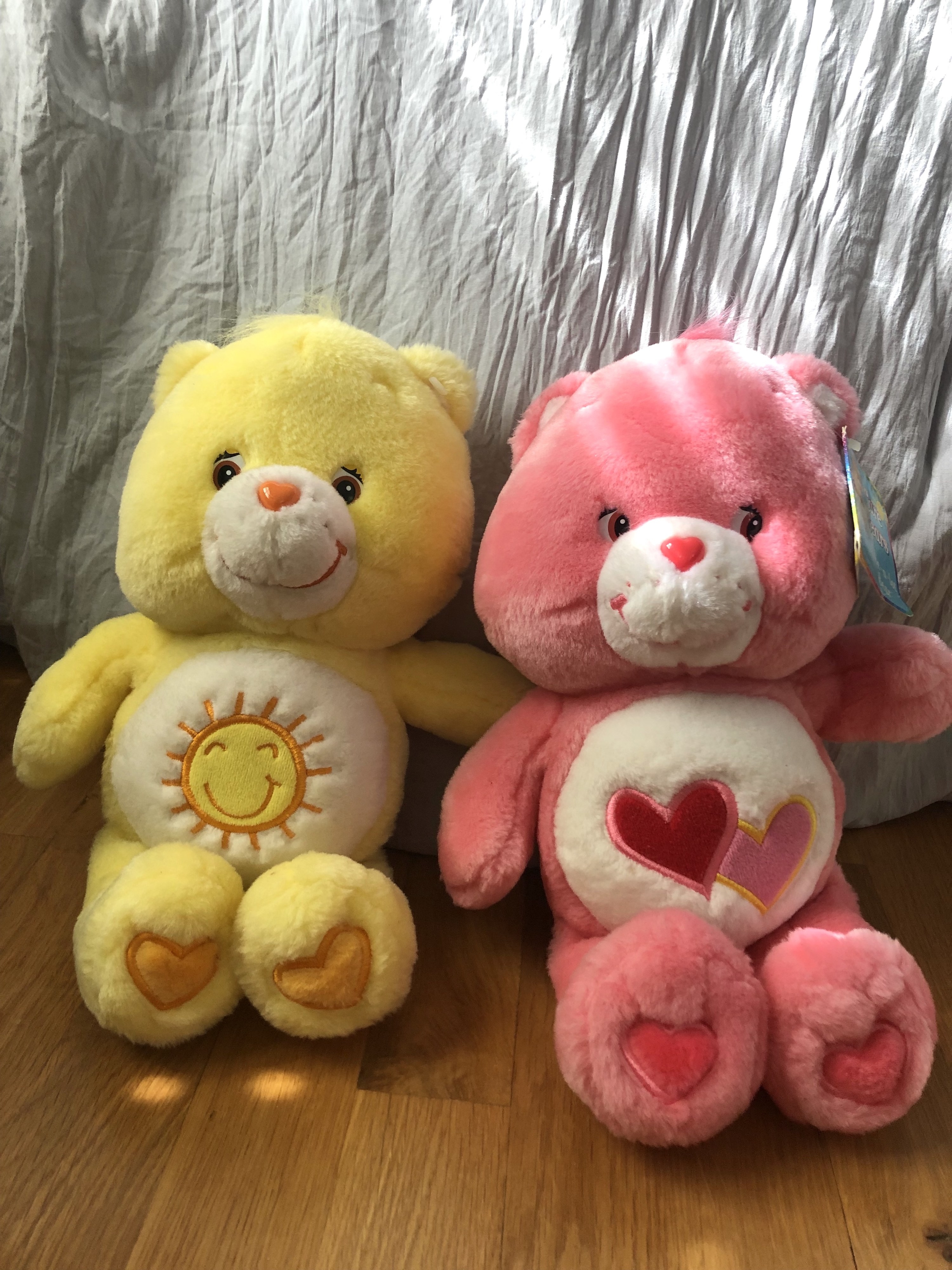 17.
This book from the Clueless TV series that I don't really remember reading: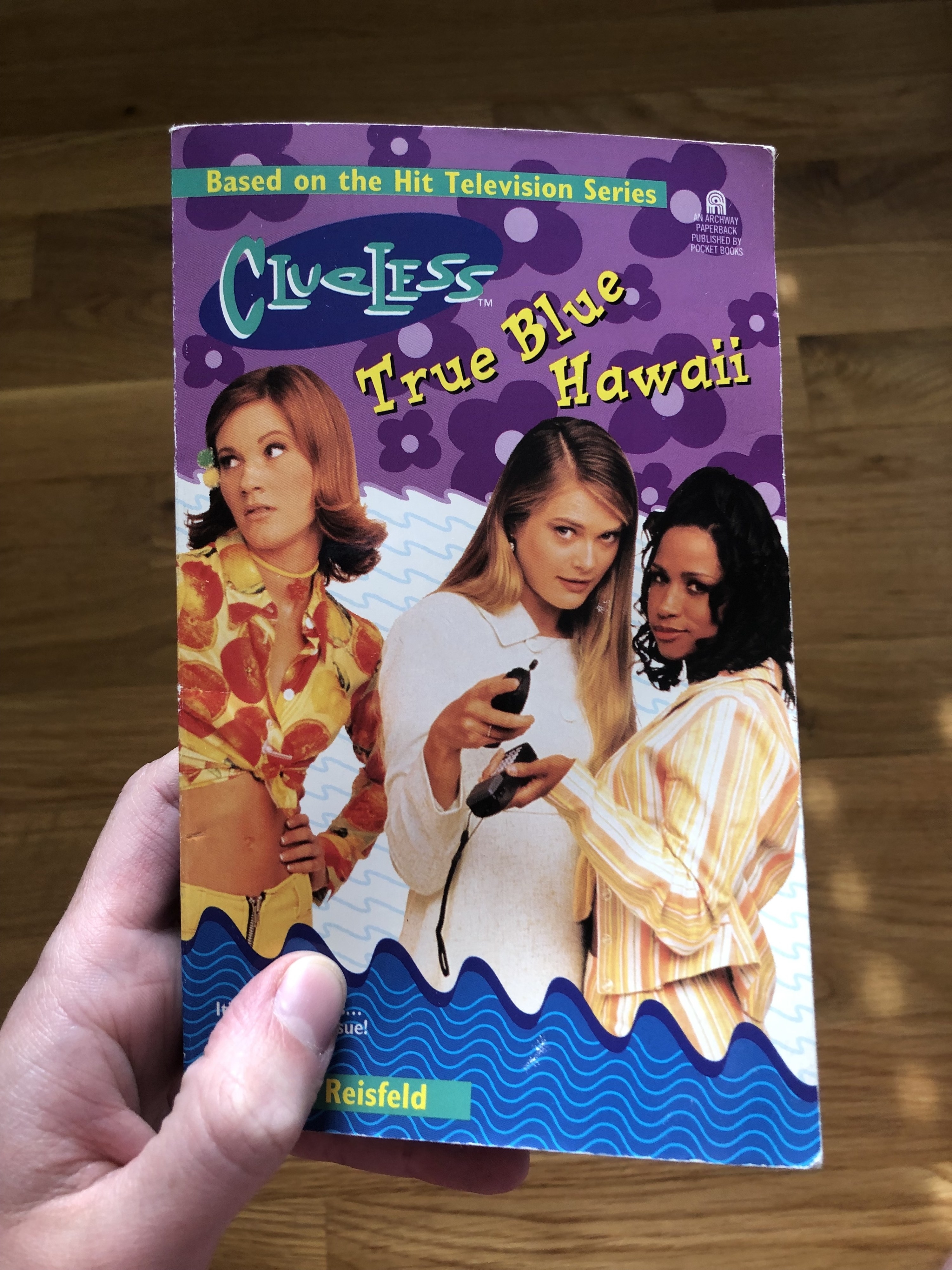 18.
And this book from the Amelia's Notebooks series I *do* remember reading, which I bought at my elementary school's book fair: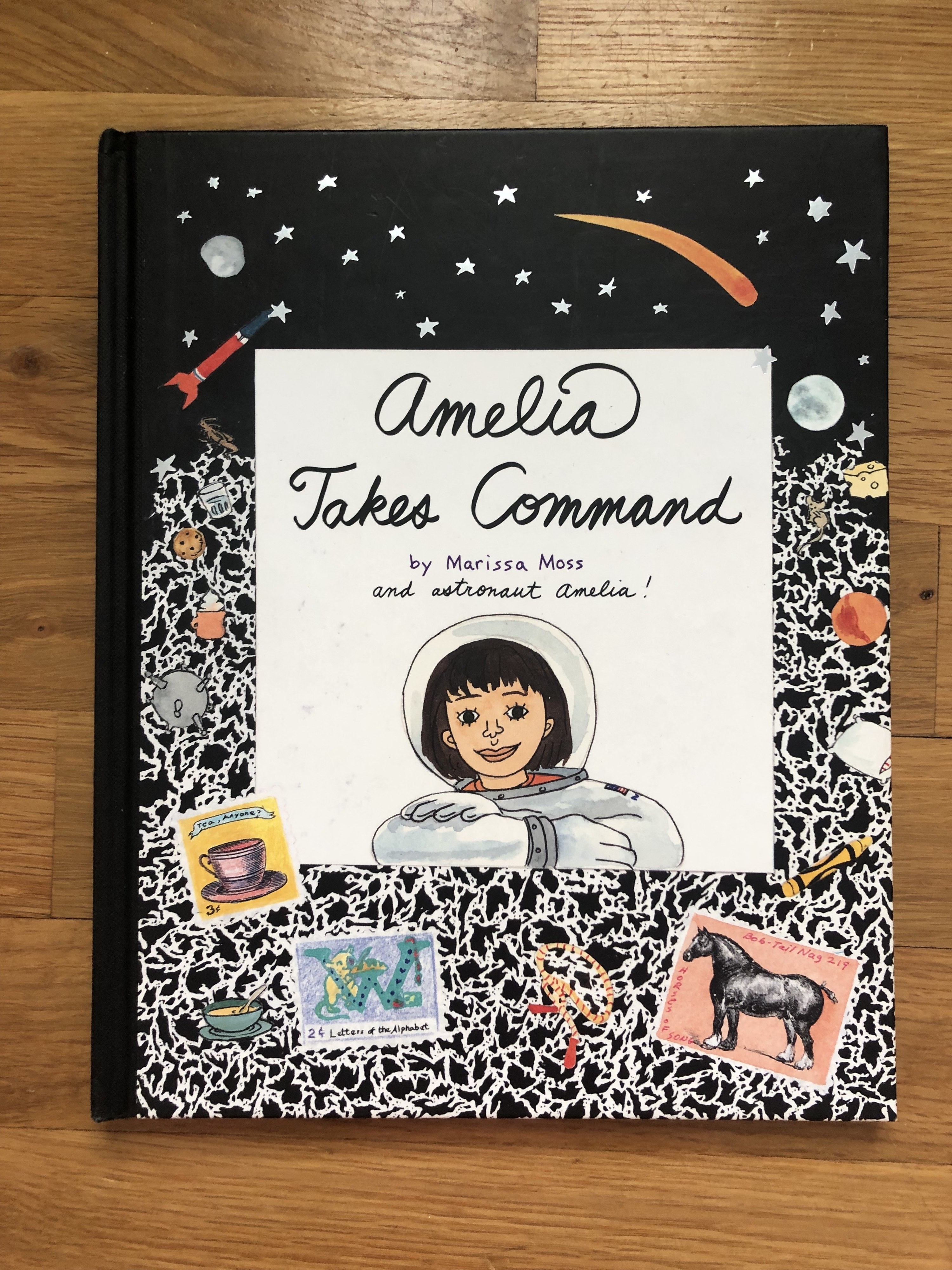 19.
This American Girl doll from 2000, Kit Kittredge, with a white fluffy pup: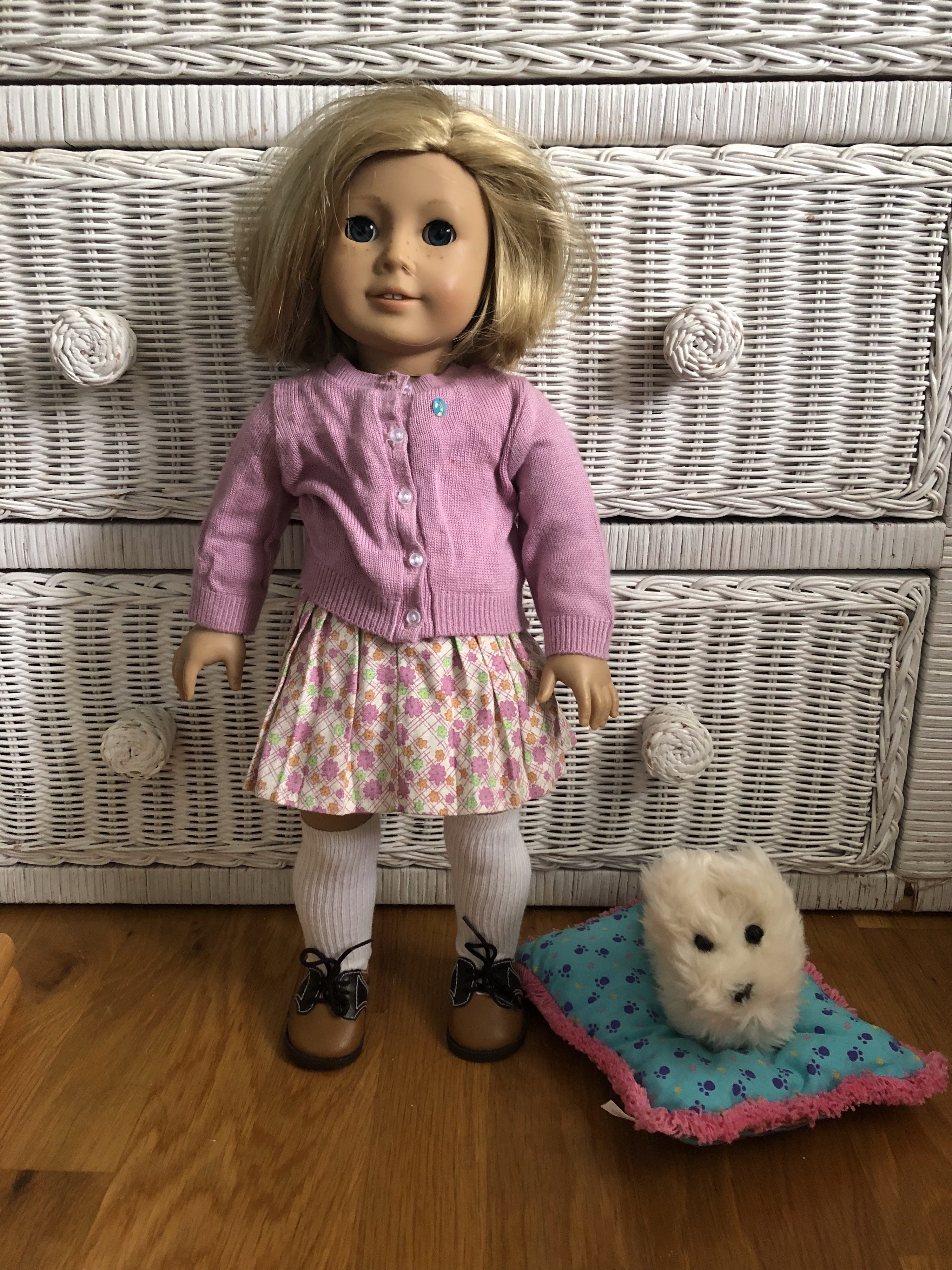 20.
This box full of colorful string I used to make summer bracelets, anklets, and chokers out of: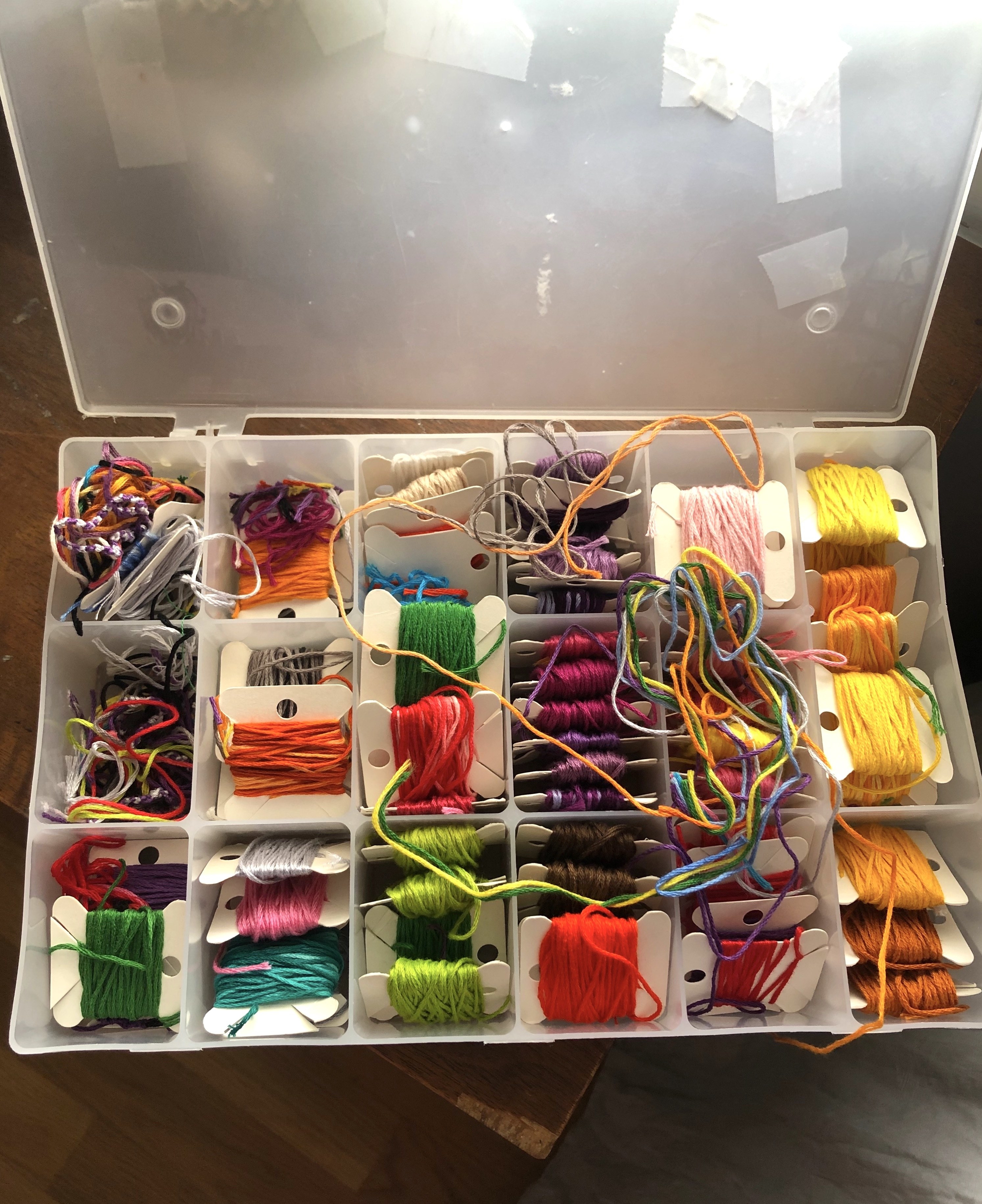 21.
This pink, tropical Roxy purse that made me feel cool as hell: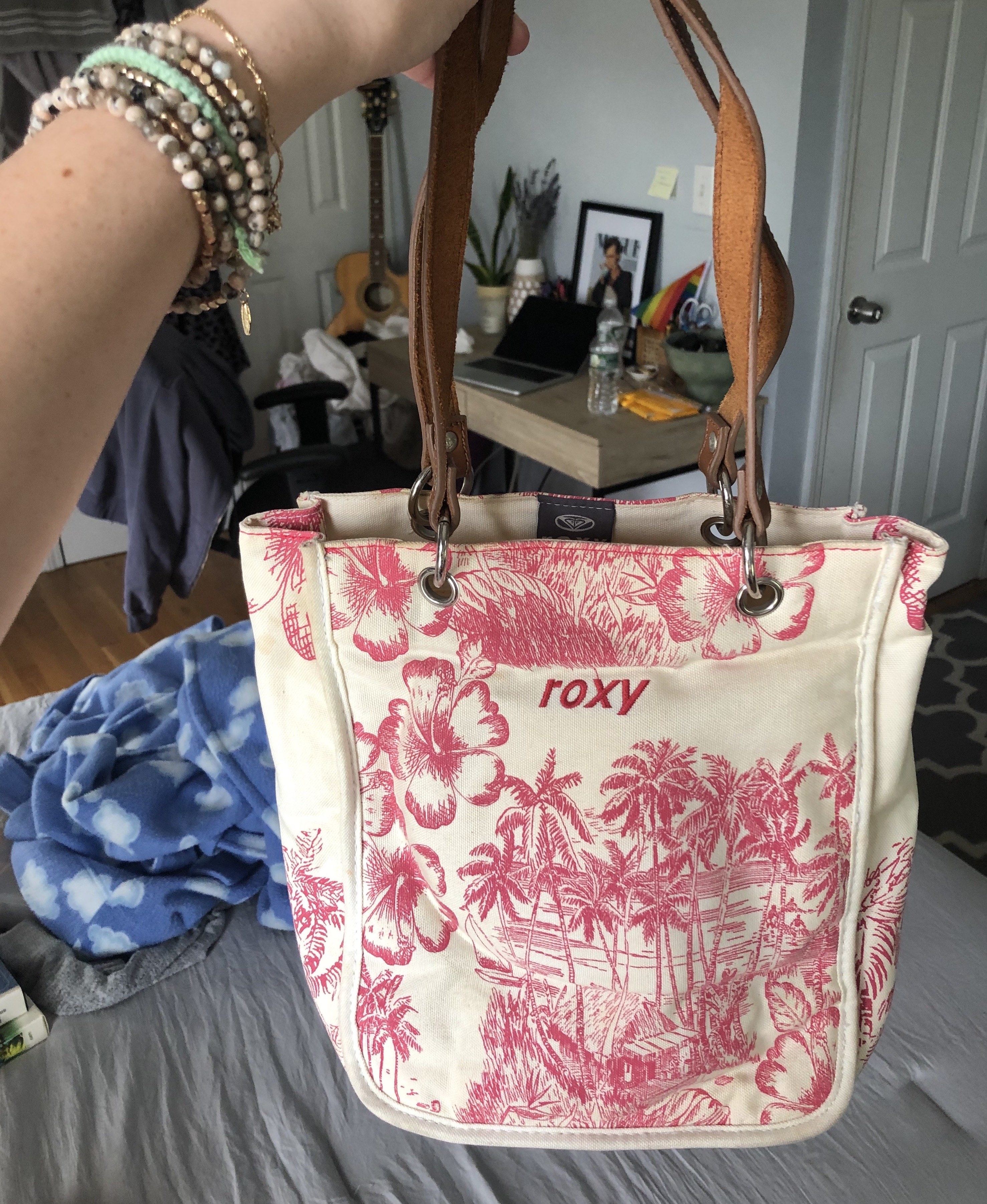 22.
This vintage smiley face watch: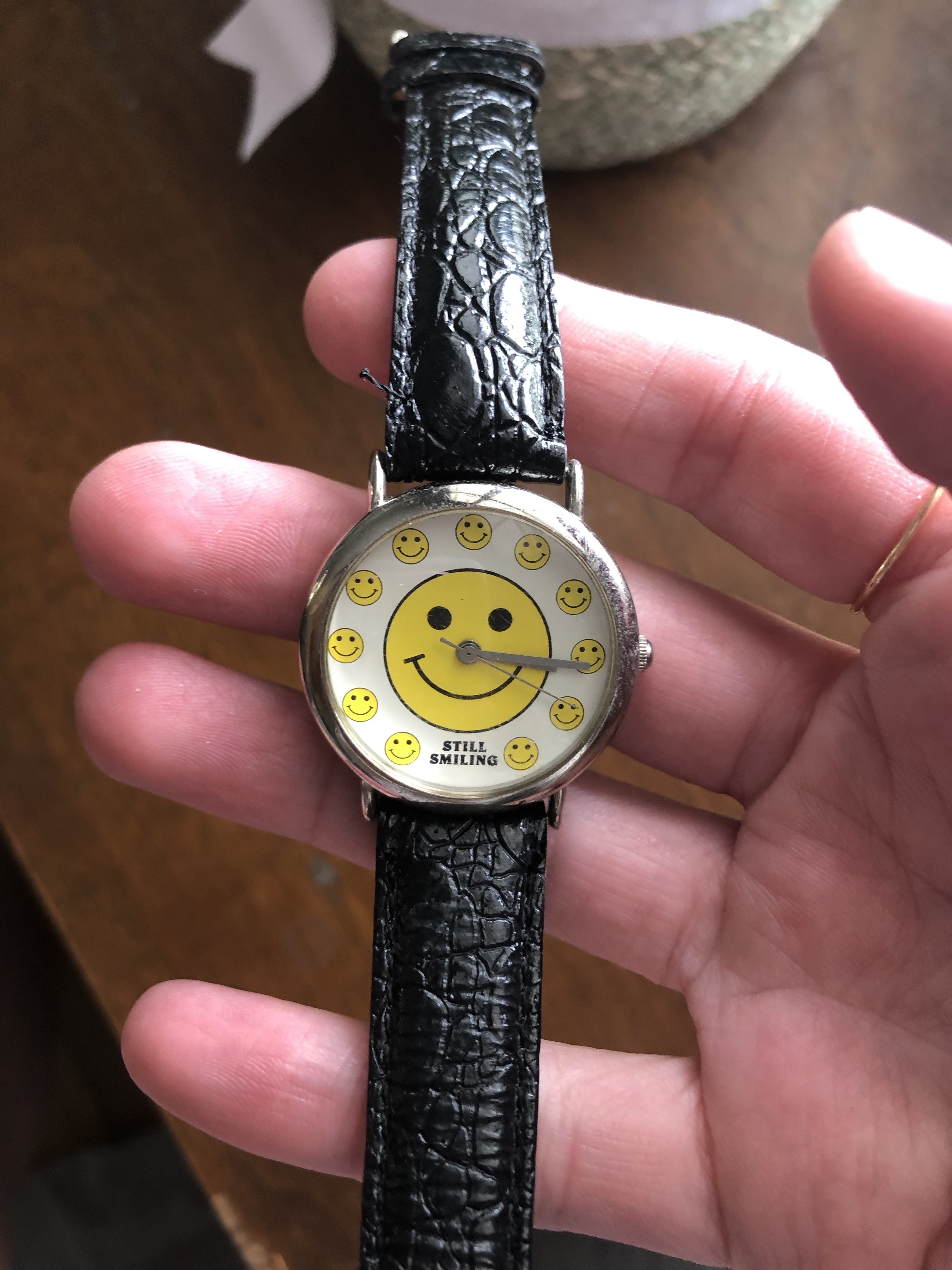 23.
This purple Rugrats baseball hat I wore around the house, featuring Tommy Pickles and Spike: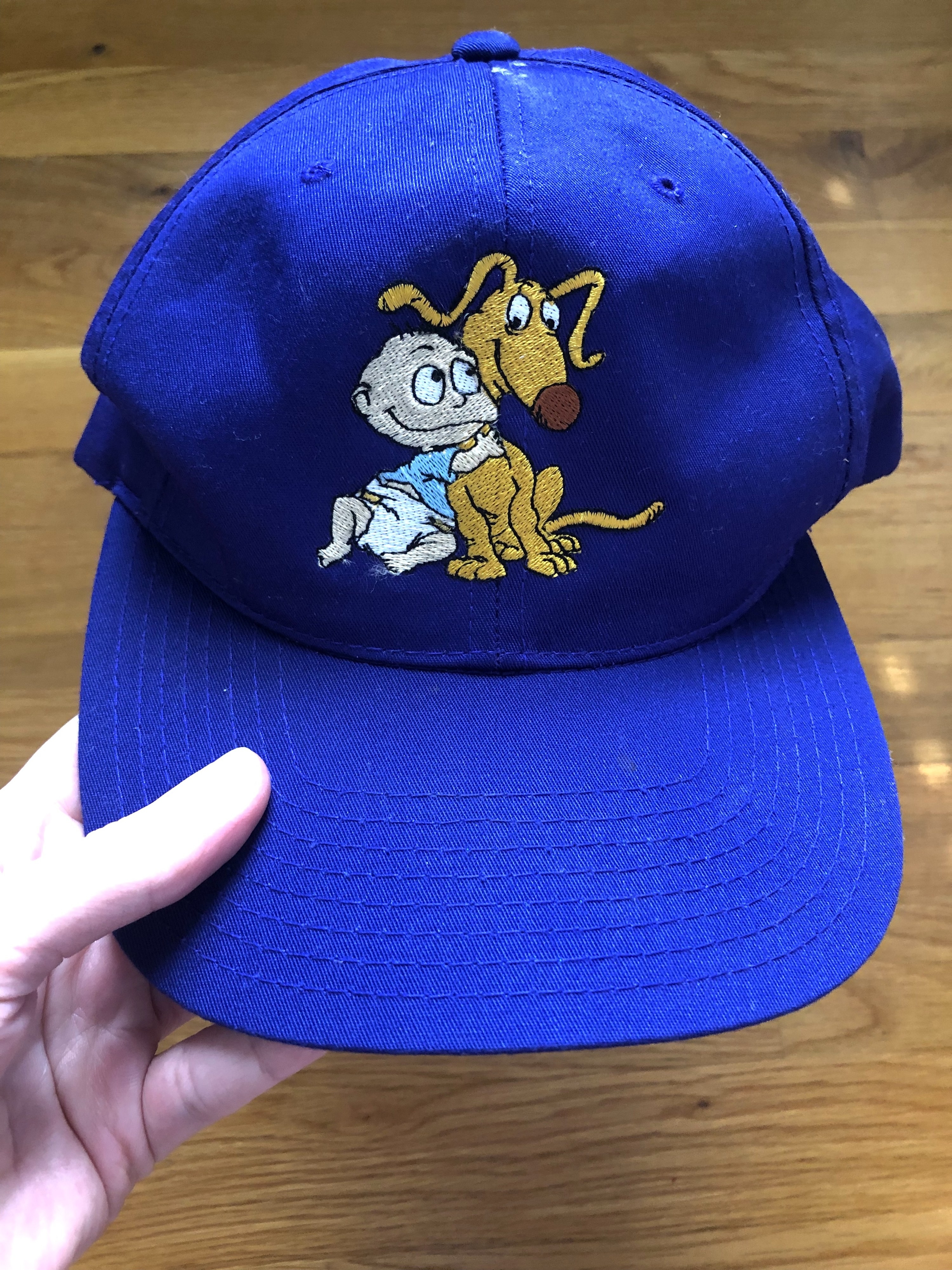 24.
These old-school Beanie Babies named Hissy and Dotty: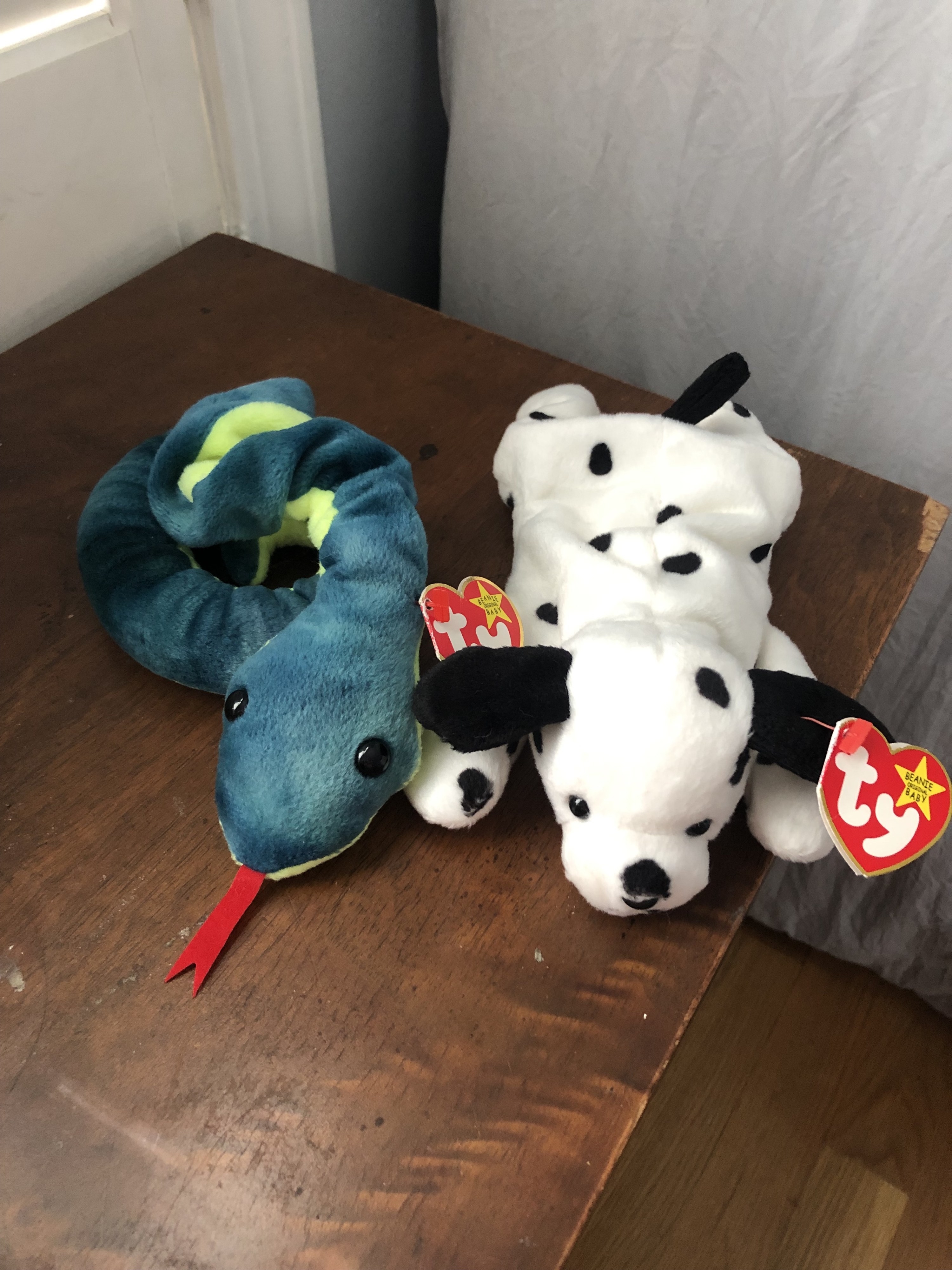 25.
And a few Beanie Babies playing cards I found in a huge stack in the basement: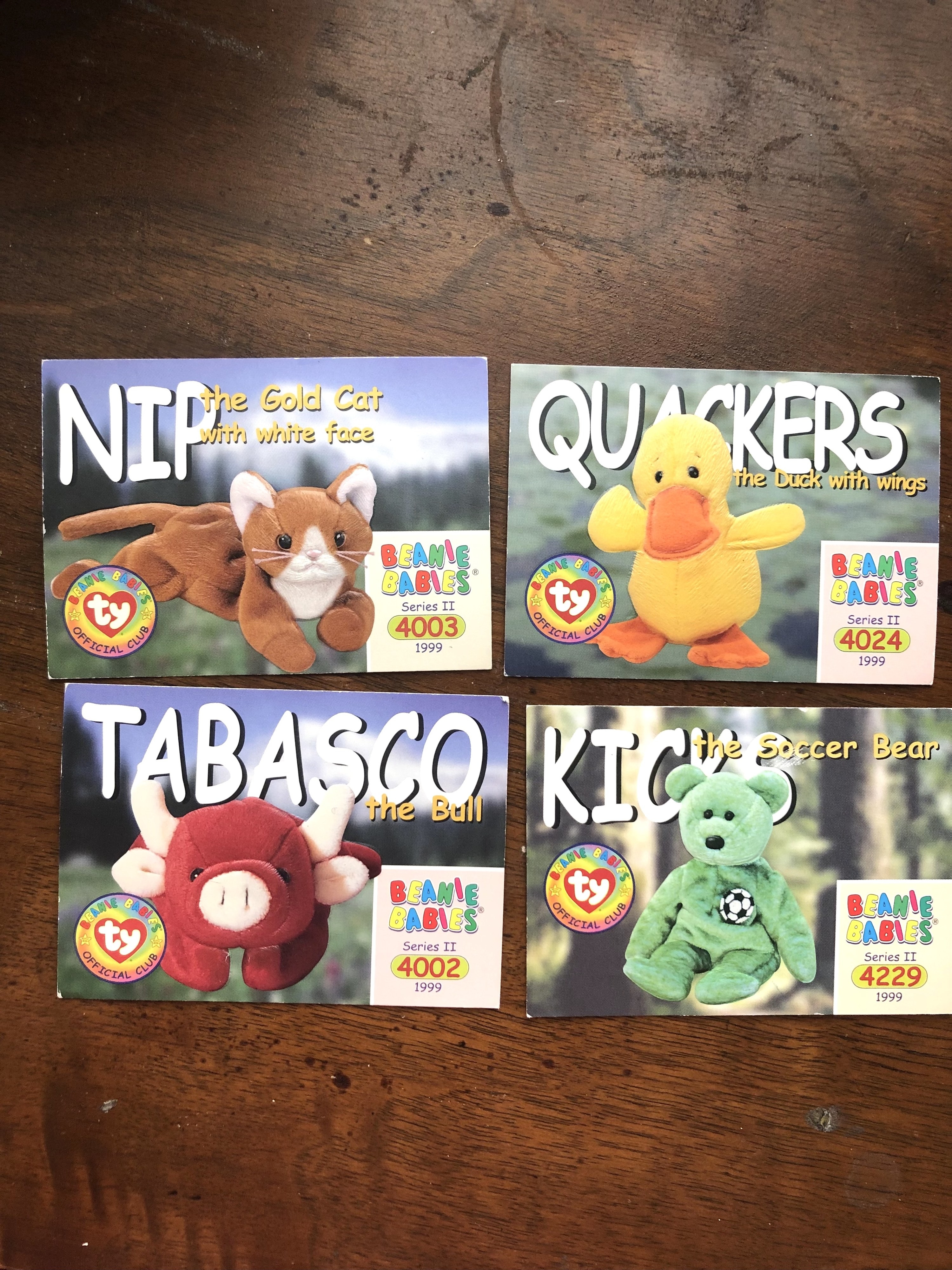 26.
This teeny tiny Princess Jasmine backpack from Aladdin: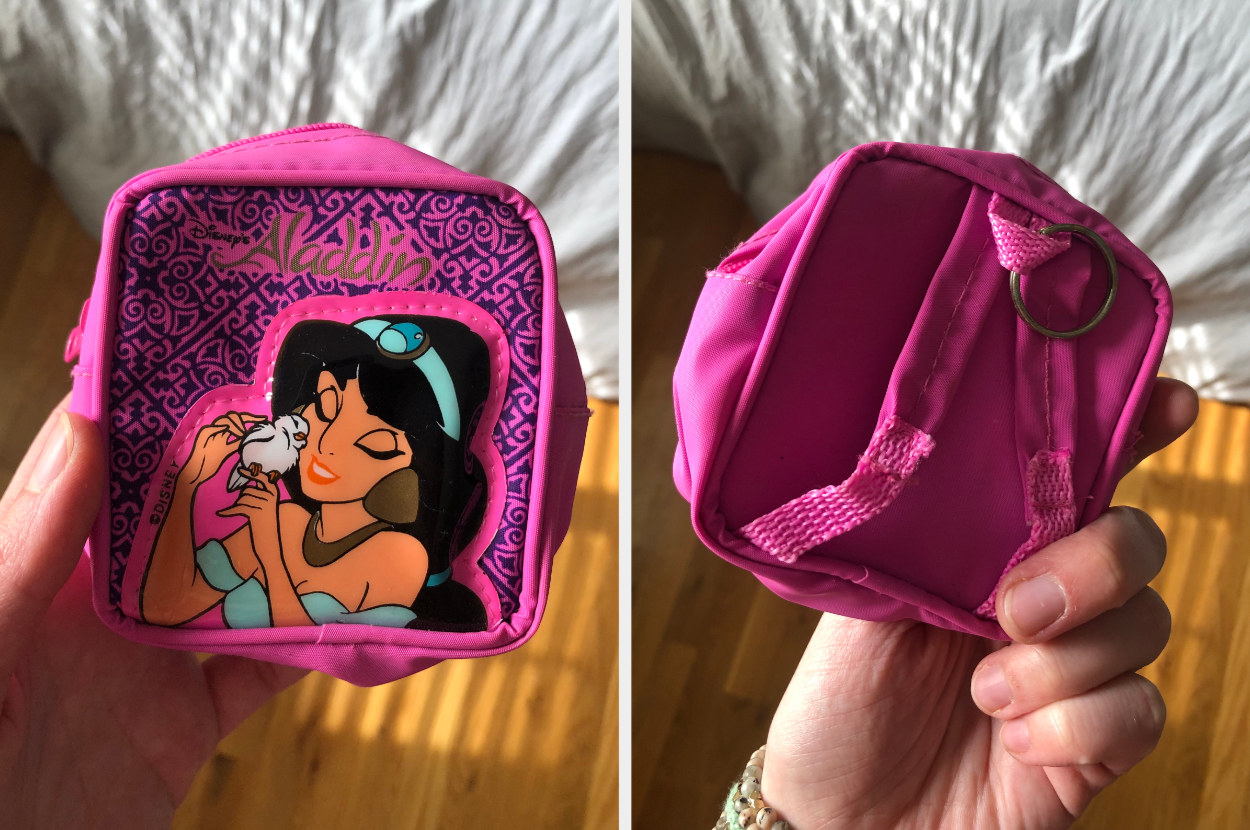 27.
These plastic glow-in-the-dark flowers I stuck on my bedroom ceiling and served as a night-light: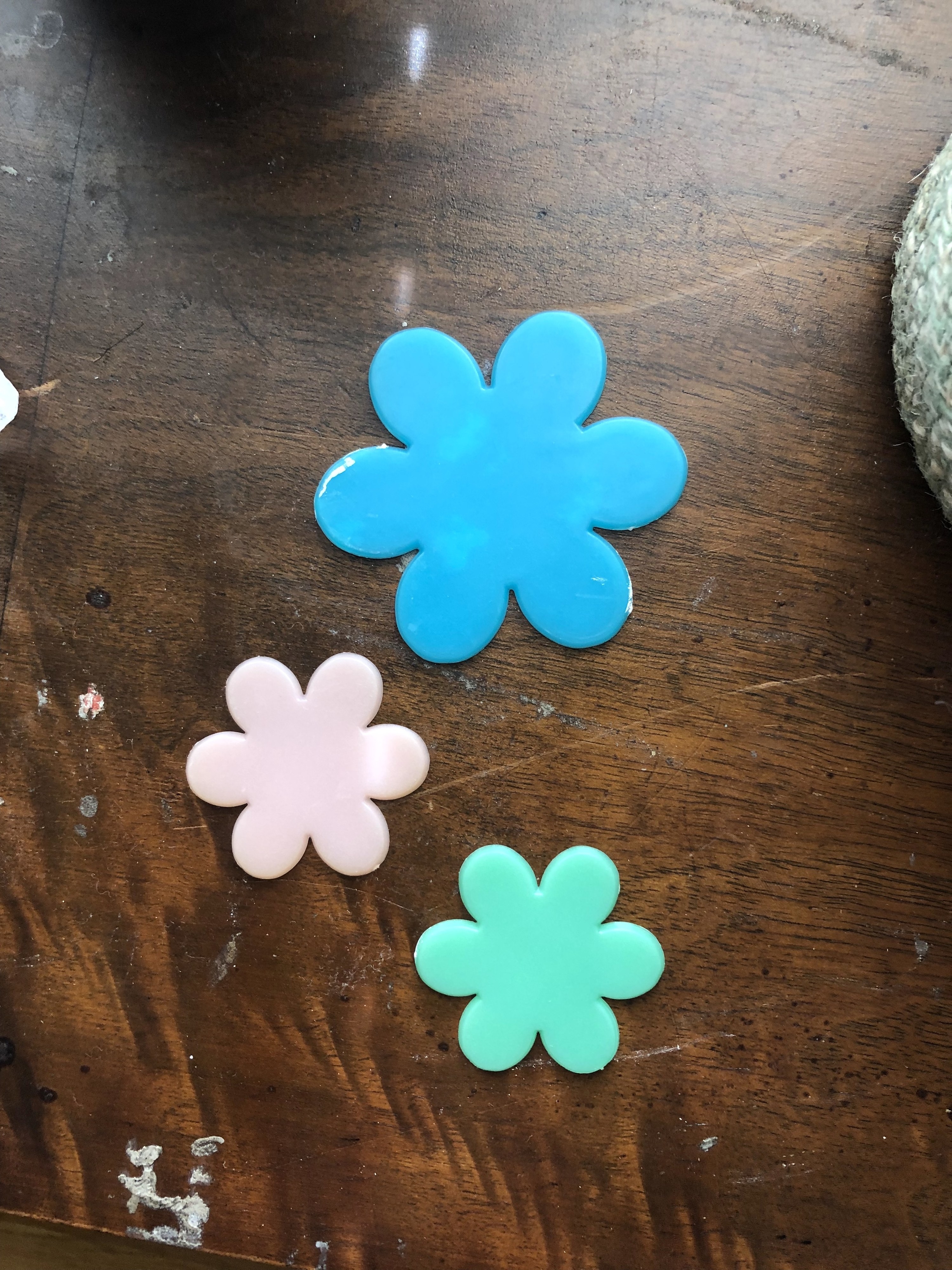 28.
This thick, OG iPod that used to glow when you scrolled through songs: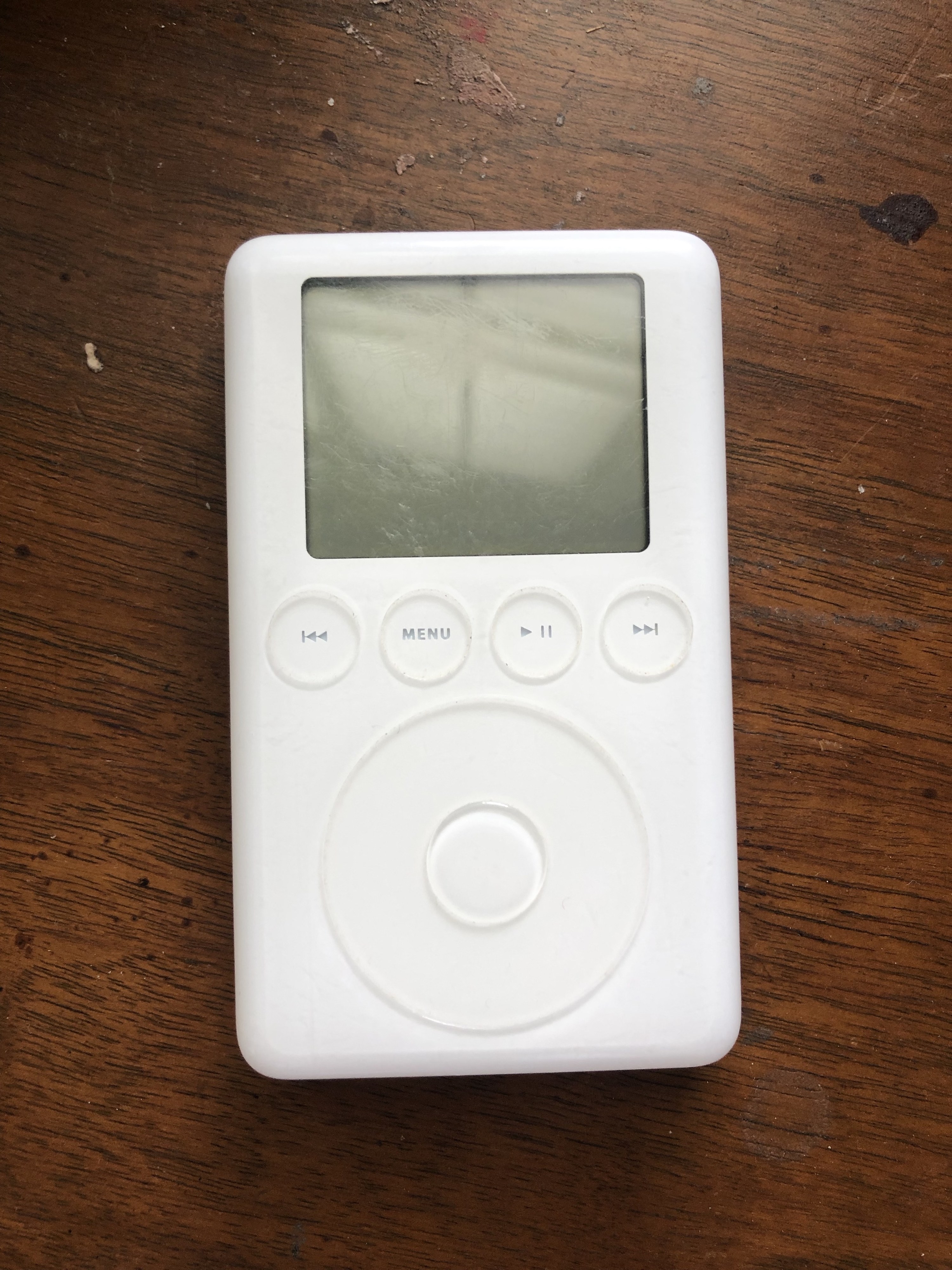 29.
These P.S. I Love You and Juno movie tickets from my holiday break in 2007: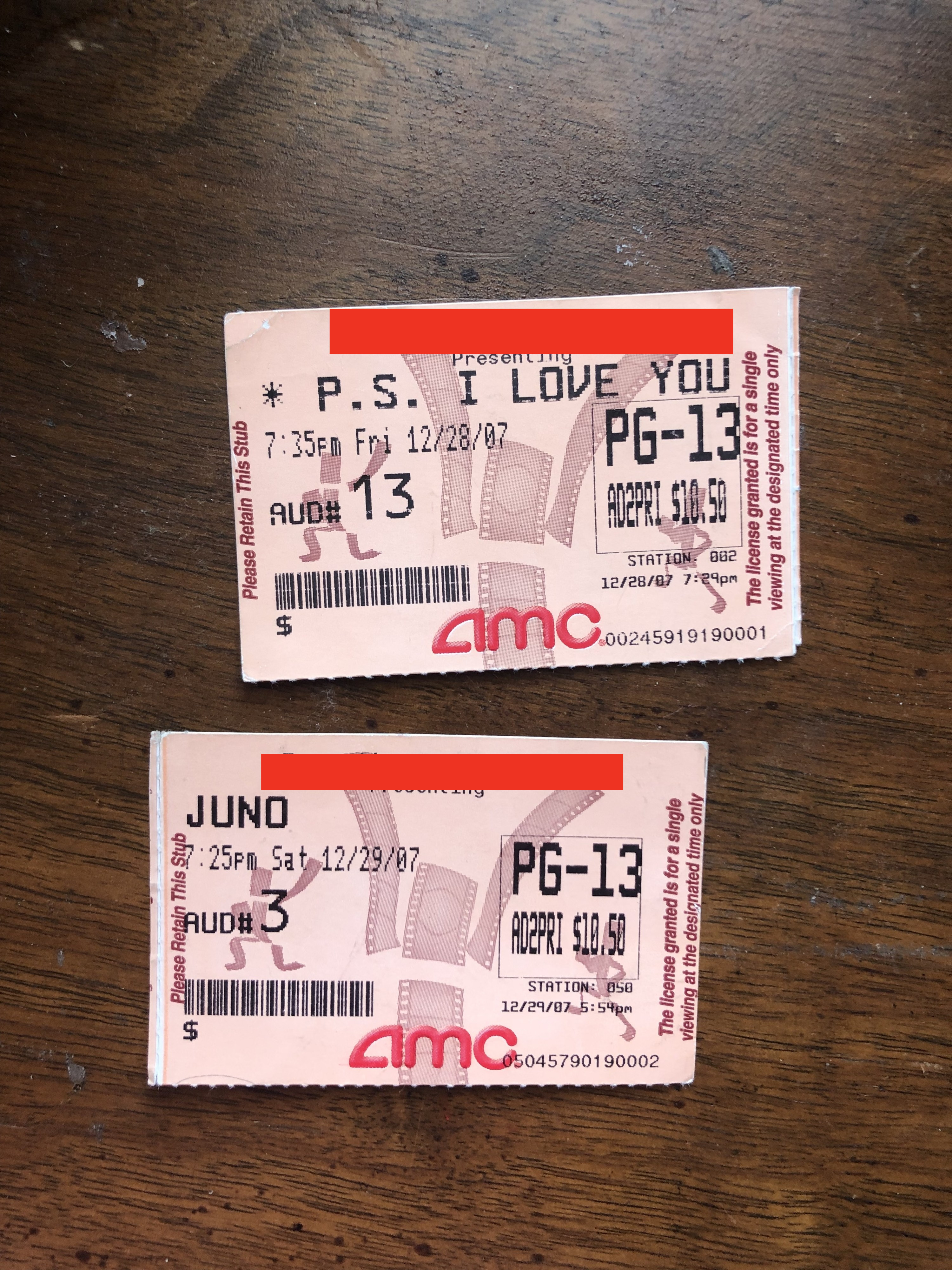 30.
This super soft reversible Life Is Good beanie I wore whenever I went sledding: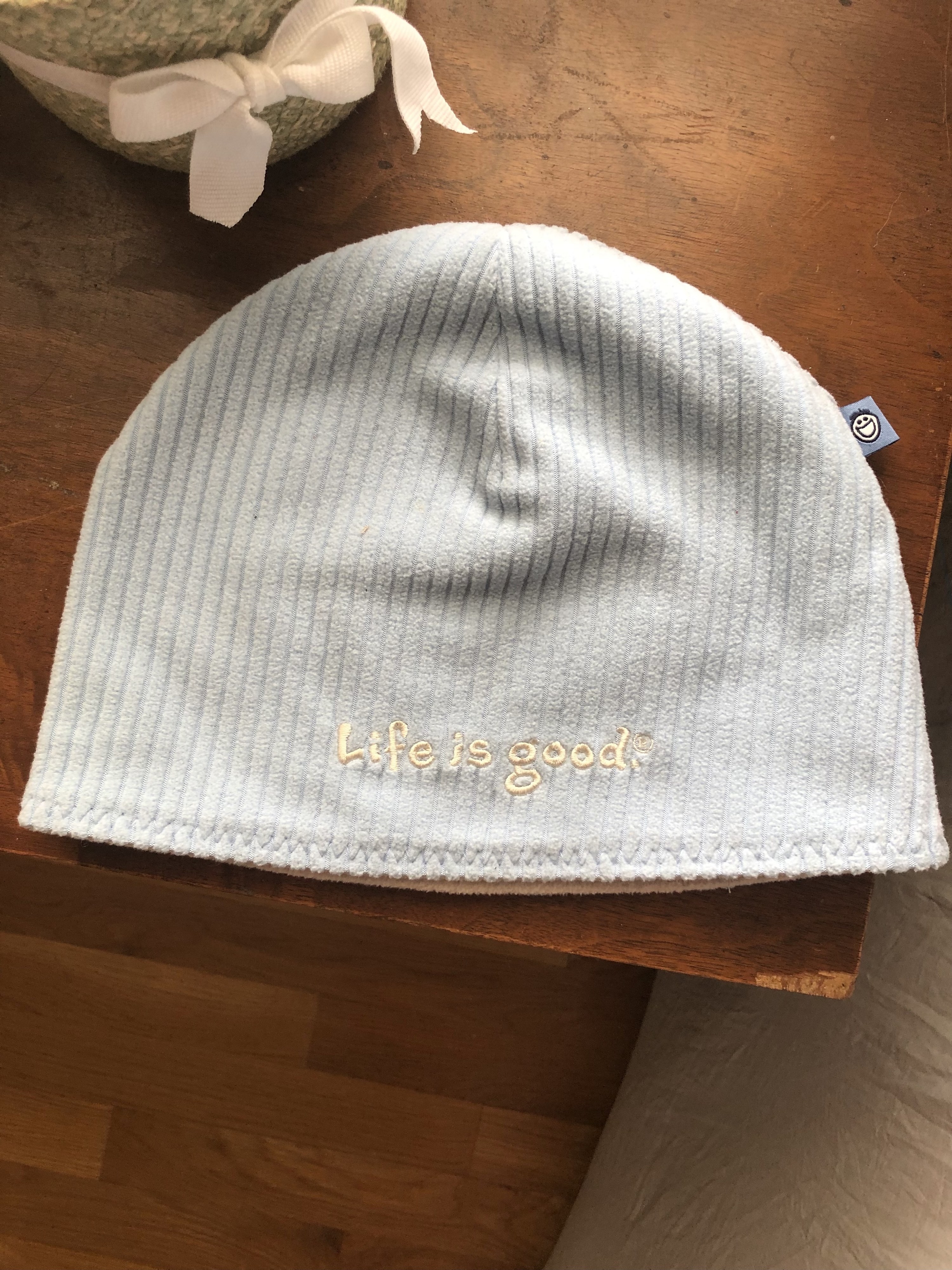 (From blue to beige! Magic!)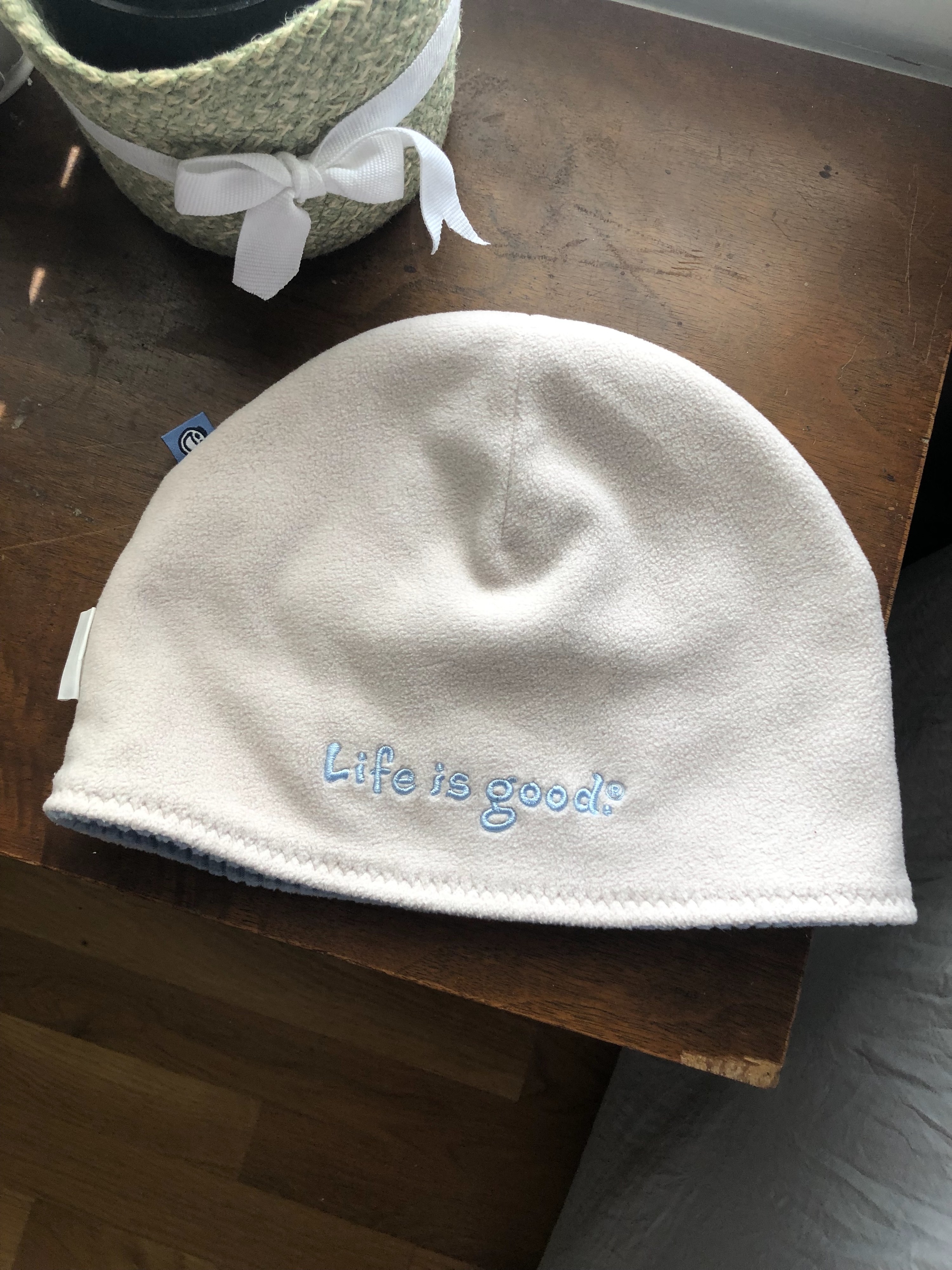 31.
A plastic Furby toy whose eyes you could move back and forth:
32.
This pink Game Boy Color from the late '90s that I played with during road trips: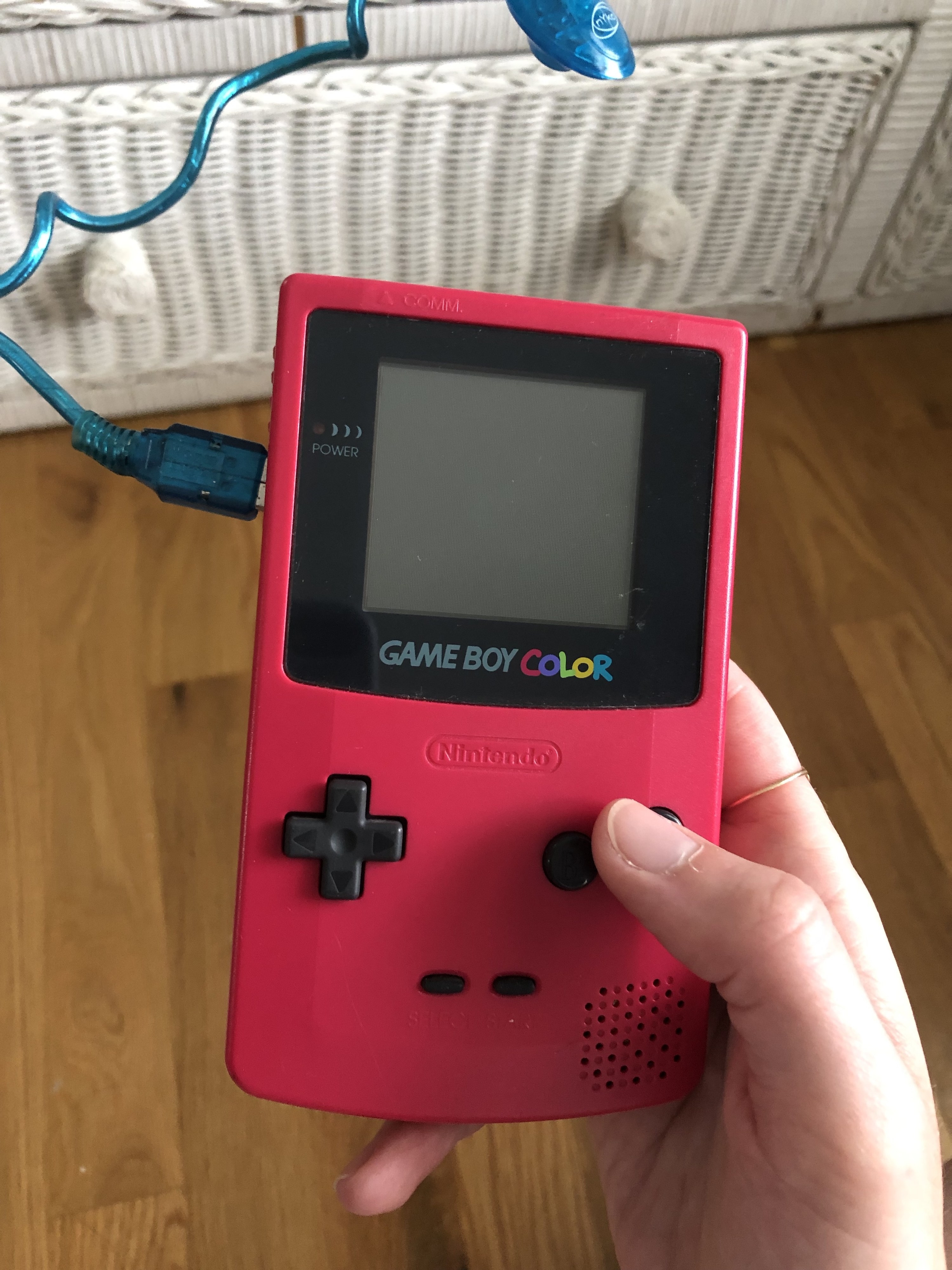 33.
And some very-used iconic video games, like Pokémon Red, Tetris, and Rocket Power: Gettin' Air: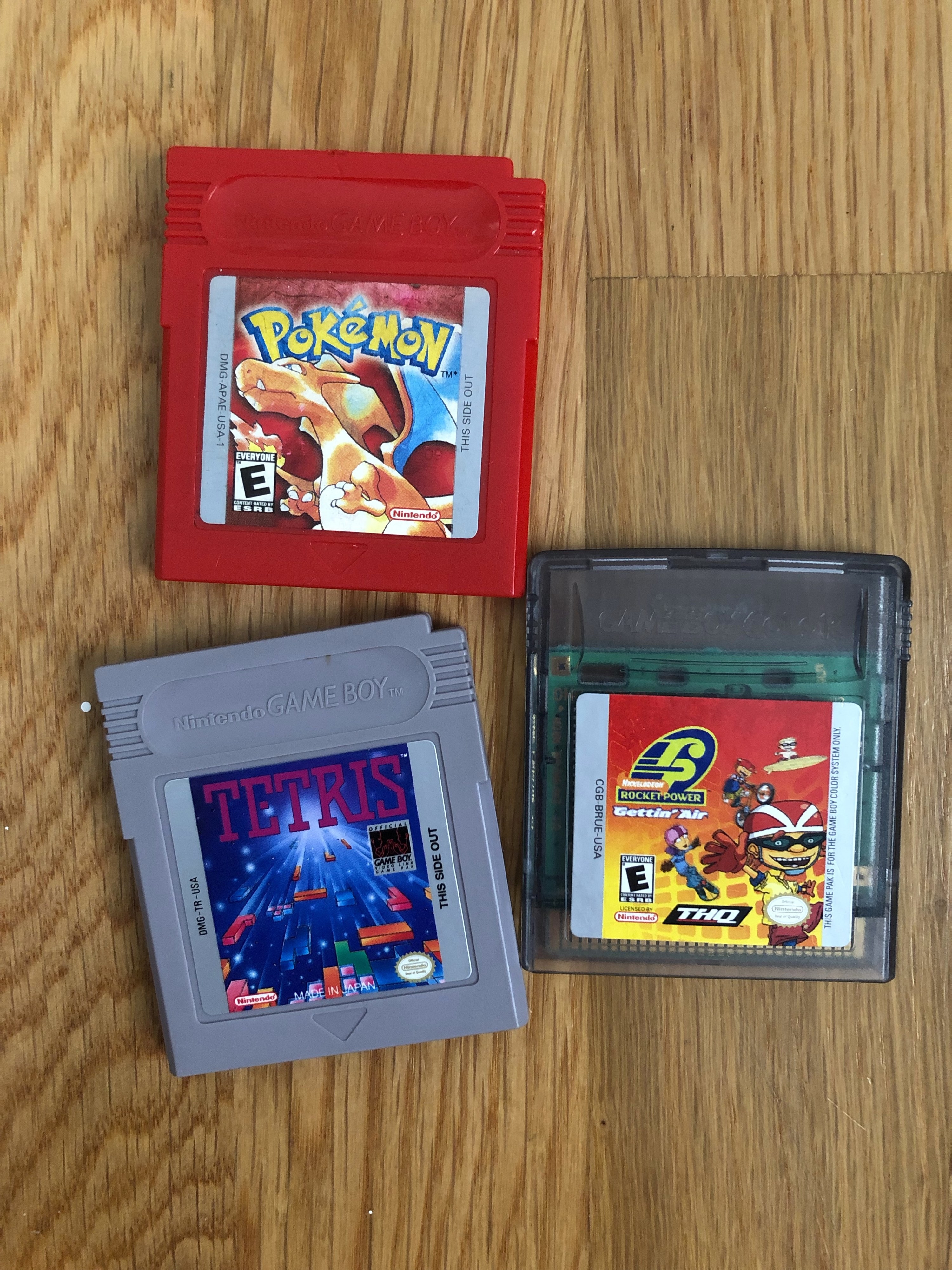 34.
This legendary Mancala board game I was glued to every weekend: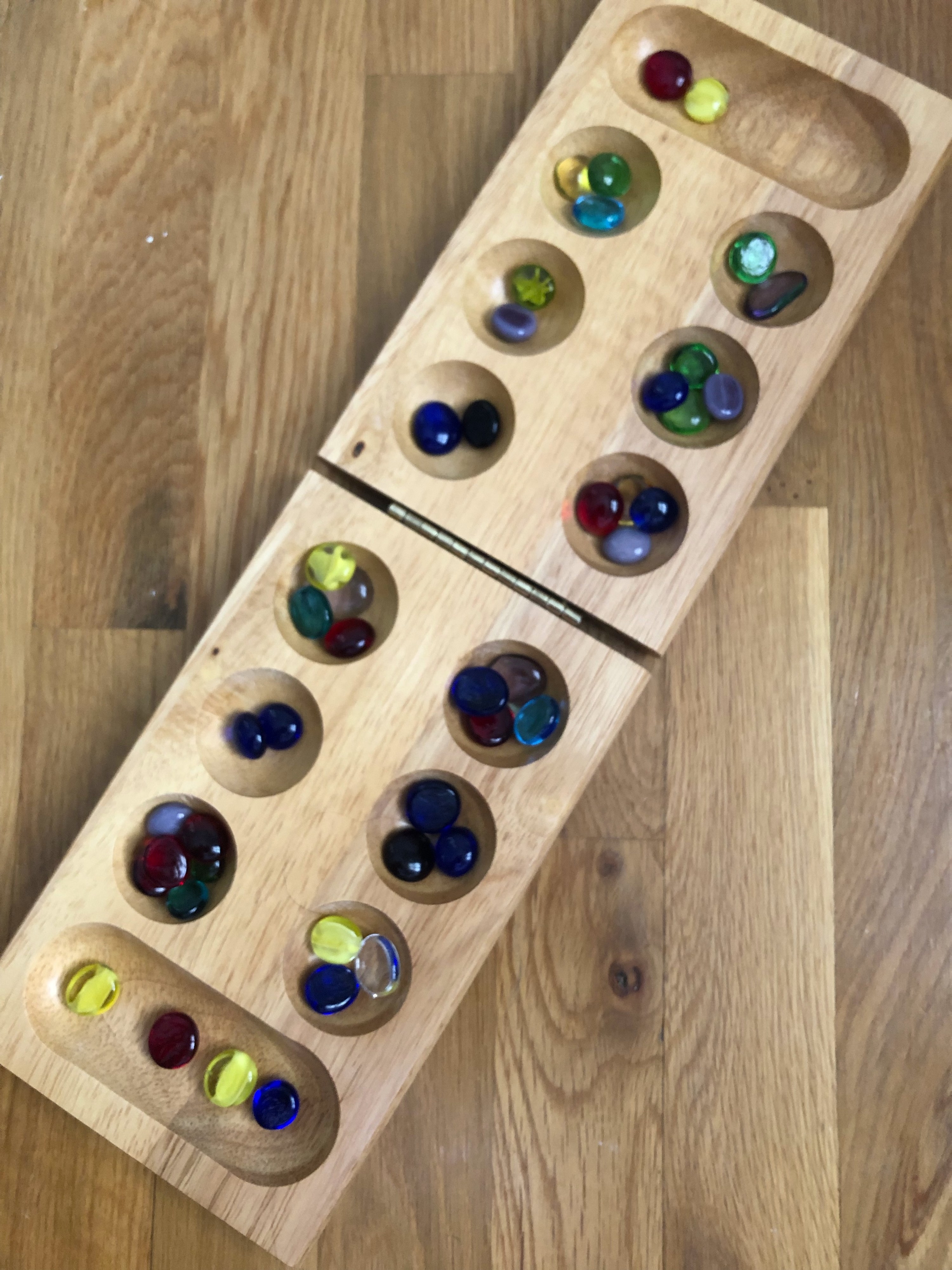 35.
This red Hello Kitty handkerchief that I think came with a teddy bear:
36.
These beige Limited Too zip-off pants with orange zippers I wore to elementary school every chance I got: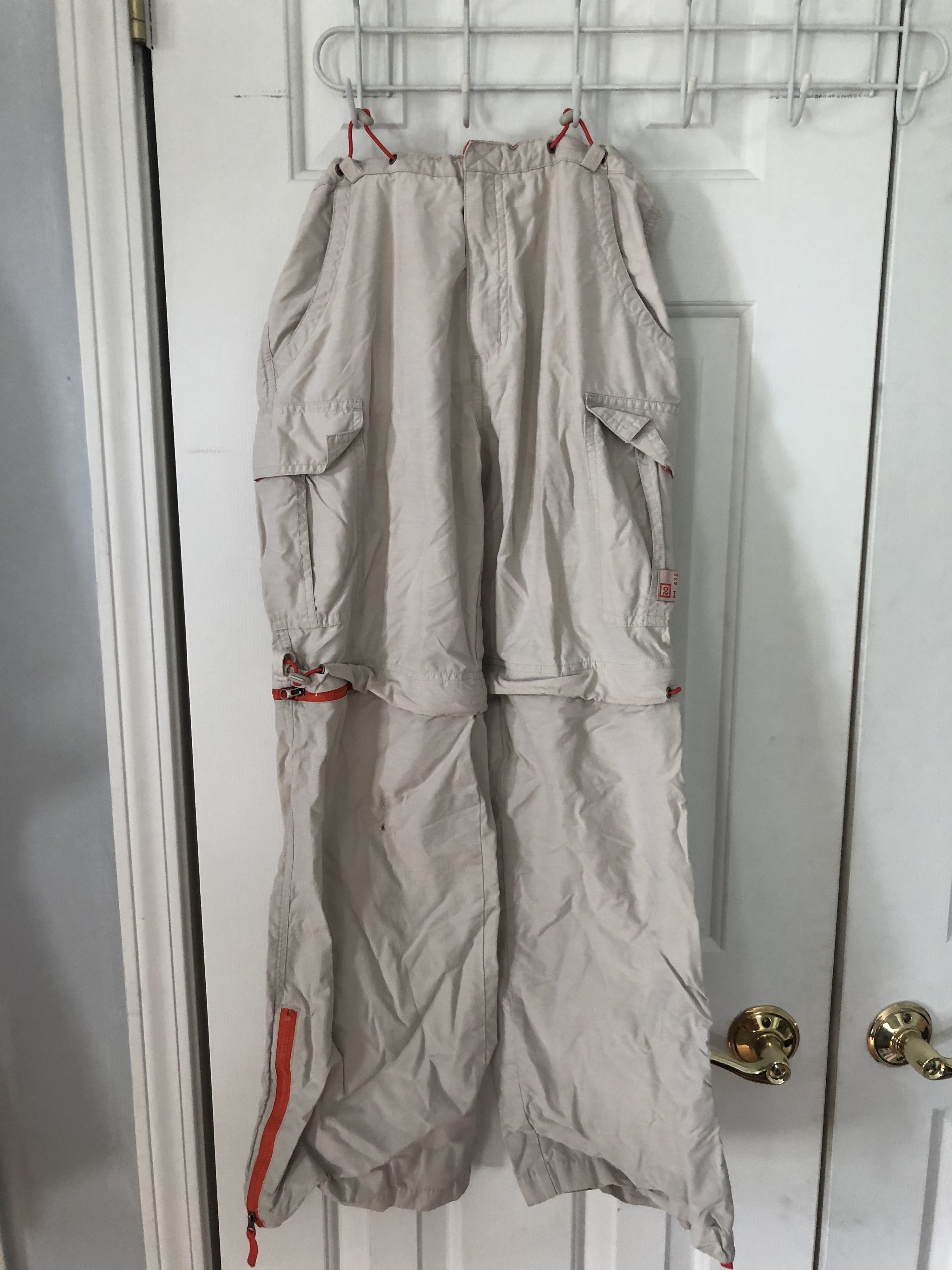 (Look! They turned into shorts!!! Those were the days, my friend...)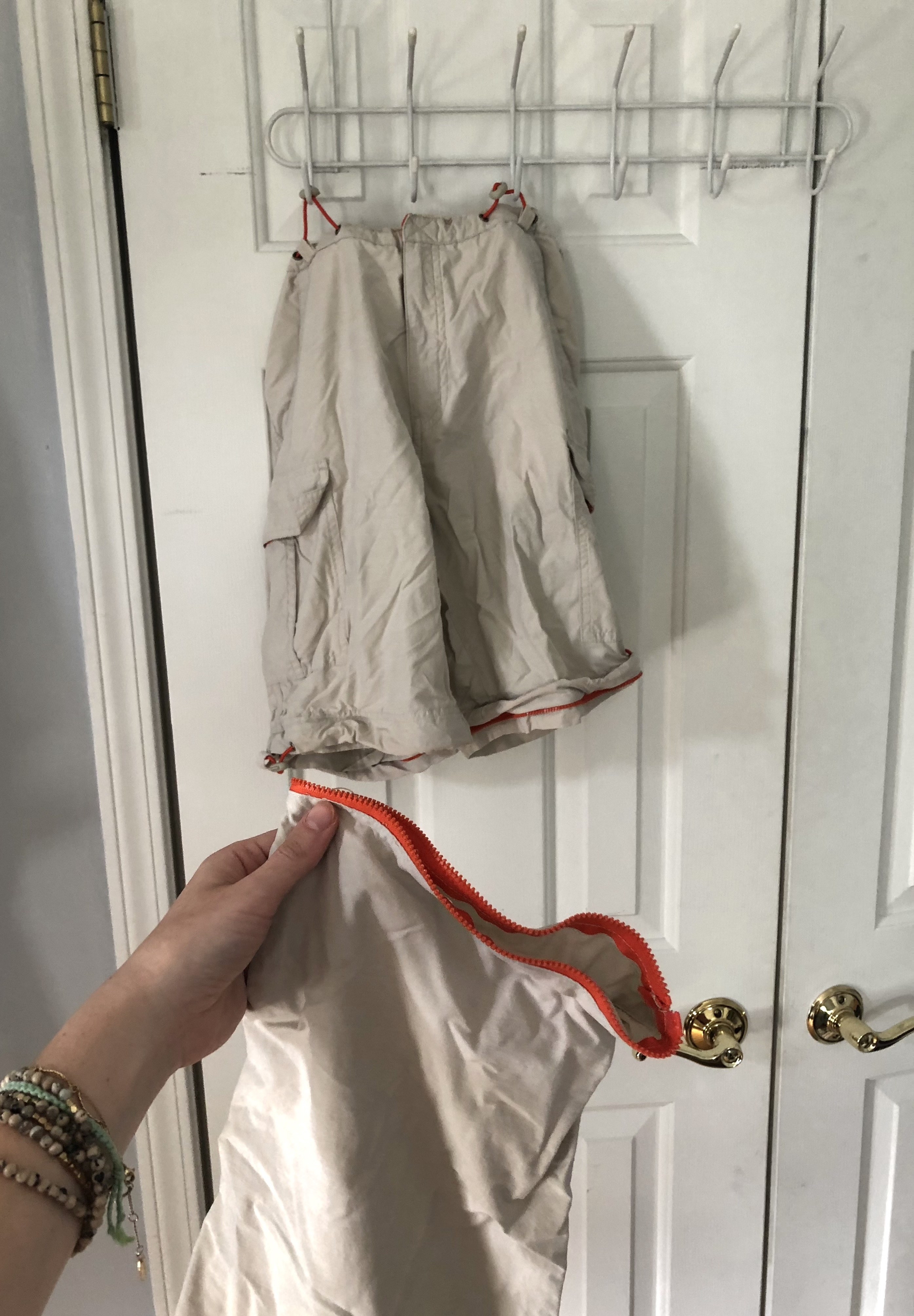 37.
This purple Monstar action figure (named Bupkus) from Space Jam: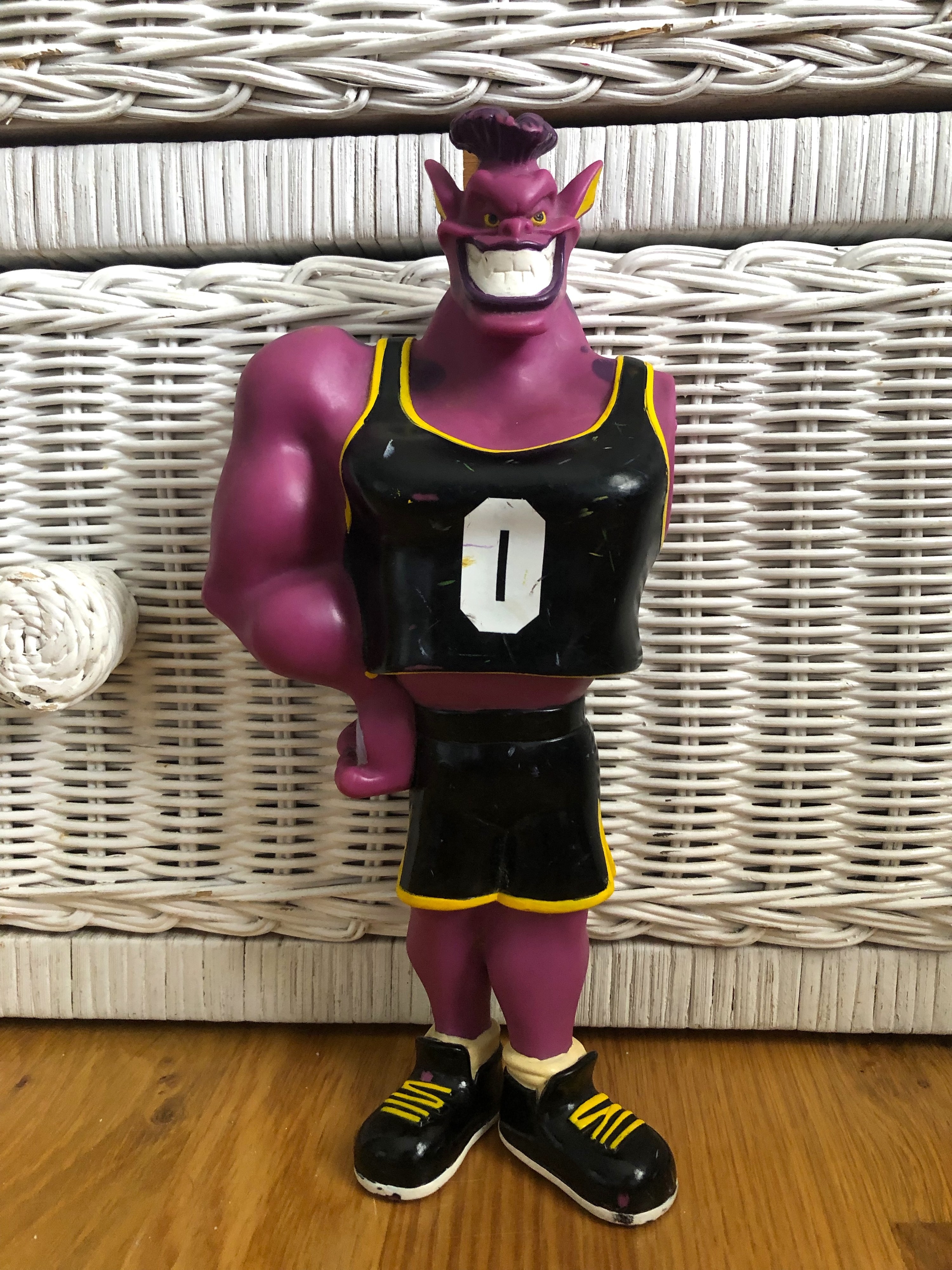 38.
This keychain set I put on my lime green L.L. Bean backpack, featuring Reptar from Rugrats, Mickey Mouse, and Tinky-Winky from Teletubbies: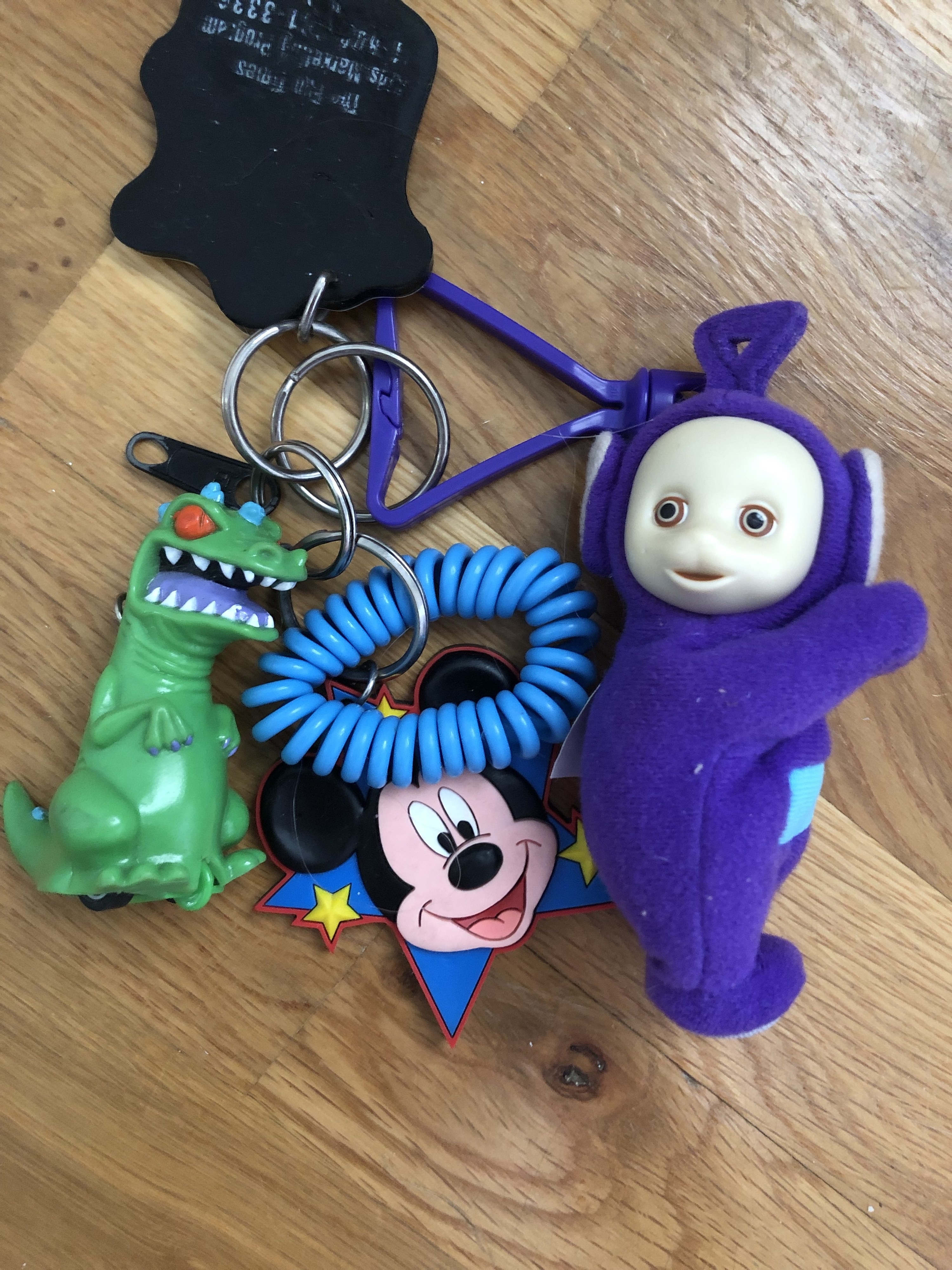 39.
This Friends yellow picture frame magnet from Monica's apartment: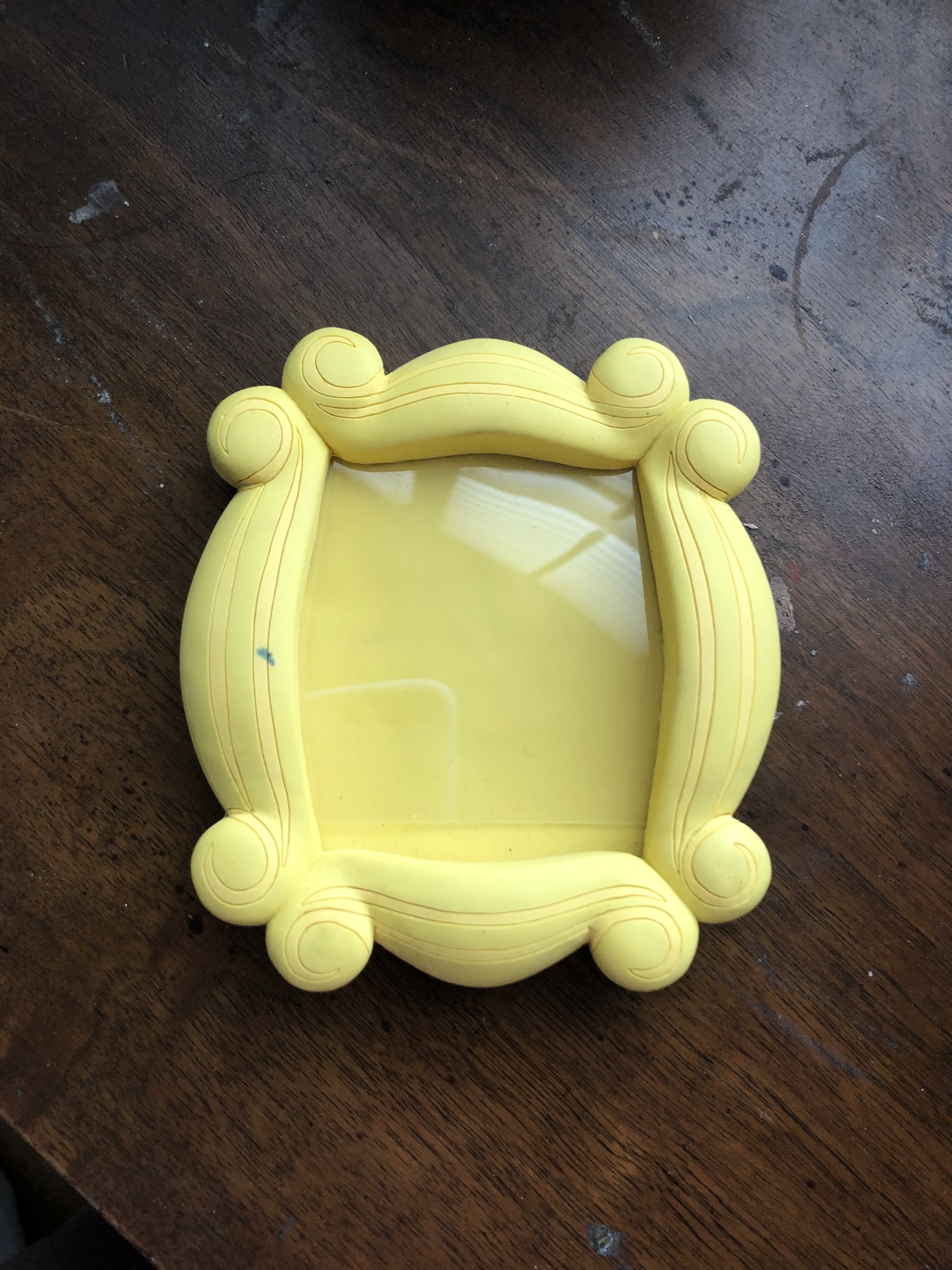 40.
This vintage purple Spacemaker pencil box I filled with crayons, stickers, and pencils that had smiley faces and pumpkins all over 'em: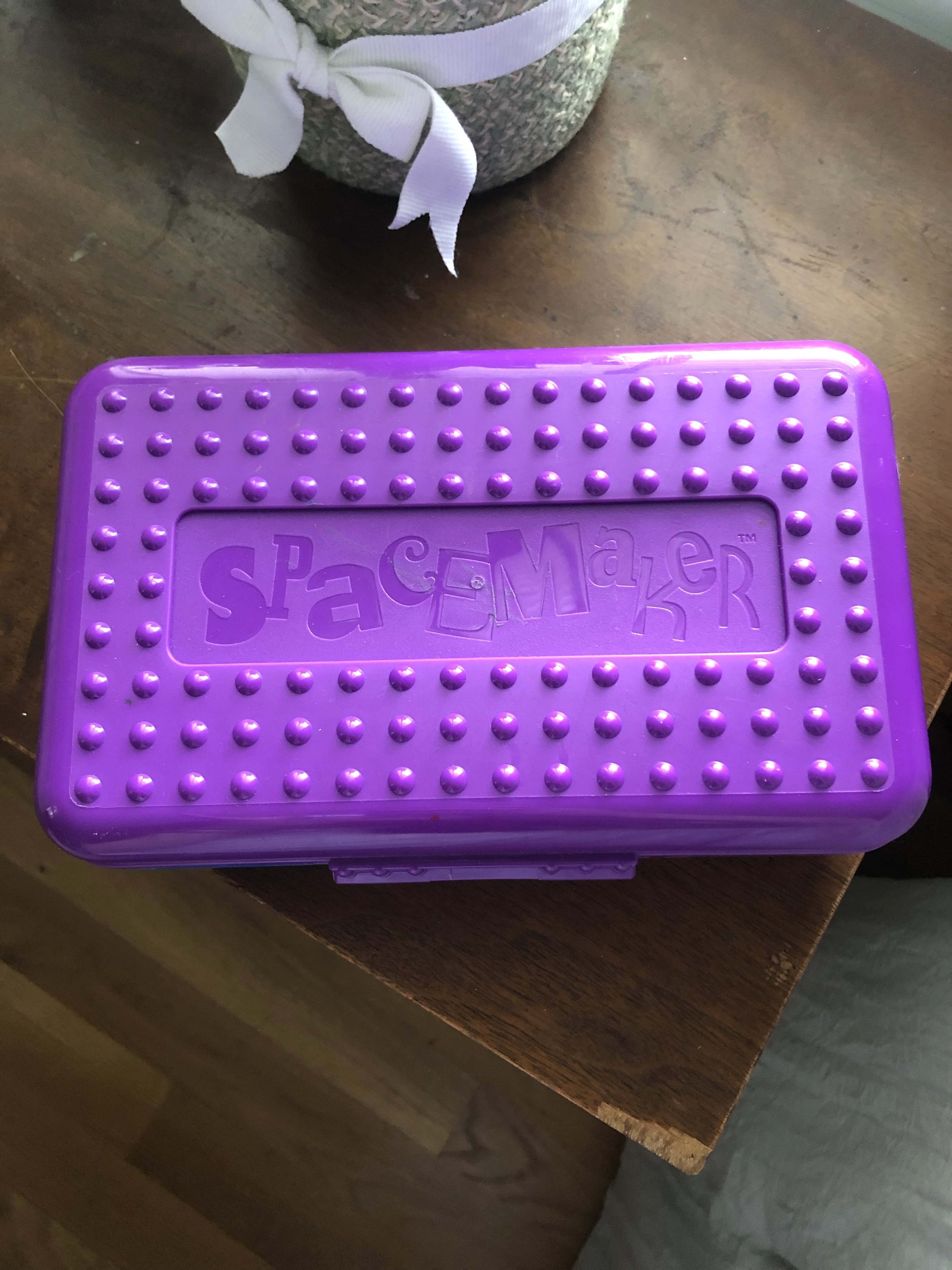 41.
This Freddi Fish 3: The Case of the Stolen Conch Shell game I spent hours playing on my grandfather's desktop computer: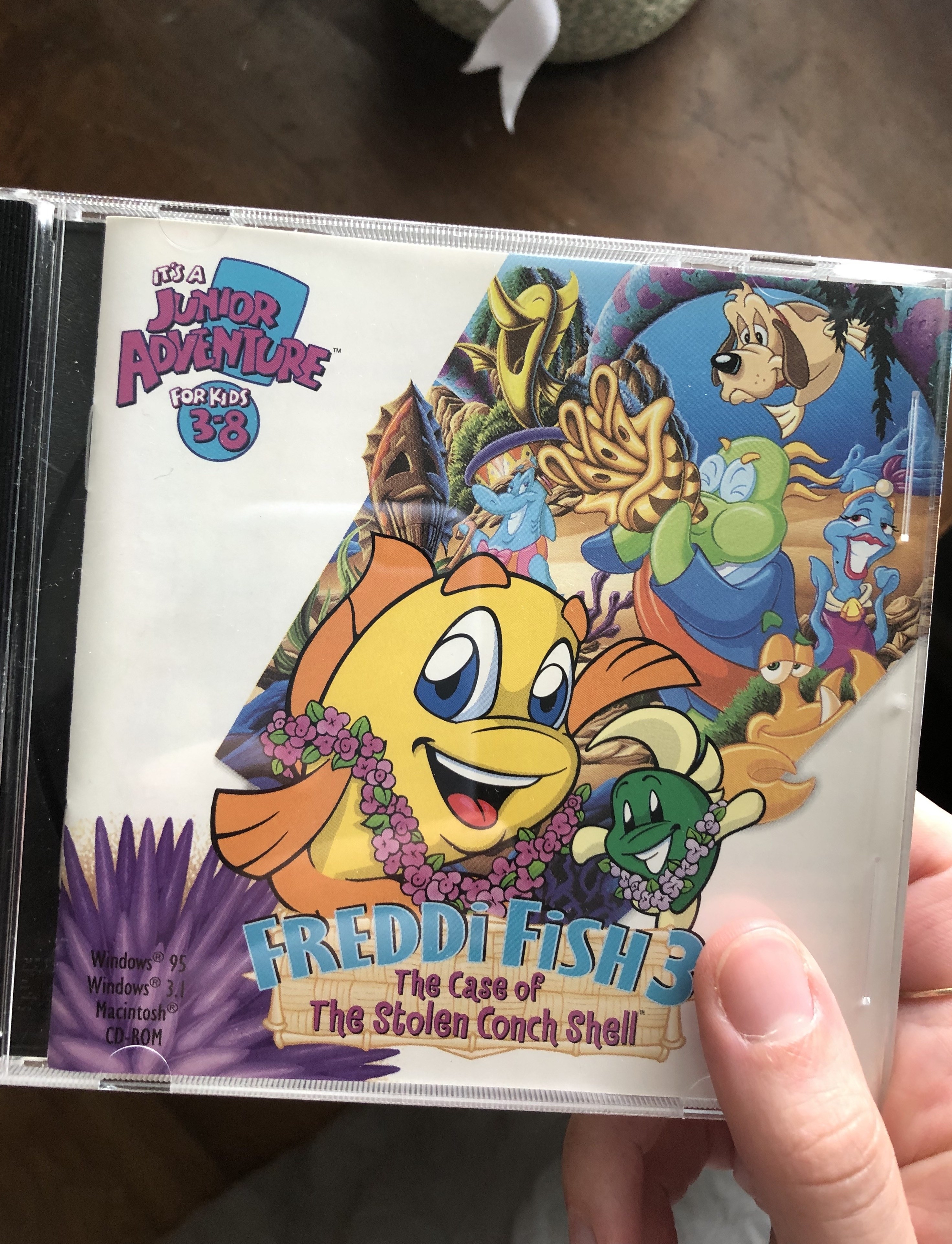 42.
This Rugrats in Paris: The Movie bookmark from 2000: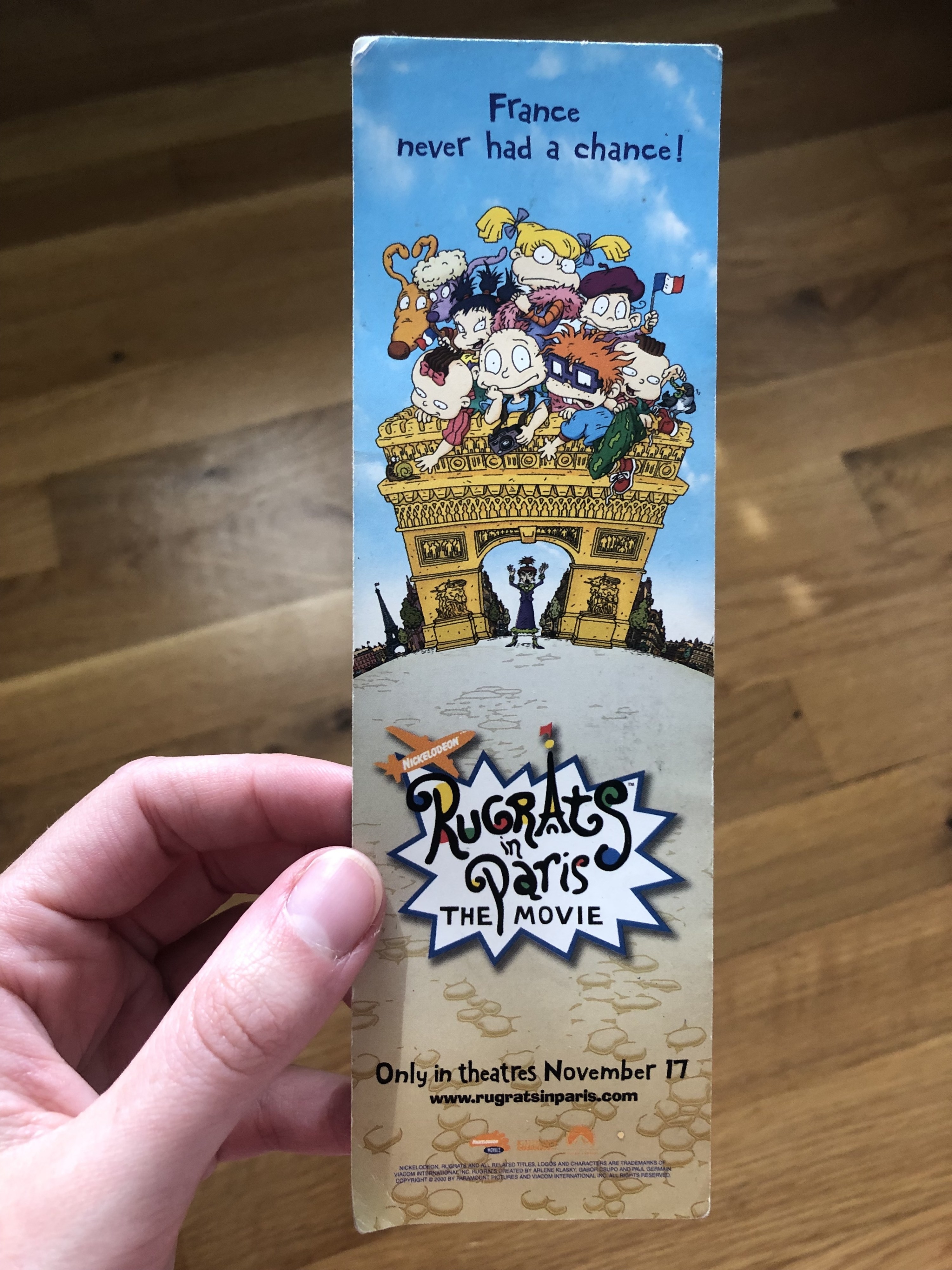 43.
This pink Barbie video camera I never really learned how to properly use: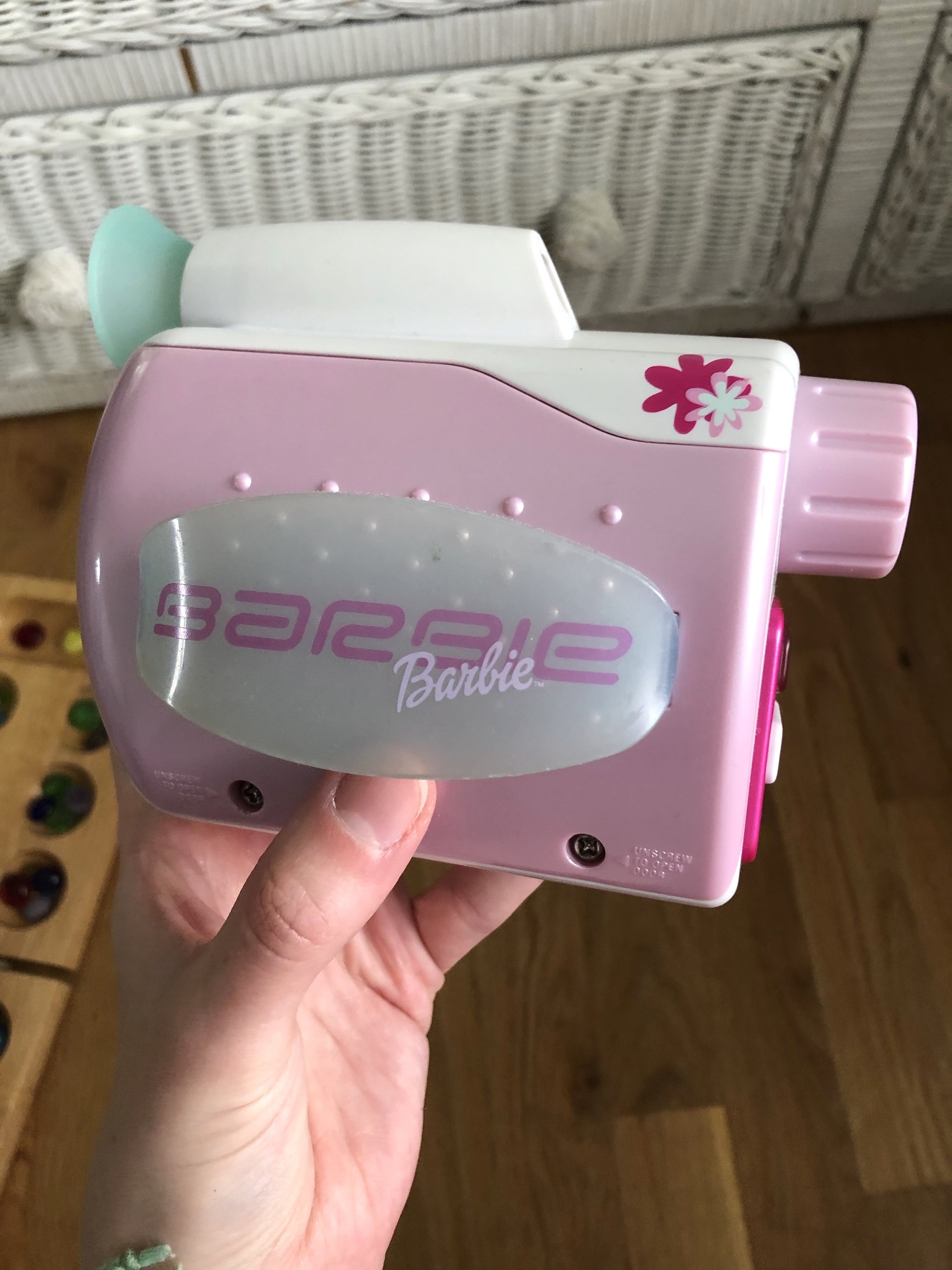 44.
This small Pochacco card book I probably filled with Pokémon trading cards: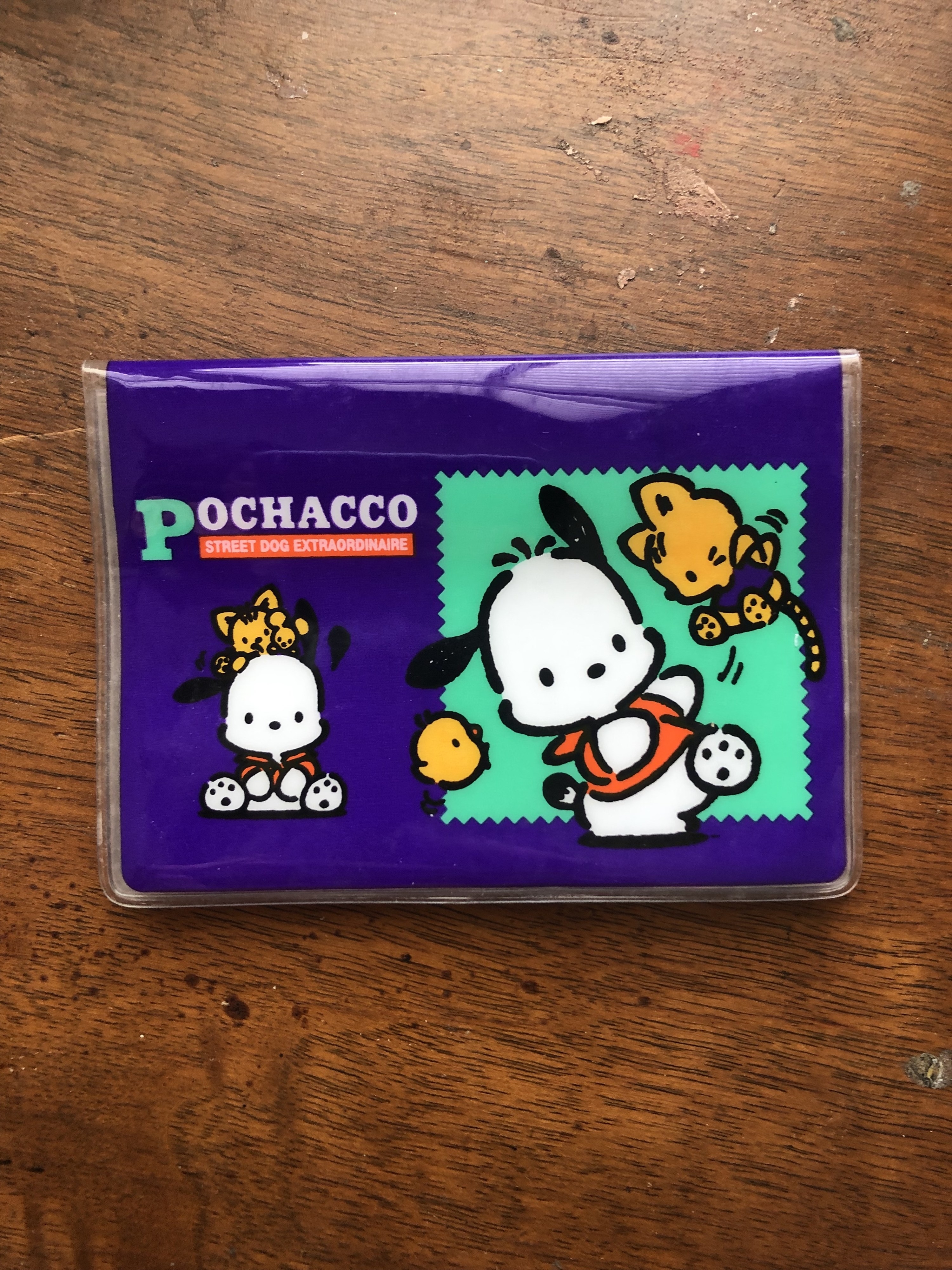 45.
And these limited-edition Mary-Kate and Ashley Olsen dolls: