1.
Mudgie's Deli (Detroit)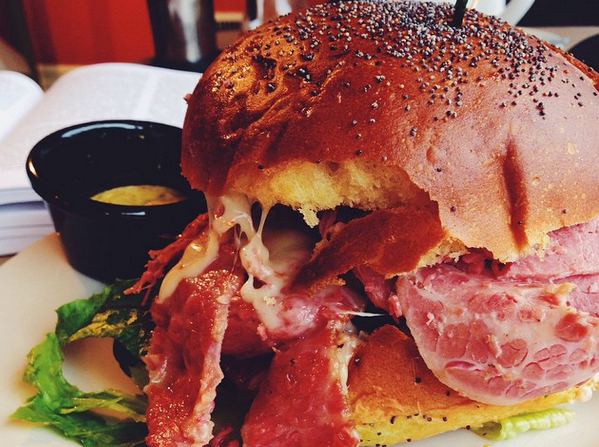 The best grub to get at this Detroit deli is definitely the homemade special, which is called the Mudgie. This sandwich consists of beef brisket, house-made vegetable cream cheese, roasted turkey breast, romaine lettuce, red onion, and Brownwood Farm's Kream Mustard on an onion roll.
(Submitted by Chrissy Jones, Facebook)
2.
Ike's Place (San Francisco)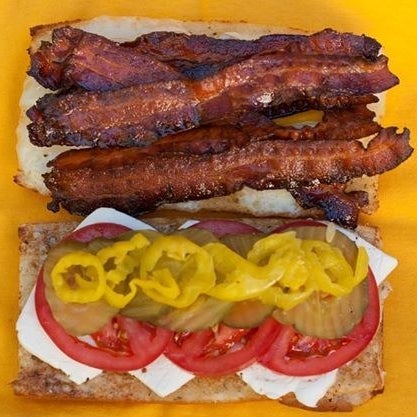 Ike's Place is home to many sandwiches named after celebrities and famous fictional characters. A delicious sandwich named the Heath Ledger is beer-battered zucchini, Ike's red pesto sauce, ranch dressing, and vegan meatballs. Another favorite of Ike's is called the SF Giants, which is bacon, turkey, mushrooms, swiss cheese, and avocado.
(Submitted by FabsFranco11)
3.
Hoagie Haven (Princeton, New Jersey)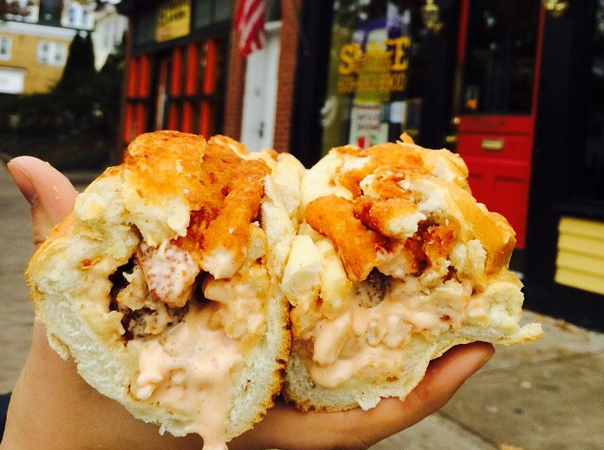 4.
Lee's Sandwiches (Chandler, Arizona)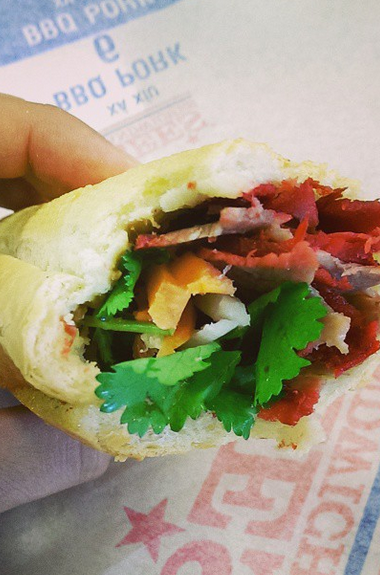 This Vietnamese sandwich shop serves a variety of combinations, like the pork meatball, the grilled chicken, and the jambon & pork roll. A legendary feature of this Arizona sandwich shop are the iced soy bean and coconut soda drinks.
(Submitted by Kirstenkaboom)
5.
Langer's Delicatessen Restaurant (Los Angeles)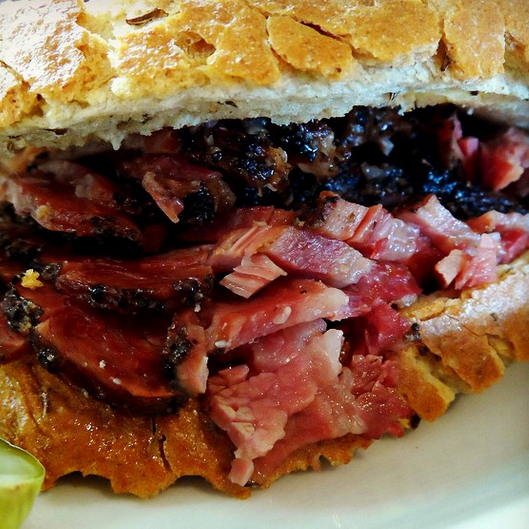 The best grub to get at Langer's Delicatessen Restaurant is their legendary No. 19 special: a pastrami sandwich. It's delicious hand-cut pastrami with Russian dressing, coleslaw, and Swiss cheese served on double-baked rye bread.
(Submitted by Nrdymik)
6.
Parkway Bakery & Tavern (New Orleans)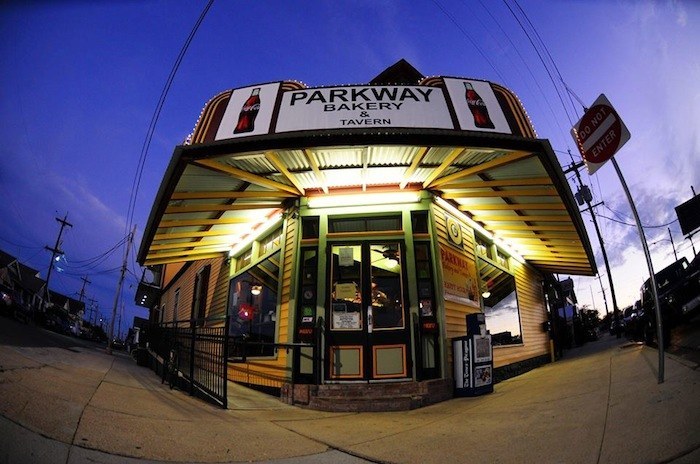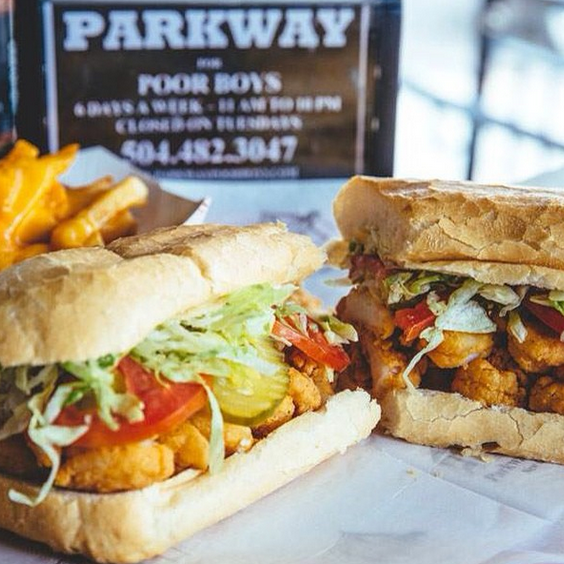 Parkway Bakery & Tavern is home of the famous Parkway Poor Boys. Customer favorites are the Parkway Surf and Turf, which is slow-cooked roast beef, golden shrimp, and gravy; another house favorite is the Golden Grilled Reuben, which is corned beef, sauerkraut, Swiss cheese, and Thousand Island dressing.
(Submitted by dillondelaune)
7.
Busboys & Poets (Washington, D.C.)
This unique shop serves vegan sandwiches like a vegan tuna salad sandwich, and other classics like a chicken salad sandwich and roasted turkey sandwich. It's extremely healthy and offers gluten-free items on other parts of its menu. Busboys and Poets also hosts poetry readings and musical performances, and has a heavy focus on forming a culturally diverse community.
(Submitted by Amanda Leigh Albert, Facebook)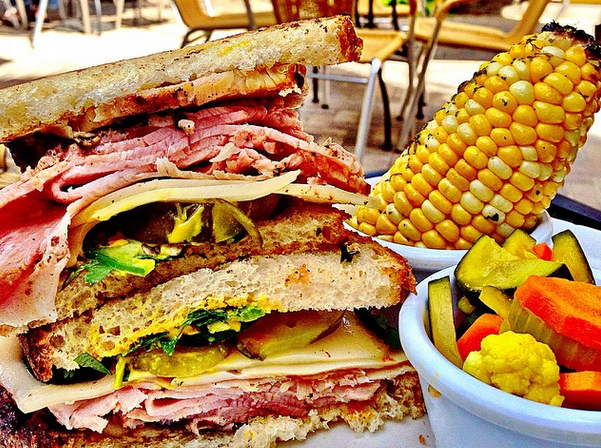 Named after Grateful Dead frontman Jerry Garcia, this delicious sandwich shop is filled with many great sandwich options under the "Jerry's Neo Classics" on their menu. The best sandwich is the French dip, which is hot beef au jus, fresh mozzarella, olive-pepper relish, and ramekin of jus served on an Italian roll. Nom nom nom.
(Submitted by Kayla Yandoli)
9.
Zingerman's Delicatessen (Ann Arbor, Michigan)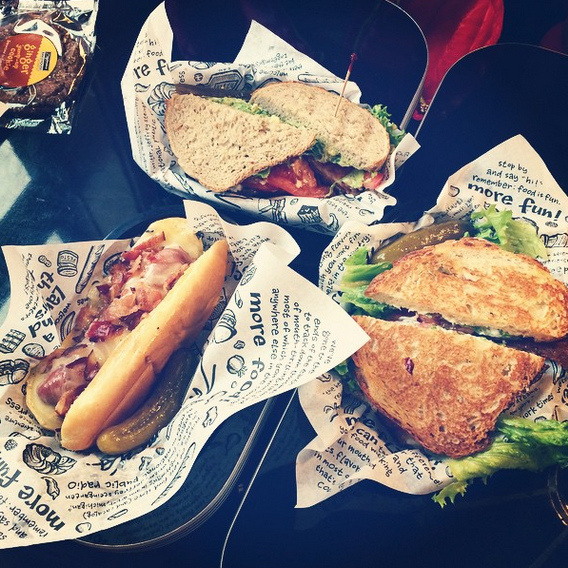 The best sandwich at Zingerman's in Ann Arbor, Michigan, is definitely their No. 2 Zingerman's Reuben. Legendary among its customers, the sandwich is corned beef with Swiss cheese, Brinery sauerkraut, and Russian dressing served on grilled Jewish rye bread.
(Submitted by Ryan Shindler, Facebook)
10.
Capriotti's Sandwich Shop (Las Vegas)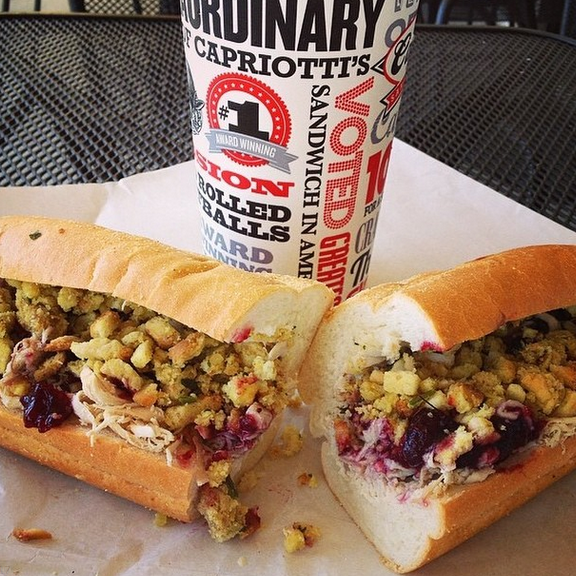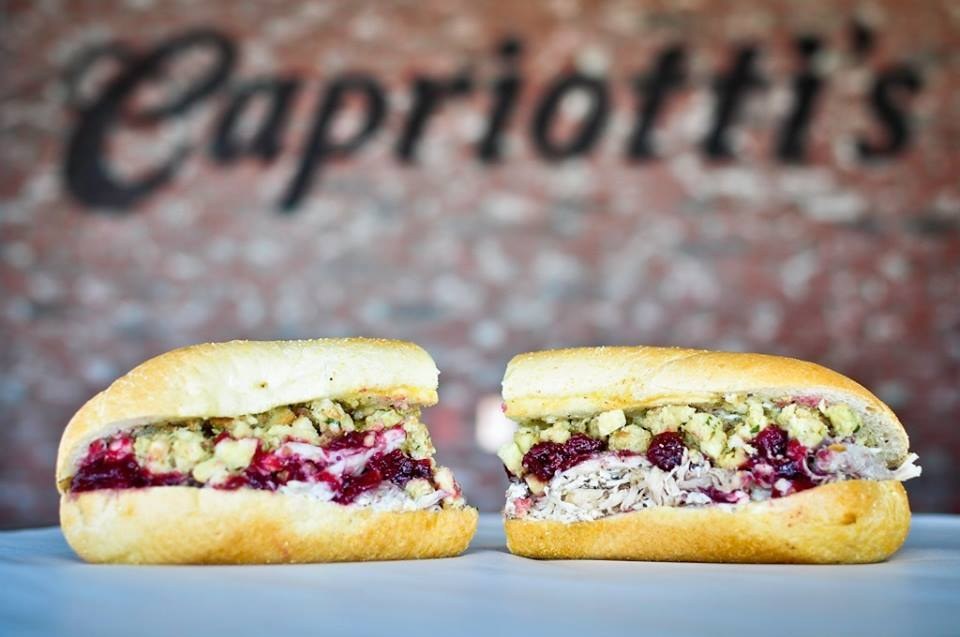 11.
Melt Bar & Grilled (Cleveland)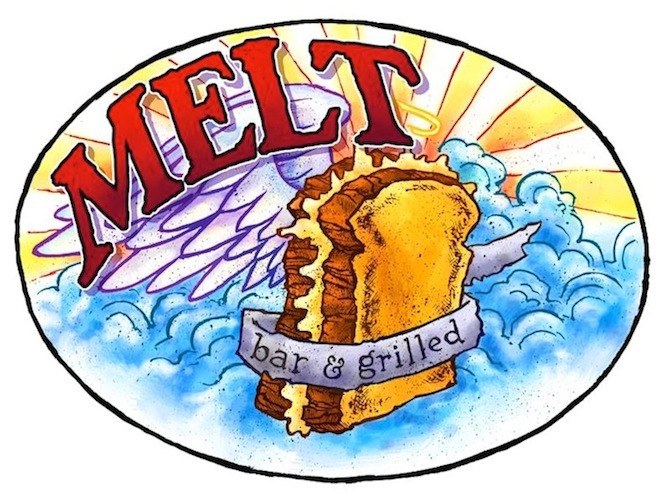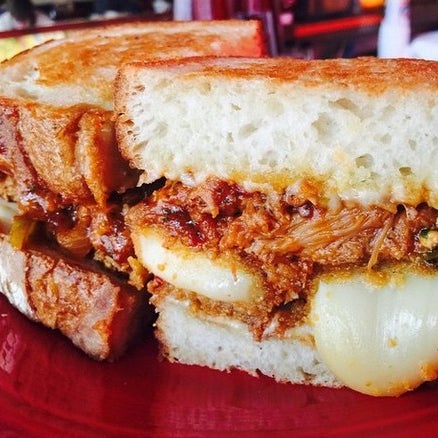 This sandwich shop serves the best grilled cheeses in Ohio. They have something called The Melt Challenge, which is a grilled cheese filled with 13 different cheeses between three slices of bread. The Melt Bar says it's almost four pounds of cheese.
(Submitted by christinepawlikg)
12.
Primanti Bros. (Pittsburgh)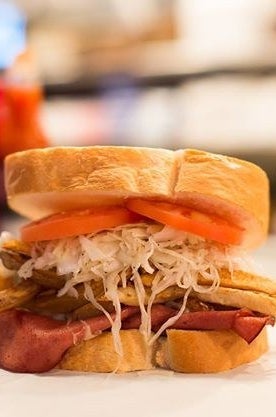 Primanti Bros. is home to delicious sandwiches, like roast beef and cheese as well as bacon and cheese. One of their best sellers is called the Pitts-Burgher Cheesesteak, served with French fries, coleslaw, and tomatoes.
(Submitted by Michelle Stepien, Facebook)
13.
The Cheese Shop (Williamsburg, Virginia)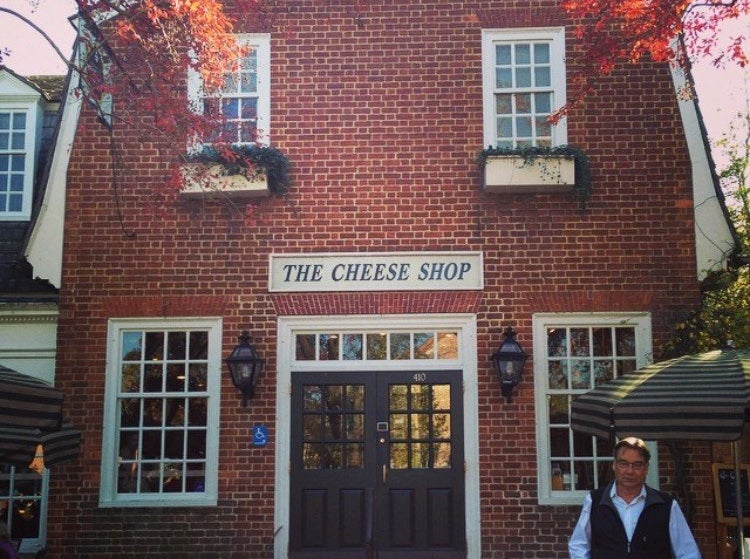 This cute little sandwich shop in Williamsburg, Virginia, is home to many delicious choices. The best, however, is definitely the Virginia Ham; it comes with your choice of house dressing, mayonnaise or mustard, and bread (whole wheat, rye, and French).
(Submitted by lizzieg100)
14.
Attman's Delicatessen (Baltimore)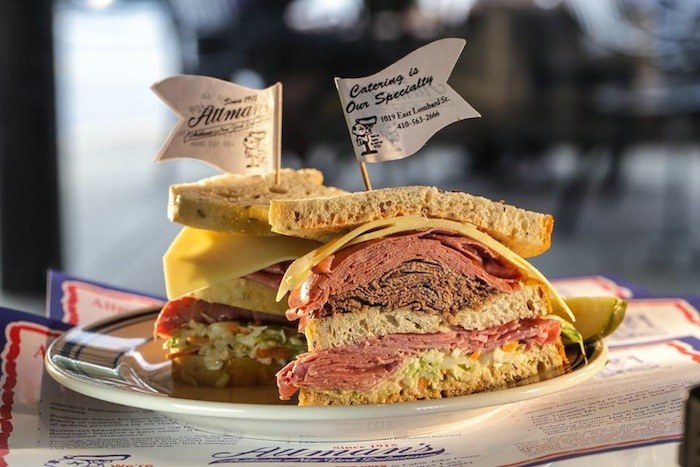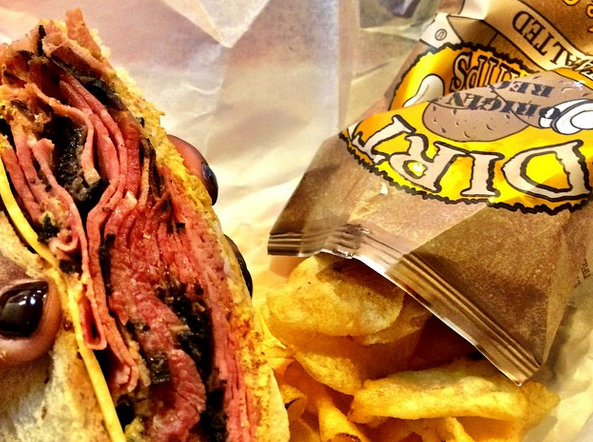 If you're ever in Baltimore, Attman's Delicatessen is definitely a hot spot. The best sandwich to get here is their famous corned beef reuben, served with sauerkraut, melted Swiss cheese, and Russian dressing.
(Submitted by Jackson Berger, Facebook)
15.
Alvin Ord's Sandwich Shop (San Marcos, Texas)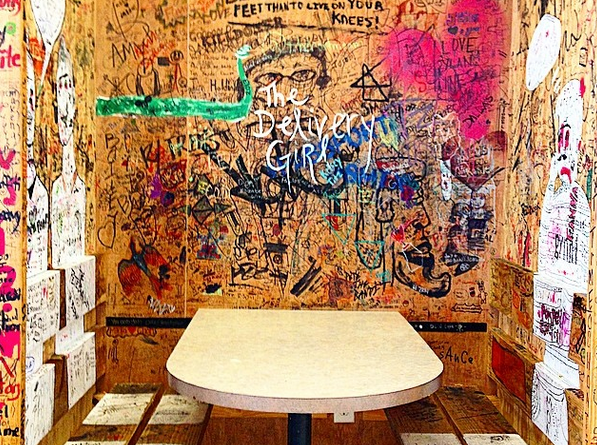 The best grub to get at Alvin Ord's in San Marco, Texas, is definitely the Salvation sandwich. This legendary sandwich contains salami, ham, cheese, lettuce, tomato, and mustard French bread.
(Submitted by Amanda Noark Whitley, Facebook)
16.
Snarf's Sandwiches in (Boulder, Colorado)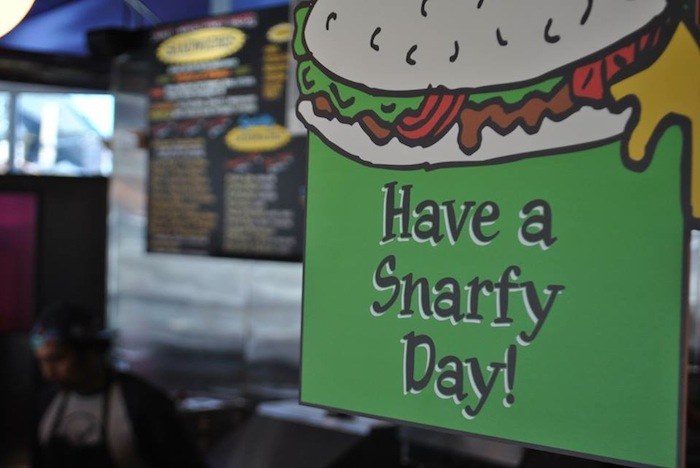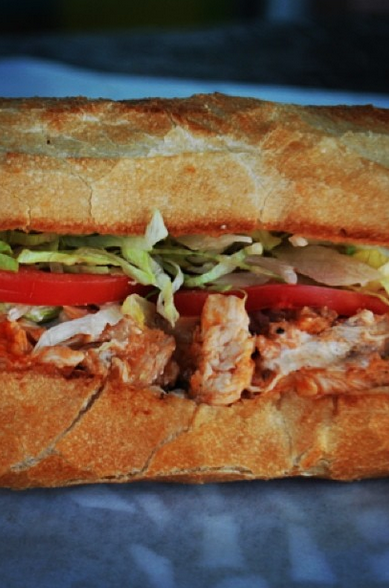 Snarf's is one of the most famous sandwich shops in Boulder, Colorado. It's home to extremely delicious toasted sandwiches, like prime rib with provolone cheese, as well as pastrami with Swiss cheese. The best part about this place? All sandwiches come with cheese!
(Submitted by Robert F. Pierce, Facebook)
17.
Alon's Bakery & Market (Atlanta)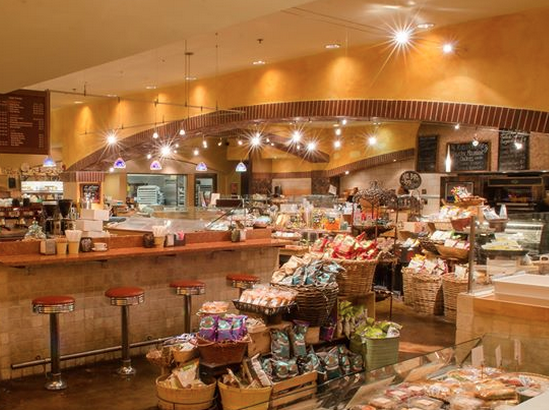 This cute little bakery in Atlanta has an array of different sandwiches, which they serve on their house bread. Great sandwiches include the garlic roasted lamb, which is served with tomatoes and onions, as well as the portobello sandwich, which is a mushroom sandwich with Swiss cheese and spinach.
(Submitted by cjsamsky)
18.
The Yellow Deli (Rutland, Vermont)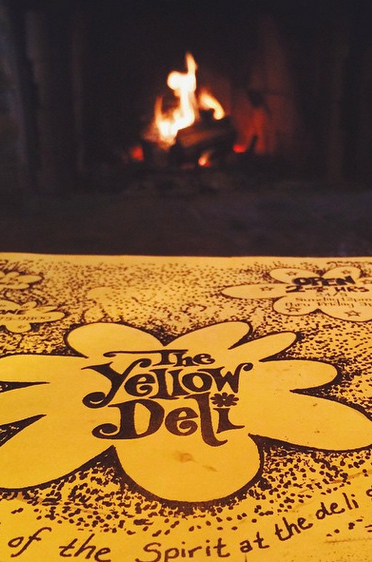 The Yellow Deli, open 24 hours a day, is extremely cozy and serves the best sandwiches in Rutland, Vermont. A special hot sandwich is the Green Mountain Club, which is maple turkey, tomato, lettuce, and maple mustard on pumpernickel bread. You can also create your own sandwich from various meats, cheeses, and delicious breads.
(Submitted by Jeanine Gonzalez, Facebook)
19.
Taste Unlimited (Virginia Beach, Virginia)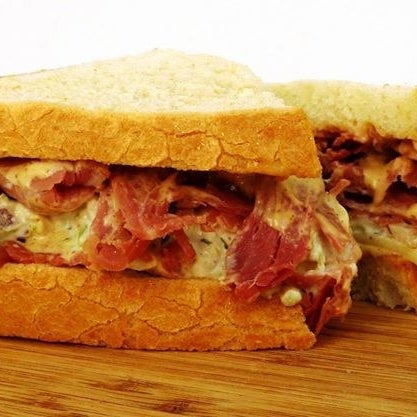 Established in 1973, Taste Unlimited is one of the nicest eating spots in Virginia Beach. Their signature sandwiches range from the Boardwalk (honey smoked turkey with Swiss cheese and bacon) to the legendary Hilltop (turkey, house dressing, and provolone cheese).
(Submitted by ashleym4b465ecca)
20.
Three Girls Bakery (Seattle)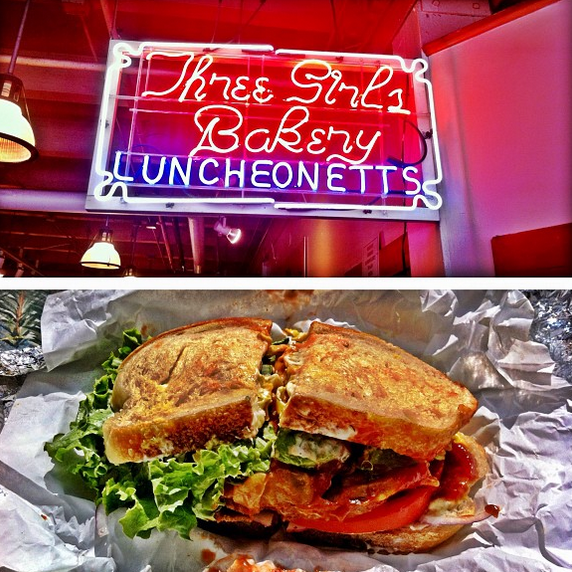 This adorable bakery, located in Pike Place Market in Seattle, Washington, is home to many legendary sandwiches. They've been serving baked salmon, egg salad, and turkey pastrami sandwiches to Seattle residents since 1907, leaving everyone extremely satisfied.
(Submitted by writergirl1029)
21.
Katz's Delicatessen (Manhattan)
If you're visiting New York City, Katz's Deli is definitely a spot you need to hit. This famous deli is known for its legendary corned beef sandwich and pastrami on rye. Meg Ryan really enjoyed eating at Katz's in When Harry Met Sally.
(Submitted by Keisha Marie, Facebook)