When you think of Las Vegas, you might imagine rows of slot machines on casino floors, residency shows on every corner of The Strip, and the infamous open container laws. But if there's one additional thing that Vegas is known for, it's the all-you-can-eat buffets.
And while nearly every major hotel in Las Vegas has its own version of a buffet, there's one that's larger, more expensive, and arguably more well-known than just about all the rest: The Bacchanal Buffet at Caesars Palace.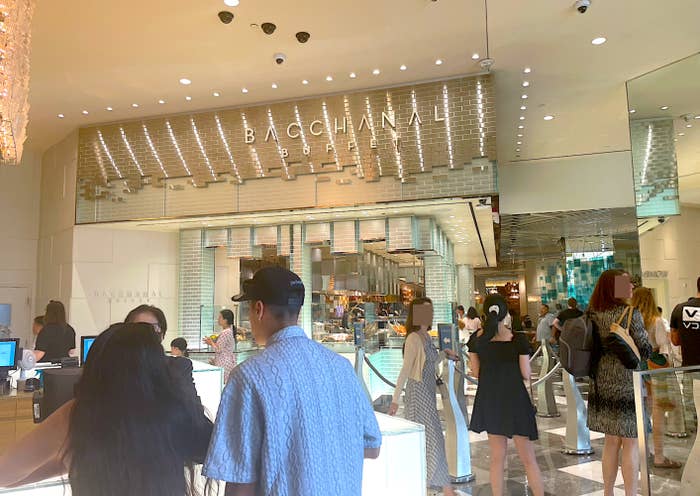 The Bacchanal Buffet is massive. It takes up a whopping 25,000 square feet — and chefs serve around 250 different individually sized food options from 10 interconnected kitchens.
It's meant to be an experience — but it's also expensive. At the time of my visit, the the brunch buffet started at $64.99 per adult, and dinner was $79.99 per adult. (Kids ages 4–10 cost around half of the adult rate.)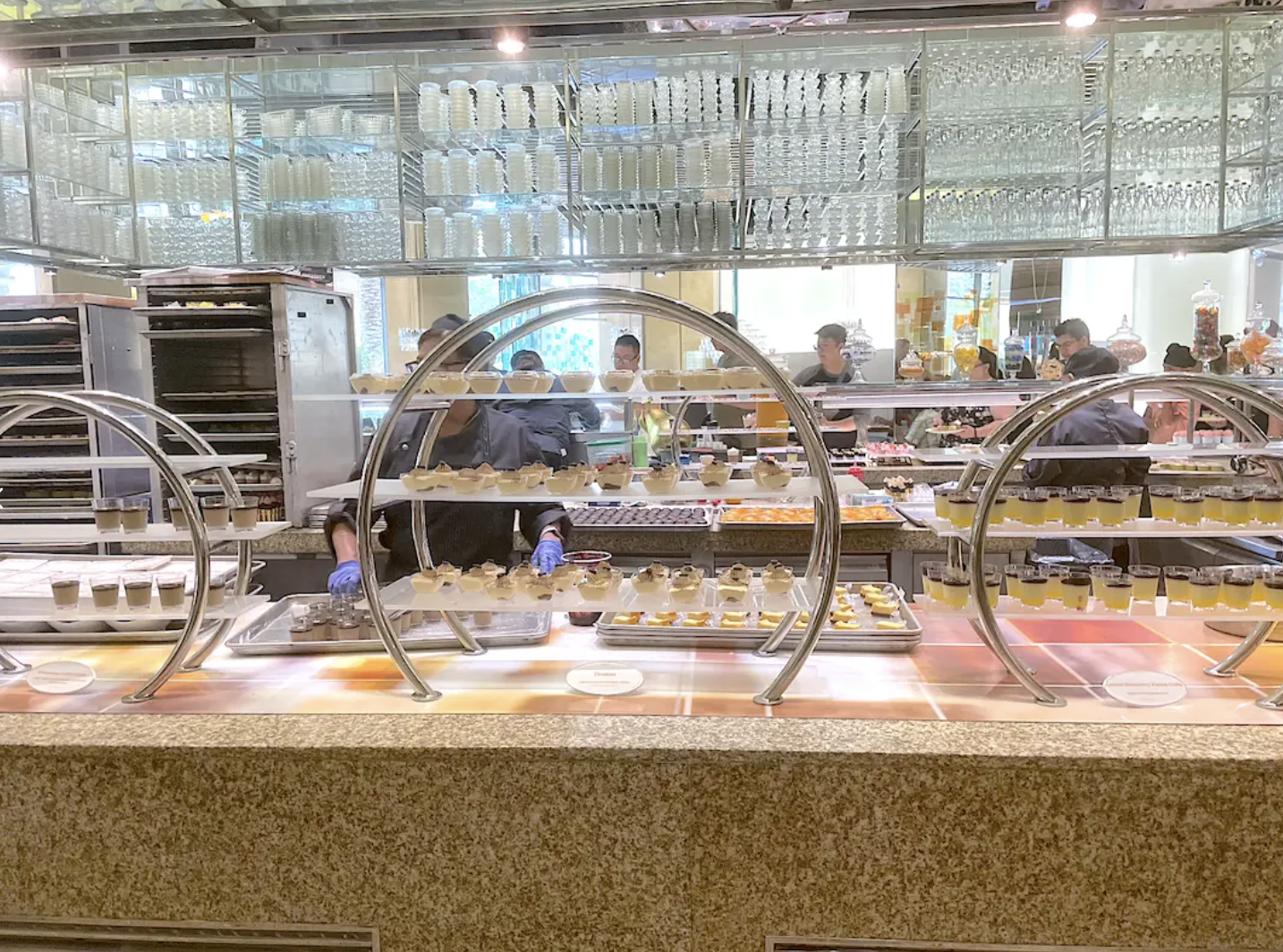 If you're able to score a reservation and fork over the hefty price tag, you will get 90 minutes to eat and drink as much as you can — everything from crab legs and shrimp, to quesabirria tacos, to Vietnamese pho, to more desserts than you can imagine.
So if you're thinking of taking a trip to Sin City and aren't quite sure if the Bacchanal Buffet is worth a bite, here is a complete breakdown of what the famous Caesar Palace's breakfast and brunch buffet entails — including menus for each station, photos of the food, and tips for first-timers.
First things first: as mentioned, the buffet is a beast. It requires a plan to tackle, whether you're going for breakfast, brunch, or dinner. (I'm not joking. I highly recommend getting oriented with the different stations when you first arrive to get a feel of the place and all the food items.)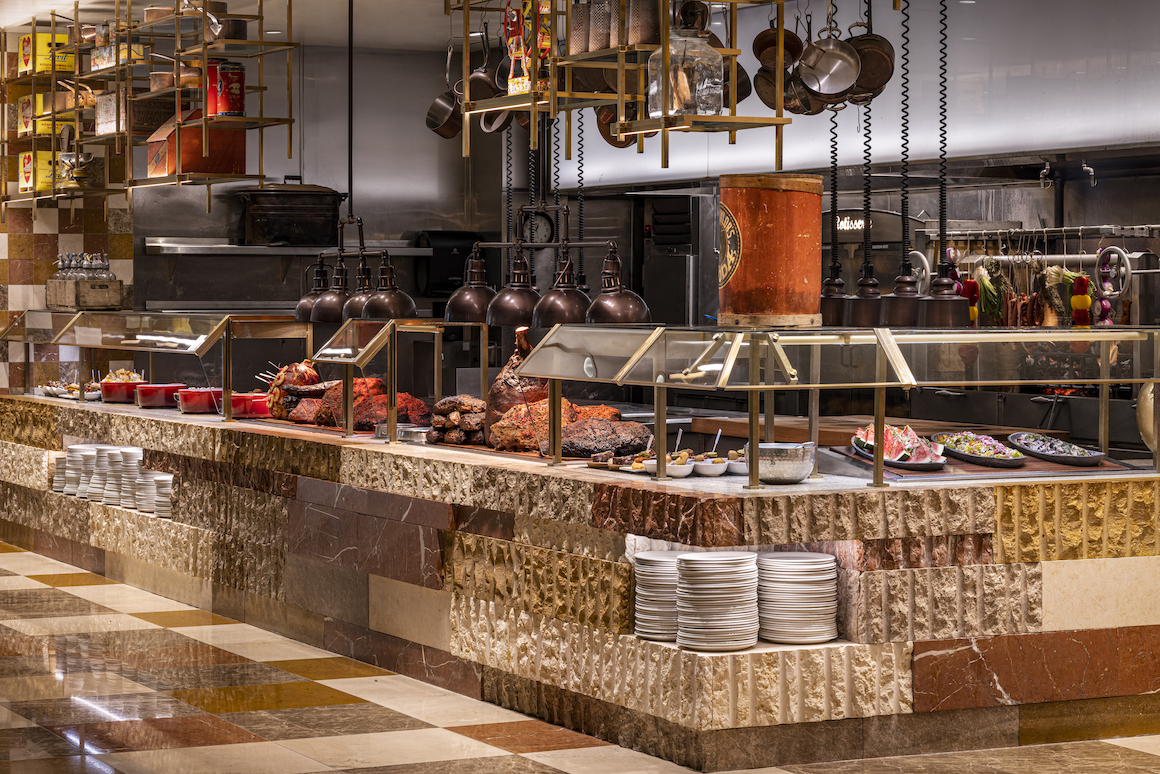 However, before you even set foot in the dining room, you'll need to check in upfront. As a warning: the entrance can be a tad confusing and overwhelming, as there is no clear indicator of where the check-in starts. Pro tip: there is a line of computers up front where a staff member with an iPad will be. This is where you'll check-in.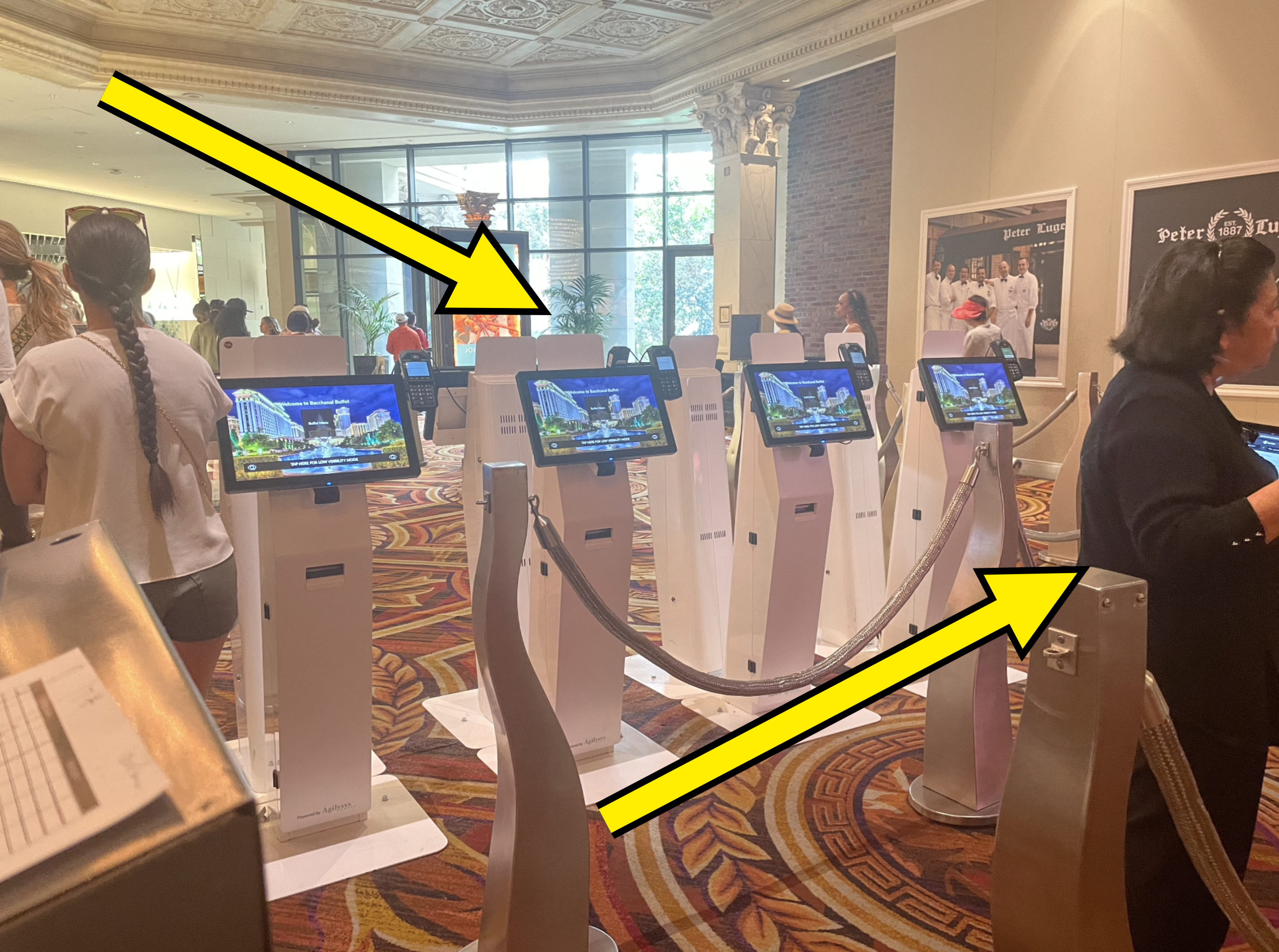 Once inside the dining space, the buffet is your oyster for an hour and a half. You'll have a designated waiter (who will be accompanied by an assistant) to take your drink order and pick up your finished plates throughout your buffet experience. Non-alcoholic beverages are included in the buffet price (think: coffee, tea, soft drinks, and orange juice), but if you want an alcoholic beverage, that will be an extra charge.
As I mentioned, there are 10 stations that make up the Bacchanal buffet: American; sushi; seafood; Mediterranean; Latin; Mezze (charcuterie, smoothies, and bread); Chinese; Korean; Southeast Asian; and dessert. All of the areas are connected on the left side of the dining room — minus the dessert station, which is located closer to the center.
Unlike some other Las Vegas buffets, there is no kid-specific section. So if you have a kid who may be a picky eater, Bacchanal might not be a great fit. On the other hand, if you have food allergies, those are clearly and helpfully labeled throughout.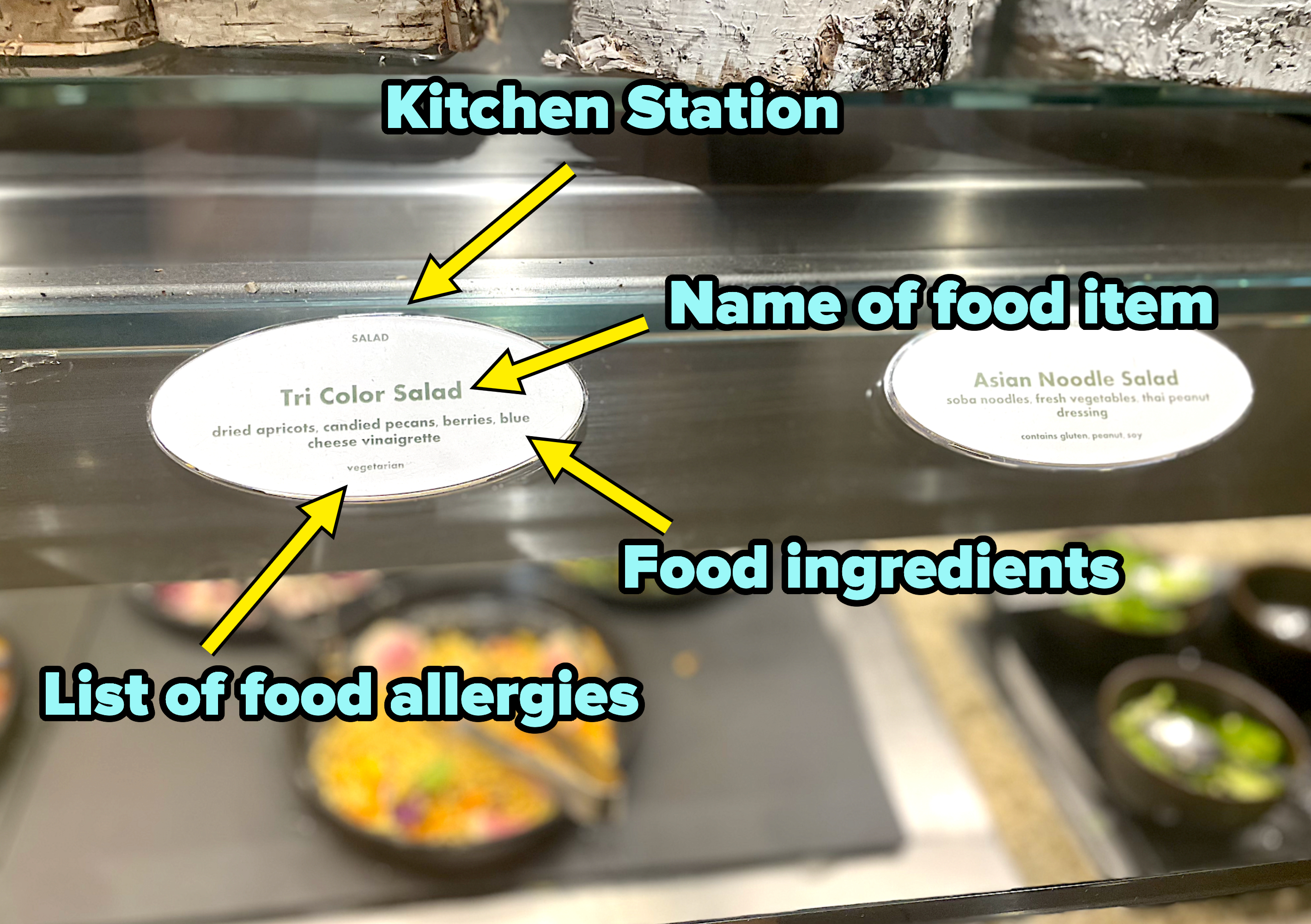 While the individual stations are labeled with signs, they're also decorated with eye-catching decorative items to visually indicate which kitchen is which. I found this helpful to better navigate all the different food options, which seemed overwhelming at first.
Talking about interior decorations, the buffet dining room feels large in scale while simultaneously feeling snug. If you've ever eaten at a fast-casual theme park property at Universal Studios or Disney, for example, you'll instantly recognize the layout. It's a mix of square and long rectangular tables spread throughout the three rooms with opaque dividers and thick, white-tiled pillars separating areas to give the illusion of privacy and space.
So now that we've gone through the nitty gritty, it's time to rate the food. Also, just to give context to the items that I selected, I'm unable to eat shellfish — but I was able to eat pretty much everything else on the buffet line.
I started with the station furthest back: the Asian area. It combined the sushi, Korean, Chinese, and Southeast Asia kitchens.
To me, there were some hits and misses. While the flavors and variety were impressive for the most part, some of the meat selections were either overly fried or overcooked.
It could be because I got there around the early afternoon, but some of the food items tasted like they been sitting under the heat lamps for a bit longer than desired – which, unfortunately, can happen a lot in restaurants. Because of that, some of the food items missed the mark.
Here's a snapshot of my plate: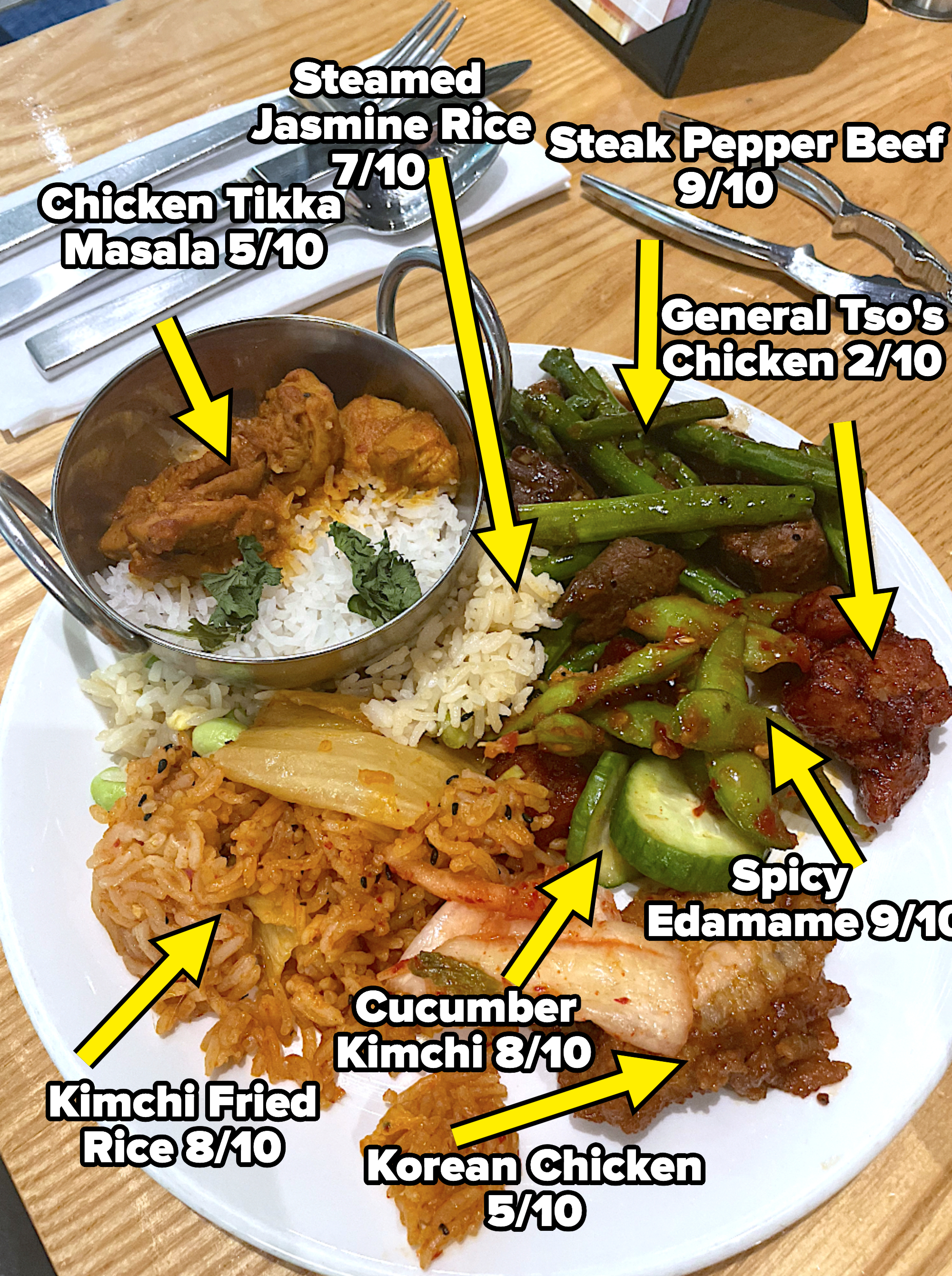 Next I went to the Mezze kitchen — otherwise known as the assorted bread, smoothies, charcuterie, cheese, and salad area.
I felt like this kitchen should have been a clear winner in a lot of areas, but it didn't quite nail it for me. On the plus side: There is a very good selection of charcuterie, bite-sized breads, and parfaits to choose from if you need a break from the heavier items from the buffet.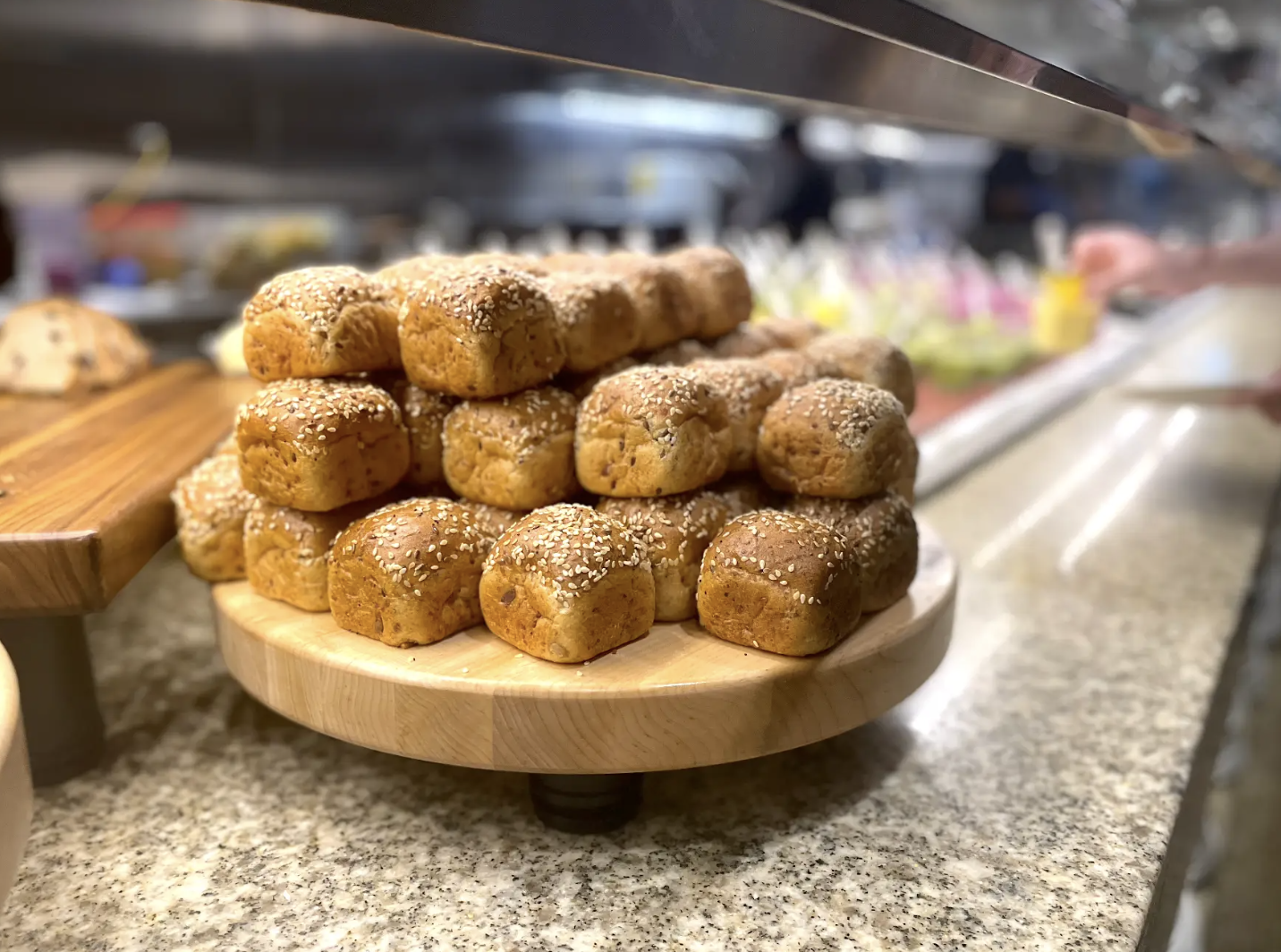 On the downside, the smoothie-based items were extremely thin in consistency or melted because of the heat lamps.
Here's a snapshot of my plate from the Mezze kitchen: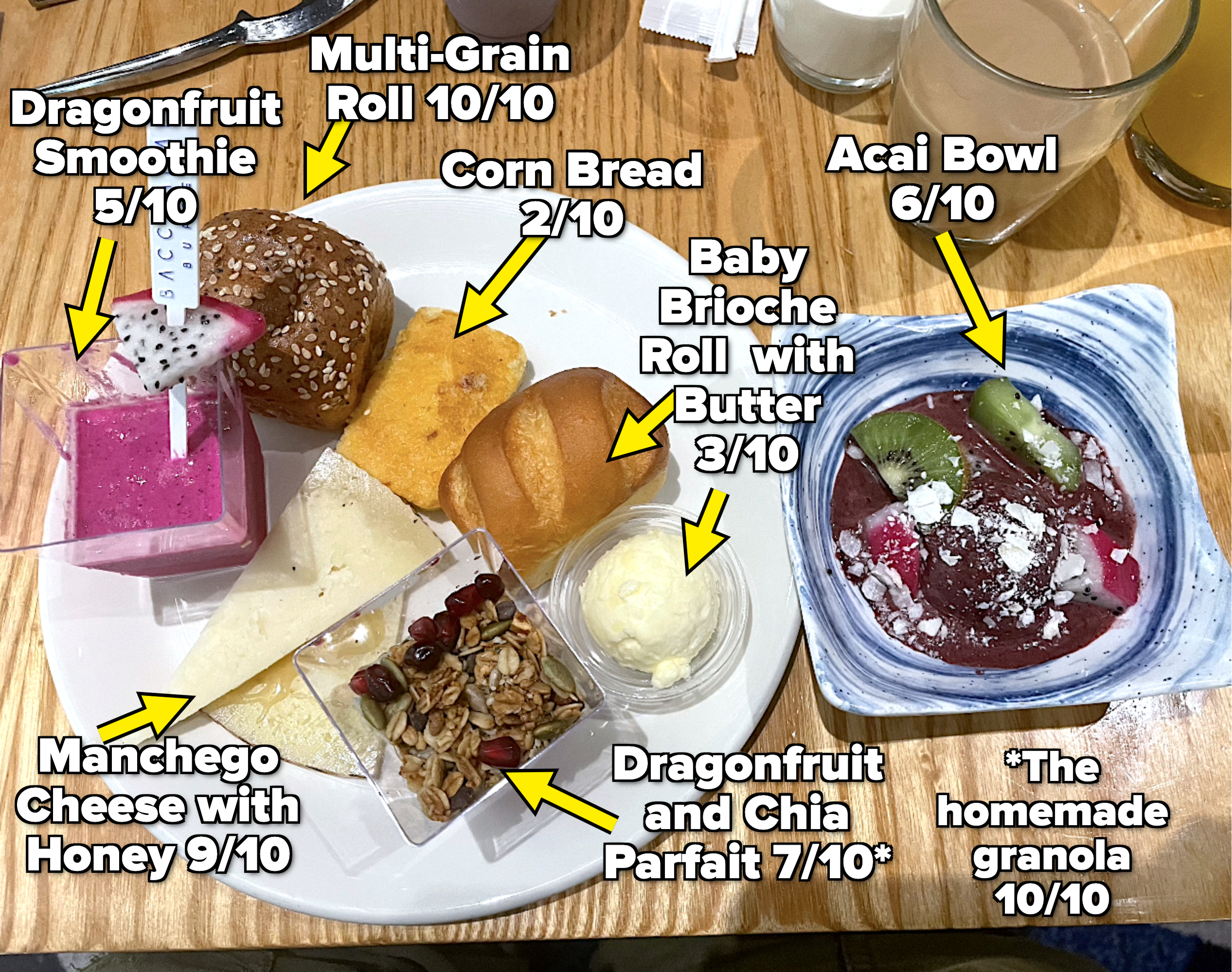 Next up: the Mediterranean kitchen.
For me, this was one of the better (yet smaller) areas. There were quite a few items that stood out that I would've gone for seconds of. However, to be completely honest, I was also starting to get really full by this point.
Here's a snapshot of my plate:
Again, I was getting really full at this point — but for the sake of a complete review, I moved on to the Latin kitchen.
As someone who is half Puerto Rican, I was really, really excited to see this kitchen — not that there was much of any PR food available (chefs, please add Pernil for the holiday season), but for the fact that so many of the Latin cuisines were being highlighted.
All the dishes looked vibrant and delicious. However, my one complaint is that I wished it would have celebrated the individual cultures more, just as the Asian kitchen did. Everything here was mostly labeled "Latin" aside from the few Mexican and Peruvian dishes — and I think it's a missed opportunity not to individualize the labels from the countries they come from.
Here's a snapshot of my plate. (Also yes, there are some American dishes on my plate here, but we'll talk about those under the American kitchen review.)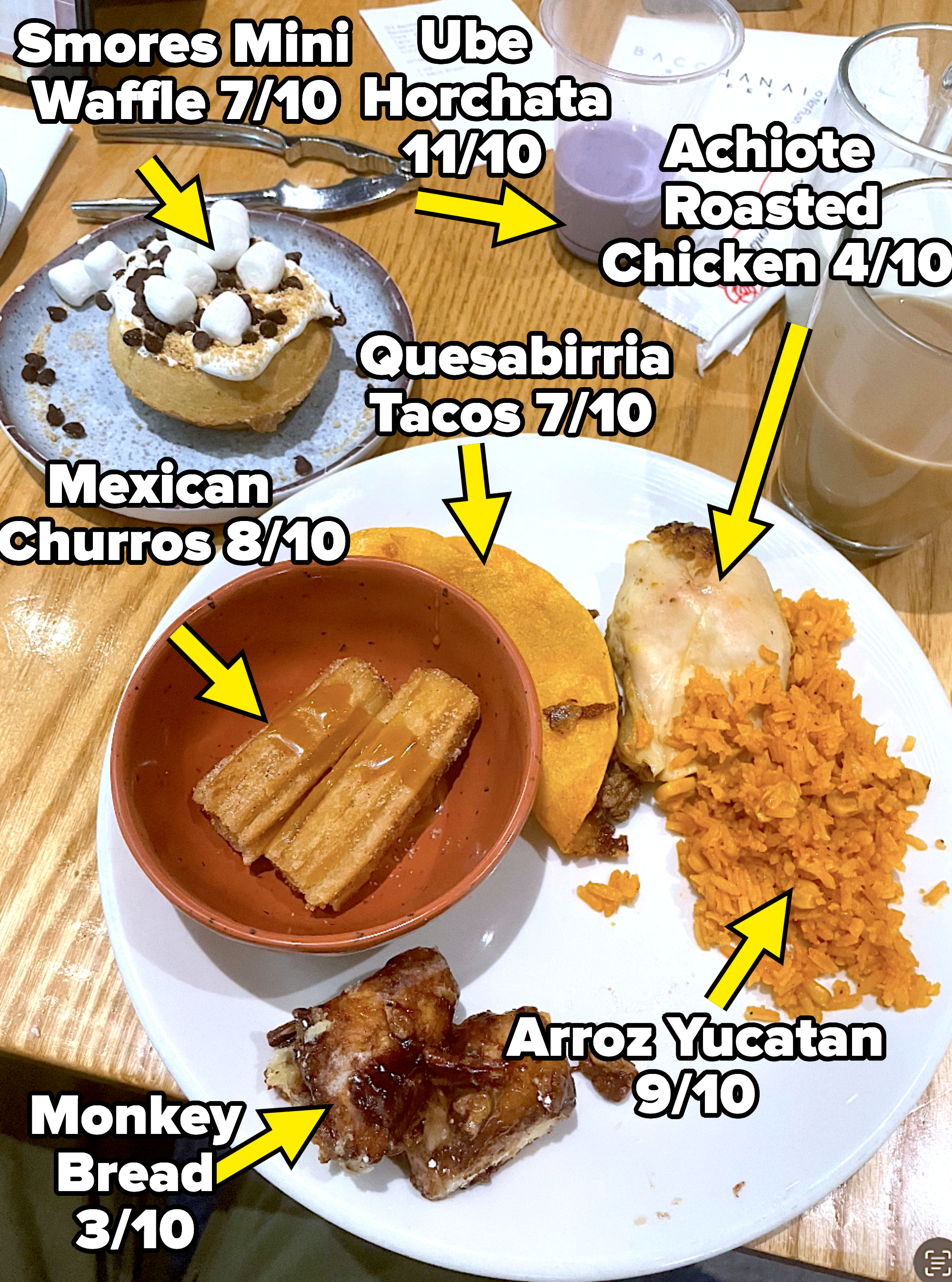 If there's one thing you should absolutely not skip, it's the ube horchata. If I could have taken the whole tube just for myself, I would have. The waiter was telling me they make it in-house and you can absolutely tell they put a lot of love behind this drink. The consistency was perfectly thick and it wasn't candy sweet. I'm not joking, I still dream of this drink to this day.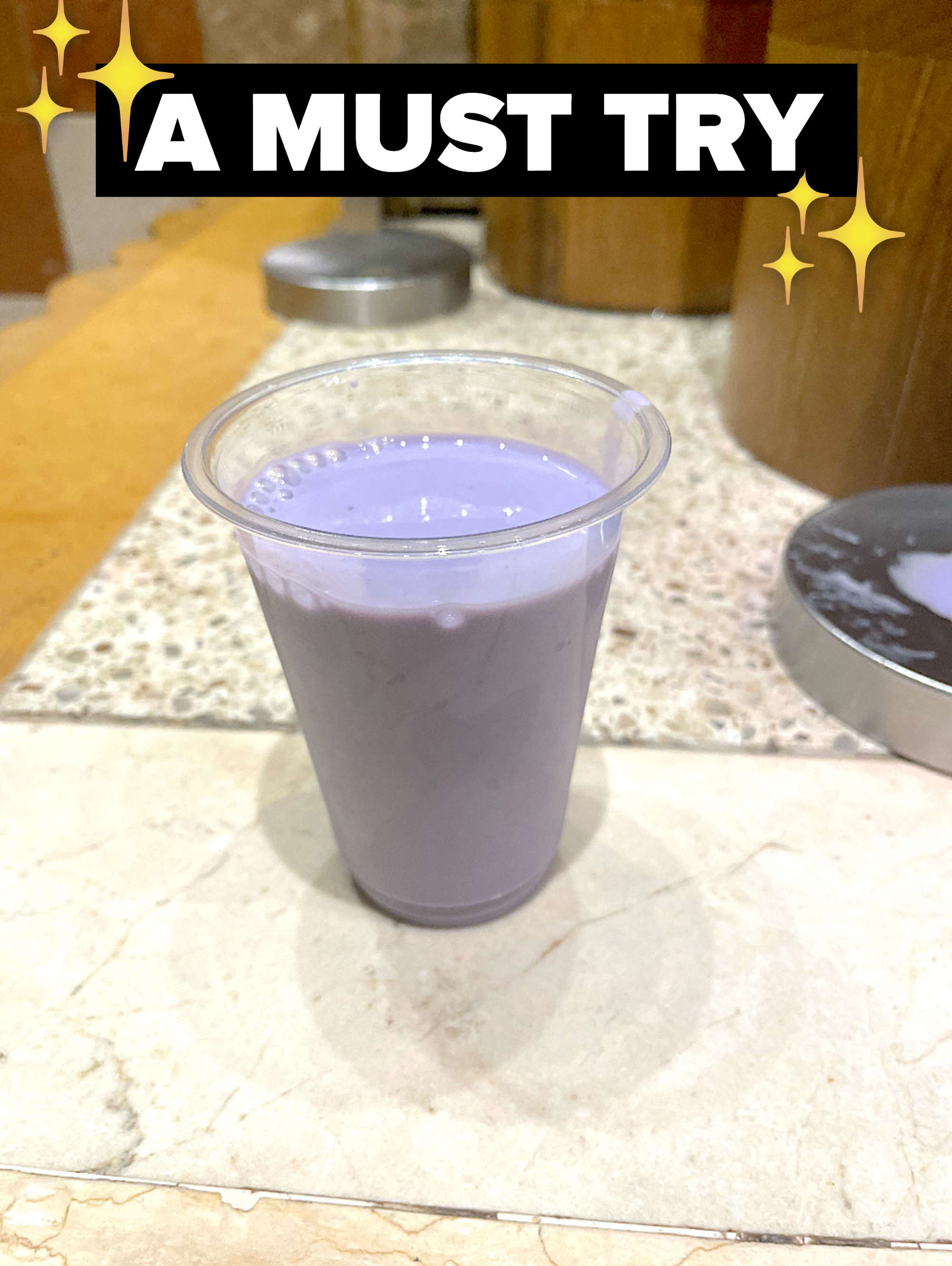 Up next? The American kitchen.
This was also one of the larger kitchens in the buffet — with a lot to choose from. It's where you'll find the very traditional American breakfast options. You want bacon? You got it. Buttermilk biscuits? All yours.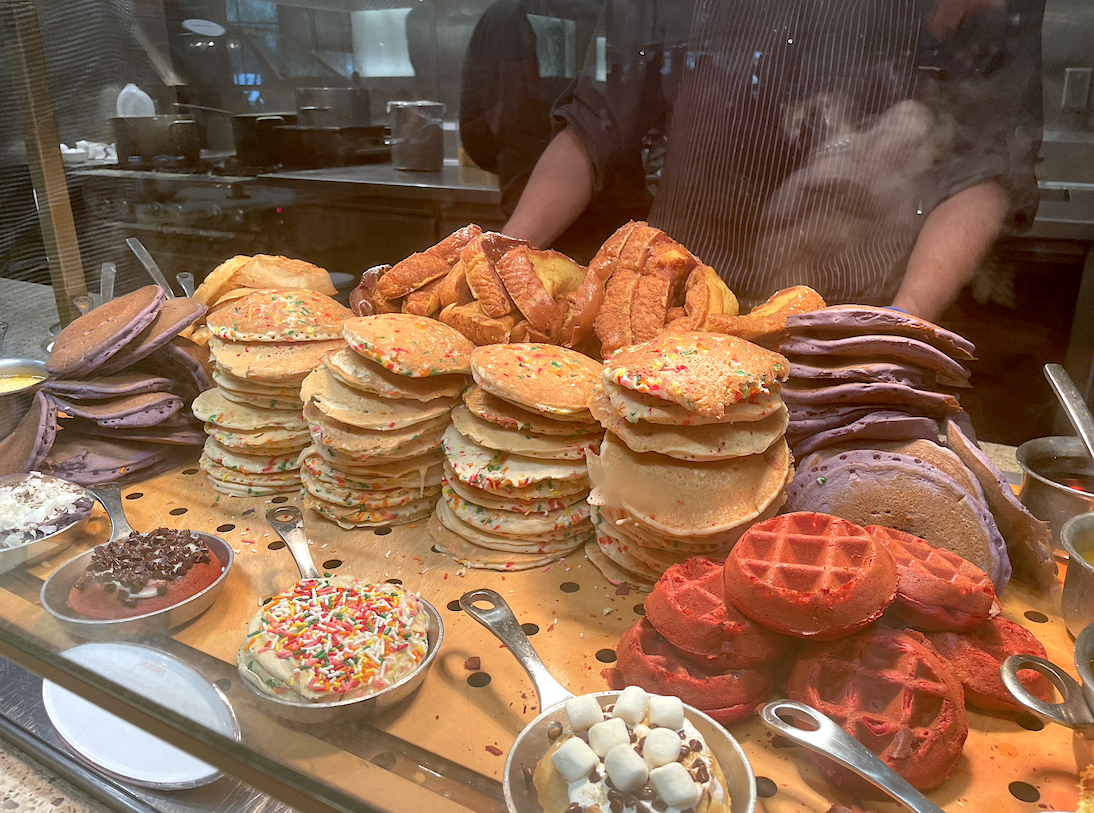 Aside from that, just be mindful that the American kitchen is very heavy in the meat department (no surprise there, right?) — complete with a full carving station.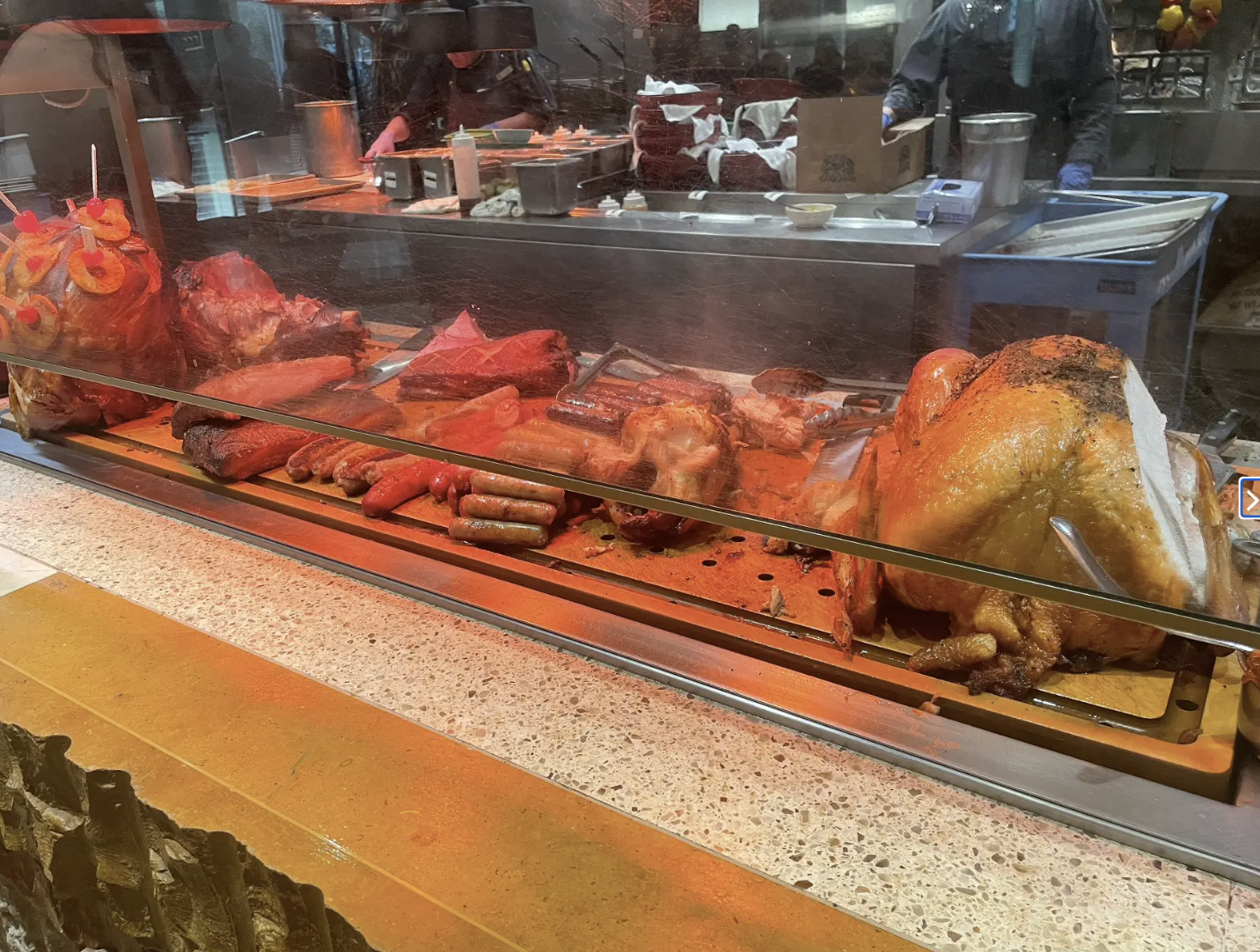 Here's a snapshot of my plate from the American kitchen (yes, it's the same image as the Latin kitchen, let me explain below).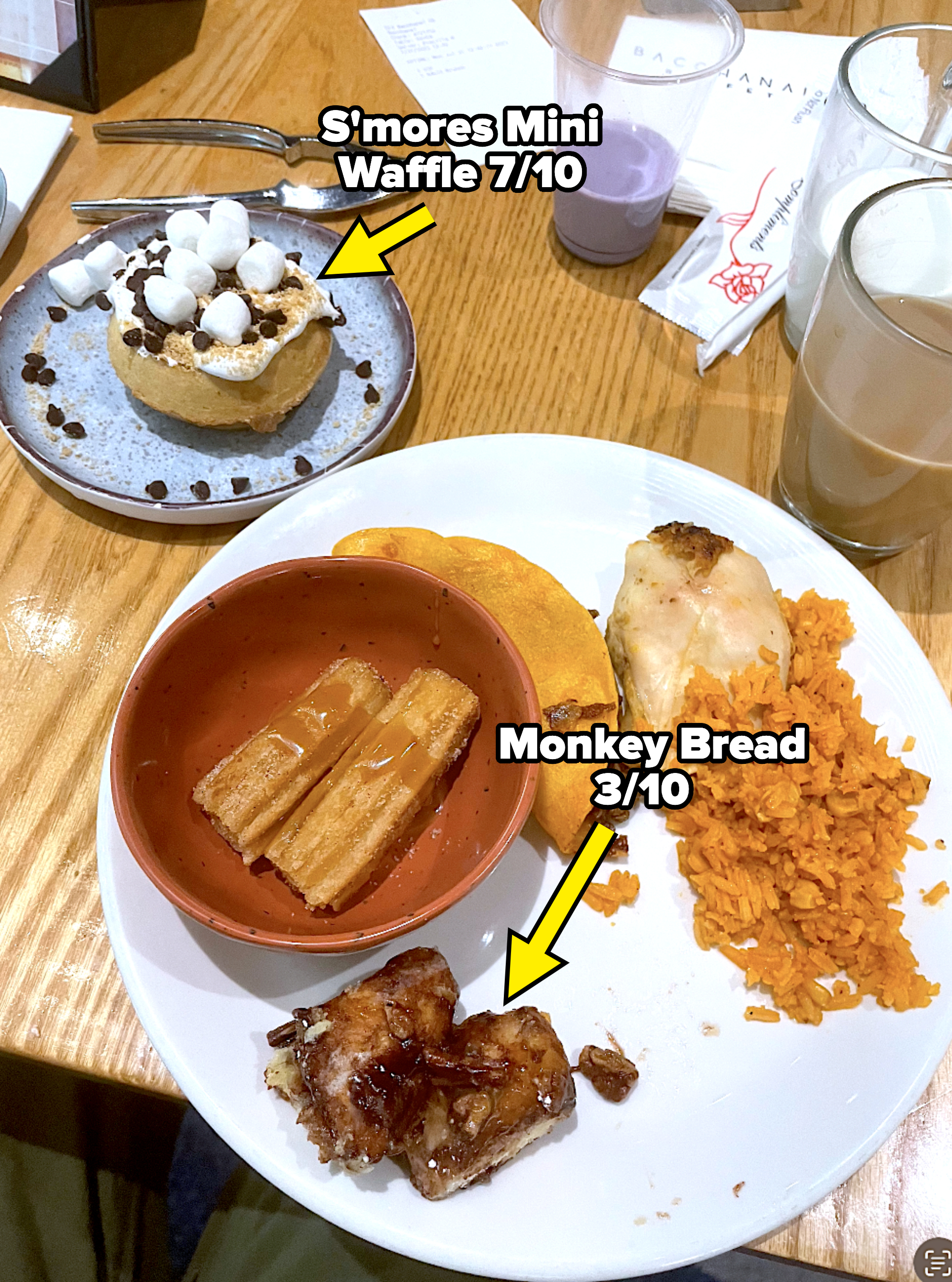 Next up was the seafood kitchen — which included some vegan options, too.
As mentioned, I wasn't able to review this area because I'm unable to eat shellfish. However, if you're vegan, this is where they keep the vegan breakfast options — which were about three items when I was there.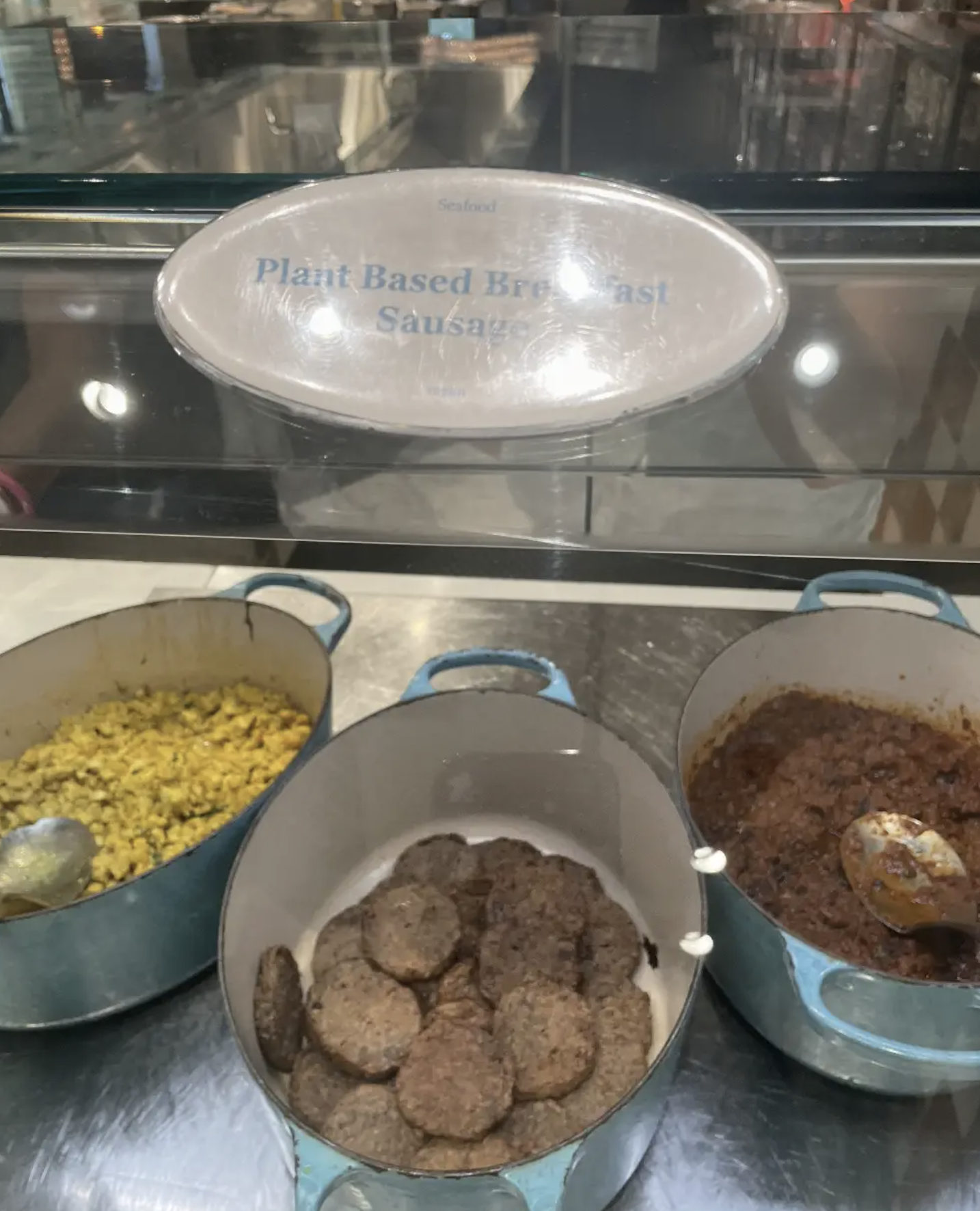 The seafood section also included something that many guests seemed to prioritize: the crab station. It's brought out between 1 p.m. and 3 p.m., and reservations made between those hours have an upcharge for it.
From what I observed, it seemed like there was a little ~budget trick~ to getting the crab menu while you're there. Again, the crab station is normally brought out between 1 p.m. and 3 p.m., so if you schedule your breakfast reservation right before this time, it seems like you might be able to have access to the crabs when they come out without paying extra.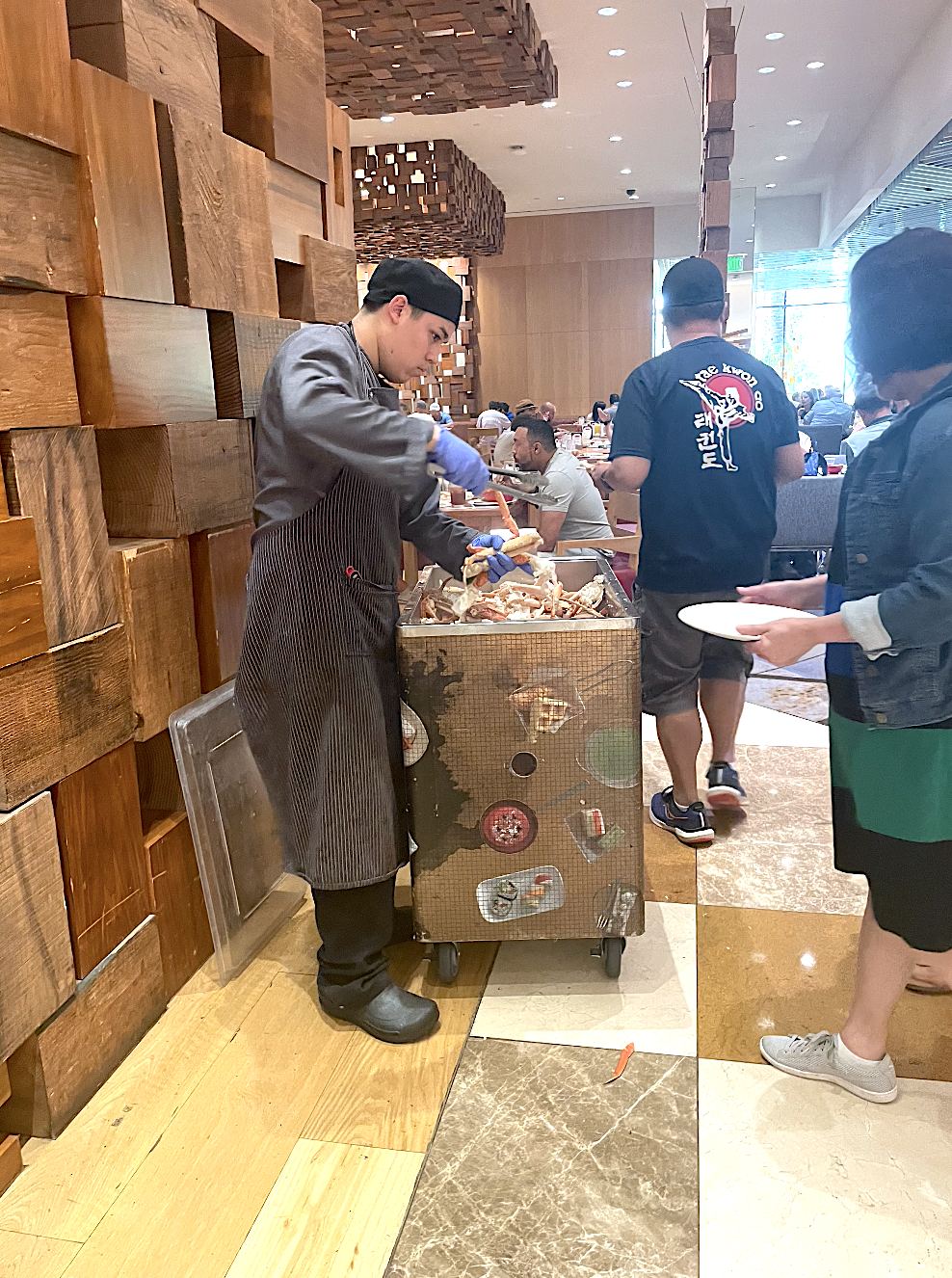 Finally, the finish line: the dessert kitchen.
This station was a lot of fun. Not only are most dishes prepared in mini plates so you have the opportunity to try a little bit of everything, but there's also a crêpe and a gelato station so you can mix and match if you want to. (Ice cream on top of a crêpe? Why not??)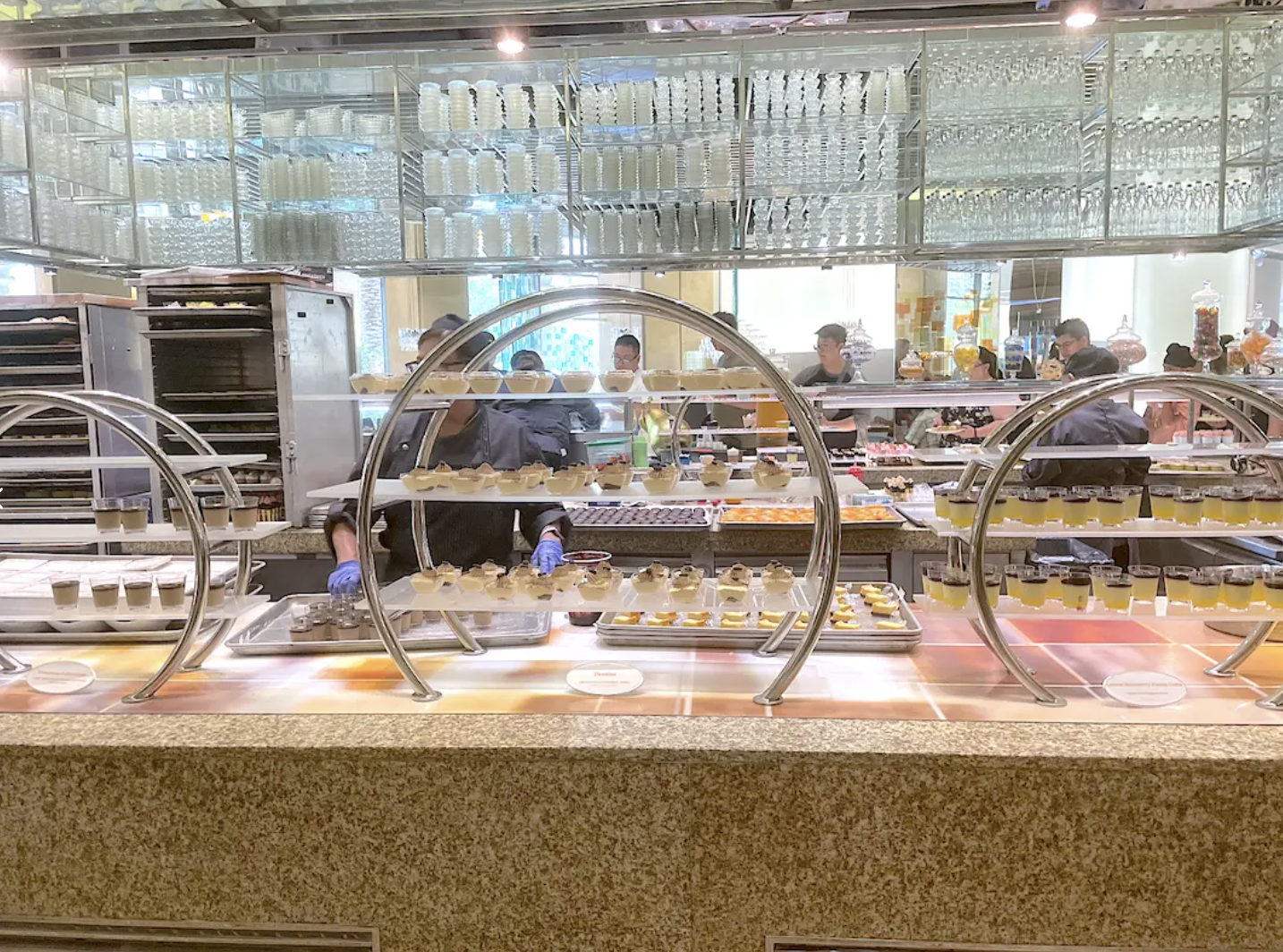 Here's a snapshot of my plate from the dessert kitchen.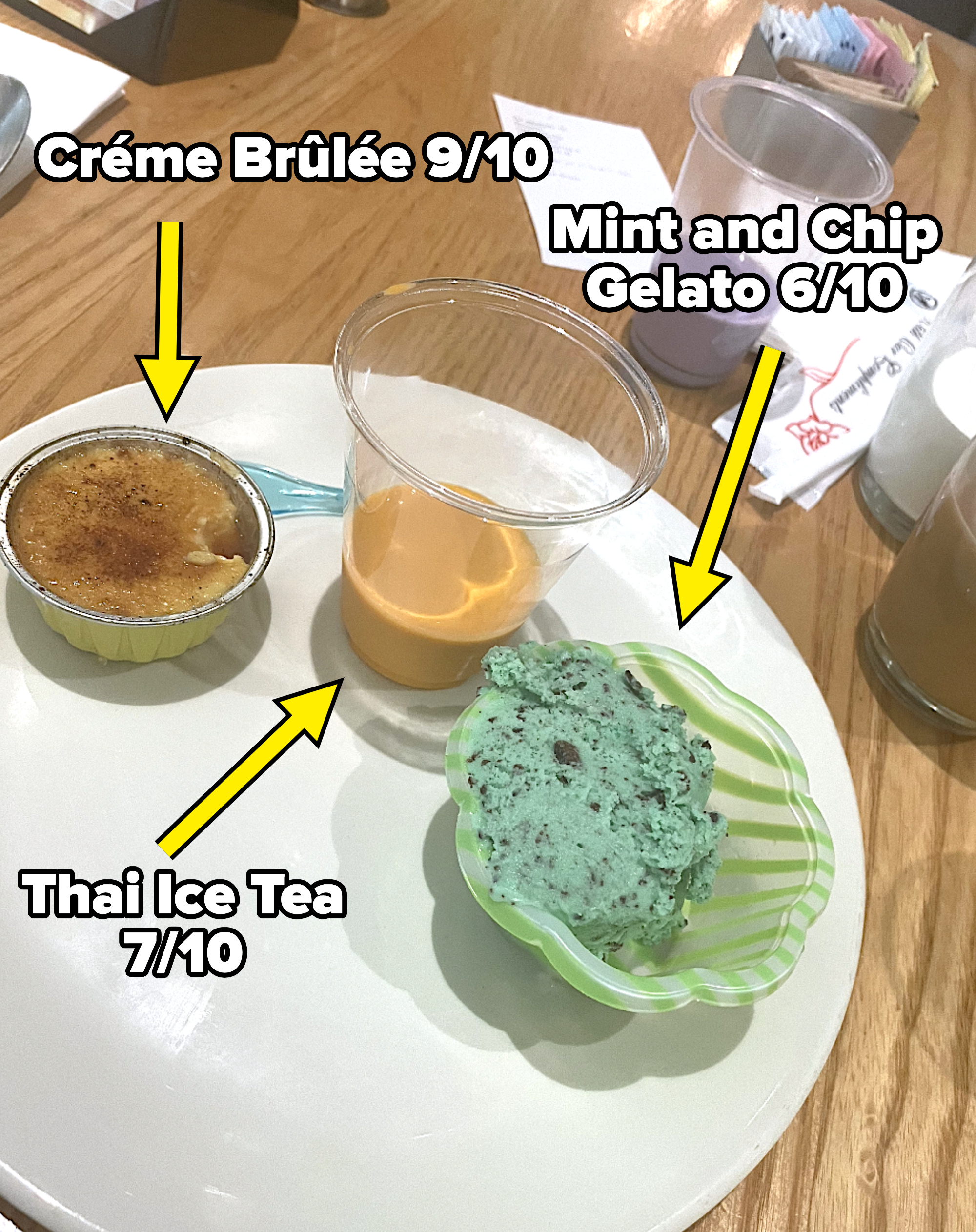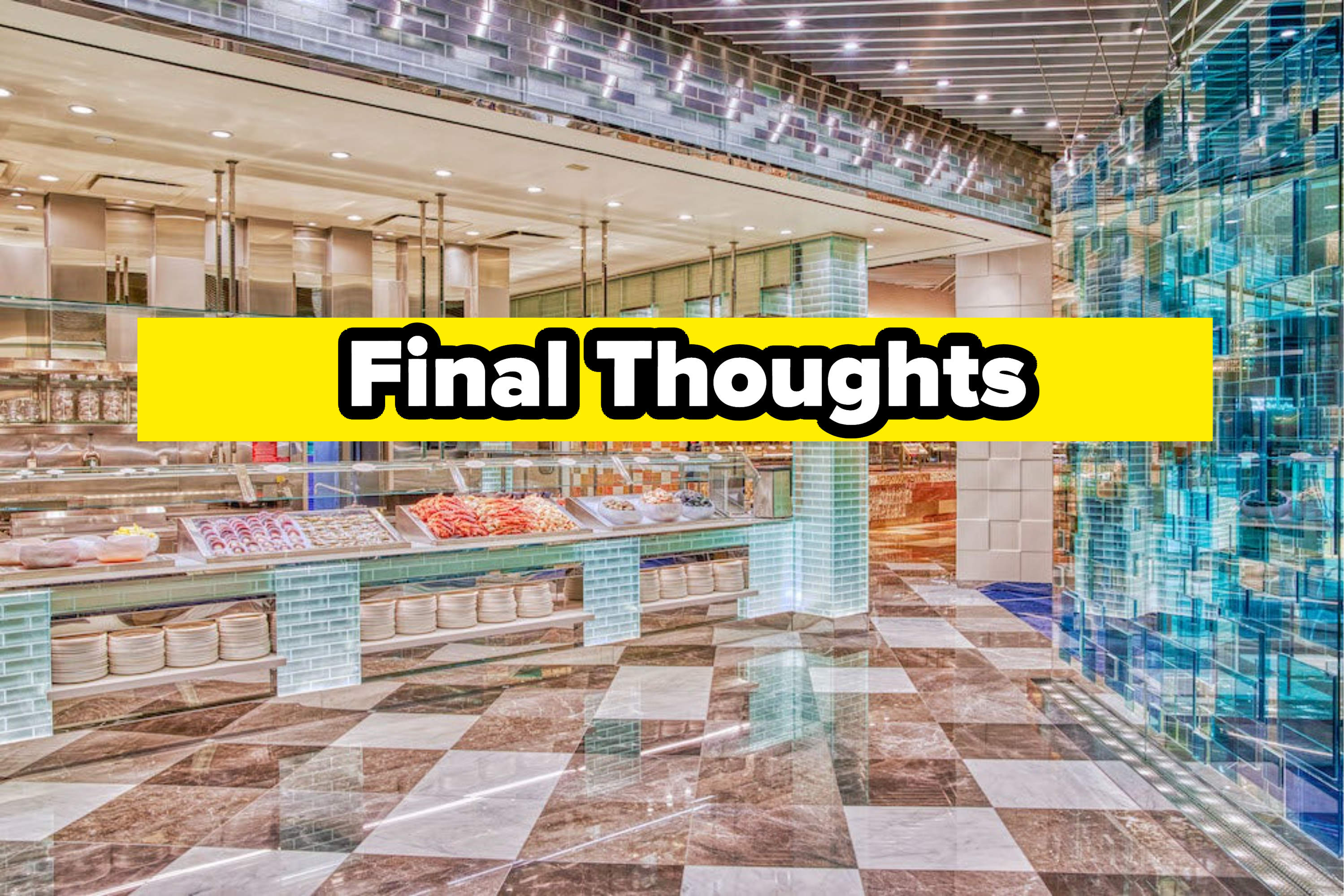 Overall, I would give the Bacchanal Buffet a 7.5/10. While none of the foods really wowed me (aside from the ube horchata: hi, I miss you), I do think that if you love to eat and the price point is within your means, this is a buffet you should experience at least once — simply for the grandness of it all.
I mean, have you ever seen a buffet have a Filipino kitchen alongside a Latin kitchen without sacrificing quality and quantity? Probably not.
The grandness can also have its downsides, though. It was impossible to eat everything I wanted to because 1) there was simply too much, and 2) there was a strict 90-minute time limit, narrower than some other comparable Vegas buffets. So, even though I went kitchen to kitchen for the purpose of this review, I would highly recommend NOT doing that if you go.
Instead, just add different items from the different kitchens to make sure you get to try a little bit of everything. You will likely feel rushed either way, and the 90-minute time limit is strict — so make sure you strategize your must-have dishes if you can, or potentially skip this buffet if you are looking for a dining experience that's not so time-constricted. 
I found the Bacchanal Buffet to be impressive in its efficiency, quantity, and quality. It seems they have thought of everything when it comes to what an over-the-top Vegas buffet should look and feel like — aside from having a show, of course. Still, I would almost prefer for them to lessen the amount of food (without sacrificing the different cuisines) to improve the quality even more.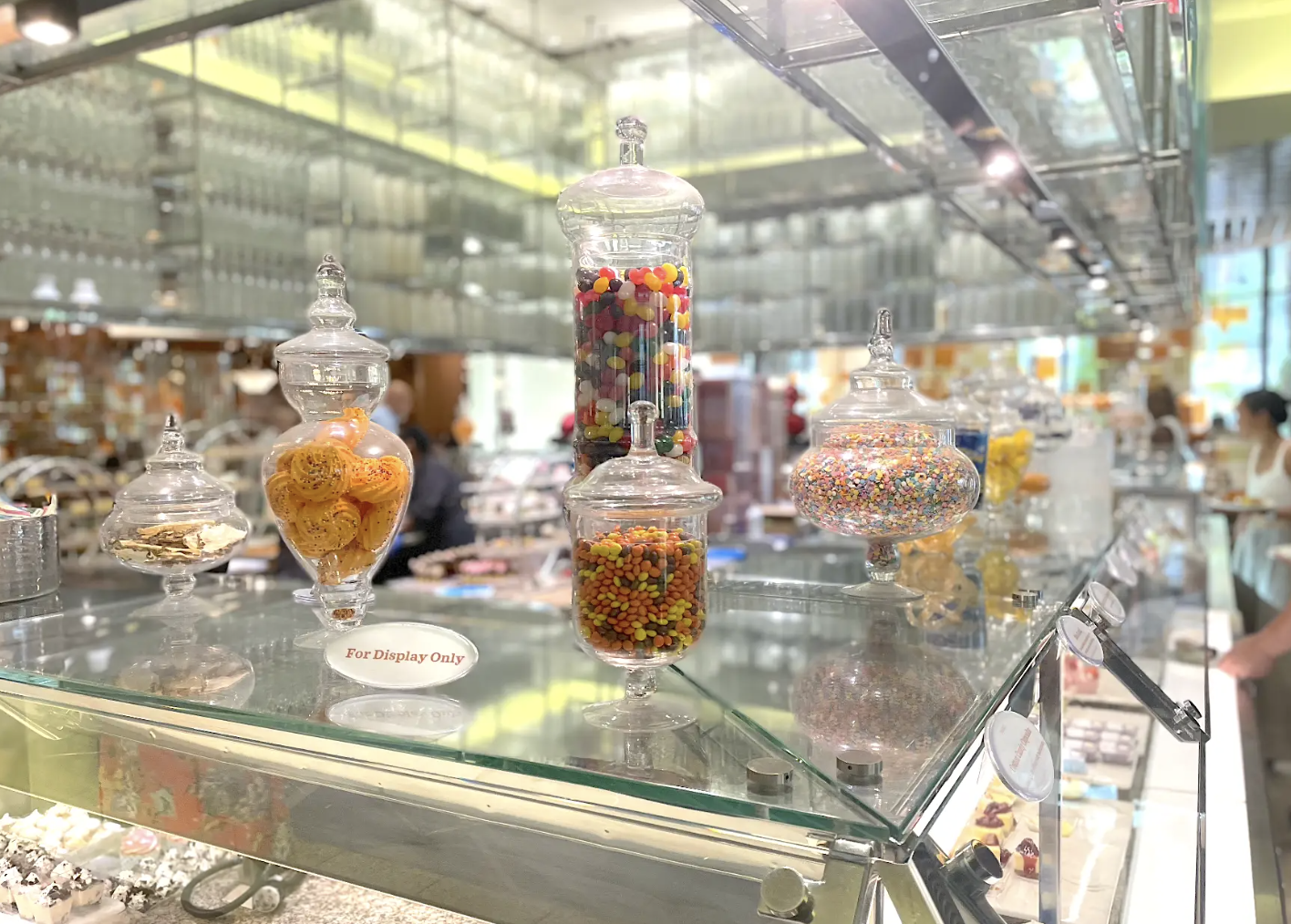 Since I found the Bacchanal Buffet website to be a little light on information, a full list of the hours and prices are below. However, it's still recommended to call ahead to double-check, since times and prices can be subject to change.
Have you been to the Bacchanal Buffet — or other buffets in Las Vegas? What did you think? Let me know in the comments below!