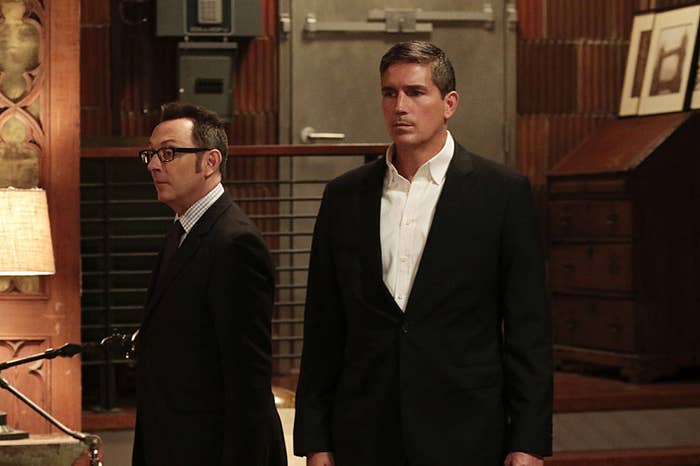 It's rare for a TV show to be canceled with grace. Some networks and cable channels are straightforward about the fact that television is a brutal marketplace, and of course most shows will not find enough of an audience to stay on the air; others won't confirm that a show that's yanked after five episodes is a goner. From an audience perspective, there are satisfying ways for a show to come to an end (NBC's Parenthood is a recent example) and terrible, enraging ones: After their abrupt cancellations this month, ABC's Castle and Nashville both left fans howling. (Castle stapled on a happy ending that The Hollywood Reporter called a "wreck"; Nashville opted for a cliffhanger in the hope, according to Deadline, that the show will find another home — which will be a huge fuck-you to its fans if it doesn't.)
After its fourth season, the executive producers of CBS's Person of Interest — Jonathan Nolan, who created it, and Greg Plageman, one of its showrunners — were given an unstated message that their show was on its way to cancellation. After that realization, they decided Person of Interest would go out with dignity. "You look at this season with shows, longstanding shows, like Castle," Nolan said in an interview with BuzzFeed News this week. "All of a sudden, it's like, 'Oh, we couldn't figure it out, you're done.' We absolutely did not want that to be the case here."
For its first three seasons, the most shocking thing about the complicated drama was how popular it was. The series follows a group of vigilantes led by Harold Finch, a damaged, brilliant billionaire (the brains), and John Reese, a damaged ex-CIA assassin (the muscle). Finch (Michael Emerson) and Reese (Jim Caviezel) and the rest of their gang help people in trouble, and that has provided Person of Interest's weekly procedural engine. But the larger backdrop that has evolved on the show is that one AI called "The Machine" and another AI called "Samaritan" are in a good-versus-evil battle in which the stakes are...pretty much the world as we know it.
Person of Interest was a hit right away for CBS. Then, in its second season, the show did something rare these days: It grew — around 16 million people were watching weekly. After it moved starting in Season 3 from Thursdays at 9 to Tuesdays at 10, a much tougher time slot because of cable and DVR competition, Person of Interest still brought in around 14 million viewers each week. Throughout its fourth season, viewership dropped off, but that's par for the course: It still drew a crowd.
Which is why it's a true curiosity that Person of Interest has ended up here: with CBS burning off its fifth and last season. It premiered on May 3, and — at a pace of two episodes a week — the series finale will air on June 21.
The trouble, as far as Nolan and Plageman see it, became acutely evident last May during the upfronts, when the networks present their new shows and schedules for the upcoming season to advertisers. No one at CBS had told them ahead of time that not only would Person of Interest be left off of the network's fall schedule, but its episode order would be cut from the usual 22 to 13. In fact, the two executive producers laughed at a question that presumed they had been given a heads-up about either development, both of which are signs of imminent cancellation.
"It was pretty surprising," said Plageman. "We had felt at the time that we would be getting a full order going into the season." They learned that Person of Interest had been ghosted off the schedule only after CBS unveiled its fall programming to press before its upfront presentation. And then, Plageman said, "You go through the usual gamut of emotions."
After these unforeseen blows, Nolan said the show's creative team decided to move forward with their own plan. "No one was clear with us that this was a final season; we kind of decided that this was a final season. You read the tea leaves here, and it was clear that with a reduced order it's not likely that we were coming back," he said. "So we decided: Fuck it. We're going to tell the end of this story, in such a way that doesn't slam the door shut on the universe of the show — that wouldn't be a fitting end to the show anyway. But telling a final season in such a way that it would leave everyone satisfied with the story that we told. And that was our decision. This is a gift."
In a statement to BuzzFeed News regarding Person of Interest, CBS spokesperson Chris Ender wrote: "It's never easy to say good-bye to a good show, but we're proud of what all of us — network, studio, actors and producers — have accomplished over a great run of five seasons and 103 episodes."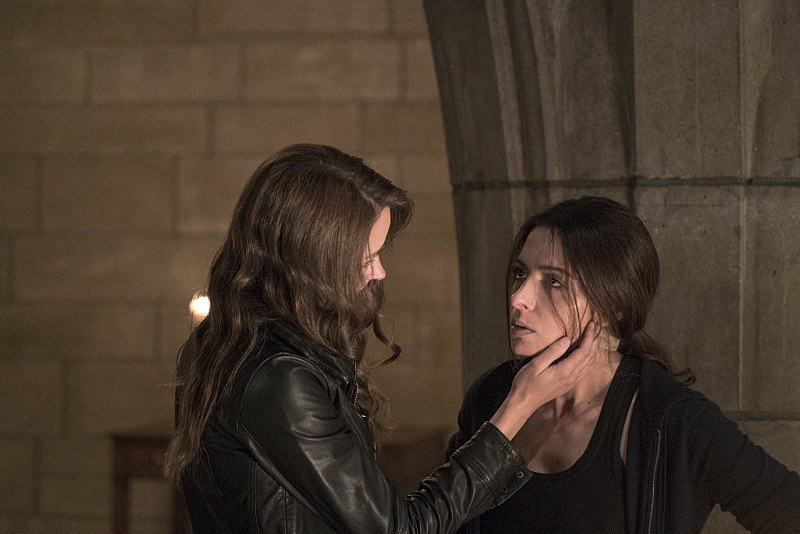 Person of Interest is both a relic of a rapidly dying business model for broadcast television, and a harbinger. Its producer, Warner Bros., the once indomitable studio that developed and oversaw Friends and ER, is in a difficult position these days. It still owns The Big Bang Theory, and plenty of other shows. But without a major network corporate sibling where it can funnel its productions — Universal Television has NBC, 20th Century Fox has Fox, ABC Studios has ABC, and CBS Studios has CBS — Warner Bros. ends up at a disadvantage in a case like Person of Interest. (Warner Bros. does co-own The CW with CBS, but it's a smaller network that caters to a younger audience than the other four broadcasters.) As CBS's chairman, president, and CEO Leslie Moonves told The Hollywood Reporter recently, the company "broke even" on Person of Interest last year, but because Warner Bros., not CBS, profits from the show's back end (DVD sales, foreign rights, streaming, syndication), it was literally not worth it to renew the show.

The Machine might shake its head knowingly about such capitalist concerns dictating art. The Person of Interest producers, however, were not naive to these obstructions. "This is how the world works," said Nolan. But that doesn't mean they have to like it. "If the business is just going to be more vertically integrated, where the networks only buy their own product, that's not very good competition," Plageman said.
Even when Person of Interest was a massive hit, they felt the negative effects of these corporate tensions. For its first two seasons, the show didn't stream anywhere: not on Hulu, not on Netflix after the season ended — and not even on CBS.com. "We literally existed in primetime," Nolan said. "If you didn't see the show or didn't DVR the show, you weren't going to see the show. And the only way to catch up on the show was by way of DVDs." After the second season, CBS.com began streaming episodes; after Season 4, Person of Interest finally became available on Netflix. But considering viewer behavior at this current moment, it was a recipe that created an eroding, aging audience. And so, after the fourth season, CBS decided to try a new show in the fall in Person of Interest's former time period: the now-canceled Limitless.
The signals all pointed one way. Yet no matter how much Nolan, Plageman, and fellow showrunner Denise Thé had their own plan to execute — ending Person of Interest how they wanted it to end — the limbo was painful. Sarah Shahi, one of the show's leads, was cast in another CBS pilot, Nancy Drew (which did not get picked up), and they were asked to strike the show's sets.
When asked about those instances, Nolan said, "I'd rather not get into those specifics if possible. Look, no one ever wants to have the difficult conversation, right? And I get that." Later, he added: "No one wanted to pick up the phone and say, 'You're canceled,' because, frankly, that's not quite how it works. There's a lot of moving pieces when the network is looking at what's in front of them. They've got a slate of shows coming out, they don't know if the new stuff is going to work. You just become a question mark for them."
Plageman said that their concerns about the uncertainties surrounding Person of Interest's fate were mostly for the actors and the crew, who want to know "whether they have a level of job security." "With actors, it's a much more difficult scenario, and they're being kept in the dark and told a number of different things," Plageman said. "It's even worse when you're on set, and there's a game of telephone, and people start to speculate."
He added: "They have these huge long contracts, and they have to figure out whether they're going to be able to go and read for another pilot, or are they going to be held for the duration until the show is done airing, all the way through the spring. It precluded a number of our actors from going out."
"As a writer and a producer, you can do a couple of things at once," said Nolan, who has simultaneously been working on HBO's forthcoming — and by all accounts difficult — Westworld for several years. "For our actors who moved to New York, who shoot 14 hours a day for 200-plus days in a row, this is their life. We tried as best as possible to communicate with them and let them know what was happening."
CBS executives said publicly for months that Person of Interest's renewal chances were still being discussed, even though the show didn't appear on the network's 2016 midseason or early spring schedule. In March, when Season 5's May premiere date was announced — and the press release that accompanied the announcement still didn't say that this would be the show's last season — enough was enough for Nolan and Plageman. "When the airdate was finally announced, we announced that this was the final season. That was something that came from Greg and myself," Nolan said.
They issued a statement to IGN's Eric Goldman, thanking the network, studio, cast, crew, and fans. "We can't wait for you to experience this thrilling and final chapter," the statement read. Without ever having had a straightforward conversation with CBS about "the c-word," as Plageman put it, how were they absolutely sure the show was over?

"Without getting into specifics of the way the storytelling works, when we submitted certain final episodes and they did not draw a note, that was when we knew that we had taken the right course of action," Nolan said.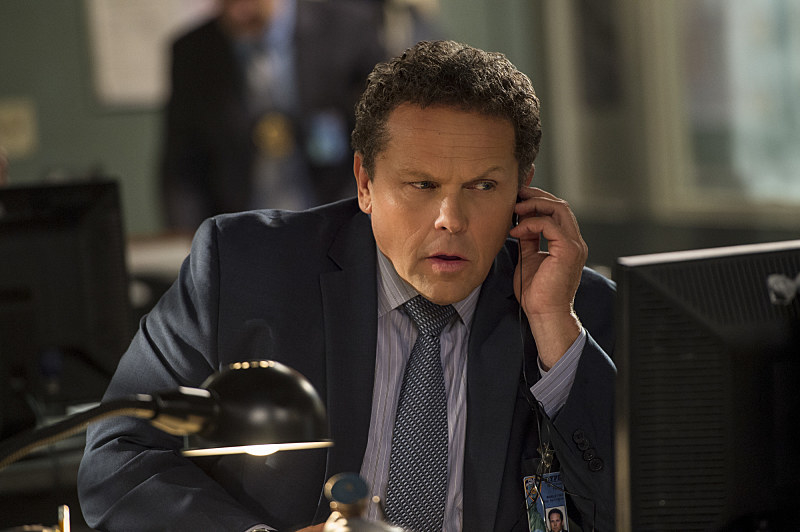 But just because the writers decided to take matters into their own hands didn't mean they ran amok. CBS had always wanted the show to keep its case-of-the-week spine rather than chucking it and making it a pure mythology show. Going into Season 5, "there was a conversation about the amount of stand-alone versus serialized storytelling that, somewhat to my surprise, remained something of importance to them," Nolan said. "And to the degree that there are compromises in this final season, it's in that area. I wish we'd had a few more episodes to continue telling the bigger story. But I'm very, very proud of what we did."
Considering the bumpy road they have traveled, Nolan and Plageman sound mostly at peace with how things unfolded. "We endeavored to make an entertaining but thought-provoking show about artificial intelligence, incorporating the creeping surveillance state," said Plageman. "And I still believe the show to be prescient and absorbing."
The ratings for these final episodes have been, understandably, much lower than the show's median. But Person of Interest's viewership is still stronger than that of some first-run network shows benefiting from much more promotion. "We went off the air for almost a year and returned to ratings that are comparable to where we were at last year," Nolan said. "That's a testament to me to how amazing our fans were through the years, and that's why you do it."
Dumping a whole bunch of episodes of a show on the air just to be rid of them used to be a canceled series's final indignity. But maybe even that has changed in 2016. "It's tricky — they would qualify this as a burnoff, what's happening here," said Nolan with a laugh. "But one man's burnoff is another man's binge!"