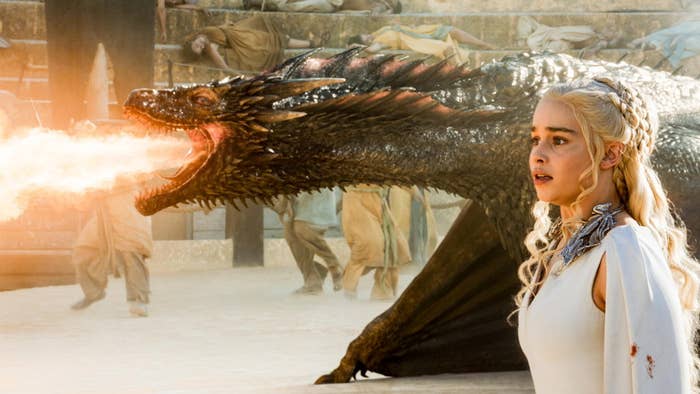 When HBO picked up Game of Thrones, anyone who had read George R.R. Martin's books wondered what would happen when the show caught up with the story laid out in the novels. In the series' current fifth season, we have found out the answer: Where Martin left characters stranded and spinning, the show's executive producers, David Benioff and D.B. Weiss, have created action. They have forged connections between characters that Martin has not, or has not yet — seeing Daenerys (Emilia Clarke) and Tyrion (Peter Dinklage) strategize in "Hardhome," for instance, was a dream come true. And they have made one unsavory, disappointing misstep in Sansa's brutal storyline, which was not in the books.
For the first time since the show began, book readers have been truly surprised a number of times. That includes when Stannis (Stephen Dillane) had Melisandre (Carice van Houten) burn his daughter Shireen (Kerry Ingram) at the stake to propel his ill-fated ambition to be the king in Sunday's "The Dance of Dragons," the penultimate episode of the season.
But! One of the last remaining canonical Martin moments also happened in the June 7 episode: In her darkest moment yet, Dany was rescued by Drogon and flew away.
It was breathtaking, and even more triumphant than how Drogon's surprise return unfolds in the books, since Dany and all of her allies — so few, it turns out — were in true peril, literally surrounded by the Sons of the Harpy insurrectionists.
When we see Clarke's Dany get the idea that she needs to trust Drogon enough to ride him, and that she also needs to take him to safety, it was majestic — both a huge moment and a personal one. The direction (by David Nutter) and the effects were Game of Thrones at its most epic and, presumably, expensive.
There's the added pleasure too of watching Tyrion, who is obsessed, as we know, with dragon lore, watch Dany and Drogon. He has certainly made the right choice in queens, and he knows it.
In Martin's A Song of Ice and Fire, Dany's colonial storyline has reflected our own contemporary quagmire in the Middle East. Even on the page, it's made little sense why she has gotten herself stuck in Mereeen when there are other people and places to save.
It's a hopeful sign for Dany's story that Tyrion asks her the same questions most fans have: "What are you waiting for, Daenerys?" After this season of Game of Thrones, which has been bold and ambitious and unafraid, it's clear the wait is over.