1. Alright, so no one pays attention to Macaulay Culkin.
2. But to be fair, he's acting like a little shit right now.
3. Also, his name is Kevin.
4. Why is there a cop here?
5. "All kids, no parents. Probably a fancy orphanage." Yikes.
6. Why is Kevin so distressed about having to pack? 7. Does he have some dark attachment issues going on?
8. Is this actually a fancy orphanage???
9. Wow, his whole family legit hates him. Kid's eight.
10. Someone named Fuller in this family is either a baby or an alcoholic.
11. This guy has spiky hair and a pet tarantula so my bets are on him as The Bully.
12. Of course his name is Buzz.
13. You're setting your kid up for bullydom if you name him Buzz.
14. Or they'll become an astronaut. That's quite a gamble.
15. They live next door to a murderer???
16.
17. There's literally just a random cop chilling at this home.
18. When I was in elementary school, they told us that if a police man ever made you feel scared, you should ask to see their badge. I would ask to see this guy's badge.
19. "Did anyone order me plain cheese?"
20. Now Kevin is physically attacking Buzz and the dad is just cleaning spilt milk off the counter.
21. Ten minutes in and have confirmed that no one loves Kevin :/
22. This cop is going to burgle the fuck out of this home.
23. "Everyone in this family hates me." 24. OK this kid is literally being emotionally abused and threatened with abandonment. HOW IS THIS A FEEL-GOOD HOLIDAY FILM.
25. He lives in the attic like goddamn Cinderella.
26. "I wish they would all just disappear."
27. If you told me this movie was a prequel to The Good Son, I'd believe you.
28. THEY FUCKED UP THE HEADCOUNT OOoo00ooH MY GOD
29. But like, you have to seriously hate your kid to not realize he's gone.
30. Like, the family isn't THAT big.
31. Buzz has a gun on the wall, which seems safe for society.
32. Kevin is walking into the basement. *hides eyes*
33. THE FUCK IS THIS SCARY MANNEQUIN 34. SERIOUSLY 35. I hope Kevin is running to child services right now.
36. Oh, he's psyched that he made his family disappear because he is a budding sociopath. Merry Christmas!
37. He just smirked at the gun on the wall.
38. I am so stressed right now.
40. Oh my god please do not toboggan down the stairs.
41. This kid could have literally just died and the movie would end there.
42. Oh so NOW the parents know their son is missing. Way to get with the fucking program, parents.
43. I WAS RIGHT THE COP IS A BURGLAR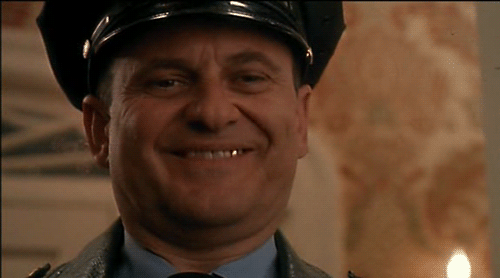 44. "Please, our brother's home alone." YAAAS THEY SAID THE NAME OF THE MOVIE
45. Literally everything would be fine if Kevin just stopped shrieking for a minute and called the cops.
46. The real cops in this movie are as good as the fake cop/burglar. Fire everyone.
47. Similarly, the burglars are as bad at burgling as the police are at policing.
48. HE DID THE FACE 😱😱😱
49. I'd really appreciate some backstory on these burglars. Why do they burgle?
50. HOLY SHIT Kevin almost got hit with a van!
51. This is like the 12th time he almost died.
53. But also this kid should design rides at Disneyworld.
54. This family is going to rack up some sweet frequent flyer miles.
55. If my son screamed this much, I'd probably ditch him and fly to France too.
56. 57. This movie is a PSA for locking up your firearms.
58. My heart belongs to this kind polka group.
59. Supposed Murderer Neighbor is good after all! He's just got ~baggage~.
60. "This is my house. I have to defend it." YO ARE LITERALLY EIGHT NO YOU DO NOT
61. This eight-year-old is straight-up weaponizing his home.
62. Like, this is disturbingly well-thought-out.
63. Yet he couldn't pack a fucking suitcase.
64. I just screamed because Kevin shot the burglar in the head and I am just now realizing it's only a BB gun.
65. (Sorry, coworkers.)
66. If I were these burglars, I'd just, like...go to the next house? Seriously, what's the end goal here?
67. AAAH HE STEPPED ON A NAIL
68. AAAH HE BURNED HIS SCALP OFF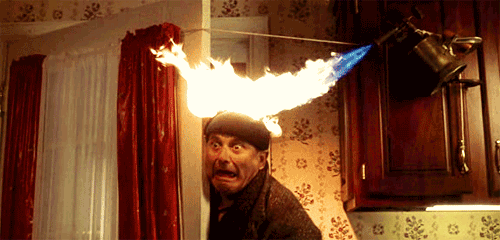 69. FINALLY KEVIN IS CALLING THE COPS
70. Wow these burglars are planning to physically torture this kid. This is incredibly dark.
71. Yay, Formerly Supposed Murderer Neighbor to the rescue!
72. And the slowest-responding police department award goes to...
73. Well at least they're here now to rescue this unaccompanied minor.
74. Nooope they just left him there alone.
75. "I'm a bad parent." YEAH TBH TRUE
76. "Merry Christmas, sweetheart." How about HOLY SHIT I AM SO SORRY FOR ABANDONING YOU SON WHO I BIRTHED
77. If I was Kevin's mom and the entire family got back a minute after me after I completed that nightmare of a travel experience, I'd flip my fucking lid.
78. And if I was Kevin I'd be bragging to my whole family how I personally incarcerated two men who wanted me dead.
79. But also, Kevin is going to face some serious emotional repercussions from this traumatic event.
80. You know what they say: we're home alone, we die alone.
81. This was not heart-warming.
82. Well, I'm going to go install a burglar alarm.