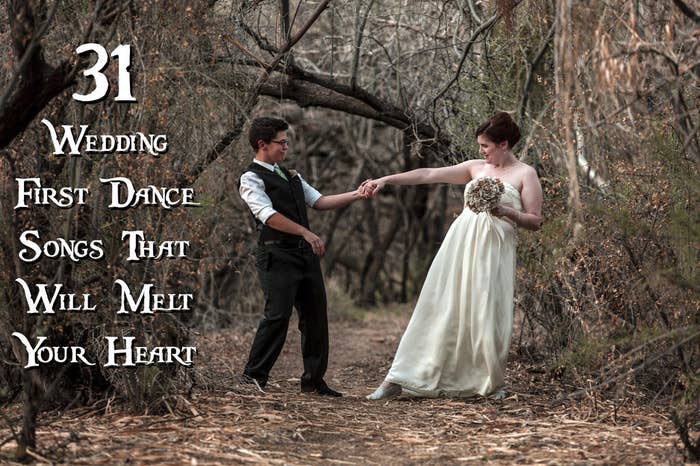 1.
"Over the Rainbow" cover - originally by Judy Garland
"We walked down the aisle together, and into the reception, to the Throne Room song from Star Wars. But our first dance was 'Over the Rainbow,' recorded by a friend and local musician on ukelele."
—Sarah Bug Meilike
2.
"It's You" - Michelle Branch
"She actually sang it to us at a meet & greet before the Michelle Branch / Goo Goo Dolls concert a few months before the wedding."
—Nicole Davis
3.
"Ho Hey" - The Lumineers
"My husband and I didn't want to have a wedding. We had a tiny ceremony in the backyard of one of my professors with parents and siblings only. No reception followed. Several months later we were sitting on our couch in our living room. My husband pulled me off the couch, turned on 'Ho Hey' by The Lumineers and we danced together in our living room, just the two of us. It was an amazing moment and I wouldn't change anything."
—Amanda Button Martin
4.
"Baby I'm Yours" - The Arctic Monkeys
It sounds like it could be a song from decades ago-- all the 60-somethings at our wedding were confused and kept asking, 'what song was that?'"
—Caroline Adam
5.
"Diary" - Alicia Keys
"I picked everything else so I let my wife pick our song and I wasn't so sure about it at first but now when I hear it I can't help but get emotional."
6.
"Grow Old With You" - Adam Sandler from The Wedding Singer.
"I asked my husband to pick a song, and he sent me three songs, the Wedding Singer option and two other completely horrible songs. I found out later he picked the other two songs intentionally so that I would feel like I made the final decision, but would agree to Adam Sandler at our wedding. No regrets!"
—Madeline Sargent Warneke
7.
"Steppin' Out" - Kaskade
"To this day when I hear that song I remember our first dance as a married couple. It's been almost nine years and that still makes me incredibly happy whenever it comes on."
8.
"Brighter Than Sunshine" - Aqualung
"No one had really ever heard the song but we had lots of complements on the song after the wedding. I heard it on Ben Folds Spotify radio a year before my wife and I were even engaged and decided that was definitely the song I wanted our first dance song to be. Luckily she agreed :)."
—Emily Coutts
9.
"Wonderful Tonight" - Eric Clapton
"It was me and my fiancé's first dance song for my homecoming when I was 16, and will be our first dance at our wedding in two weeks!!! I am 28 now."
10.
"Singin' in the Rain" - Gene Kelly
"Our wedding was the other week while Hurricane Joaquin was lurking off the coast, so we entered our reception to 'Singin' in the Rain.'"
—Evan Carlson
11.
"Faithfully" - Journey
"My husband and I had a long distance relationship for two years before we moved in together. We didn't have a big wedding with a dance floor. We did, however, have our honeymoon at a cabin. When we got there, he picked up his phone and played our song 'Faithfully' by Journey and danced in the little cabin. We always remember how hard it was to be apart."
12.
"Whenever You Call" - Mariah Carey and Brian McKnight
"I wanted something that was a love song for both people, not one person 'singing', expressing themselves to the other. Mariah has always been one of my favorite singers, so it made it extra sweet."
-Kristin Whiston
13.
"I've Got The World On A String" - Frank Sinatra
"A song about being happily, completely in love. Perfect for the occasion."
—Jenny Porter Wilson
14.
"This Must Be The Place (Naive Melody)" - Talking Heads
"We have wildly different tastes in music. When we first started dating I told him the song made me think of him, he listened to it for the first time and liked it. We got engaged a few months later."
15.
"Better Man" - James Morrison
"When it got to the 'better man' part I sung 'better woman' to him! It's an amazing song ... just thinking about it brings tears to my eyes!"
—Babette Gowda
16.
"Tell Me" - SOJA
"My husband picked our song. We dated in the past, and he says he always knew we were meant to be each other's forever… and this was the song that kept his dream of us in his heart. He was right!"
17.
"I'm So Glad" - Royal Wood
"Very different song. We came across it on YouTube, and when we danced to it together, we knew it was our wedding song."
—Grace Richter
18.
"Danny's Song" - Loggins and Messina
"It's way before our time, but my husband and I were both raised on the oldies. The chorus references not having money, but still being so in love with one another, and that couldn't be more true for our relationship. We were both in school throughout our 4 years of dating, and sometimes we could only afford to eat cans of tuna for dinner. Those days are over now but we're still in love!"
—Ashley Stoddard Loftus
19.
"So Close" - Enchanted
"My husband and I got married at Disney World and our first dance song was "So Close" from the movie Enchanted. <3"
20.
"When a Man Loves A Woman" - Percy Sledge
"I wanted something rather traditional. We made our entrance to 'SexyBack' by Justin Timberlake, however."
—Danielle Rose
21.
"Because" - The Beatles
"Such a romantic song- too bad we didn't do it justice with our sick middle school slow dance moves."
—Kay Koskela
22.
"Lovesong" - Adele (originally by The Cure)
"Our song has always been "Lovesong". Problem is we differed in opinion on which version is better. Since he's five years younger than me, he prefers the 311 version. I obviously prefer the version by The Cure. We compromised and went with Adele's version for our first dance. It was beautiful."
23.
"Hold On" - Michael Buble
"We now dance to it every year on our anniversary."
—Jillian Nofziger
24.
"I Won't Give Up" - Jason Mraz
"We had been together since high school (at the time we got married, we had been together over 10 years) and we had been through a super nasty breakup and moved to separate cities. This song was really important because it really expresses how we felt- that even though we had a lot of challenges, we didn't want to ever give up."
25.
"Married Life"- Up
"It was the first movie that we ever watched. My husband has this song as his alarm clock now so that he can start off each day with a happy memory."
26.
"By the Way They Dance" cover - originally by Jump, Little Children
"Jump, Little Children's 'By the Way They Dance' sung by our best friends. I bawled the first time I heard it and I was an even bigger mess on our wedding day."
—Marley Hutchinson Davis
27.
"Unforgettable" - Nat King Cole and Natalie Cole
"We both have very different tastes in music so we had a hard time agreeing on a song that seemed right and we knew we wanted something that most people wouldn't think of when they consider a wedding song. My mother-in-law suggested this song and we just knew it was perfect. I still get a goofy smile whenever I hear it."
28.
"Island In the Sun" - Weezer
"We had recently moved to Hawaii from NJ, and it accurately describes our fun, laid-back love."
29.
"Absolute Beginners" - David Bowie
"HUGE Bowie fan here. First dance was 'Absolute Beginners' by David Bowie. My favorite line is "as long as we're together, the rest can go to hell." Nothing else matters. I also walked down the aisle to Bowie's "The Wedding." Also, three years later, our daughter was induced on January 8 (Bowie's birthday) because Bowie. And she may have been named after a Bowie song. Bowie."
30.
"Don't Wanna Miss A Thing" - Aerosmith
"We started with the cheesiest song we could think of, 'Don't Wanna Miss A Thing' by Aerosmith, and then had the DJ scratch the record 45 seconds into it to switch to 'Never Gonna Give You Up'. It was hilarious and fun all at the same time."
-Tonya Duncan
31.
"Time Of My Life" - Bill Medley and Jennifer Warnes
"My wife's favorite movie is Dirty Dancing, so naturally she wanted to do the final dance, lift and all. At first I was hesitant and suggested something more classic like Frank Sinatra or Dean Martin. Slowly I came around to the idea. But we still told everyone we were going to be dancing to Sinatra.
Needless to say everyone freaked out when we busted out the moves, lift and all. People still talk about it to this day when we go back to her home town. (We have been married over three years now.)"