Nick Clegg And Vince Cable Went To The Pub And It Was A Bit Awkward
The two Lib Dems popped out for a pint to sort things out. Unfortunately half the press were locked out.
by
,
Nick Clegg and Vince Cable decided to settle their differences over a morning pint, to trumpet the Liberal Democrat victory in fighting for greater protections for pub landlords. It was a bit odd.
Instead the British press were reduced to sticking their noses up against the window to try and get sight of the men who were inside for a press event. As a result we are able to bring you this photo. They're definitely in there. Anyway, time to have some sympathy with Nick. We've all had that moment where the bloke in the pub just won't shut up and there's twenty journalists pressed up against the window being snarky outside. And you just go: well, what's this all about? I mean, really? The pupil premium, all those policy papers and this is it? Why bother? Suddenly Clegg and Cable vanish into the pub interior. The journalists are outside. It's still raining. And we've lost the news. Vince Cable's advisers turn up separately but the guestlist is so tight that even they can't get in at first.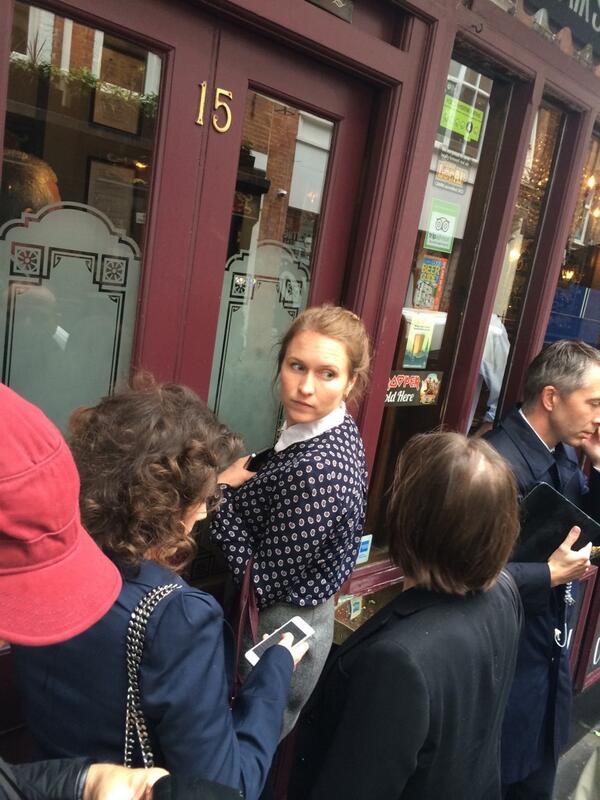 Inevitably, because the internet's like that, people on Twitter are now making jokes about potential Lib Dem pub names.
Then a man arrived with crate of basic supplies, sparking further rumours that Clegg and Cable are holing up inside for the foreseeable future. These builders walked around to have a look. One rudely declared "Nick Clegg, he's not even on the map any more" while another did a half-hearted UKIP chant. All of this was going on while the theatre next door pumped out the works out of Frankie Valli and the Four Seasons, from the "PHENOMENAL" Jersey Boys musical. Suddenly a rumour spreads that the Deputy Prime Minister and Business Secretary are about to be bundled out of a secret back entrance, so everyone legs it to the next street over. Then, just yards from where a giant Octopus had blocked the road an hour before, the event spills over onto Regent's Street as Clegg and Cable search for the last BMW out of central London.
And that, ladies and gentlemen, is how you launch a Liberal Democrat policy that will enable pub landlords to go to a tribunal if they feel they're getting a tough time from large companies who are glorified property developers charging unfair rents and forcing individual tenants to buy all beer and supplies at above-market rates, therefore undermining the community cohesion of the Great British Pub.
Not that we got to ask either of the politicians about that.
Cheers!