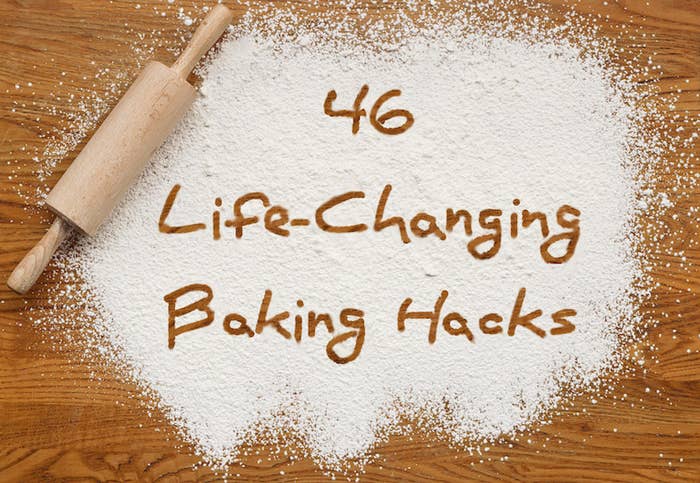 1.
To get the eggshell out of a bowl, wet your finger and place it next to the shell. 2.
Take your boxed cake to the next level by using butter instead of vegetable oil.
3.
Use a syringe filled with frosting to expertly decorate cookies and cakes. 4.
To keep cookies moist, store them with an apple wedge. 5.
Make this DIY cake-release mix and your cakes will never stick to the pan again. 6.
Don't have any frosting? Just sprinkle some powdered sugar through lace for this amazing design. 7.
Make your cupcake frosting SWIRL by using two bags in one tip. 8.
Follow this chart to make literally any color of frosting. 9.
If you don't have food coloring, you can use Jell-O to color frosting. 10.
If your brown sugar is brick hard, microwave it in a baking dish covered with a wet paper towel for 20 seconds. 11.
Keep your brown sugar soft from now on by storing it with a slice of bread. 12.
Don't have brown sugar? You can make your own with white sugar and molasses! 13.
Make your own gluten-free flour with oats. 14.
You can swap avocado for butter in cakes to make them (a little) healthier. 15.
Use a box grater to save your burnt cookies or muffins.
16.
You can use a wine bottle as a rolling pin. 17.
Make DIY sprinkles with just a few ingredients. 18.
Out of a crucial ingredient? Follow this chart for substitutions. 19.
Make a tart without a tart pan by using aluminum foil. 20.
Ripen your bananas quickly by putting them in the oven for 40 minutes at 300ºF. 21.
Make amazing frosting by just putting a large marshmallow on your cupcakes for the last five minutes of baking. 23.
Easily make whipped cream without a stand mixer by shaking it in a Mason jar. 24.
Keep your cake super moist by placing a slice of bread on top until you're ready to frost it. 25.
To get the perfect texture for cakes and cookies, drop it like it's hot. 26.
Learn from your cake mistakes with this handy chart. 27.
Bake cupcakes without a muffin tin by using aluminum liners or placing the cupcakes in Mason jar lids.
28.
You can also make your own cupcake liners using parchment paper. 29.
Use a toothpick and small dots to *flawlessly* write on cakes. 30.
Never splatter your cake batter again with this paper plate hack. 32.
Get perfectly even cupcakes every time by using an ice cream scoop sprayed with cooking spray. 33.
Use this chart to see exactly how much cake you need for a party. 34.
Make your own sanding sugar sprinkles with just food coloring, regular sugar, and a rolling pin. 35.
This Ultimate Cookie Guide shows you how to get your favorite kind of cookie. 36.
Get perfectly even cake layers every time by tying wet fabric strips around the outside of the pan. 39.
Spray your nonstick cooking spray over your open dishwasher to avoid getting it all over the counter. 40.
Put coarse sea salt on top of your chocolate chip cookies to take them to the next-level.
41.
Fill up your frosting bag easier by folding it over a cup. 42.
You can make a delicious fudgy cake with just chocolate cake mix and a can of Coke! 43.
You can also make bread with melted ice cream and flour. 44.
Freeze cookie dough in ice cube trays for perfectly portioned ready-to-bake snacks. 45.
Bake cookies in a muffin tin to make them soft and uniform. 46.
Or, flip the muffin tin over to make cookie bowls. Want more amazing kitchen hacks? Sign up for the BuzzFeed Food newsletter and you'll get awesome recipes and tips in your inbox twice a week!