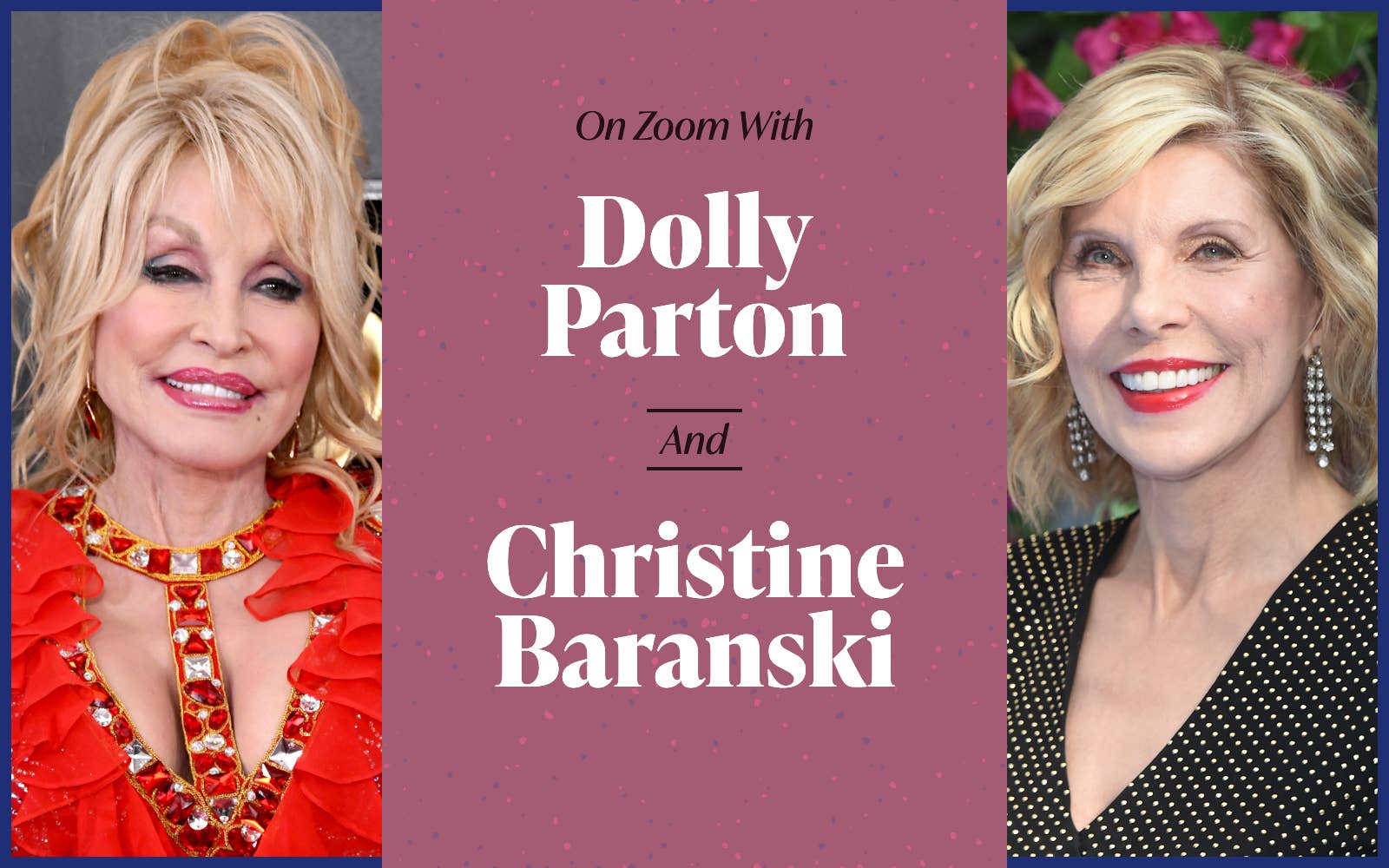 This holiday season, I think we could all use a little more Dolly Parton and Christine Baranski in our lives, which is exactly what we're about to get in Dolly Parton's Christmas on the Square. The movie musical, out Sunday on Netflix, features a festive soundtrack penned by Dolly herself and stars Christine as a Grinch-like character who's about to steal Christmas in her small town — until her guardian angel (played by Dolly) helps her see the error of her ways.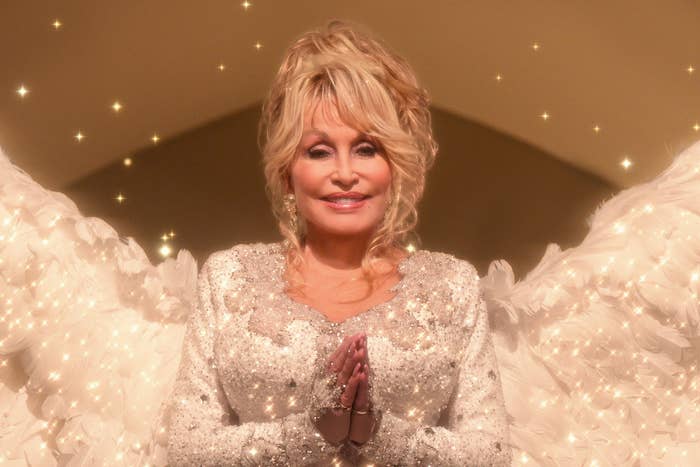 Last month, we hopped on a Zoom call with these two legends and talked about everything from their tight friendship to Dolly's favorite duets ever (including one that genuinely surprised us!) to the possibility of Mamma Mia 3. Here's everything they spilled:

1. What was your first impression of each other?
Dolly: I went over to her table in LA one time during some award show. Ever since the moment I saw her on camera, I just was drawn to her — I just think she is the most incredible actress and comedian ever. And I never go over and bother people, but I thought, I'll never have this chance again. So I walked up to her table and I introduced myself. This was years and years ago. And I said, "I just want you to know that I don't usually do this, but I just think you're absolutely incredible. And I just wanted to tell you that." I didn't see her again until this.
"I had to pinch myself!"
—Christine on meeting Dolly
Christine: Can you imagine what it was like for me, a girl from Buffalo, to have Dolly Parton come up to my table and say she was a fan? I had to pinch myself.
2. What are your favorite memories from filming Christmas on the Square together?
Dolly: I loved being with Christine. We got to be friends. We'd sit around and talk in between takes. One of my favorite times was playing on my bus with Debbie Allen's little grandbaby — I just loved that. To me, it just made it fun all the time. And hanging out with Jenifer Lewis was a hoot. She was entertaining everybody. So I have all kinds of wonderful memories of it.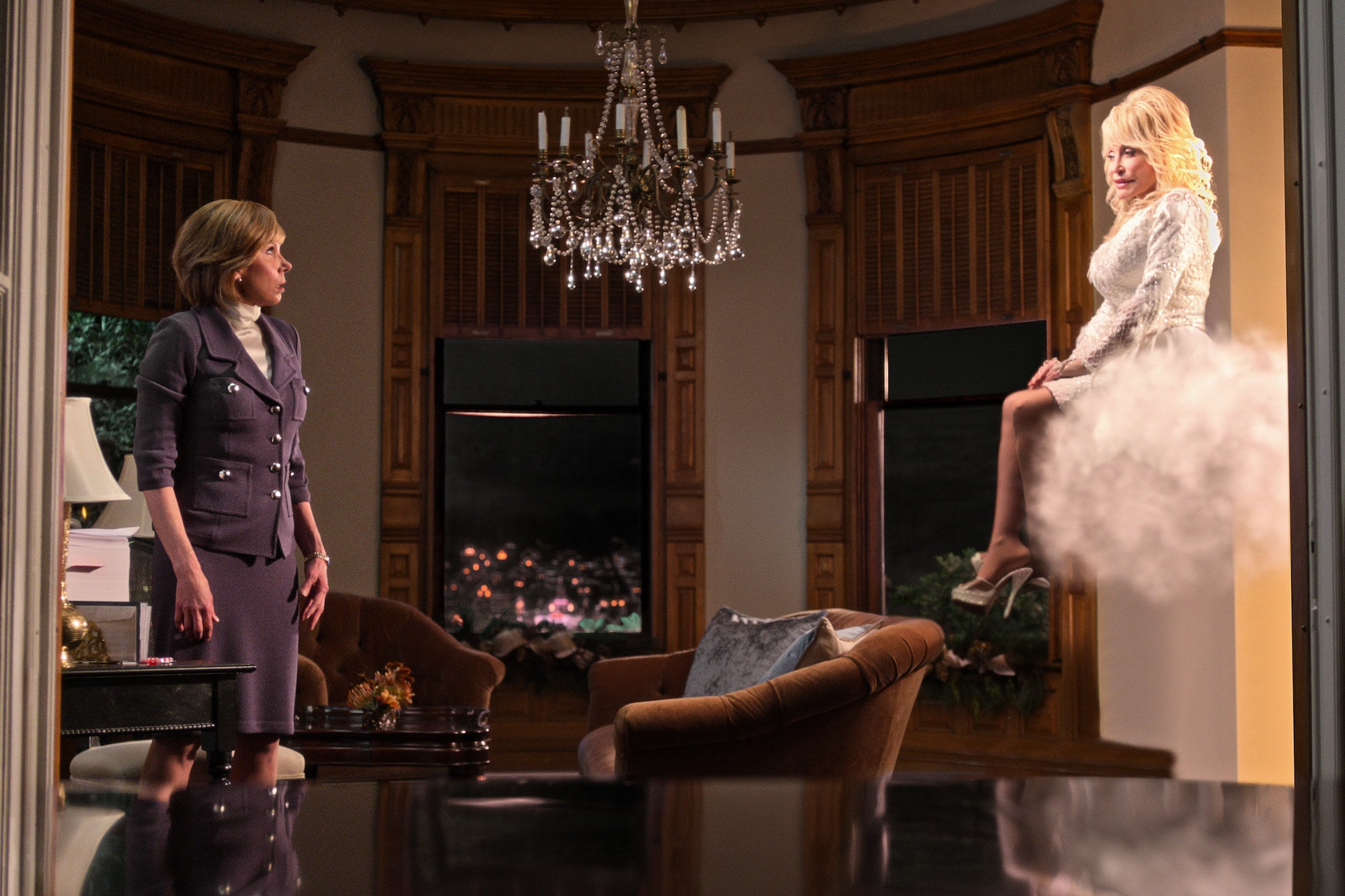 "Dolly and I just got to sit and schmooze and be girlfriends."
Christine: One of the great things about being in a movie musical is it almost always involves young people. There was Debbie Allen choreographing and these beautifully gifted young people, and you just stand there and watch them rehearse, and you get to watch them do take after take and see how consistent they are and how much energy they put up. I love being an observer on a film set as much as anything — my character was an outsider anyway because she was so mean. But I was always looking and admiring other people. And Dolly and I just got to sit and schmooze and be girlfriends — that was just like eating dessert, you know; doesn't get any better than that.
3. What's your favorite song from the movie?
Dolly: I love them all because I wrote them all. I always say my songs are kind of like my kids...but "Christmas on the Square," of course, it's the name of the movie, but it's a real special song. I recorded it on my Christmas album, too, as a bluegrass-country version. But in the movie, it's a really full-blown kind of Broadway style. I like them all. I just hope everybody else will.
"You're going to have to come sing a duet with me." —Dolly to Christine
Christine: I love "Fairytale," which I get to sing with that enchanting little girl, Selah [Kimbro Jones]. I think it's a witty song and actually a very wise song. And I love that it's a duet with a little girl, and she was utterly enchanting. And then I do love "Forgive Me" because it's so crucial to my character, and I think the song is really soulful. I can only hope that Dolly Parton will record it so that we can hear how she would interpret that beautiful song. It's not a Christmas song; it can stand on its own.
Dolly: Yeah, definitely. But I was proud of how you sang it, though. I think you did a good job. Maybe someday I'll sing it, but you're going to have to come sing a duet with me.
Christine: Oh boy, that would be something.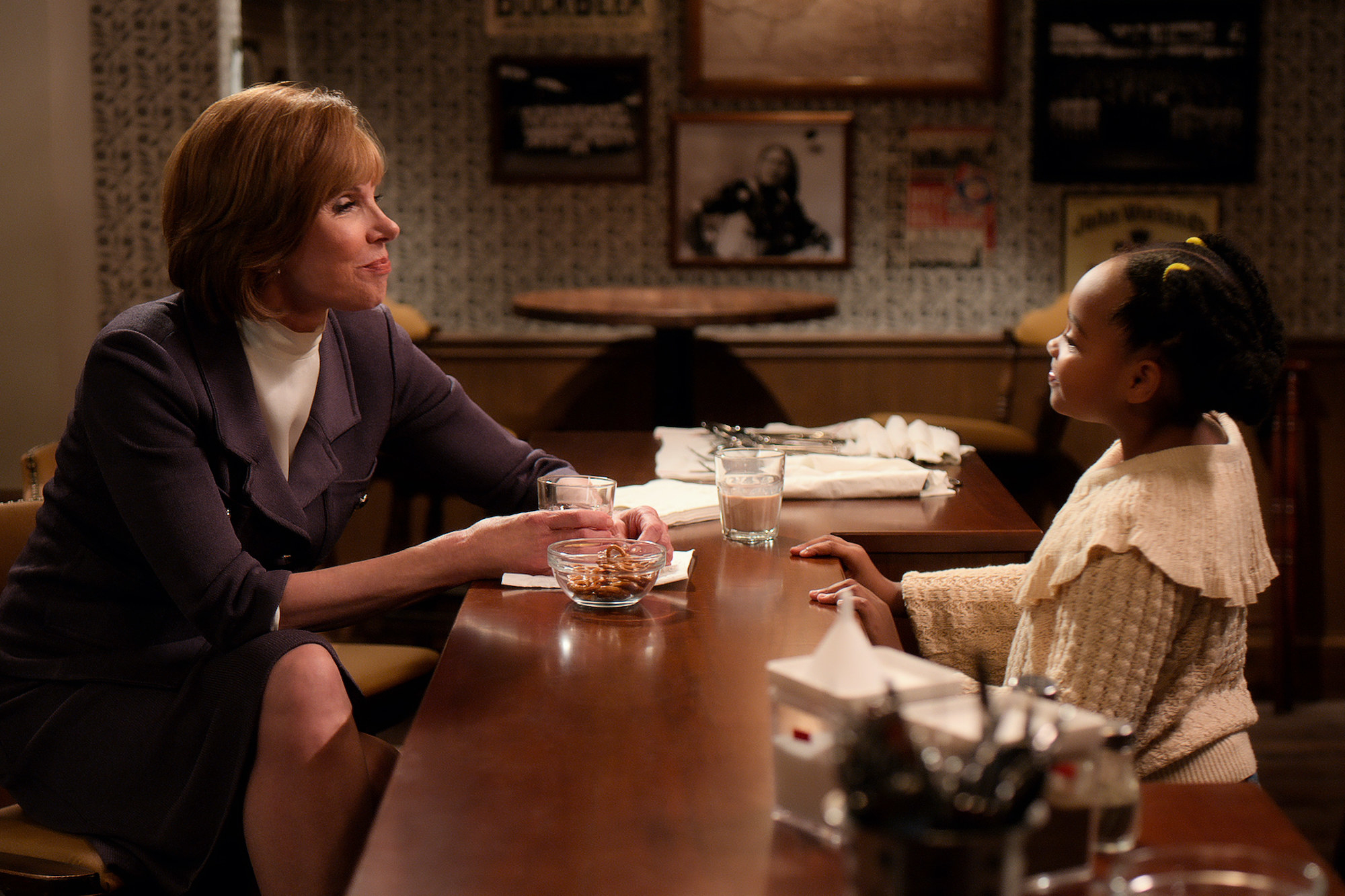 "We better do it fast or we're going to have to do it with walkers."
Christine: I'd love to think we could do it again. We better do it fast or we're going to have to do it with walkers. And I said to Dolly, I hope they do a fourth Dynamo and you can come along, because that is the most fun experience, going on a Greek island and being with all these great performers and singing ABBA songs. It's like, okay, sign me up. You know, I hope it happens.
BuzzFeed: I'd love for Dolly to be in that...
Dolly: Well, you never know!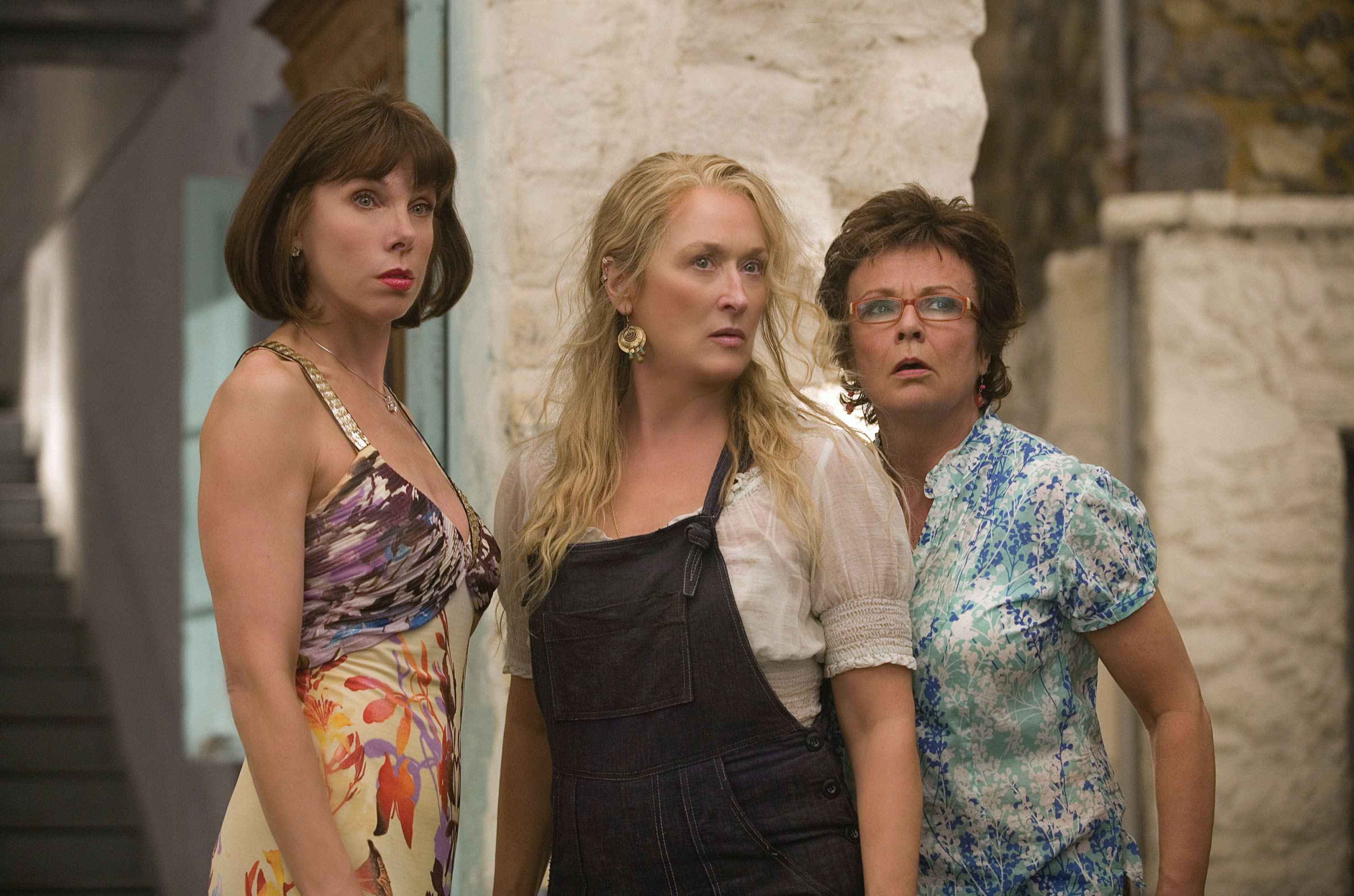 5. Dolly, who is your favorite duet of all time?
Dolly: Well, now, I've been blessed with all kinds of people. I started out with Porter Wagoner, and then Kenny Rogers, of course, you know, is wonderful... [We'll] go down in history as duet partners.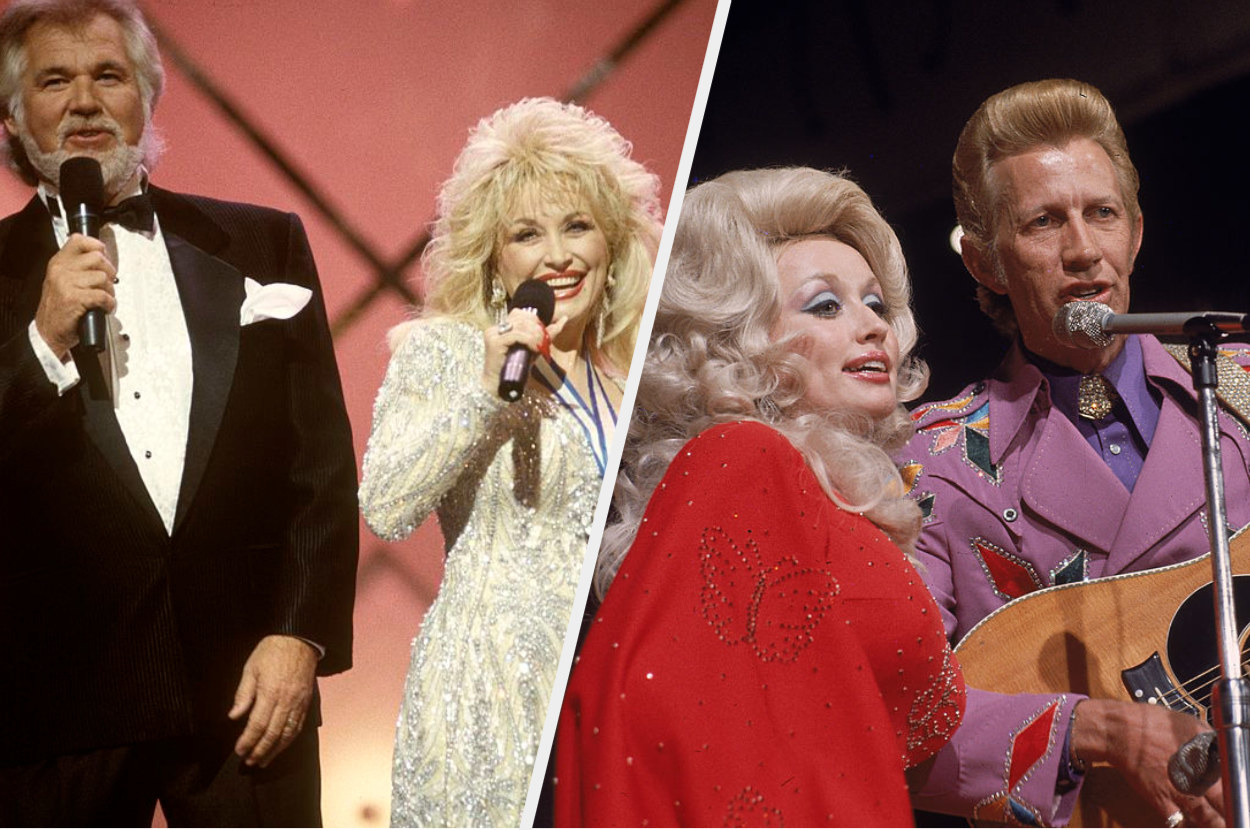 But I just recorded a song with Jimmy Fallon on [my new Christmas album] A Holly Dolly Christmas, and I have to honestly say it's one of the biggest treats in my life because I always watch him singing and I think, He's got a really good voice. And I wondered if he'd ever wanted to sing for real — I called him and asked him if he'd sing on it, and he said, "Oh, I'm not a real singer." I said, "Well, I think you are. Will you sing on it?" And we did Mariah's song "All I Want for Christmas Is You," and I just love it. And then I got to do a cozy, sexy duet with Michael Bublé that I wrote, so I really enjoyed that.

6. Christine, what project of yours do you most like to revisit?
Christine: You know the movie that I'm so happy I was a part of it — and now that he's gone, it's really poignant — is The Birdcage. I still think it's achingly funny. And now when I see that Robin Williams and I had a little song and dance in that movie, it's so meaningful to me that I got to work with him. We just do that little Sondheim thing in my office as a reunion, and whenever I see that movie, I think, What a blessing. You know, you feel there are projects you do where you think, I actually was in a room working with that person. And Robin was certainly that person, and Dolly will now be one of those people where I think, I can't believe that I got to be in the same room working with that person.
Dolly: Thank you.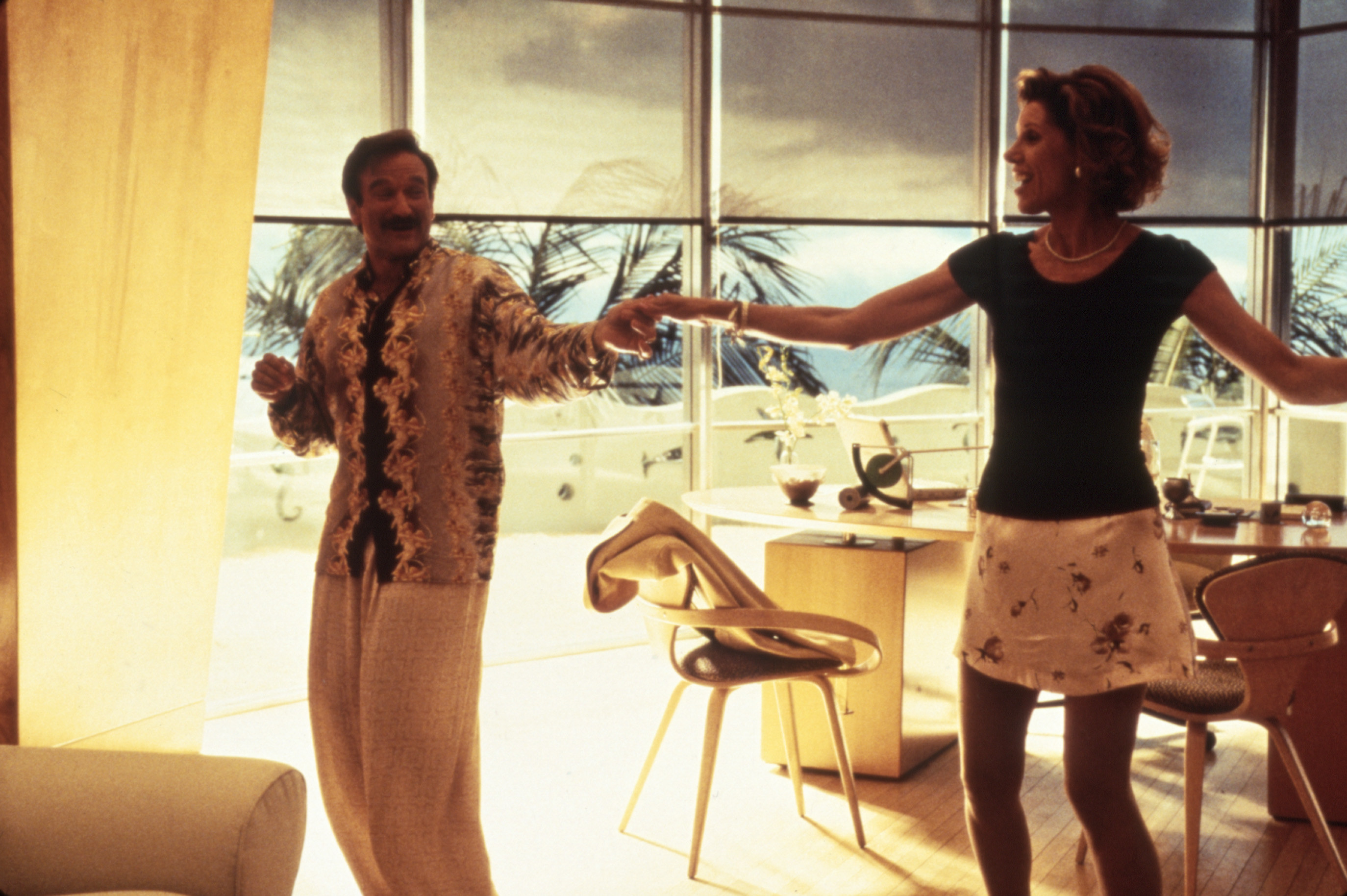 7. What's a Christmas movie that always makes you cry?
Dolly: It's a Wonderful Life. We all love that one. We all laugh and cry now.

Christine: White Christmas always makes me cry.
8. What's your favorite musical?
Dolly: I guess White Christmas, like Christine. I think we both love that one.
Christine: I love South Pacific because I listened to it when I was a little girl and my mom and grandma went off to bingo, and that was the album that my grandma had. So I know every lyric, every last part — I sang and danced to it all.
9. What's your biggest pet peeve?
Dolly: People being late.
Christine: People staring at their phones when they're walking down the street, being oblivious of other humans they might run into.
10. What's your drink of choice?
Dolly: Buttermilk.
Christine: Rosé.
11. What's on your bucket list?
Dolly: I guess a simple bucket list, ever since Christine and I met — and we're not just saying this — but we really, really hit it off as friends, and I keep wanting to go to her lake house and hang out with her, or for us to get a room in New York and [go to] a fine restaurant or order room service. Just hang out and drink some of that buttermilk and wine we were talking about.
Christine: Being a girlfriend with Dolly Parton. Yeah, bucket list.
Dolly: It would be fun. Just to chat and talk and do all that.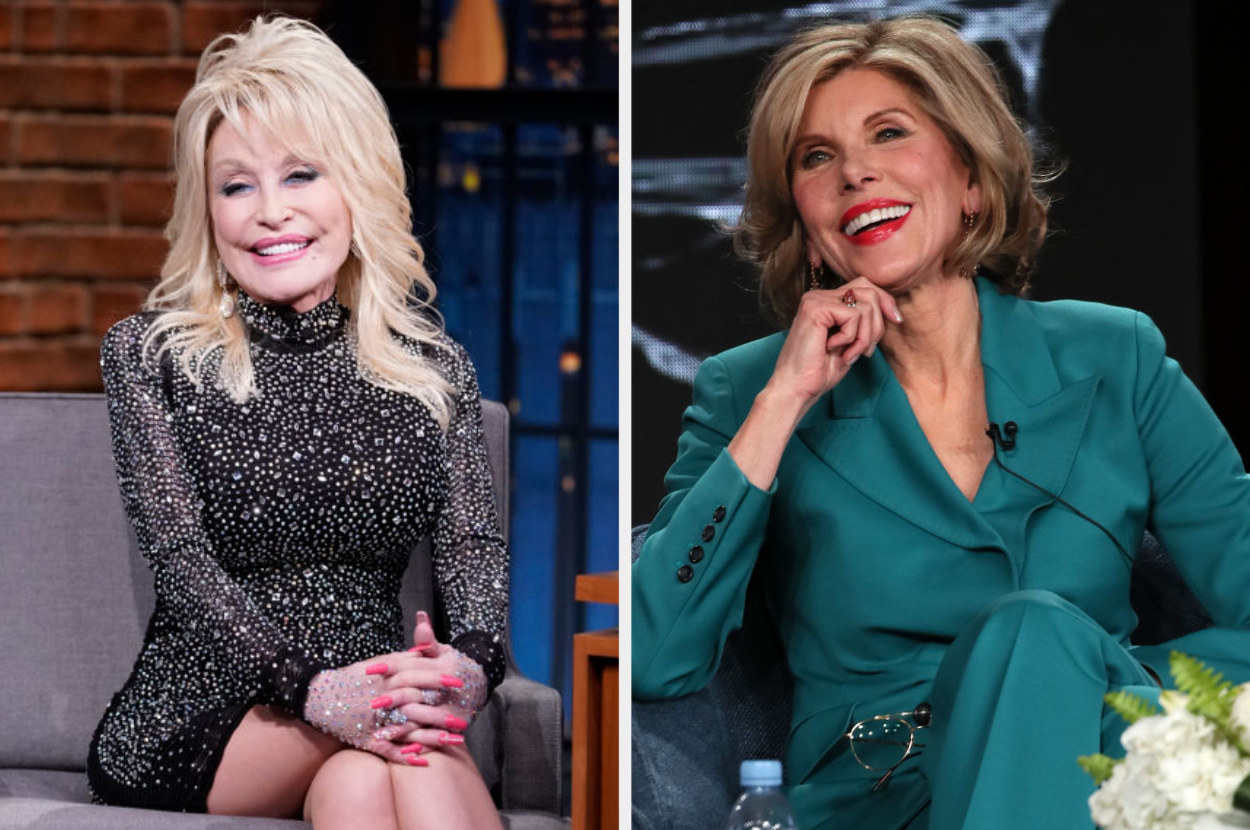 12. Dolly, what's something about Christine that people would be surprised to find out?
Dolly: You know, I was so surprised with how sweet and pretty and, you know, she's so classy and stylish. You know, me, I have no class and no style. I was so amazed that she was so sweet and so personable and down-home. She's class all the way, but I just love that her heart is so good.
Christine: Thank you, Dolly.
"This lady does not have a grumpy bone in her body."
—Christine on Dolly
Dolly: I mean it!
13. Okay, Christine, what about something we'd be surprised to learn about Dolly?
Christine: Dolly does not go anywhere unless she's in high heels and totally done up — I think it's amazing. This lady does not have a grumpy bone in her body. I never see her sweat, I never see her get annoyed. And she's standing in heels! I've walked the walk in high heels, I've spent most of my career in high heels, so I know what that does. And she is so graceful and so beautiful. Always.
Dolly: There was an old lady who lived in her shoes. That was me.
Be sure to check out Dolly and Christine in Dolly Parton's Christmas on the Square, streaming on Netflix on Sunday, Nov. 22.