21 Times Sarah Hyland And Wells Adams Were 100% Me In A Relationship
"I only see a total smoke show."
For a little over a year, Sarah Hyland and Wells Adams have been *an item* — which means they've graced us with some of the cutest PTA (public tweets of affection) I've seen in a long damn time.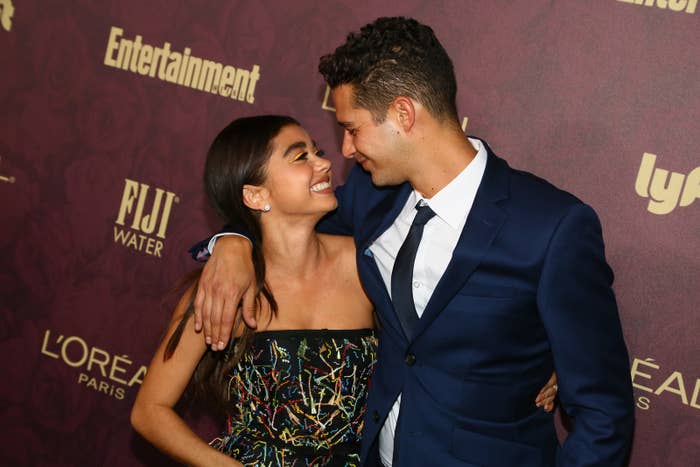 And, not to get all "stars, they're just like us!" about it, but they really do seem like a totally chill and normal couple that I'd be friends with in another life.
Here are some of their greatest hits:
1.
When Sarah had a genius plan to ensure they had quesadillas on the ready...
2.
...but Wells liked Sarah even more than food:
3.
When Sarah and Wells both accurately depicted life in your late 20s and 30s:
4.
When Sarah successfully pulled off a trick I've tried for years:
5.
When Sarah teased Wells' precise M&M count:
6.
When they fully understood the struggle of the week between Christmas and New Year's:
7.
When *the stars* explained a lot about their relationship:
8.
When they came to terms with their new names:
9.
When Wells told the world Sarah's hidden talent:
10.
When Sarah revealed their Sunday plans are basically the same as my Sunday plans every week:
11.
When they got in a FIGHT over binge-watching, because Wells watched Ozark ahead of Sarah (how DARE he!):
12.
When Wells wrote this simple yet incredibly supportive tweet about Sarah's scar:
13.
When Wells revealed they both have really amazing sweater collections:
14.
When they admitted they are extreme people watchers:
15.
When Sarah encouraged Wells' sense of humor with a seal of approval:
16.
When Wells adorably shared that Modern Family still gets him every damn time:
18.
When Wells confessed the BIGGEST point of conflict in their relationship:
19.
When Sarah revealed the key to her shart...I mean, heart:
20.
When both of their credit cards were getting a little too much action:
21.
And, of course, this relic from the past which is just too cute to look at in retrospect: