Australians are obsessed with the Melbourne Cup, which, despite protests around animal cruelty, gambling addiction and the shifting paradigm of celebrity from TV stars to Instagram influencers, is still the most exclusive four-day bender Down Under. BuzzFeed went to see what all the fuss is about.
"I'm sorry to interrupt, but Julie Bishop is here to see you," the publicist waiting in the wings cuts in. Soon after Bumble's Australian boss Michelle Battersby is whisked away inside a heavily branded marquee bursting with swag including sweaters, cookies, phone cases and lollipops, all emblazoned with the dating app's logo.
The former foreign minister, wearing Armani and a black straw boater hat, is the star attraction inside this temporary marquee, transformed into a shrine to female empowerment with every aspect, from the menu to the layout, produced by a woman. It is also, by the smell of things, paying homage to fake tan and espresso martinis.
Bishop quickly becomes engrossed in a conversation with Battersby, who is wearing an oversized black floppy hat by Zimmerman and an elegant black and white Eliya dress with puffy sleeves that sit off her shoulders.
The ladies are joined by socialite twins (and models) Jordan and Zac Stenmark and continue their chat as a saxophonist standing next to the DJ booth blows his instrument mere centimetres away. The twins refuse the small canapés being served by tired-looking waitstaff who dodge and weave through guests who are enjoying too many free drinks and taking selfies sitting on a huge throne, which sits under the slogan: "Bee The CEO".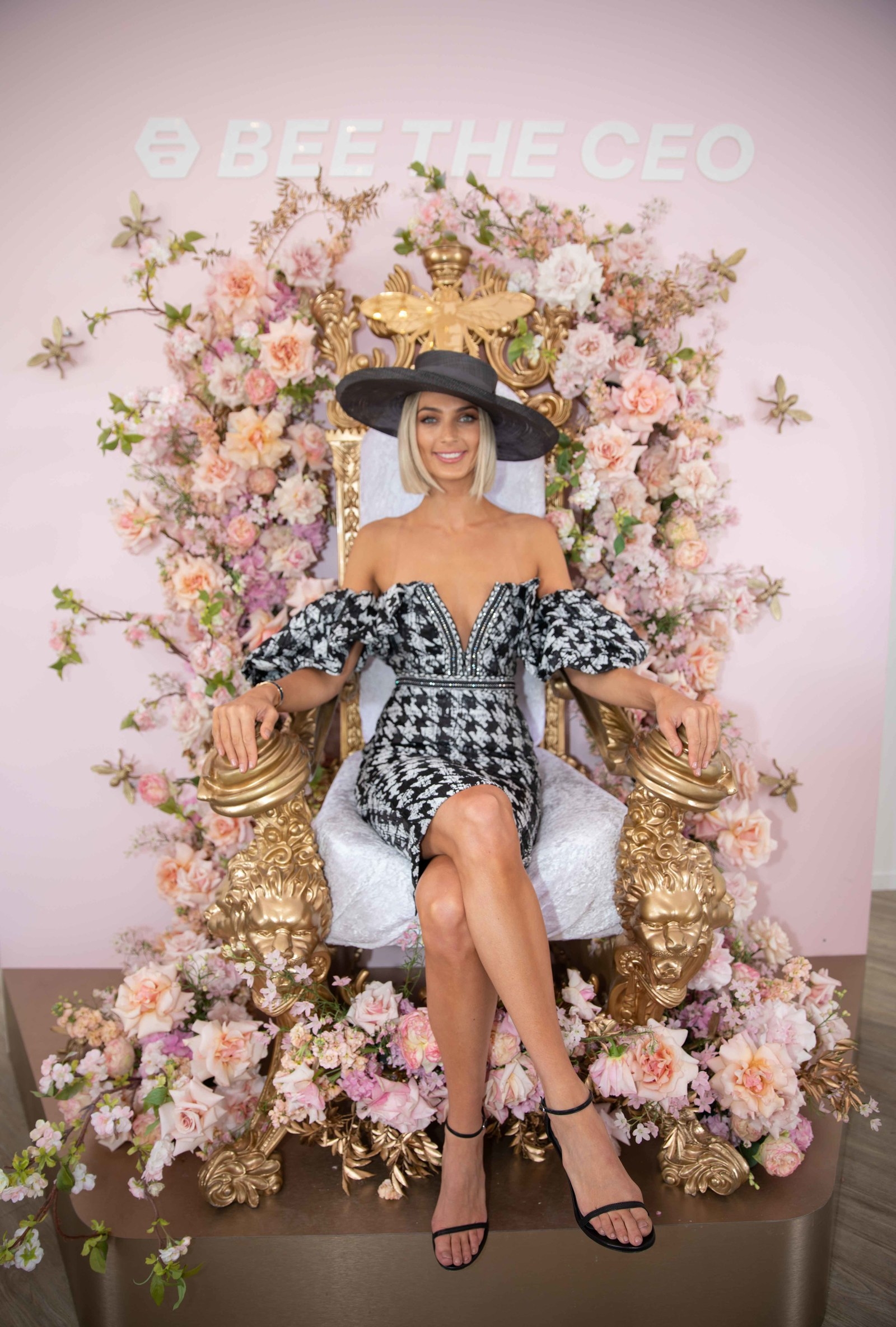 Welcome to Australia's most exclusive party. An event held in a car park on the outskirts of Melbourne's CBD since 1861. It is the annual spring racing carnival, one of the most popular events on the national calendar, and the international thoroughbred horse racing schedule. For four days in November hundreds and thousands of people flock to the Flemington race track to drink, gamble and rub shoulders with some of the most powerful and photogenic people in the world.
The Birdcage is where most of this mingling happens. Historically it was a "barrier" built in 1887 for spectators to view the horses on Derby Day, Melbourne Cup Day, Oaks Day and Stakes Day before they raced. These days, Birdcage attendees don't go to see horses, they go to been seen. It is now a multimillion dollar makeshift municipality where brands such as Bumble, Mumm champagne and Lexus cars are the rulers, thanks to their generous marketing budgets.
As the doyenne of the modern-day iteration of The Birdcage, Melbourne public relations queen Judy Romano (who is no longer involved with the carnival) tells BuzzFeed: "These brands spend a shitload of money. Those marquees cost more than a Toorak mansion. No-one does racing like we do. Australians really go to the races, we dress up, we have fun, we do hospitality better than most."

Outside Bumble's thumping party, Jordan and Zac reach into the pockets of their Armani suits and pull out protein bars to snack on as they make their way to another destination. One where the champagne is free and free flowing.
It's just a short walk to the three-storey monolith luxury car brand Lexus has erected on a piece of real estate called "Millionaires Row", which overlooks the racecourse, and down upon thousands of people barbecuing sausages and sipping on cans of Jim Beam in the public areas. While they wait at a velvet rope guarded by two burly security guards, shock jock Steve Price photobombs a group of women as they pose inside an oversized cage.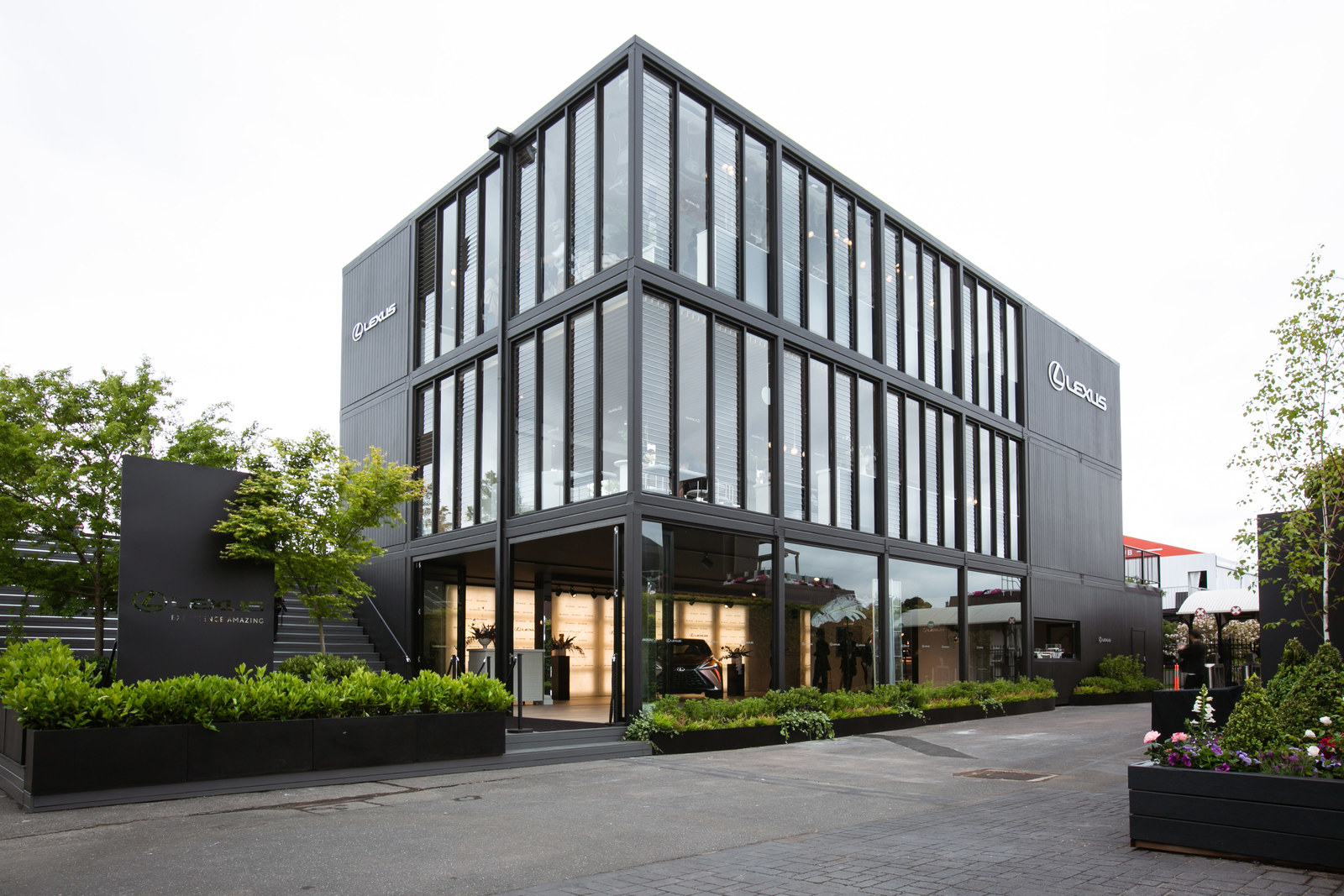 Romano, a Melbourne publicist, helped transform The Birdcage from a tailgate party into a plush playground for the rich, famous and influential when horse racing lover Sheikh Mohammed bin Rashid Al Maktoum showed up in the early 2000s.
The ruler of Dubai had wanted to win the Melbourne Cup — colloquially known as "The race that stops the nation" — for 20 years. He achieved that dream this year with the horse Cross Counter, reared at his stable Godolphin, galloping home to win the 3.2km race.
But for 13-years before that he also bankrolled the evolution of The Birdcage when Emirates airline, the state-owned UAE carrier, became a major sponsor of the Victoria Racing Club.
"The Birdcage used to be ⅛ of the size it is now and it was organised on small budgets and everything was at ground level," Romano says. "The Sheikh was concerned that guests at the time couldn't see the races, so I got together with the other sponsors like Myer and we all decided to elevate the marquees about 1.5m so you could actually see the track."
Romano's innovation of the carnival is the stuff of legend. She did to The Birdcage's architecture what British model Jean Shrimpton did to the dress code in 1965 when she arrived wearing no hat, no gloves, no stockings and a skirt 12cm shorter than regulation.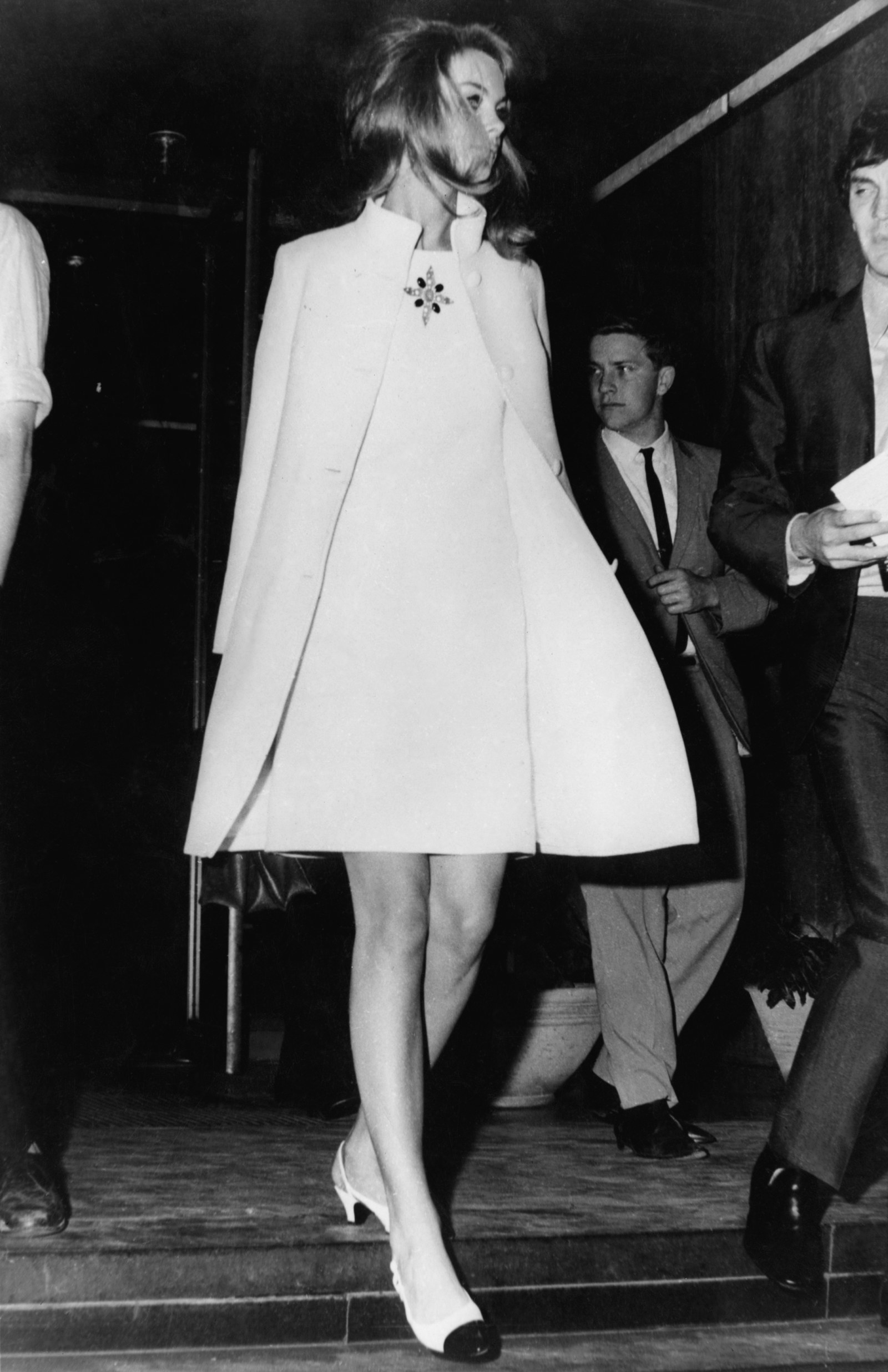 Romano may be best known for her work with the exclusive Emirates marquee, but for years she also managed enclosures and guest lists for L'Oreal, Moët & Chandon and Saab (all of which have since vacated The Birdcage). While marquees went skyward, she says standards have not. Emirates ended it's $5 million a year contract in 2017 and this year was the first time in 27 years Romano has not been involved in the carnival.
"It's all so boring now," she says. "A lot of people are just there to be seen. Truly fabulous people don't. Hell, the most fabulous people I know don't even have Instagram."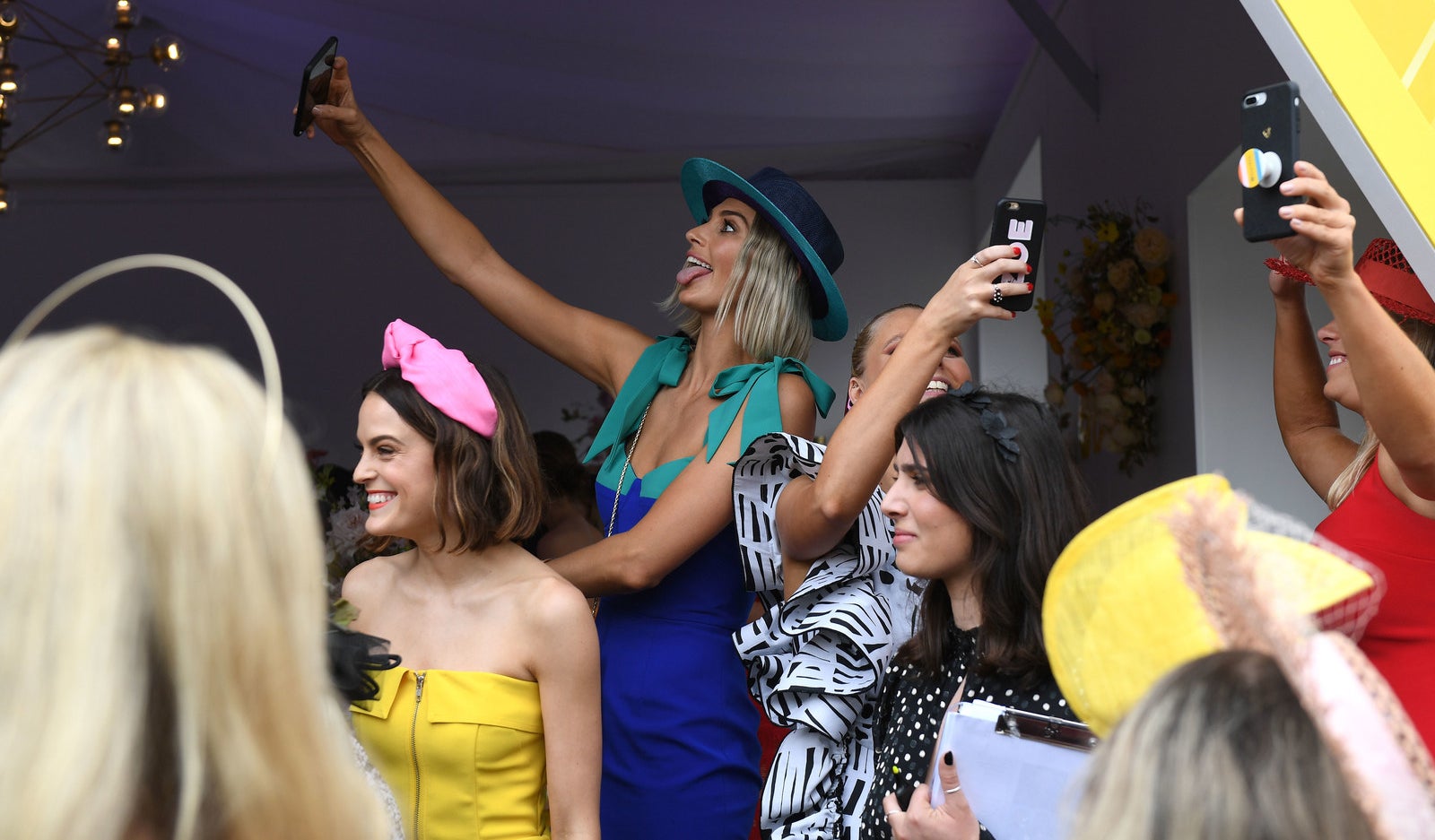 The Birdcage used to be like the Bermuda Triangle, where the worlds of celebrity, politics and media would mysteriously come together, all lubricated from, on average, about 750 bottles of French champagne consumed over four days.
Faux pas are still reported on, such as the time Enrique Iglesias arrived to the 2010 Cup wearing ratty jeans and a baseball cap (men must wear suits and ladies adhere to each specific day's colour palettes, such as black and white for Derby and florals on Oaks Day. Tantrums are still tabloid fodder.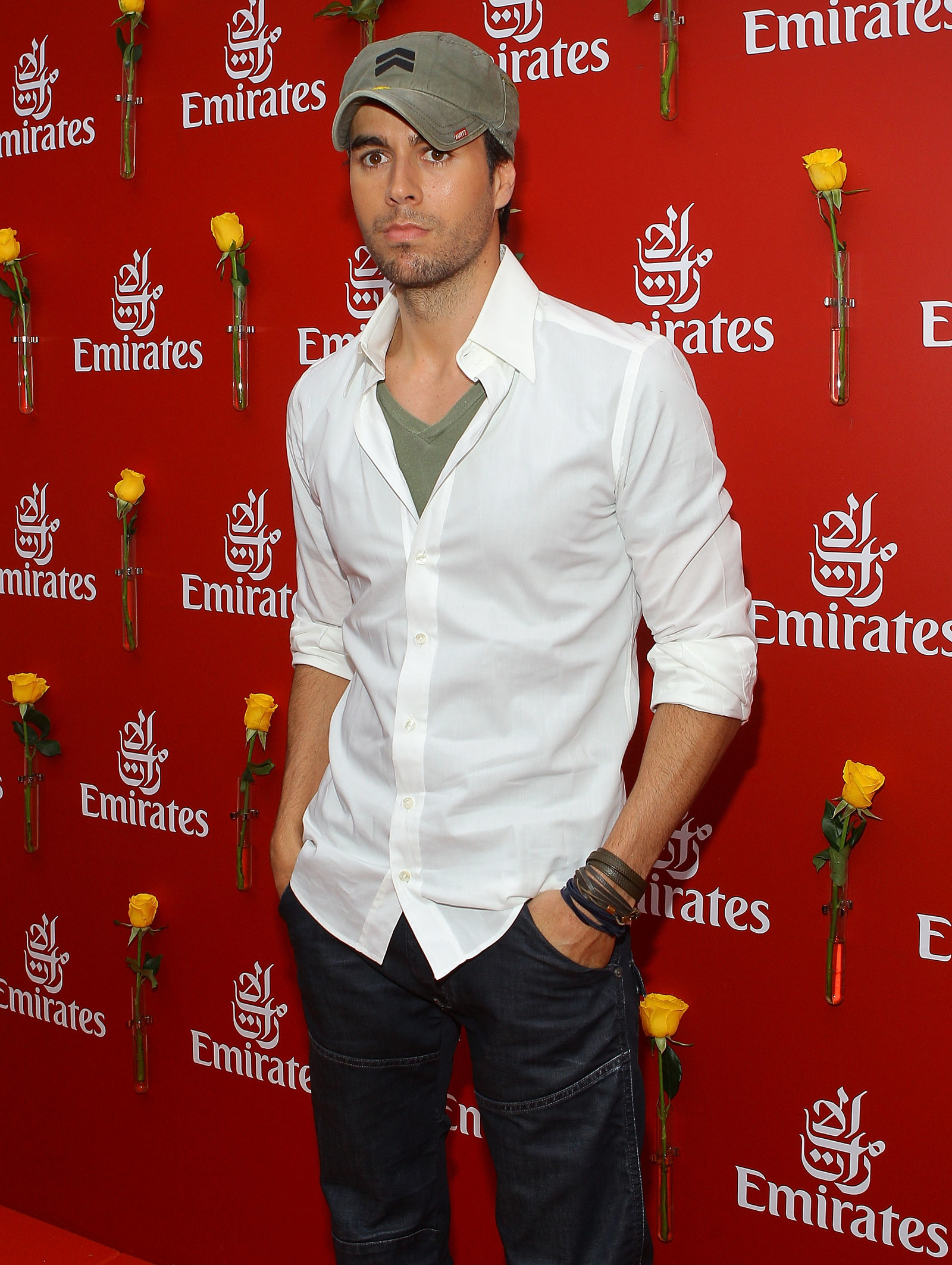 "It used to make me sick the lengths people would go to to get into a marquee," Romano says as she recalls how people used to sneak in through the catering kitchens, or the time Shannon Noll once requested four tickets. "We said we'd only give them to him if he performed, and he did!"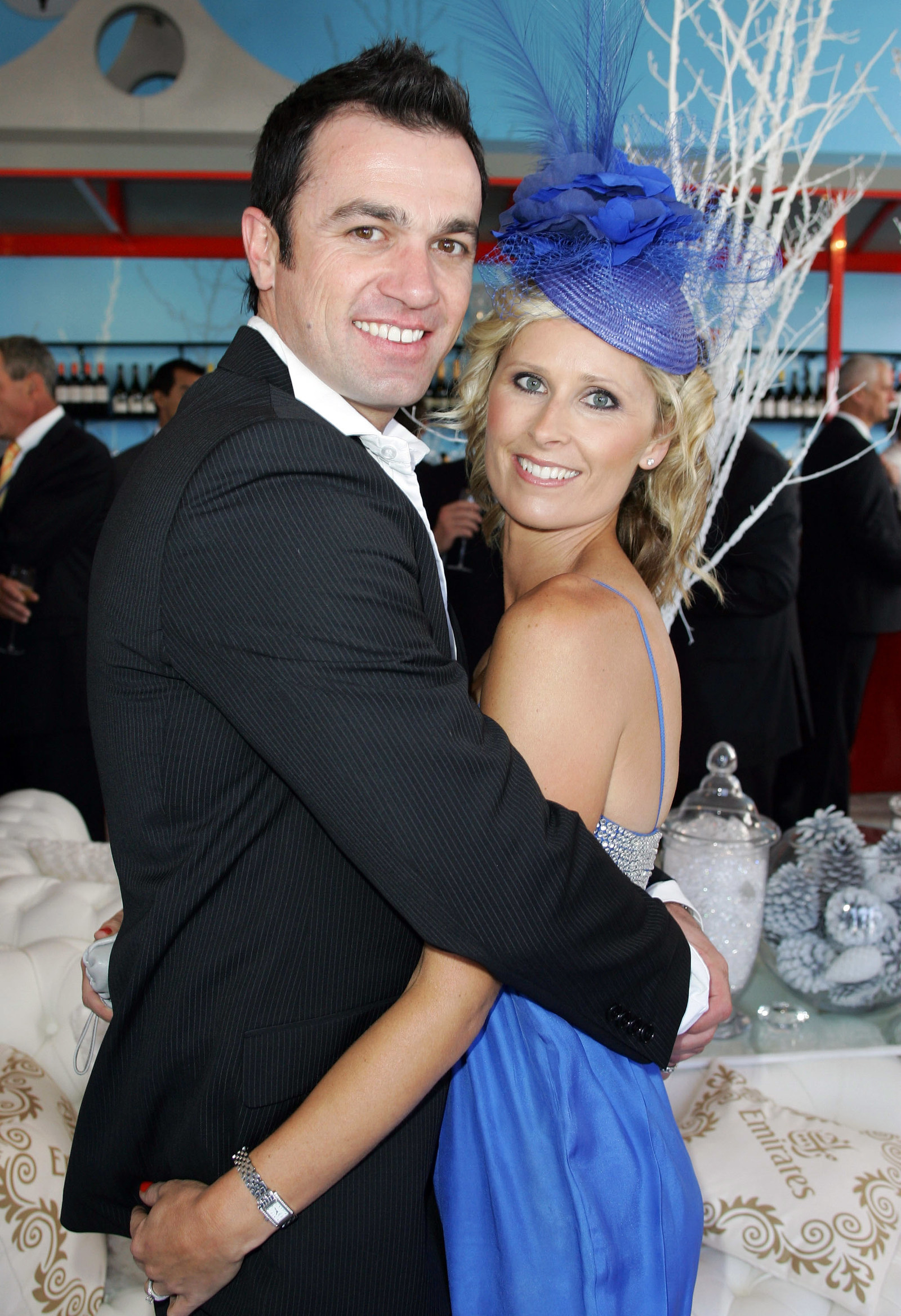 The Birdcage is now, according to most commentators like The Sydney Morning Herald's Andrew Hornery and The Australia Financial Review's Rear Window columnists, capitalism's sideshow alley and the clowns are reality TV stars.
Including Bachelor and Bachelorette alums including Keira Maguire, Lee Elliot and Georgia Love.
And the Instagram famous, like former magazine beauty editor Eleanor Pendleton.

Eileen "Red" Bond agrees, but wouldn't miss it for the world. The ex-wife of late Australian businessman Alan Bond (the bloke who bankrolled the 1983 America's Cup win) is a full VRC member and attends every race day, every year.
Over the four days she held court on level 3 of the Lexus pavilion — a 76-seat restaurant helmed by executive chef Shaun Quade, co-owner of experimental Melbourne diner Lûmé — and downstairs on the balcony, where she enjoyed the Black Ant Lamingtons made from Daintree Rainforest chocolate, coconut and black ants. About 1,200 black ants were used to make those canapes and Bond couldn't get enough: "I prefer them with cream but they were delicious."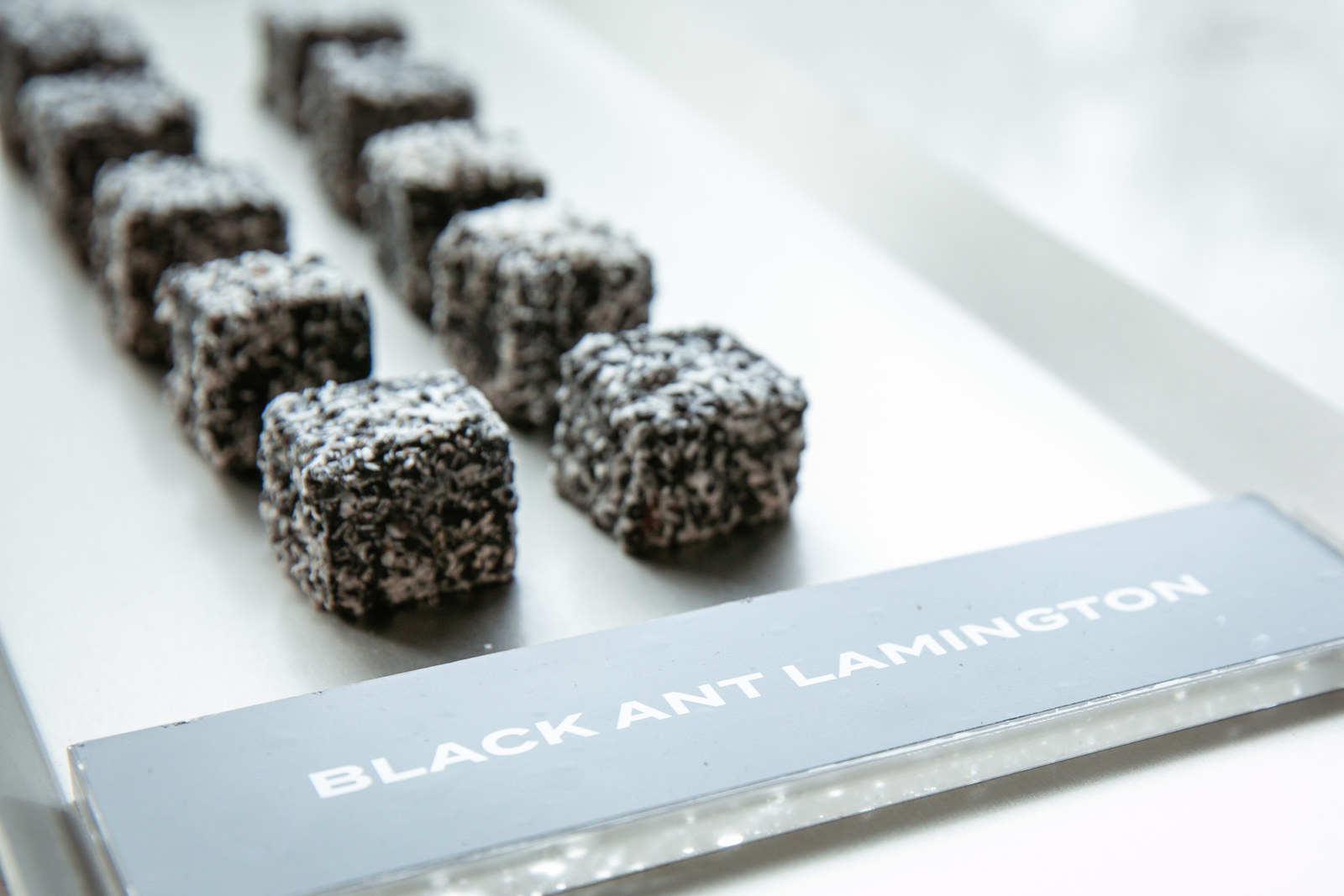 Bond was less enamoured with the fashion. "Some people just don't realise that it's not fancy dress," she says while gesturing toward a fellow guest who is wearing a white mini dress and a shimmery headpiece resembling rabbit ears, and taking a selfie with a lychee cocktail. "You have to be elegant, but not boring. It's hard but so much fun," she adds while pulling on her oversized, diamond-encrusted Gucci sunglasses.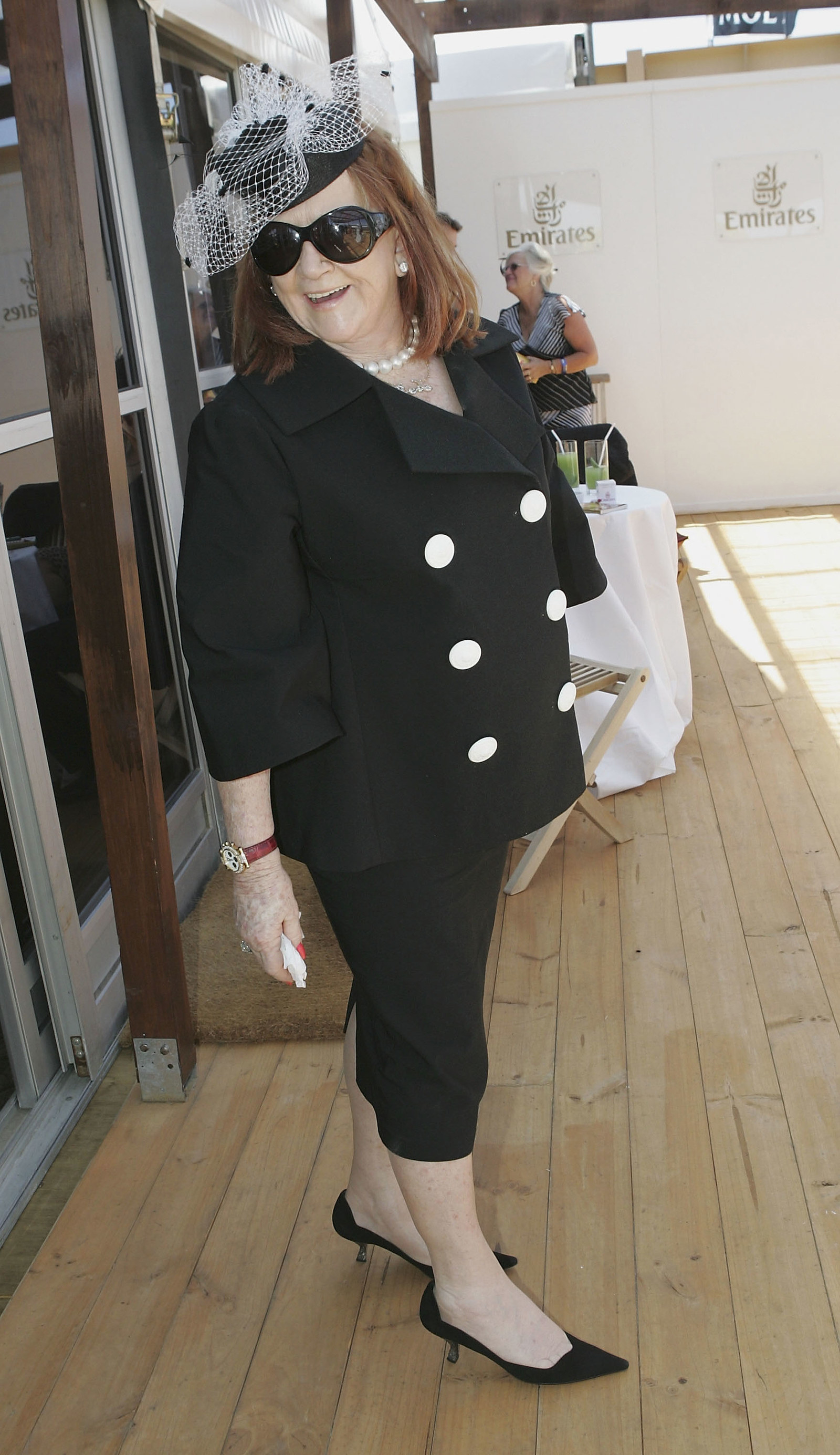 Despite the generation gap between the new and old guards, an invitation to The Birdcage remains Australia's most coveted. "The bragging rights of saying you've been to The Birdcage at the Melbourne Cup will have cachet forever," Romano says.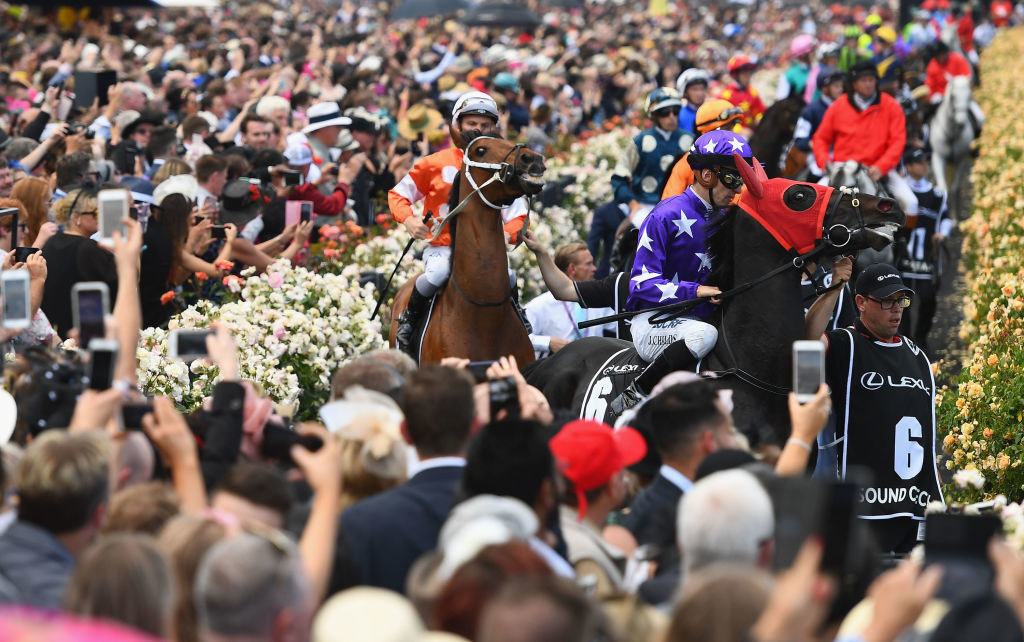 "There used to be a common understanding that everyone is approachable inside and people like Julie Bishop and Gina Rinehart were, and still are, so gracious, as everyone was excited and happy to be there," she adds.
This rapid shift from corporate celebrity enclosure to an ecosystem ruled by Bachelor and Bachelorette stars, bloggers and celebrities such as Elle Macpherson reportedly being paid about $100,000 to show up, could be explained by the damning royal commission into the Australian banking sector, a looming Victorian state election, and the voices of animal activists and gambling addiction advocates getting louder and louder.
For the four race days protestors waving placards of dead horses stood at the Epsom Road gates yelling "Horse racing is murder" while punters, dressed in their finery and hats, filed past politely. Not even flash flooding and sideways rain on Cup day dampened the spirits of the peacocks in The Birdcage, except one who demanded to be carried over the turnstiles for fear of ruining her $1,200 Balenciaga velvet heels.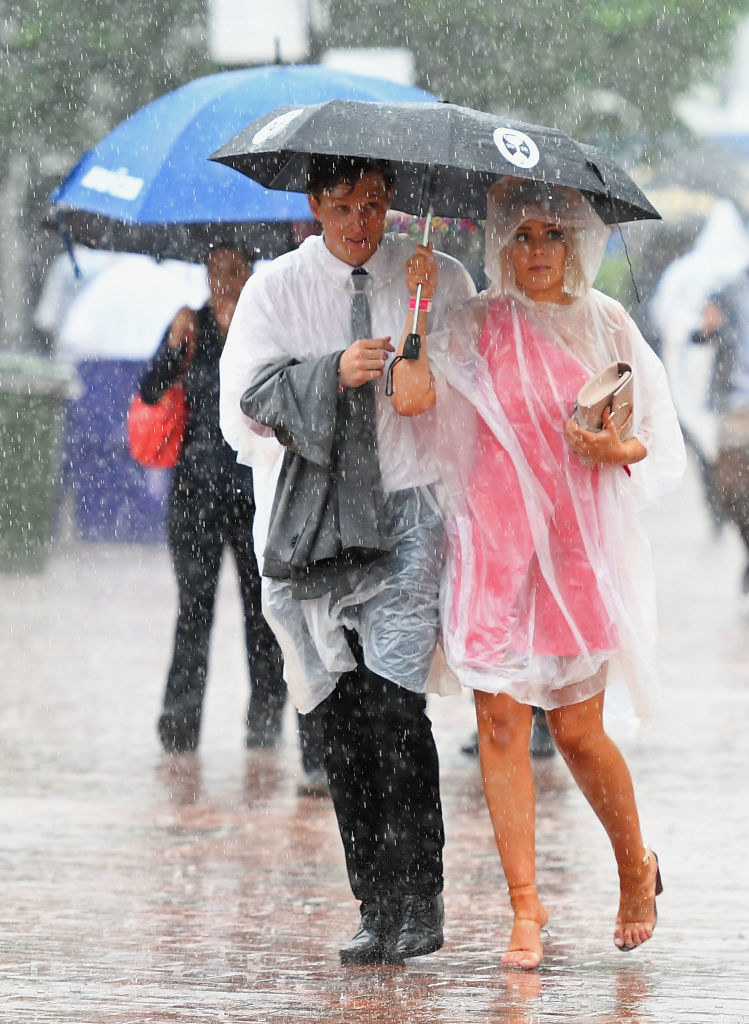 Despite taking a nasty fall down stairs when the strap of her kitten-heeled slingback came loose in 2016, Gina Rinehart fronted up again for Cup day this year. The mining magnate, who is also Australia's richest woman, quaffed champagne as she chatted to Australia's richest person, Anthony Pratt, and 21st Century Fox board member Sir Rod Eddington in the Tabcorp marquee, while Opposition Leader Bill Shorten and actress Rachel Griffiths had a chinwag in the corner.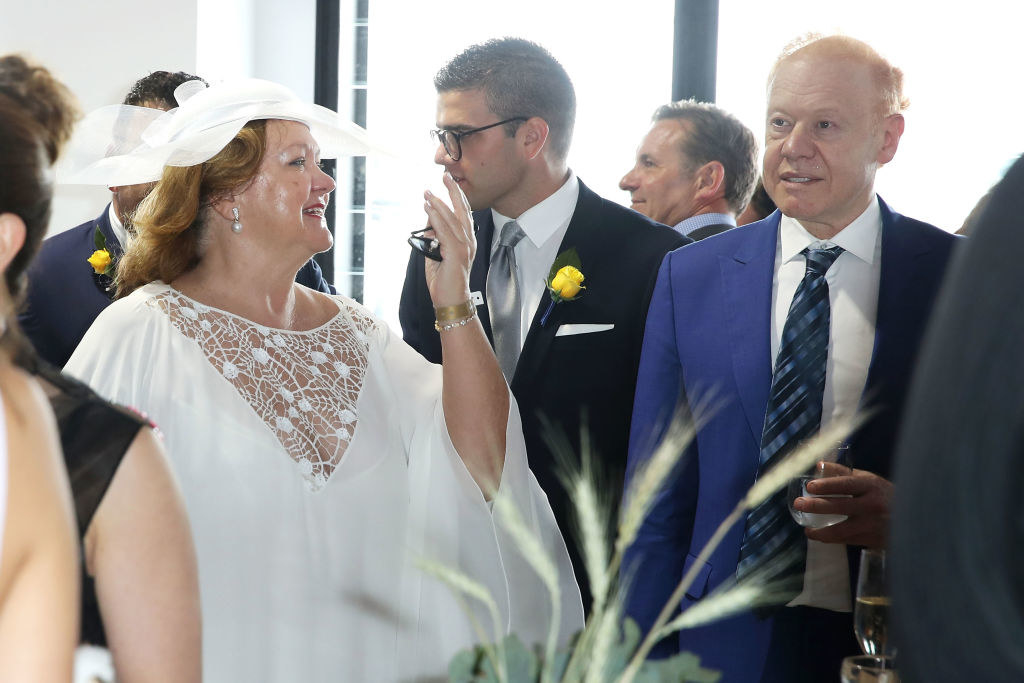 Down the road, inside Mumm's "Space Odyssey", things were more Buzz Aldrin than Bowie. Dynasty star Nathalie Kelley was enjoying a menu of "breakfast gels" and "freeze dried fruit salad" until she needed a fresh blow dry, after a champagne saber stunt went awry and she was soaked by 1.5 litres of bubbles.
Over at Bumble, Bishop was back, "[This is] Melbourne at its best," she said. As was Australian model Lara Worthington, who had been paid to attend.
Battersby buzzed around introducing the VIP guests to the location-based social and dating app app's slightly shell shocked-looking founder, Whitney Wolfe Herd, who came from the US to witness the brand's Birdcage debut.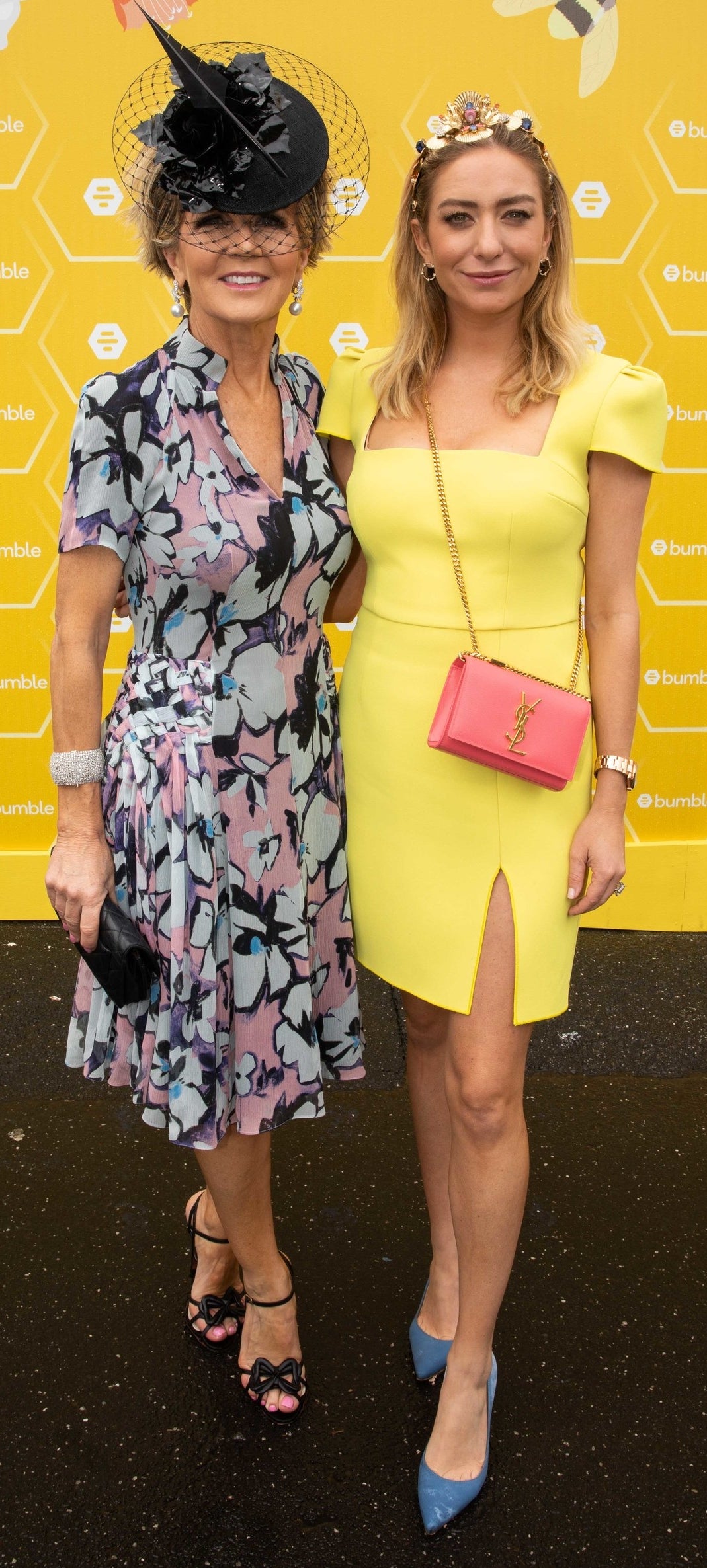 The absence of Emirates and department store Myer this year left the door to The Birdcage open, and just like Shrimpton's short skirt and Romano's tall marquees did all those years ago, these new kids on the block are shaking things up with hustle and hashtags.
"The Birdcage is such a premium experience and we want to position ourselves as a premium brand, so we want to be seen with the big dogs," Battersby says before she's informed by a nervous assistant the marquee is now at capacity. Guests, despite being invited, must now join a queue. Welcome to Australia's most exclusive party.