It opens with a dark and empty throne room.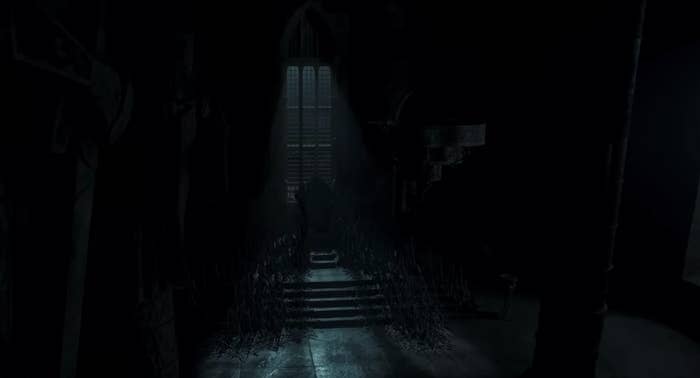 Alicent, Otto, and Criston are in the Small Council chamber as Otto says, "The King is dead."
There's a shot of a Kingsguard member sharpening their sword.
Alicent looks emotional as she tells someone — likely Otto — "He told me he wished for Aegon to be King."
A hooded figure moves through a crowd in King's Landing.
There's a crowd being directed somewhere by Gold Cloaks.
Then, we see Otto standing in front of the Iron Throne with some (but not all) lords bending their knees to him.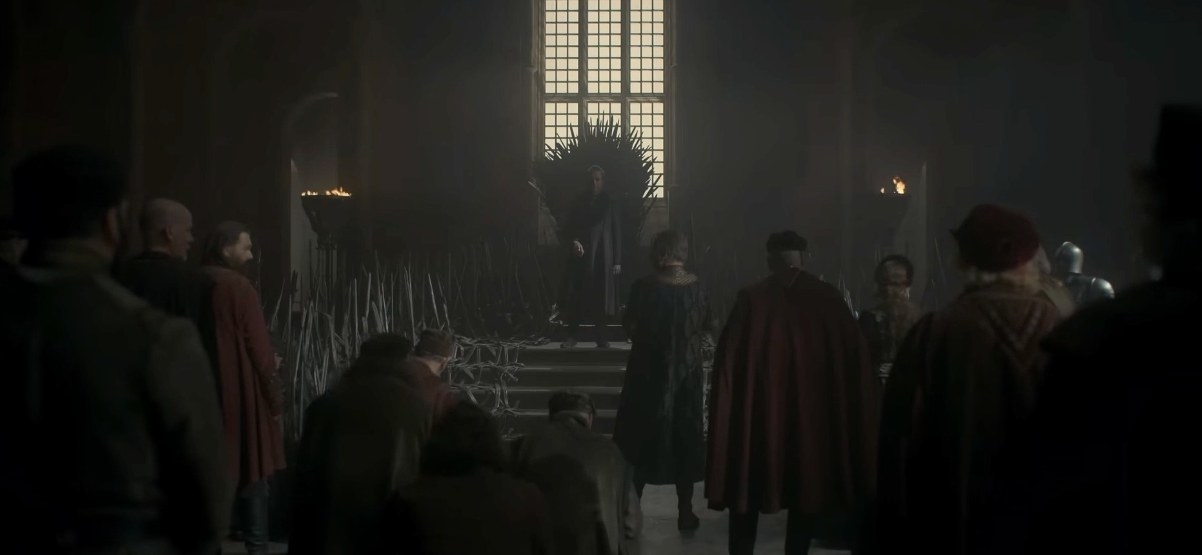 It seems like the factions are forming/solidifying!
There's another shot of Otto, this time saying, "The door remains shut until we finish our business."
Then, we see Aemond staring at someone — this is definitely Aegon, wearing a crown (!).
We get a nice shot of King's Landing.
Then, we see Otto again, this time telling a Kingsguard knight, "None can know who you are or what you seek."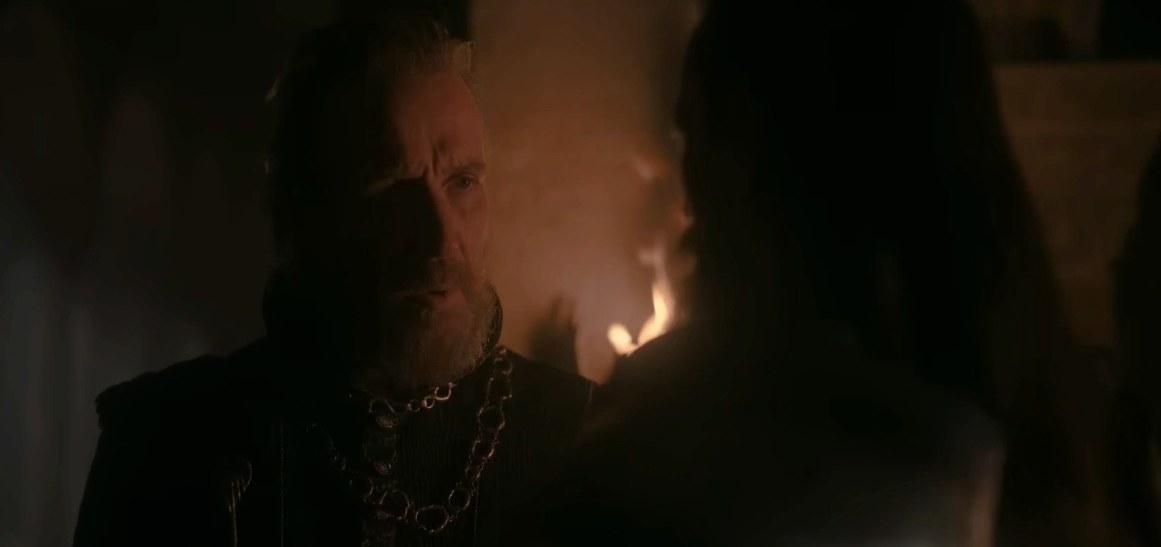 What secret mission is he sending him off on?
Next, we see Rhaenys, who has apparently been locked in her room.
Then, there's this shot of castle guards herding a bunch of servants into the dungeons.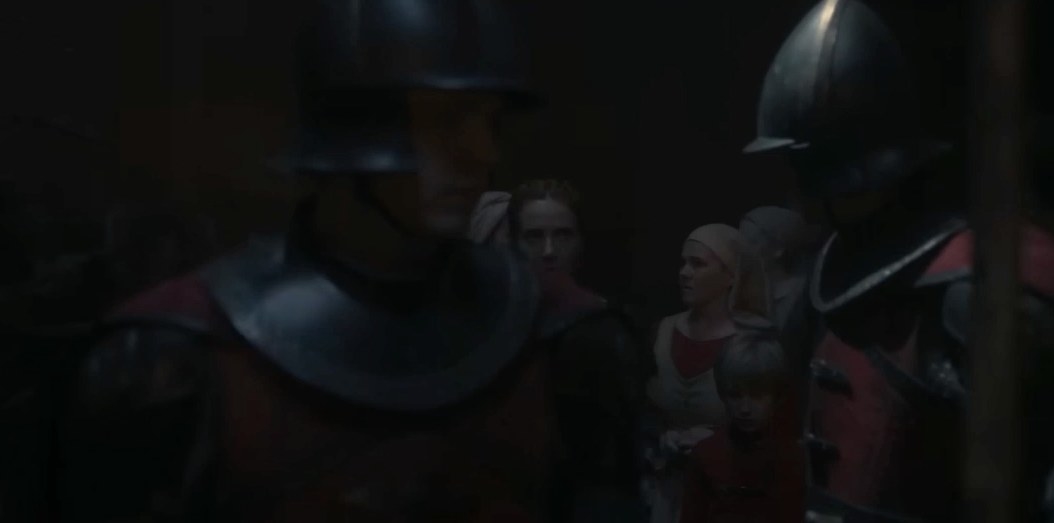 Alicent's servant — who we learned is a spy for Mysaria — is one of those locked up.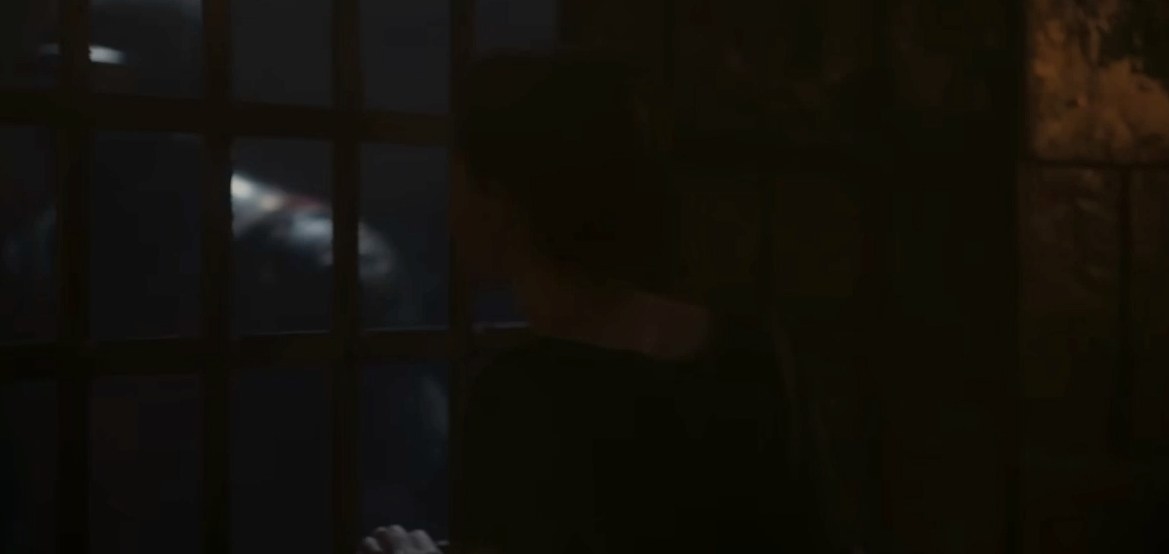 A distressed Alicent says, "What of Rhaenyra?"
A Kingsguard knight and a hooded figure stand in a King's Landing alleyway facing a crowd.
There's this dark shot of someone jumping off something.
We see Larys telling Alicent, "I've found out something you should know."
This is followed by a shot of a Targaryen-blonde child, which seems likely to be Aegon's bastard.
There's this quick shot of two people fighting with their fists in what looks like some kind of boxing match.
A crowd cheers the fighters on.
Aemond stands wearing a hood and — plot twist! — facing another hooded figure.
Criston fights another Kingsguard knight with his sword — he's likely facing off against Ser Harrold Westerling, judging by the grey whiskers on the other guy.
The Kingsguard knight (or his brother? They're twins!) who Otto sent off on a secret mission is also sword-fighting with someone.
We get another shot of an upset Alicent.
And we see Lyman Beesbury saying, "This is seizure! It is treason at the least!"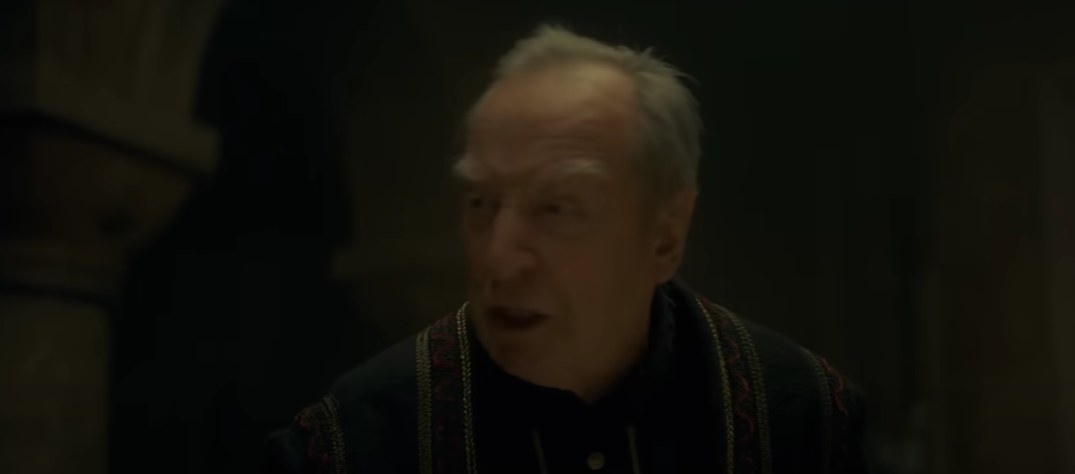 There's a shot of the Gold Cloaks raising their swords.
Here's those Kingsguard twins in their incognito clothes.
We see some castle guards riding around with Targaryen banners.
And these dudes playing their trumpets.
Ser Arryk-or-Erryk chases after a disheveled-looking Aegon.
A huge crowd moves toward the dragon pit.
We get one last shot of a smug-looking Otto.
Before we finally get a good look at the crown that was on Aegon's head. As we know from the opening credits, this is Aegon the Conquerer's crown. Significantly, it's resting on a green cushion. Over this shot, we hear Rhaenys say, "Have you never imagined yourself on the Iron Throne?"