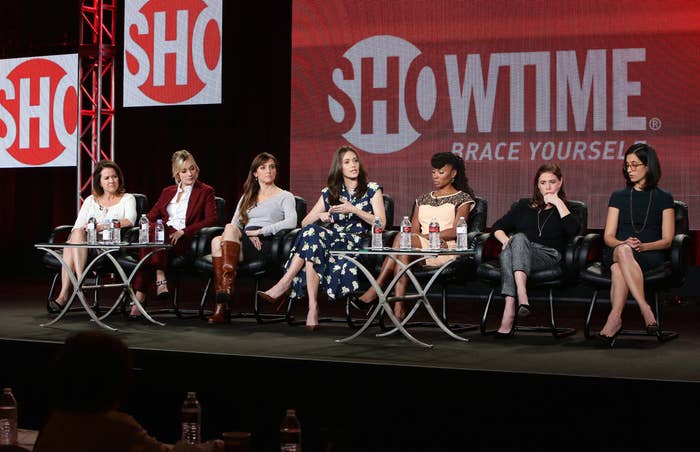 How to Get Away With Murder's Annalise Keating, The Good Wife's Alicia Florrick, and Masters of Sex's Virginia Johnson are among the many women on TV who've been called "strong female characters."
The term — one that tends to be used for the anti-damsel in distress — is rarely referencing a character's physical strength. Instead, it's typically used to characterize a woman on television, in film, or in literature who isn't defined by her male counterparts. And during the Sexuality and Television: A Female Perspective panel at the Television Critics Association winter press tour in Pasadena, California, on Monday, several of the women behind Showtime's most popular series all but called for the expression's eradication.
Though many of the panelists, like The Affair creator Sarah Treem, understood the term's intention — "When I hear 'strong female character,' what it says to me is a character that's taking action and isn't passive or reactive to a male character" — others said it's time to find an alternative.
"This word 'strong,' I find a little tricky," Caitlin Fitzgerald, who plays Libby Masters on Masters of Sex, said. "We have heard 'strong female character' so frequently, and I think the word 'strong' puts me in line with a very specific masculine energy. I appreciate what the sentiment is supposed to be with that phrase ... but all of us are strong in our vulnerability, our nakedness, emotionally or otherwise. And so, I just think we need other kinds of words: 'comprehensive,' 'whole,' 'complete,' 'real.'"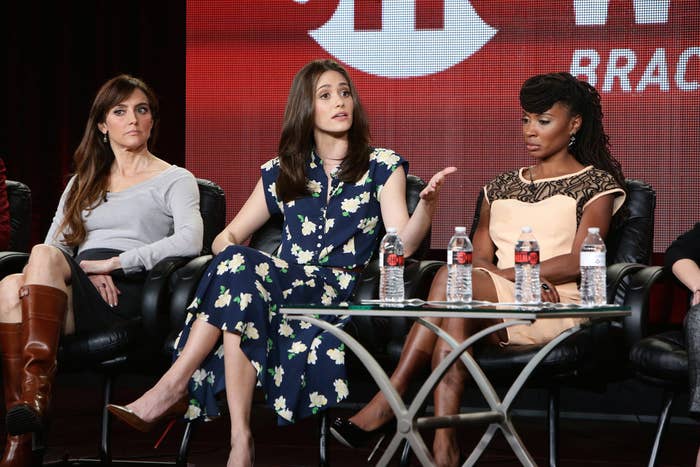 "How about just 'strong character'?" offered Emmy Rossum, who plays Shameless's Fiona Gallagher. "I've never heard anybody say 'strong male character.' Nobody talks about that at all. I guess men have always been No. 1 on the call sheet, but now women are and that's great. So let's not make it a gender thing."
The three writers on the panel all agreed that "strong female character" is a concept that does not enter their writers rooms. "I would venture that most of us don't even think of this in those terms," Masters of Sex executive producer Michelle Ashford said. "We give the same attention to our male characters as we do to our female characters. I think some people come at it from a place of, I'm going to write a strong female character. I'd be shocked if any of us approach it that way."
And, like Rossum, Shameless executive producer Nancy Pimental agreed that creating characters has nothing to do with being male or female. "Our writers room is genderless," she said. "We have to check our penises and our vaginas at the door."