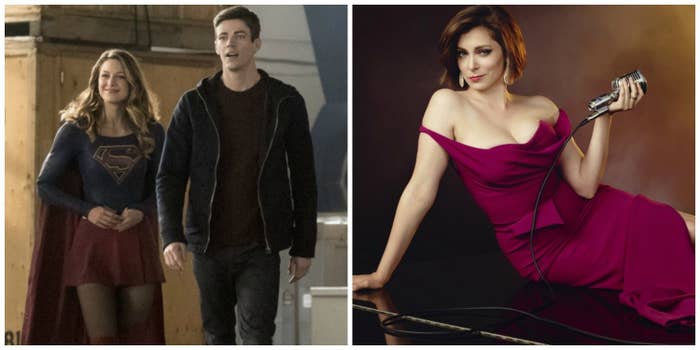 Crazy Ex-Girlfriend star and creator Rachel Bloom has co-written a song for The CW's upcoming musical crossover between The Flash and Supergirl, BuzzFeed News can exclusively reveal.
Bloom told BuzzFeed News in a statement that as soon as she heard the two series were doing a musical crossover, she e-mailed The CW president Mark Pedowitz, who connected her with the shows' executive producers Greg Berlanti and Andrew Kreisberg. "I immediately offered them my services," Bloom wrote. "As soon as they picked one of my song ideas, I hopped on the phone with my old Robot Chicken boss Tom Root and we brainstormed and, based on that brainstorm, I wrote up the song 'Super Friend.' I am so excited to contribute more to the upward trend that is musicals in television and film. Music can be one of the most amazing and efficient forms of storytelling and character development. Also, it was really fun to write a comedy song for two superheroes."
"Super Friend" will be performed by Grant Gustin and Melissa Benoist in "Duet," The Flash portion of the two-episode crossover, airing March 21 (the musical action kicks off at the end of Supergirl's March 20 episode). Jesse L. Martin, Victor Garber, Carlos Valdes, Jeremy Jordan, and John Barrowman will also be singing in the episode, which will include Glee alum Darren Criss as Music Meister, aka the musical's big bad.
The episode will also feature an original song written by Benj Pasek and Justin Paul (La La Land, Dear Evan Hansen) called "Runnin' Home to You" that Gustin will perform.
UPDATE
This post has been updated to include the revised title of Bloom's song, "Super Friend."