Warning: Mild spoilers for The Boys Season 3 ahead!

If you've watched The Boys, then you'll know that it isn't for the faint of heart. The characters are raw and gritty, the storylines dark and intense, and each episode is a full-on experience.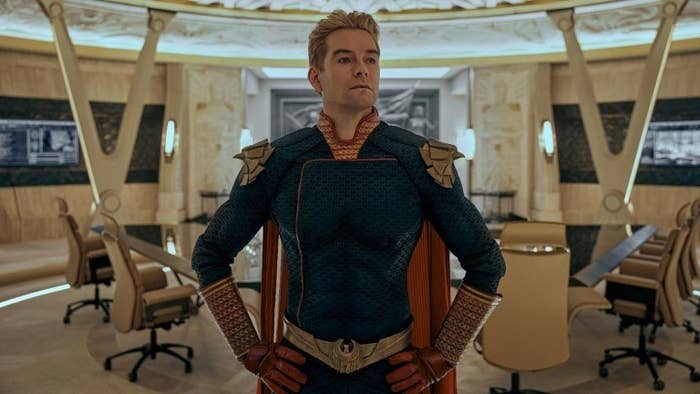 They were roasting each other, had a bunch of inside jokes, and couldn't stop laughing and smiling. It was beyond wholesome, and it made me appreciate the show even more than I already did.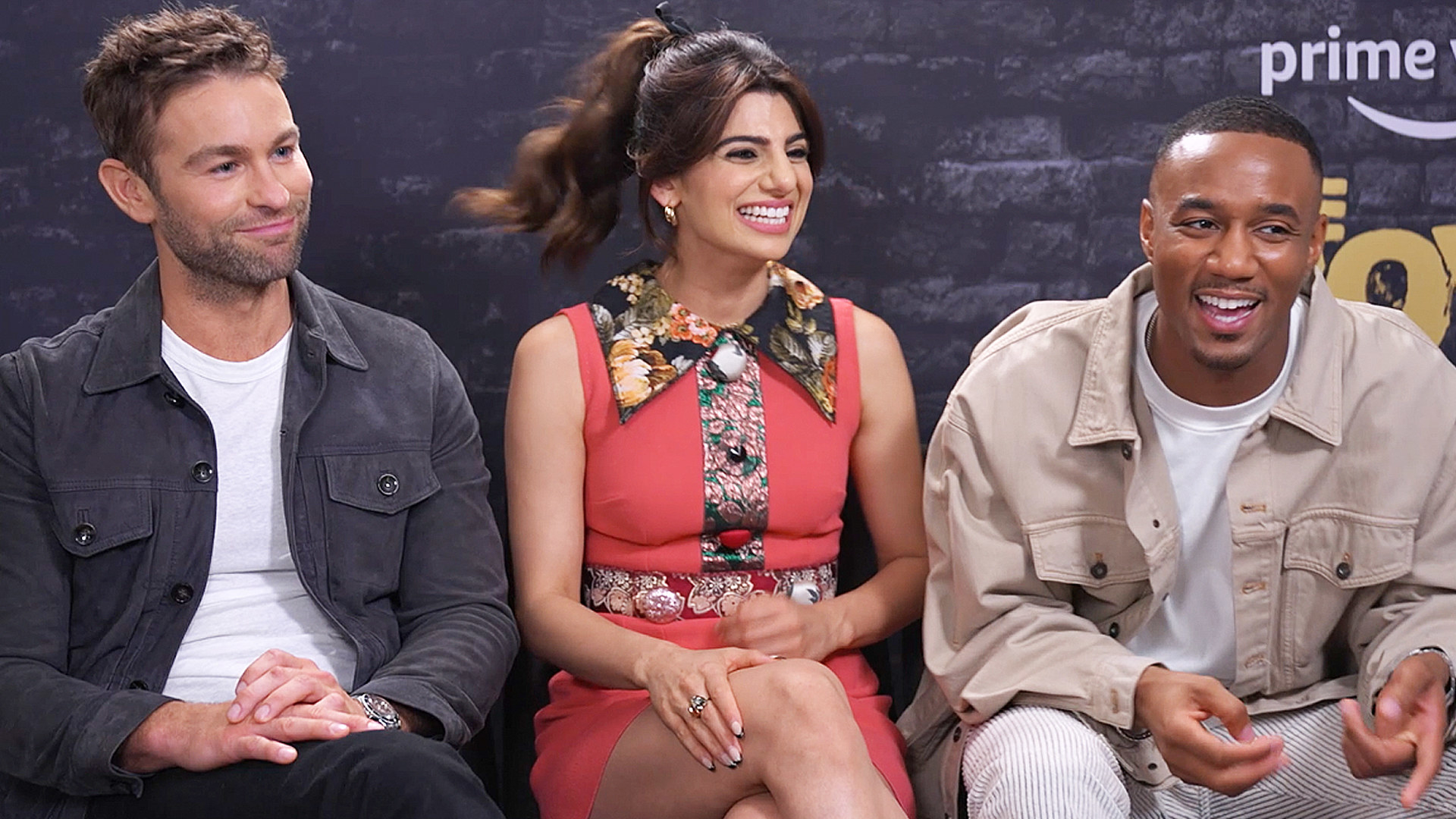 So, in honour of the The Boys cast being friendship goals, I've rounded up some of the most adorable behind-the-scenes photos they've shared of each other on social media. Enjoy!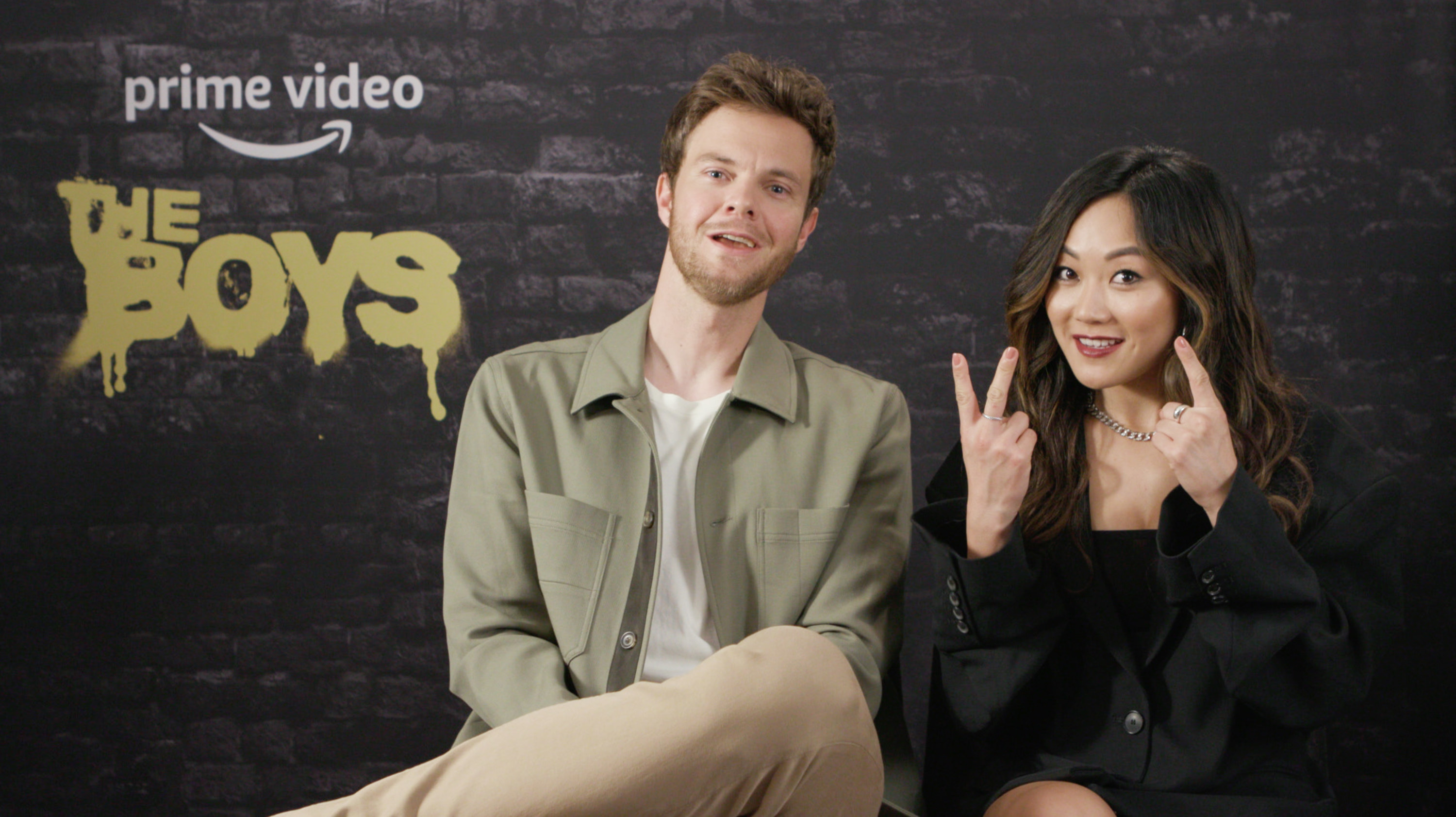 1.
When Karen Fukuhara (Kimiko) and Chace Crawford (The Deep) took this adorably goofy selfie together.
2.
When Karen, Chace, Karl Urban (Billy Butcher), Jessie T. Usher (A-Train), Tomer Capone (Frenchie), Nathan Mitchell (Black Noir), and Claudia Doumit (Victoria) huddled together for this cute group photo.
3.
When Laz Alonso (MM) and Tomer goofed around in between filming their scenes together.
4.
When Jack Quaid (Hughie) brought out Karl's cheeky side, resulting in this hilarious picture.
5.
When Antony Starr (Homelander) and Colby Minifie (Ashley) were all smiles for the camera, despite one of them being covered in fake blood.
6.
When Chace perfectly emulated his onscreen character, The Deep, while hanging out on set.
7.
When Tomer lovingly signed this fan portrait of him and Karen using The Boys references.
8.
When Karen shared this wholesome pic to celebrate Erin Moriarty's (Starlight) birthday.
9.
When Chace, Claudia, Karen, and Jack perfected their middle finger salutes, while Jessie went for the classic bunny ears pose.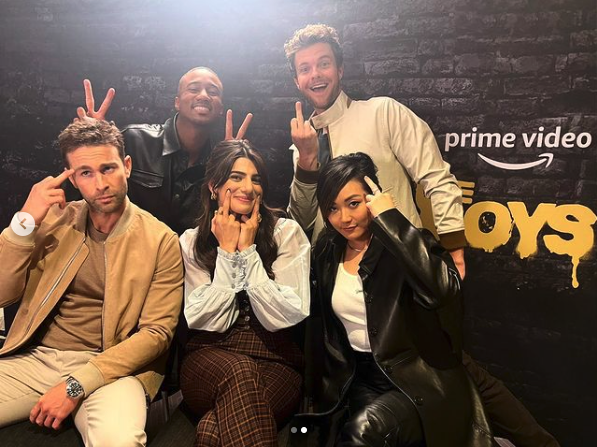 10.
When the cast of The Boys hung out together and took this wholesome photo.
11.
When The Boys cast couldn't resist taking yet another adorbs group selfie, this time with the addition of Jensen Ackles (Soldier Boy), executive producer Eric Kripke, and producer Michaela Starr.
12.
When Claudia and Karen worked their best angles in this gorgeous set of bathroom selfies.
13.
Like seriously, look at these badass queens posing up a storm with their co-stars.
14.
When Karen shared these behind-the-scenes pics, proving that The Boys cast are the definition of cute while filming together.
15.
When Jack shared this thirst-inducing photo, which made all the Hughie stans feel a little something down there.
16.
When Jack became the new poster girl for Tootsie Pops by mimicking this Starlight cutout.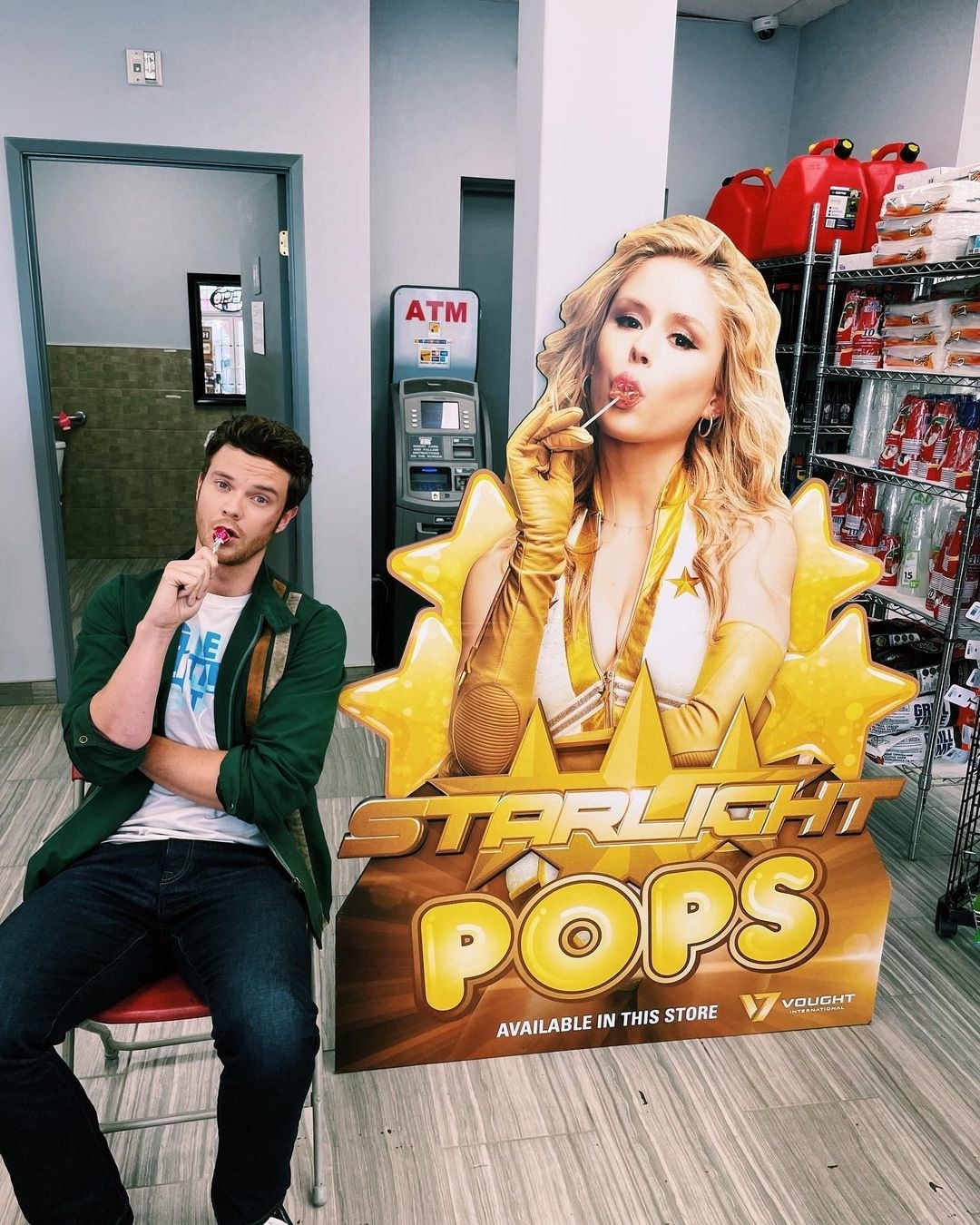 17.
When Tomer and Karen proved that they weren't just onscreen besties, but IRL ones too.
18.
When Jack and Karen buddied up together to take this cute pic — and now I desperately want them in more scenes together.
19.
When Antony, Erin, and Jessie couldn't resist messing around and having a bit of fun on set.
20.
When Chace, Karen, and Claudia rallied together to support Jack's role in the latest Scream flick, which is just beyond cute and supportive.
21.
When Jack, Karl, Laz, and Jensen gave us this frameworthy portrait of The Boys cast and crew.
22.
When Karl and Tomer gave their best blue steel for the camera.
23.
When Jack and Erin shared how excited they were after hearing that The Boys was renewed for Season 4.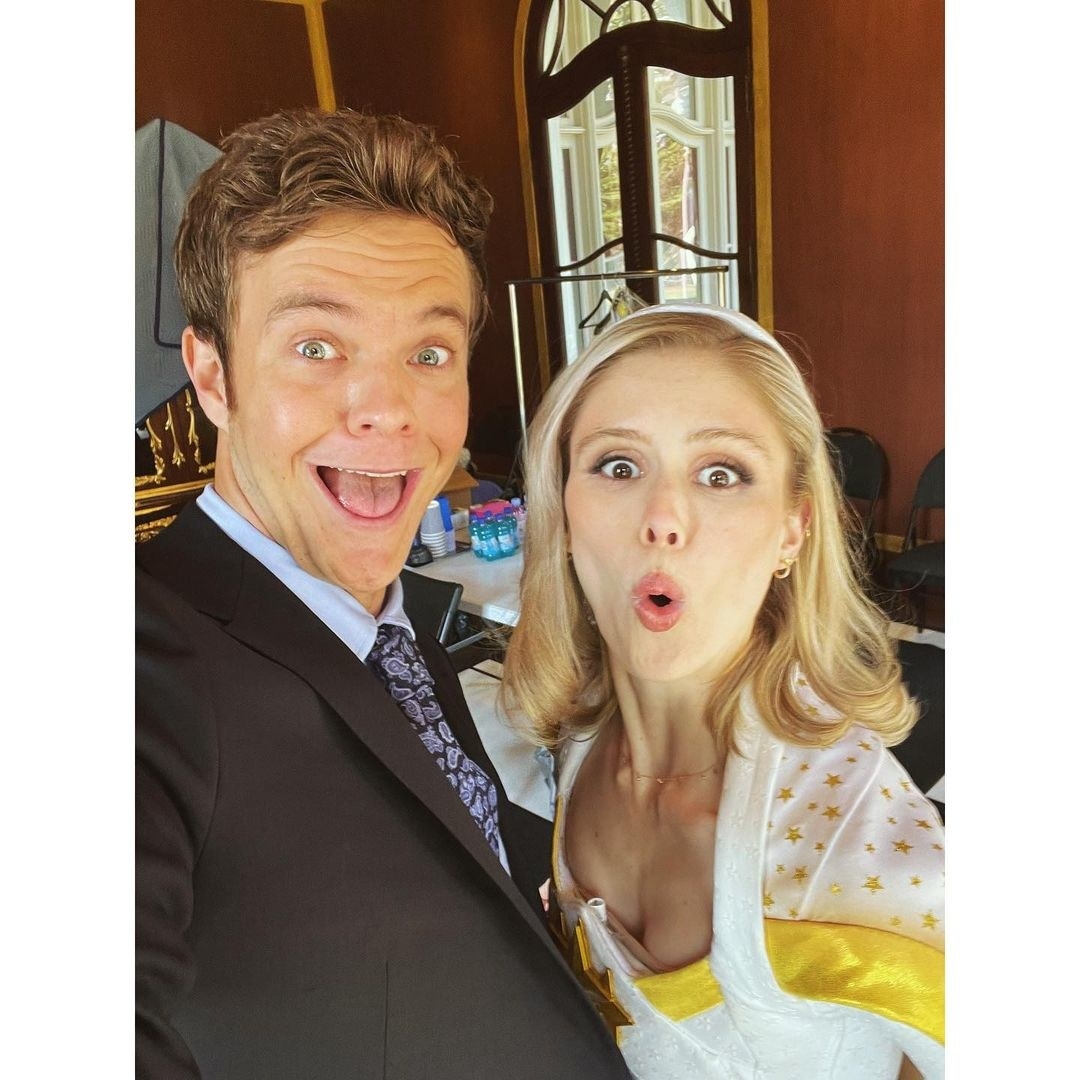 24.
When Jack, Karl, Karen, Tomer, and Laz managed to look all kinds of adorable together, despite being covered in fake blood.
25.
And lastly, when Karl shared this photo with Tomer, Jack, and Karen celebrating his birthday, which he captioned: "Feel so blessed to be celebrating with such excellent company. Being away from family is never easy at the best of times, but the cast and crew of The Boys made it a very special day and I'm most grateful."
Correction: An earlier version of this post incorrectly identified Laz Alonso in one of the images. It has now been updated. The author is deeply sorry this happened and is grateful to the BuzzFeed readers for pointing out her mistake.