1.
An enamel pin that finally celebrates the one task you're exceptionally good at, but are too nervous to put under "Skills" on your resume. Don't be shy. Write it down.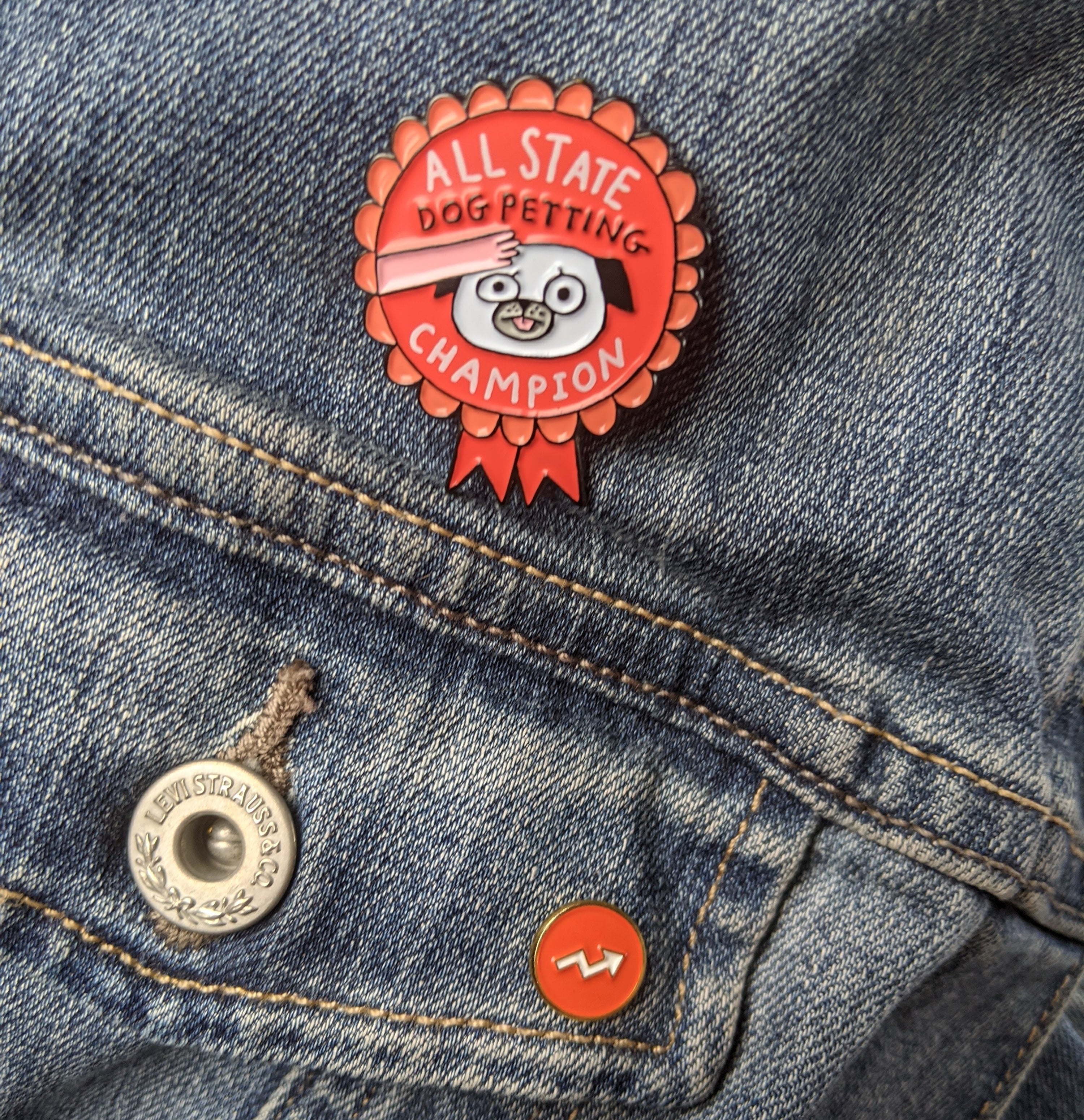 Danielle Healy / BuzzFeed
Badge Bomb is a small business that teams up with independent artists to create original artwork for pins, patches, magnets, and stickers!
"I am currently working through the slow and steady process of curating just the right collection of enamel pins and patches for my denim jacket. I instantly knew this pin would be a perfect addition. But not only is it obviously ~adorable~ but it's super high-quality. I did a fair bit of traveling with this jacket shortly after pinning my new pin, and I was pleased it stayed perfectly attached with a lot of less-than-precious handling. 14/10, a very good (dog) pin." —Danielle Healy 
Get it from Badge Bomb for $10. 
2.
An electric toothbrush that'll make brushing your teeth your new favorite care task to do *and* make your smile sparkly white. Alexa, play "My Shiny Teeth And Me" from The Fairly OddParents, thanks.
The brush has four modes, shuts off at two minutes, and vibrates every 30 seconds to let you know you should move to another quadrant of your mouth.
"How have I gone my entire life without this? Really. I can't believe I've been relying on my own poorly choreographed circular and angular strokes. All of that is to say, I love this toothbrush. It uses advanced sonic technology offering four cleaning modes to choose from; personally, I like the gentleness of the gum care mode. My favorite thing about it, though, is that it operates in four 30-second intervals. At the end of each interval, it buzzes to inform you that it's time to move to another part of your mouth. Because who's really making sure they brush their teeth for exactly two minutes? And when you're done, you just place it back in its charging pod until the next time you need it. I can tell I'm getting such a deeper clean than I used to get with manual toothbrushes, and I can never go back. Plaque has met its match with Dr. Brite." —Taylor Steele
Get it from Dr. Brite for $150 (originally $250).
3.
A Breville three-in-one microwave oven to save you counter space by acting as not one, not two, but *three* appliances.
This bad boy combines the functions of an air fryer, convection oven, *and* microwave, all into one nifty appliance. It has 19 built-in smart preset cooking functions and uses smart algorithms to steer power to where and when it's needed to create the ideal cooking environment. Time to air-fry up some fries!
"I wanted this appliance because I have next to no counter space. Yet, dedicating space to a microwave seemed like a waste of money. The fact that this machine serves three purposes makes it totally worthwhile. Plus, it looks very futuristic while being easy to use. Lord knows I hate a complicated microwave. The displays make it easy to find the appropriate power level necessary to reheat, defrost, or cook food. The door closes so softly too. Knowing that I can bake cookies, make french fries, and pop popcorn with the same machine is truly unbelievable. The price is steep, but not compared to the price of three separate machines. If you have money to play with, I'd definitely splurge on this. It's truly an ingenious appliance." —Christine Forbes
Get it from Bed Bath & Beyond for $449.99.
4.
A toilet-cleaning stamp so you can keep your toilet bowl clean, washing it every single time you flush. It's as easy as "Stamp 'n' Poo," which is what this product should have been called, let's be real.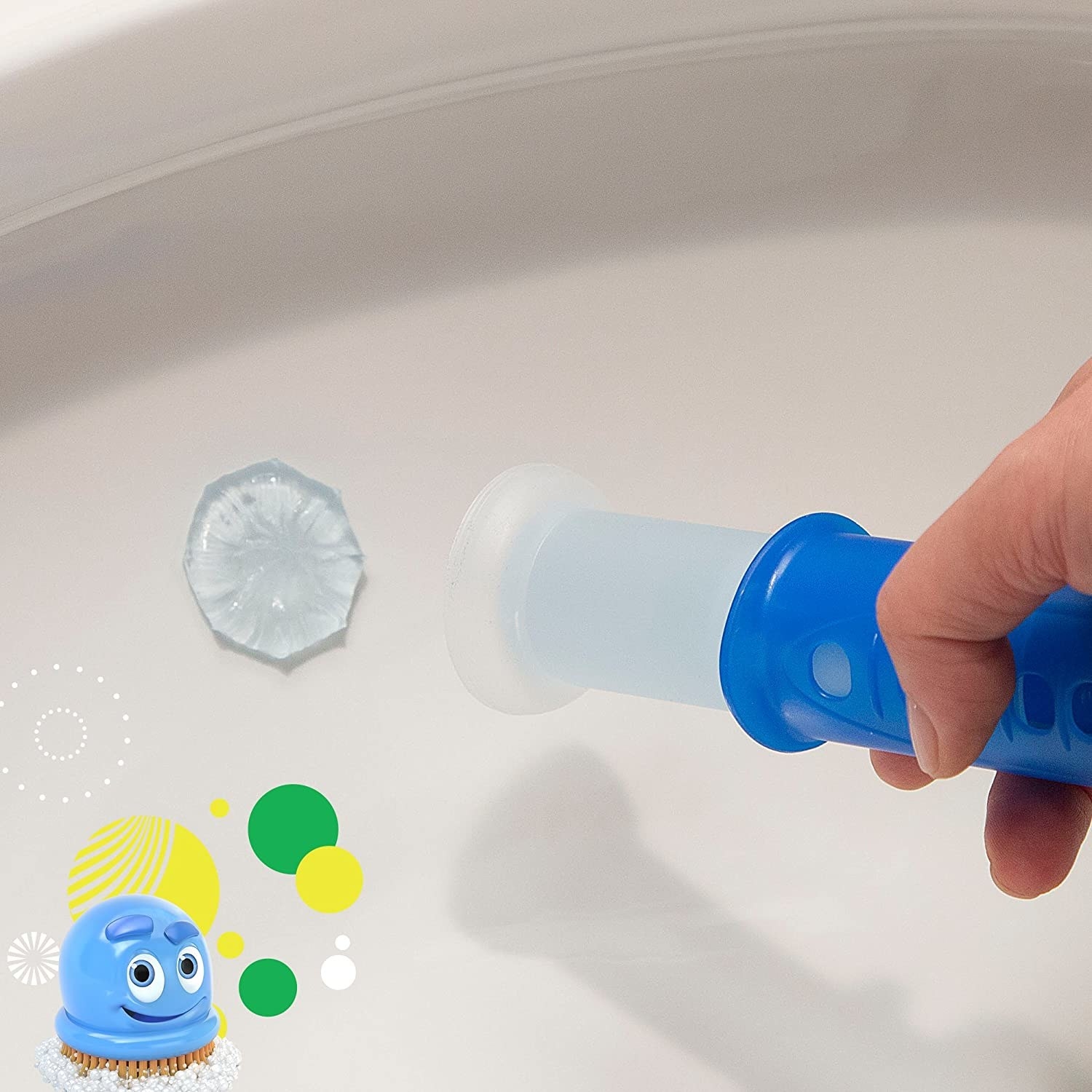 "I have this product and it really does work! It took me a minute to figure out how to apply it, but after reading the enclosed directions it was a cinch! You quite literally stamp it into the inside of the toilet bowl and leave it be. It smells super refreshing for a long time — as if you've cleaned your toilet every time you flush." —Heather Braga
Get a pack of three from Amazon for $23.82. 
5.
Vegan food wraps to keep your fruits, vegetables, and even leftovers stored naturally and sustainably. The best part? It's reusable, washable, *and* biodegradable!
These vegan wraps are made with cotton cloth, candelilla wax, non-GMO soy wax, organic coconut oil, and tree resin.

"I got this set of wraps in my attempt to not use roll after roll after roll of aluminum foil every five minutes. And guess what — they're great! They're vegan soy wax (also available in beeswax) and super cute. You get three different sizes, which are varied enough to fit just about any random leftover bowl I need to stick in the fridge that day. Just press the wrap down around the edge of your chosen container, and the heat from your hands seals it with ease. Voilà!" —Maitland Quitmeyer
Get a set of three from Wild Minimalist for $21.99.
6.
A stylish romper for when you don't know what to wear, but can always rock a basic piece. Just add killer shoes, rockin' accessories, and a really nice jacket. 

Smash + Tess is a small business based out of Vancouver, Canada, founded by a mother-daughter-bestie trio with a mission to create a slower, better, *and* comfier fashion brand using sustainable materials and local ethical production.
"This thing is mad comfy. It's like butter, even after several washes. I've worn the absolute crap out of it over the last several months and it has some minor pilling, but otherwise is still in perfect condition — not a fraying thread in sight. It's a great investment, as it'll still fit even through major size fluctuations and it's really easy to style. I'm 5'9" and the legs pulled down all the way are just slightly cropped, but this jumpsuit allows for cuffing or even pulling pantlegs up for more of a capri look. I absolutely cannot recommend these rompers enough, especially if you're in the market for loungewear that still makes you feel cute!" —Danielle Healy
Get it from Smash + Tess for $119 (available in sizes 2XS–3XL).
7.
A Dyson hair straightener that is cord-free, making it so easy to straighten your hair without dealing with the mess of a cable every time you move the iron around your head. 
"I'm gonna keep it a stack: I don't really wear my hair straight. Quite frankly, it's not my vibe *and* flat irons typically cause irreversible damage to my hair. It never quite curls up the same. However, this flat iron claimed to straighten hair with 50% less damage due to its flexible plates. Plus it's cordless and has internal sensors that regulate the temperature 100 times per second. At $500, I figured the Corrale had something to prove. So, I let Jon Reyman (aka the best haircutter in the game, seriously) press my hair with the flat iron. For the first time, my hair didn't feel flat, limp, and lifeless after being pressed out. I didn't even get that familiar burning smell. My fine, 4c/4b hair never gets straightened so it's not 'heat trained,' so to speak. Yet, the Corrale kept my coils pretty straight for two weeks. Sure, there were a few looser curls here and there once I washed my hair, but nothing crazy. To get those kinds of long-lasting results, I generally have to fry my hair at close to 450 degrees. So achieving a better look without going above 410 degrees was unbelievable. Moving forward, I'm not letting any stylist use another flat iron on me. I will simply bring the Corrale to the salon. Why? Because the cost of this flat iron pales in comparison to what I would pay to [unsuccessfully] rehab my hair after catastrophically damaging it." —Christine Forbes
Get it from Sephora for $499.
8.
A water flosser that'll make your dentist proud at your next teeth cleaning. It will precisely dislodge food and bacteria stuck in your gums, leaving your mouth squeaky clean every night. 
"After recently experiencing my first cavities as an adult, I decided maybe it was time to get serious about that whole flossing thing. A few personal barriers to that goal included the fact that I hate flossing, it takes forever if you're doing it well, and regular floss is single-use and potentially very wasteful. The answer? This water flosser. It's certainly an up-front investment, but after several months of regular use, it seems like it's built to last a long long long time (it looks no worse for wear after me dropping it several times). One charge lasts SO unbelievably long, and since I live in NYC and have approximately zero counter space, the fact that it's so compact is a big plus. You have to refill the water reservoir once or twice per floss sesh, but it's really easy and you don't have to shut the unit off and on every time. My teeth feel super clean after using it and it's really helped me build a better oral-hygiene routine that I don't dread doing before bed." —Danielle Healy
Get it from Burst Oral Care for $69.99 (available in three colors).
9.
A hair-curling tie that'll give you some salon-approved curls without having to use heat and damage your hair in any way. Simply wrap your hair in it and watch the curls fall when you take it off!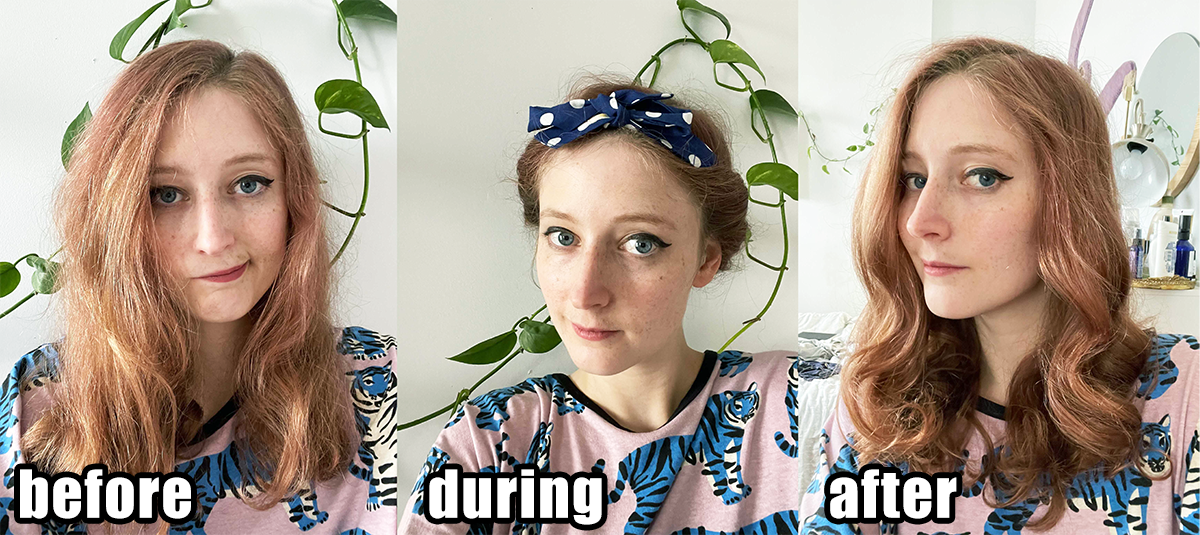 Rebecca O'Connell / BuzzFeed
SoCal Curls is a small business based out of Thousand Oaks, California.
"I love this thing! Whenever it's extra humid out or my hair is feeling drier than usual, I like to use it to give my hair shape and cut down on frizz. It's really easy to use and I get consistently wonderful results. Despite the microwaved band being warm at best, it gives me nice curls that stay in shape all day." —Bek O'Connell
Promising review: "This was SO wonderful. I was excited but skeptical when I ordered this product. Curls do not stay in my hair, and it is so difficult to make it look nice. The first time I tried to use my curling tie, I only left it in for about 20 minutes, and it didn't work well. The next time, I tied it tighter (important if you have 'slippery' hair), and left it in for over an hour. My curls are gorgeous and perfect — thank you so much for this product! I am a happy customer!" —Megan Combe
Get it from SoCal Curls for $18.99. 
10.
A mesh body exfoliator because your skin deserves more than that stinky old loofah you've been using since, like, 2013. 
Luv Scrub is a Black woman–owned business, and its mesh cloth design is inspired by a traditional West African morning routine. 
"I have keratosis pilaris, which is a fancy-schmancy way of saying I have to work a lil' harder to exfoliate my body. This baby makes the skin all over my body feel literally softer and smoother than it's EVER felt. Scrubbing with it also feels super soothing — like I'm using a body scrub minus the gritty mess leftover to rinse from the shower afterward. I also dig how fast it dries so I'm not putting a bacteria magnet on my skin each time I use it. Def get this if you wanna invest more into your body care/self-care routine. 30 outta 10, mos def recommend." —Marquaysa Battle
Get from beauty supply shop Beauty Beez (also Black-owned) for $18 or directly from Luv Scrub for $18.
11.
A chic area rug to immediately elevate the look of your space without having to do any DIY work or strenuous decorating. It's truly amazing how much a rug can improve a space. 
"I've been testing this rug out in my living room for a few months now and despite how picky I am about pile length, ease of cleaning, and general look, I give it high marks! I have two cats who are super shedders and a BF who eats at the coffee table and drops every other bite, so I was worried about it getting stained/ruined almost immediately. Luckily, no such thing has happened thus far! We've had run-ins with ketchup and cat puke, but both came out with a basic carpet cleaner — no problem at all. I vacuum it regularly, which keeps it looking fresh and it doesn't shed, either. All in all, I *love* this rug and would absolutely buy another!" —Chelsea Stuart
Get it from Boutique Rugs for $34.12+ (available in 10 sizes and as a rectangle, runner, or square).
12.
A cozy pet bed your cat (or dog!) will basically never want to leave. No, really. This is their new residence. Everywhere else in the house is moot.
"As you can see, my cat, Norman, absolutely loves this bed. He lays in it every single day, for hours. The bottom has extra fabric which promotes burrowing and is honestly the coziest looking bed I have ever seen." —Stephanie Hope
Promising review: "This bed is absolutely amazing. Since it arrived my dog has spent more time in her bed than she ever has before. Typically every morning my dog Zoey will come and lay next to me on the couch while I work. Well, ever since this bed arrived, she wakes up, goes to the bathroom, then right back to bed. She will stay in bed all day and finally join me in the afternoon at like 3 p.m.
I'm not sure if it's the memory foam or the super-soft snuggle blanket, but this bed is by far the best we have ever had! Zoey and I thank you for such an incredible product." —Alison Aschenbrenner
Get it from Amazon for $59.95+ (available in two sizes). 
13.
Or an anti-anxiety pet bed for when your little fur baby just needs some extra cuddling to feel safe and sound in their surroundings. This is perfect for new pets, puppies, or just a nervous Nelly. 
"I recently got a new puppy (and my parents got his brother), and when searching for pet beds I wanted to find something that I'd probably want to lay on if I were a dog (LOL). I came across this fluffy 'anti-anxiety' bed and I was intrigued. I immediately added it to cart and it has been the greatest purchase I have made for Franklin (my pup). 
He falls right to sleep in it and he and his brother love cuddling in it. It's also been a lifesaver when it comes to car rides. I just pop it in the passenger seat or even in the back seat, and he stays put through the whole ride. If you have a smaller dog and need a dog bed, I can firmly vouch that this one is a keeper." —Ali Faccenda
Get it from Amazon for $9.99+ (available in three sizes and three colors).
14.
A self-cleaning water bottle because, I'm sorry, but aren't bottles the actual worst thing to clean. Something about cleaning them is so daunting, and this self-cleaning one just...gets me. 
With a simple press of a button, it self cleans by activating every two hours to keep your bottle fresh and stink-free. Huzzah!
"I own it and can say it's super convenient to use and easy to charge. It's basically a water bottle with its own filter. I love that I can carry it with me on the go like a regular water bottle and then when I need to refill when I'm out and away from my filtered water at home, I can drink freely without feeling all icky about it. It's definitely a handy investment for anyone who likes to keep water on the go — especially if you're into nature walks, hiking, or camping." —Marquaysa Battle
Get it from Amazon for $95+ (available in two sizes and five colors).
15.
Birkenstock sandals so you can feel like one of those cool kids who walk around wearing Birkenstocks and you always think "ugh, whatever." but deep down, you want it to be you. Shh, let it happen.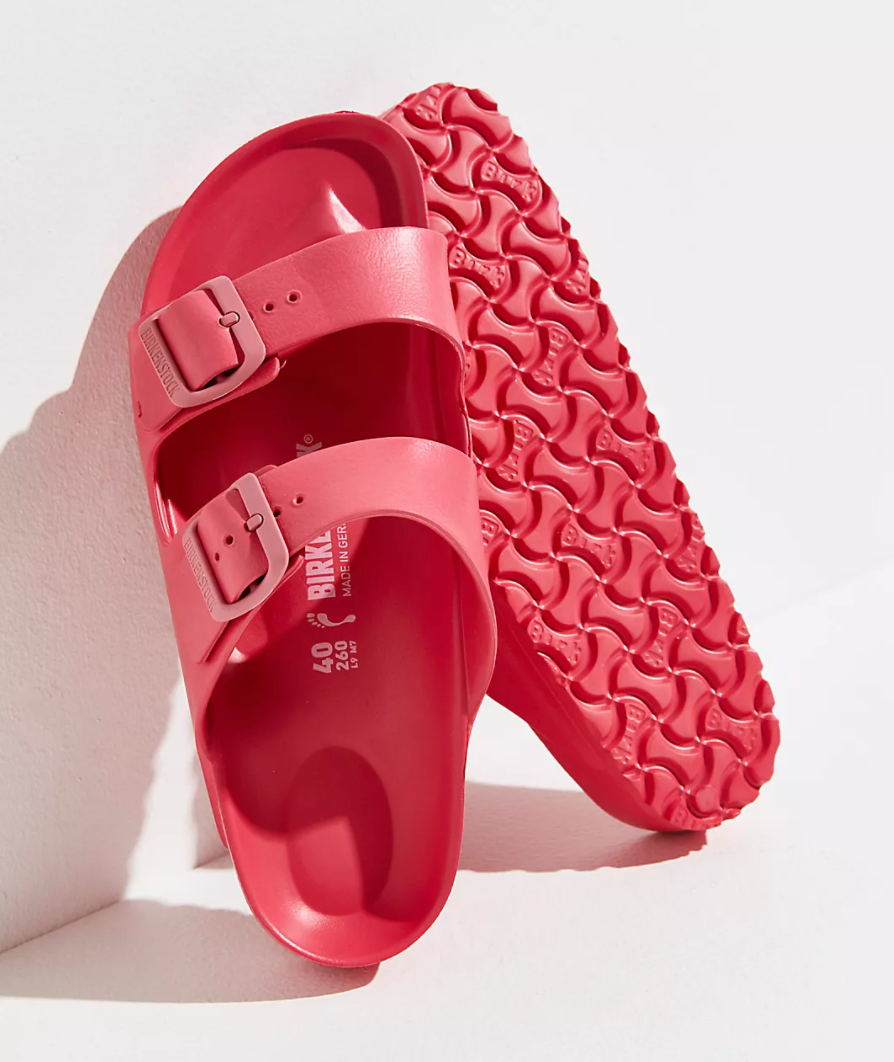 Psst, they're vegan!
"I practically lived in these during my five-day trip to the US Virgin Islands. Wore them during beach days, for hikes, as indoor sandals in the hotel, as bathroom shoes for the shower — you get it. Pretty much for everything. Why? Because not only did they hold up, but they're also so light on your feet you forget you're wearing anything at all. And because they're waterproof, you can get them wet and soaking without so much as a scratch. They're incredibly comfortable, actually support your feet, and look stylish to boot. I could sing their praises for hours!" —Nusrat Sultana
Get it from Free People for $45 (available in women's sizes 5–10.5 and nine colors).