1.
Ownest Cosmetics eyebrow soap, a must-have for anyone (like myself) with unruly brows that seem to have a mind of their own. This will add the texture and thickness you've been looking for.
Promising review: "The product works well and gives you a defined and natural-looking brow. Easy to shape and design my eyebrows. Sets the brows in place! It's not sticky and doesn't dry hard. I can't live without it anymore and will repurchase again!" —Trevor gorman
Get a set of two from Amazon for $7.99.
2.
E.l.f Cosmetics Mint Melt Cooling Face Primer, complete with hyaluronic acid, antioxidants, and a soothing gel texture you'll love because it'll keep your makeup in place while also delivering a cooling sensation — perfect for those hot summer days.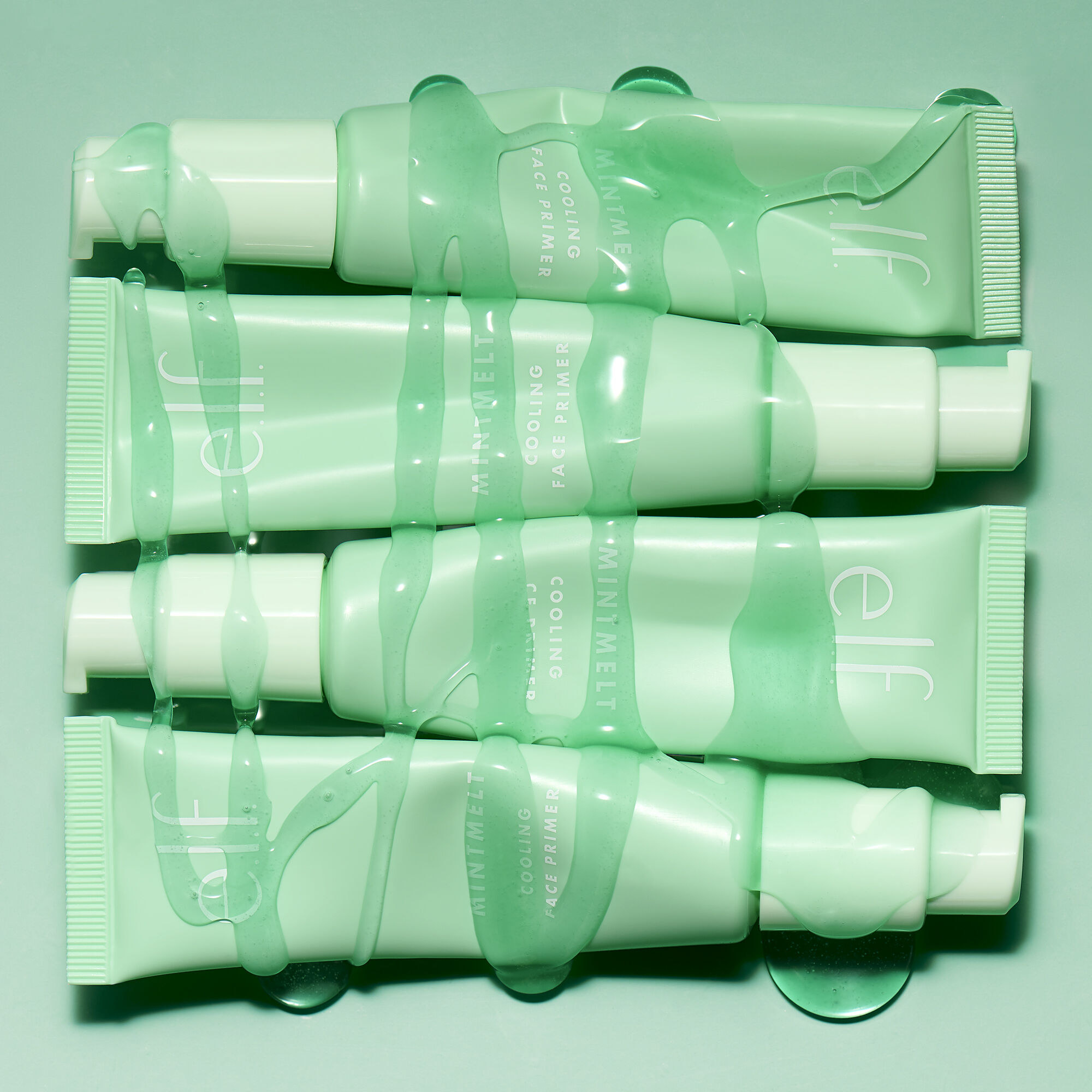 Promising review: "I have an extremely oily nose and no coverage left after a long day wearing a mask. This primer gripped my foundation so well that it stayed in place all day under my mask and I still looked flawless after a hot yoga class...with a mask...for an hour! Controls my oils too. I'm in love!" —Laurengirl
Get it from E.l.f Cosmetics for $8
3.
Ilia Beauty liquid highlighter to make it seem like you've spent the *perfect* amount of time baking in the golden sun (except we both know you haven't seen daylight in a week).
Promising review: "I'm not much of a makeup person, but saw this on Instagram and really wanted to try it. I've been mixing this every day with a very light tinted foundation and my skin now has the PRETTIEST glow. I actually get compliments when I go out which is nice. My cousin and two aunts bought a bottle after seeing my illuminated complexion. I use the color Nova, it has just a tiny touch of bronze which allows me to use it all over my face with out looking like I'm wearing makeup. Good stuff! I'm absolutely loving my glow!" —Stephanie P.
Get it from Ilia Beauty for $42 (available in three shades).
4.
Elizabeth Mott waterproof eyeshadow primer to keep your carefully blended eyeshadow in place — you'll be thanking me for this one later, trust me.
Promising review: "So let me start by saying I have used nearly every eyeshadow primer available. From high end to low...they don't hold a candle to Thank Me Later. I have very oily skin. Using this primer, shadow lasts a full eight hours or more. I could get maybe five or six out of the other brands if I was lucky. I got this as a sample in my Ipsy bag, and I had to buy the full-size product straight away! I couldn't be happier with my purchase. Thank you, Elizabeth Mott, for finally making a primer that lasts! I love this stuff!" —Melissa Mae
Get it from Amazon for $13.48.
5.
Etude House mineral powder that'll help anyone with oily skin get through the day without feeling like they have to blot at their face sporadically to keep their makeup in place. 

Promising review: "I have SUPER oily skin. I have tried many, many things from diet changes to new skincare regimens, and am consistently left with skin that still feels quite greasy by the end of the day. I absolutely LOVE this powder. It is lightweight, super sheer, and works very well at keeping a matte appearance on my face. I generally only need to reapply once, halfway through the day, after a quick refresher with a wipe. I haven't noticed it causing any breakouts (unlike some other powders I've tried before), and it doesn't leave an ashy look to my complexion, even when I accidentally over powder an area. I am going to order some more!" —Dawn
Get it from Amazon for $5.93.
Promising review: "I have used multiple setting sprays in the past but this one is by far the best. The spray is not sticky and the mist is very fine and feels greats on my face. I would 10/10 recommend to anyone looking for a new setting spray and anyone who wants their makeup to last all day — even under a mask!" —KCris406
Get it from Sephora for $32.
7.
Or NYX matte finish setting spray that'll make sure the hour you spent perfectly applying primer, concealer, and highlighter doesn't go to waste.
This spray has a matte formula, meaning it won't turn your makeup into a greasy or oily mess.
Promising review: "This spray is everything! Like, oh my gosh. I notice the difference if I forget to spray this on. I've walked through the humid city of New Orleans in the middle of July and my makeup stayed on from the time I got to work and was mostly still there by the time I got home, which was nine hours later. I can't rave enough about this, and I'm very picky when it comes to makeup." —missyj95
Get it from Amazon for $7.
8.
A set of five Kulfi Beauty highly-pigmented eyeliners featuring an ultra-creamy formula (I see you aloe vera extract and vitamin E) that'll stay in place for the entire eye. Anyone feel like applying a cat eye right about meow?
Kulfi Beauty, named after a type of South Asian ice cream, is a South Asian-owned business that makes products that celebrate and empower the diverse needs of their communities.
Promising review: "These are just what I have searched a decade for. I've never had an eyeliner go on so smooth or effortlessly before. The color stays vibrant all day, not sinking into my skin or transferring elsewhere. I am in love with this product." —Andrea J
Get them from Kulfi Beauty for $85.
9.
Vivienne Sabó Paris clump-free mascara with a lightweight and long-lasting formula that'll have people asking if you recently got eyelash extensions. Joke's on them!
Promising review: "I absolutely LOVE this mascara. I have very sensitive eyes and am highly devoted to my trusted brands. When a friend suggested this mascara I was curious, as she loved it. For the price point and how good it looked on her eyes, I thought why not. Holy moly. I'm in love. It makes my lashes longer — looks like I'm natural but better — and has a thinner formula so it looks like I have a billion gorgeous lashes, and looks the same all day long. I cannot recommend this enough. It doesn't rub during the day and give me that black-eye look. It's wonderful. Must buy." —Katherine Ochsman
Get it from Amazon for $12.95 (available in three colors).
10.
Or Essence Lash Princess mascara, a must-have for anyone with a flair for the *dramatics* in both their day-to-day life and their makeup.
Promising review: "After using Lights, Camera, Lashes by Tarte for the past year, I got tired of breaking the bank over mascara. My sister suggested Essence Lash Princess False Lash Effect and I IMMEDIATELY fell in love. It provides dramatic length and great volume. I can honestly say I can't stop looking at my eyelashes in the mirror every single day because of how awesome they look. Also, it is very long-wearing. I go from an eight-hour work day right to the gym and sweat like crazy...and this stuff doesn't budge! I love it!!" —Carrie E Miller
Get it from Amazon for $4.99.
12.
Fluide's Otherworldly Pride Collection, which contains an eight-pan makeup palette starring an array of sparkly colors, a T-shirt, a set of face gems, and a coppery gloss you can use on your lips, lids, or face.

10% of all sales of this collection will be donated to mutual aid platform For Our Sibs. Fluide is a queer-owned small business based in Brooklyn, NY that sells gorgeous makeup.
Get it from Fluide for $50 (shirt available in unisex sizes S–3XL).
13.
Maybelline Instant Age Rewind concealer to brighten your under-eyes and help you disguise the fact your Sunday Scaries kept you up way past your bedtime.
Promising review: "I am a makeup snob. I have stupidly high standards for cosmetic performance, and drugstore brands have let me down every single time I've given them a shot. So when I graduated from Covergirl to Sephora after college, I never looked back. My kit is full of Dior and YSL foundation, Armani concealer, Benefit brighteners, etc. But this thing is truly great. The sponge applicator is better than you think. Firstly, it's antimicrobial, so you don't have to worry about the hygiene aspect. Secondly, its ability to blend the product is outstanding. The concealer itself doubles as a highlighter, it looks good without primer, and it lasts so much longer than you'd expect." —Sarita
Get it from Amazon for $5.86+ (available in 18 shades).
Check out our full review of Maybelline Maybelline Instant Age Rewind Eraser Concealer.
14.
Lovoir winged eyeliner stamp if you obsess over makeup tutorials but haven't been able to nail liquid eyeliner just yet.
Promising review: "Let me start by saying this isn't my first cat-eye rodeo. I've tried the taping method, normal liquid liner, plastic winged stamping devices, stencils, all of it! Well, this gem arrived and I immediately had to try it out, all while laughing at how terrible this would probably turn out...but to my surprise I put the left cat-eye on first and it was perfect. I thought this was a fluke and did the right eye...again, it came out clean and perfect! I HAVE NEVER IN MY LIFE BEEN ABLE TO DO A CAT-EYE IN UNDER 10 MINUTES, LET ALONE THE TWO MINUTES THIS TOOK TO DO! There were no sloppy streaks that I had to touch up or anything you would expect. Just a clean crisp line. I can now do a cat-eye EVERY day and look/feel like a badass. Everyone can think I spend hours doing my makeup in the morning." —LadyMeow
Get a set of two from Amazon for $14.97 (available in two sizes and colors)
15.
A playful BH Cosmetics eyeshadow palette you can use to create so many ~groovy~ looks you won't know where to start! It includes an array of matte finishes and shimmers to mix and match.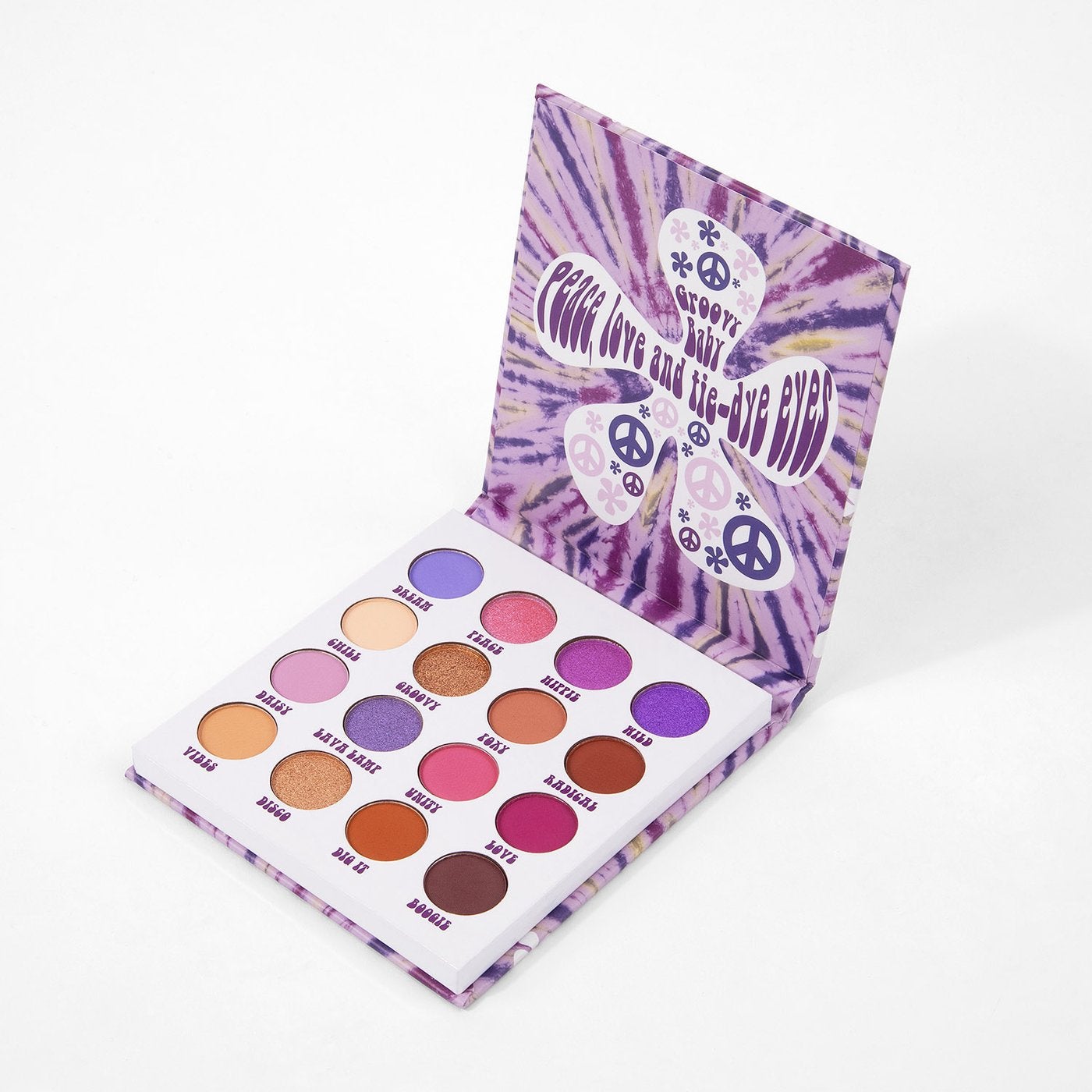 Promising review: "Very good pigmentation and loved the colors!" —Stephanie F.
Get it from BH Cosmetics for $12.