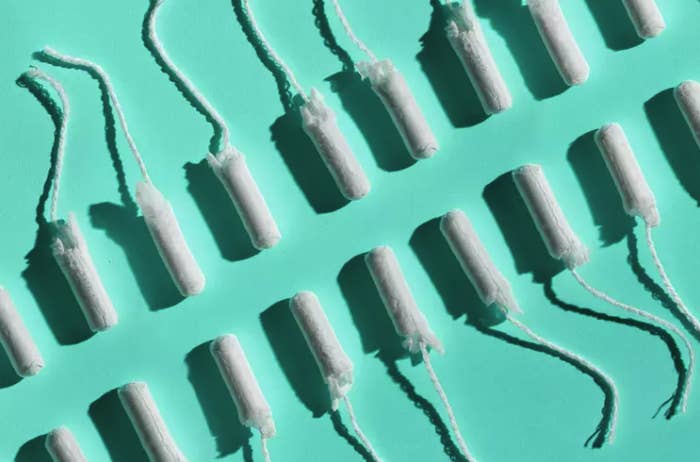 Police and crime commissioners across the UK have backed proposed changes to the law to improve menstrual provisions in police custody and are calling on the government to address inadequacies in court custody, BuzzFeed News can reveal.

In a letter to the Home Office, more than 30 PCCs have welcomed "essential reforms" to the Police and Criminal Evidence Act (PACE), after shocking reports from unannounced inspections revealed that detainees were being left to bleed without menstrual protection in cells around the UK.
Police will be required to offer women free menstrual products and access to female officers, according to draft changes to PACE first reported by BuzzFeed News.
"These changes will help to ensure that detainees in police custody are treated with dignity and respect, as well as guaranteeing provision of sanitary products in police custody," the letter reads.

It also includes a united call for the government to address insufficient practices in court custody, after BuzzFeed News revealed that detainees facing long, tense waits in the run-up to court appearances are expected to ask when they need menstrual products.

"Whilst this Home Office consultation is limited to making changes that will affect those in police custody, the APCC would like to take the opportunity to highlight outstanding shortcomings in court custody with regards to treatment of menstruating detainees and the provision of sanitary products," the letter from the Association of Police and Crime Commissioners reads.
"We urge the Government to take appropriate action to ensure standards and provision are on an equal standing regardless of where people are being detained."
In stressing the importance that detainees should not have to ask for sanitary products, the letter echoes the position of legal experts who say that "overwhelmingly male" custodial environments make it hard for many women, who are already vulnerable, to ask for pads and tampons.

The letter continues: "The availability of sanitary products for a menstruating detainee should not be dependent upon any requirement or expectation that a potentially vulnerable individual in police custody proactively requests sanitary protection."
When asked for comment from BuzzFeed News, a spokesperson for Her Majesty's Courts and Tribunals Service spokesperson said: "We expect contractors to ensure women in custody are aware that sanitary products are available in toilets at every court and posters already signpost their availability."
However, of six inspection reports from court custody facilities carried out in the past two years, examined by BuzzFeed News, only one (focusing on facilities in London North, North East, and West) found that sanitary products were available in all court toilets.
Among the senior policing figures and politicians who called for products to be actively offered in court custody in August was Dame Vera Baird QC, the victims lead for the APCC. She is among the signatories of the letter.

"Action was needed to protect the dignity of women and girls having their period in police custody and now together with our partners, we are starting to see a much-needed change," she said.

"We need to see an immediate review of policy across the country. Women in this situation should be treated with the respect, sensitivity, and the dignity they deserve."
The letter coincides with the end of a six-week consultation period on the proposed revisions to practice in police custody, which will need to be passed in parliament before they can become law.

The draft changes were announced in August following a campaign by the Independent Custody Visiting Association (ICVA), a Home Office-funded watchdog that advises the government and police authorities on custody conditions. It found that detainees often weren't offered sanitary pads, access to female police officers, or washing facilities.
In a report by BuzzFeed News, one woman described how a male police officer laughed at her when she asked for sanitary products. Another woman deemed at risk of self-harm was placed in a paper suit and denied underwear and tampons in case she tried to strangle or choke herself.
The ICVA wrote an open letter to the Home Office calling for the introduction of minimum standards of sanitary provisions in January. In May, the government announced that it was working on revisions to PACE Code C, which sets out the legal requirements for the detention and treatment of suspects in custody.

The College of Policing's Authorised Professional Practice guidance was amended in August to include automatically offering women hygiene packs and access to a female officer.
Commenting on this week's letter, Katie Kempen, chief executive of the ICVA, said that the reforms will "embed dignity" into the PACE codes and require police forces to "overcome the taboo of menstruation to deliver what should have already been in place".

Martyn Underhill, custody lead of the APCC and chair of the ICVA, said he hopes to bring about "long-overdue" changes to legislation that "fails to recognise the needs of female detainees".
"The number of signatures attached to our response is clear evidence of support for these reforms and we hope the changes are accepted and brought about at speed," he added.