Just shy of six years ago, the tiny island nation of Nauru was home to more than 300 women who had tried to come to Australia by boat to seek asylum.

Now, only eight remain.
"I'm waiting for the day Allah wants me to go," Fawzia (a pseudonym), a 27-year-old Somali woman, tells BuzzFeed News via an interpreter. "I'm waiting for my time."
In 2013, Australia vowed that nobody who sought asylum by boat would ever be settled in the country. Instead, it dumped hundreds of potential refugees offshore on small Pacific islands for processing, in a hardline policy that has outlasted three prime ministers.
At its peak in mid-2014 more than 1,200 people were warehoused on Nauru — an island 21 square kilometres in size, with a population of about 13,000. Others were sent to a detention camp on PNG's Manus Island.
By October 2019 — the last time for which detailed official statistics are available — Fawzia had watched all but 278 of those people leave Nauru. Of those left, none were children, who were all moved elsewhere by the end of February 2019. The vast majority were recognised refugees.
Just 12 were women: 10 Iranian women; a Sri Lankan woman, Vaishnavi (a pseudonym); and Fawzia. That figure has now dwindled to eight.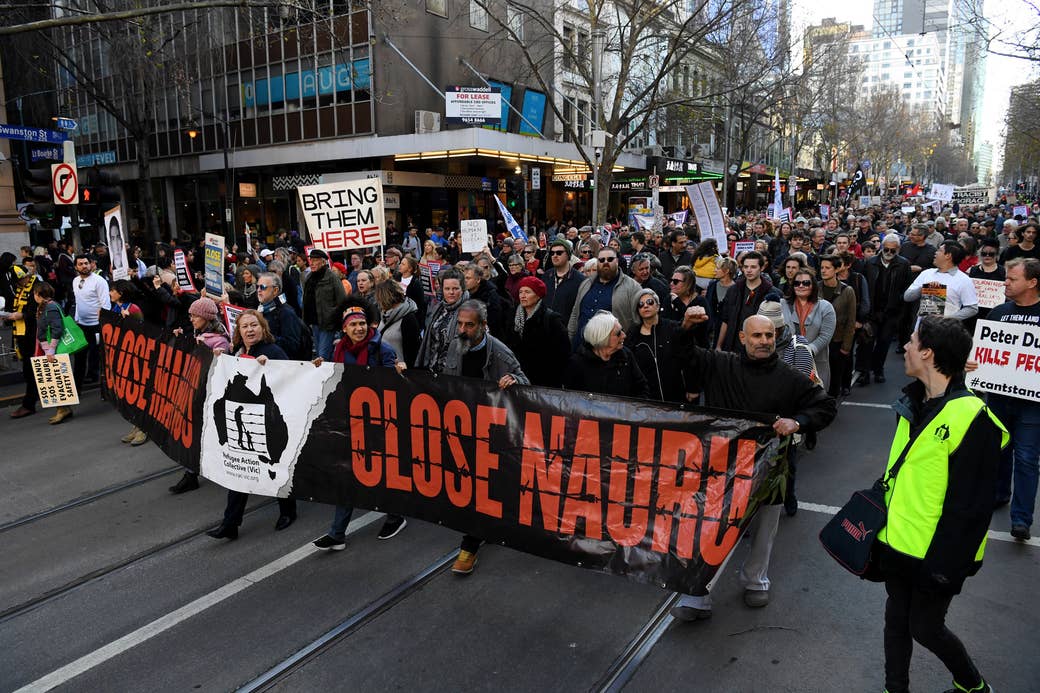 While some women have gone to Australia for medical treatment or to accompany their children, Fawzia does not have children or any significant health issues. "I am a healthy woman, I thank Allah for that, and I won't say any lies [to reach Australia]," she says.

Other women have returned to their home countries, or travelled to the U.S. under an unusual deal between the two countries that has seen over 600 refugees who originally tried to reach Australia resettled there, even after Trump's election.
Fawzia's first application to go to the US was rejected, and she is waiting to hear back about a second application.
"When I first arrived we [had] fled from problems in my country, and we thought it was better here than where I came from at that time," she explains.
About eight months ago, the only other Somali woman remaining left Nauru. "We kept each other company," Fawzia says.
Now she is left on the island with her family far away, and mostly surrounded by men. She barely sees the other refugee women, many of whom struggle with their mental health and stay at home, she says. She speaks to her family back home every day.
She initially found it difficult to find work that would allow her to wear her hijab, and not force her to wear trousers or to be around alcohol. But now that other women have left she has taken over some of their work and can wear her hijab.
Her existence is "sometimes lonely", Fawzia admits, but her steadfast faith has helped her to endure seven years of detention.
"Some people are cutting themselves because they don't have religion," she says. "When I think something bad, I go to pray and I read the Quran and I fast."
If she needs help, the male asylum seekers will help her, she says, and she feels safe with the "good people" of Nauru.
But others do not feel this way.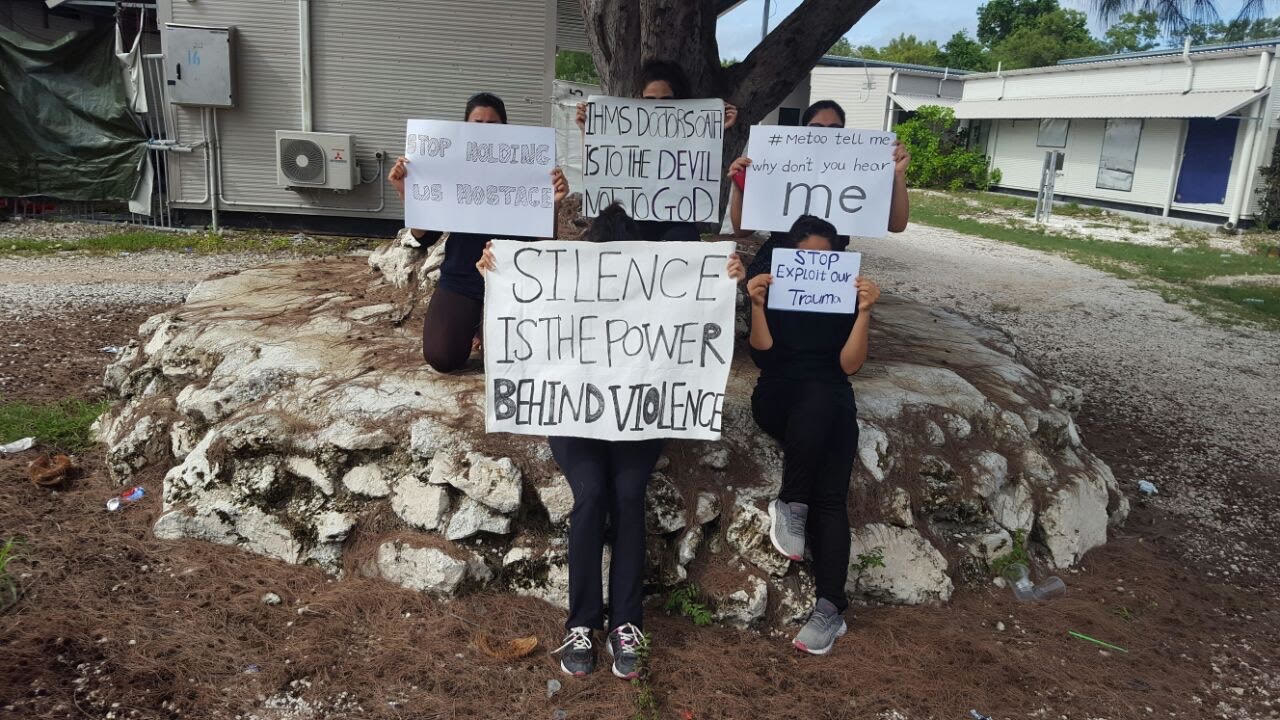 In 2018, the United Nations committee on the elimination of discrimination against women said that women and girls seeking asylum in Australia had been "exposed to rape, sexual abuse and physical harm, perpetrated with impunity" by local Nauruans, other refugees and asylum seekers, and guards and others working in the detention system.
Women have reported being raped, assaulted and denied abortions. Some women, for example, said they were forced to expose themselves to sexual exploitation in exchange for access to showers.
Vaishnavi, who is 32 and Tamil, says she does not feel safe and so does not leave her house.
"As a female, I'm not able to go out," she tells BuzzFeed News via an interpreter. "They grab your phone, sometimes they beat you, you can't predict the local people."
She spends her time looking at her phone and cooking. Once or twice a week, she speaks to her mother and other relatives.
Vaishnavi's life has changed greatly over the six years, and her social circle has narrowed to just her partner.
She arrived on Australia's Christmas Island with her husband and young daughter. Two years ago, she left her husband for another Tamil refugee on Nauru. When her daughter went to Australia for medical treatment, she was accompanied by her father, as she was not speaking to her mother.
The Tamil population on Nauru has shrunk. "We weren't exactly close but we used to talk to each other. Now I don't have anybody," Vaishnavi says. "I don't have any friends."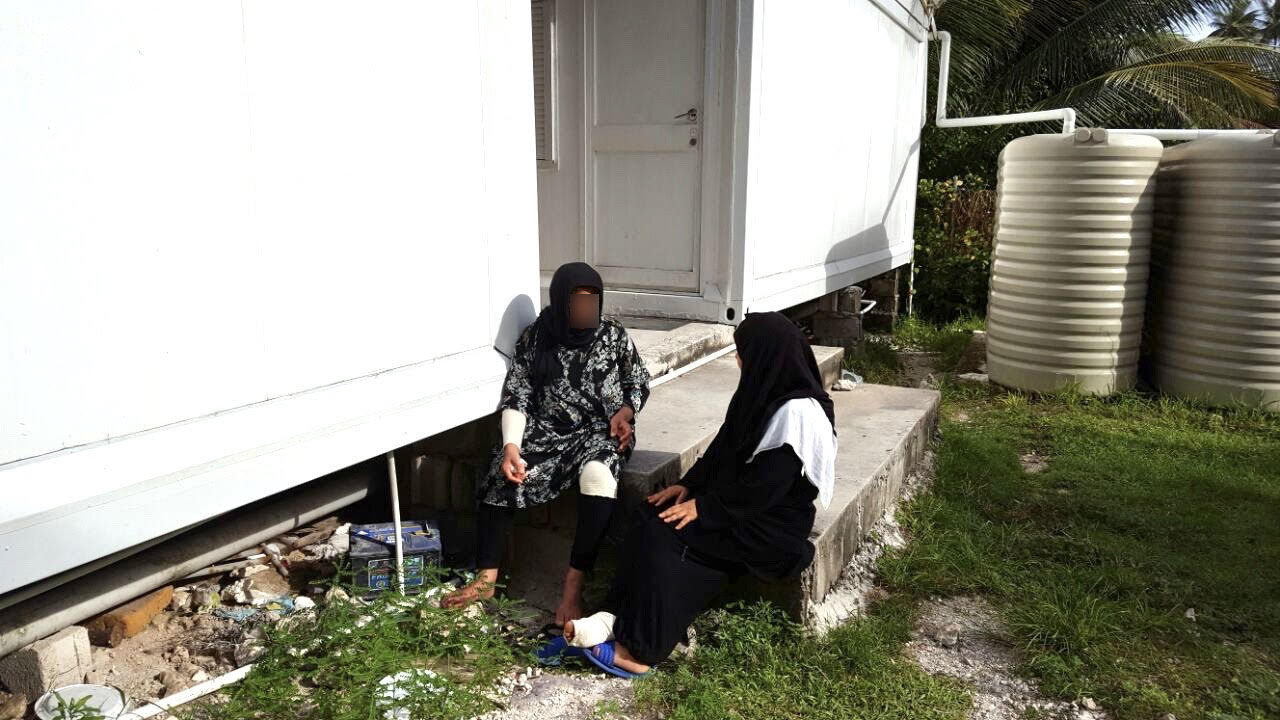 The other women on Nauru are all Iranian.
One suffers from depression and anxiety. At one point, she tried to set herself on fire. That was not her only suicide attempt. She also has mysterious gynaecological and neurological symptoms, and a doctor has said her symptoms could suggest a stroke, Multiple Sclerosis, or Parkinson's disease.
Saba Vasefi, an academic and journalist who has published dozens of exclusive stories revealing the situation faced by women held on Nauru, describes the women as "invisible and ignored".
"They are women who have faced egregious affronts over seven years of offshore detention," she tells BuzzFeed News. "Some of them have been separated from family members in Australia for years."
The remaining women have told Vasefi that Nauru has become less safe for women as their numbers have diminished, and that they are frightened by stray dogs near their homes.
A spokesperson for Australia's Department of Home Affairs told BuzzFeed News in an emailed statement: "The management of refugees and failed asylum seekers under regional processing arrangements in Nauru is a matter for the government of Nauru."

Vaishnavi is desperately trying to secure a visa for another destination. Her application to go to the US has been rejected. While her partner's is still under consideration, they have not been allowed to apply jointly. She is facing the same difficulty with a potential application for private sponsorship to Canada.
"It is very hard, but what can I do? It's hard when other people are going. I also have some medical health issues, but they have not sent me anywhere [for treatment]," she says. "We don't know when our refugee life will actually come to an end; I'm just waiting for a solution to this."
Asked what she'll do if she is unable to settle in the US, Australia or Canada, she has no answer.
Faint possibilities are New Zealand, whose offer to resettle refugees from offshore detention has been repeatedly rebuffed by the Australian government, and Europe. A recent statement from PNG's Immigration and Citizenship Authority suggested asylum seekers Australia sent to Manus were being privately resettled in Europe.
"I don't even know what we can do or what we should do," she says. "This is my life. I hope my life changes, we'll see."
If you need to talk to someone, you can call Lifeline Australia on 13 11 14 or Beyond Blue Australia on 1300 224 636.