Zainab Amin tosses rice from a cooking pot, the grains fanning out against the sky before falling on the grass to be rapidly consumed by a brace of hungry, honking ducks.

A short distance away, a metre-long iguana suns itself by the edge of an enormous pond. The water spans more than 90 metres across, a backyard oasis made even more striking by the fact it is hidden from public view, surrounded on all four sides by neat rows of terraces.
It's Florida, July, and the humid air is like soup.
Zainab, 18, and her family have lived here, in a rented two-bedroom house in Greenacres, an hour north of Miami, for 16 months.
Before that? Well, here's another question: How do you explain to the other kids at school that you spent your teenage years imprisoned on a remote island by the government of a wealthy democracy?
According to Zainab: you don't, or not really, anyway.

"I say, 'I come from Burma'. And they say, 'How long have you been here?' 'I've been here a couple of months'," Zainab says, running through a typical conversation. The next question is usually: "How do you know how to speak English?"
The answer is that Zainab's family spent four and a half years in Australian immigration detention, much of it in the notorious camp on the Pacific island of Nauru.
The Rohingya family of six — father Mohammed Amin Salamat; mother Shahena Hoque; and their four daughters Kauser, Zainab, Azizah and Shamin — fled Burma in June 2013 after increasing persecution and harassment in their home city of Yangon.
Six months later, after travelling through Thailand and Malaysia, they reached Indonesia, from where they boarded a small boat with about 70 other people seeking refuge in Australia.
The boat was intercepted by the Australian Navy and its passengers taken to the detention centre on Christmas Island, a dot on the map about 2,000km northwest of Broome, a remote town on the west coast of the Australian mainland.
In May 2014, the family were sent to Nauru, where they spent almost four years as human collateral in the ongoing policy of never allowing refugees who arrive by boat to settle in Australia.
It was in these transitory years that Zainab and her sisters learnt to speak English: at an all-age class on Christmas Island, from Save The Children workers in the Nauru detention camp, and later, at the island's schools.
That is one version of the story.
Here is the one Zainab tells the kids at school: "I just say I was kind of connected to Australia. I was nearby Australia, so I learnt English from there. I just say something like that."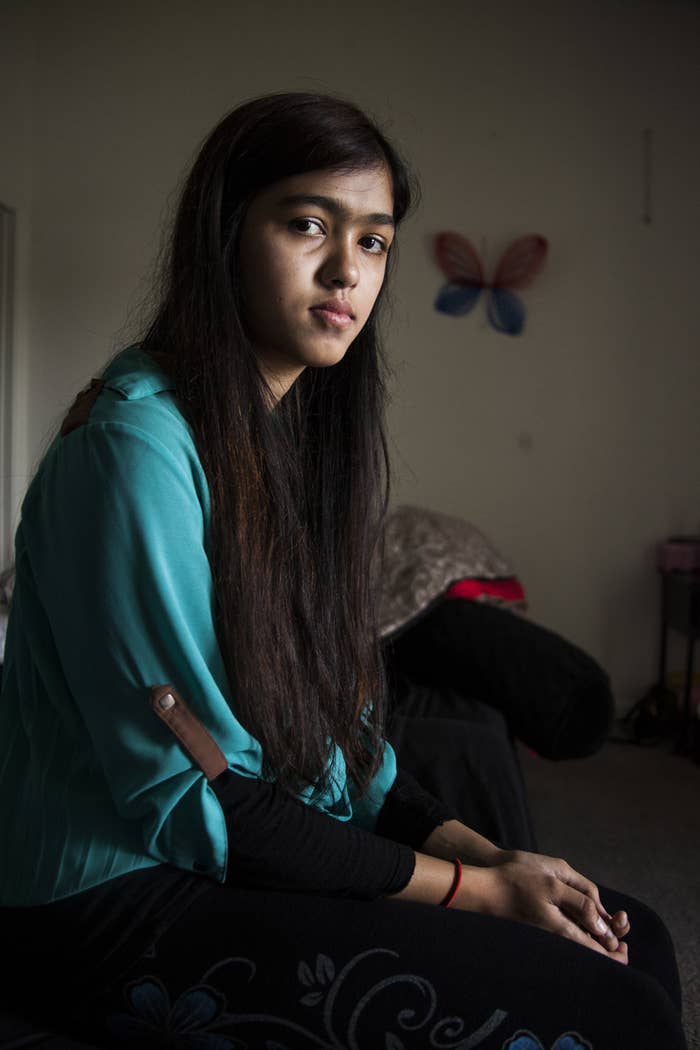 About 16km east of the Amin household, on the swanky barrier island of Palm Beach, lies president Donald Trump's Mar-a-Lago Club.

The family is in Florida due to a resettlement agreement struck between former US president Barack Obama and former Australian prime minister Malcolm Turnbull.
Trump blasted it as a "dumb deal" on Twitter in 2017 — but miraculously, the agreement has proceeded under his administration. The Amins landed in Los Angeles on March 4, 2018.
But still, 16 months after arriving, 19-year-old Kauser remains consumed by a question: What if?
"So nearly five years," she says angrily about the time she spent in detention. "We shouldn't be [on Nauru] if they know that we can't go to Australia. We waste our time already. What did we do?"
Kauser finished high school on Nauru, gaining the Queensland certificate of education, but she feels as if her life stalled on the tiny island.
"I'm [only] 19. But for me, in my culture, I'm already grown up," she tells BuzzFeed News. "In Australian culture until 30, I can study, but for me, all my friends back in my country have already finished. They can become something, they can start their career. That's why I'm so frustrated."
Circumstance has left Kauser in a different position to that of her three sisters. Zainab has a year of high school to go; Azizah, 14, has finished middle school; and Shamin, 8, is about to start third grade. All three are enjoying school in America.
Kauser was due to start university when the family arrived, but without a green card, the family is unable to afford community college. So again, she is waiting.
Plus, the family needs Kauser to work. They started off life in America with a $12,000 debt, which was the price of their tickets out of Nauru. The charity Ads-Up, Australians in the US who assist refugees from Nauru and Manus Island, gave them about $1,800 to help — but the remaining sum is an enormous source of stress.
On top of the flight repayments are the regular expenses of daily living — rent, gas, household bills, food for a family of six.
Mohammed works six days a week at a mechanic's workshop, but his salary cannot cover all that. Shahena, recovering from major heart surgery four months ago, is unable to work, or even exert herself around the house.
So Kauser also works, six days a week, sometimes seven, doing data entry between the hours of 3pm and 11pm. She doesn't see much of her sisters, creeping into the house after they fall asleep and rising long after they leave for school.

All the daughters were forced to grow up fast, but Kauser perhaps the fastest. Talking to her, you sense the weight of responsibility she carries on her shoulders. She is always tired.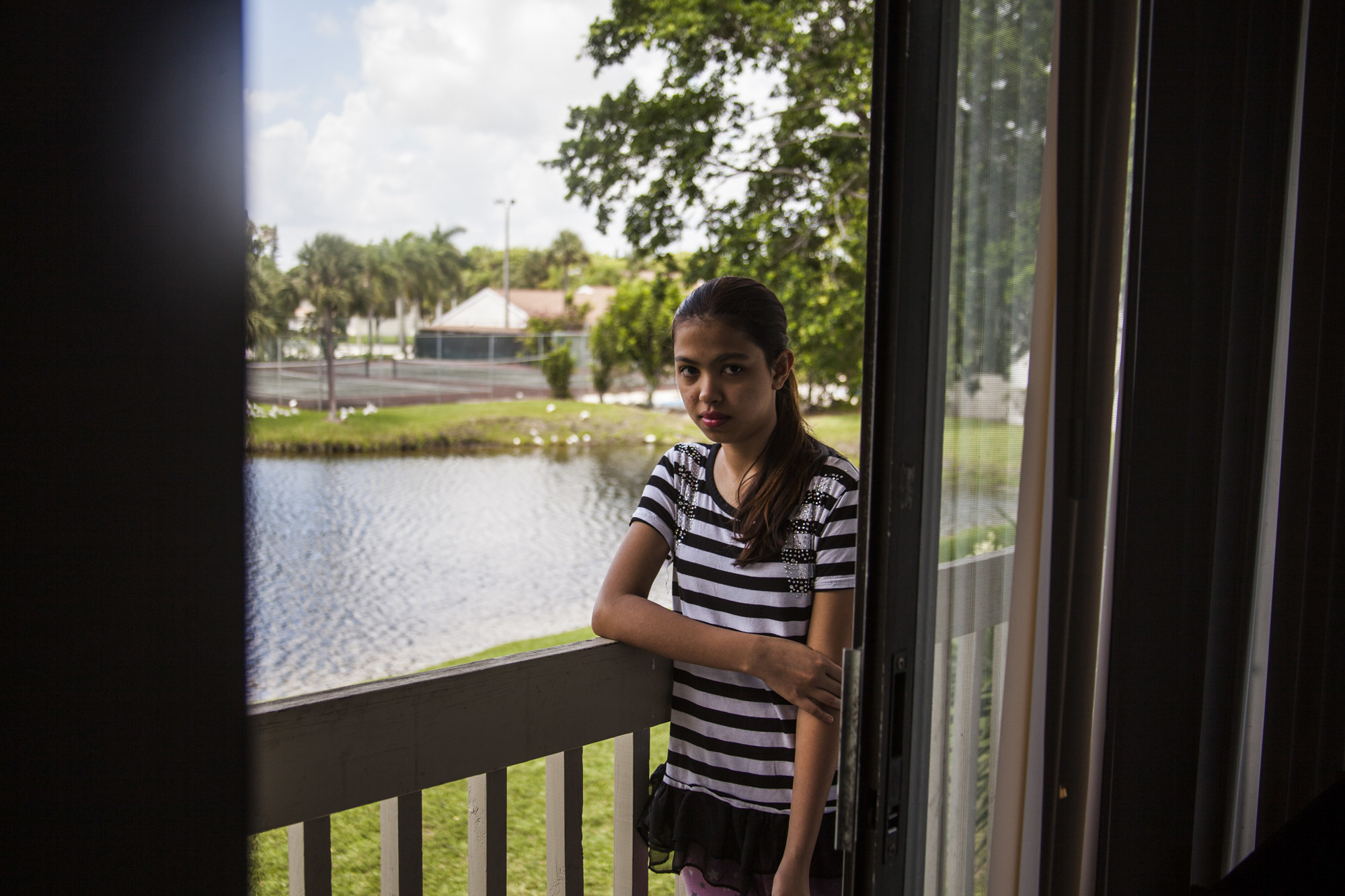 She dreams of going to college to study pharmacy, or perhaps IT. The way her life has unfolded has left little room for ambition, and Kauser has learnt to grab onto everything she can.
After arriving in America, she was soon working two jobs, at Dunkin' Donuts and in a factory, but quit when she got the data entry job. Kauser figured using a computer would prepare her for college in at least one way: improving her typing speed, for the assignments she wishes she could work on.
"Dunkin' is not my life. I know how to make coffee," she says. "I need to learn something that might be my career … I want to work at the CVS [Pharmacy], or Walgreens."
Mohammed tells BuzzFeed News he feels great that his younger three daughters are going to school and thriving in America. "But not for Kauser," he says.
He and Shahena agreed to go to Nauru because they believed their asylum claim would be processed there, and they would end up in Australia.
"That's why we went there, but they changed the laws, kept us waiting in Nauru, and wasted our five years of time," he says.
The family left Burma a month before then prime minister Kevin Rudd declared that no refugee who arrived by boat would be able to settle in Australia.
The source of Mohammed's frustration is simply that if the Australian government knew all along it would never accept his family, why weren't they resettled years ago?
"If they sent us at that time we could have been settled down here. Kauser, my first child, could have been able to go to high school here and not have [to] wait to go to college."
Eventually, the family were told they had two options: stay on Nauru with a 20-year refugee visa, or start a new life in the United States.
"At last we understood that by keeping us waiting in Nauru, we realised they used us, to show they stopped the boats at the border," Mohammed says. "We were victims of the policy."
The horrors of life as a refugee on Nauru take on a new dimension when they are being casually discussed by teenagers at the kitchen table.

For the first two years, the family lived in tents in the camps. Nauru is small — you can get around the island in an hour — and was a complete mystery to them.
"Then day by day and month by month they tell us we can go out a little. It was like an open camp," Zainab says.
Kauser, picking at her lunch of fish, chicken curry and rice, snorts at the phrase "open camp", as her sister continues.
"We have to put in our name, request it. Then … they give us a letter that you can go at this day and this time. And then we go, at that day, at that time."

Some of the officers were nice, but others were "rude" and "would treat us bad", says Azizah. Their weapon of choice? Bureaucracy.
"Checking for like one hour. Checking checking," Kauser says.
"They wouldn't let us go," adds Azizah.
After their refugee claim was determined, the family moved to a mobile house outside the camps, which was better, according to the girls. But the lack of freedom on the island, and the stress of living in limbo — particularly for those who remained in the camps — led to significant and widespread mental illness.
"Some people were drinking the shampoo. I saw it with my eyes," Kauser recalls. "Some people … tried to suicide. They had gone mad."
She remembers watching a video, passed around among the refugees, of Omid Masoumali setting himself on fire in one of the camps. Kauser regularly visited the camp where Masoumali, who later died from his injuries, lived. It was by coincidence, she says, that "on that day, I didn't go".
Azizah remembers numerous protests. "All the people would go on the road and just shout, and then we would walk, and then the police officers would try to stop us. There was even one teenage boy, I think he was 17 or 16, he stitched his mouth."
"Oh yeah, I forgot," says Kauser. "They stitched their mouth. They don't eat. He tried to protest. So many people. I forgot. It was in the camp."
The girls told of people vanishing — some retreating to their tents in a deep depression, others apparently taken to Australia at a moment's notice.
One day, a "really nice" girl Zainab knew simply stopped going to school. The rumour was that the family's asylum claim had been denied.
"They just stay in the tent for a very long time. She just stay in the room and I never see her. Never," Zainab says.
Azizah chimes in: "It's like she disappeared."
Kauser remembers another girl, around her own age, deliberately harming herself. She was taken to hospital, and shortly thereafter sent to Australia.
From Kauser's perspective, it seemed whoever did a "sacrifice for their life" had the opportunity to go to Australia. This is consistent with reports from advocates that a contagion of self harm spread among the vulnerable children on the island, who believed it was the only way to get their family to Australia.
"Some got separated from their families. Their mother and children get to go, but their father was left behind," Azizah says. "There was one of my friends, her mother got pregnant and her mother and her brother went to Australia and they wouldn't let her father and her go. So she stayed inside her house for a long time. She didn't get out. She kept crying. It was sad."
By mid-2018, after the Amins had gone, public outrage grew over the intensely ill children on Nauru, some of them suicidal, and others catatonic.
Under mounting pressure, the government eventually promised to remove all the kids from Nauru. Earlier this year, the very last refugee children left for the United States, starting again in Texas and Colorado.
"Most people go mental," Kauser says. "We feel like we're in stress too, but we don't want to separate from our family."
How did the sisters cope?
"We spent time at school, mostly," Kauser says.
"When we go to school it's like, I only focus on education," Zainab adds. "I just forget that stuff."
Mohammed insisted his daughters attend — something for which they are grateful — but it was not without difficulties.
"At first the kids didn't like us," Zainab says. "They'd shout my name. They'd talk behind us, like 'they're refugees, asylum seekers', all that stuff."
Many of the other refugee kids stopped going. At one point, Azizah says, in her grade "there was no-one else except me going to school".
She learnt to live with the teasing from local kids. "I just have to give up, not saying stop or anything," she says. "Just do whatever they want and be friends." It got better with time.
Now right in the middle of her teenage years, Azizah often wonders how her life might have been different had she not been on Nauru.
"My whole childhood is gone there," she says, matter-of-factly. "There was no freedom there. Nothing there. That was the hardest thing."
If she hadn't been on Nauru, she thinks she would have, "A better life. Better education. Be a better person".
What does she mean, be a better person?
"Like right now, after wasting time and coming here, I missed out a lot," she says. "At school I'm like the quiet person that nobody knows about."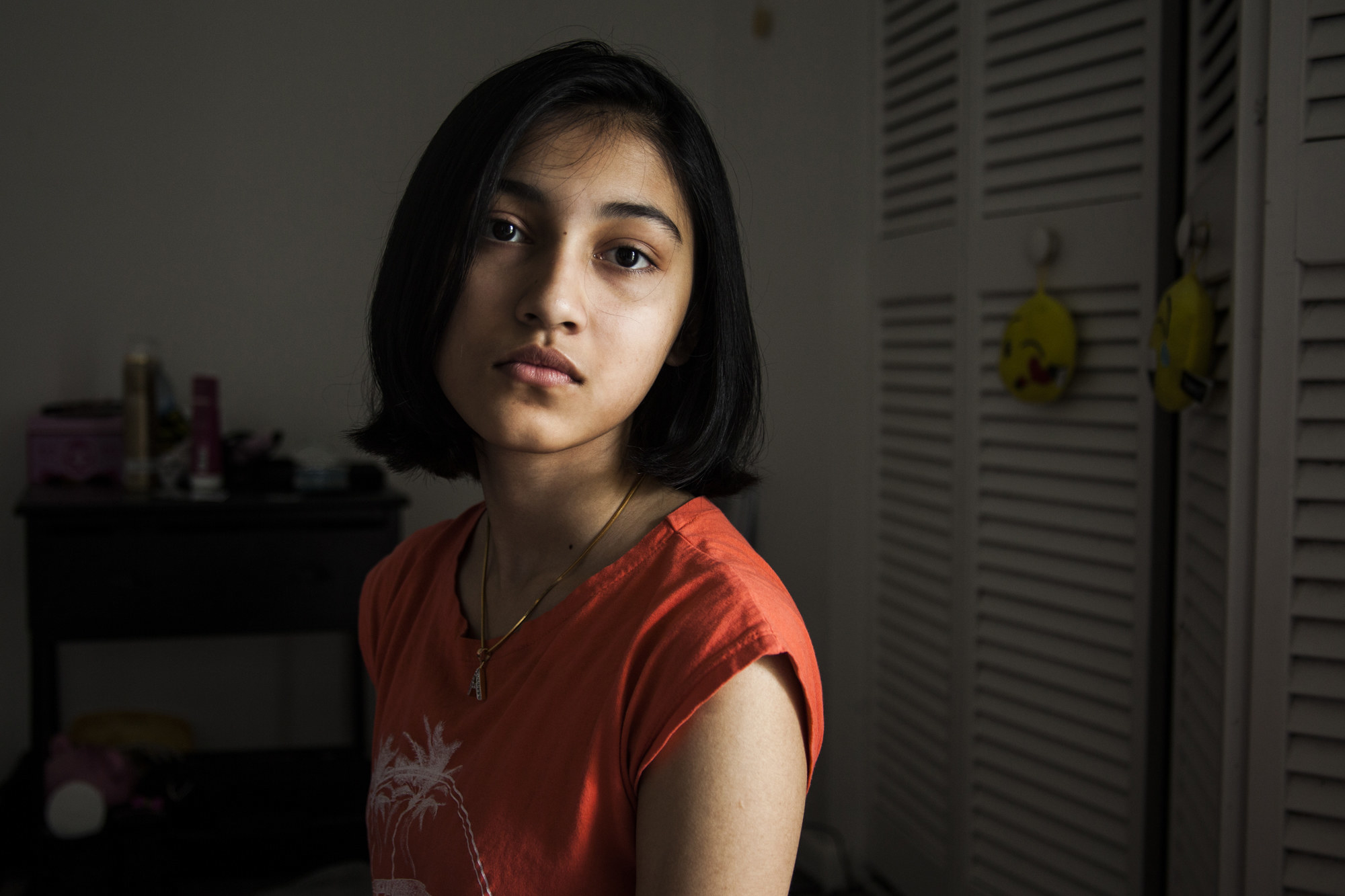 Shamin is the baby of the family, a sweet eight-year-old who is all limbs and a shiny tangle of shoulder-length hair that falls easily over her face.

As Kauser's lot in Florida is different to that of her sisters, so was Shamin's on Nauru.
Azizah, perched on one of the dark brown couches in the corner of their living room, says her younger sister would spend her days on Nauru playing: "She would not come back home the whole day, she would stay outside and play."
Shamin's friends, a pack of kids detained first by the gated camps and later by the parameters of the island, had all the time in the world for tag.
"It's really nice there, it's happy there. It's really fun," Shamin, sitting next to Azizah, says quietly.
"For her," Kauser adds, with a grim laugh.
Shamin, just three years old when her family was sent to Nauru, does not remember everything that happened.
For the first nine months, the family lived in an air-conditioned tent due to Shamin's age. But as soon as she turned four, they were forced to move into a tent the family says was mouldy and dirty, and equipped with only a fan to keep them cool in sweltering temperatures.
Shamin cried a lot.
"She was so little," Kauser says. "She was complaining — 'I want to go back to my house. Why do you guys leave me in the hot tent?' We feel so bad."
Shahena recalls the debacle as a failed negotiation.
"I requested them, saying that I have high blood pressure, I cannot tolerate very hot weather. But they told me this is an order from the higher authority. I told them, how about if we didn't comply with the order? They told me they would have to drag us into the vehicle and then I started [to feel] fear, and then I complied with the order."
Shahena says being in the baking tent, which they stayed in for more than a year before being moved to a mobile house in the Nauruan community, was unbearable. But she was powerless to make things better for her daughters.
"I know my kids are suffering," Shahena says. "But we don't have anyone to tell about that."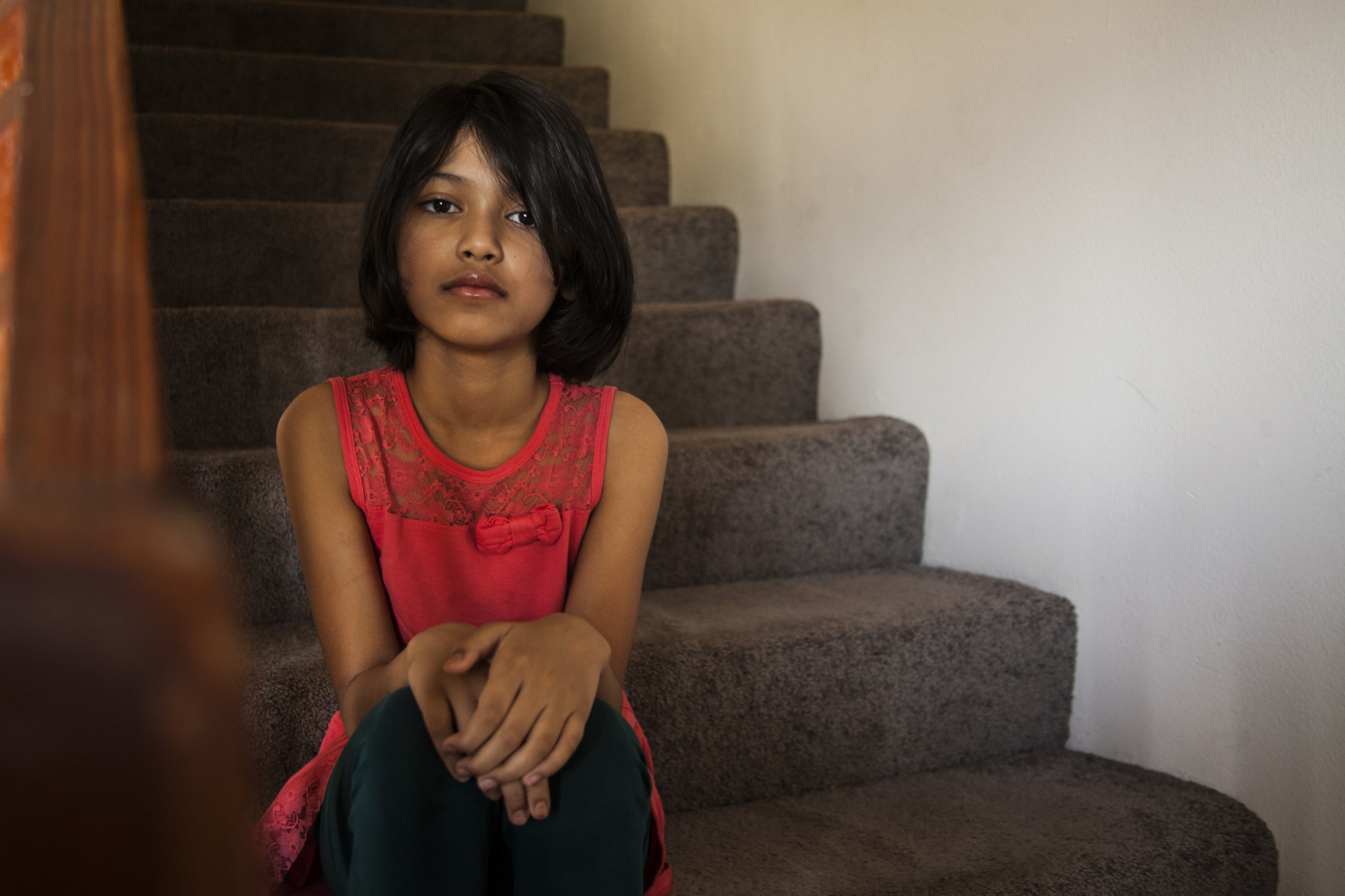 Despite everything, the sisters miss Nauru.

"Just because there are people that have the same life as us," Azizah explains. "We became really close, like a family and stuff. We miss them, a lot. We miss being there with them."
Azizah says they also got to know the small island, its culture and its history. "I learnt a lot about it. There's things about phosphate and stuff. It's the third smallest island [country] in the world."
"You know what's the problem?" Kauser says. "We make a lot of friends during that time, five years. We were very close, like family. We can even say related. Now we are all apart. We are in Florida, some are in the other states, some are in Australia."
Her group chat, seven girls who met in Nauru and still talk over Facebook Messenger, is a case in point. Five of them are refugees and two came to Nauru to study from other Pacific islands. Of the refugees, two are in Melbourne, one is in Chicago, one in Texas and Kauser in Florida.
"If we are meeting all the Nauru people in the same place again we would have some energy," Kauser says. "Like 'Oh, you are here, we are here'."
"At school back in Nauru we talked about what we're really going through," Zainab says. "I feel much better talking it out with my friends, because they understand me, because they've been going through the situation I've been going through. But here, we don't talk about that, because they don't know anything about it."
The family knows that people remain on Nauru, even though all the kids are gone. They are angry that some of the people who spent years there have ended up in Australia, while they took the US deal.
They also know that hundreds have been knocked back from the US agreement, and that the full contingent of 1,250 refugees discussed in the deal will not be resettled under Trump.
Mohammed, who grew up in Rakhine State, from where hundreds of thousands of Rohingya have fled extreme violence in recent years, says he appreciates that America, in his experience, plays by the rules.
"They say after a year we can apply for a green card. After five years, we can get citizenship," he says. "It's better here than living in Burma, because [as Rohingya] we don't have that documentation, or any citizenship, or any visa, or anything like that."
Starting over in the US has been difficult, and Kauser is frustrated about her situation. But still, America is not Nauru.
"When we got here, we feel like we got freedom," she says. "We have no officer, no nothing. We're like other people."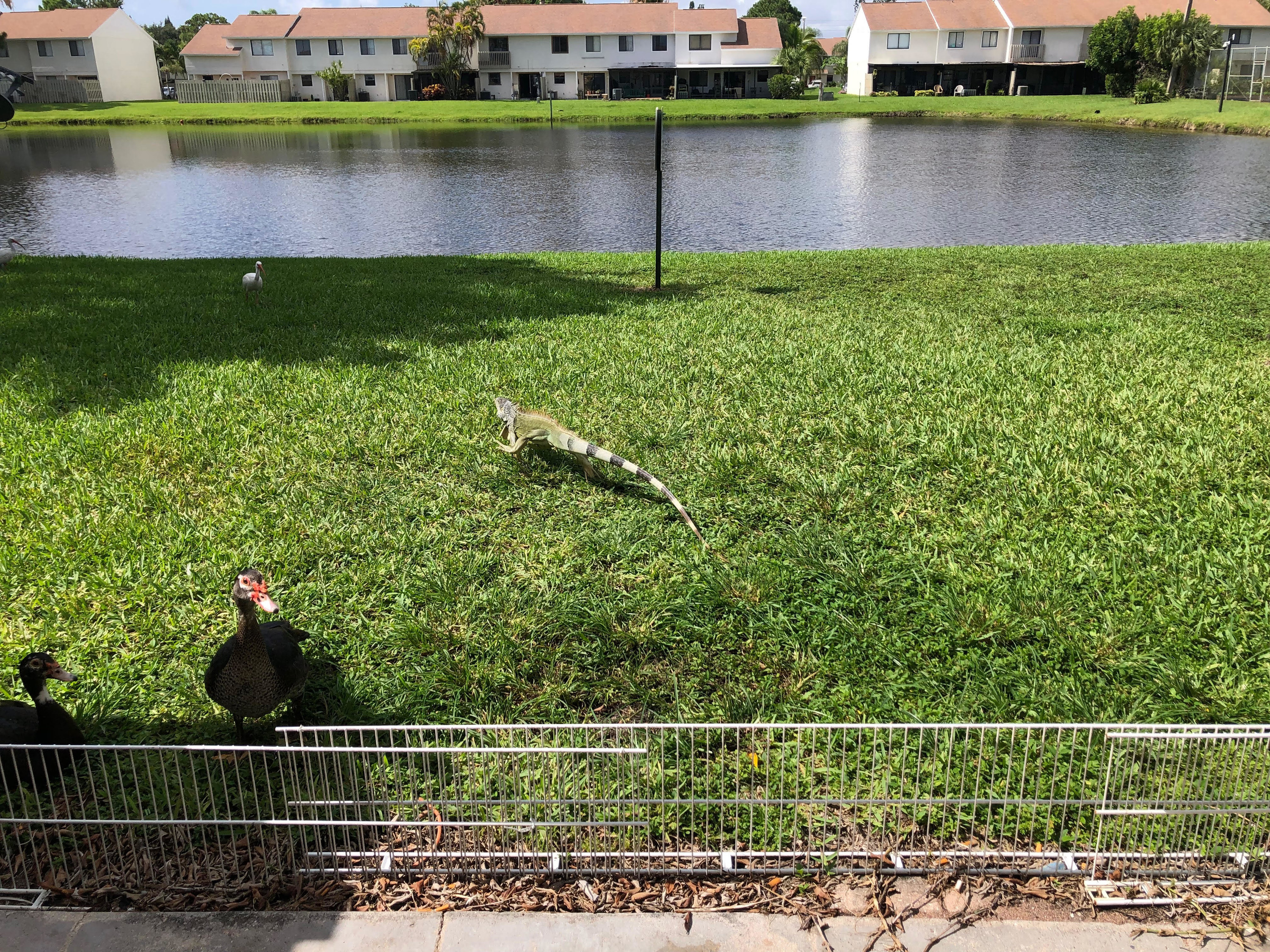 On the last day of July, the Amins left Florida behind and headed north, switching out their house with the hidden pond and all its wildlife for chilly Chicago.

Their destination is home to a large Rohingya community, as well as a higher minimum wage and easier access to Medicaid public healthcare than exists in the Sunshine State.
The northern city's icy temperatures are cause for concern, particularly with Shahena's health. But most of the family members are cautiously optimistic.
Some of the other people who were on Nauru have landed in Chicago. Mohammed and Kauser are stressed about finding work, but believe their dire financial situation will improve.
Kauser, always thinking about her sisters, wants Azizah and Shamin to connect more fully with the Rohingya and Muslim communities. "For them to have a good future, we need to be close with our people," she says.
Shamin, typically, feels fine about it. Zainab is excited, not at all nervous about starting at a new school.
"No, not really," she says. "Because I moved… I mean, I came here. I just started it, just like that."
But Azizah feels differently.
She is slow to say how she feels about the move, until Kauser urges: "Tell her the truth".
"I don't want to move, but… we have to move, so," she says. "I am settled here, a little bit. I already have friends here. So it's going to be a new start there."
There has been so much change in her short life, and Azizah is wary.
"This is the last move," Kauser reassures. "No more."
If you or someone you know needs help, you can call Lifeline Australia on 13 11 14 or Beyond Blue Australia on 1300 22 4636. International suicide helplines can be found at befrienders.org.