New Girl is one of my favorite shows of all time.
And in a perfect show, there exists one perfect season: Season 2. Here are 50 hilarious moments from Season 2 that make me laugh every time.
1.
When Nick went undercover in Jess's class as Julius Pepperwood and got a little too into character:

2.
When Jess was stressed about her biological clock, and Schmidt and Winston immediately offered to have children with her:

3.
When Nick became an inspiration and immediately regretted it: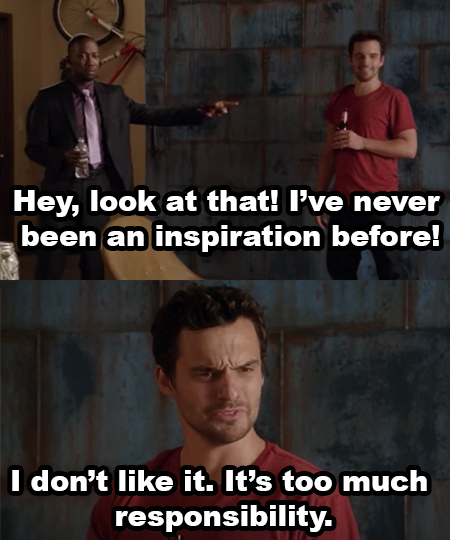 4.
When Nick got drunk at the zoo and threatened to let the snakes out if Winston said "adjusted schedule" one more time:

5.
When Nick hit it off with Tran, a random silent man on a bench, at the park:
6.
And when Tran took Nick to the pool to help him with his anger:
7.
When Nick got mad that women have "an excuse to act irrationally angry once a month" and Jess reminded him that he's always irrationally angry: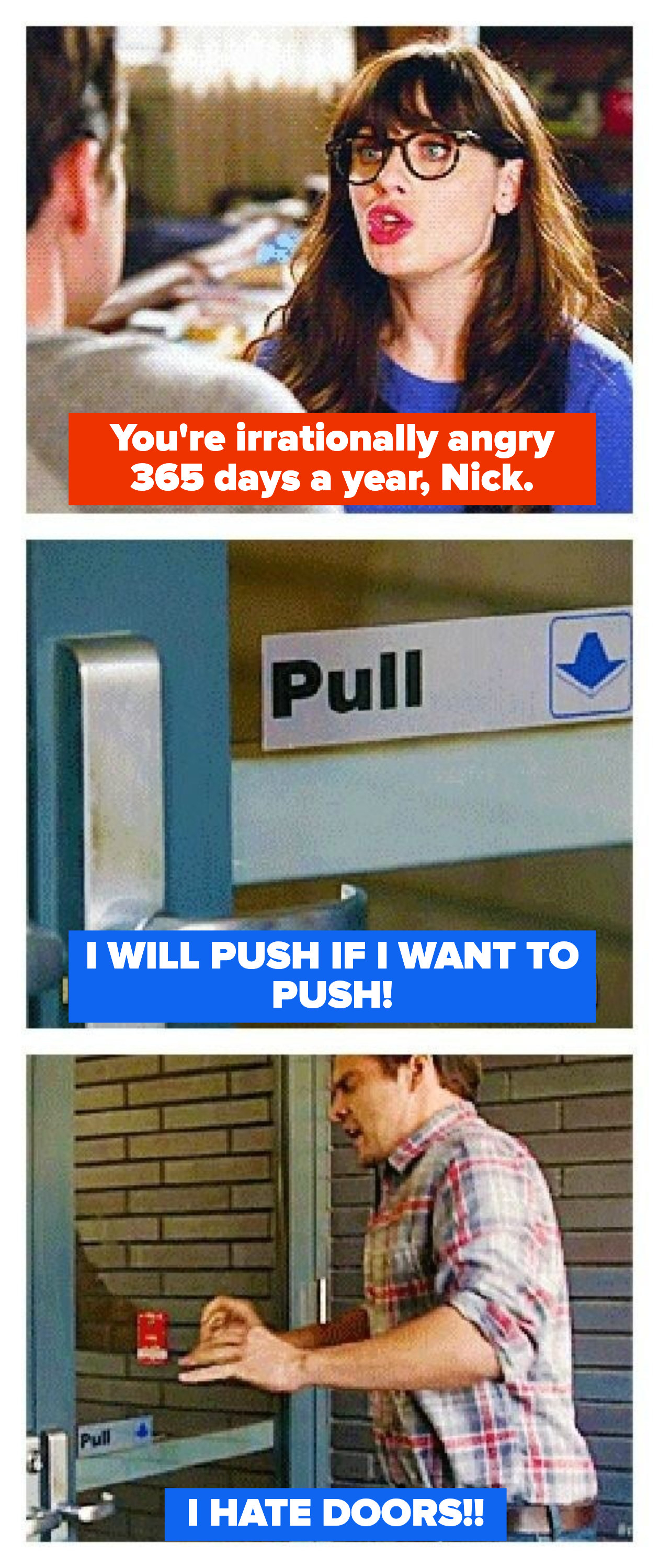 8.
When Nick told the crew that his dad had died DIRECTLY after they'd all inhaled helium: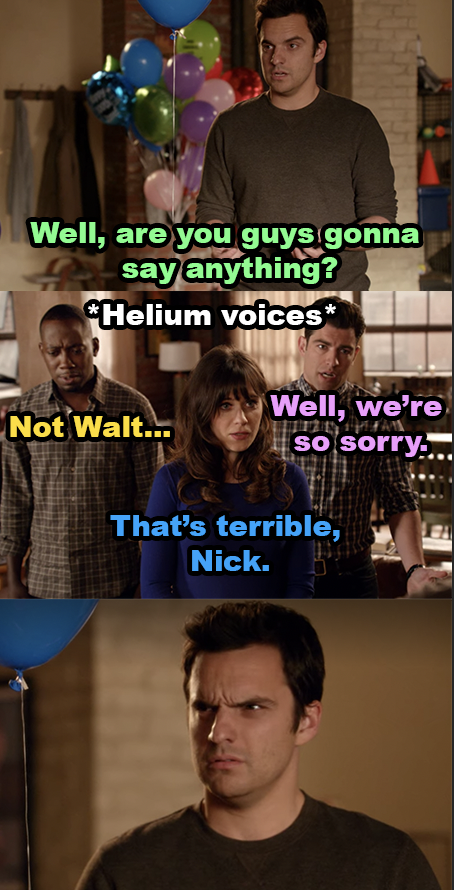 9.
When Jess said that they couldn't use "apricot" as a code word because she uses it too much in her normal life, and Nick questioned why: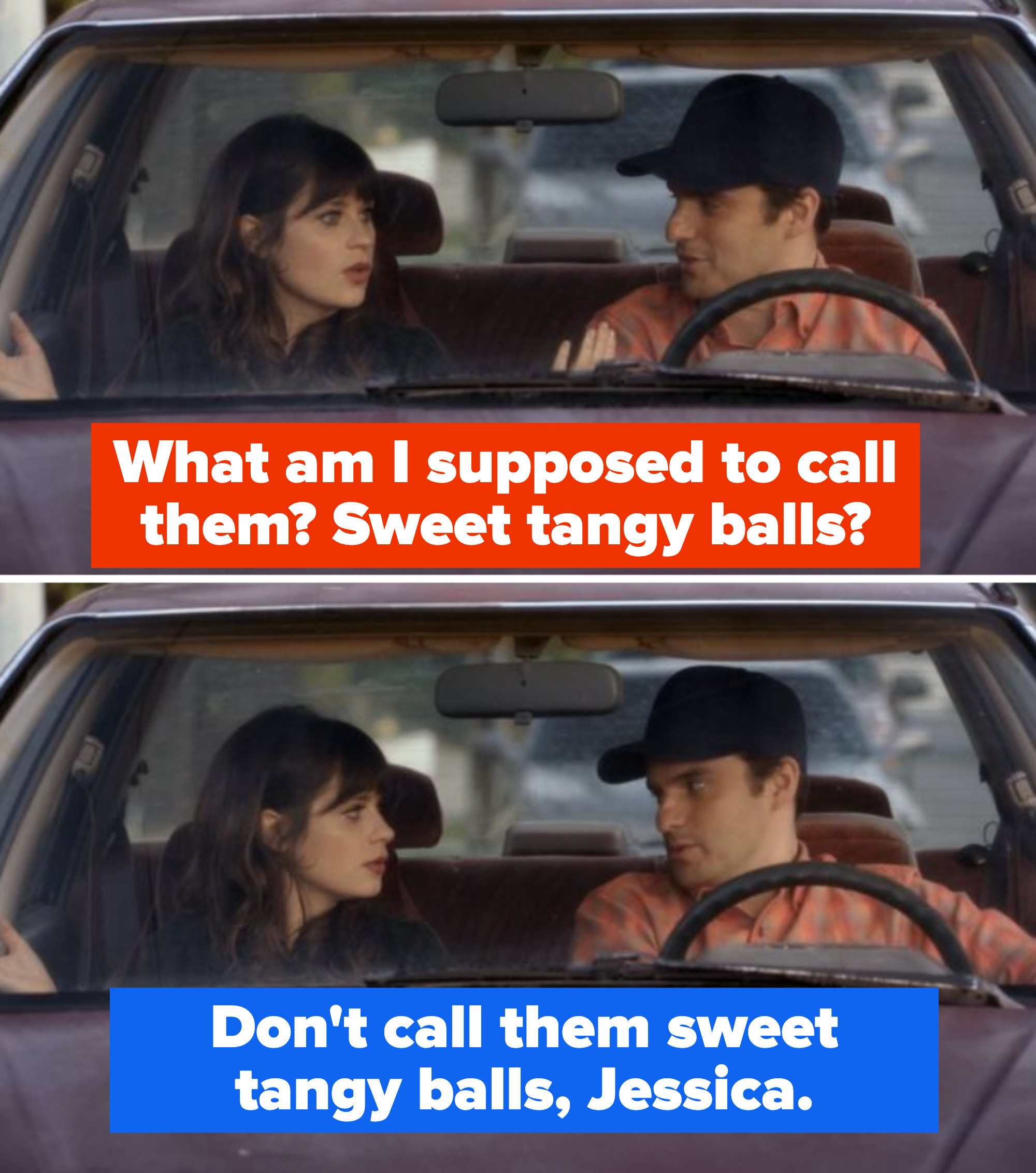 10.
When Winston had a valid question for Nick: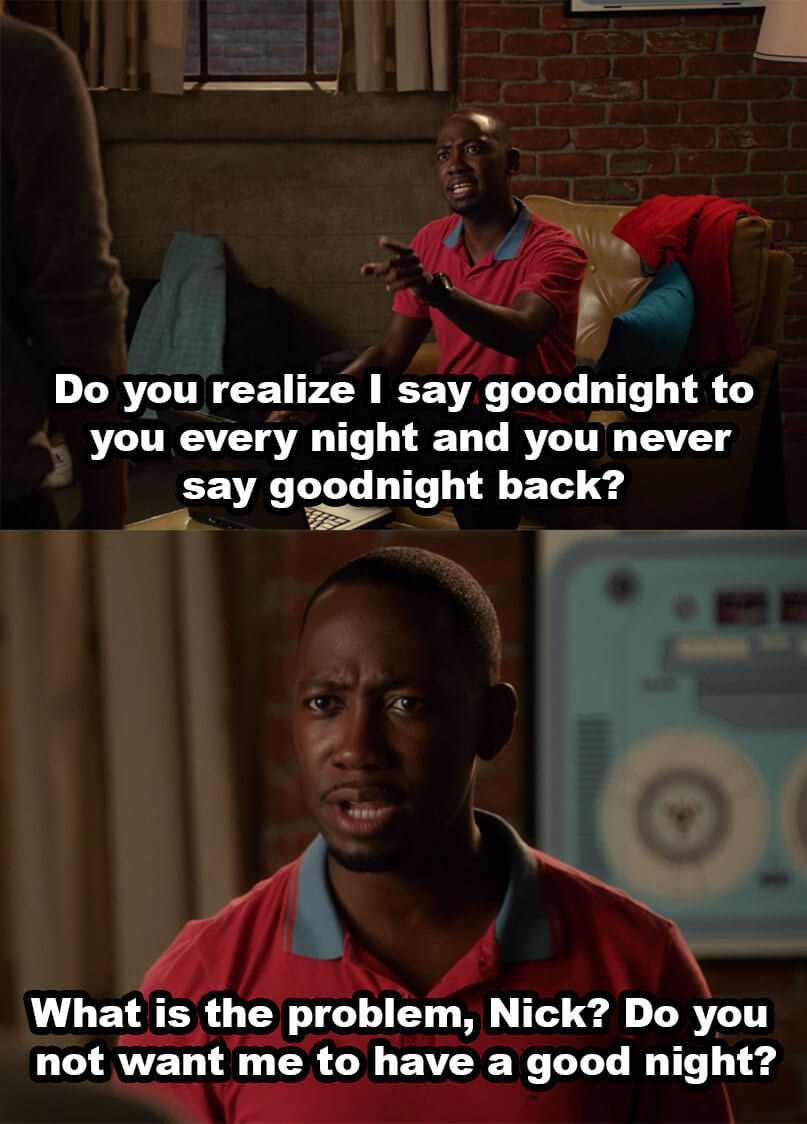 11.
When Winston read Nick's zombie book out loud: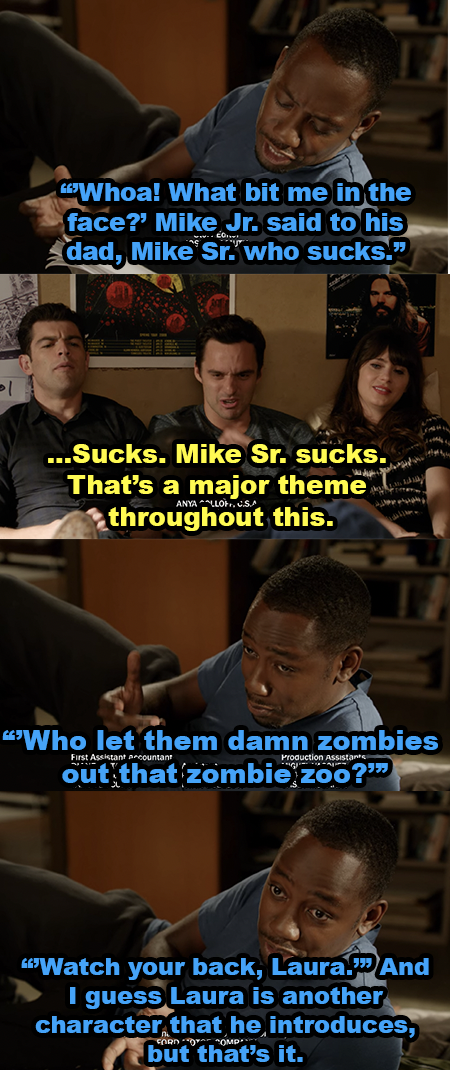 12.
And when he noticed a typo (or 38) in the book: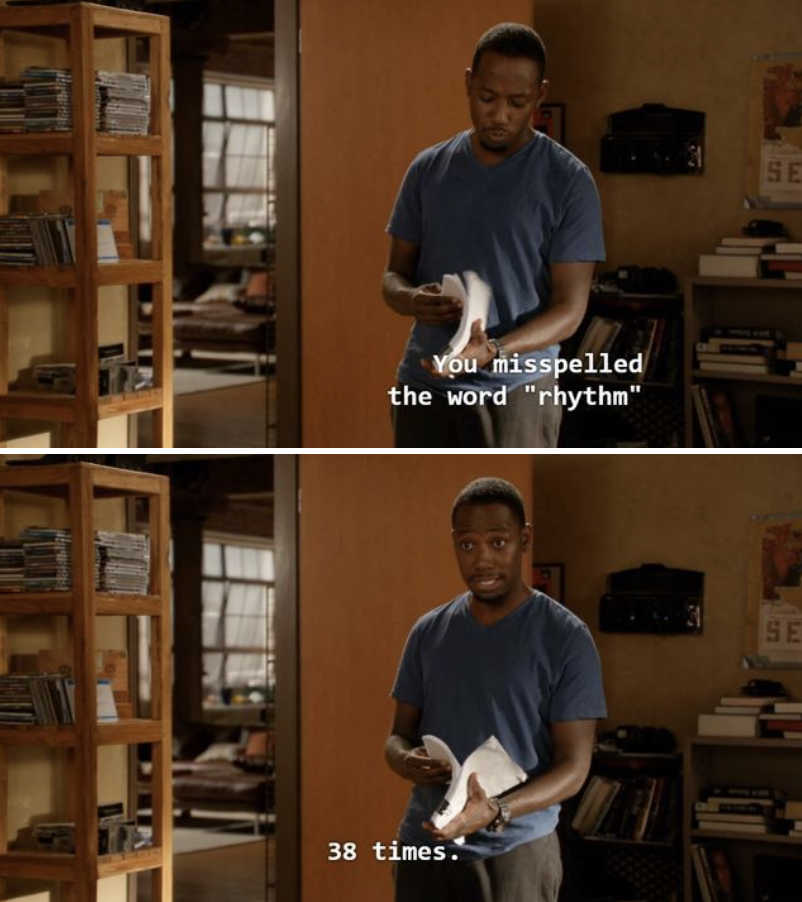 13.
When Nick stole a neighbor's trench coat and then refused to take it off because it "fit like a damn glove":
14.
When Schmidt tried to show Angie how to do a lap dance and Nick wasn't having it:

15.
When Nick moonwalked away from Jess:
16.
When Nick was impressed by an NFL player: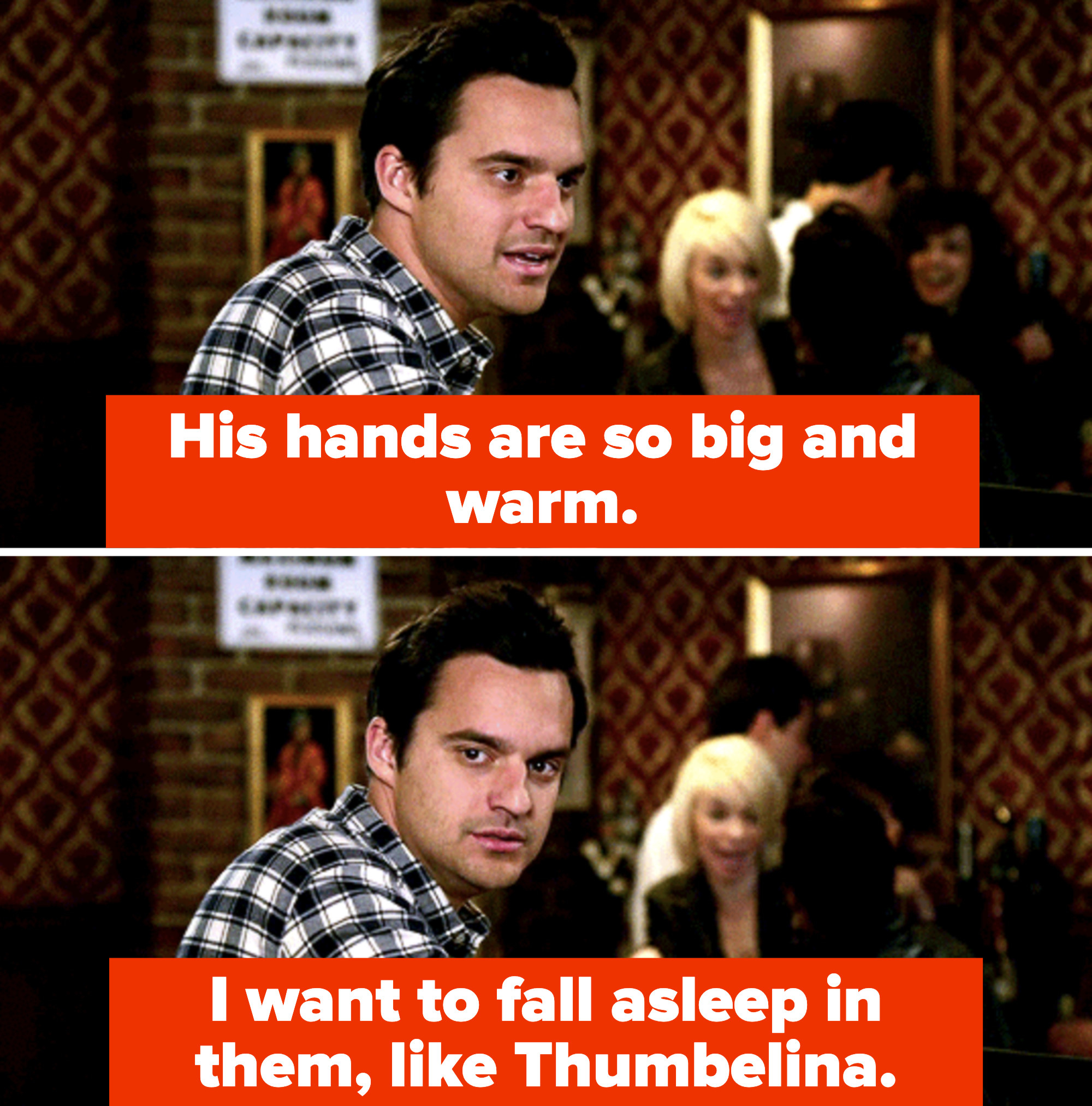 17.
When Schmidt came up with an A+ pun and vagina euphemism:
18.
And then Nick had an even better one: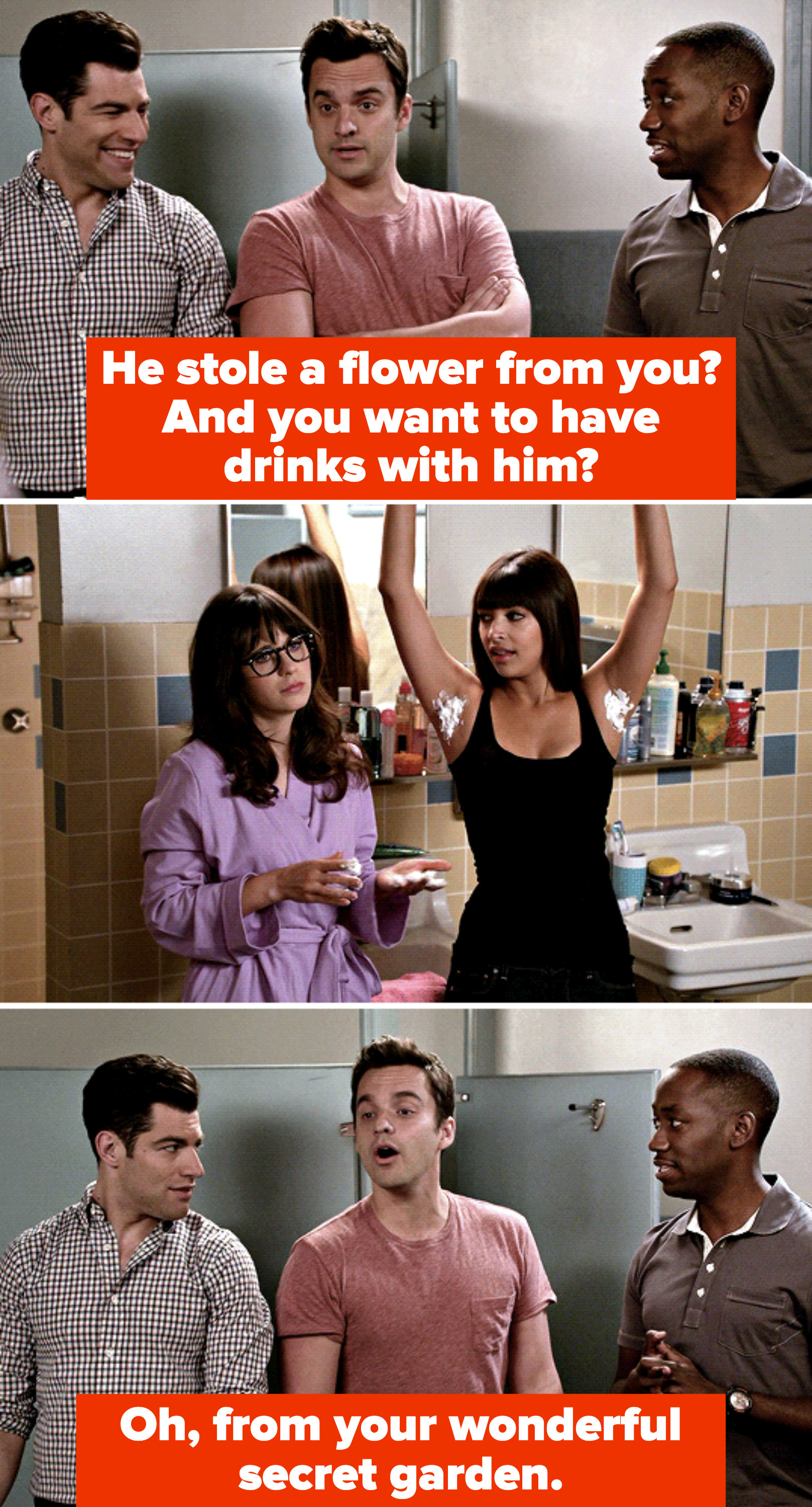 19.
When Winston had an interesting response to a question in a flashback about whether or not he was a virgin:
20.
When Nick just wanted to share his love for "Cotton Eye Joe":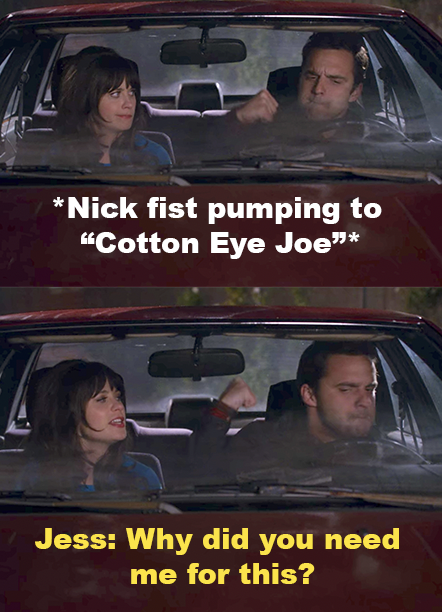 21.
And later, when the beat just possessed him: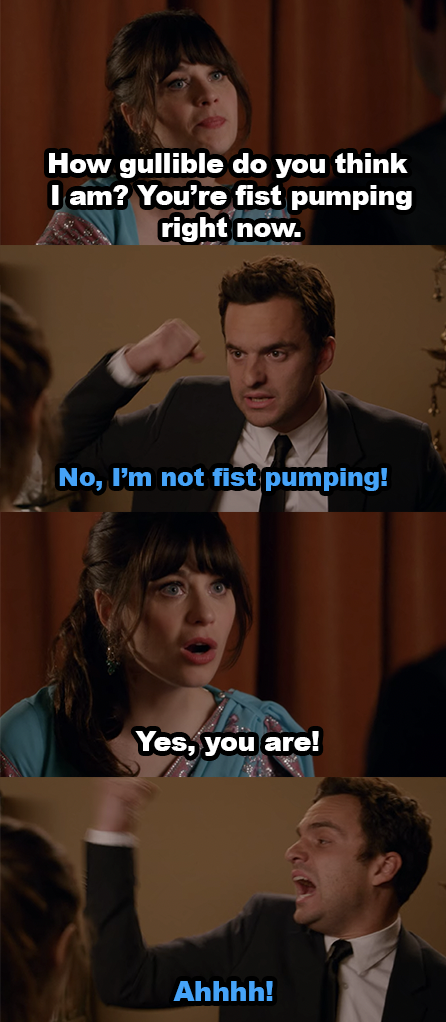 22.
When Jess asked Schmidt and Nick to help her pretend to be Katie the dancer in front of Sam, and Nick had to demonstrate his dance jumps:
23.
When Nick was into Jess's mom and had no excuse:
24.
When Nick was confused by makeup:

25.
When Winston and Schmidt thought that they were being robbed, but so did the guy who they thought was robbing them: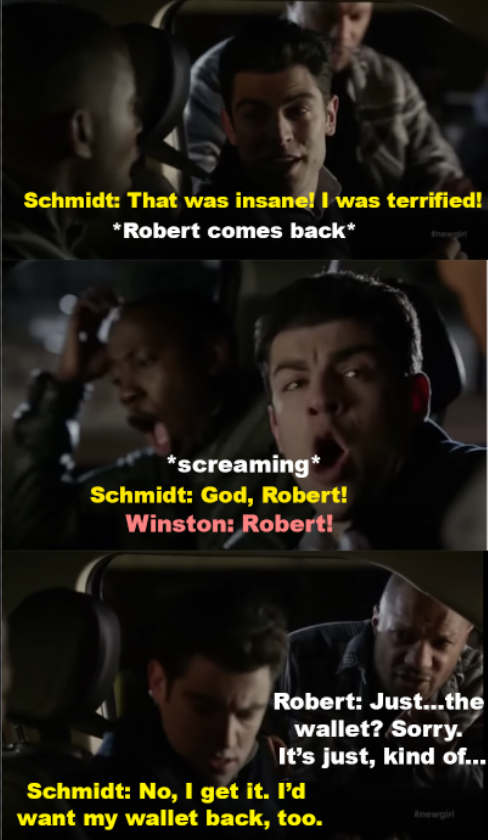 26.
When Nick crawled onto the apartment ledge to get away from kissing Jess, and Schmidt fainted:
27.
When Nick was NOT having fun at a haunted house:
28.
When Nick got really mad at balloons: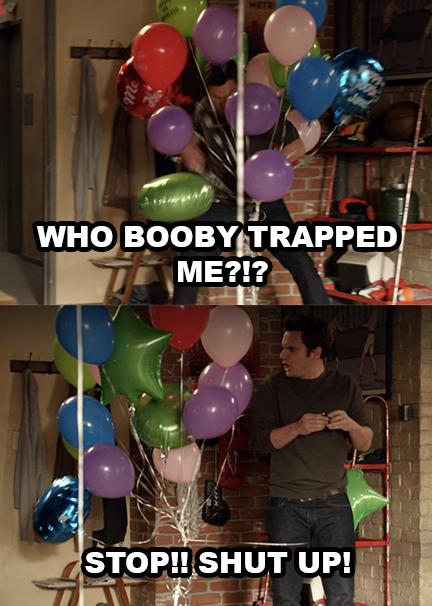 29.
When Nick called Jess a gold digger for thinking it was attractive that he was putting effort into something, and Jess came back with this A+ insult: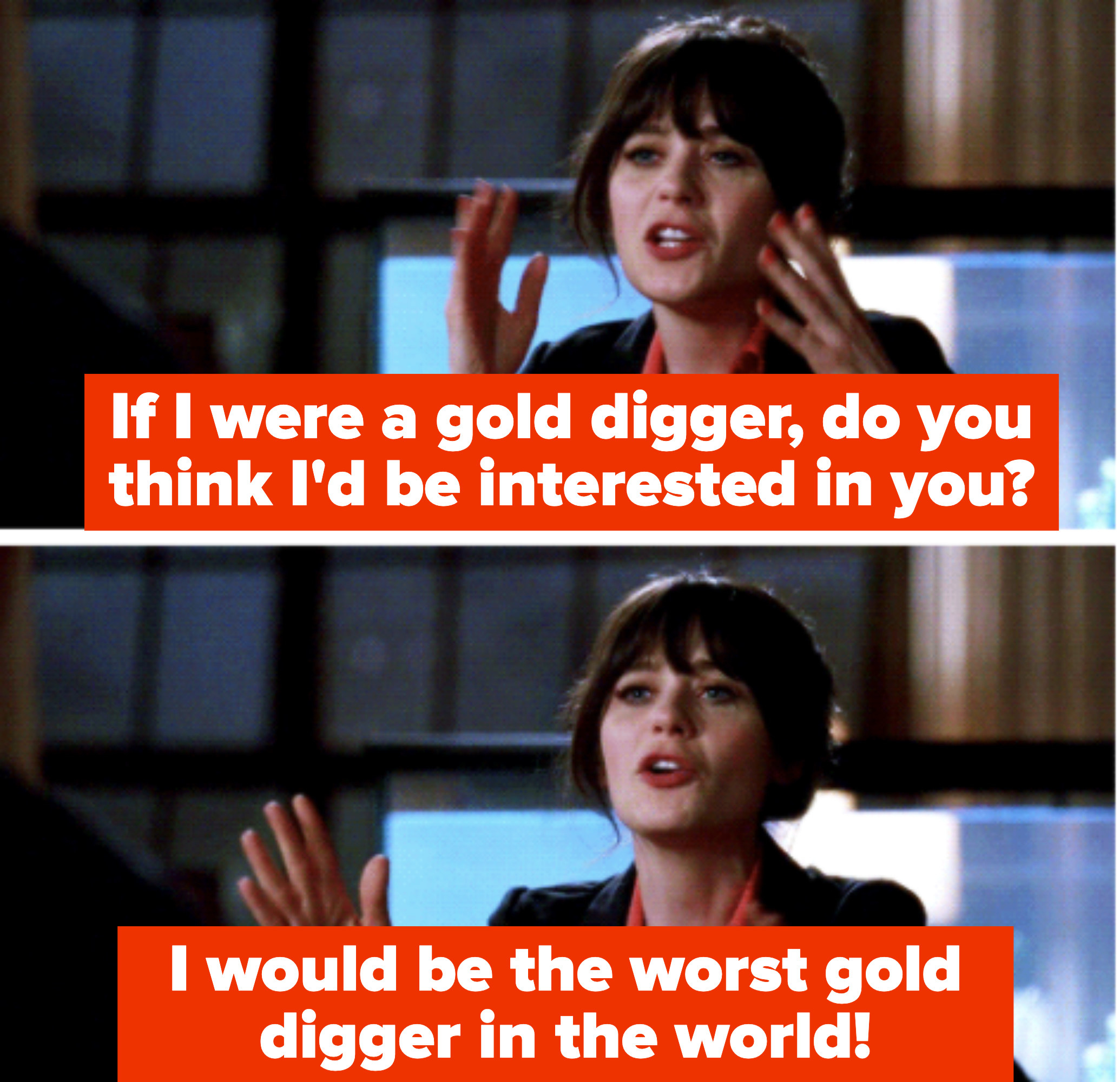 30.
When Jess tried to twist Schmidt's nipples to hurt him, but they...weren't there??: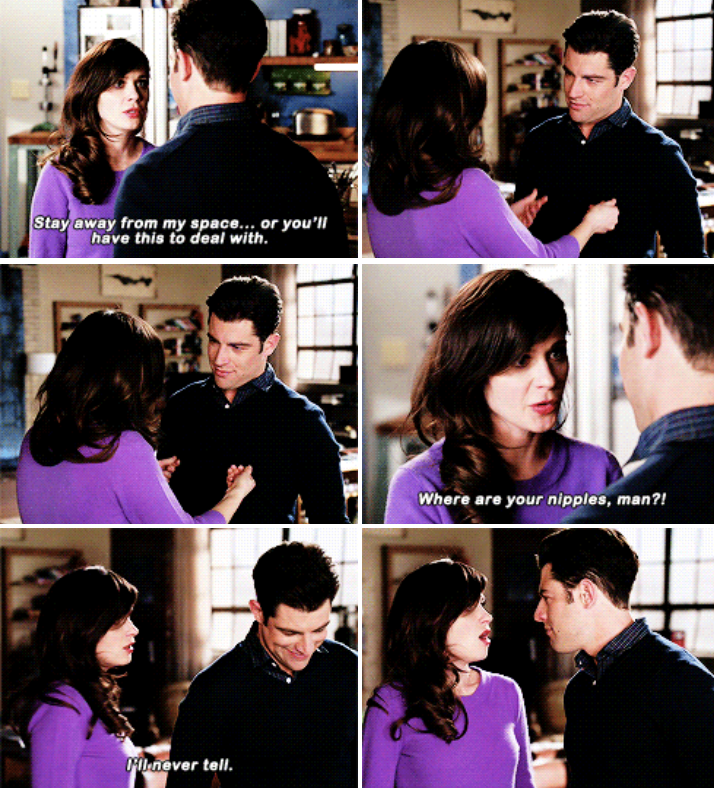 31.
When Nick got stressed about being left alone at a fancy restaurant: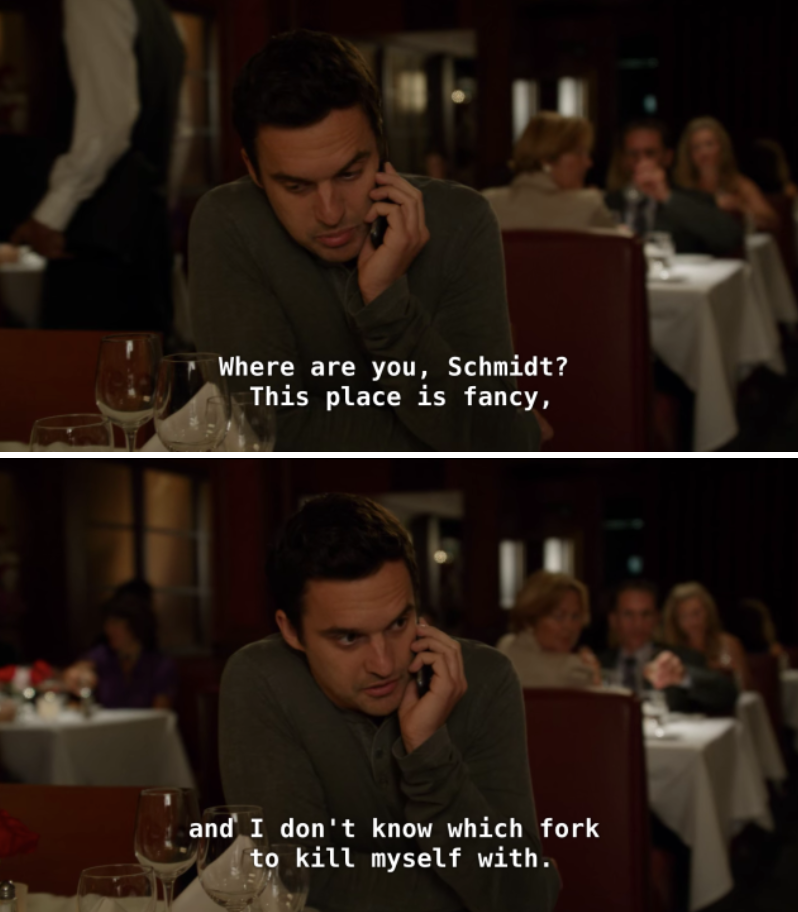 32.
When Nick decided to be more like Hemingway:

33.
When Nick accidentally wrote a Twilight rip-off: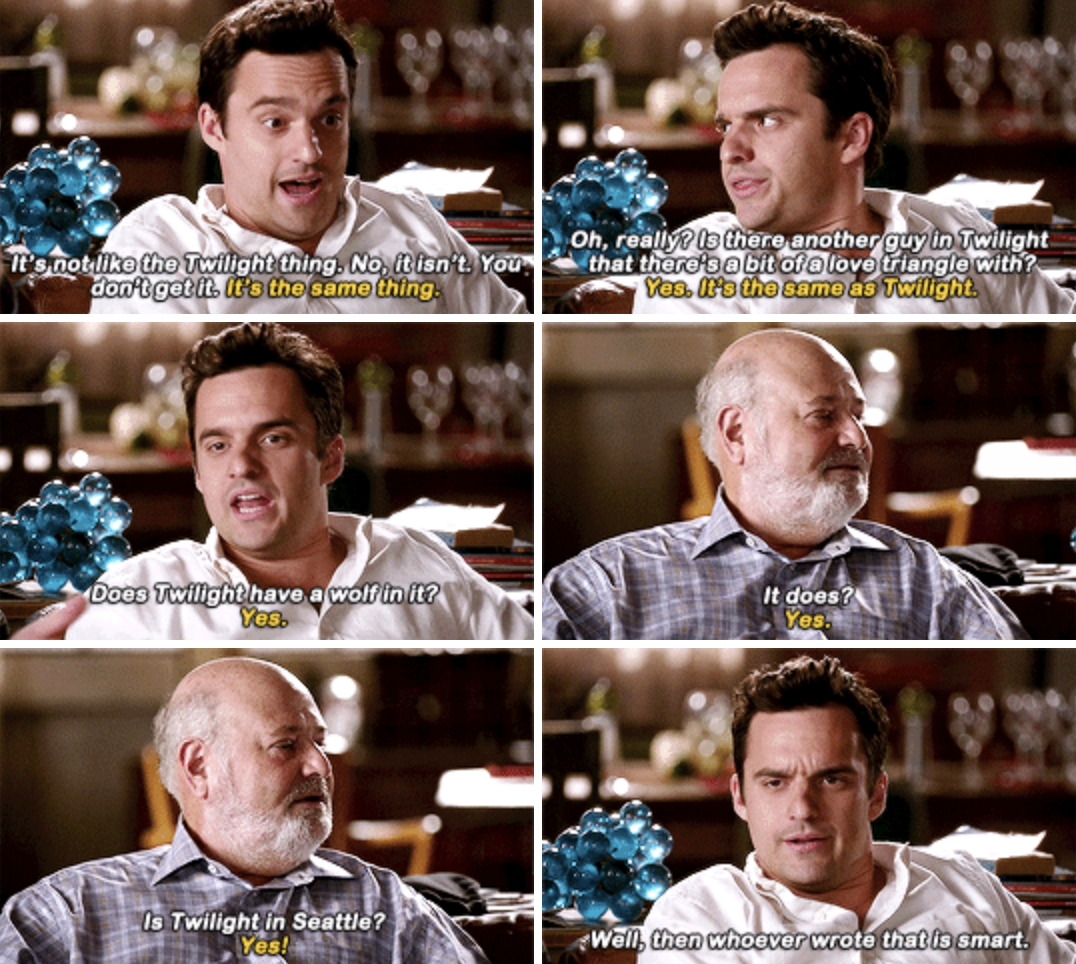 34.
When Nick got mad that such a big deal was being made about Schmidt buying him a cookie: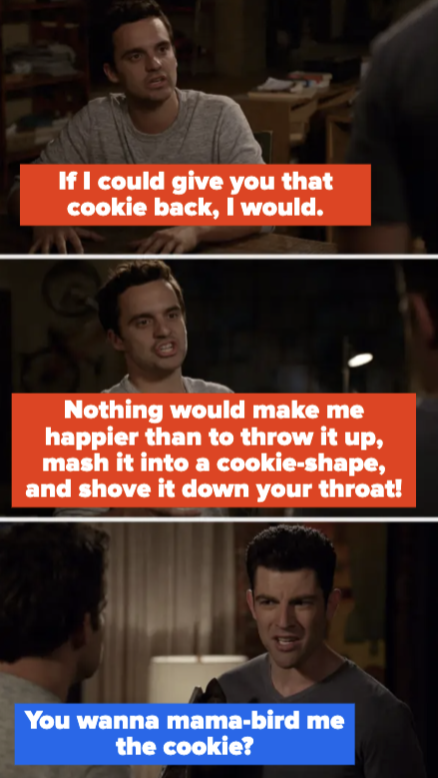 35.
When Nick tried to repay him and his brain short-circuited: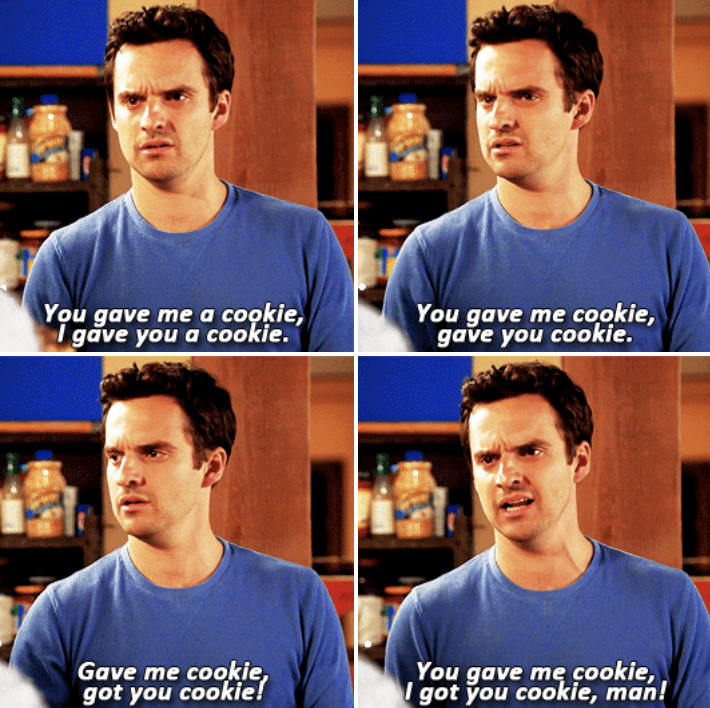 36.
When Nick asked Jess out on a date for the first time:

37.
When Winston referred to himself as "Prank Sinatra":
38.
When Nick tried to steal the notebook of one of Jess's students:
39.
When Winston was practicing asking a girl out and was having a little trouble:
40.
When Winston's "pogo" made an appearance at breakfast and the roommies freaked:

41.
And Schmidt marveled at the capabilities of Winston's pogo: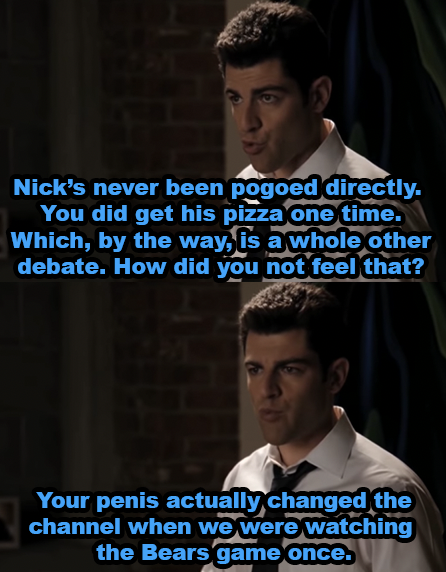 42.
When Schmidt shaved his eyebrows because he thought they were his "pogo":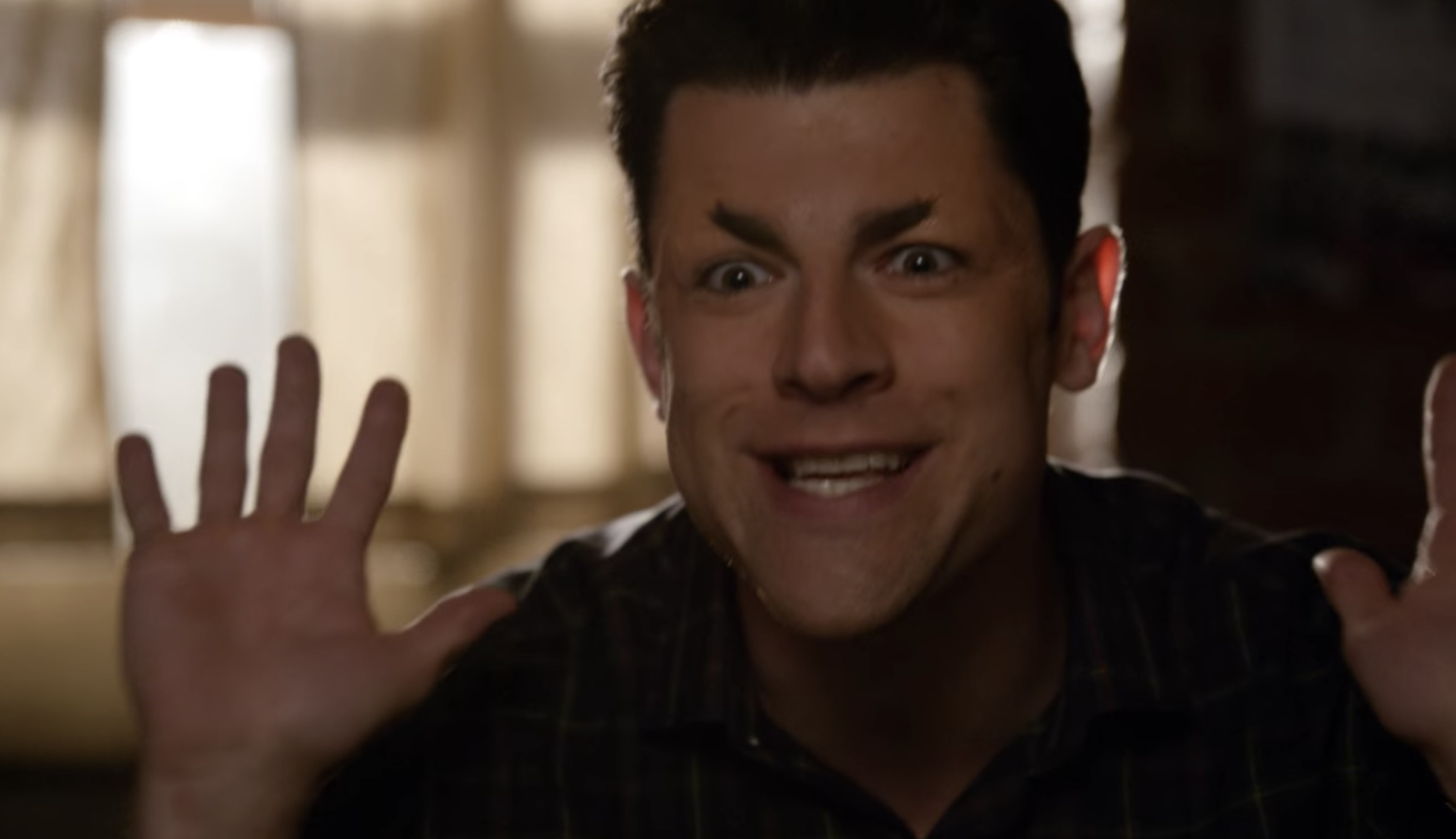 43.
And then made a good point about Winston's pogo: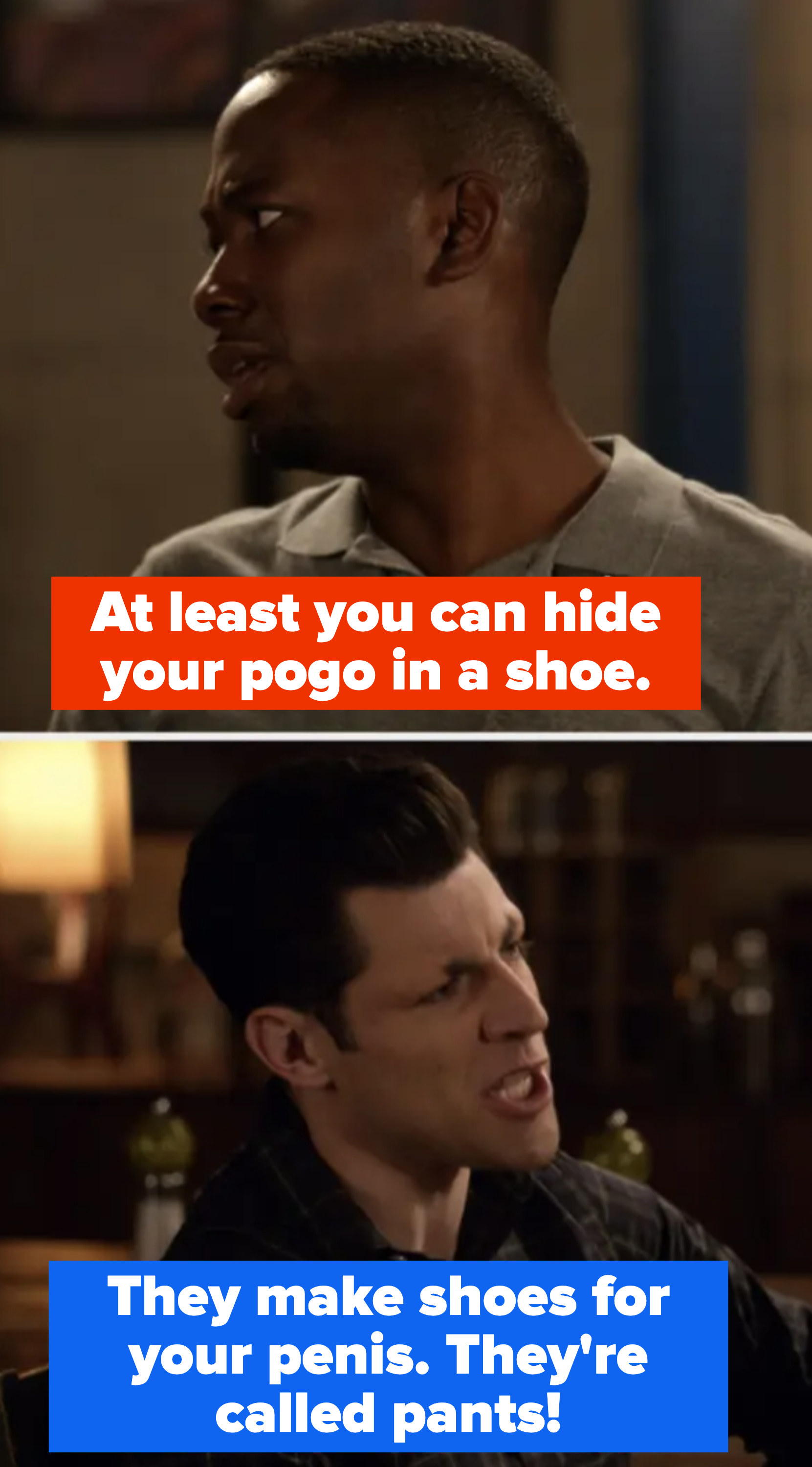 44.
When Nick had to ask a valid question: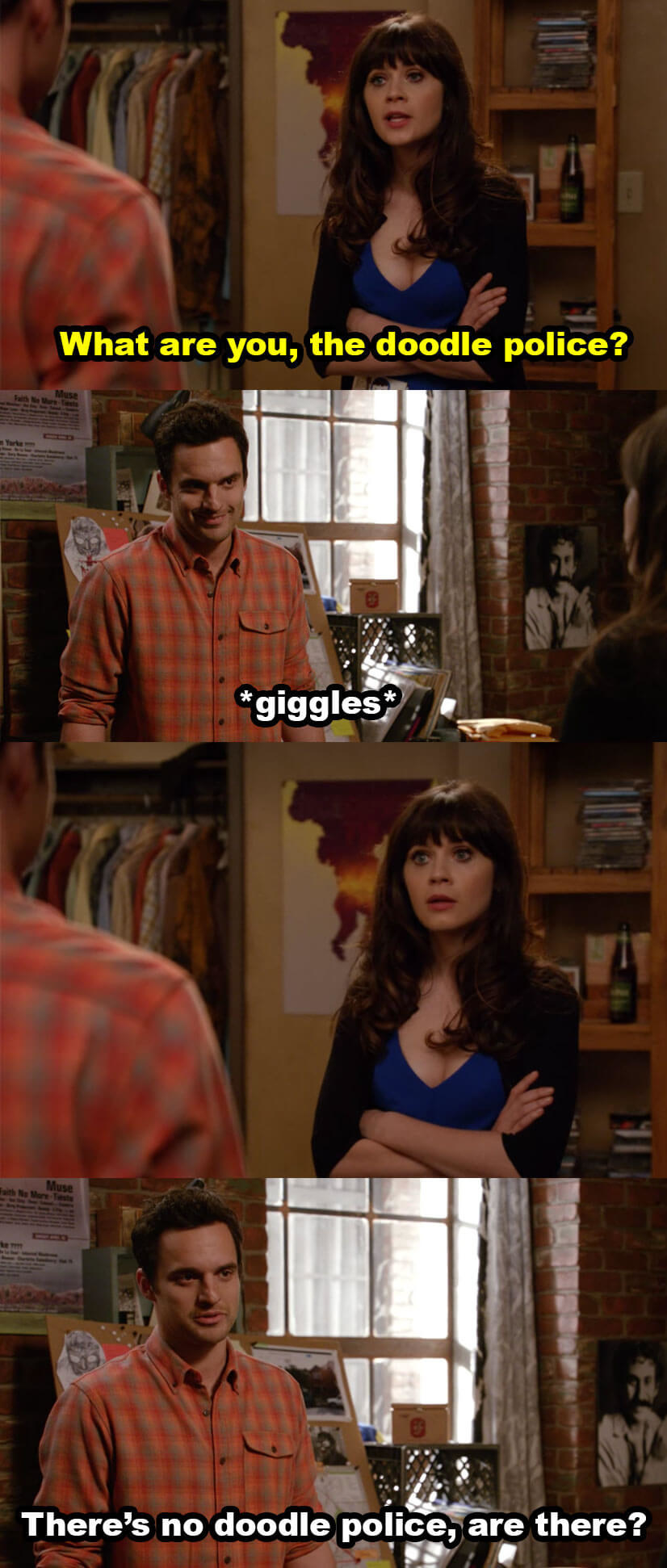 45.
When Winston and Schmidt wanted to know who Nick was going on a date with, but Nick didn't want to say that it was Jess: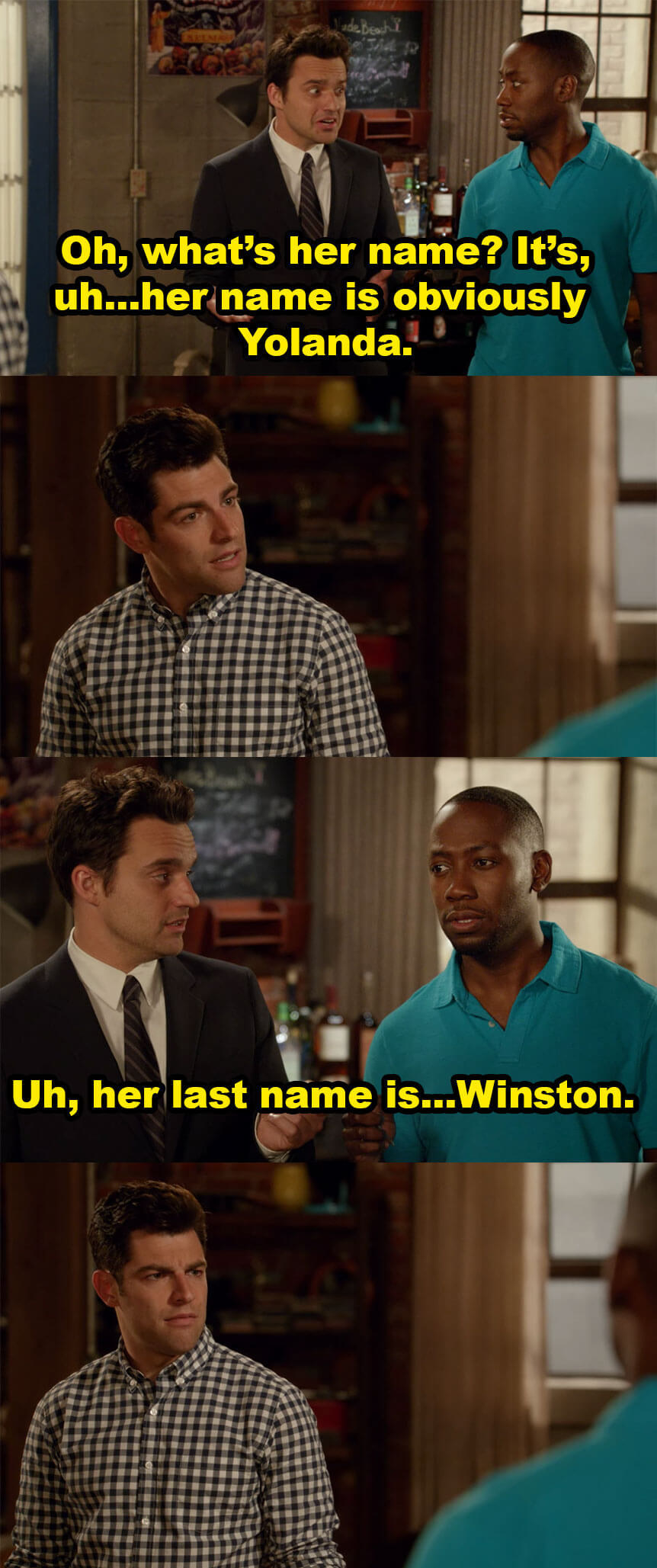 46.
When Winston couldn't even enjoy his cake in peace:
47.
When Bucky the badger got loose in the vents and Nick freaked out:

48.
And Winston got pretty dark: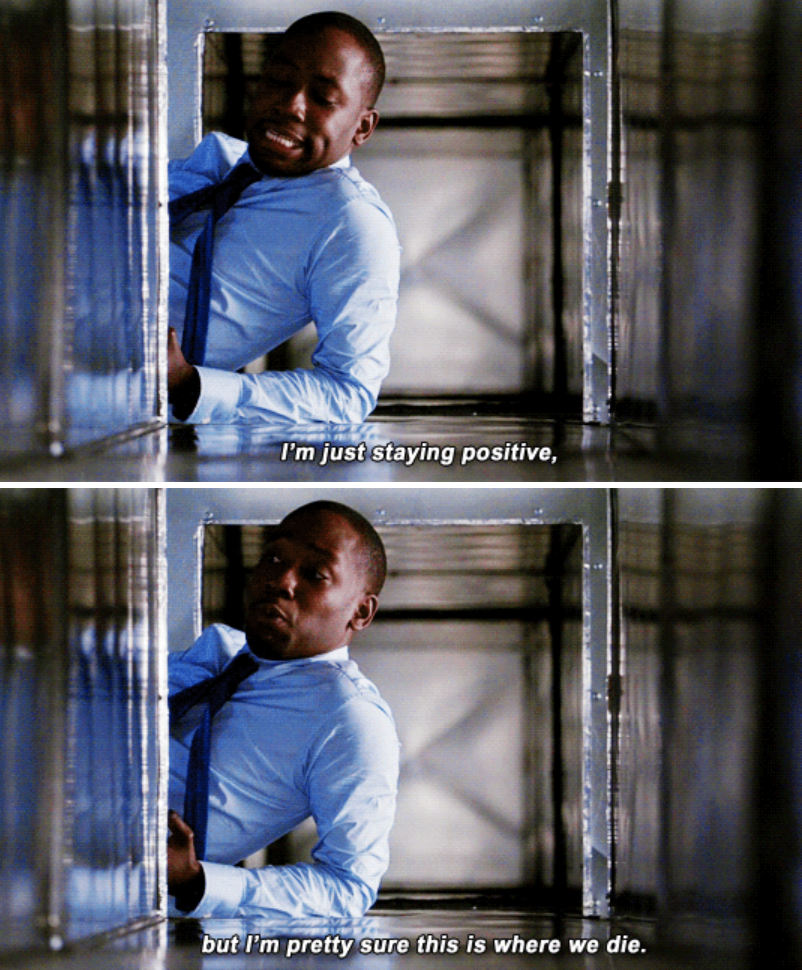 49.
When college Schmidt had some questions about sex while Nick was high: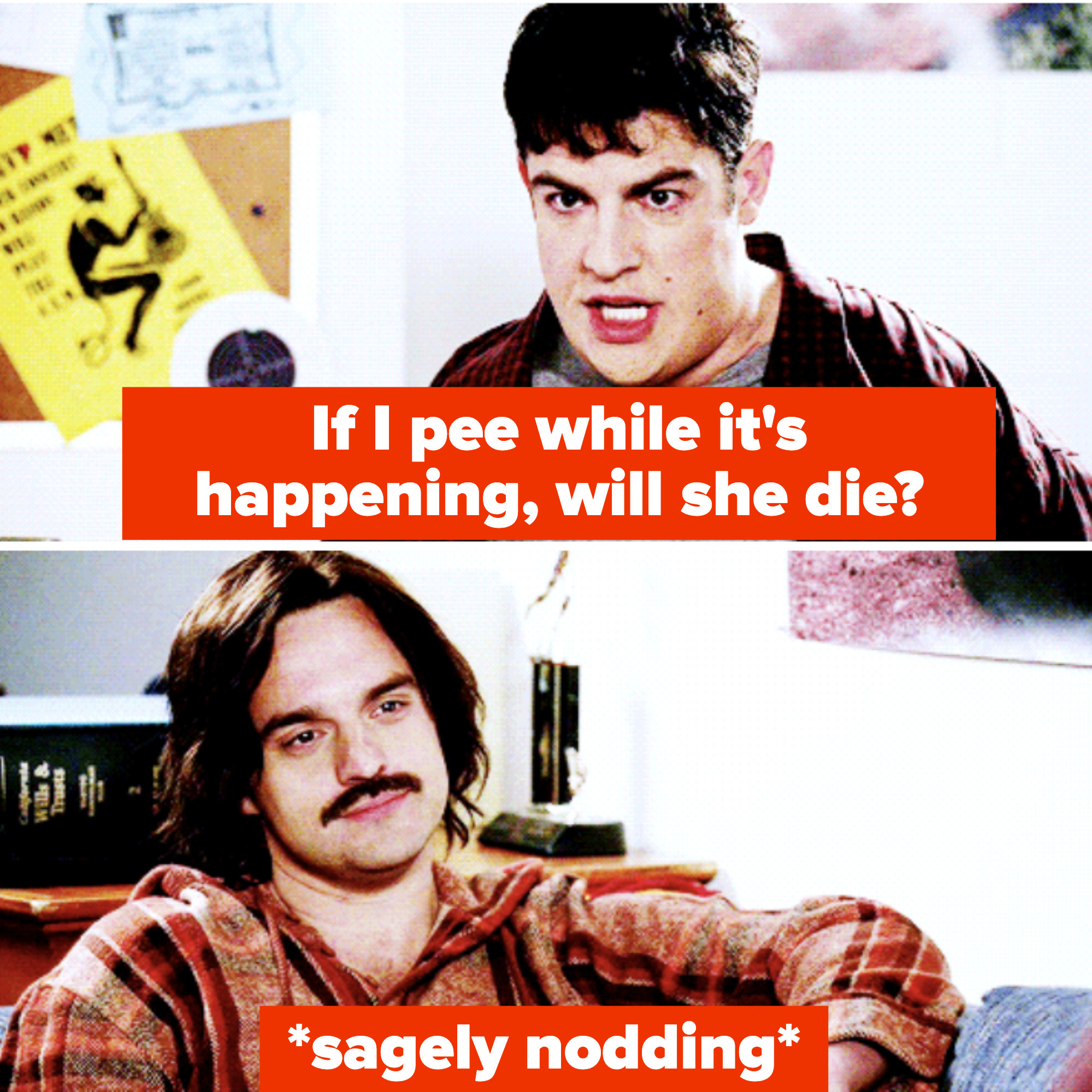 50.
And finally, when Schmidt was unimpressed with Jess and Nick's drumroll: