We asked members of the BuzzFeed Community to tell us what they think the greatest New Girl joke of all time is, and boy oh boy, did people deliver! Here are some of the best responses.
1.
When Jess violated Nick's privacy, so Nick went through all the stuff in her room.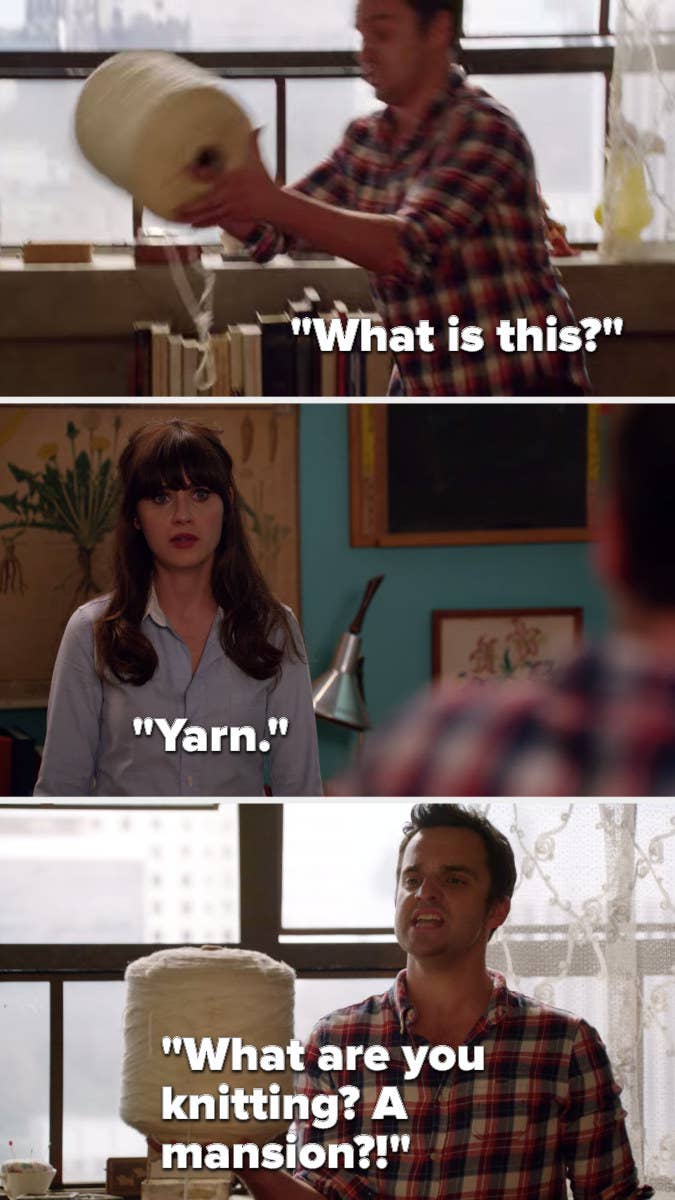 2.
When Schmidt asked for a drumroll to celebrate the loft getting hot water again, but Jess and Nick gave it their own spin.
3.
When everyone in the loft was having a weird and rough few days, so Winston gave them a talking to.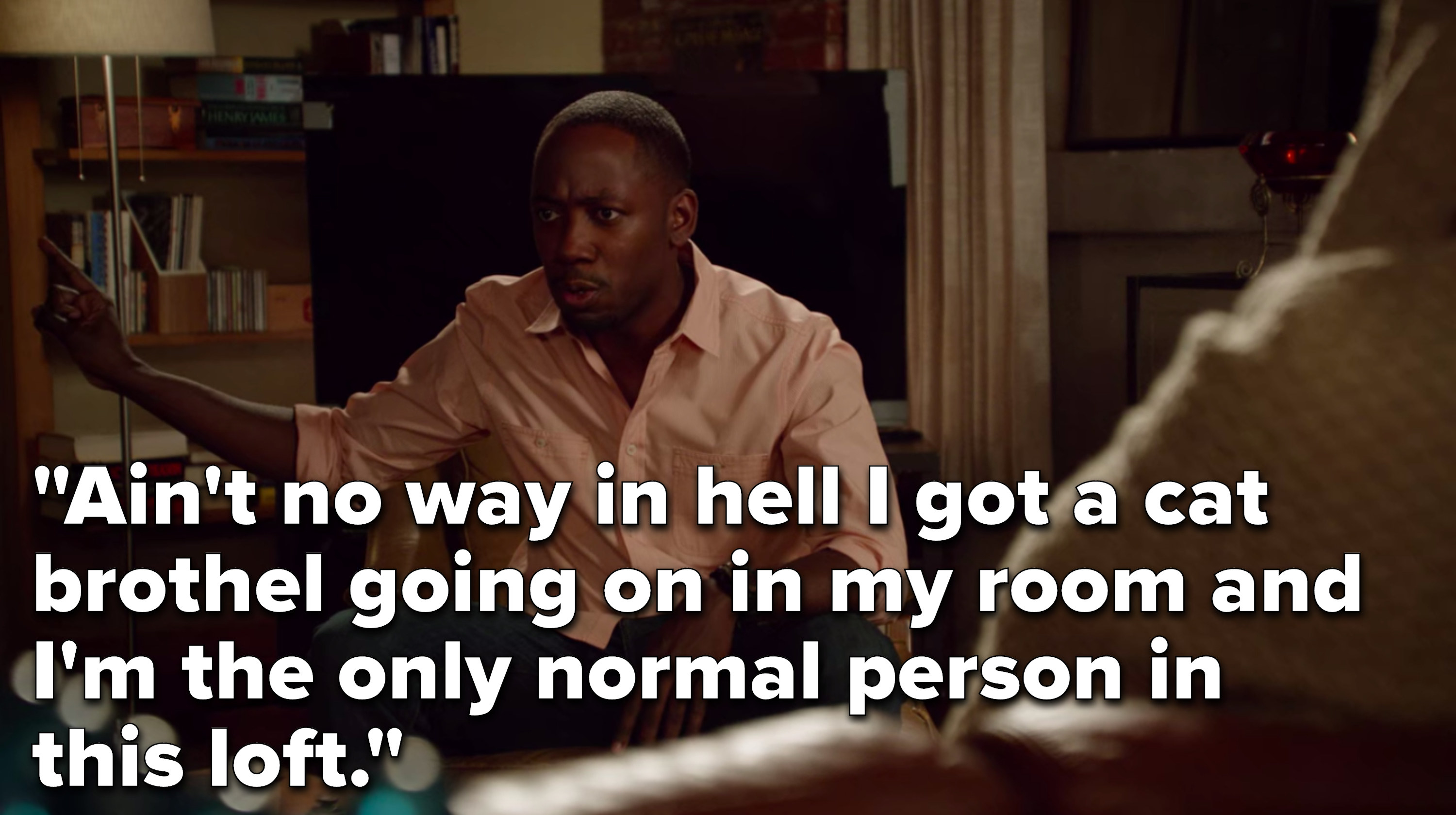 4.
When Schmidt went looking for his daughter at a fancy preschool, but instead heard about a break-in.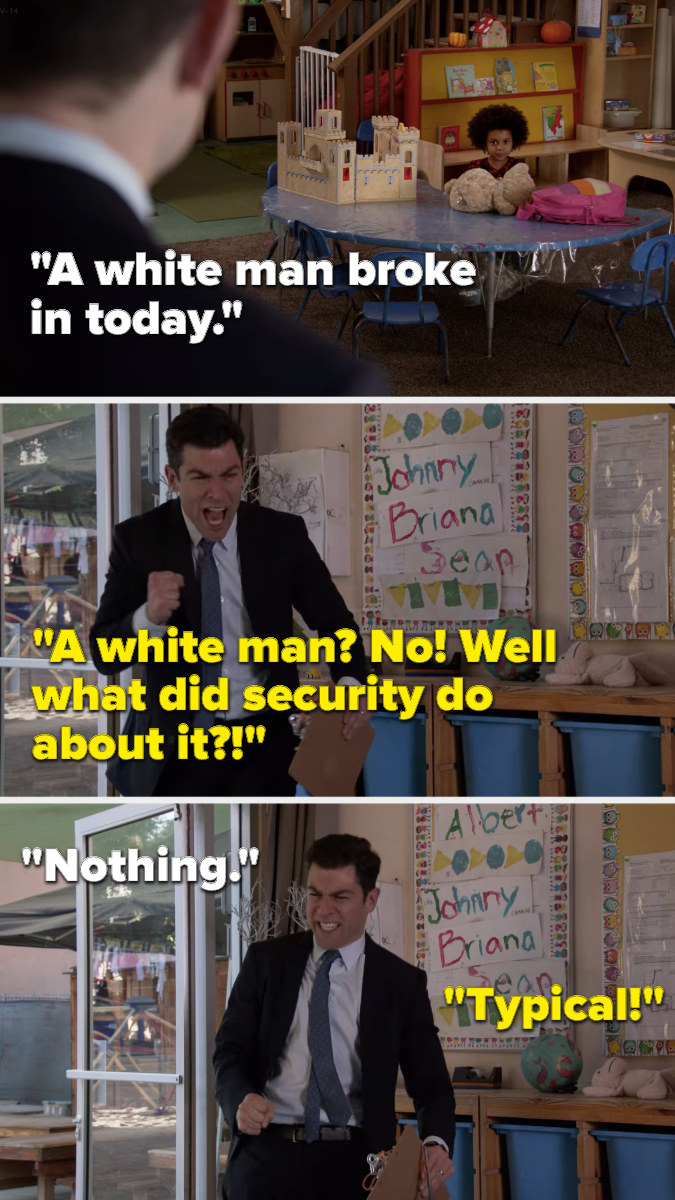 5.
When Nick went to Jess's creative writing class in his Julius Pepperwood disguise in order to spy on a student he thought was going to hurt her.
6.
When Nick and Schmidt told Jess why she didn't have what it takes to "juggle men," and they remembered her tripping.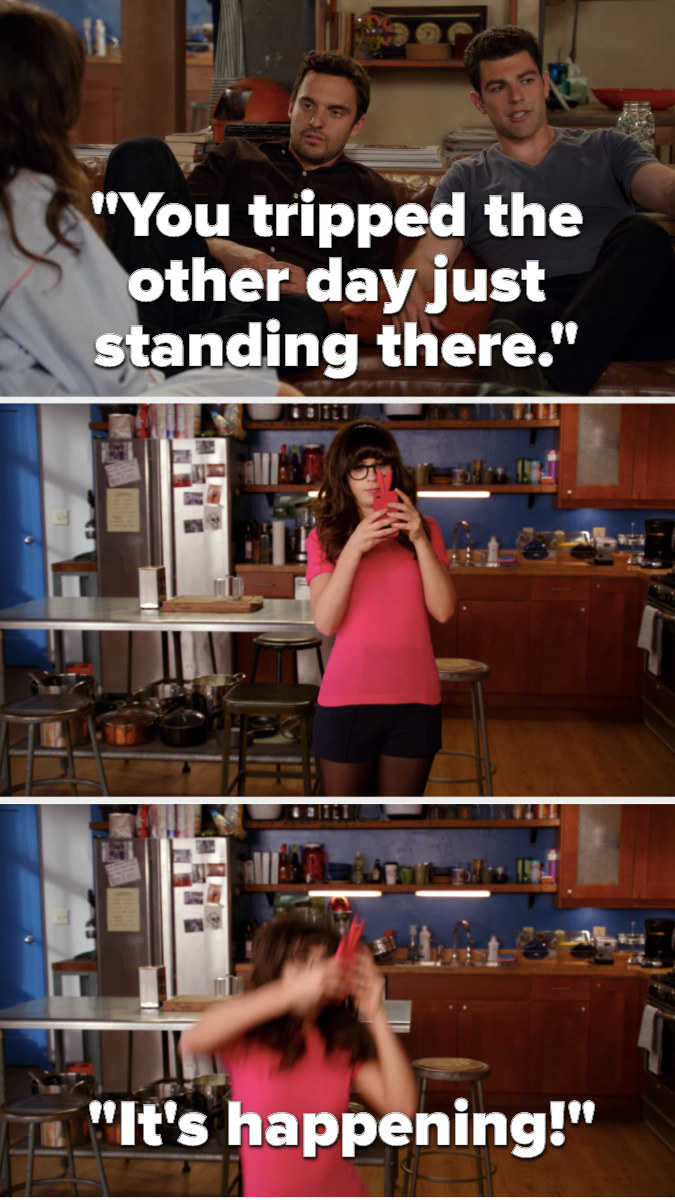 7.
When everyone in the loft was learning about their "pogos" (what people talk about behind their backs), and Schmidt and Winston had a weirdly heated discussion about toenails and accidental boners.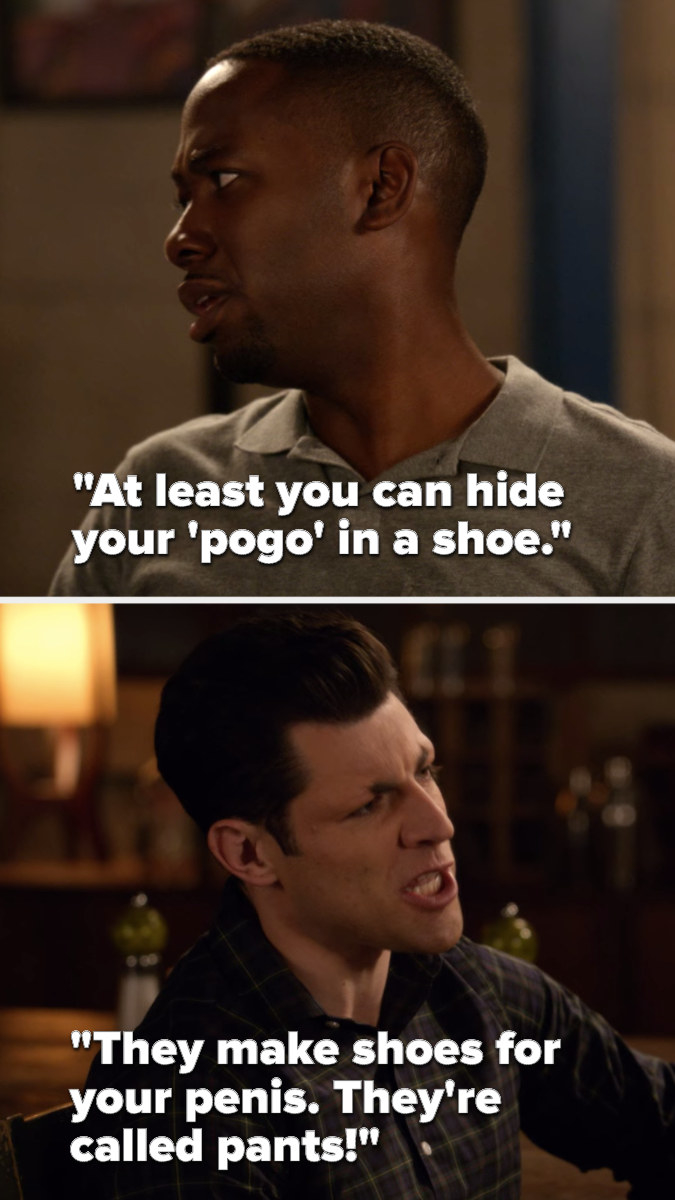 8.
When Nick called Jess a gold digger for being more interested in him when he was trying hard at his job, and she burned him fabulously.
9.
When Winston avoided studying for his police academy exam by making a billion snowflakes.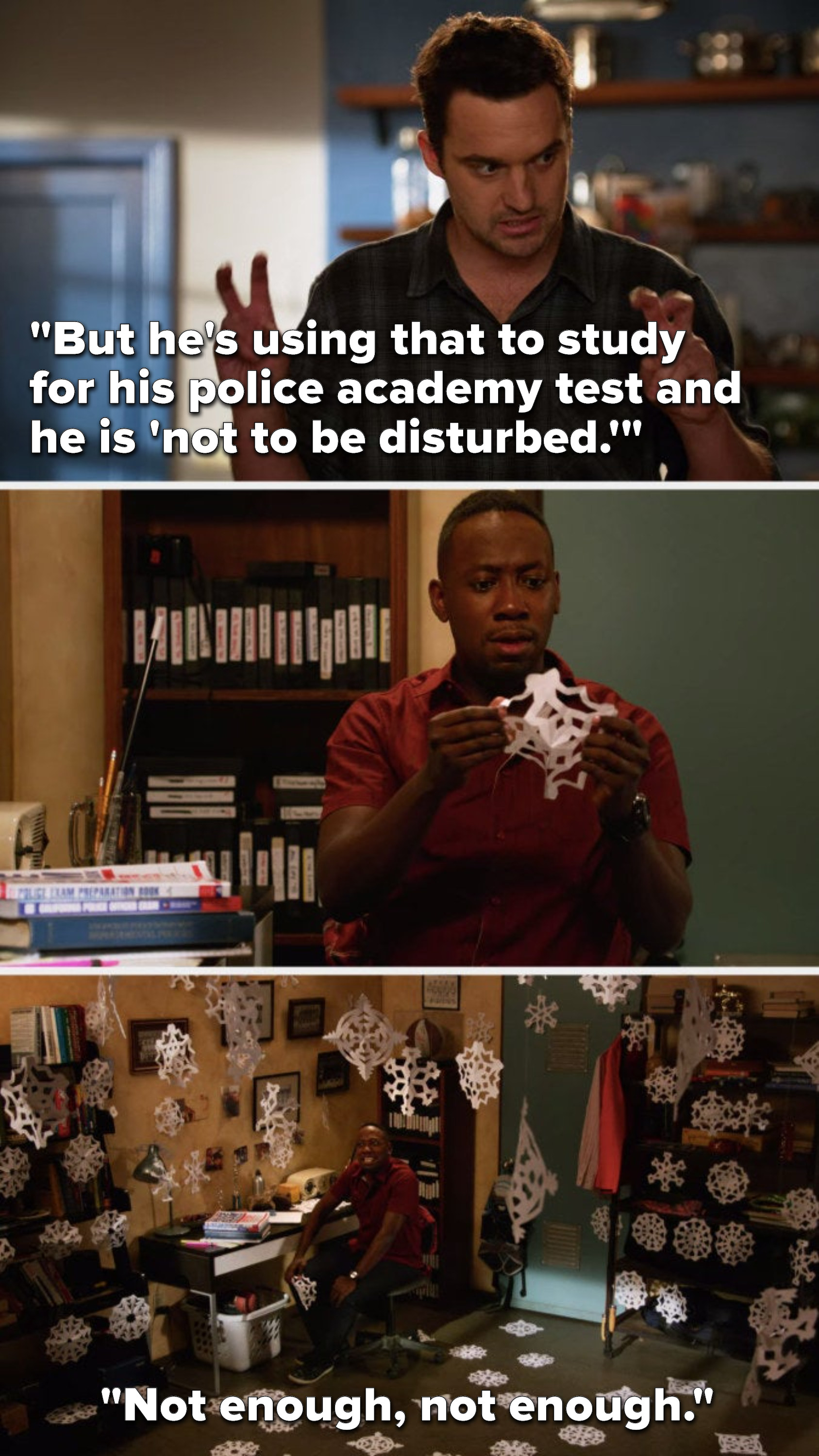 10.
When Schmidt lost his vows the night before his wedding and needed to rewrite them, but then he got so drunk, he couldn't even spell "Schmidt."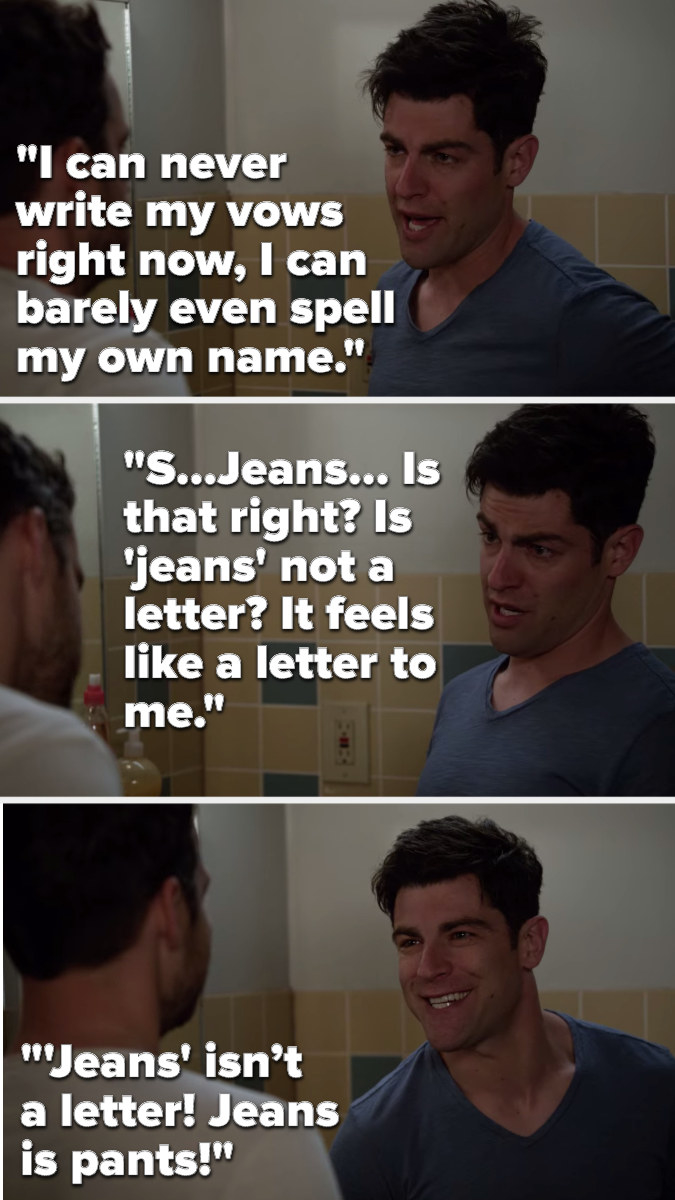 11.
When a police officer came to the loft for the home visit part of Winston's police academy training and learned way more than she needed to about Nick.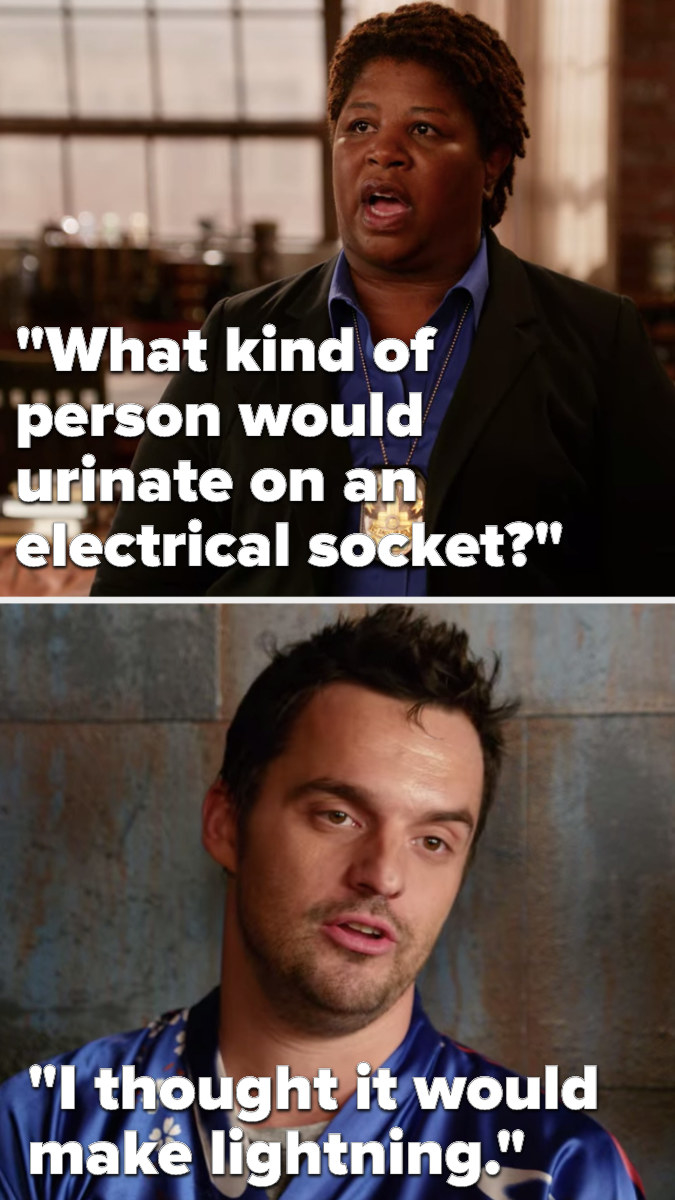 12.
When Winston was attempting to do a puzzle and asked Schmidt what he thought it would look like.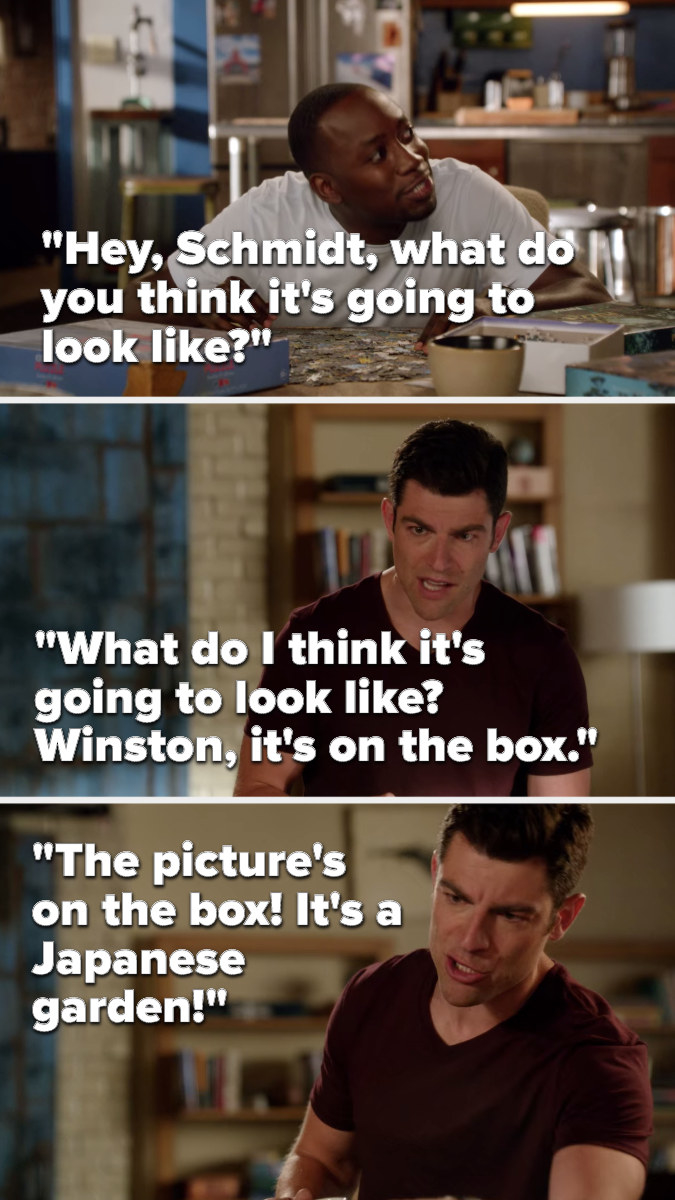 13.
When Jess and Cece's gynecologist friend, Sadie, and her wife came over for dinner and Schmidt gave Sadie a portmanteau.
14.
When Nick told Jess what she needed to do to fit in with her boyfriend's extremely wealthy parents, and Winston came in hot with a great "fact."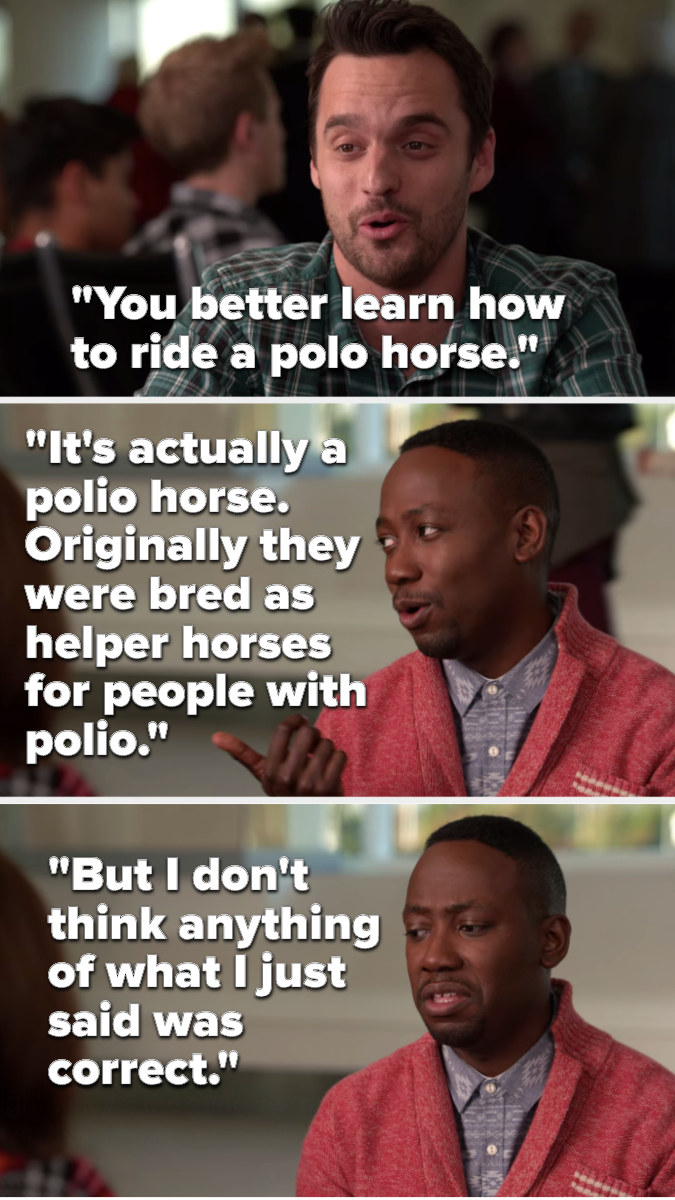 15.
When Nick saw all of Jess's vintage purses and told her he wanted them to be sexier and covered in gems.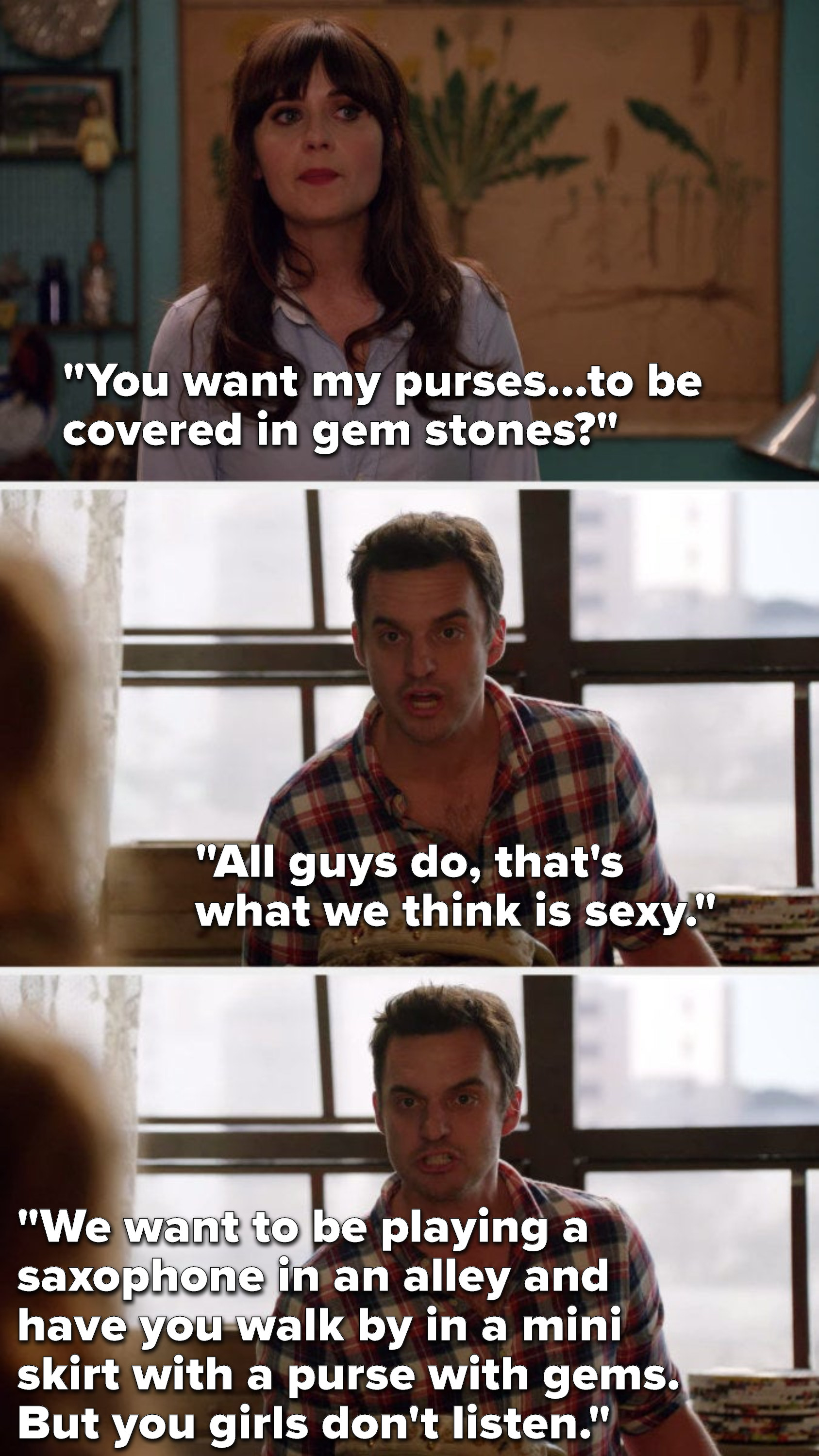 16.
When Cece and Schmidt tried to have a nice first night in their new house after reading about the neighborhood's crime rates, but then they heard a noise.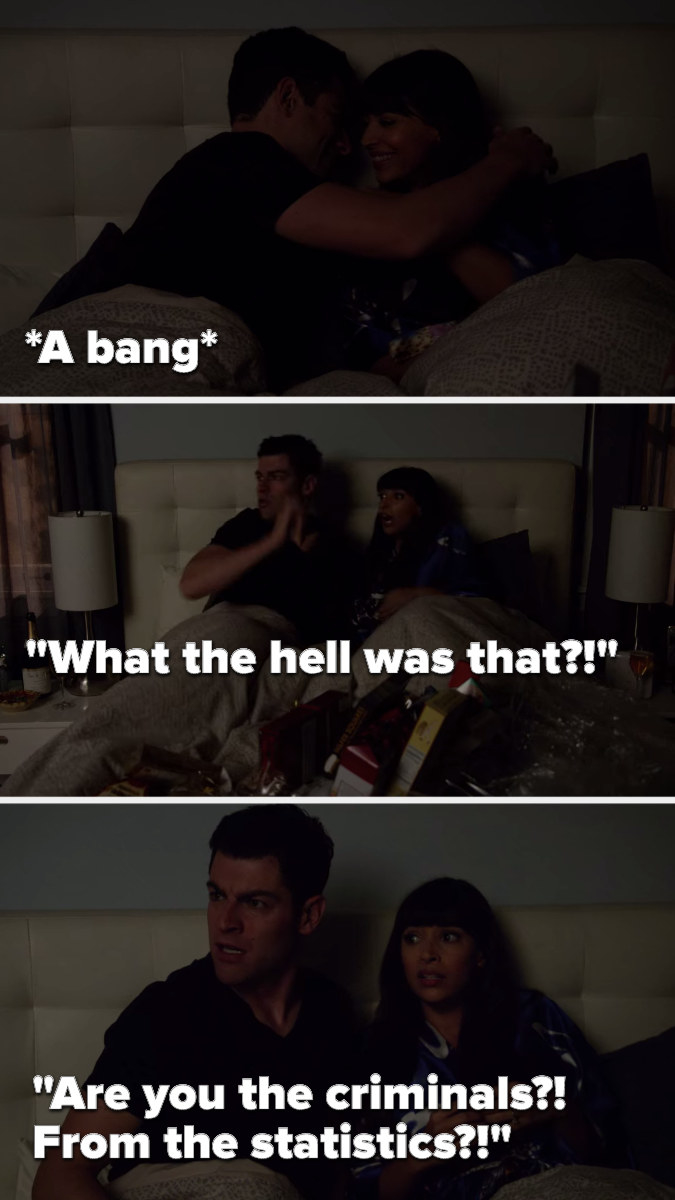 17.
When Jess's boyfriend, Russell, visited the loft and Nick just could not be normal around him.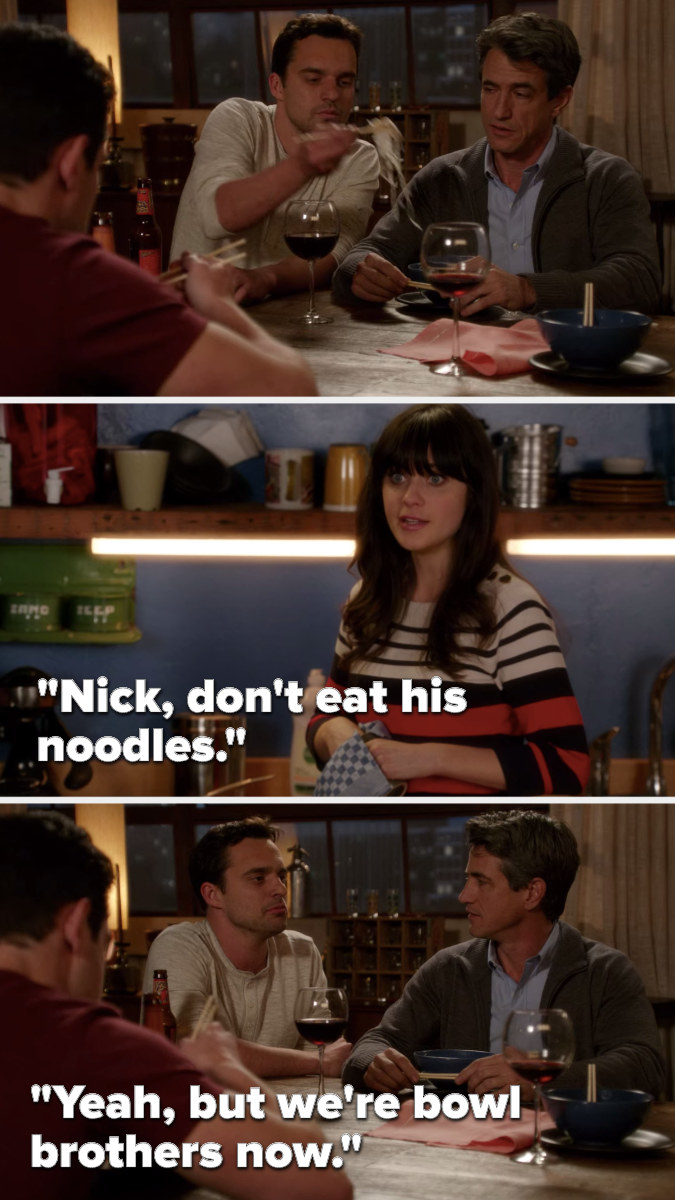 18.
When Schmidt got so angry at Nick for not just getting him and Cece a wedding present already that he needed to blow off steam.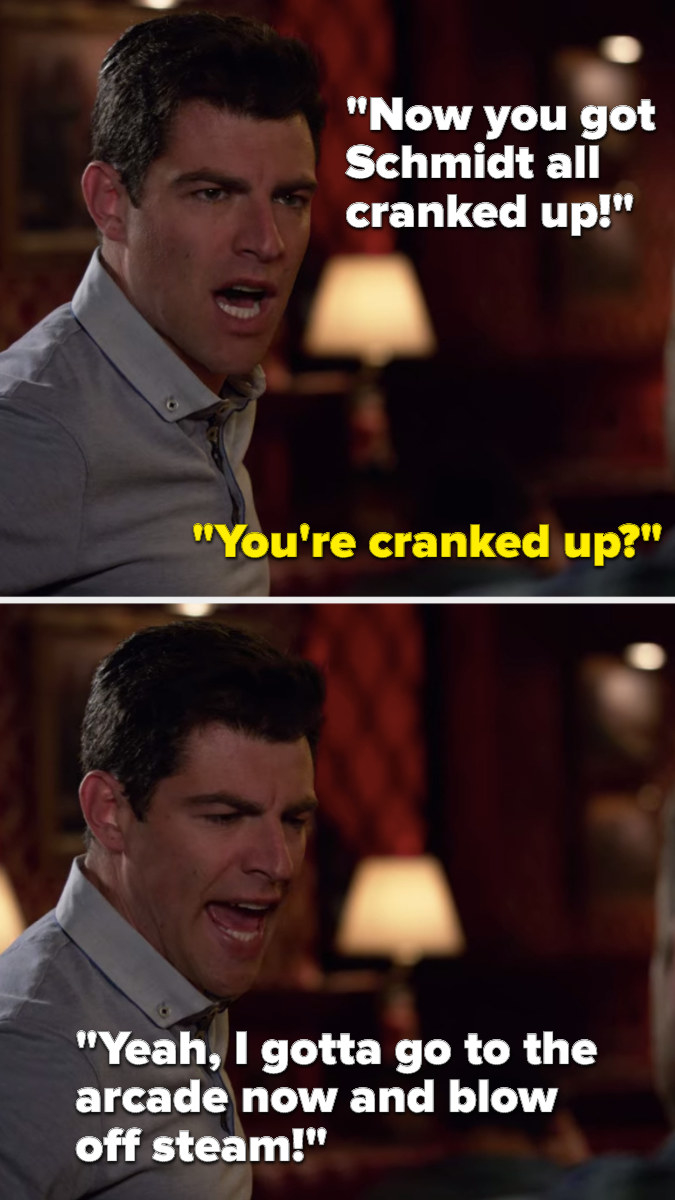 19.
When Reagan told Winston that she perfectly read the guys in the loft the second she got there.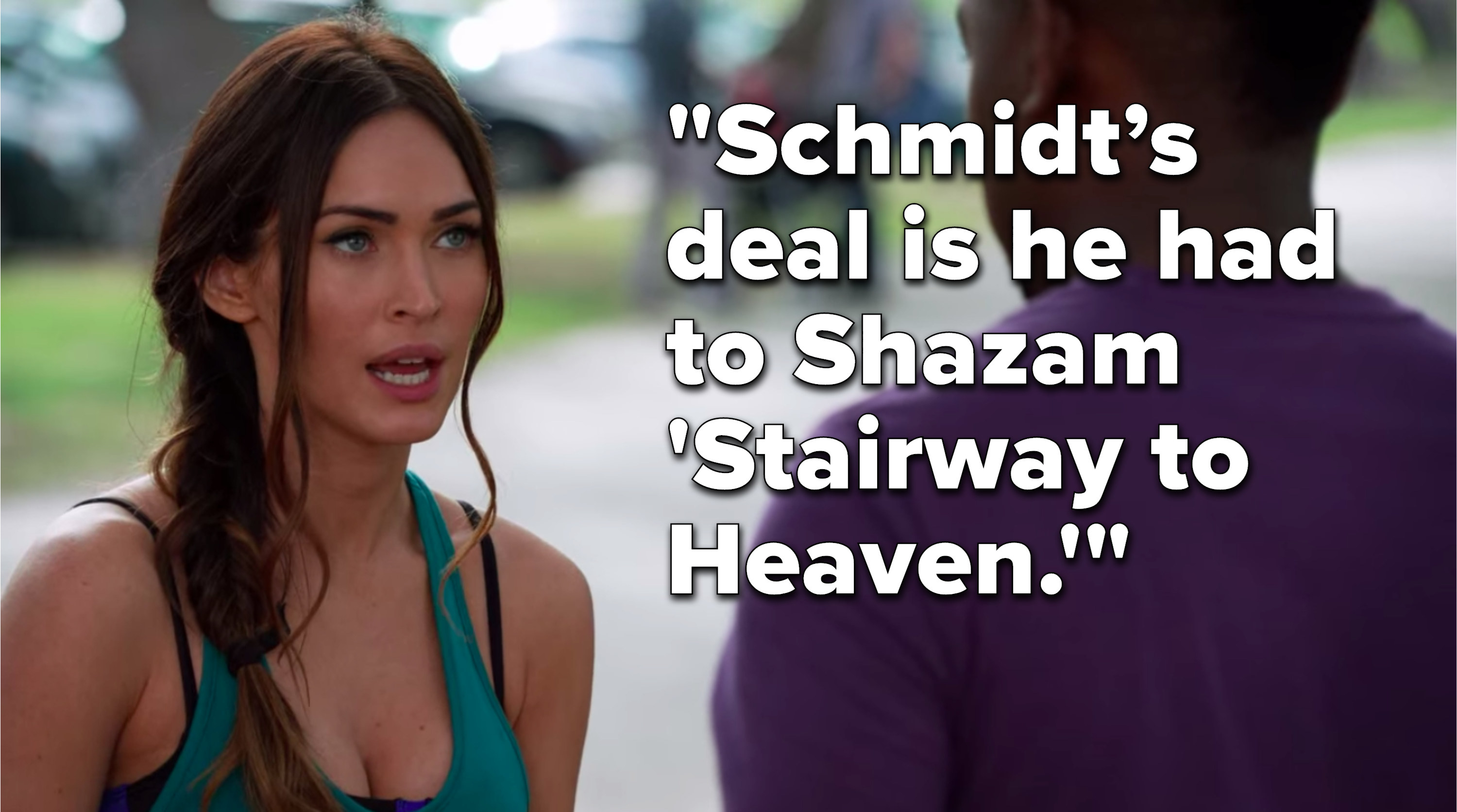 20.
When Schmidt totally botched the landing into saying, "The good, they do die young."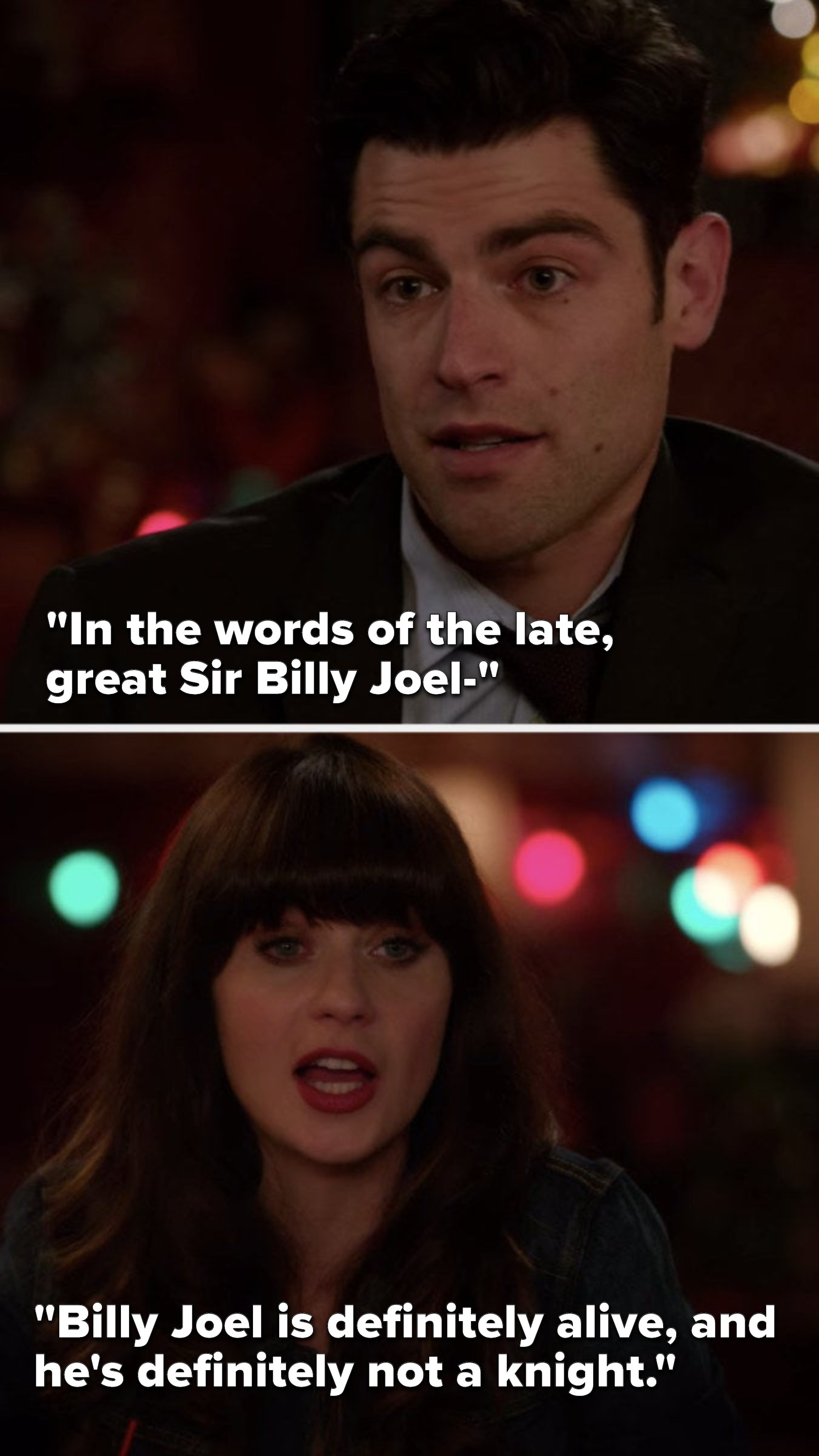 21.
When Schmidt threatened to destroy Jess and Nick's relationship, so they told each other everything that could be used against them.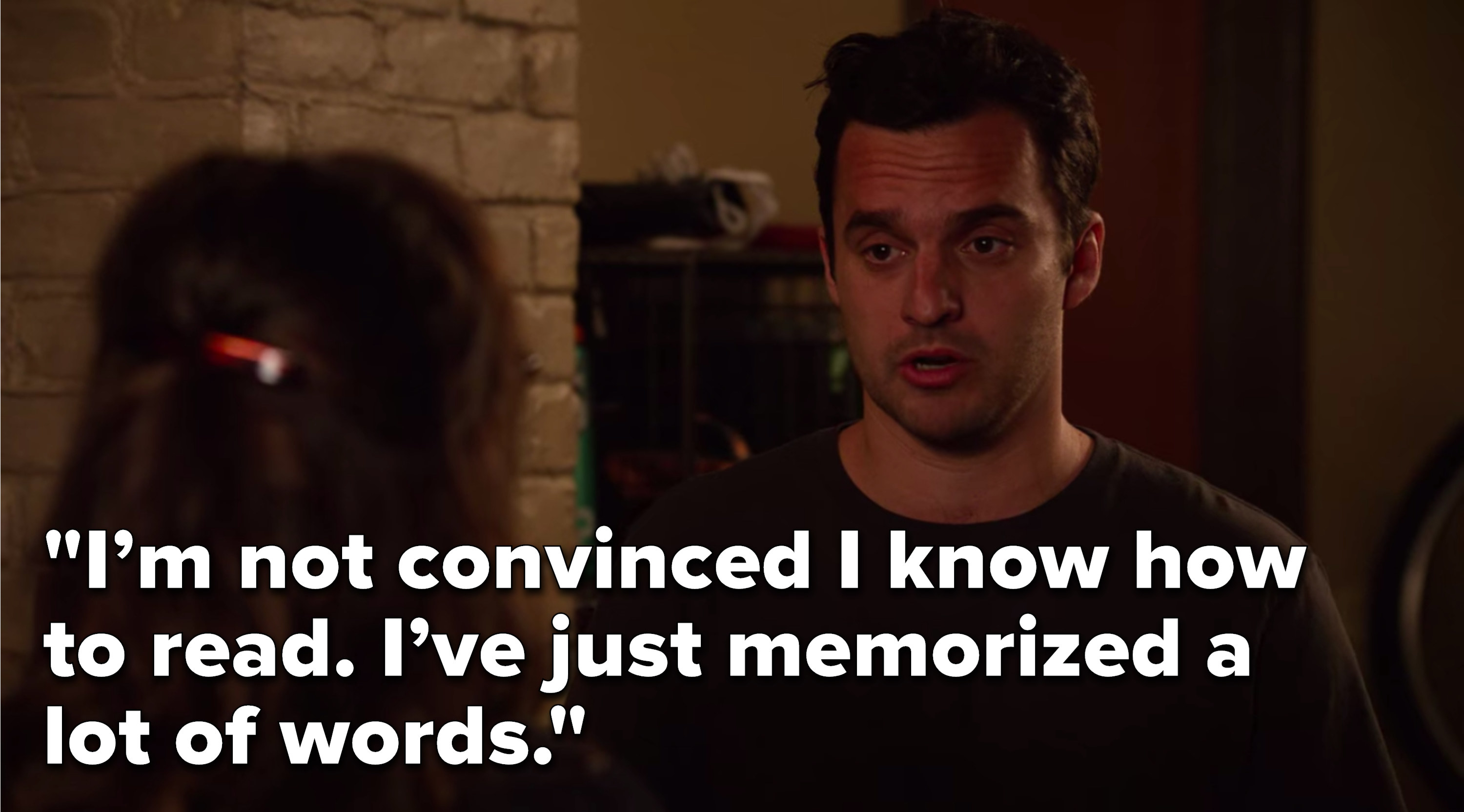 22.
When Schmidt regretted giving his "Cece box" to charity, and he and the person collecting the donations ended up fighting for it.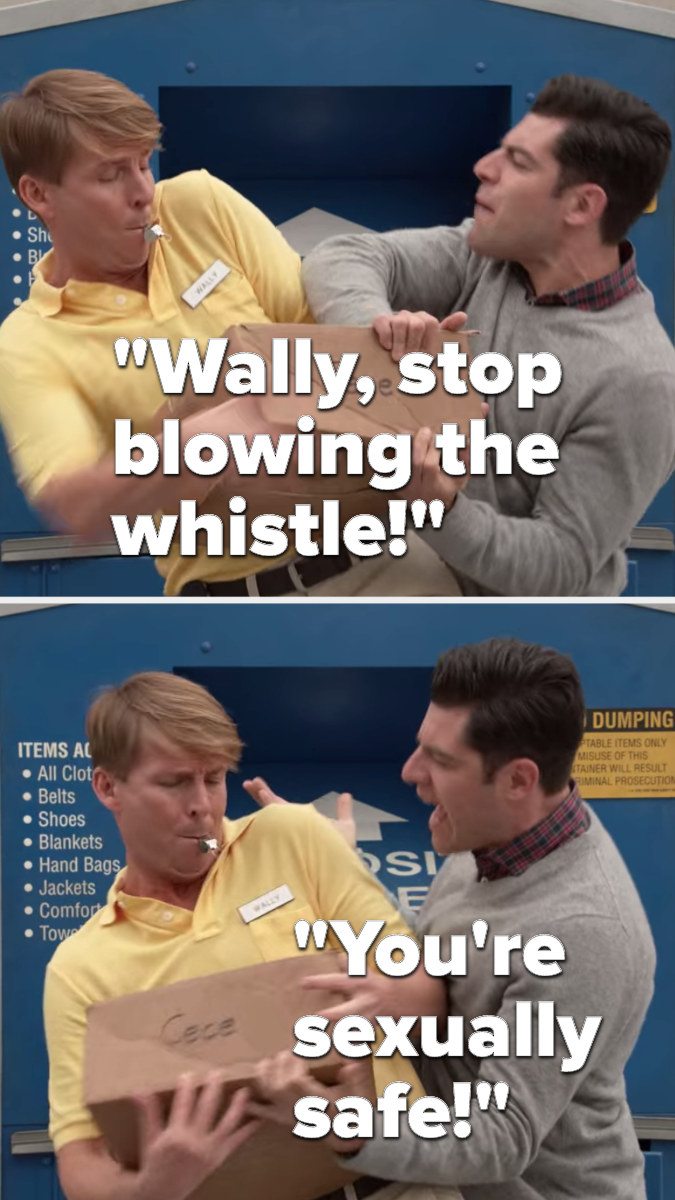 23.
When Nick pretend-flirted with Jess's mother, but then became genuinely a little into her.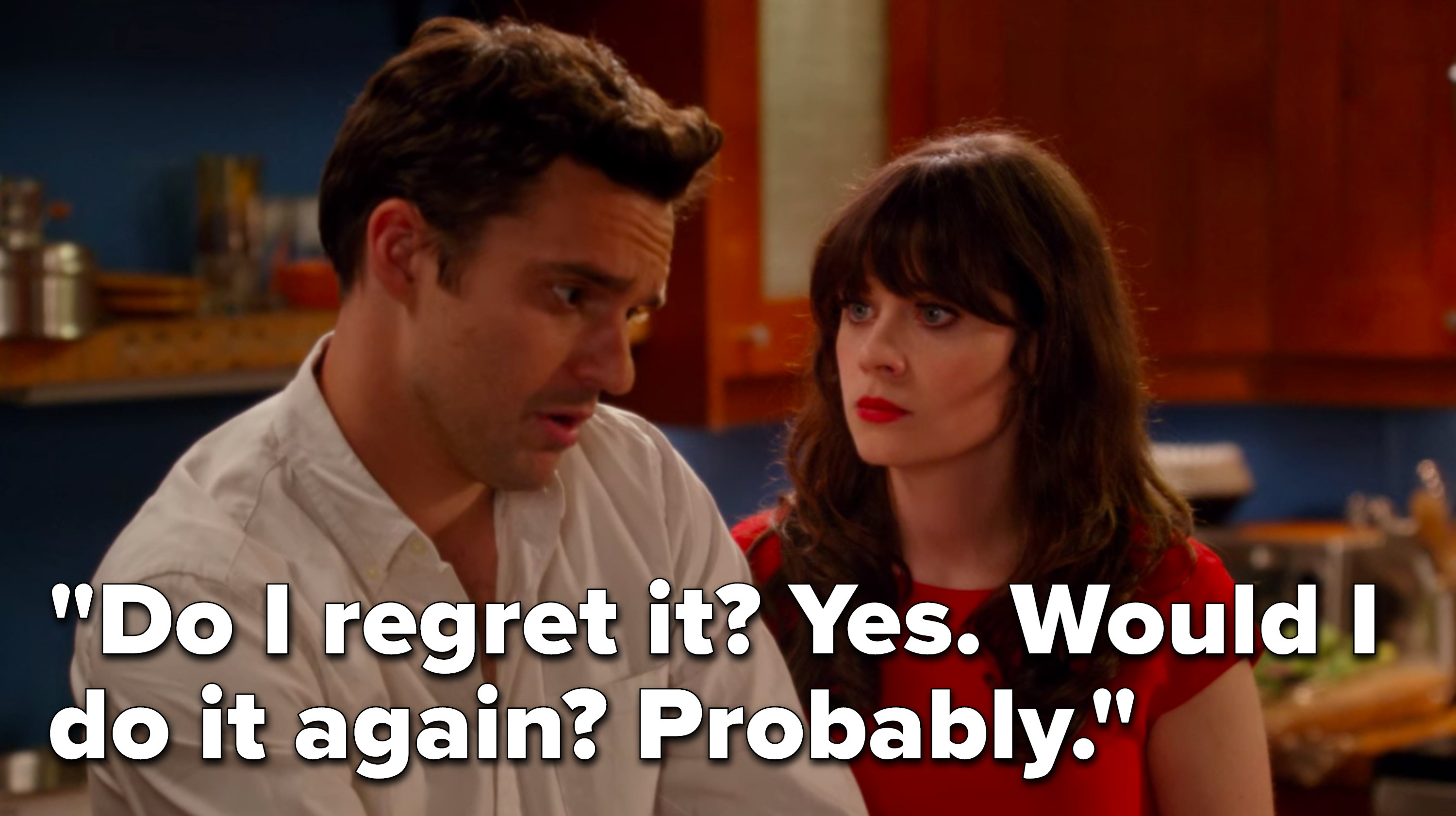 24.
When Jess brought a hutch she found on the street into the loft, and Schmidt refused to accept its presence.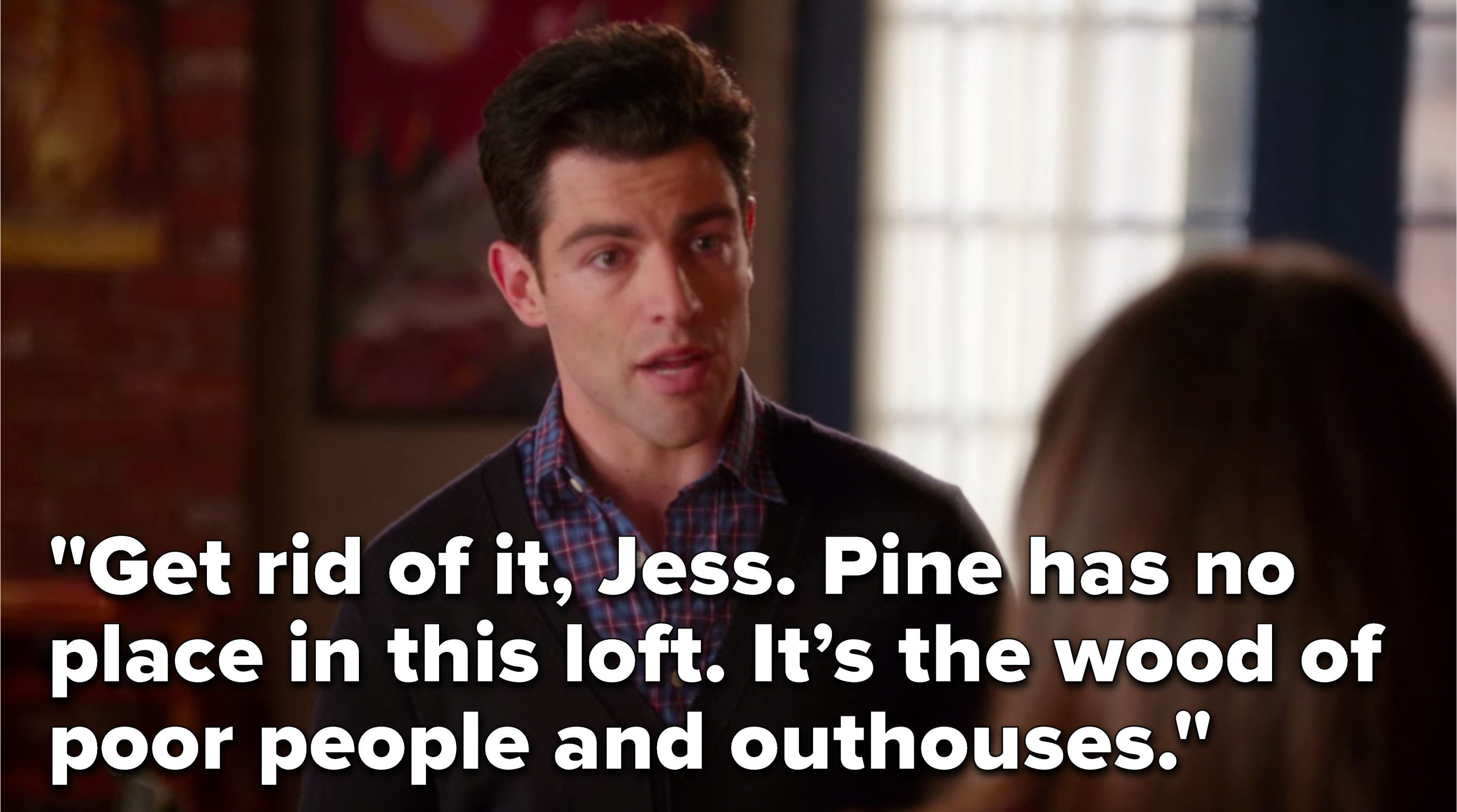 25.
When Jess and Nick both "turned off their sex taps" and tried to get the other to break first.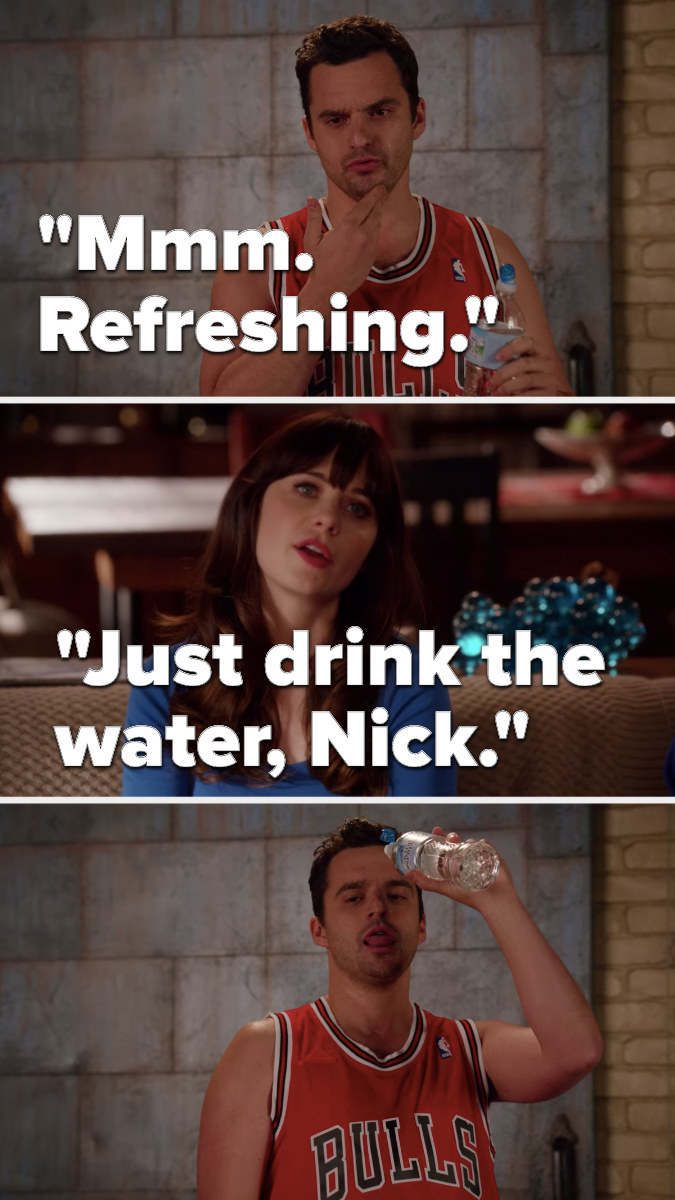 26.
When Winston refused to believe that he was colorblind, despite thinking his green shoes were brown, and Schmidt couldn't stand what that would mean.
27.
When Schmidt gave Nick a cookie and it caused so much tension between them.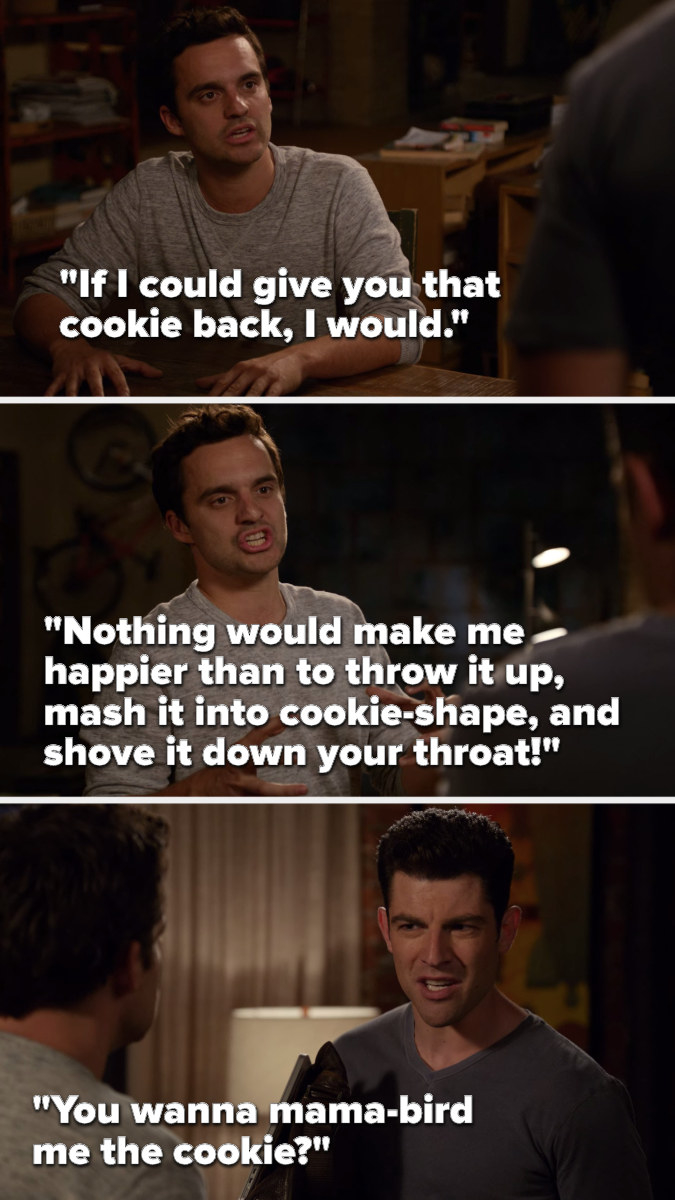 28.
When they all went camping for Thanksgiving and Jess fell into a bear trap, so Nick jumped in after her.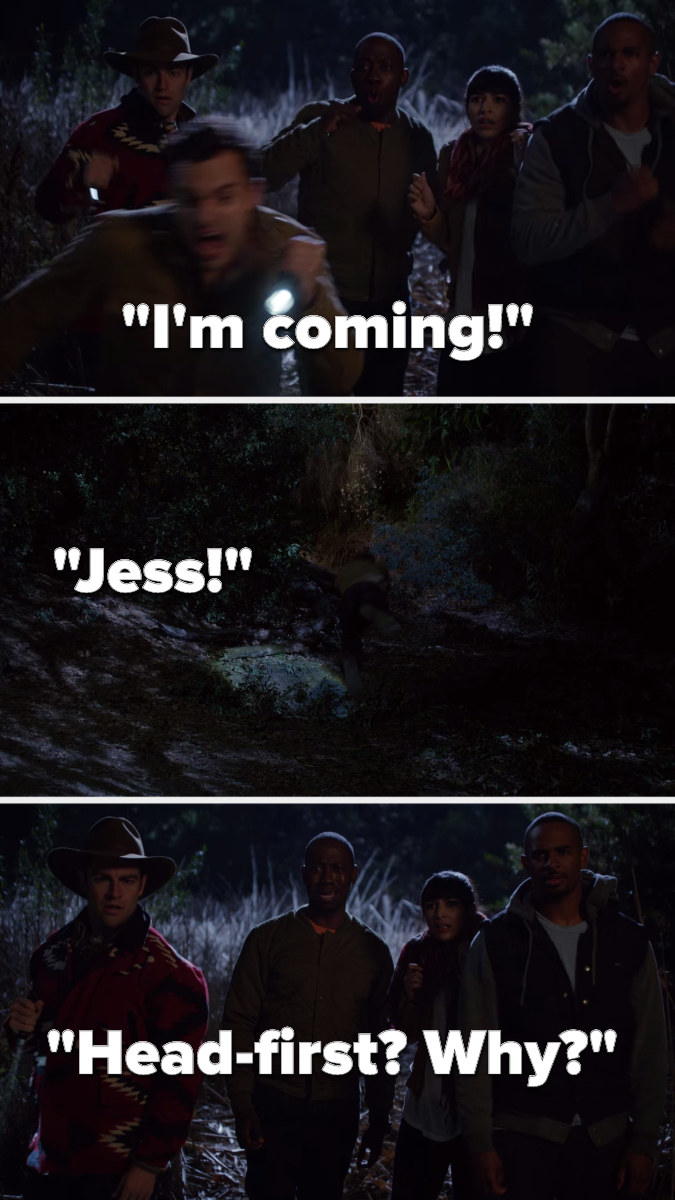 29.
When Jess said an A+ insult to Nick after he inadvertently messed up her day with her boyfriend's daughter.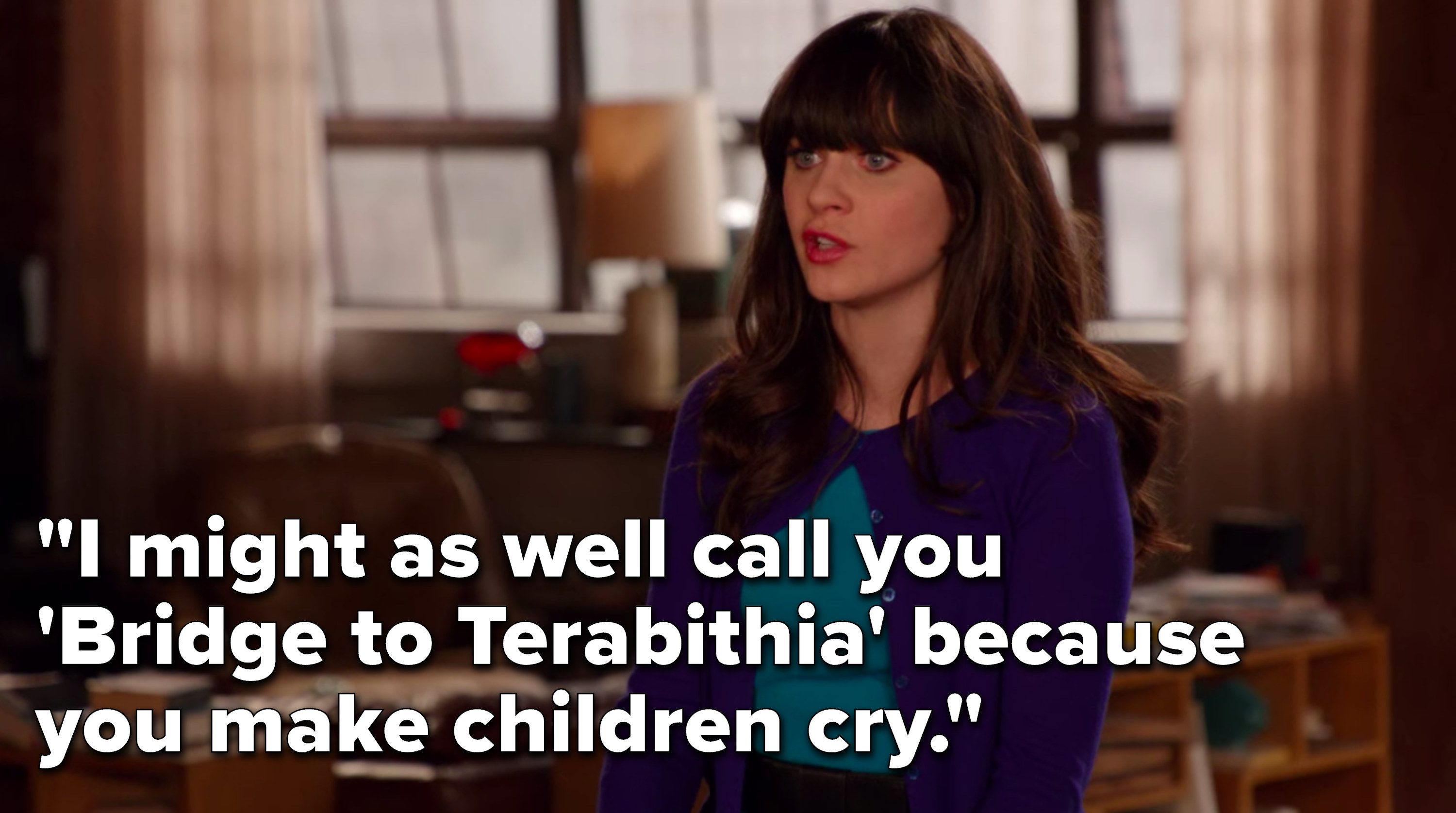 30.
When Coach and Winston were about to start a bake-off to see who could make Jess a better birthday cake, so Coach tried some trash talk.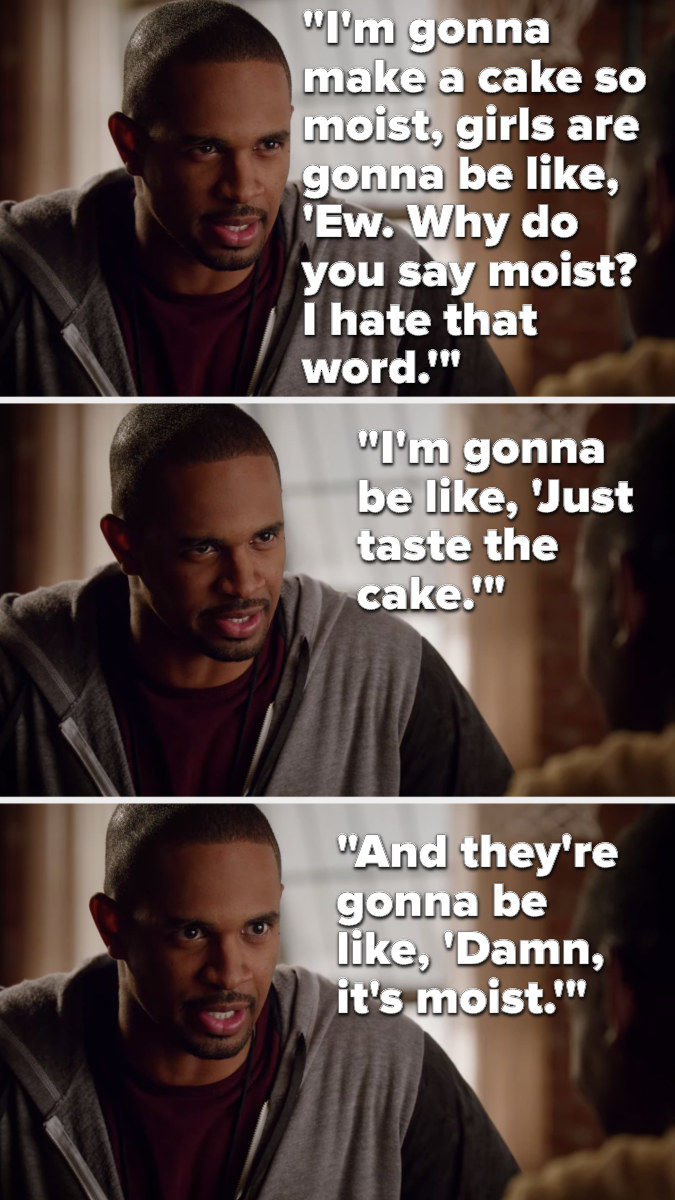 31.
When Nick was so excited about Reagan coming for Thanksgiving that he cooked with a knife for, like, the first time in his life.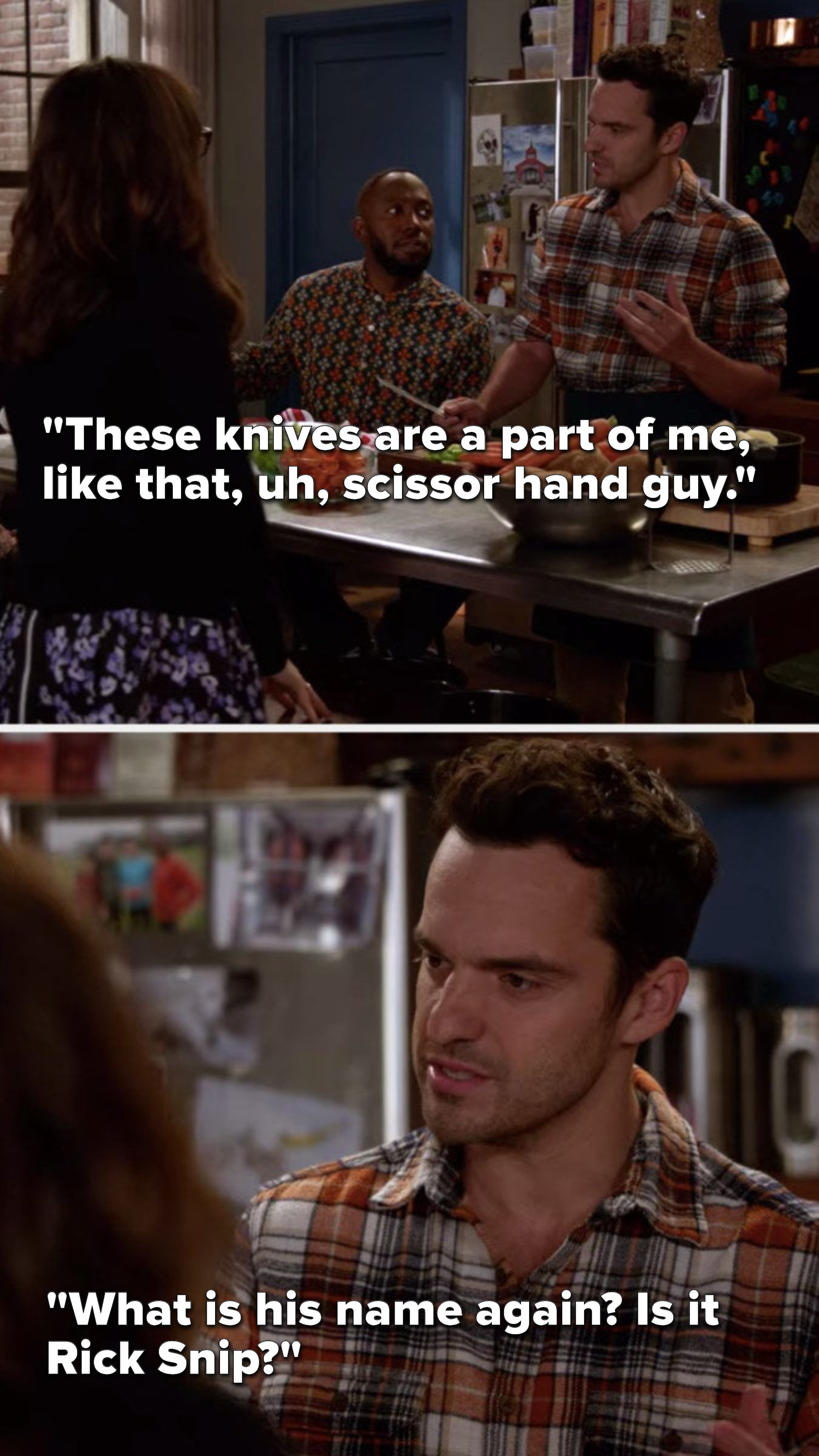 32.
And finally, when Nick's anger issues were so bad, he got furious at a pull door.