1.
When Monique knew her worth in She's the Man: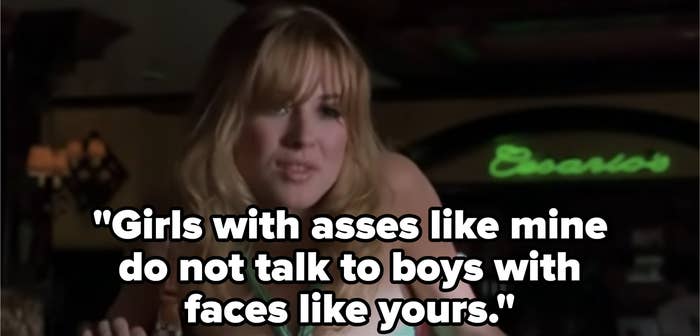 2.
When Isabella ruined Paolo's entire CAREER in four words:
3.
When Janis had a very specific insult for Cady in Mean Girls:
4.
And when she had this amazing retort to some douche who insulted her: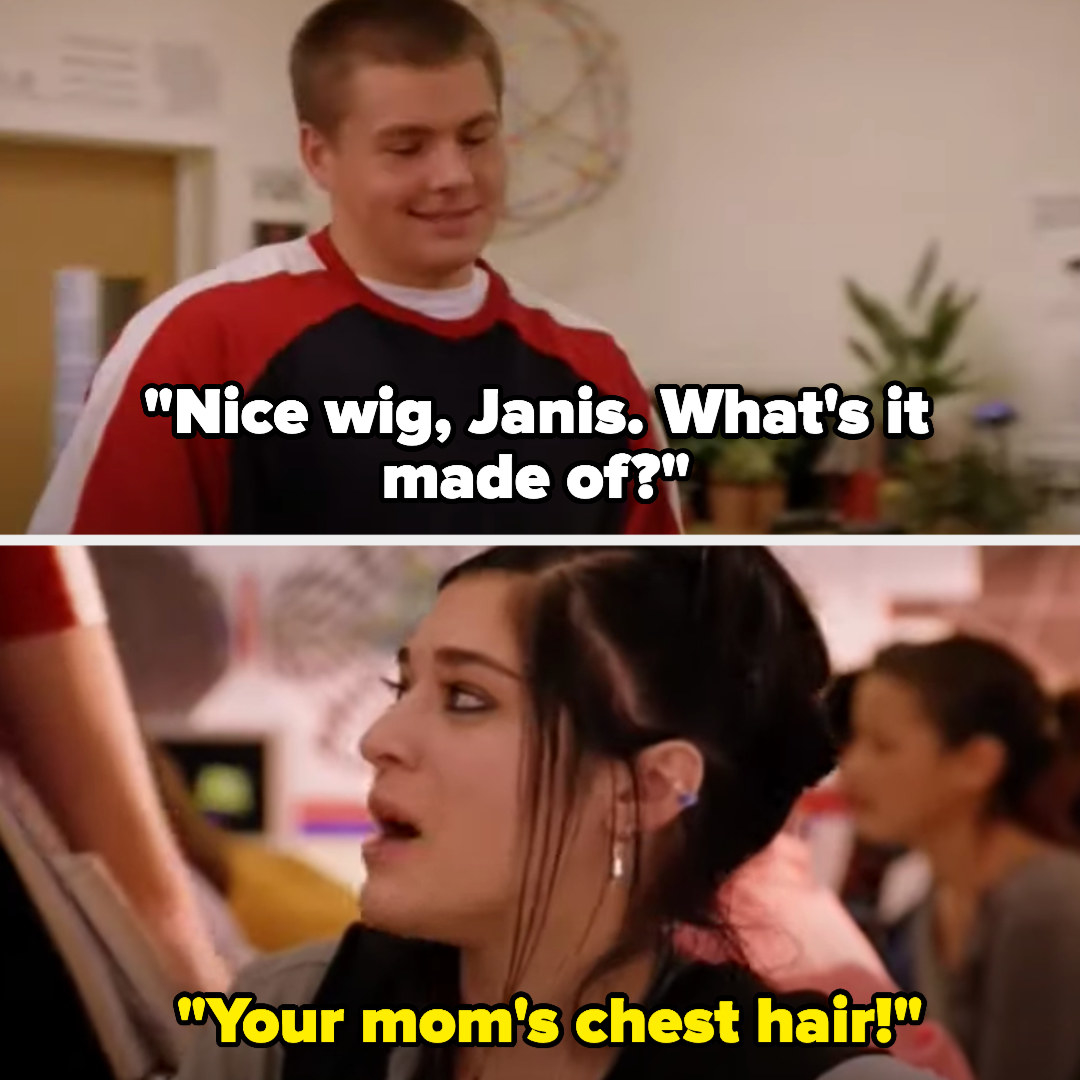 5.
When someone tried to sidle up to Cher in Clueless and she spoke these iconic words:
6.
When Tess exposed Mitchie on Camp Rock and dismissed her in five words: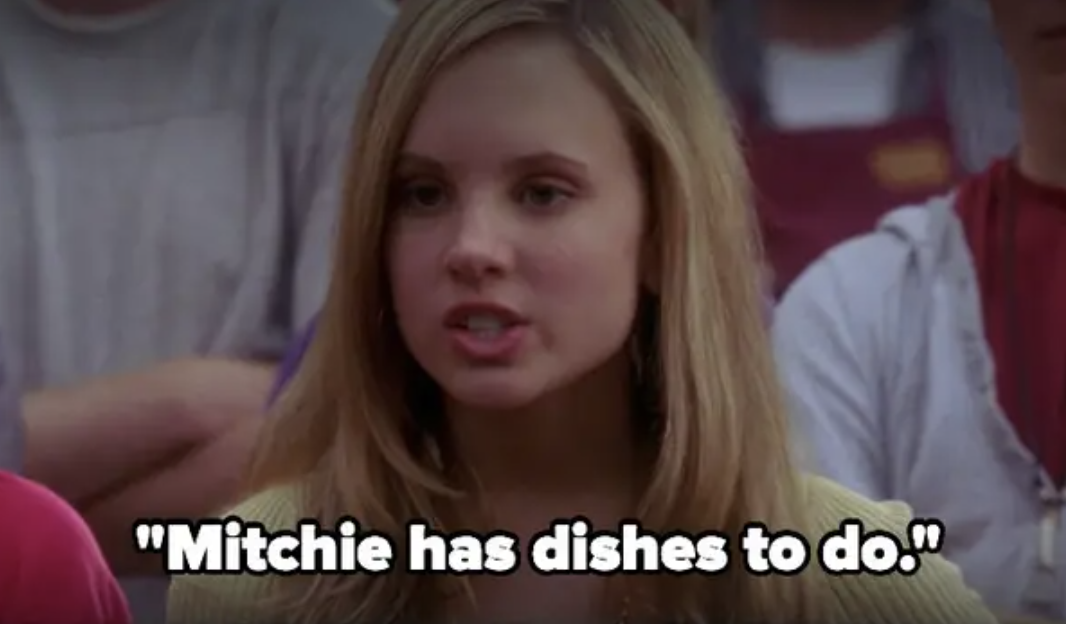 7.
When Heather Chandler asked Veronica this pointed question in Heathers:
8.
And when she responded to Veronica's suggestion with this great quote: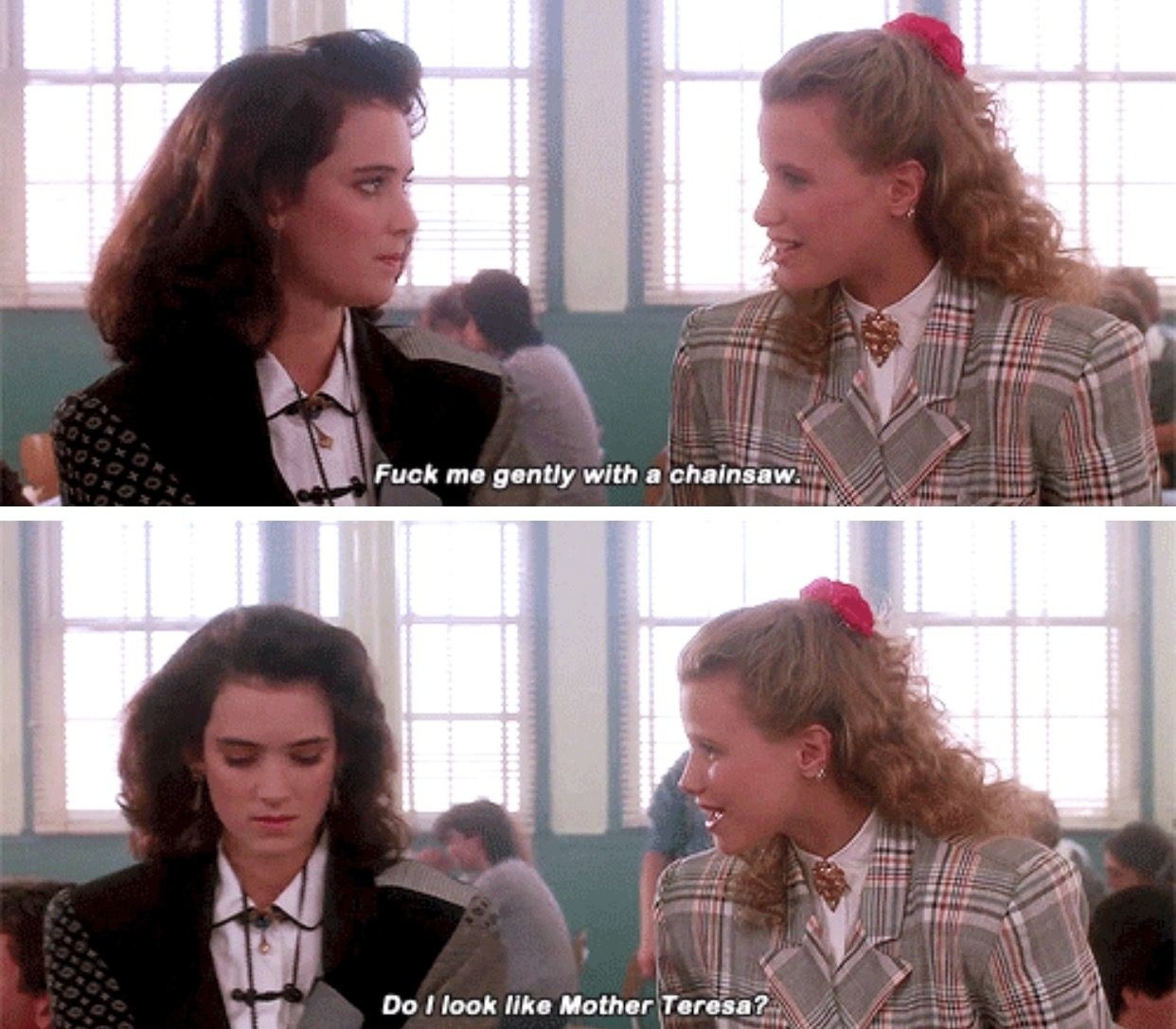 9.
And when Heather Duke asked this question:
10.
When Jeanie had this to say to a boy in the police station in Ferris Bueller's Day Off:
11.
When Napoleon showed a little kid on the bus who was boss in Napoleon Dynamite:
12.
And when this was Napoleon's response to being asked how school was:
13.
When Kat had this epic response in 10 Things I Hate About You: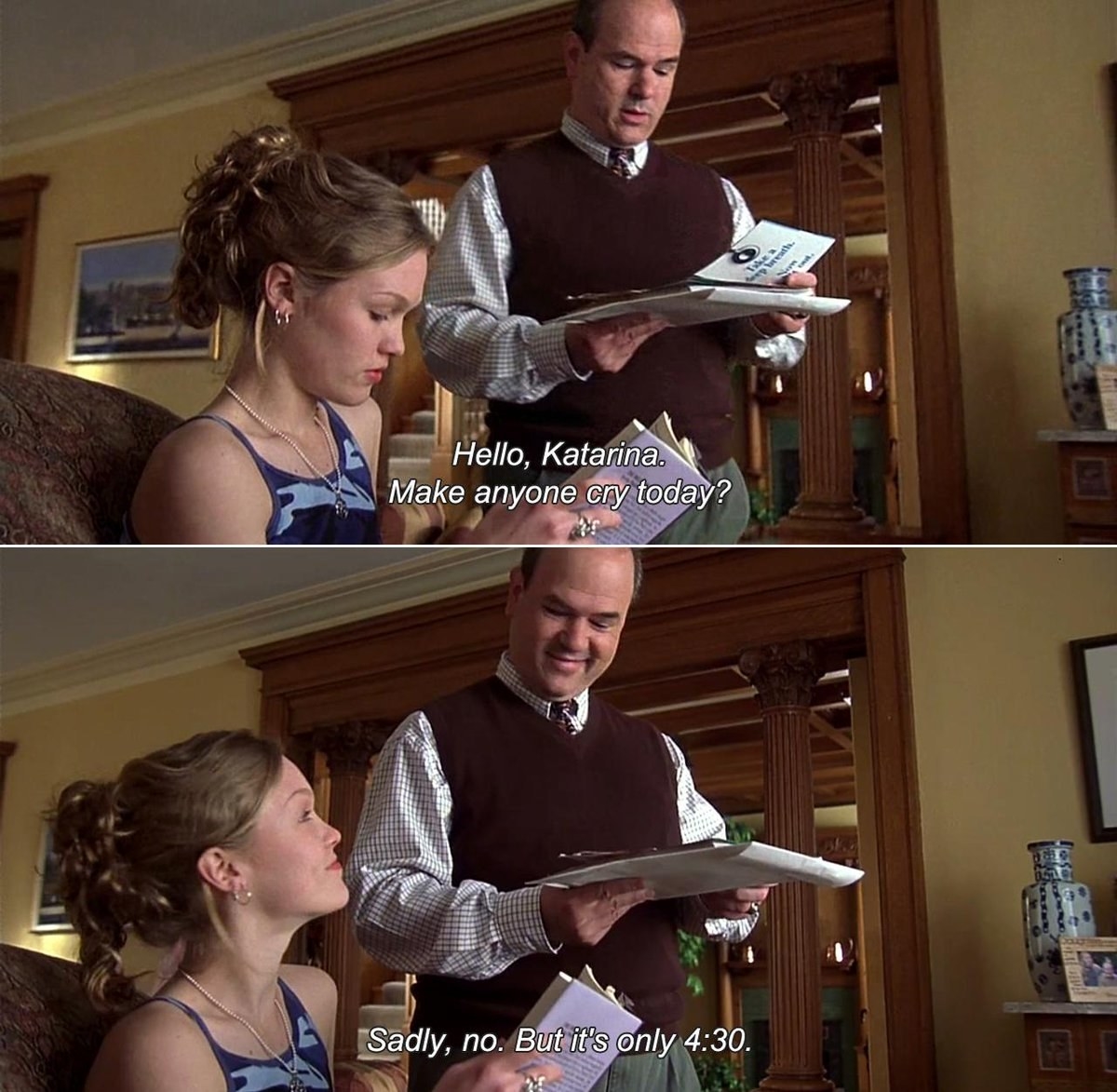 14.
When Bender coined this comeback on The Breakfast Club before Bart Simpson ever said it:
15.
When Viola broke up with Monique for Sebastian and did NOT pull any punches in She's the Man:
16.
When Jenna was very straightforward with her feelings in 13 Going On 30:
17.
When Damian was told to get out of the girls' bathroom and had the best comeback in Mean Girls:
18.
When Torrance caught her boyfriend cheating and paid him back with the same line he told her earlier in the film in Bring It On:
19.
When Sam told Austin how she really felt about his behavior in A Cinderella Story: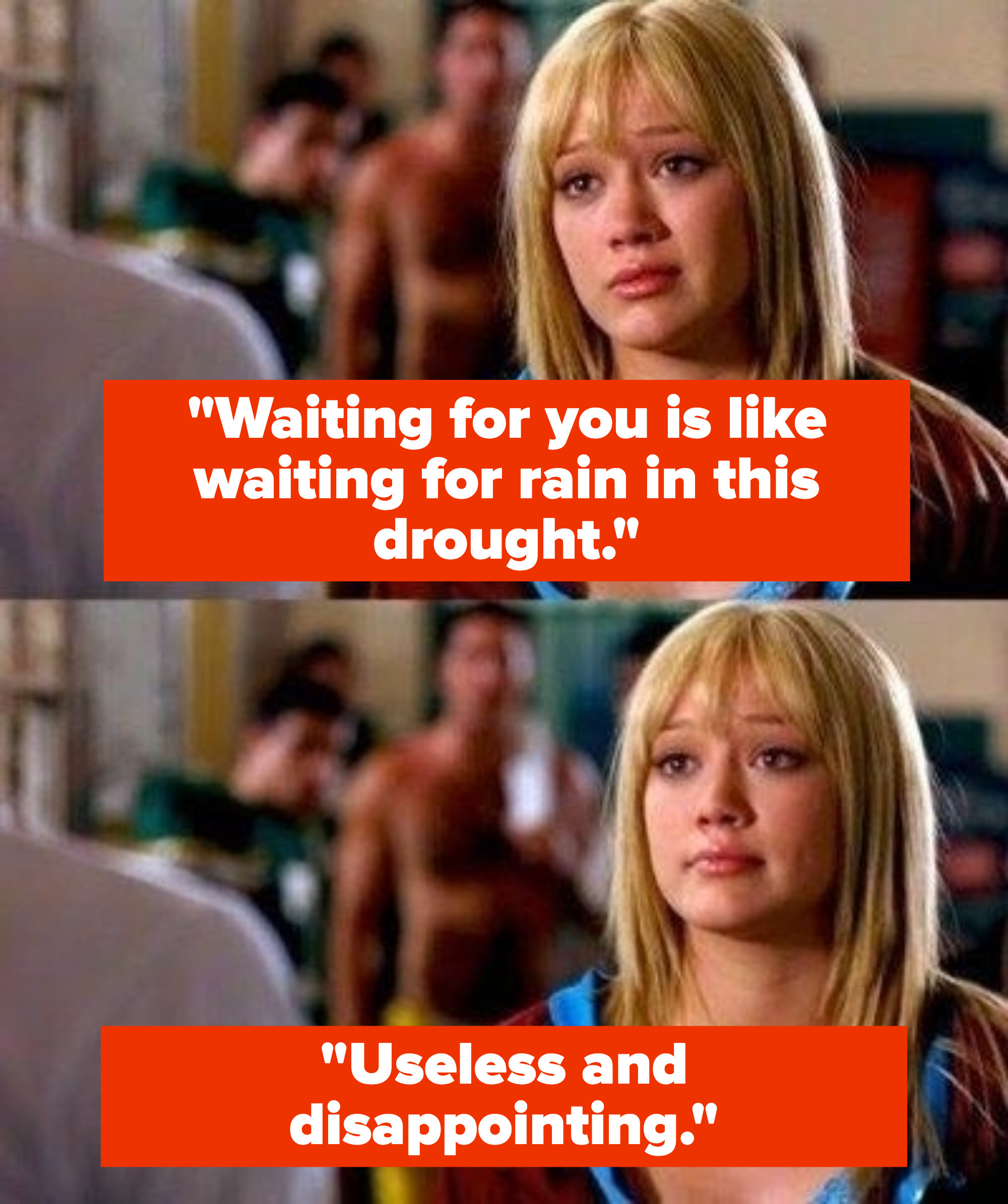 20.
When Tai doled out this iconic insult in Clueless:
21.
When Heather summed up how we all felt about John in John Tucker Must Die:
22.
When Viola took five seconds to utterly decimate Justin's life in She's the Man: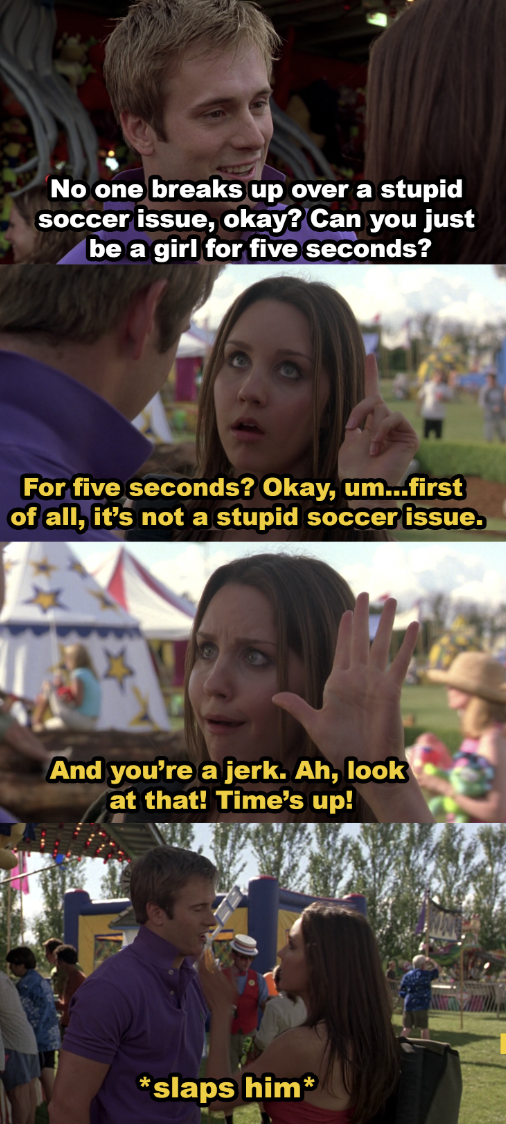 23.
When Shawnee insulted Monica's dress in Love & Basketball:
24.
When Tess coined this iconic phrase and accompanying movement in Camp Rock:
25.
When Chad roasted Sharpay so well, the entire team lost it in High School Musical:

26.
When Whitney had a clever insult in Bring It On:
27.
And a player on the opposing team handed John this...not-so-clever one in John Tucker Must Die:
28.
When Olive told Nina exactly how she felt about her in Easy A:
29.
When a member of Martha's brainiac clique insulted her dance moves in High School Musical:
30.
When Bianca and Kat insulted each other in a way only sisters can in 10 Things I Hate About You: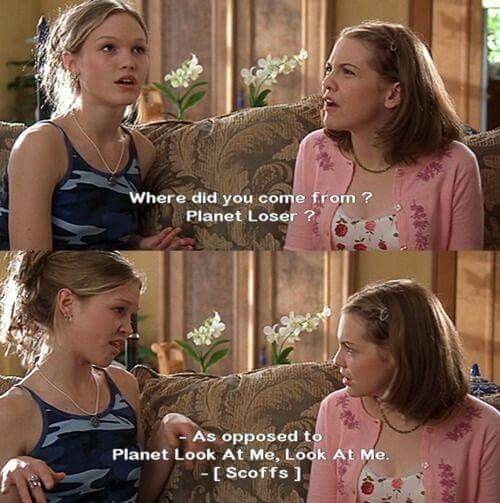 31.
When Jenelope showed the Toros that they weren't even worth her time in Bring It On:
32.
When Kat had the best comeback after Joey insulted her in class in 10 Things I Hate About You:
33.
And finally, when Olive showed Rhiannon how little she cared about her opinion in Easy A: