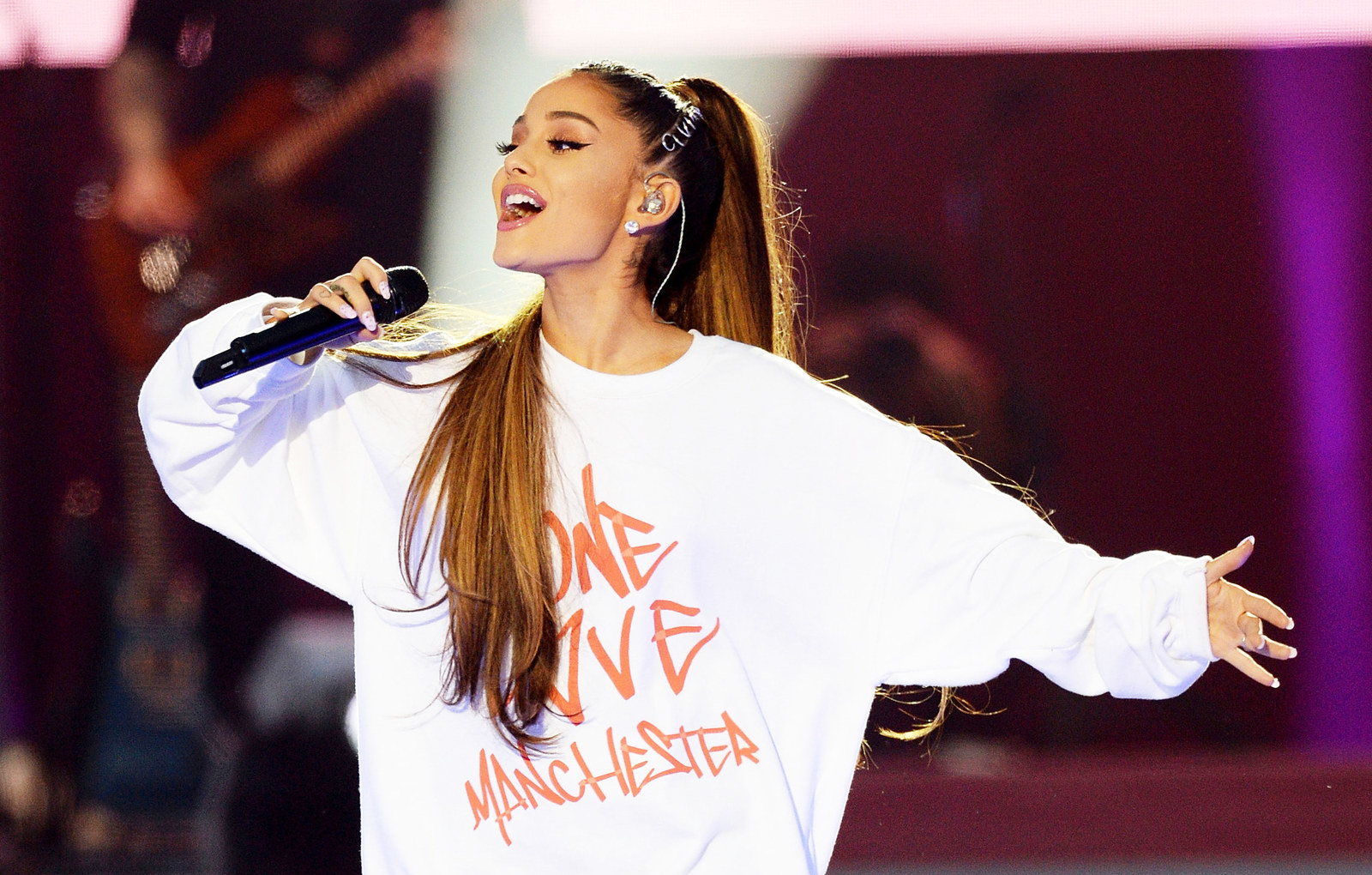 Manchester united Sunday evening with a message of love and resilience, as Ariana Grande returned to the city to perform a benefit concert, making her first public appearance since the attack that left 22 people dead and 116 injured after her show at Manchester Arena two weeks ago.
Joining Grande onstage was an A-list roster of performers, including Miley Cyrus, Justin Bieber, and Coldplay, who came together on short notice to raise millions of pounds to benefit the victims of the Manchester attack.
Still, thanks in part to a surprise performance from former Oasis frontman Liam Gallagher, the event had a distinctly Mancunian feel to it. Hundreds of concert-goers wore bee-themed outfits, a nod to the symbol of Manchester and its industrial past.
The city provided free public transport to help concert-goers get to the Old Trafford Cricket Ground venue. Outside the show, volunteers played music to entertain the crowds as they queued to get in, handing out badges, stickers, and wristbands bearing messages including "Love" and "#WeStandTogether.

Although the atmosphere at the event was one of the love and celebration, there was also time for reflection, and a minute's silence was held at the start of the concert for those affected by Saturday's terror attack on London.
"We have received so many supportive messages,"Andy Burnham, the mayor of Greater Manchester, said as he opened the event. "Let's send one to our friends in London, who are going through what we are going through."
Around 50,000 fans were at the event — many of whom had been at Grande's concert where the terrorist struck almost a fortnight ago. BuzzFeed News spoke to some of those concert-goers to ask what drove them to turn out Sunday night.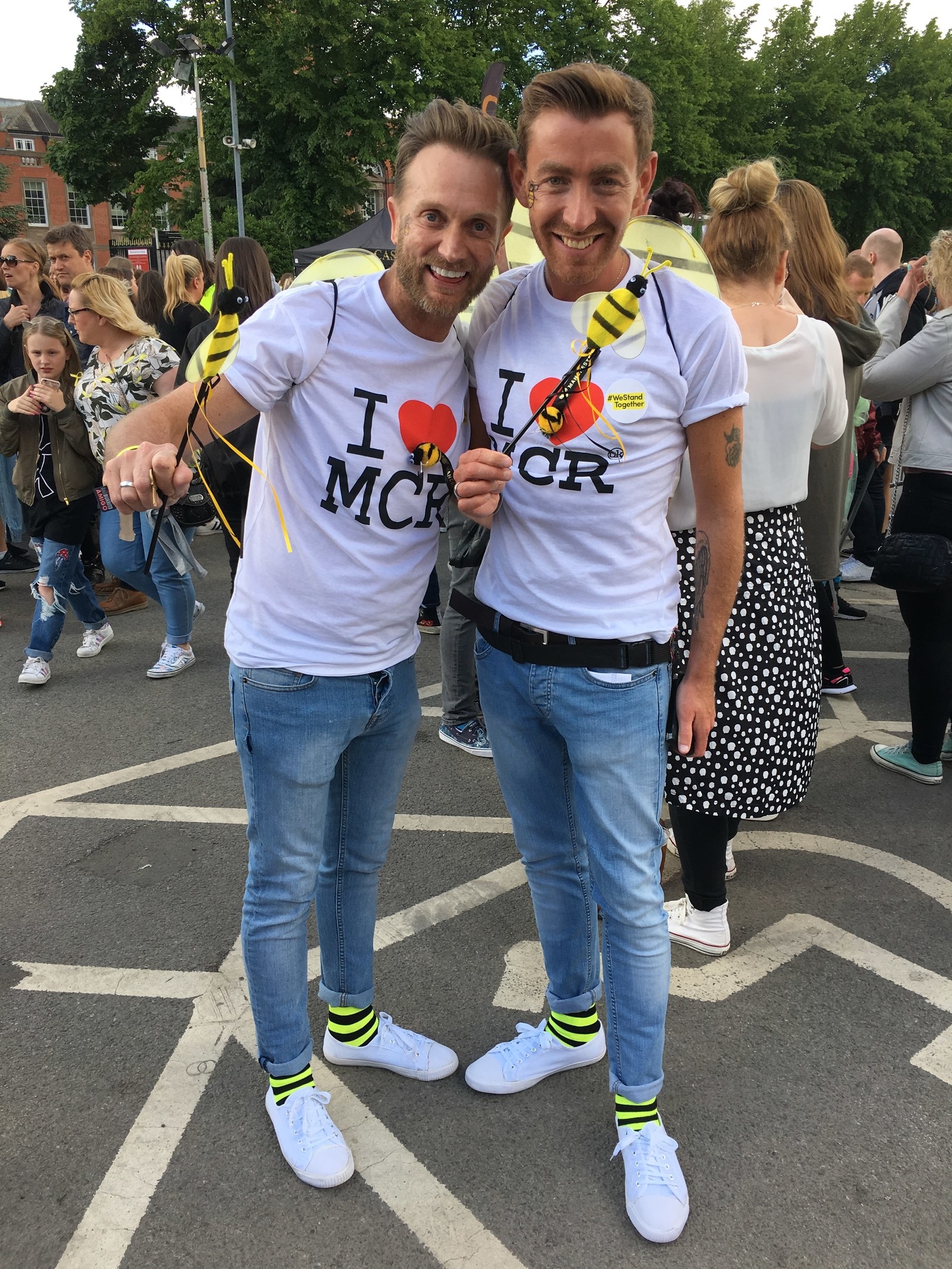 "We have a friend who was injured in it and one of my friends lost his best friend," said Kevin Lawlor, 36, who manages a Starbucks in Manchester's Arndale shopping centre, and attended the concert with his friend Craig Harvey, a 44-year-old chef.

"I love Manchester and it's amazing thing that they've been able to put together in two weeks," Lawlor added. "I think as a city Manchester has just really rallied round. We've come together as a very, very strong community. I moved her 15 years ago and it's the best move I ever made. I call it my home now and I'm here today for that reason."
Noting he and Harvey's matching outfits, Lawlor added, "The reaction we've had from members of that public to what we've been wearing, both dressed the same, has been fantastic. Even my underwear is black and yellow."
"We want it to be about the victims and the people who were there," Lawlor said. "We want it to be very happy but still respect the fact that 22 people lost their lives. We just want it to be happy night."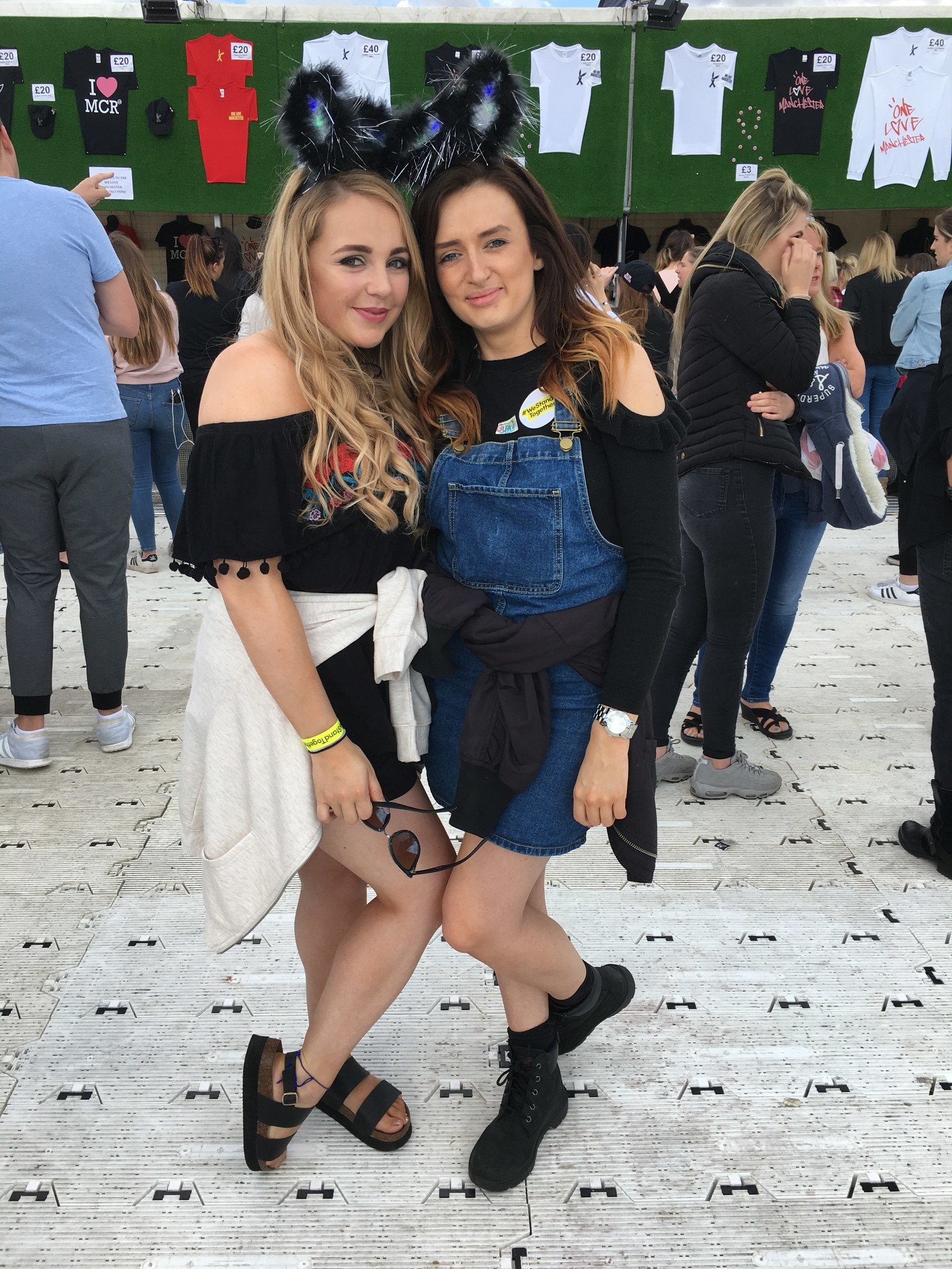 "I'm here because I want to see Justin Bieber, and because it's for a good cause," said Carys Laing, 22, who attended the concert with her friend, Victoria Connor.

"I went to get the bee tattoo done yesterday. My little brother was at the Arena on the night and he got one, and I decided to get one a week later," Laing said. "We went to St Ann's Square before [to see the flowers]. It's silent over there, so moving. People are scared by it."
"So many people are affected by" the attack, Connor, 22, added. "Even if you haven't been you know somebody who has."
"It's such a good cause, and I think it's very Mancunian, the support after what's happened," she said.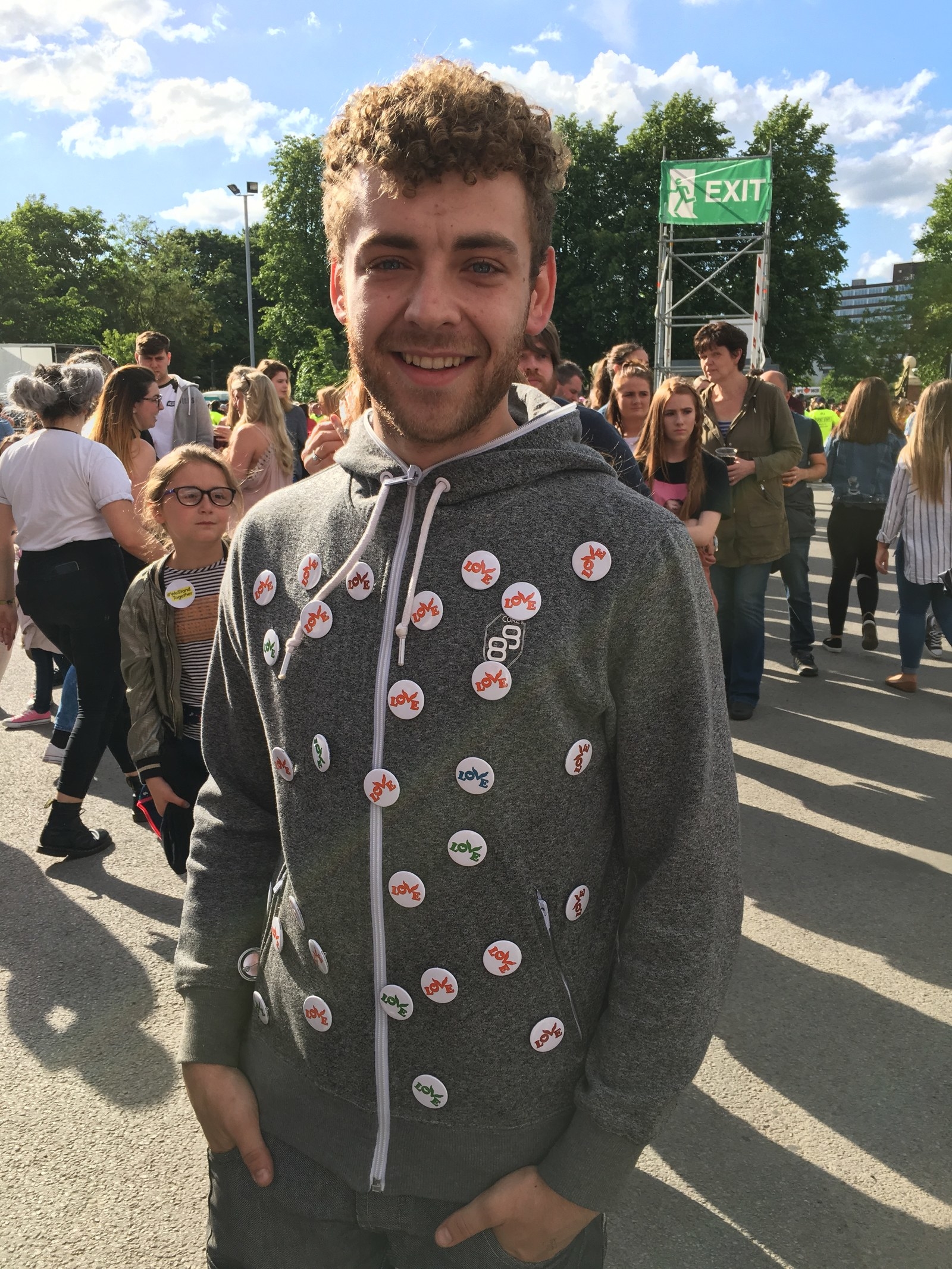 Tyler Hunter, 25, was working at Steve Charles Snooker Centre close to the Arena when the attack happened, and ended up staying late to help some of those caught up in the incident reunite with their loved ones.
"I was working behind the Arena and saw everyone flooding from the concert in tears," Hunter told BuzzFeed News. "There was a girl who had a panic attack and four girls who didn't have any way to get home. I ended up trying to ring round their parents. They were on the news looking from end to end for the girls, who were in our place. We stayed open trying to help people."
"No-one here is scared," he added. "You know when you walk in a room and feel awkward? It's like that but the opposite. We only feel good. And the sun's come out."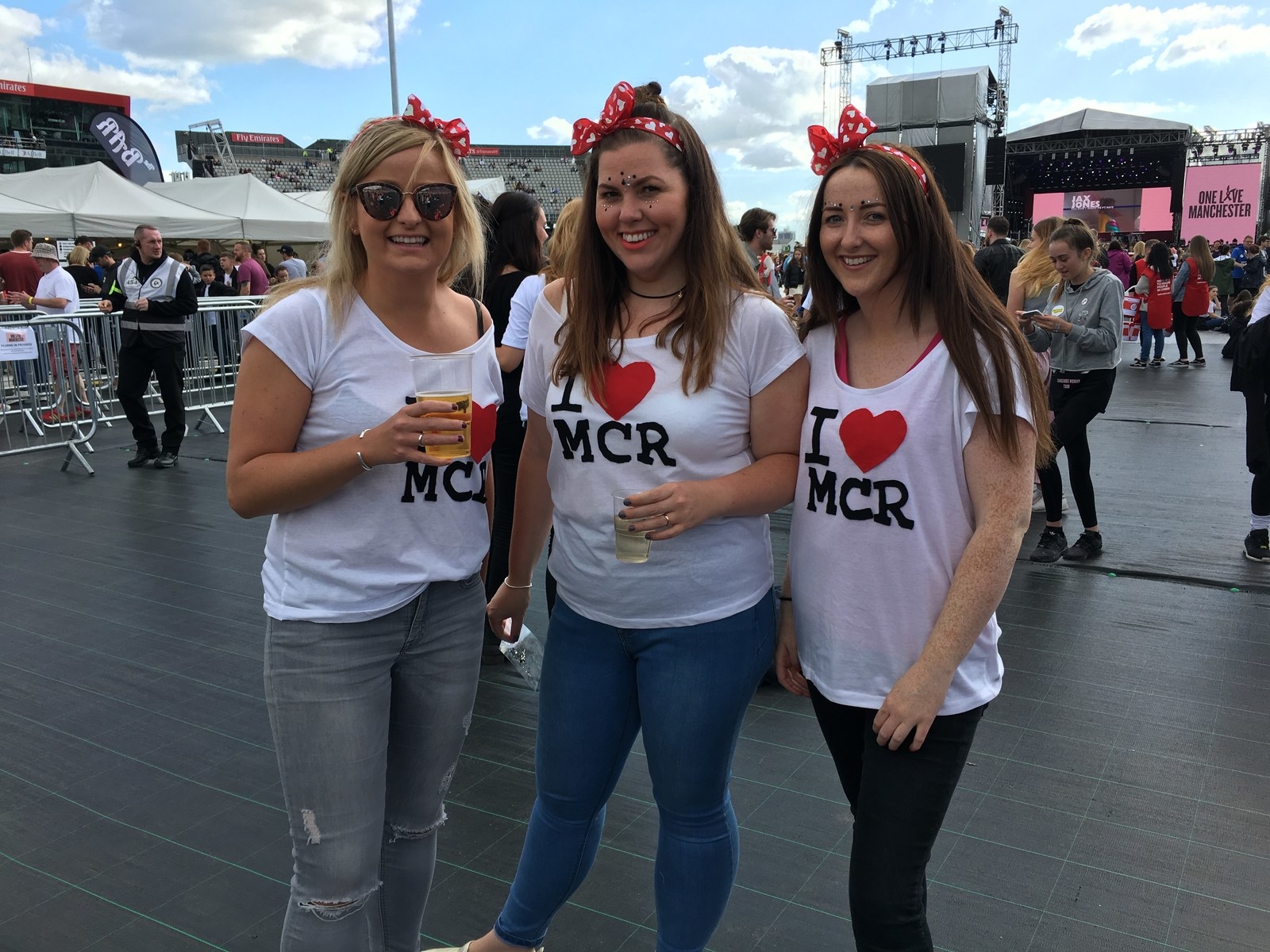 Katie Burt, who lives in Germany, paid €300 for flights so that she could attend the concert with her sister Helen, who is based in Manchester. She noted that she had stayed up until midnight, cutting out felt for matching t-shirts to wear to the show.
"I think the atmosphere tonight is going to be really nice," Burt told BuzzFeed News. "I'm just excited for everyone to be there and show we don't need to be scared to be in big groups anymore."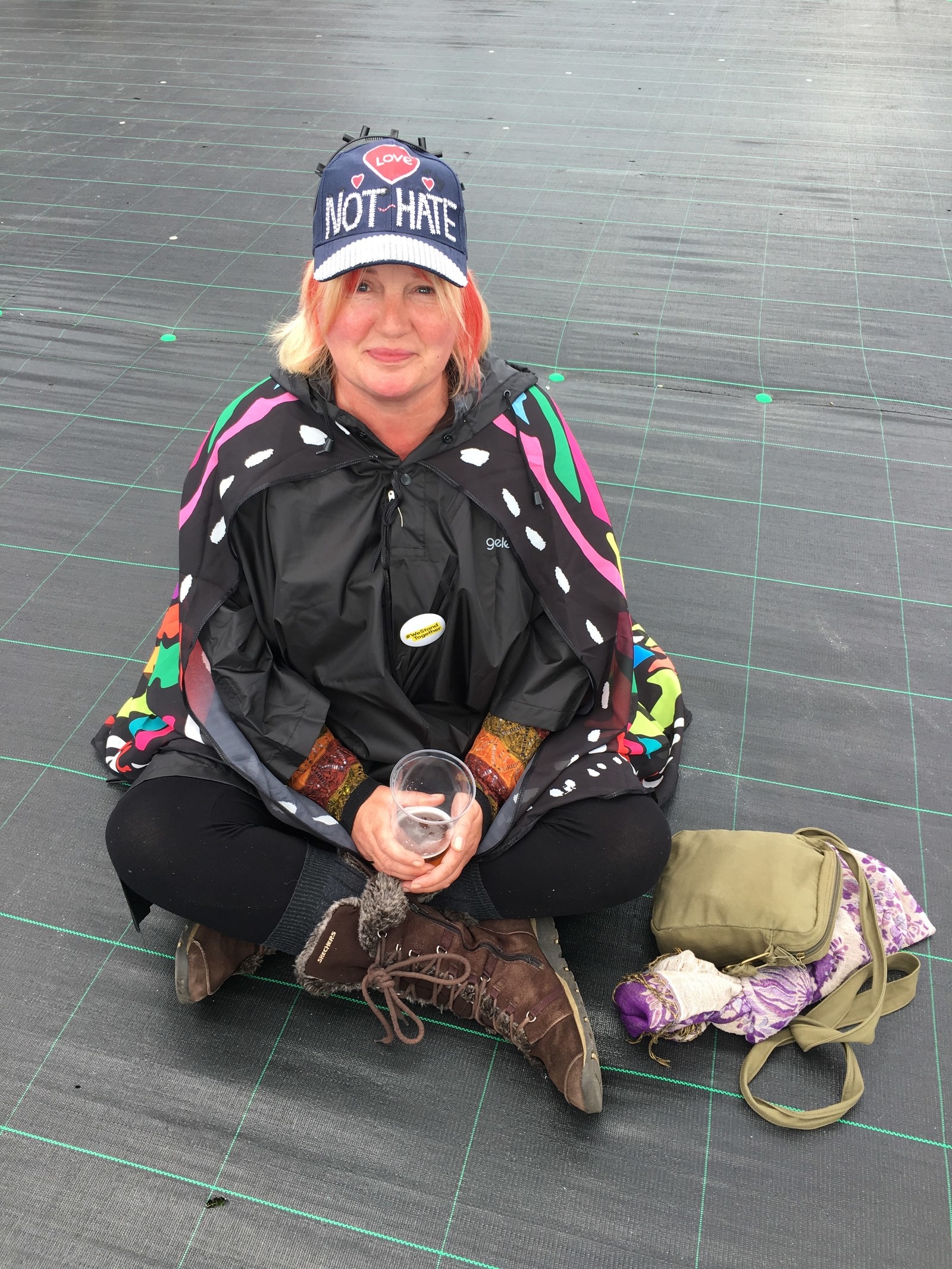 Linda Sky-Mercer, 52, believes she got the last available ticket to Sunday's show.
"I got the last ticket, the very last one, so my husband couldn't come," she told BuzzFeed News. "I've come on my own and he's at home with the dog."
"I just wanted to be here, to be part of it with everyone else, supporting this night, not letting it get us down, not letting it beat us," she said. "The terrorists are not going to win — It proves it today because so many people are here. There's just a lovely atmosphere. I don't care that I'm here on my own, sitting here I feel really happy."
"I obviously feel sad about the victims, but I think they'd be happy that everyone's turned out and it's gone ahead," she added.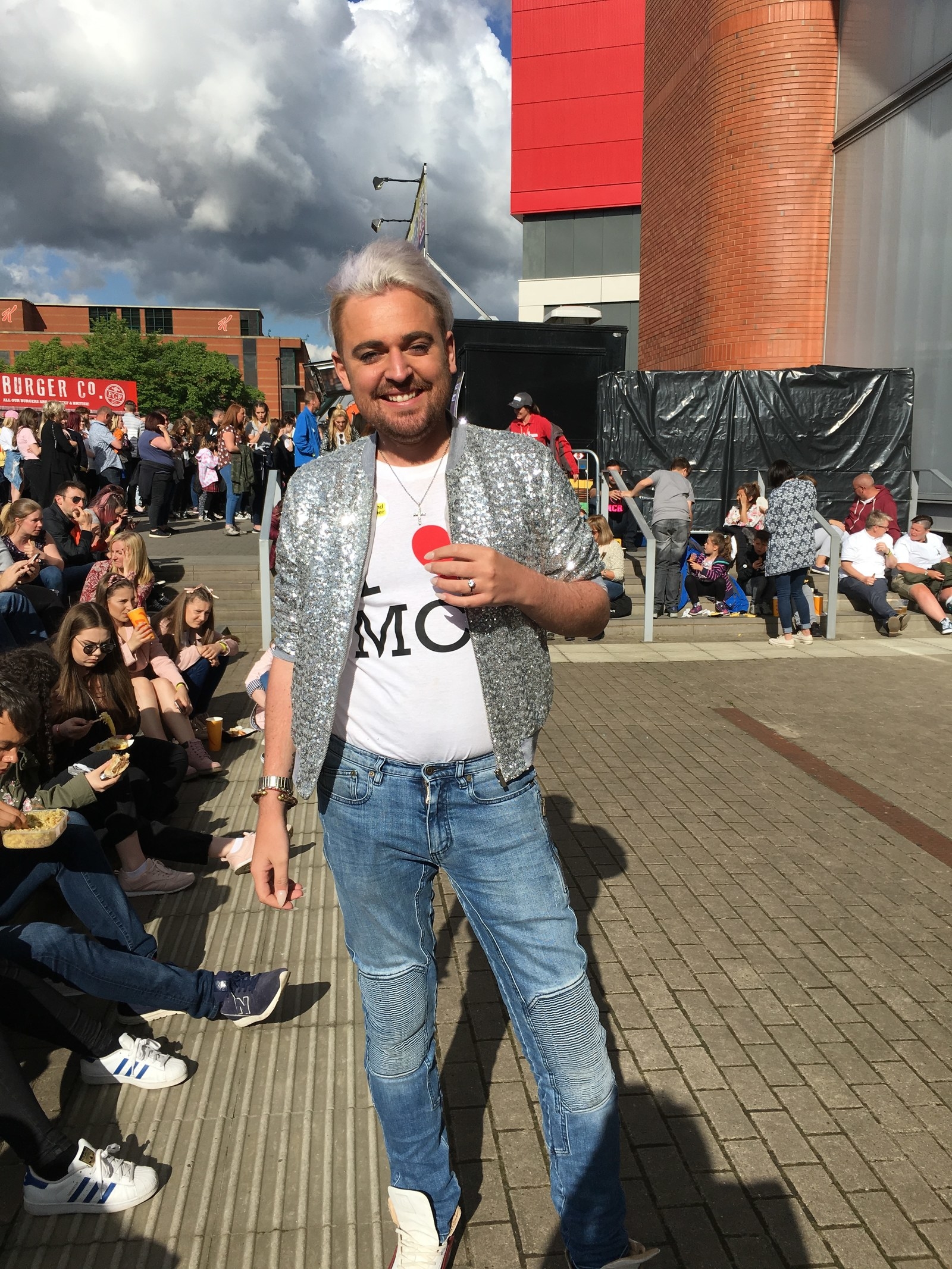 Sam Charles Millward, a 31-year-old store manager who has worked in Manchester for 18 years, said he was "100% happy" that he had been able to come to the concert.
"I wanted to be here today because I'm scared, and I want to stand strong and I want to shine bright," he told BuzzFeed News. "I think it's fantastic, I think it's absolutely beautiful, this is a beautiful atmosphere of connection and happiness."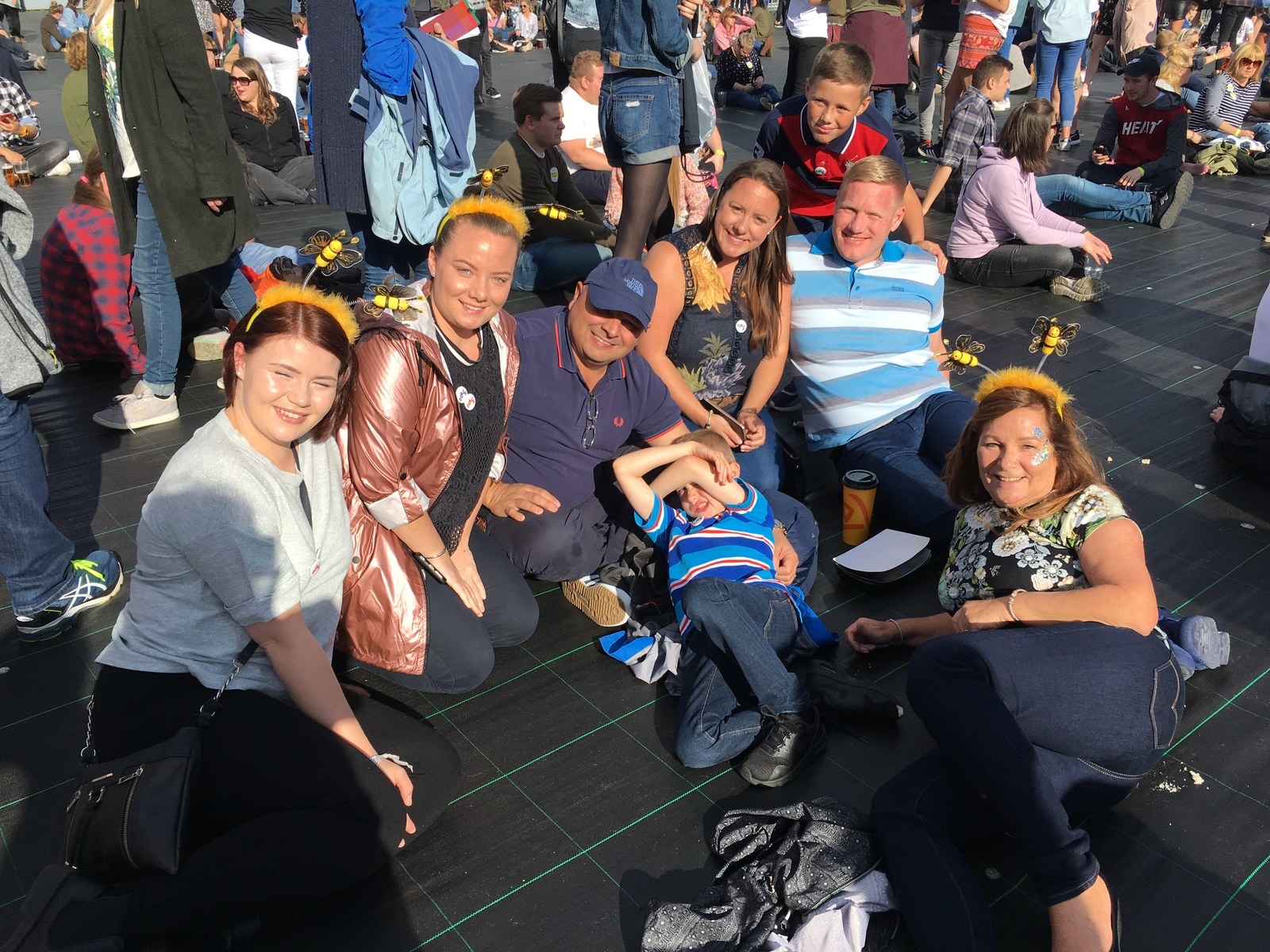 "I wanted to to show there's more love than hate in Manchester, to raise money for the victims and show them that their lives mattered," said Jane Interona, 56, who attended the concert with her husband, children, and grandchildren.

"I wanted to bring my grandchildren and show them that it's not all scary and hard," she explained. "I wanted to show them that there's a good side to concerts and live music, and make memories."
"I'm made in Manchester and I'm very proud," Interona added. "I was even before last week. We've got three generations here, which I think is really nice."
Lisa McAllion, 38, attended the concert with her 37-year-old sister-in-law Rosie.
"My kids begged me to dress up as a bumble bee and I didn't want to let the kids down," she told BuzzFeed News. "We're still all in shock really but I feel very safe here."
Her sister-in-law added: "We're here just to celebrate what the community has achieved - it's amazing. Hats off to everybody who's organised it all in such a short space of time, the random little acts of kindness, it's amazing."
"We're here just to join in and celebrate Manchester and remember everything that's happened."