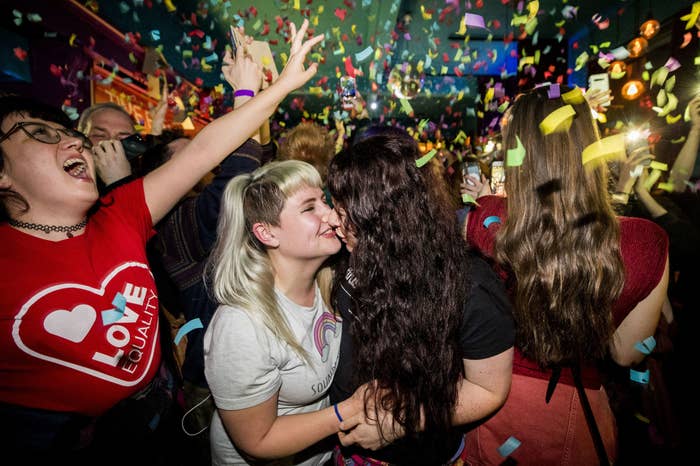 Campaigners in Northern Ireland celebrated on the stroke of midnight as abortion and same-sex marriage became legal for the first time in history.
Northern Ireland was the only place in either the United Kingdom or the island of Ireland without equal marriage, and where abortion was outlawed in almost all circumstances.
The Republic of Ireland voted decisively in favour of legalising same-sex marriage in a referendum in May 2015, while another landslide vote in a second referendum in May 2018 repealed the eighth amendment of the constitution, which said that abortion was almost always illegal.
Equal marriage and abortion — subject to certain conditions — was already legal in the rest of the United Kingdom, and there had been continued pressure on the government to bring Northern Ireland into line.
The Supreme Court had already ruled that Northern Ireland's strict laws were incompatible with human rights, and the United Nations Committee on the Elimination of All Forms of Discrimination Against Women found that Northern Ireland's abortion laws meant that women were "subjected to grave and systematic violations of rights through being compelled to either travel outside Northern Ireland to procure a legal abortion or to carry their pregnancy to term."
However, ministers had been reluctant to act saying the issues had been devolved to Northern Ireland's Stormont Assembly.
However, in July members of Parliament in Westminster voted in favour of an amendment put forward by Labour's Stella Creasy to decriminalise abortion and one put forward by her colleague Conor McGinn to approve same-sex marriage.
The amendments to the Northern Ireland (Executive Formation) Bill allowed Stormont – which has not sat since January 2017 after power-sharing broke down – to step in and overrule Westminster if it has resumed before Oct. 22, but despite the DUP returning on Monday to protest the new law, without Sinn Fein MLAs there, their bid to halt the legal changes failed.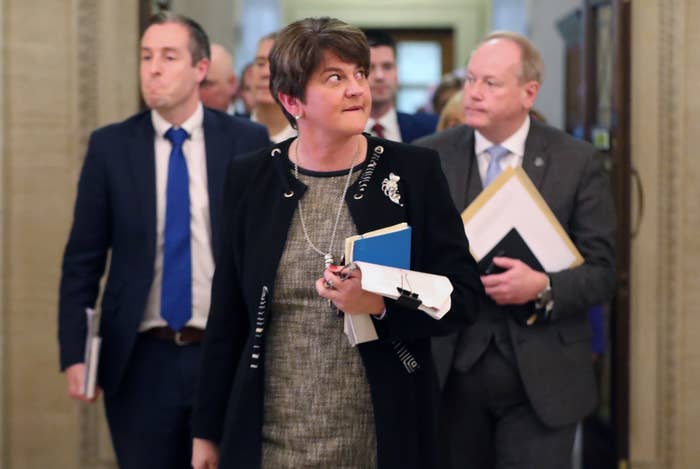 Campaigners have hailed the new laws as "a momentous victory," and an "incredible moment."

Grainne Teggart, Amnesty International's Northern Ireland campaign manager, said: "This is a hugely significant moment and the beginning of a new era for Northern Ireland – one in which we're free from oppressive laws that have policed our bodies and healthcare.
"No longer will those experiencing crisis pregnancy, who need to access abortion, feel they need to conceal what they're going through. People will be able to receive support from doctors, midwives and other healthcare professionals without fear of being reported to the police and prosecuted.
"Finally, our human rights are being brought into the 21st century. This will end the suffering of so many people. We can now look forward to a more equal and compassionate future with our choices respected."
Patrick Corrigan, Amnesty International's Northern Ireland director, a member of the Love Equality campaign, said: "After years of campaigning, marriage equality in Northern Ireland is finally about to become a reality.
"This is an incredible moment for so many people, especially for those couples who will now be treated as equal citizens in their own country.
"Within a few short months, same-sex couples here will be tying the knot. That is a great cause for celebration for them, their families and for all who have led and supported this campaign for equality."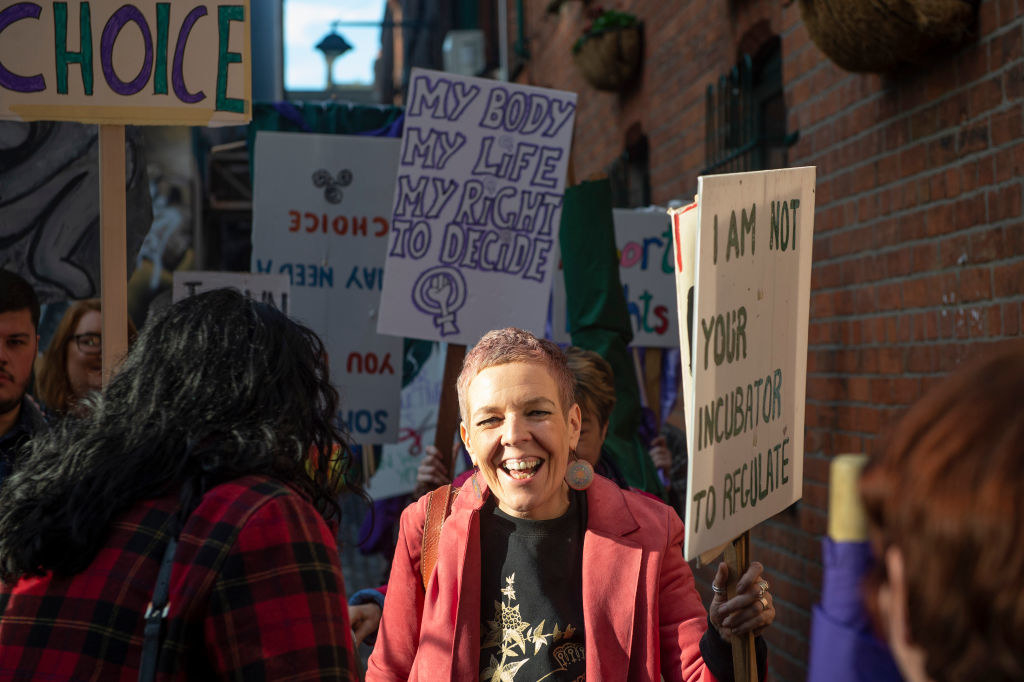 The first same-sex marriages in Northern Ireland are expected to happen by Valentine's Day 2020, with civil venues prevented by law from discriminating against gay and lesbian couples.

The situation with abortion is more complicated as a new framework will need to be put in place first, which the government says it does not anticipate will happen before March 31 next year. However, new laws mean that a moratorium on criminal prosecutions will take effect immediately, and any criminal cases, including one against a mother who bought abortion pills online for her then-15-year-old daughter, will be dropped.

While abortion services are not expected to be available in Northern Ireland until next year, people who have received a diagnosis of serious or fatal foetal anomaly may be able to access abortion services locally before then.
Sarah Ewart, who travelled to England for a termination following a fatal foetal diagnosis, said: "This has been a long time coming. We have been fighting for years for change so that we can have compassionate healthcare at home. Finally abortion will be treated for what it is — a healthcare matter and a decision between each individual woman and their doctor, rather than police and judges.
"Medics will be able to treat women like me without fear of prosecution. The courts were correct when they said our rights are being violated – we need to leave the current law behind. I'm hugely relieved this moment has arrived".
With no framework yet in place for abortion services in Northern Ireland anyone who needs to travel for the healthcare in the meantime will have all expenses — including treatment, travel and accommodation — paid for by the UK Government through the central booking system.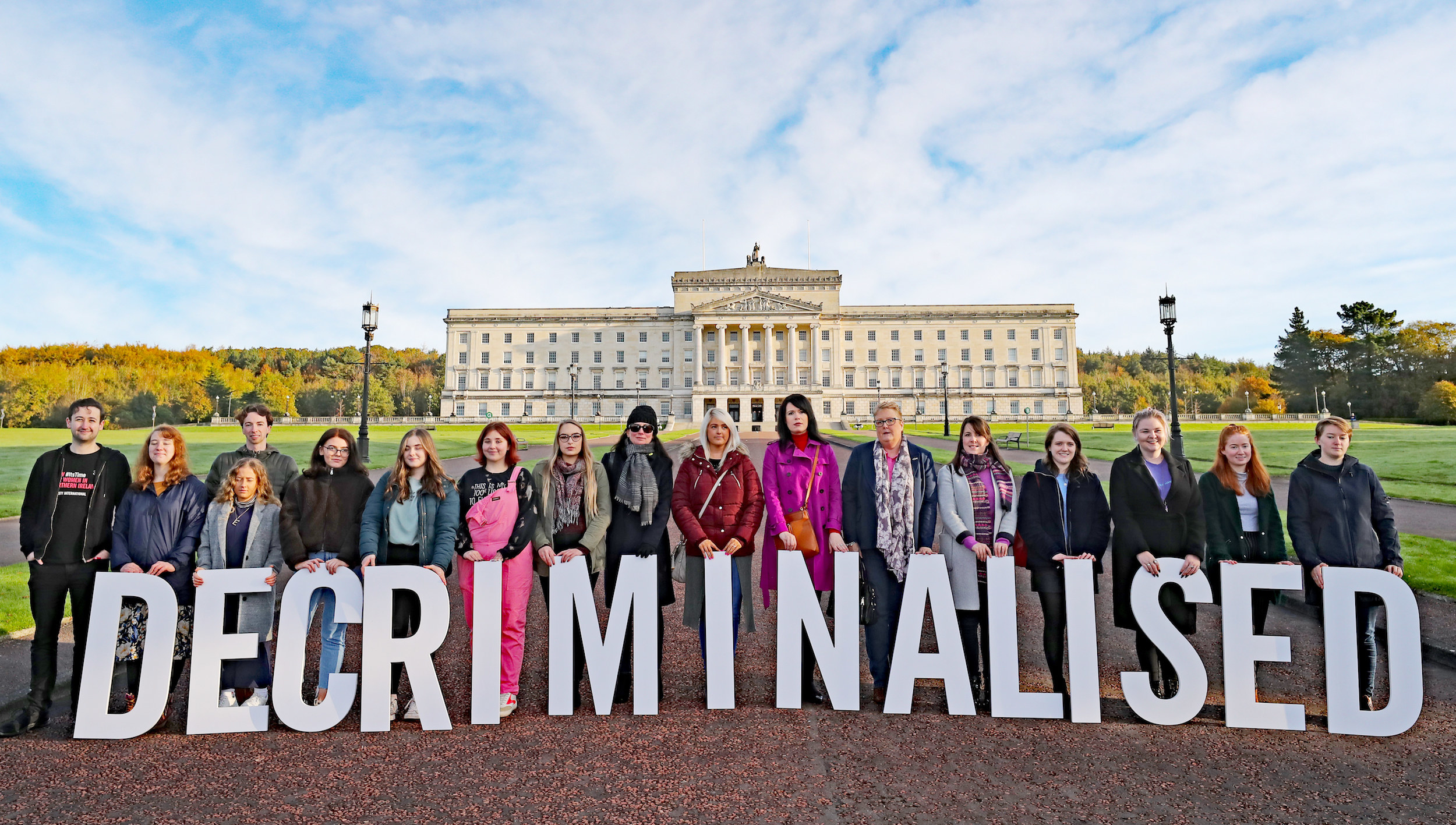 Campaigners are keeping pressure on the government to implement an acceptable and fully funding local system of abortion services in Northern Ireland.
Describing the decriminalisation of abortion as "a momentous victory for women's rights in Northern Ireland," Katherine O'Brien, associate director at the British Pregnancy Advisory Service (BPAS), said: "Following this important legislative change, the Secretary of State must now publish the consultation to begin the process of creating a framework for accessible, fully funded local abortion services.
"Decriminalisation does not mean deregulation, and abortion will be governed in the same way as all other medical and clinical procedures, on the basis of guidelines and standards set by professional and medical bodies. Healthcare professionals have operated under one of the strictest abortion laws in the world in Northern Ireland, and training must be made available as a matter of urgency for those who require it in order to provide the abortion care their patients need.
"BPAS will continue to provide a Central Booking Service for women and healthcare professionals seeking to arrange abortion care in England," she added.
Speaking on Monday, Stella Creasy, Labour and Co-Operative MP for Walthamstow, said: "Today marks the first step in getting women in Northern Ireland equal rights with their counterparts in England and Wales.
"When it comes to being able to make decisions over their own bodies, women and girls in Northern Ireland will no longer be threatened with the criminal law. The legislation that comes into force tomorrow requires the secretary of state for Northern Ireland to uphold human rights standards for abortion from start to finish.
"It is vital that we do not now see any backroom deals in parliament on in the assembly to water down the commitment we made to treat women in Northern Ireland as equals. We will accept no more delays in the regulations governing access. Women in Northern Ireland have waited long enough."