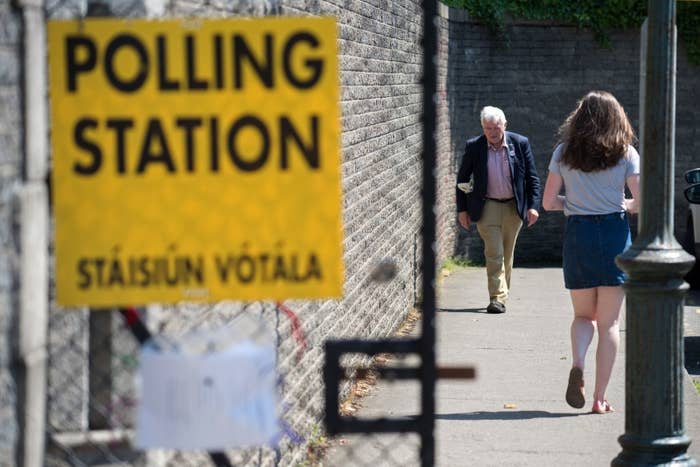 Jubilant crowds are celebrating outside Dublin Castle after official confirmation that Ireland is set to relax its strict abortion laws.
In a landslide victory, around two thirds of those (1,429,981) who cast their votes said "yes" to repealing the Eighth Amendment, while around a third of voters (723,632) were against repealing it.
The Irish public on Friday went to the polls to decide whether they wished to repeal the Eighth Amendment of the constitution, a law which means abortion is almost always illegal.

A survey conducted for The Irish Times by Ipsos/MRBI, released as the polls closed at 10pm on Friday, predicted that 68% of people had voted to repeal the Eighth Amendment, with 32% voting to keep the current law in place.
An exit poll for Ireland's state broadcaster RTE predicted an even high win for repeal, with 69.4% expected to have voted Yes, and 30.6% voting No.

People chanted the name of Savita Halappanavar, who died following a miscarriage in 2012.
One woman was even seen handing out After Eight mints.
Earlier, Taoiseach Leo Varadkar described the results as "the culmination of a quiet revolution".

The Irish Times's poll asked 4,000 people at 160 constituencies around the country how they had voted across the day, while RTE polled 3,800 people.

In some areas of Dublin, Ireland's capital, the poll predicted the Yes vote was as high as 77%.

Turnout at polling stations across the country was unexpectedly high. At a polling station in suburban Dublin on Friday morning, staff told BuzzFeed News that there had been a queue for the ballot box from 7am when polls opened, and that by midmorning, the station had already been busier than during 2015's same-sex marriage referendum, which saw a record turnout.
As exit polls were released, there appeared to be celebration at the headquarters for lead Yes campaign, Together for Yes.
"Barely a dry eye in the room," Oisin MacCanna, a press officer for Ireland's Sinn Fein party, which backed a Yes vote, tweeted.

John McGuirk, communications director for the Save the 8th campaign, which led the push for a No vote, appeared prepared to accept a defeat when a result is officially declared on Saturday afternoon. "With a result of that magnitude, clearly there was very little to be done," he tweeted shortly after exit polls were released.
Ireland's Taoiseach – equivalent of prime minister – Leo Varadkar, who campaigned for a Yes vote thanked voters.
"It looks like we will make history tomorrow," he wrote on Twitter.
Speaking after casting his vote in Castleknock in Dublin on Friday, Varadkar seemed positive, and said he believed that the strong turnout would like be an advantage to the Yes campaign.
"I'm not taking anything for granted of course but I'm quietly confident," he said.
"We've had a good turnout so far across the country and let's hope it's a yes vote tomorrow."

Health minister Simon Harris, who has led the government's proposals for reform, hoped that the exit poll showed compassion.

"It has been an honour to be on this journey with you and work #togetherforyes," he wrote on Twitter.
In 2015, same sex marriage was legalised in a referendum with 62% of the vote.

This year's abortion referendum campaign has been particularly tense, with supporters of both Yes and No sides predicting a tight result.

Many predicted that the result would be distinctly divided by area, with rural areas expected to back a No vote, while the Yes vote would be contained to urban centres.

But Friday night's exit poll expected that 60% of rural voters chose to support legalising abortion.
Age was also expected to be a dividing factor. According to the Irish Times's predictions, 87% of 18-24-year-olds voted to repeal the eight, while over-65s looked more likely to vote to keep the current abortion law. RTE predicted that 87.6% of 18-24 year olds voted Yes, and 84.6% of 25-34 year-olds voted Yes.
An analysis of the early prediction by Irish Times deputy political editor Fiach Kelly said the exit poll showed "an overwhelming desire for change that nobody had foreseen".