Jeremy Corbyn Will Step Down As Labour Leader Early Next Year. Here's How Everything Went Wrong.
Despite leading Labour to their worst result in decades, Corbyn expressed "pride" in Labour's manifesto, which he insisted had "huge public support."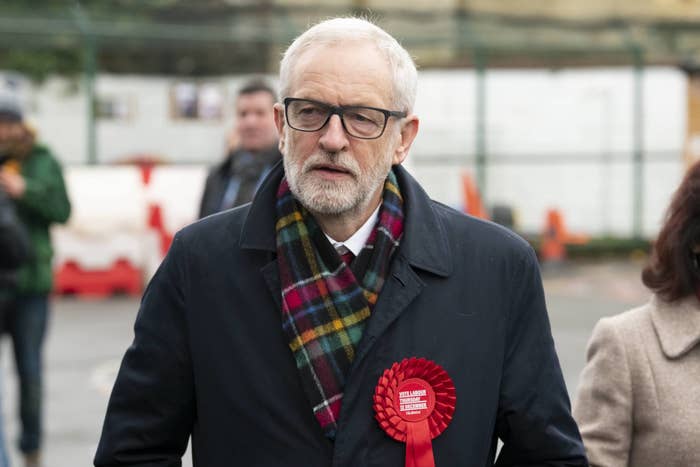 Jeremy Corbyn said he will not quit as Labour leader until a successor is elected next year, despite leading the party to its worst election result since the 1930s.
In his first interview since the election, in which Labour was deserted by voters in its traditional northern heartlands and lost 60 seats, Corbyn said the "responsible" thing was to remain as leader for now.
He said that while timings were up to Labour's ruling National Executive Committee, someone would probably be elected to replace him "in the early part of next year."
Boris Johnson's Conservatives have 365 seats and Labour just 203. But while the Tory vote only went up 1.2% overall, Labour's collapsed by 7.8%.
The Tory majority of 80 means that Labour, with or without Corbyn, are likely to be out of power for at least a decade. Johnson's huge election victory — the largest Tory majority since Margaret Thatcher's premiership — was only possible because Corbyn agreed, despite the reservations of many of his own MPs, to back Johnson's request for an early election in October.
Corbyn said he was saddened by the election results, but that he had "pride" in Labour's manifesto and that policies the party put forward had "huge public support."
"This election was taken over, ultimately by Brexit, and we as a party represent people who both voted Remain and Leave, and my whole strategy was to reach out beyond the Brexit divide to try and bring people together, because ultimately the country has to come together," he said on Friday.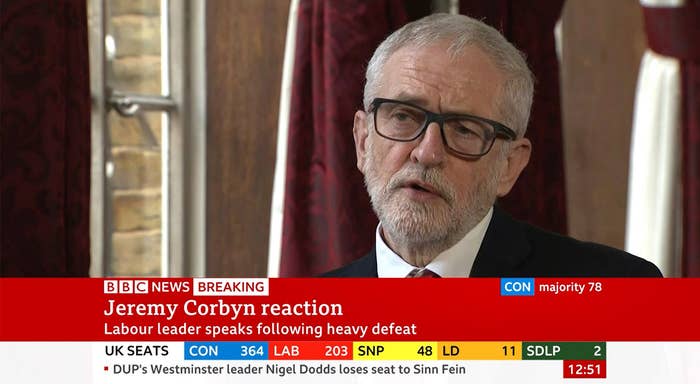 "I've done everything I could to lead this party, done everything I could to develop its policies, and since I became leader the membership has more than doubled and the party has developed a very serious, radical yes, but serious and fully-costed manifesto. And I've received more personal abuse than any other leader has ever received by a great deal of the media."

Corbyn has served as leader of the opposition since September 2015, outlasting two Tory prime ministers and seeing the party through one of the most tumultuous periods in British political history. He has faced calls to resign from just months into his tenure and has now lead Labour to two general election defeats.
Asked whether Labour's dismal performance went beyond Brexit, and if he accepted his leadership was to blame, Corbyn said that another leader would not have achieved a better result and that he "did everything I possibly could to win this election, I did everything I possibly could in order to bridge the divide between those who voted Remain and those who voted Leave."
He agreed to back the election against the wishes of many of his MPs who privately were dismayed and predicted the party would suffer heavy losses.
During the campaign, Labour candidates told BuzzFeed News that Corbyn's leadership was a huge problem on the doorstep and that this, more than any other issue, was losing them votes. Activists and candidates were also heavily critical of Labour's strategy, which saw it pour resources into Tory seats at the expense of its own defensive margins.
Corbyn, who took the Labour Party dramatically to the left, was the shock winner of the 2015 leadership contest triggered by Ed Miliband's resignation, beating shadow home secretary Yvette Cooper, shadow health secretary Andy Burnham, and Liz Kendall, a shadow care minister.
He benefited from both an influx of new members, and a reformed membership system brought in by Miliband to allow registered supporters to vote.
His tenure saw Labour's membership grow to make it the largest political party in Western Europe, and he was also credited with engaging young people in politics. However, he was heavily criticised for his failure to adopt a leadership position on Brexit, and for failing to tackle the growth of anti-Semitism within the party.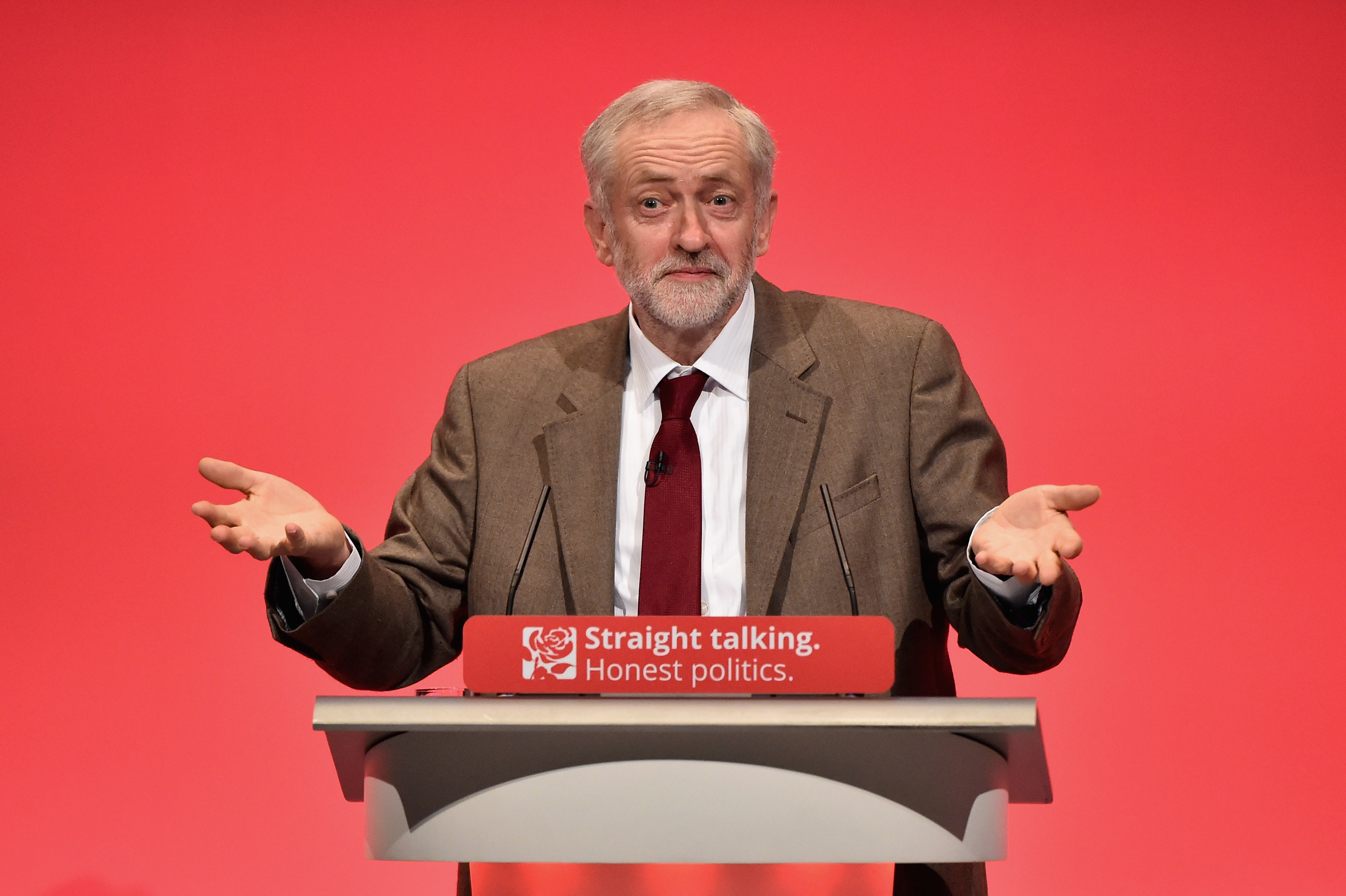 Corbyn had in the past been critical of the European Union and was criticised for a lack of enthusiasm and leadership during the Remain campaign. Labour Party veteran Alan Johnson, who led the Labour In campaign was critical of his office, claiming that at times it was "working against the rest of the Party."

Shortly after the referendum Hilary Benn, then shadow foreign secretary, was sacked for orchestrating a mass resignation of the shadow cabinet in a bid to trigger Corbyn's resignation. It led to 23 shadow cabinet members resigning in solidarity with Benn, along with seven parliamentary private secretaries.
Soon after, a motion of no confidence was triggered by MPs who said he had failed the test of leadership during the EU referendum. On 28 June, he lost the vote of confidence by Labour Party MPs by 172 to 40. He was urged to resign by senior figures including Miliband and deputy leader Tom Watson, but Corbyn said the motion had no "constitutional legitimacy" and stated his intention to carry on as leader.
In July 2016, Angela Eagle announced her intention to challenge Corbyn for the leadership, but later withdrew and gave her backing to Owen Smith after he also threw his hat into the ring. Corbyn went on to win the election, with more than 60% of the vote.
Corbyn led Labour into the 2017 general election, and although the Conservatives initially looked on course for a landslide victory, Labour came from behind to increase their vote share, made a net gain of 30 seats, and depriving Theresa May of a majority.
However, the Conservatives were still the largest party, and May was able to continue as prime minister with the support of the Democratic Unionist Party.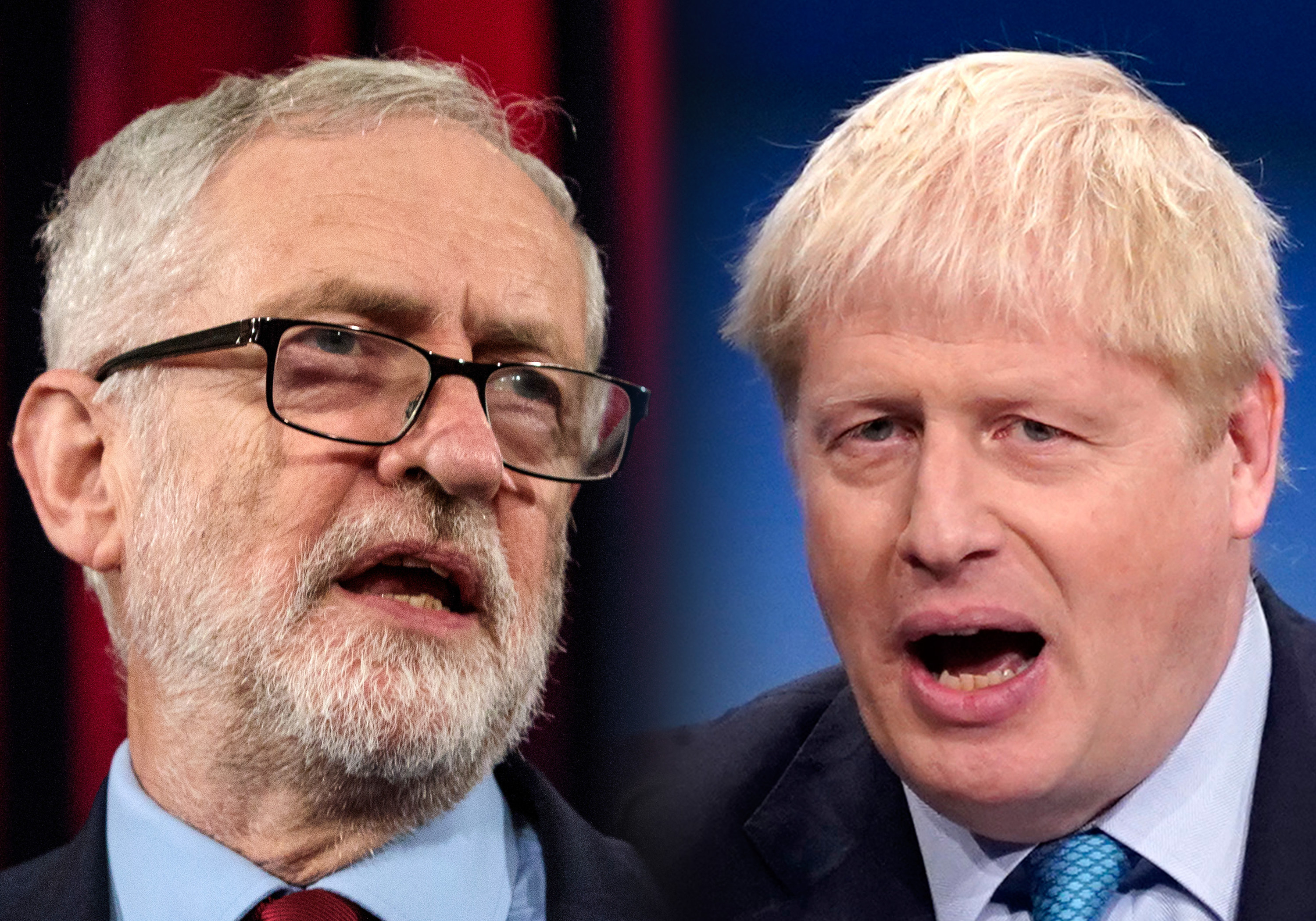 Over the next two years, the party was increasingly criticised over more allegations of anti-Semitism from party members — many who had joined since Corbyn became leader.

It led to the resignation in droves of Jewish members and has brought about an investigation by the Equality and Human Rights Commission, making Labour the only British party except for the British National Party to be investigated by the EHRC.
In February this year, eight MPs quit the party over Corbyn's leadership on Brexit and anti-Semitism. In her resignation letter, former Labour MP Joan Ryan said she was "horrified, appalled and angered to see the Labour leadership's dereliction of duty in the face of this evil."
Corbyn said in Friday's interview that he would remain as MP for Islington North after standing down as Labour leader next year, and campaign for social justice issues for the "rest of his life."
When asked whether Corbynism was now dead, he replied: "It's not Corbynism, there is no such thing as Corbynism."