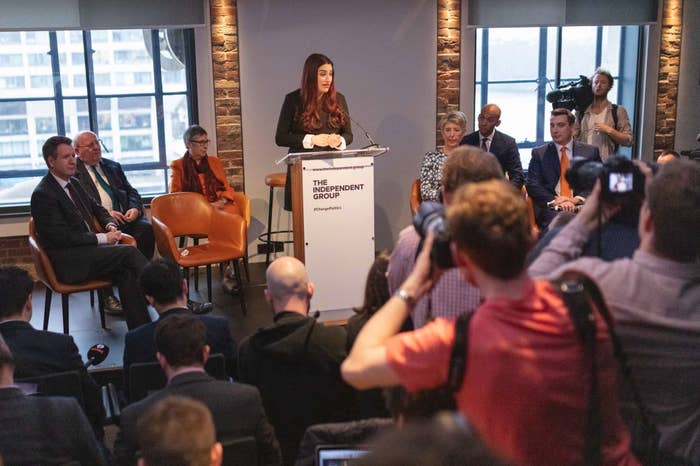 Joan Ryan has become the eighth Labour backbencher to quit the party and sit with the Independent Group of MPs, announcing her decision on Twitter on Tuesday night.
The Enfield North MP cited Labour's antisemitism problem as her reason for quitting, writing: "I have been horrified, appalled and angered to see the Labour leadership's dereliction of duty in the face of this evil," she said, adding that she could not remain in the Labour Party while "its leadership allows Jews to be abused with impunity."
She also said that she did not believe that Jeremy Corbyn was fit to be prime minister.
Ryan, who was, until she resigned her party membership, chair of the Labour Friends of Israel Group, lost a non-binding confidence vote brought by her constituency party in September.

Seven Labour MPs resigned from the party on Monday in protest at Jeremy Corbyn's leadership on Brexit and anti-Semitism.

Appearing at a press conference in Westminster, Luciana Berger, Chuka Umunna, Chris Leslie, Mike Gapes, Anne Coffey, Gavin Shuker, Angela Smith announced they would be sitting in parliament as a new "Independent Group" of MPs.
"This has been a very difficult, painful but necessary decision," Berger said, adding that her values had been "violated, undermined and attacked" by the party. In a devastating assessment of the Labour leadership's handling of the party's anti-Semitism crisis, Berger said: "I cannot remain in a party that I have come to the sickening conclusion is institutionally anti-Semitic".
Leslie blasted his former party's refusal to endorse a second Brexit referendum, telling journalists: "Labour's betrayal on Europe is visible for all to see". He also claimed the leadership's policies on Nato and Russia were a threat to national security, adding that Labour had been "hijacked by the machine politics of the hard-left".
Leslie added that the Independent Group did not yet have a leader but that roles would be assigned after this meeting.
In another blistering attack on Corbyn, Ilford South MP Gapes said he was "sickened that the Labour Party is now a racist and anti-Semitic party", adding that he was also "furious that the Labour leadership is complicit in facilitating Brexit".
Umunna called on Conservative and Liberal Democrat MPs to "leave your parties and join us".
Corbyn hit back in a statement: "I am disappointed that these MPs have felt unable to continue to work together for the Labour policies that inspired millions at the last election and saw us increase our vote by the largest share since 1945."
It is the most significant split from the Labour party since the 'Gang of Four' quit to form the Social Democratic Party in 1981. That fracture resulted in 17 further years of Conservative government before Tony Blair led Labour to victory at the 1997 election.

Later on Monday, deputy leader Tom Watson put out a statement saying that while he thought colleagues had reached a "premature conclusion," Labour needed to examine the reasons why they had quit the party, adding: "I love this party, but sometimes I no longer recognise it."
"The tragedy of the hard left can be too easily tempted into the language of heresy and treachery," he said. "Betrayal narratives and shouting insults at the departed might make some feel better briefly, but it does nothing to address the reasons that good colleagues might want to leave."
Addressing the issue of antisemitism directly, he added: "If someone like Luciana no longer believes there is a role for her in the Labour Party then many other colleagues will be asking themselves how they can stay. That is why time is short for us to confront the scale of the problem and meet the consequences. To keep others from leaving."
Dudley North MP Ian Austin, who has been one of the most vocal critics of Corbyn over the anti-Semitism scandal and had been rumoured to be considering his position, told BuzzFeed News he would not be leaving the party today.
BuzzFeed News was first to report on Sunday night that the splitters were set to move on Monday, with Umunna and Leslie refusing to deny that they were about to quit.
Other Labour backbenchers – including those on the so-called "centrist" wing of the party which has been opposed to Corbyn's leadership – lined up to condemn the breakaway movement.
Former shadow cabinet minister Lucy Powell told BuzzFeed News it would keep the Tories in power. "It is the wrong thing to do. What they are going to be doing is standing against their former Labour colleagues, increasing the chances of a Conservative government," she said.
Wirral South MP Alison McGovern tweeted: "Can never turn my back on the fight to see Labour win. The madness of austerity, & how Brexit turned out makes it all the more important."

Catherine West, who was sacked from the Labour frontbench in 2017 after voting for the UK to stay in the single market, also opposed the split:
Redcar's Anna Turley said the splinter showed the Labour leadership "must listen" on Brexit and anti-Semitism.

This is a developing story ...