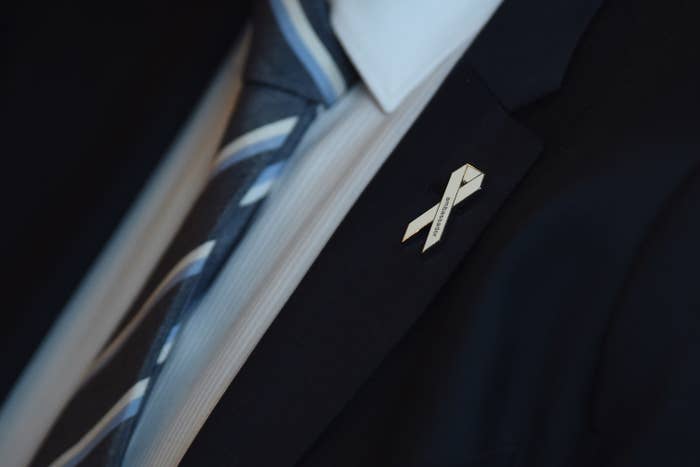 Anti-gendered violence charity White Ribbon Australia has gone into voluntary liquidation.
It was agreed at a general meeting that White Ribbon Australia would be "wound up" and liquidators were then appointed, a statement issued to the Australian Securities and Investments Commission on Wednesday said.
The charity, which encourages men to speak out against violence against women, was in the red by more than $840,000, financial reports from February revealed.
Liquidators have been appointed from the insolvency firm Worrells.
A statement from the board reads:

"It is with profound sadness that the board of White Ribbon Australia informs the community and supporters that it has taken the very difficult decision to close its doors.
This decision became necessary following an analysis of the organisation's future sustainability.
White Ribbon Australia has been proud to serve alongside so many dedicated partner organisations, grassroots communities and government in the important work of ending men's violence against women.
We want to acknowledge those communities around Australia who have been part of the White Ribbon movement – from the dedicated staff, Ambassadors, Advocates, and Committees, to schools and teachers, sports clubs, workplaces and individual members of the community.
For all those who are already planning for White Ribbon Day, we encourage you to continue with those plans alongside the international White Ribbon movement. Continue to raise your voice.
Even though White Ribbon Australia's journey ends here, we know that the work of our partners and communities will continue. Eliminating men's violence against women must remain a priority."
White Ribbon Australia's Twitter account has been put on private.

Four of the charity's directors, including former New South Wales director of public prosecutions Nicholas Cowdery, last year quit around the time the charity reportedly lost several sponsorships.

Cowdery resigned in October last year after the ABC aired comments he made about convicted baby killer Keli Lane's sex life.
In November last year, Tracy McLeod Howe departed as White Ribbon Australia's chief executive, three weeks after the anti-domestic violence organisation withdrew a statement saying "all women should have complete control over their reproductive and sexual health".

Many people were angry with McLeod Howe and White Ribbon Australia when BuzzFeed News revealed the organisation had retracted the statement, first issued in February 2017.
BuzzFeed News understands members of the organisation contacted a number of pregnancy option counselling and sexual health providers to notify them of the shift on the morning after politicians voted to decriminalise abortion in Queensland in October last year.

"We have withdrawn it because we are agnostic until our stakeholders tell us it is important to most of them," McLeod Howe told BuzzFeed News at the time.

"My job is to represent a movement of diverse members of a community who range in age and gender and religion and viewpoints."
McLeod Howe on Thursday commented on a Sydney Morning Herald story about the liquidation on Facebook.
"This place was a financial mess for years before me," she wrote. "Don't spend more than you make. And don't look for scapegoats."
In 2017 the Sydney Morning Herald revealed the charity planned to accept money from a publican if the authorities allowed him to install more poker machines in his venue.
White Ribbon Day is on November 22.
BuzzFeed News has contacted White Ribbon Australia and Worrells for comment.