Emily Lockwood joined a crowd of protesters outside New South Wales parliament house on Wednesday morning with her baby and a sign that read: 'together for choice'.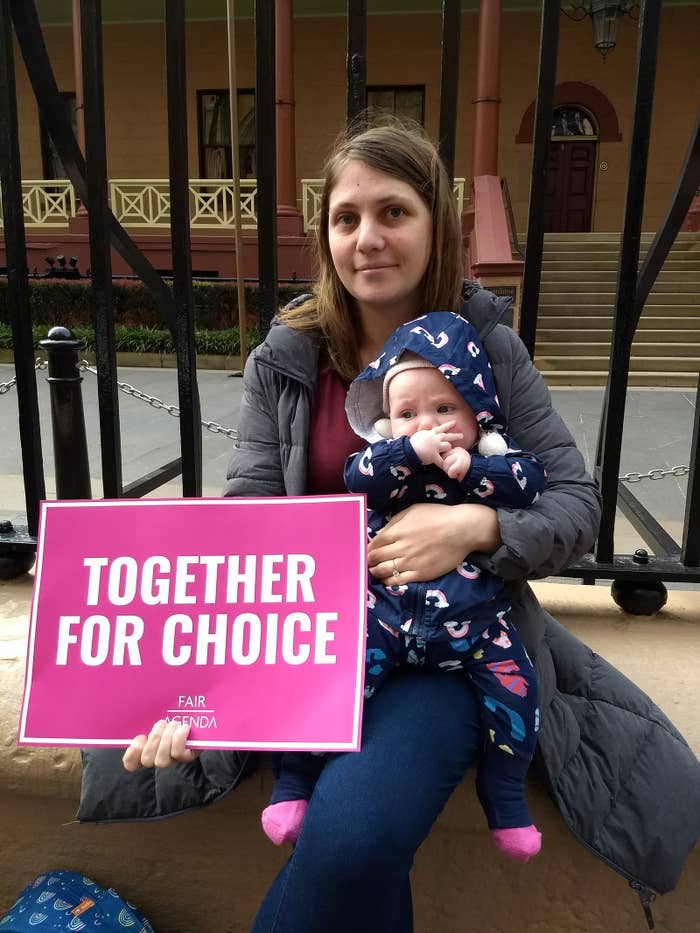 "I think a lot of people assume that if you're for abortion rights then you hate babies, but I don't want an abortion so I won't get an abortion, but it doesn't mean that I should stop someone else who needs one," the 26-year-old told BuzzFeed News.
"I have two daughters so I want them to get the healthcare they need if it ever gets to that point, and to me abortion rights are just basic healthcare.
"We know that a lot of women who get abortions are mothers who already have children."
A woman and her doctor can be convicted for an unlawful abortion and imprisoned for up to a decade in NSW, but case law has established that abortion is lawful in the state if the doctor has an honest opinion that continuing the pregnancy would be seriously harmful to the health of the woman.

Lockwood said there wasn't enough support for new mothers, and to encourage women to continue with a pregnancy they're not ready for was unacceptable.
"I've had multiple miscarriages which has actually made me a stronger supporter of abortion rights," she said. "I can't imagine making a woman who doesn't want a pregnancy go through the taxing experience of nine months of vomiting and the issues you can have after a pregnancy."
NSW premier Gladys Berejiklian will vote in favour of the legislation, which establishes that having an abortion is not a criminal offence and allows abortions on request by a registered doctor for up to 22 weeks gestation, beyond which the patient would need the consent of two doctors. Health minister Brad Hazzard has co-sponsored the bill.
Independent MP Alex Greenwich, who plans to introduce the bill on Thursday, told the crowd: "NSW is a state that has a female premier, a female leader of the opposition and a female governor and it is time that women had autonomy over their own reproductive rights."
Dr Rigmor Berg, 65, and Dr Jane Bullen, 64, said they had been attending reproductive rights marches since the 1970s and were ready for change.
"It is a fight I've been involved in all of my adult life," Bullen told BuzzFeed News. "It is very sad that NSW is dragging its feet on this when the rest of Australia has finally woken up."
Berg said if a woman "could not control her reproductive function" then she "could not control her life".
"It is a very fundamental right for women to decide if and when they have children," she told BuzzFeed News. "Lots of women in the past have died because safe, legal abortion was not available."
University students Jamie Coleman and Keira Proust, both 20, are from Wollongong and attended the rally together.
"I thought it was really interesting with all the abortion law things happening in America, and people were sort of forgetting that it was still criminalised here in our own state," Coleman, who is studying law, told BuzzFeed News. "Once I saw this law was coming in, I really wanted to come and throw my support behind it."
Proust said she hoped the bill would help address reproductive healthcare access issues for women living outside of major cities in the state.
"We grew up even further south and growing up it is an issue that we've always been aware of, that we wouldn't have access [to abortion] if we needed it, so I think that is why we're more passionate about this because if we were in the cities it would be easier to have access," she told BuzzFeed News.
The tabling of the bill was delayed by a few days by members of parliament after church groups accused the bill's 15 co-sponsors of trying to "rush" the legislation through parliament.
Wendy McCarthy is head of the NSW Pro-Choice Alliance, a collective of 72 peak health, legal and community organisations that in May launched the campaign to decriminalise abortion in the state.
"I'm astonished that any Members of Parliament would be prepared to admit to having missed this debate and being surprised by abortion decriminalisation moves in NSW," McCarthy said in a statement on Wednesday.
"What we are witnessing now is a small group of MPs who disagree with the 70% of Australians who support decriminalisation. This small group are ignoring most voters by trying to delay NSW joining the rest of Australia in modernising its abortion laws."