Like most unexpected blessings, my introduction to the body positive movement happened by accident. It started with Nadia Aboulhosn. A fashion blogger, model, and designer from Florida, she runs a self-titled blog that I began following in 2011 and was the object of my utmost adoration.
Her blog led me to several other women in the plus-size fashion industry, even though Aboulhosn admits she's technically not plus-size, but is seen as such due to not being straight-sized. However, as the movement began to grow in the UK, and body positivity was picked up by brands and repackaged for mainstream consumption, one glaringly obvious omission repeatedly came to mind: Where the hell were all the black women?
BuzzFeed spoke to five women who are just the beginning in discerning the answer to that question. Here Stephanie Yeboah, Lauren Nicole Coppin-Campbell, Olivia Campbell, Olakemi Obi, and Rachael Sealy tell us about their own experiences as black women pushing body positivity in the UK.
Stephanie Yeboah has been in the blogging game for eight years, having started her blog, Nerd About Town, in 2009 while at university. "It started out as a beauty blog because at the time I was too self-conscious and I had very low self-esteem, so I wasn't ready to put myself out there as a fashion blogger," she recalls.

Things changed, however, when Yeboah went to New York. There she encountered several "beautiful black plus-size women" and, coincidentally, met Nadia Aboulhosn, too. "It was just really random how we met," she says. "I was staying at an Airbnb and the person who I was renting the Airbnb from was her ex-boyfriend." The two eventually got talking and Yeboah revealed her desire to be a plus-size blogger. "She was just like, 'Go for it, because that's what I did… Just take a picture of yourself and throw it out there, regardless of what anyone says'" – which is exactly what Yeboah did.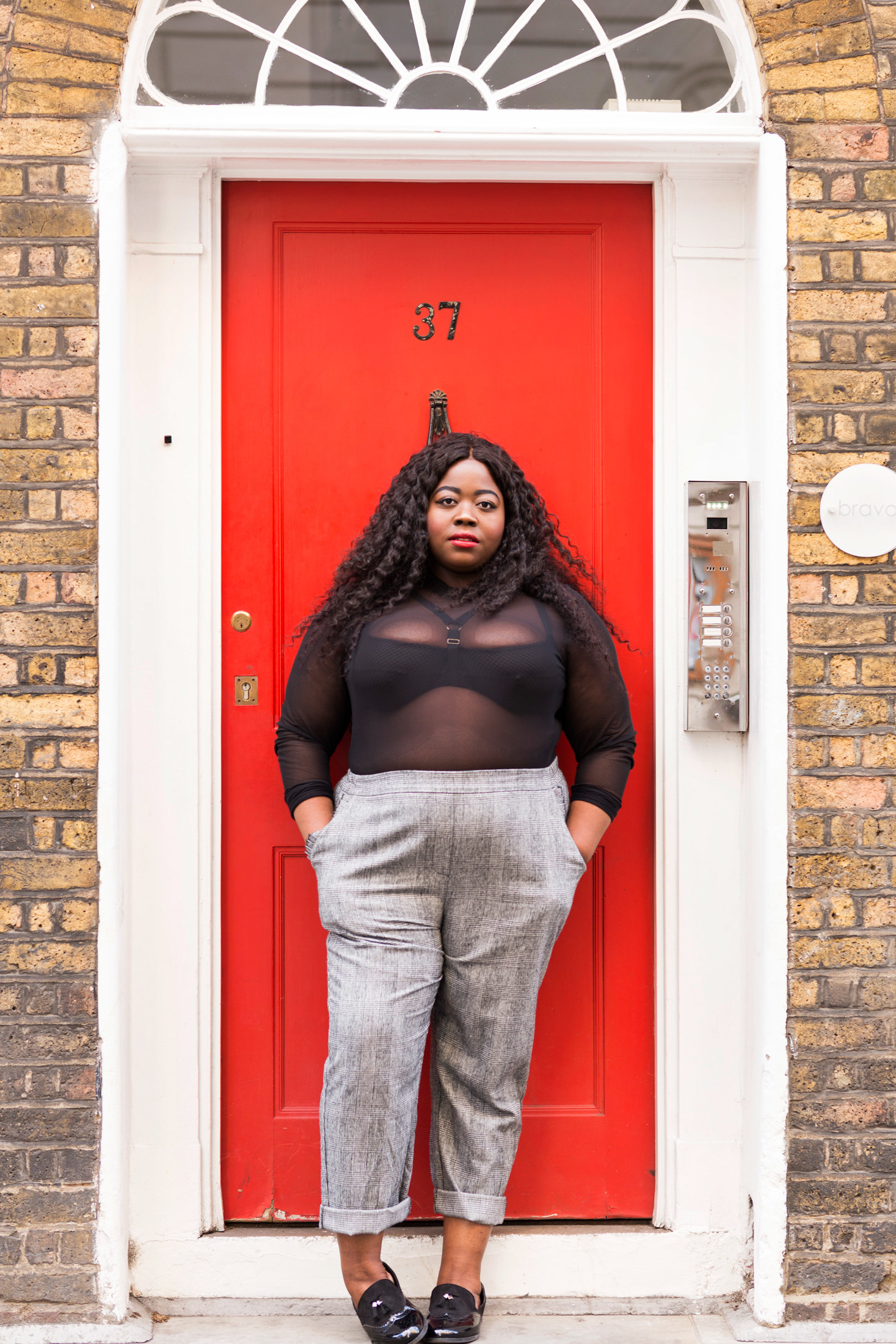 Being a part of both the plus-size and body positive community has been what Yeboah describes as a "two-way thing". "On the one hand it's been amazing for my self-esteem and my confidence because being around a group of women who look like you in terms of body shape – and they are unapologetically themselves, loving themselves, and giving advice – has been amazing for me."
She does admit, however, that the issue of diversity has bothered her. "Being in a community full of people who have the same body shape as you in terms of they're fat, but then realising that you're the only person of colour or you're the only black person doing things, it kind of makes me feel like, why are we not good enough to be at the forefront? How come this standard of beauty within body positivity, which is a community that's supposed to celebrate diversity, why is it that the standard of beauty is still white, cis, able-bodied, high-cheekbones, hourglass-shape women?"
The frequent lack of inclusivity has caused Yeboah to have a rather complicated relationship with the term "body positivity" now. "I feel like body positivity is such a buzzword," she explains. "I'm not as big of a fan of what it is now, just because it's kind of lost all meaning."
"Body positivity was created specifically at the time to celebrate fat bodies, fat bodies of all shapes and of all races, and now it's completely been taken out and it's just to celebrate white bodies and white spaces of any size now. It's not even fat any more. There's now a standard of beauty to become body positive, and as long as there is that standard of beauty, I don't way any part of it, so I just celebrate being fat because I'm fat."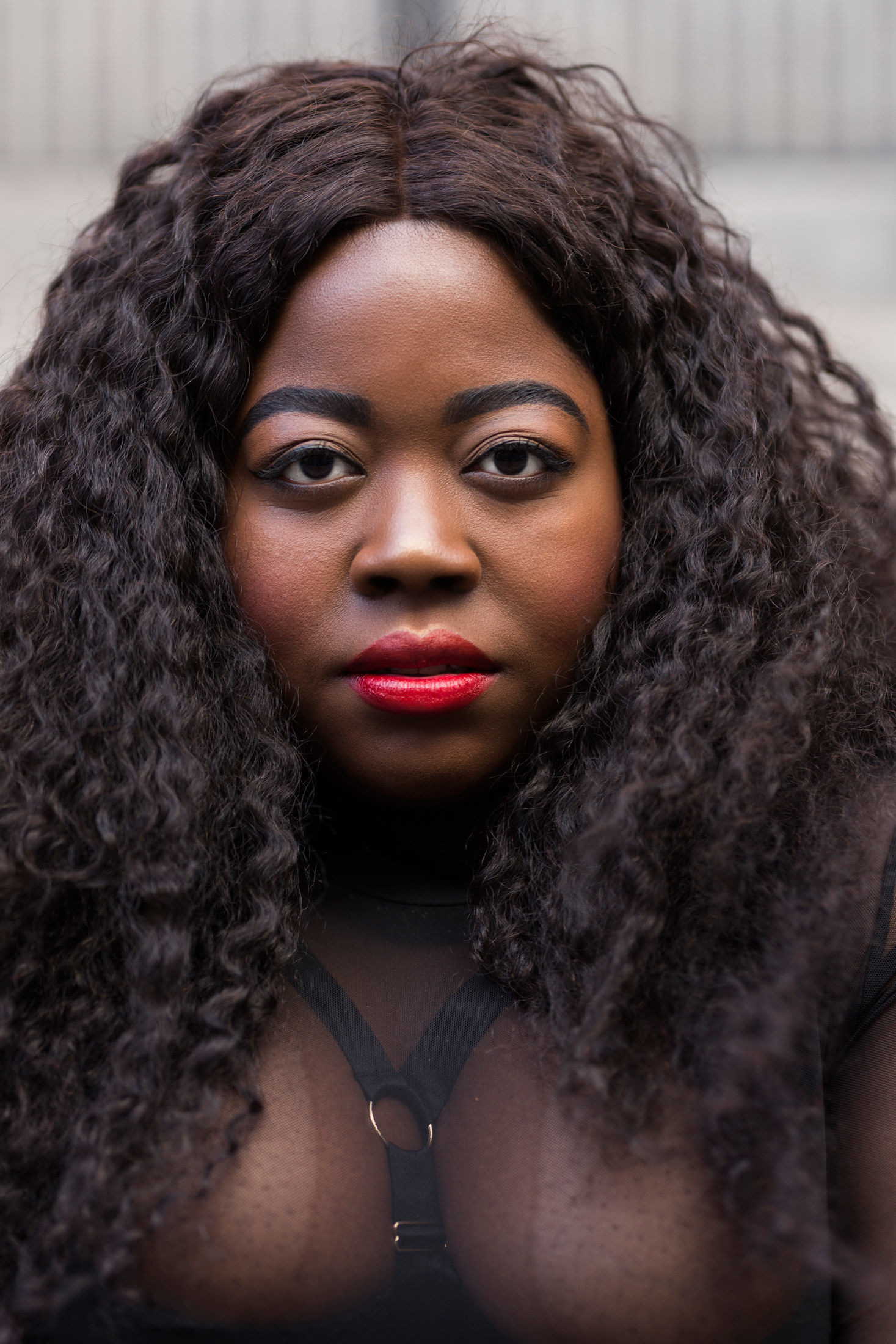 In being so vocal about her beliefs, Yeboah has faced an alarming amount of backlash, which she sadly says she's "used to". After writing a blog post on why it's important for black women to be a part of body positivity, she received over 1,500 racist and fat-phobic responses, which she describes as "absolutely horrible", particularly because, for the most part, "the community was silent".
Despite the difficulties she's faced, Yeboah recognises the importance of being outspoken and emphasises that she's "not going to silence [herself] to make white people feel comfortable".
"I'm doing this predominantly for black fat women in the UK because I feel like we need a voice. We need somebody out there to represent us and to tell our stories and to tell our struggles… So yeah, I'm definitely doing it for them now."
Lauren Nicole Coppin-Campbell has been modelling for a year and started her blog when she was 15.
"To be honest, I wouldn't have taken my personal style pictures if I hadn't started following the likes of Gabi Fresh and Nadia Aboulhosn," she says. After watching Aboulhosn, Tess Holliday, and Gabi Fresh in a remake of Beyonce's "Flawless" video, Coppin-Campbell "instantly fell in love and followed them all", and pinpoints this as her introduction to the plus-size community.
"For me personally, it's really helped in terms of my development with my confidence, but also feeling represented. Up until then, first of all, there were no black women who were big, but also seen as beautiful, intelligent, desired, loved. Instead they were kind of like 'the mother' or 'the auntie' or 'the funny one', and I think that sort of representation isn't incredibly healthy for a girl that's growing up and doesn't feel very comfortable in her body and confidence, so for me it's crucial. It's so important."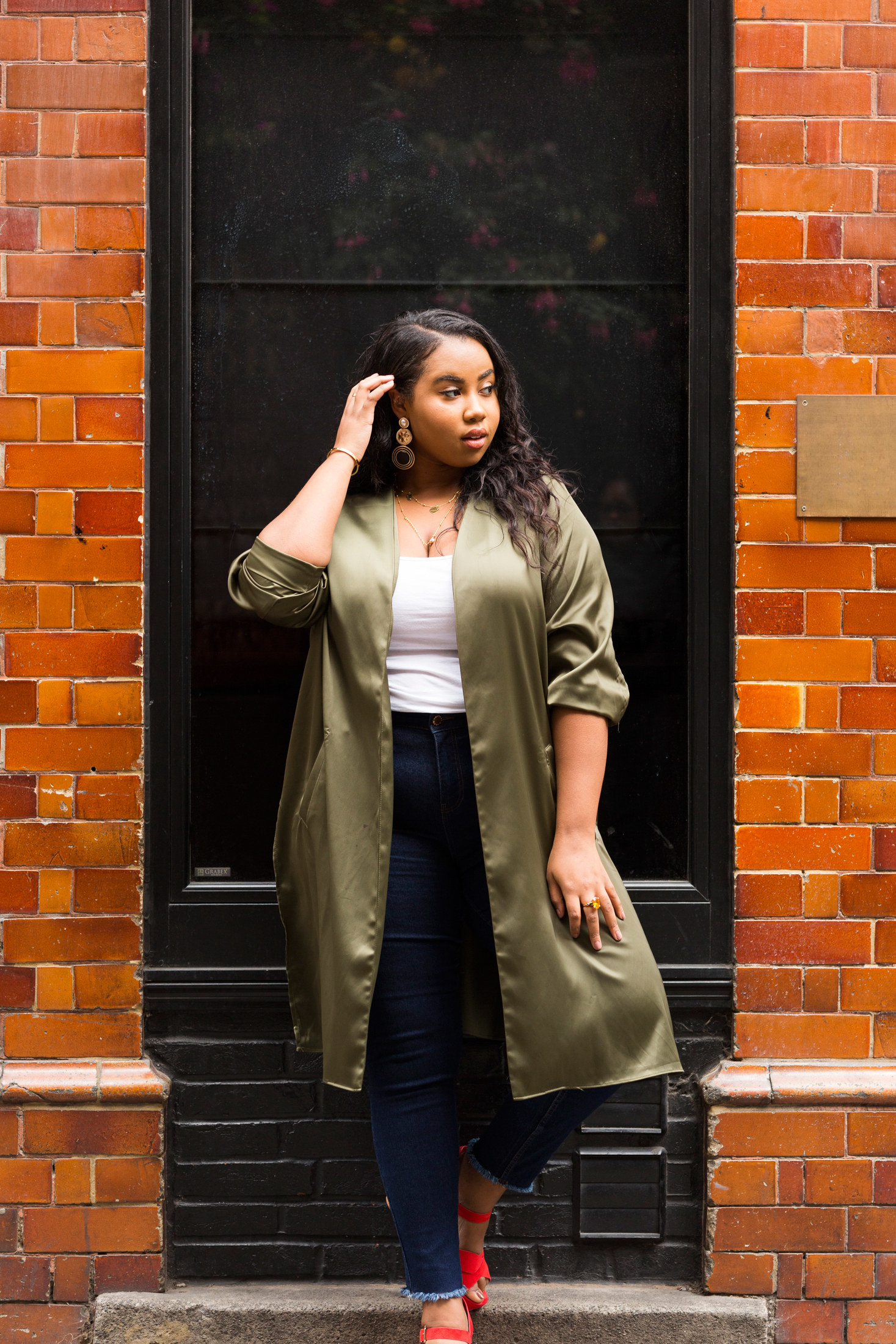 Finding women she can look up to is incredibly important to Coppin-Campbell, as she feels that without women like Gabi Fresh and Nadia Aboulhosn, she probably wouldn't be doing what she's doing.
"I probably wouldn't feel as confident about myself. I probably still would be dealing with my eating disorder that I was dealing with prior to that. I wouldn't be the person I am today if it wasn't for them."
In regards to racial diversity in the industry, however, Coppin-Campbell agrees that there's a problem. The slight progression she's seen in terms of racial representation in straight-size modelling is something she says "the plus-size industry hasn't worked up to yet". "There are very few black plus-size models that are big that I would just be able to name off the cuff, in comparison to, you know, everyone knows Ashley Graham, everyone knows Hunter McGrady. They're there."
According to Coppin-Campbell, it isn't the case that there are no black plus-size women, it's just a lack of opportunity. "They're not given the same spotlight as their white counterparts," she explains.

Speaking up about these issues isn't always easy, though, and being a person of influence comes with a certain amount of pressure. "I think it's very difficult and very scary at times, especially being 19, to think that there's this amount of people that are watching what you're doing, holding on to certain things that you say," she says. "I might have said something yesterday or two months ago, but that doesn't mean that I now necessarily believe in the same thing that I said two months ago or yesterday. So I think it's scary."
Still, Coppin-Campbell is doing this for her younger self, who was uncomfortable with her body and who she was: "She didn't like the way that she looked, she didn't like the way that she felt, she cried nearly all the time, she wouldn't look in mirrors." This, she says, is for that 15-year-old.
Despite having been scouted several times as a teenager, Olivia Campbell didn't consider modelling until she was 22. "I absolutely loathed myself at the time and just thought these people were taking the mickey out of me," she explains, but her desire to have someone who represented her, and not "thin, white beauty" was one of the reasons she eventually decided to start. "At the beginning it was just purely wanting to make people feel great and to make people see that that's all rubbish."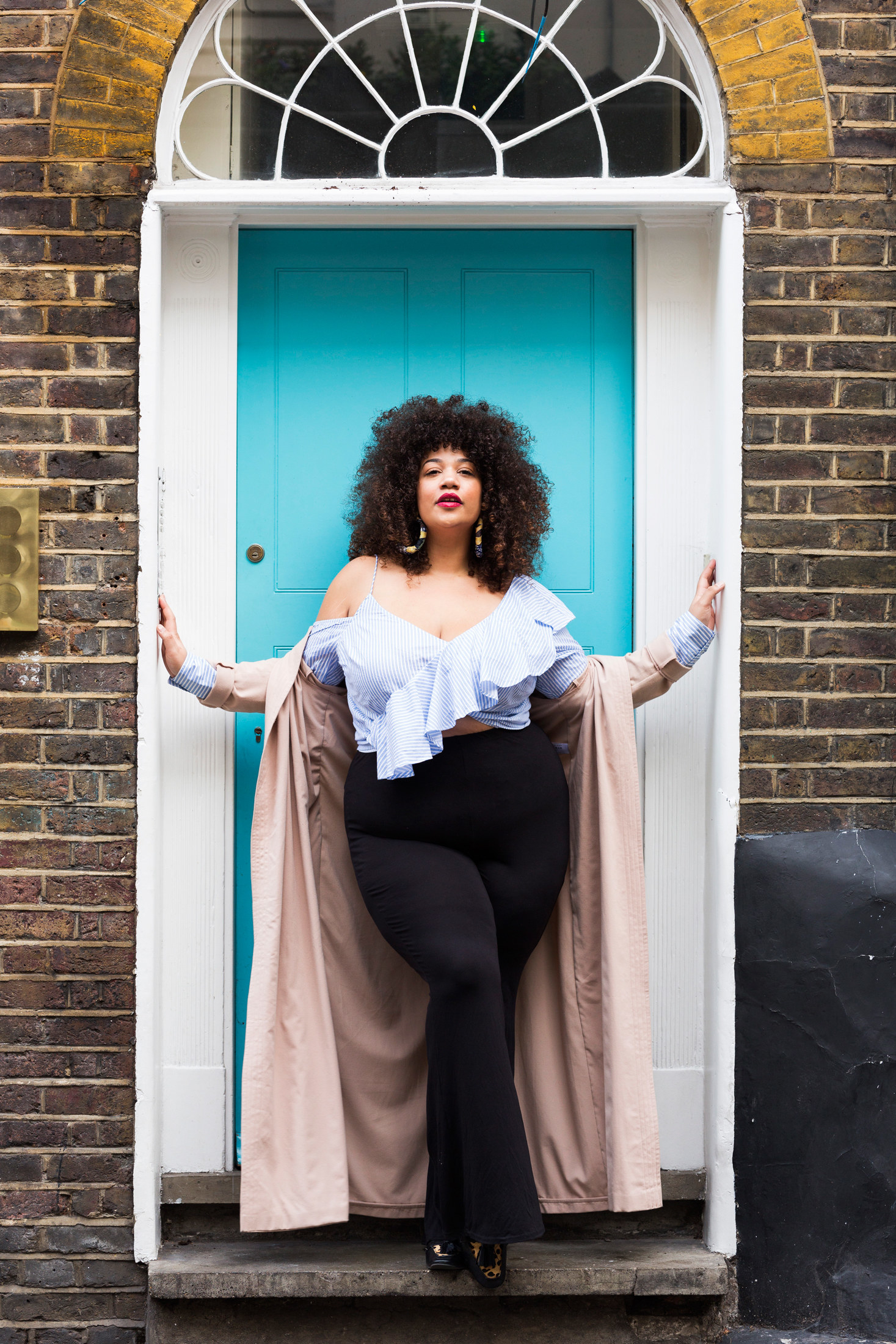 It took her years to evolve into the wonderfully confident person she proudly continues to be, but according to Campbell, "it was an instantaneous thing". "If you'd told me at 15 that I would be a plus-size model and have this platform on the internet where people are interested in what I do, I would've been like 'pshhh, no, never, you're pulling my leg'." Indeed, it's a far cry from her past of burning every photo she had of herself and refusing to look in the mirror. "I'm not any thinner, I'm not any more perfect. I'm fatter, I'm older, body's going south," she says, laughing, "but I have all the confidence that I never had then because it isn't about what other people think."
Like Stephanie Yeboah, Campbell's experience of the body positive movement is one that has "kind of been whitewashed". "When I started, I had no idea that there was this fat community online. I didn't know it was there, and it's slowly grown and grown and grown. But now with Instagram and the whole 'I'm just gonna sit here in this position, look at my rolls, and then standing up I'm size 8 and toned!' – I mean, it's really patronising when you hashtag that as body positivity, because it is and everybody should be positive about their body, but don't patronise me. Your body's banging! Just say, 'I'm blessed!'"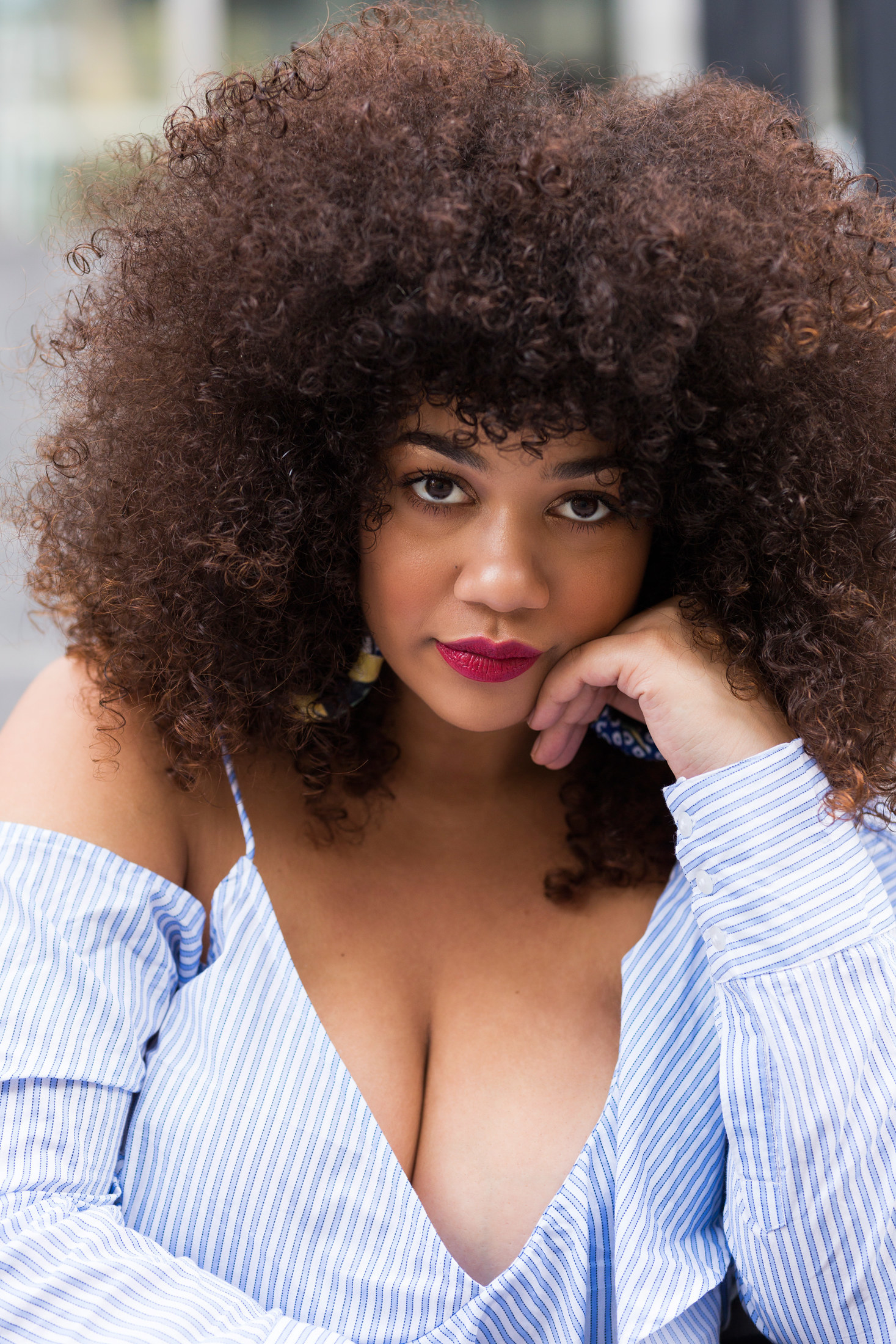 When Philomena Kwao, a black plus-size model from London, tweeted "the plus size industry has a severe race problem", Campbell says, she "retweeted that immediately". "It's hugely racist, as is every part of the fashion industry, as is every part of most industries, you know? But it's just glaringly obvious because it's an industry based on looks."
On top of racism, colourism also plays a vital part in the industry's "race problem", according to Campbell. "I'm the set standard of blackness [in the industry] and I'm like, mate, I'm literally so pale and pasty, I'm positively alabaster!" she laughs. Yes, she's a black woman, Campbell asserts, but setting her skin tone as the rule for black in the industry is "bullshit".
Nevertheless, she remains optimistic about fashion's drive towards diversity and inclusion. "People always say, 'oh, do you think it's a trend?' Well, it might be, but we're not going anywhere," she says. "Whether or not it's a trend and there's more focus on it at the moment, it's no problem. But we will all still be here in the end of it."
Olakemi Obi's modelling journey began four years ago when she was scouted for a plus-size competition called Ms Curvaceous UK, and made it to the final five. From there, she realised she had the potential to pursue modelling, and she started two years later.
Prior to her being scouted, modelling had never crossed Obi's mind, but she does remember when she saw her first black plus-size model: Toccara Jones on America's Next Top Model. "I was like 'whoa, what is this? Hold on a minute, I could be like her!'" While it didn't play on her mind so much then, Obi says that after the Ms Curvaceous competition, she remembered people like Jones, and said "Yeah, I can do that."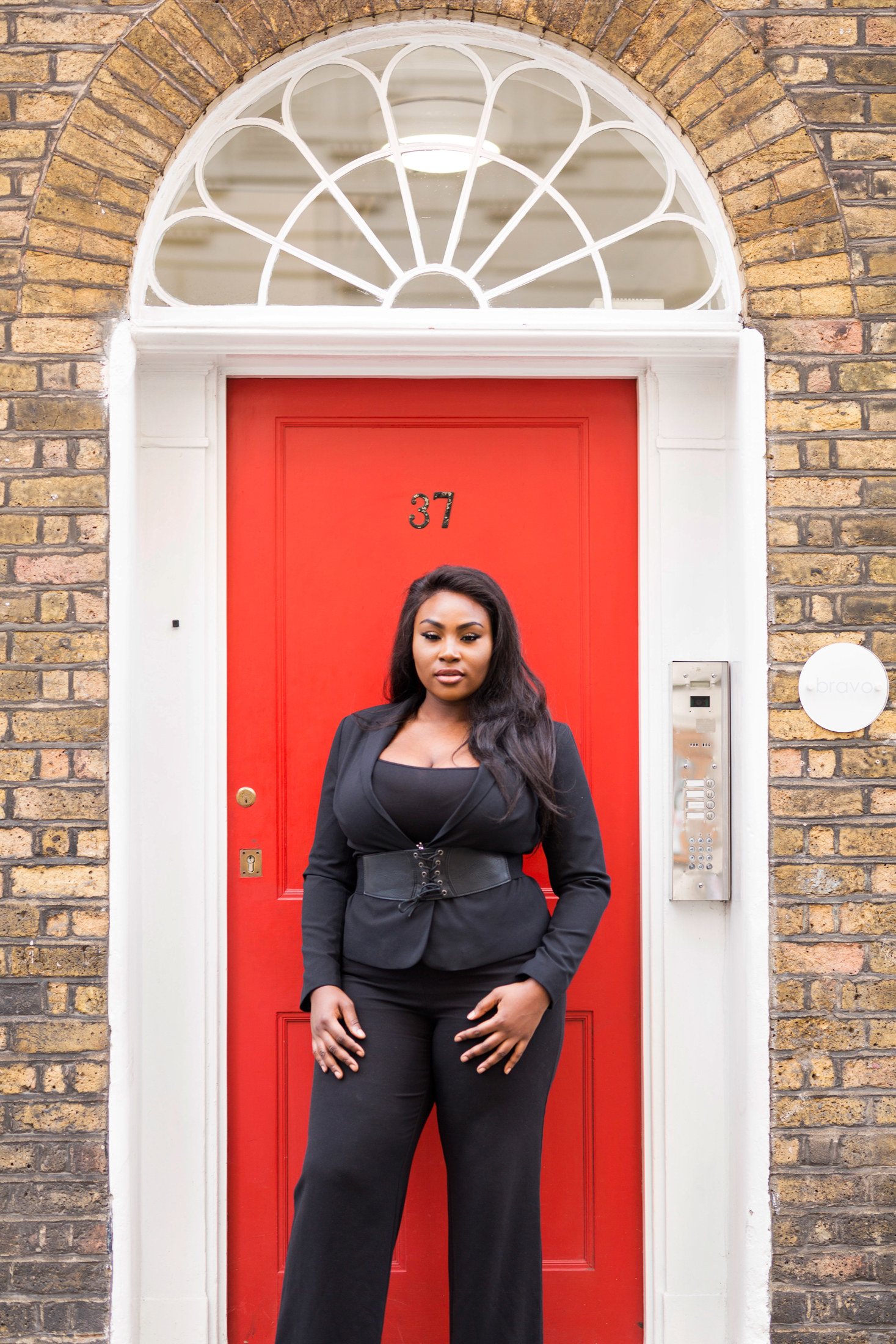 But breaking into the industry isn't easy, and while she gets many messages from black women asking how to do what she's done, Obi admits it's difficult to advise others on where to start. "Are the modelling agencies even really taking black plus models?" she asks. "It's like you have to sort of push and do it yourself."

In the spirit of "doing it yourself", Obi created the Plus Is Diverse campaign with three other women – Philippa Ann, Danielle Nash, and Aliya – with the aim of showing "that plus-size women are diverse too". "They always talk about plus-size women being diverse in regards to size, but let's have racial representation too," Obi urges. "Let every female out there know that they can relate to someone who's in the spotlight somehow. So that's how it was born." According to her, "it wasn't meant to roll on as much as it has", but people seem to love the campaign and want to support it.
Despite her own diversity campaign, the industry is still largely devoid of black women and, worse still, dark-skinned black women. "A recent shoot I did, the client that I shot for was like 'Yes! I couldn't find any black plus model in the UK. When I found you I was so happy. I was like, You're amazing!' and I was like, oh wow, was I really the only dark-skinned black plus-size model you could find?"
The stories don't end there, however. Obi also recalls being told by a designer that she'd have to work harder because her light-skinned model friend was more likely to get signed than her, which she sadly acknowledges as the truth. "It can be disheartening if you're not quite strong-willed, but you hear those things all the time. It's life in general, the colourism thing."
After being accused of being an "angry black woman" by an acquaintance, Obi momentarily considered putting an end to her blog posts on diversity, but thankfully decided against it, declaring she's "not gonna stop".
"I love diversity, full stop. I think it's so vibrant, I don't know how you couldn't like diversity. For not just myself, but all women out there, it's good to see someone you can relate to."
UK Afrolista, a platform founded by Rachael Sealy six years ago, celebrates natural hair, beauty, body positivity, and women's empowerment. Originally for natural hair content, it transitioned into UK Afrolista in the last two and a half years.
Having found it hard to see herself represented, as someone who's "always been bigger", Sealy is slightly more sceptical of the "sudden" interest in bigger women, claiming she's "not really feeding into it". "I'm not celebrating it, I'm more so saying 'Where were you?'" she explains. "It's not exactly like yesterday women became big, so where did it come from?"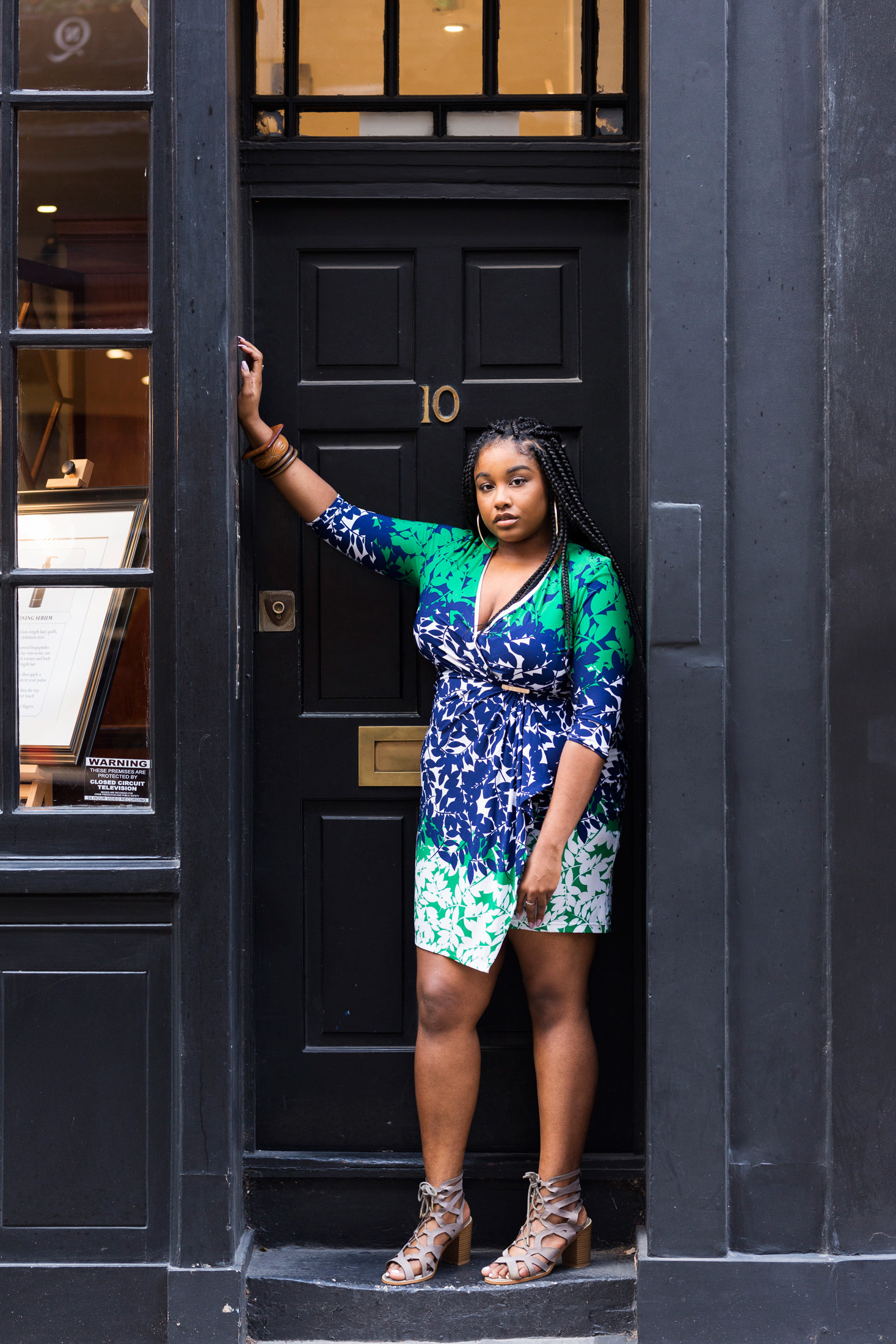 Indeed, the term "plus-size" is something Sealy has had a complex relationship with. While she states it's "easier for her to be put in boxes to get work", she "wouldn't necessarily say [she's] plus-size in regards to what the industry describes it" as, and at times she's struggled to find her place. "I think blogging and being an influencer, it's exposed me to a different thing now. There's this whole plus-size scene and it can be confusing because I'm not as big as some of the other girls. So I do question, do I fit into that category?"
She adds: "There is a thing where it's if you're size 26, you're this big, beautiful, plus-size influencer, but if I'm a 16, I'm now classified as too small, whereas if I was in a store, I'm too big."
Because of this, Sealy says she prefers the term "curvy" or "full-figured". "'Plus-size' I know people get upset because it's saying that you're not normal, you're just outside of normal, whereas I think 'full-figured' is just you have a body that's fuller and that's it. And I think it works for everybody."
Like Campbell, Sealy doesn't believe that racism, nor the lack of diversity, is unique to the fashion industry either. In fact, she's very frank in her belief that "diversity is a scam". "I think people use it to just make everyone feel like they're wanted or included, but people don't actually know what that means," she says. "It's not genuine at all."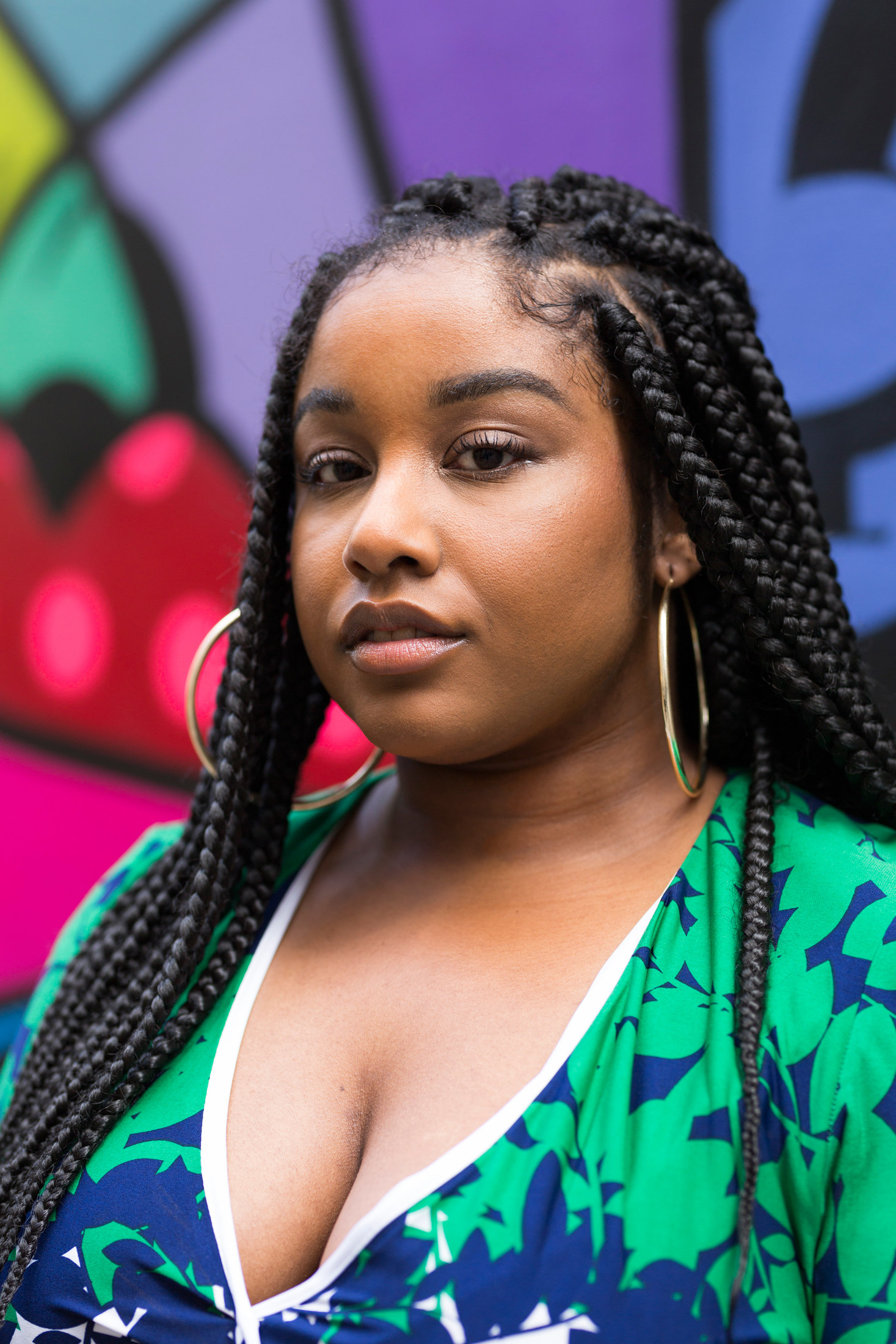 Despite this, Sealy still believes she has a responsibility to talk about these issues. "Sometimes you wanna just give up, but then I might see a young girl on Instagram, who I can see has body confidence issues because of what people have said in the media, and then it's like, OK, I have to still talk about. I have to speak to her because if I don't, I don't know who's gonna do it."
Her dedication to helping people, particularly black women, is indicative of everything Sealy is doing this for. "I believe I was put on this planet to inspire, uplift, and empower black women specifically," she says. "Black women are enough, we don't need to be like anyone else. We are enough. We're magical."