This is Selasi. He's a banker, and unless you've been living under a rock you'll know he is also a former contestant of The Great British Bake Off who everyone loved!
Today he launched a pop-up cupcake shop, and we were SO excited. It was finally a chance to taste his baking in real life!
Each cupcake is handmade – yup, that's right, each one is created by Selasi's own hands! A box of four is £15, and they're only available using the London-based Deliveroo app.

The flavours are quite simple but with a tropical twist. There's chocolate orange, raspberry vanilla, strawberry vanilla and coconut, and passion fruit and mango. They have coloured rose-shaped icing topped with real edible flowers.
Selasi told BuzzFeed by email that these are all flavours he's enjoyed growing up. "For me, I enjoy the more simple pleasures in life," he said. "I love chocolate and how versatile it is in pairing with other flavours. This brought about the chocolate orange flavour. Raspberry and strawberry adds to your five a day so you don't feel too guilty eating the cupcake, and the coconut, mango and passion fruits are just divine. These flavours just sends your tastebuds and memories to a nice Caribbean island."

The pop-up shop is only around for a short period of time, but Selasi told us he has some great plans and ideas he is working towards. "The future is super bright," he said. "I have the right people around me to keep the dream and this big smiley face alive."
Selasi said edible flowers are trending at the moment: "They add a touch of elegance and colour to any finished bake. They're really cool now. Who knew that one day flowers would be used widely, eh? It's great."
Sadly we weren't able to see Selasi bake live for us from his kitchen – instead we got the cupcakes sent by Deliveroo to our office. They arrived in a beautiful purple box wrapped in a ribbon. The box was signed by Selasi himself, which made us feel really loved.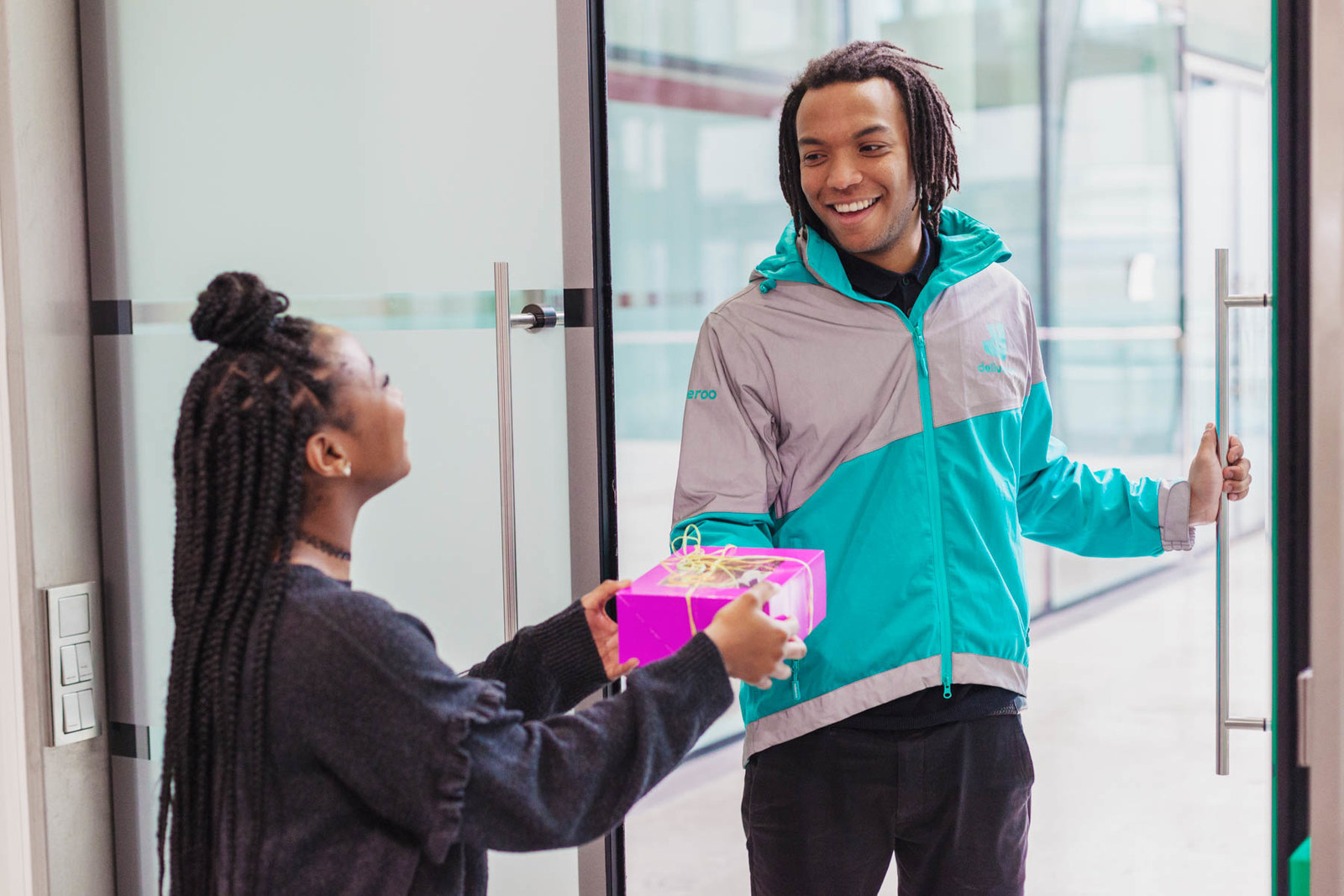 Here's what we thought of the cupcakes:
Cassie
I am a huge Bake Off fan and I consider it an absolute travesty that he did not win his season. I truly believe these cupcakes to be his redemption. Okay, so that might be a bit dramatic, but these cupcakes are really, really, good.

As a Bake Off geek I love that I got to eat something that was made by a contestant, and I could definitely see myself ordering these for a friend's birthday, or for my mum, who is a huge fan too. They would be perfect to eat while watching the new series.
They looked gorgeous with the flowers on top, but it was kind of odd just eating normal flowers. I don't think I'll be picking any random flowers and eating them any time soon.
Aside from the flowers, the rest tasted delicious and I haven't stopped thinking about them all day. Selasi has done himself justice – he needs to open a permanent shop ASAP!
Ben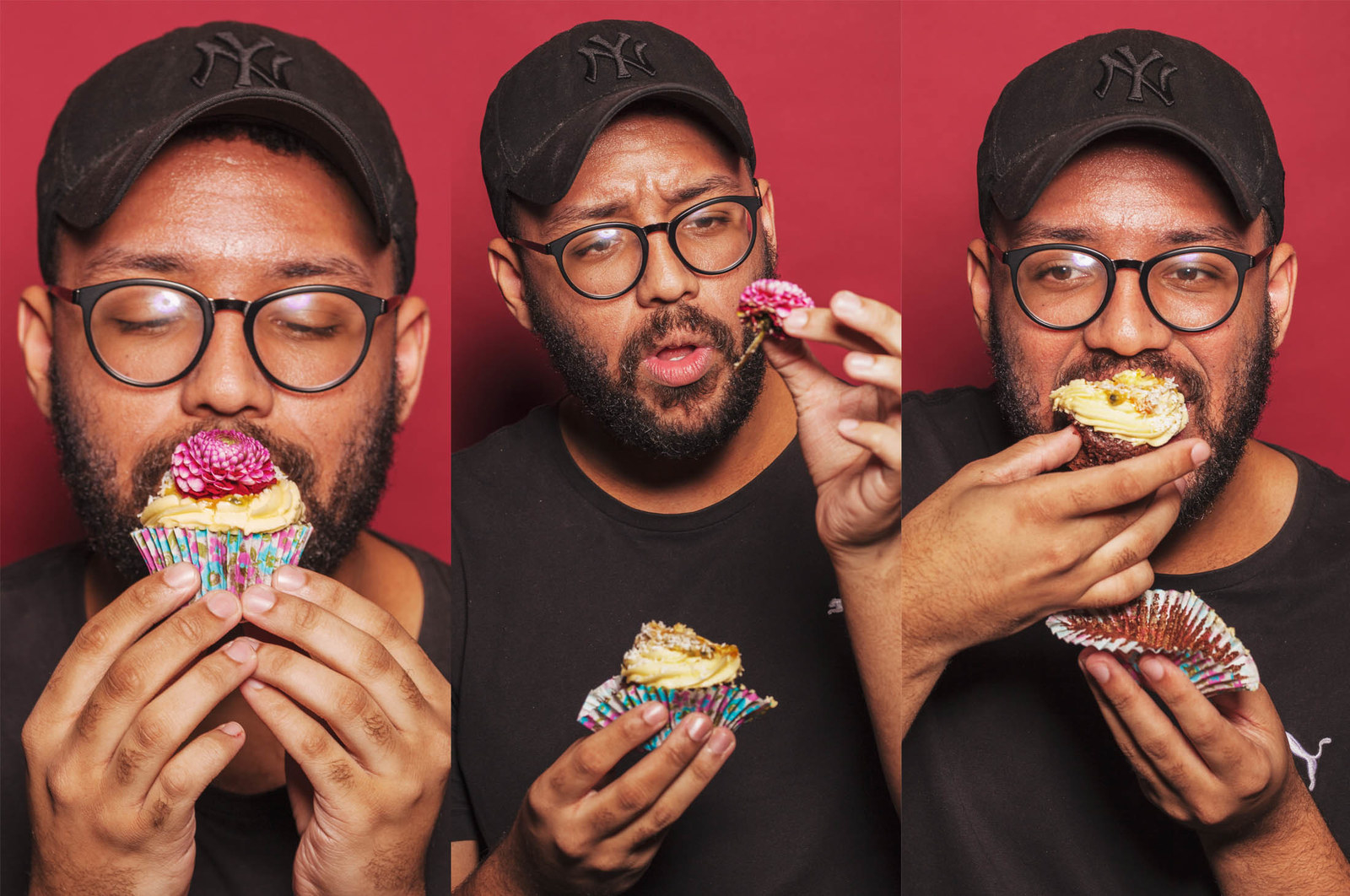 I loved Selasi on Bake Off and tbh I was close to boycotting the whole thing when he didn't win.
When I saw the cupcakes it was even better than I expected. I never knew cupcakes could taste that good. I thought the flowers so goddamn pretty. Like, the prettiest things I've ever put in my mouth, and that's saying something. I almost didn't want to ruin them. It kinda reminded me of a flowerbed, but like a majestic one you'd see in a meadow somewhere.
I would 100% order them if I was having friends over – they deserve to have some of the goodness too.
Ikran
The cupcakes were stunning – almost too good to eat. I thought they would be basic cakes, but they were amazing. The flavours were unique, to me at least.

They were really shiny and the flowers were very pretty. I would Deliveroo the cupcakes if it came to my end, but I just don't think it does. BUT if it did, I'd order them to have, like, fancy tea and invite my friends over.
The cupcakes reminded me of fresh cakes – they were suuuuper moist – but they didn't taste like anything I've ever had before.
Fiona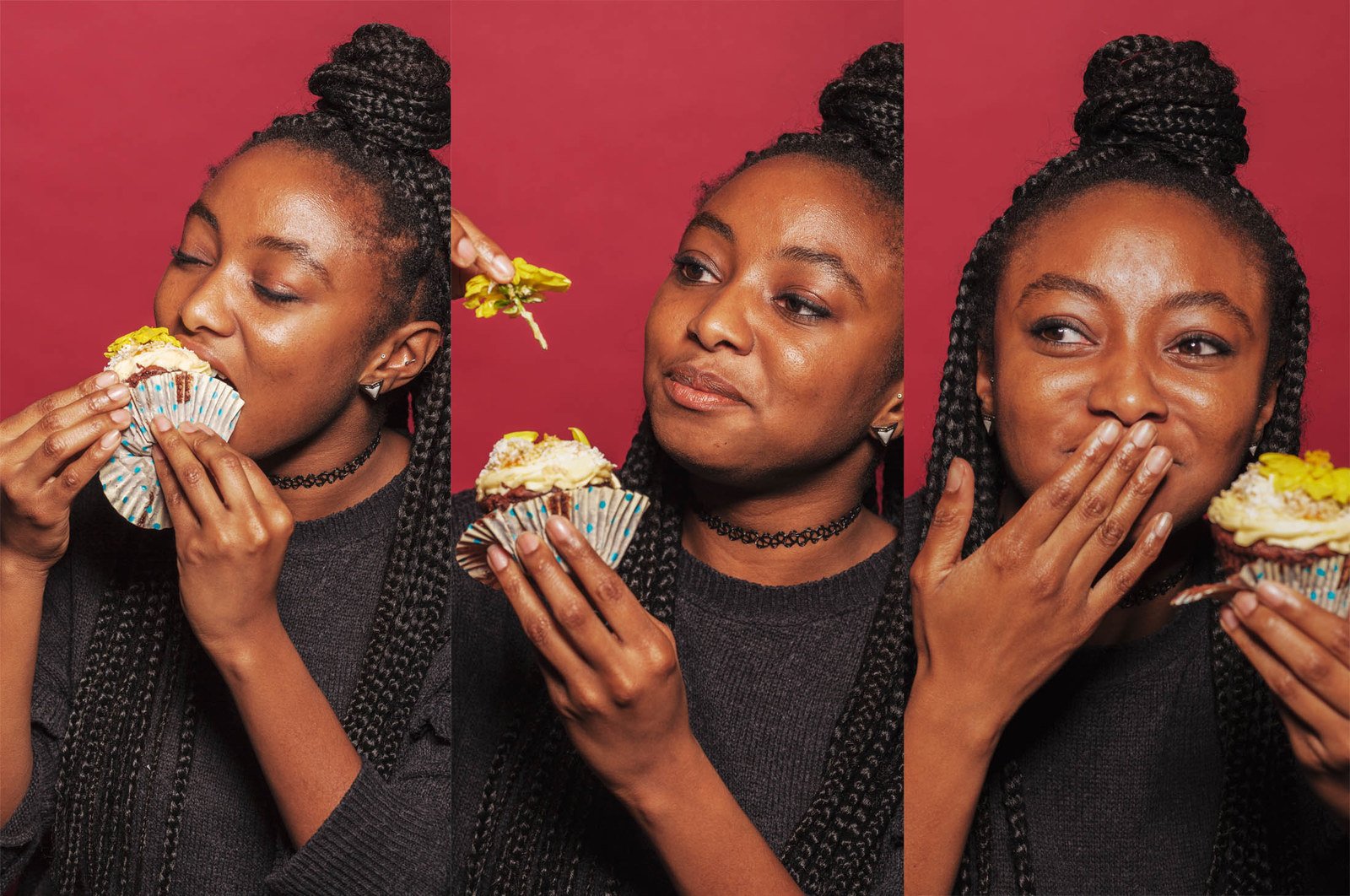 When I first saw the cupcakes my first thought was, Wow, this looks so beautiful! And my second thought was, Are those flowers *really* edible? Apparently they were. I tried a few petals and I have to admit I was not a fan. It sort of felt like I was eating a salad with a dessert. I cannot imagine myself eating a whole flower! But the cupcakes tasted amazing!

The box felt like something you would buy for a special occasion, like for a friend's birthday or a party. I don't think I would buy a whole box for myself to eat while watching Netflix – it just looks way too fancy for that.
I didn't watch Bake Off last year but I've only heard good things about Selasi and his baking. Everyone should experience one of his cupcakes.
Tolani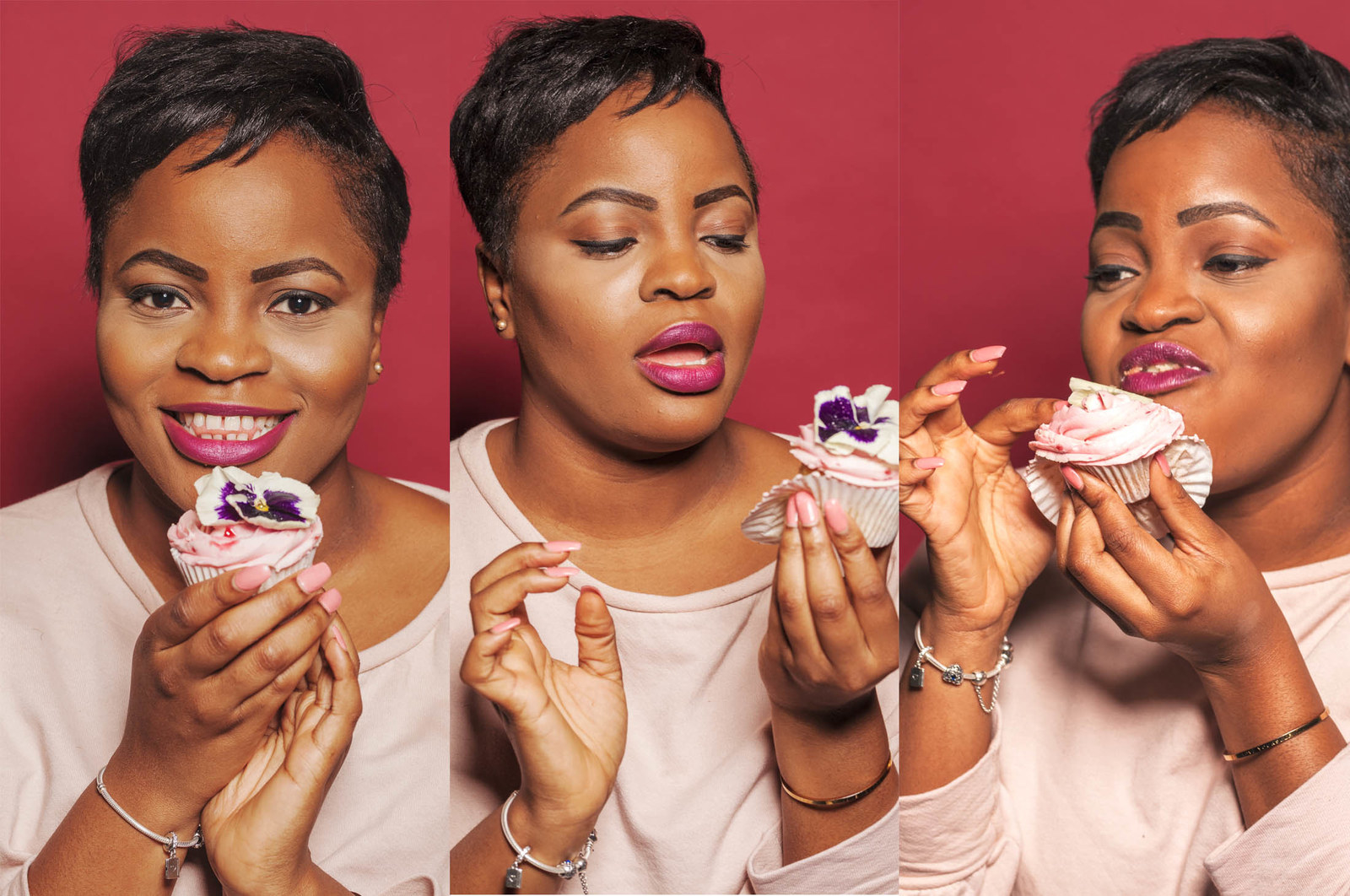 I am a huge Selasi fan – I mean, seriously, who isn't? He was the most charming person on Bake Off, and to be honest I miss him on my telly and think about him often. But I managed to put this aside before judging the cupcakes.

My first impression was that these cakes are too pretty to eat, then I shoved one down my face. And it was everything I wanted it to be. It's so yummy, and I am aware of how this sounds, but it tasted like it was made with love. It's the kind of cupcake your nan makes – if your nan is a really good baker.
I would deffo buy these from Deliveroo, but not for myself. It feels a little indulgent to order fancy cupcakes, but I would love them as a gift. If my crush got me these, ahem, I would be really pleased. I also think it would be a really nice birthday present.
I wasn't the biggest fan of the flowers on the cupcakes – yeah, it was really pretty, but it didn't taste great, or maybe I'm just not used to eating flowers.