The Final "Divergent" Movie Was Called "The Worst" By The Internet, So I Watched It
Listen, I really liked the Divergent book, but I didn't see the last movie — so I decided to watch!
Hey guys, I'm Farrah! Among many other things, I love reading. Specifically, I enjoy reading young adult books. When the first Divergent book was published back in 2011, it was hyped up to be the next Hunger Games. I was like, "I LOVE DYSTOPIAN. SIGN ME UP!!!"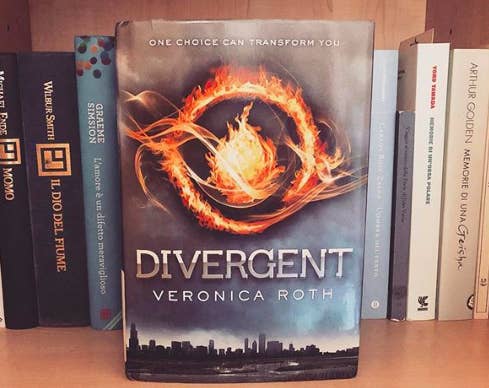 I loved the first Divergent book. It was fast-paced and thrilling and featured a ~chosen one~ hero. What's not to like? I also enjoyed the first movie! But then...it all kind of went downhill? Like, so downhill that I actually didn't know they had made the third movie until I read about it last year. And the internet wasn't exactly a fan:

I did see Insurgent (the second book and second movie), and it was fine! It felt very far removed from the book. Also, this was 2015. The popularity of the dystopian genre was declining as a whole, so maybe people were just over it? But because I read the entire trilogy, I figured why not finish the entire movie series?*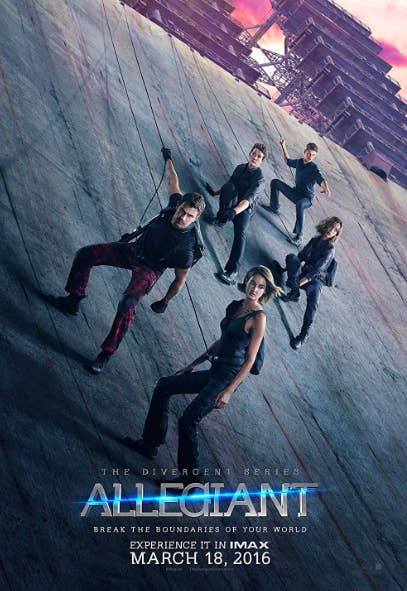 So, without further ado, here are my thoughts and feelings on the third and final movie — Allegiant, AKA "the worst" movie in the entire Divergent series.
I watched Insurgent five years ago and finished Allegiant before that, so my memory of this story is...not the greatest. We open with Tris and Four — power couple — on top of a building listening to Evelyn's message: Don't go beyond the wall. Of course, they're gonna go beyond the wall.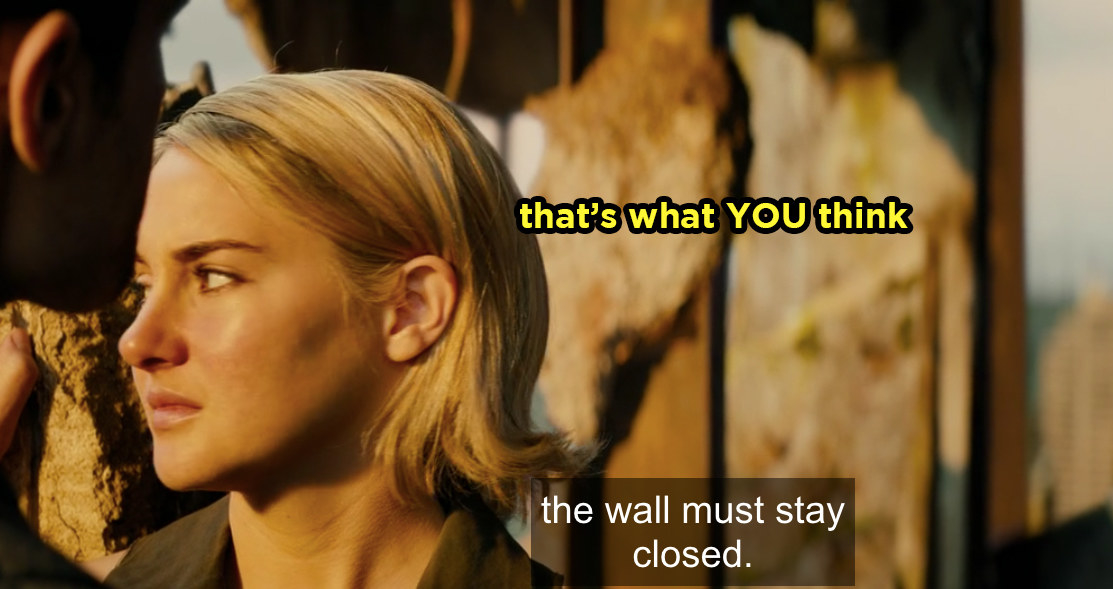 There aren't factions anymore, someone named Jeanine (the villain, I think) is dead, and under Evelyn's orders, they shoot someone as an example. Also, I think Evelyn is Four's mother? Even though they look very close in age??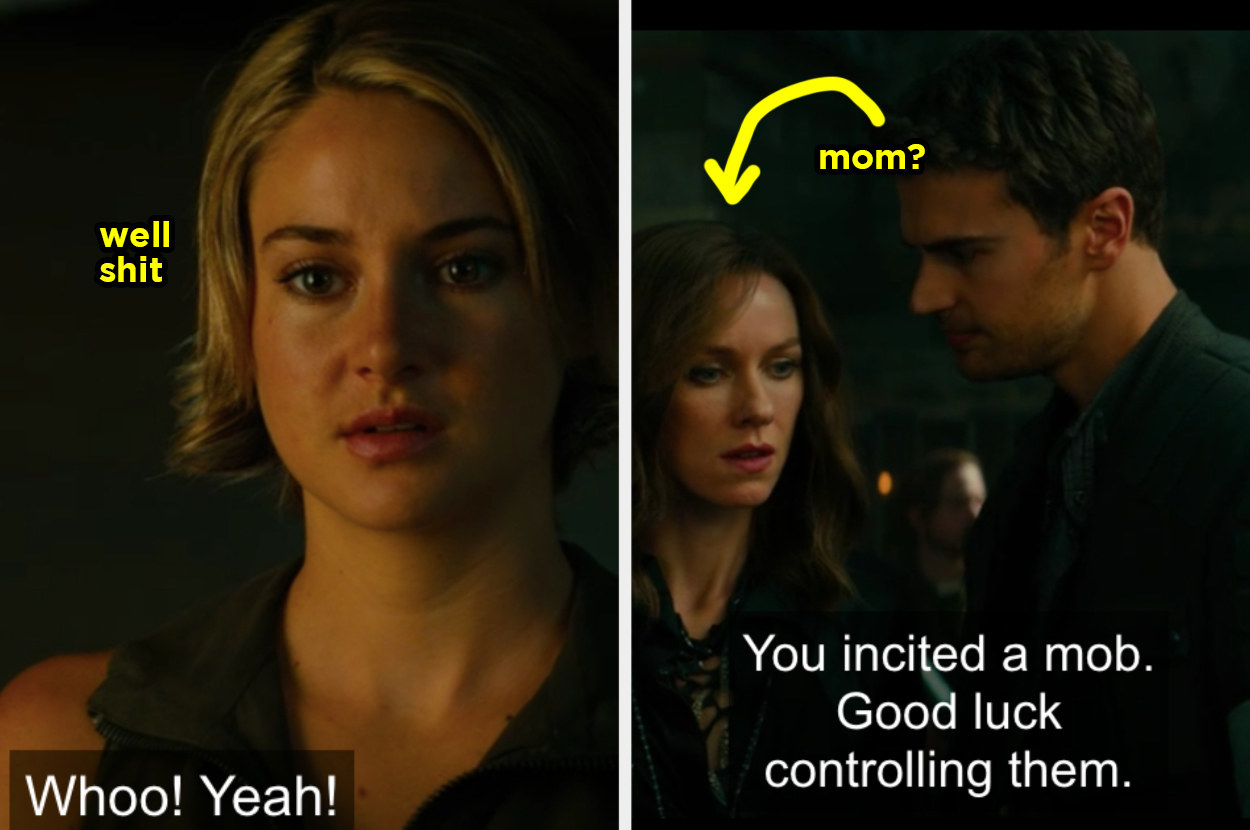 Caleb (Tris's brother) betrayed her in some way. I think he was working for Jeanine, and now Tris is pissed at him.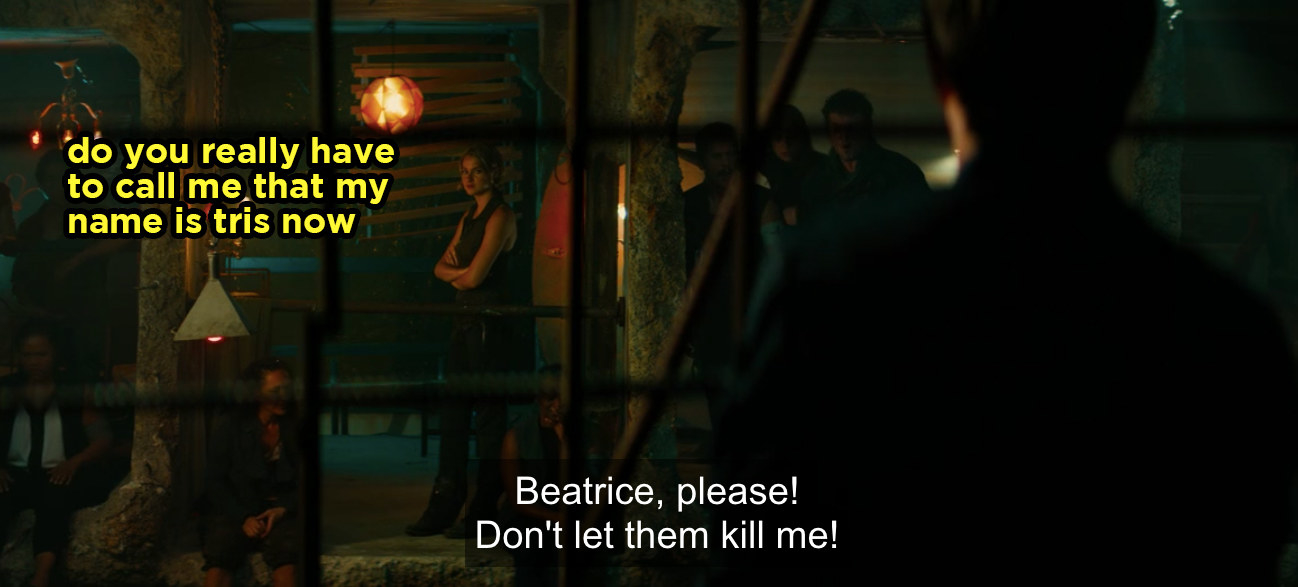 Tris wants to go beyond the wall instead of staying in their dystopian Chicago bubble (AKA the experiment city), but Four isn't as convinced.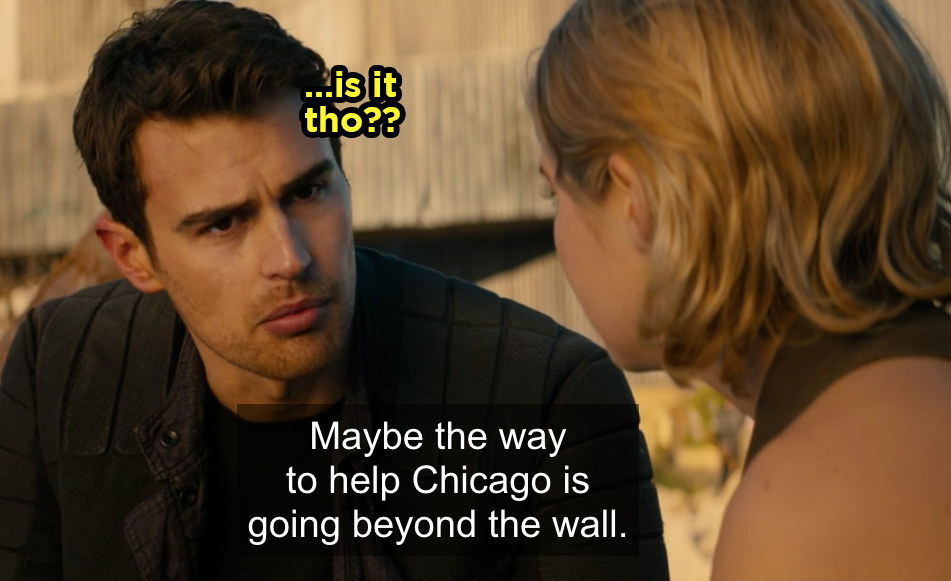 It doesn't seem like Tris and Four have a plan, but Four breaks Caleb out of his death cage and pretends to kill him in front of a bunch of guards.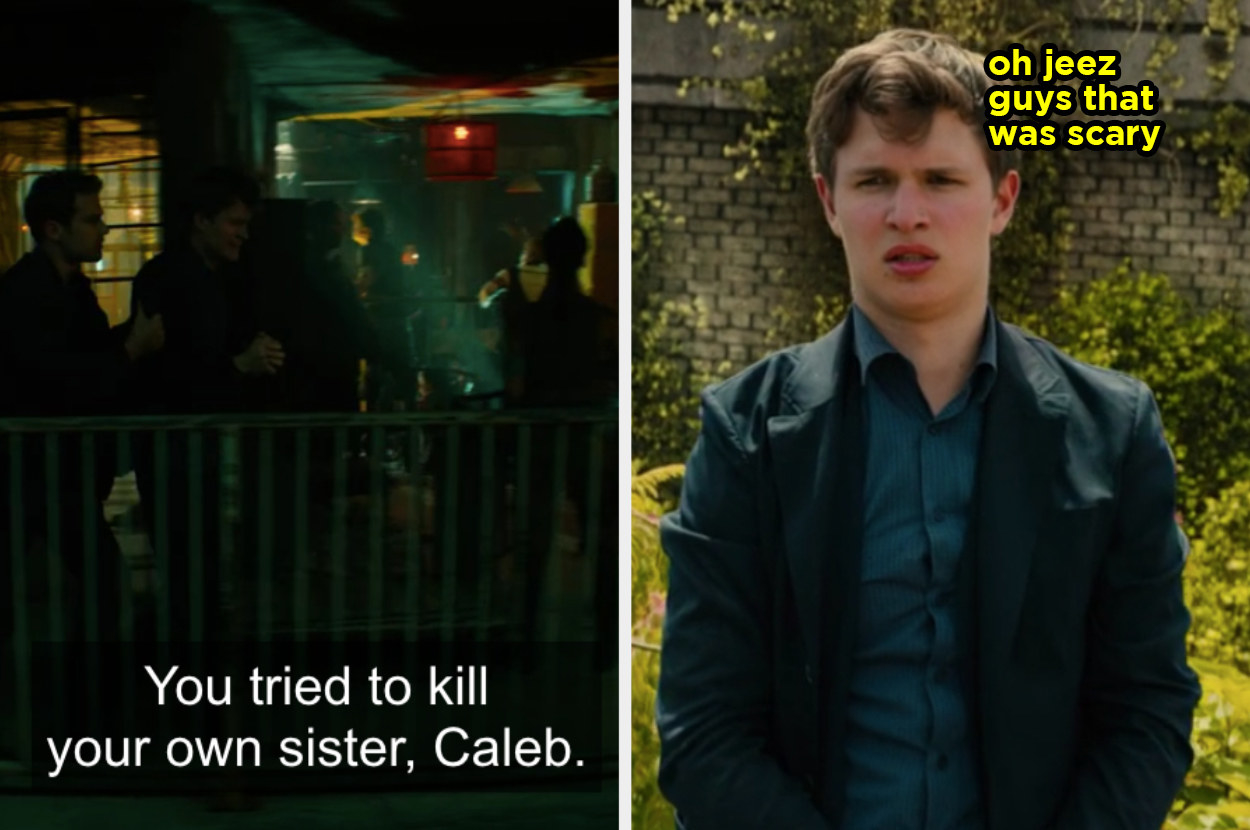 They think they're in the clear to make a break for the wall, but then Peter's like, "Nah my dude — I'm coming, too."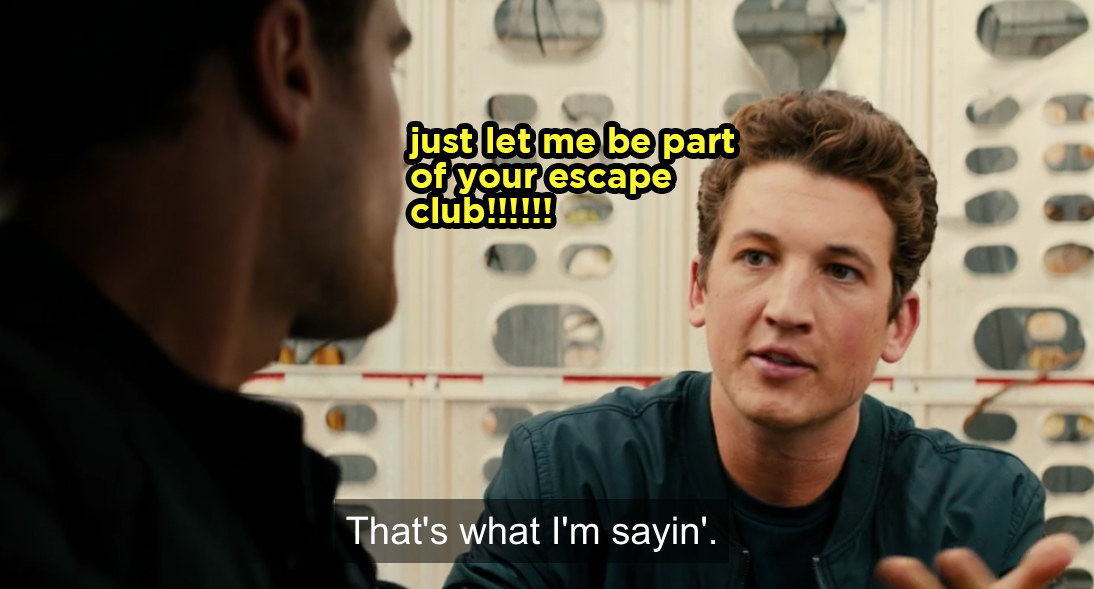 This cast is honestly a big game of six degrees of separation!!!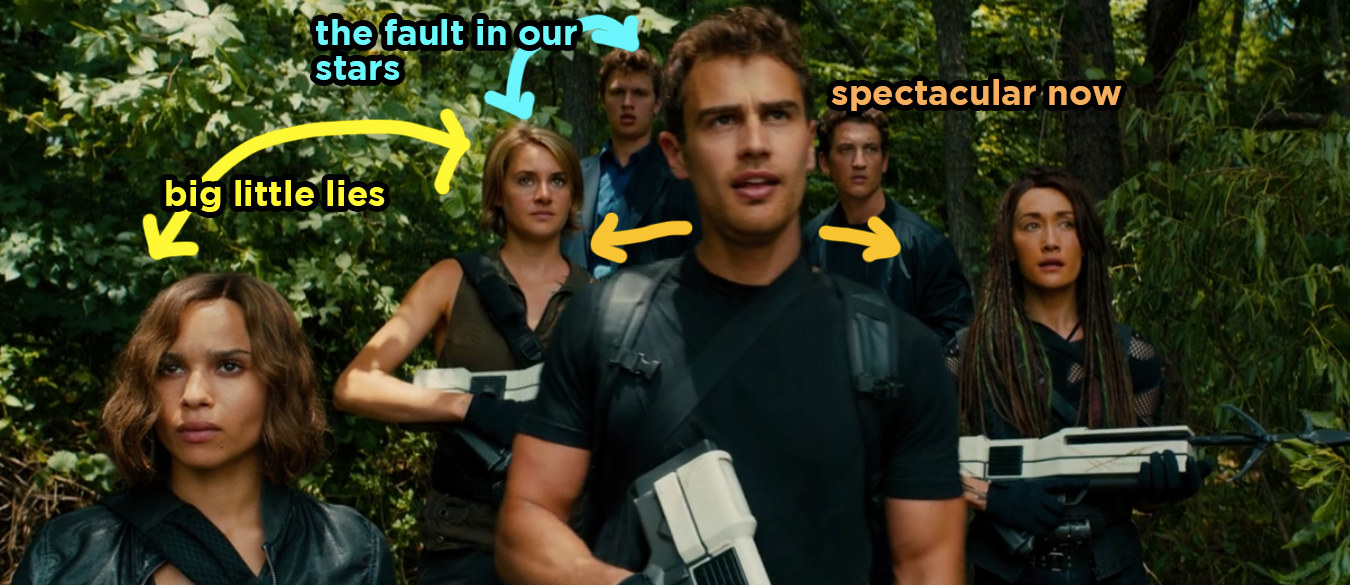 There's a mild fight scene where The Escape Gang™ are shot at as they try to escape up and over the wall.
Tris has to blow up the electricity thingy, then she jumps into Four's arms like he's a pegasus that can deliver her to safety. And he effortlessly carries both of their weight up the wall, like gravity doesn't exist. Amazing!!!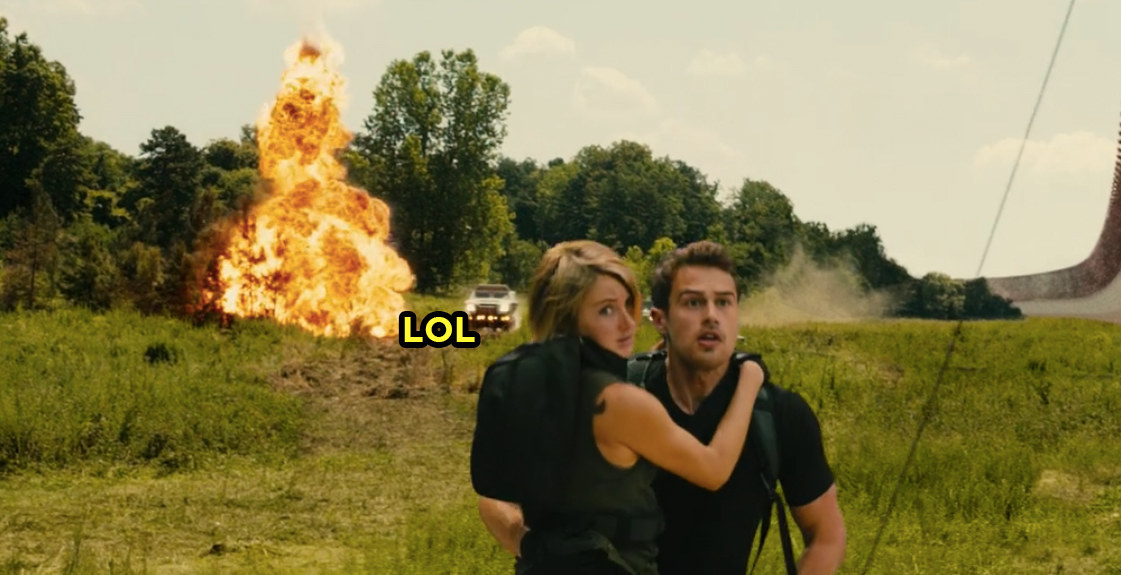 As soon as they get to the top, they just stand there and admire the view??? LIKE, KEEP GOING YA DING DONGS. So, of course Tori gets shot and dies.
They get over the wall to a...very red and wasted land. Caleb makes an annoying comment.
There's literally no civilization and everyone's just like, "Well, fuck."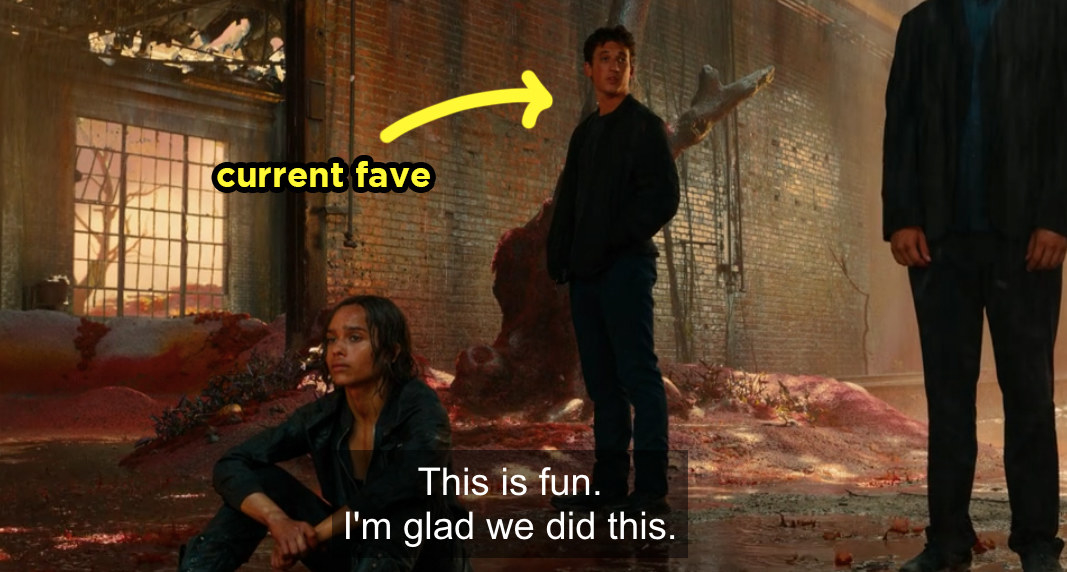 But then some hologram thing opens up to show an army on the other side.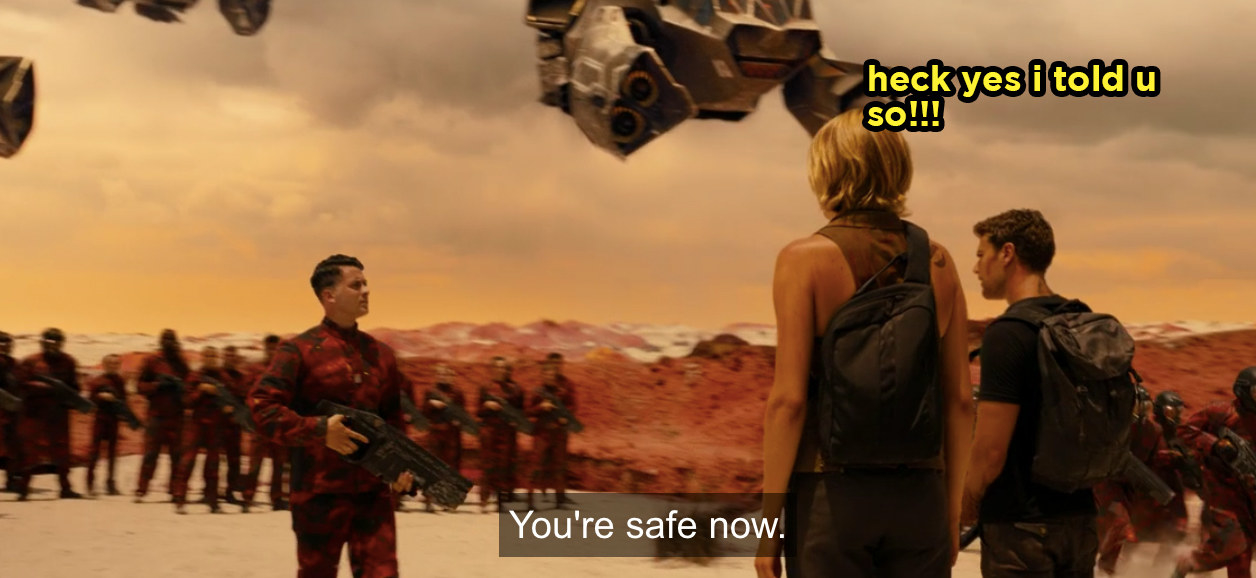 And the army guys are like, "Trust us, we're gonna put you in these egg-lookin' things."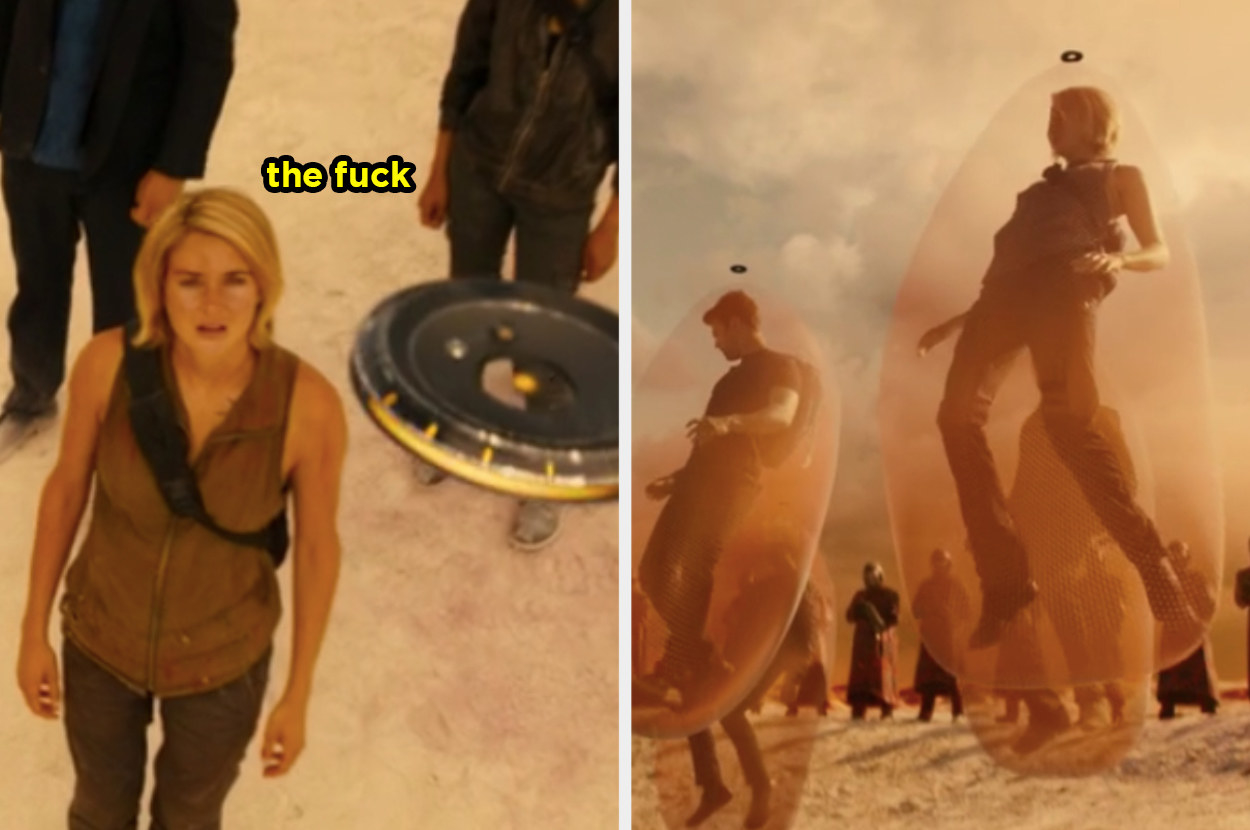 It's...something.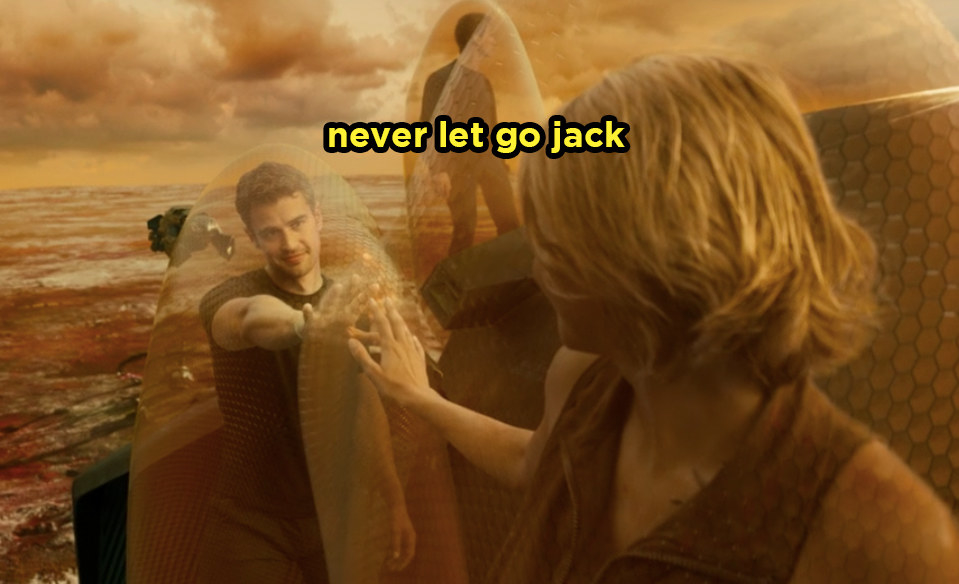 Then something truly bonkers happens. Tris undergoes a detoxification process that involves some kind of...orange goo?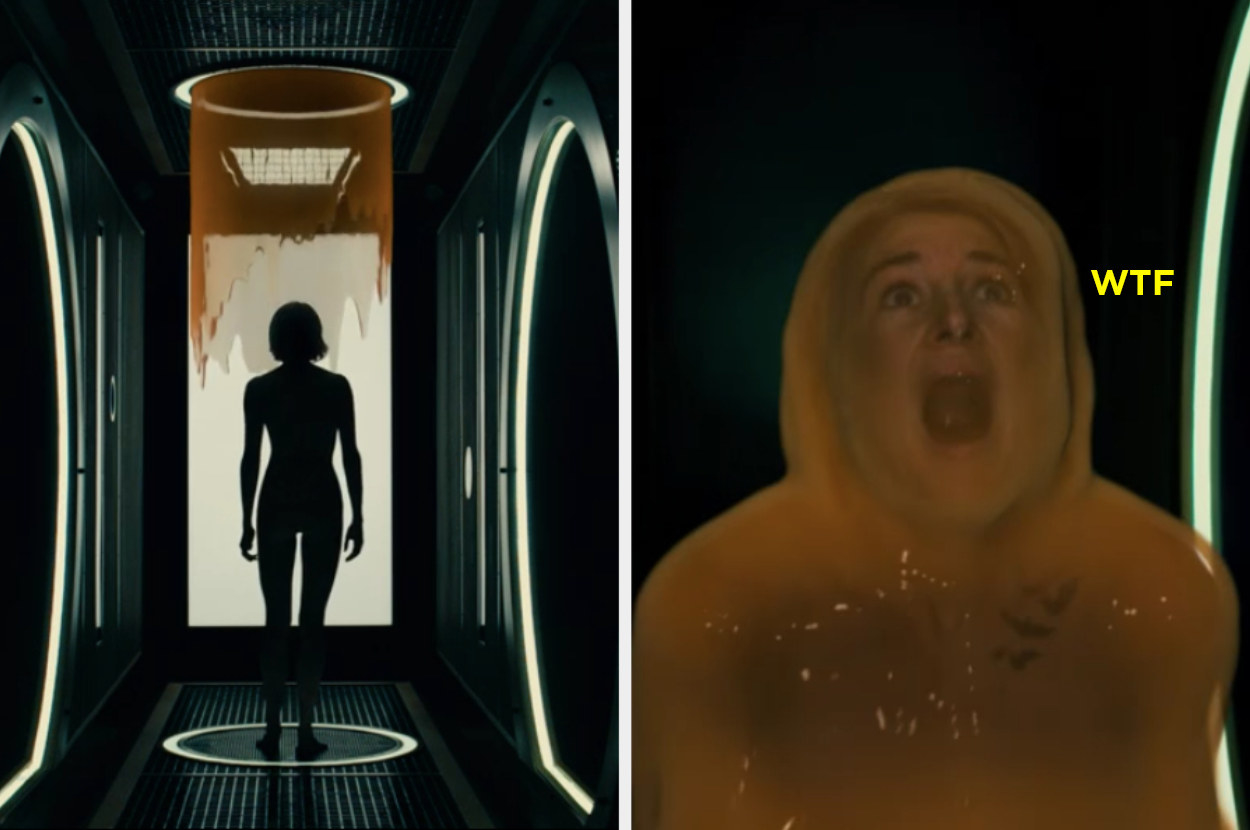 Anyway, once the gang has been cleansed, this guy explains that the whole compound knows who they are because they've been watching the Chicago experiment like reality TV. Fun!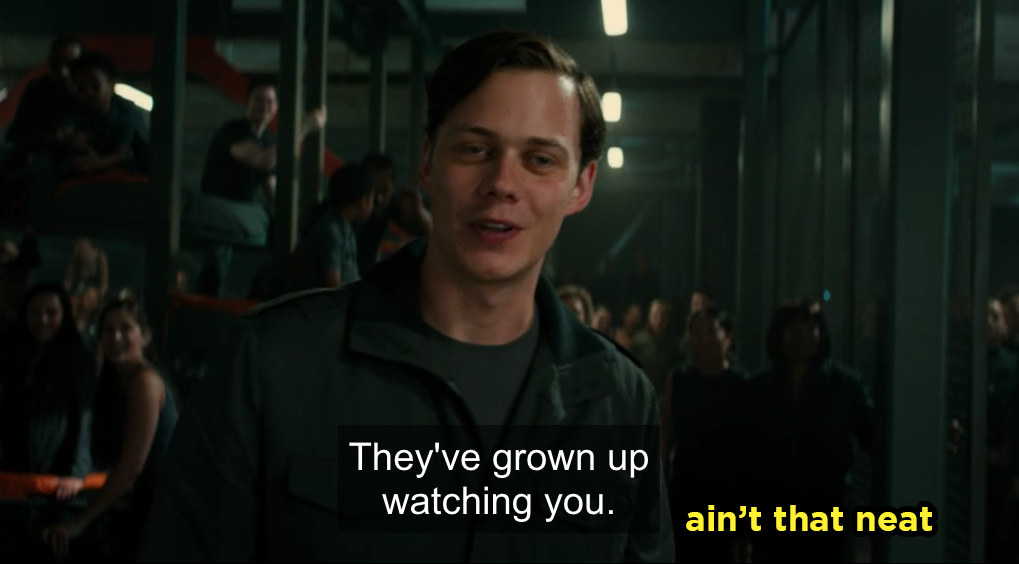 Then he takes Tris to see some leader guy named David, and she somehow does a lil outfit change on the walk over.
Anyway, this is who they chose to play David.
David is only interested in Tris's genetic makeup because she's a "Pure Divergent." What he plans to do with this information? I forget, so we'll see.
Meanwhile, Caleb and Peter get sentenced to surveillance duty. Which means they're basically spying on Chicago through super high-tech computer simulations that make you feel like you're there. For some reason, we watch Caleb get hit by a train.
Four meets Nita, who trains him to use little drones that can assist him in doing what he does best: Fightin'.
When Tris and Four meet back up, he's figured out that he is a Damaged Divergent while she is a Pure Divergent. Tris is like, "Let's just trust David!!!" And Four is like, "Ummm, I think something sketch is going on."
Anyway, Four's instinct is right. He discovers that the missions to "The Fringe" involve stealing kids and wiping their memories, then raising them in the compound. You know, very lighthearted stuff.
Meanwhile, the factions are about to go to war.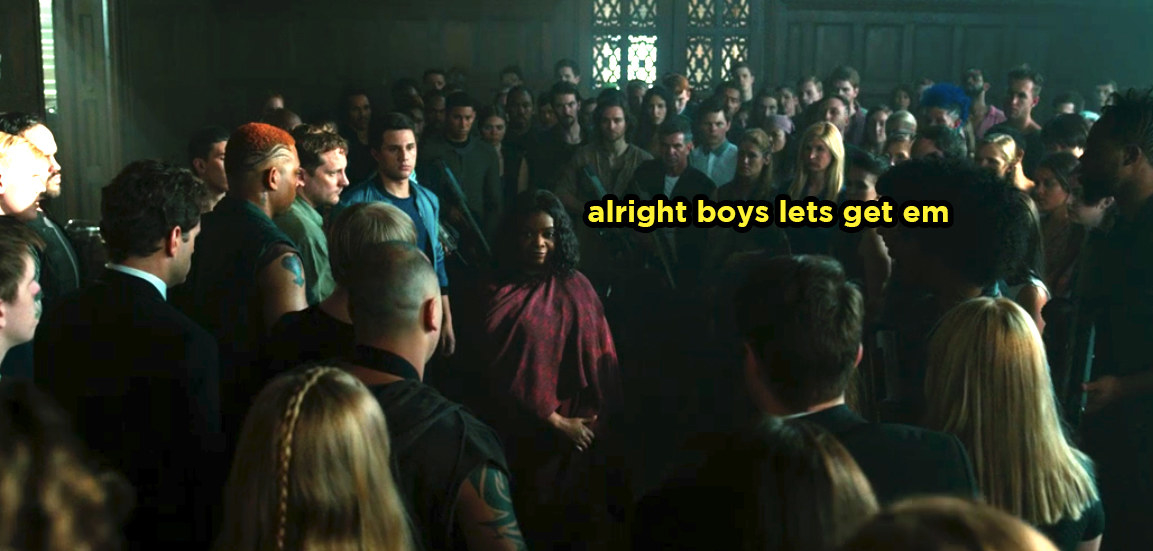 Four tells Tris everything he saw, and for whatever reason she doesn't believe him. GIRL.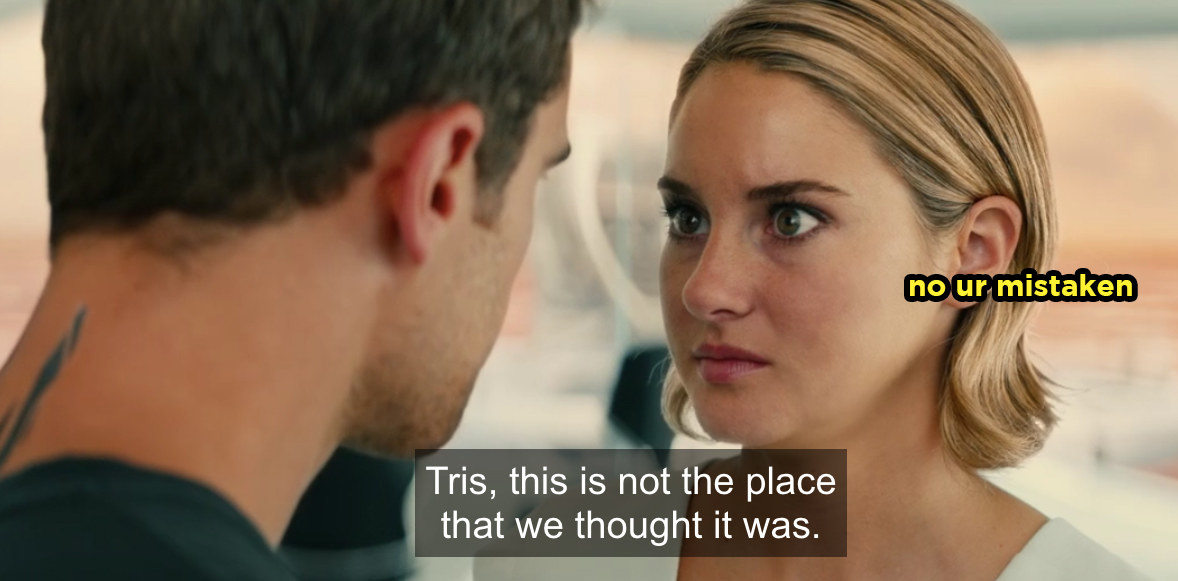 Four is like "FUCK IT" and tries to go back to Chicago, except David's team isn't taking him home. Both him and Matthew try to take over the ship, only to end up crashing it. It's a very hard crash, but they survive.
Tris finds out about David's lies from the Council. WHOOPS.
He takes her back to the weird compound, but of course she's mad because he's actually the villain, which is still really weird to me.
Four attempts to walk back to Chicago, and at this point it honestly looks like we've entered some kind of zombie horror movie.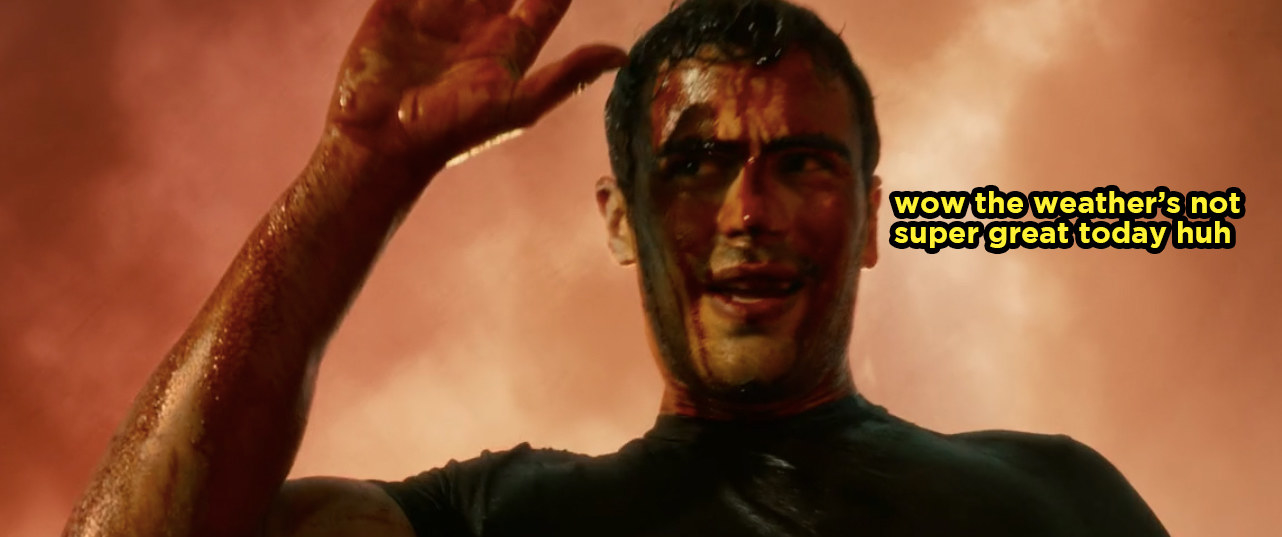 Peter's still an asshole, I guess. He tells Evelyn that David has some secret memory erasing serum that can help them win the war. I'm a little bored (because it feels overdone), and we have like 40 minutes left!!!
Caleb shows Tris what Four is doing through his surveillance cam thing. They all decide to escape from David's compound and go back to Chicago to try and help Four.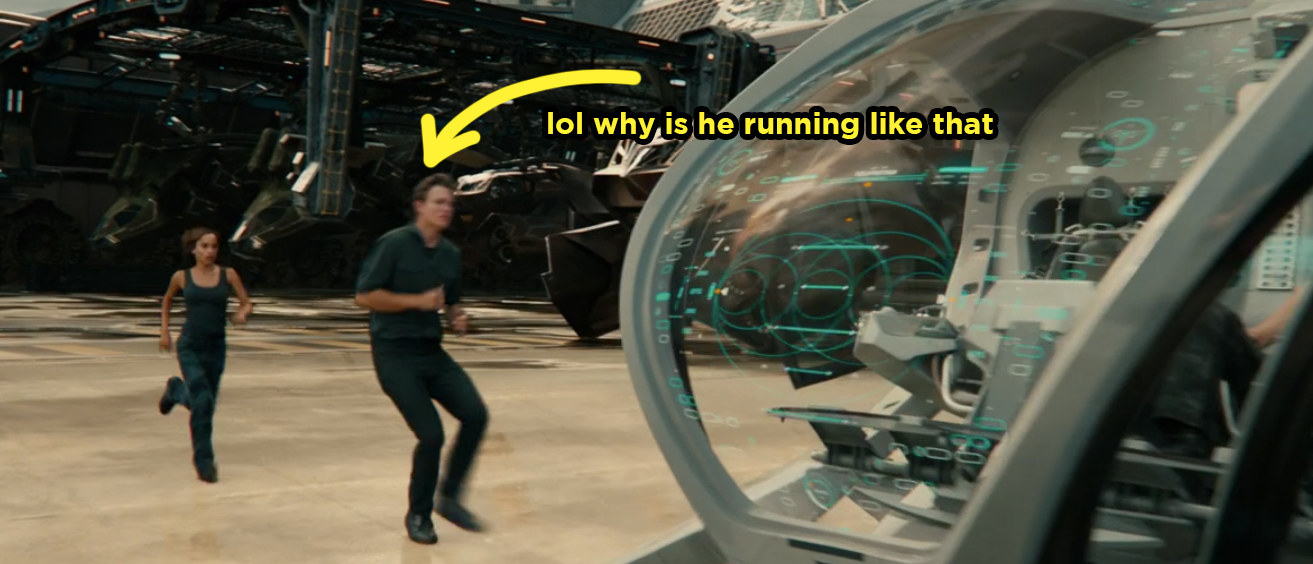 From this point on, it feels like the actors are just...not into it!! The setting and action are HIGH STAKES and TENSE. The score is ON POINT! And the dialogue is SO FLAT!!!!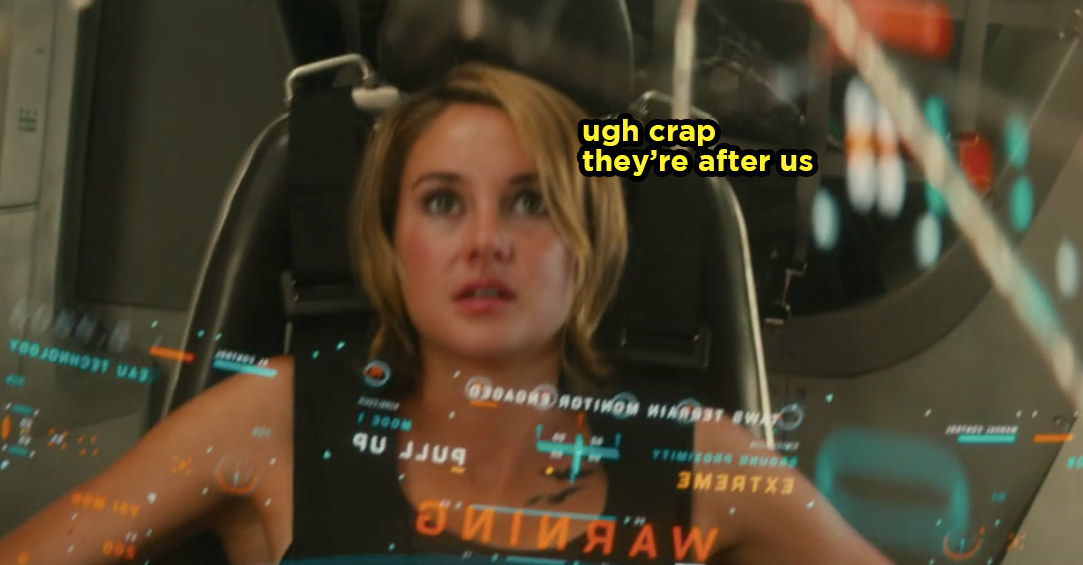 Here's where things get a little rushed. Tris and Cristina save Four with their little drone guns, and then the three of them go to try and stop Evelyn from releasing the serum.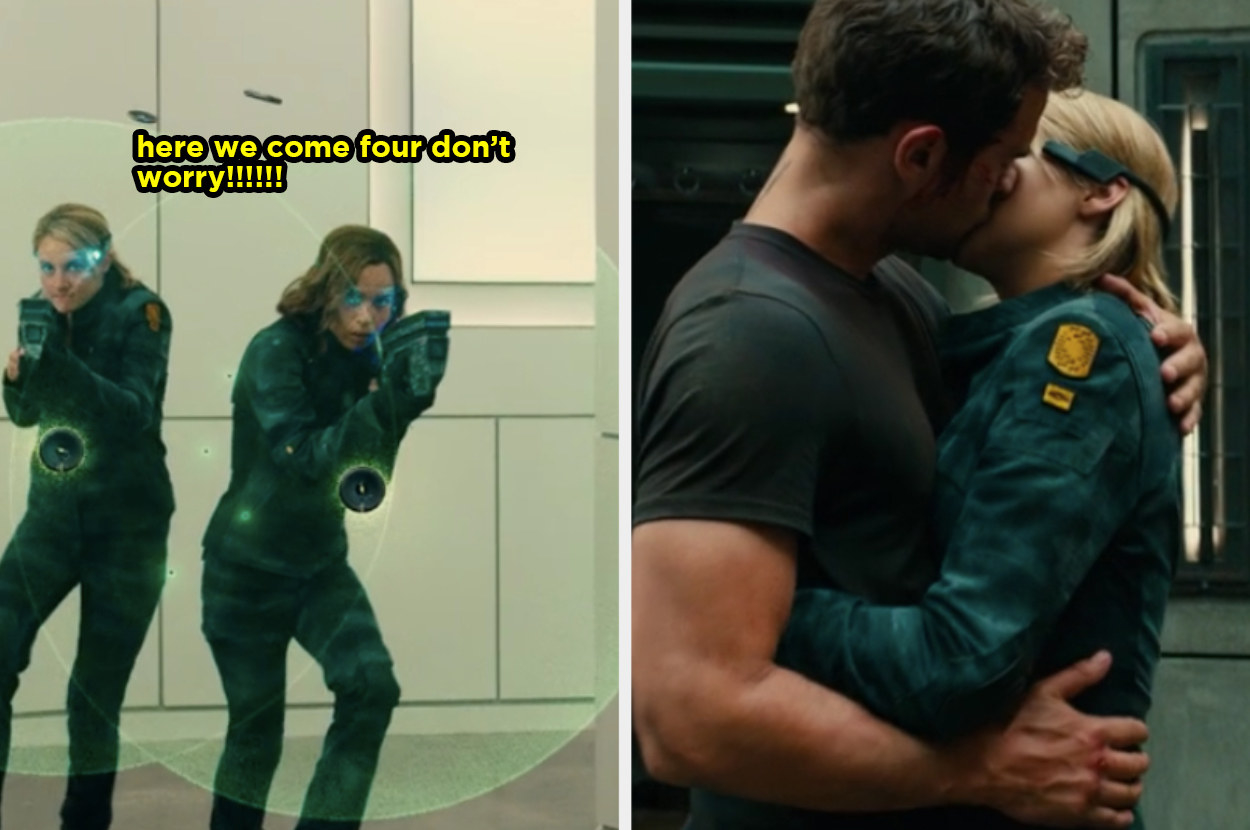 Except she's gone and done it!!!!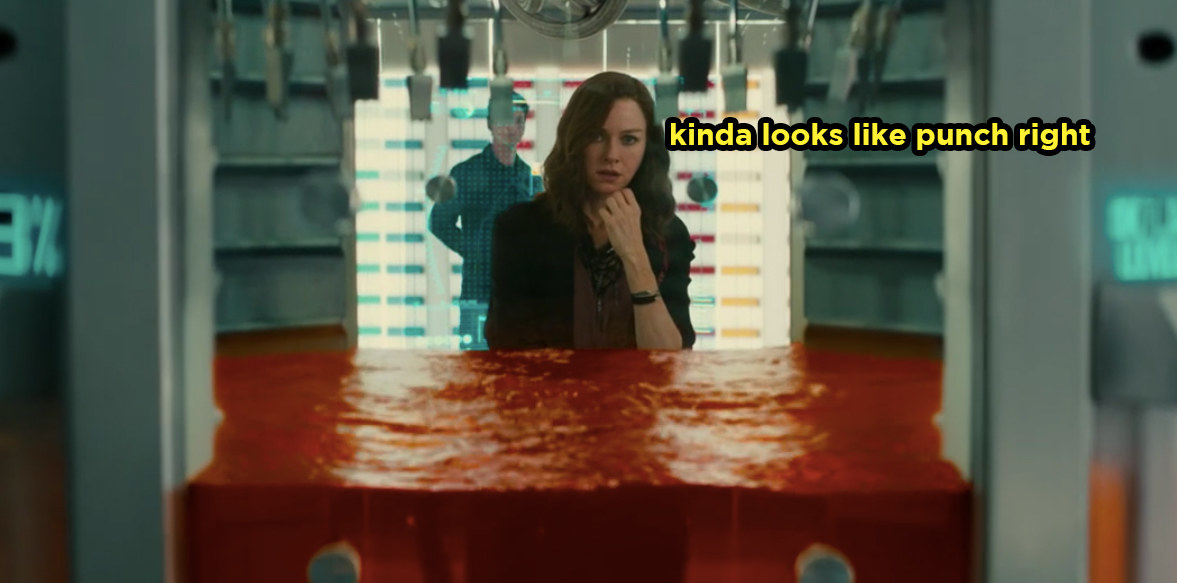 But then Four is like, "Mom, I'm not gonna remember who you are and neither will anyone else in Chicago because you're not just poisoning the Allegiant!!!!" So Evelyn tries to stop her mistake, but Peter knocks her out and continues releasing the serum on behalf of David.
Caleb is trying to stop all of this and finally figures...something out. I don't know. It moves very fast.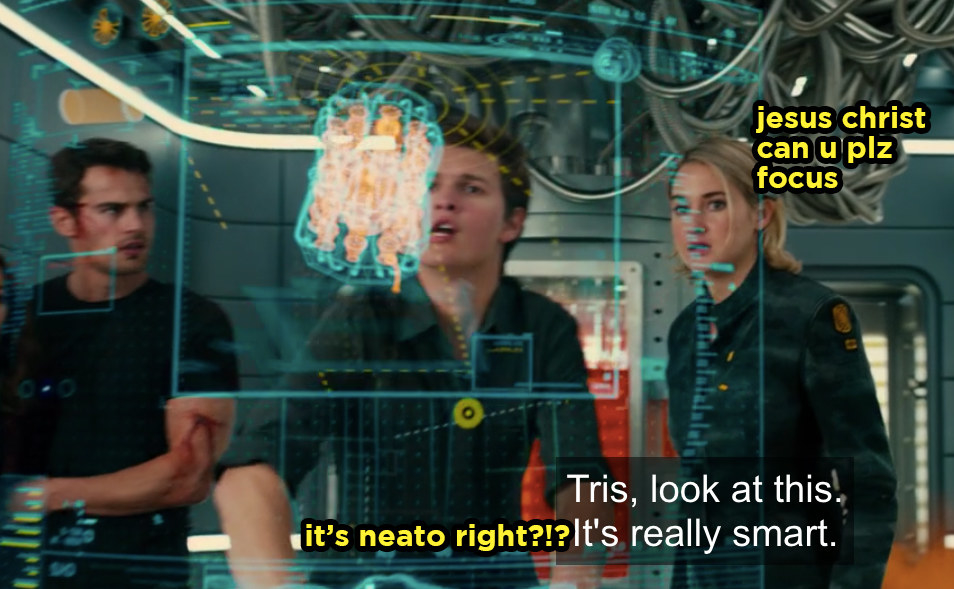 Anyway, Tris has to go down some portal tunnel thing to blow up the main source of power so the serum stops. David can see what Tris is doing through his fancy surveillance system and is like, "noooo, stop" with as much gusto as someone politely asking you what time it is.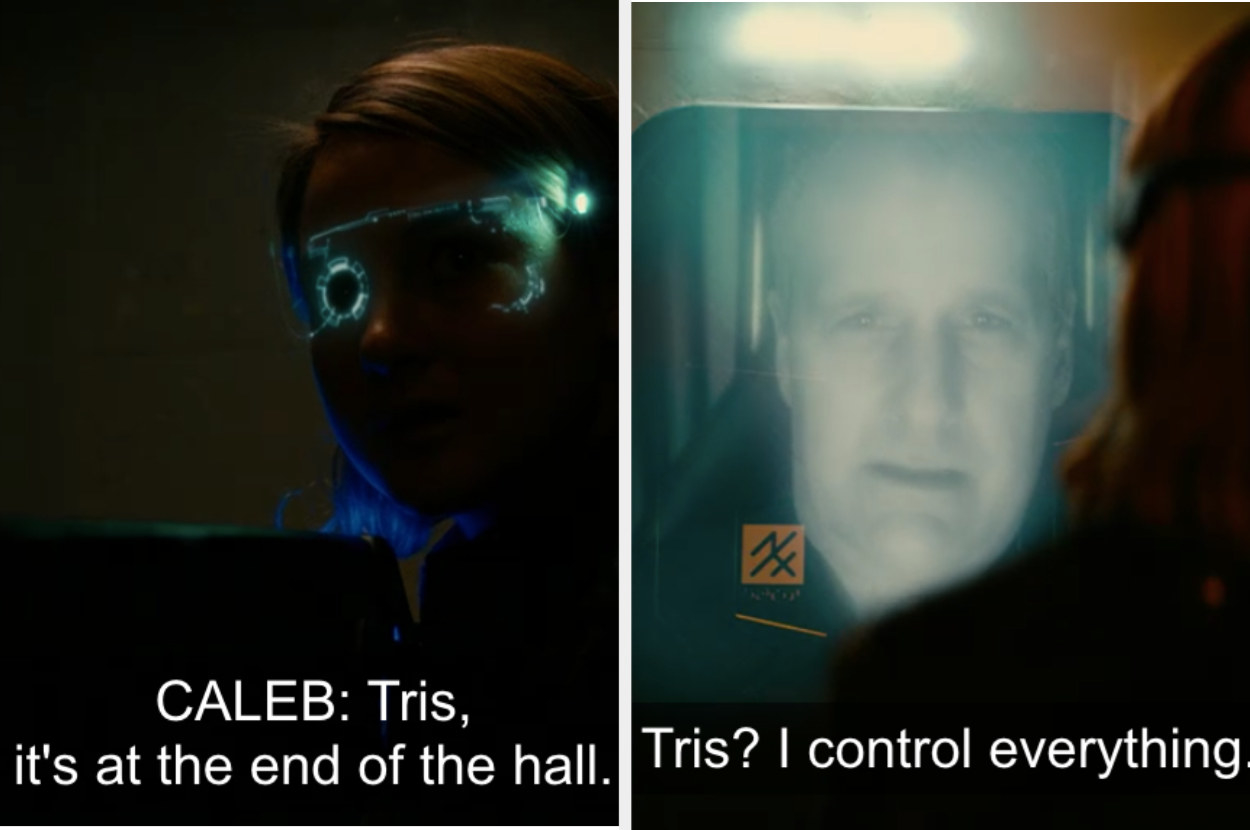 Tris shoots the generator thing and saves the day.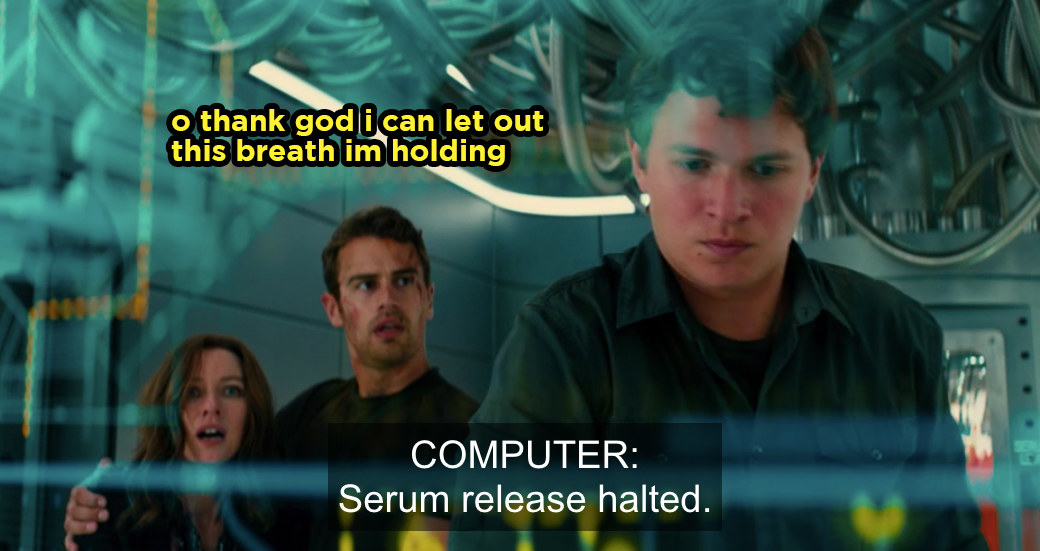 Tris tells her people that Chicago was this whole big experiment, and the factions in their city were created to divide each other.
HAHAHA. This is my favorite moment. In the middle of Tris's motivational speech, Peter is like, "UM HELLO!!!!!!!" I CAN'T STOP LAUGHING WHY IS THIS SO FUNNY.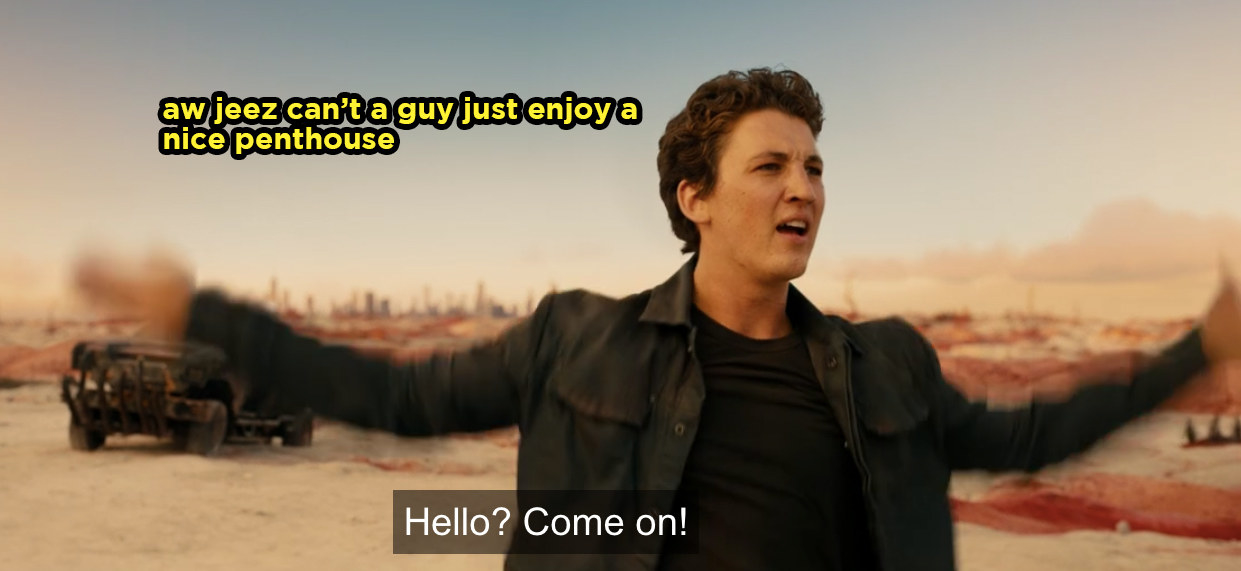 I'M DECEASED. The last shot focuses on Tris and Four, but then pans behind them and we see DAVID, who I think is supposed to be a threat? But his expression is like, "Oh, hey guys." THEN IT'S OVER.
Considering there was supposed to be a second movie that concluded this series, here are some questions I absolutely still have (and might always have) about this wild movie:
- Were they going to stay true to the ending of the book and literally kill Tris in the final movie? Also, was David the one who kills her? Can he even muster an ounce of rage in order to pull off this violent act?
- Does being a divergent even matter anymore, since there aren't any factions left?
- On a scale of 1 to 10, how OVER IT were the actors of this franchise?
- Were we robbed of more shirtless scenes with Four in the final movie? That's the real tragedy.
That was a journey! I will say, it wasn't as terrible as I thought it would be. The score and special effects were there, but the cast did not bring it. If you've read the books or seen these movies, lmk your thoughts in the comments!