1.
A jar of internet-beloved The Pink Stuff, which tackles so many darn things that it'll be the BFF of every room in your house. Need to paint over a stain on the wall? Get it off with The Pink Stuff. Think you need to replace that caked-over grimy pan? Put The Pink Stuff to the test. About to hire cleaners to tackle whatever the heck is going on in your tub? 1-800-The-Pink-Stuff, baby!!
A lot of people compare it to the Magic Eraser in paste form, so even your weirdest, most stubborn stains will meet their match.
Promising review: "Found this product on TikTok. I don't think I've ever seen value like I do this product! Literally use it on EVERYTHING!! Kids and teens have dirt, grime, and grease on their walls? ...This will make it look like a new paint job. Baseboards need some love? A pea-size amount of this makes them look brand new. Need a shoe cleaner? PERFECT for sneakers. I could name a million more uses, but I can ASSURE you this is worth every penny. What's more? You need such LITTLE of this product, it will last a VERY long time. Thank you, TikTok!!!" —Rachel in CLT
Get it from Amazon for $5.97.
2.
A set of Wonder Hangers designed to take advantage of all that unused vertical space in your closet and save up to three times the storage space. Even better — these come fully assembled, so no extra work on your end! Oops, on my way to buy more cute tops I don't need now that there's room for them 👀 . 

Check out a TikTok of the Wonder Hangers in action. 

Promising review:  "These are so clever and versatile! I live in an old house with tiny closets so I have to get creative. These are great because they can be used hanging horizontally or vertically. I also found they work great for hanging camisoles and tank tops. I can see what I have and take just the one I need!" —Therese Van Heuveln
Get a 10-pack from Amazon for $13.99 (available in three colors and four pack sizes).
3.
A pair of lightweight legging-style joggers reviewers swear by as Lululemon Align Jogger dupes — these are the perfect transition pants for exercise and errand-running on days when it's a little chilly, but not *quite* fully cold. 

Promising review: "These are literally the best leggings/joggers I have ever owned, and I plan to eventually buy every single color. I originally saw these on TikTok and heard they were like the Lululemon ones but cheaper. I've never owned Lululemon leggings, but if they feel anything like these, then I have clearly been missing out. These are soft and absolutely perfect. I love the pockets and jogger style and that they fit like leggings and can be worn to the gym or dressed up with a cute outfit. I need to buy every color of these before they're gone!" —Courtney 

Get it from Amazon for $28.99+ (available in women's sizes XS–XXL and 15 colors). 
4.
A foaming garbage disposal cleaner you can plop into your sink, run a little water on, and let its blue magic fizz its way up to the top while clearing out all the gunk from your culinary adventures in one go.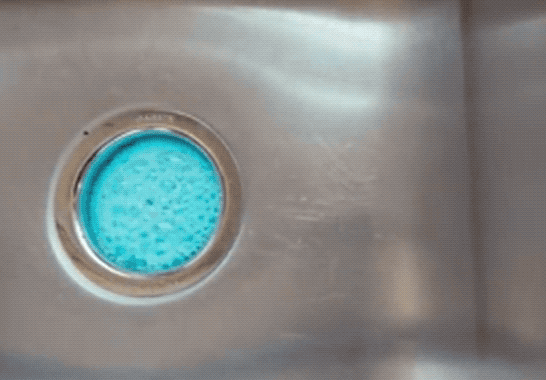 Promising review: "Saw on TikTok (don't judge) and automatically added to cart. So easy to use, takes probably a minute to fully bubble up and clean, and you're left with a clean sink! I use with other drain cleaning products, but would 100% recommend for weekly maintenance." —Jessica Hamilton
Get a four-pack from Amazon for $3.90.
5.
A "flossing toothbrush" with two layers of bristles — regular firm bristles, and longer ones that are ten times thinner to clean deep in between your teeth and gums to mimic flossing. Reviewers love how deep the clean feels, and also how soft it is on sensitive teeth!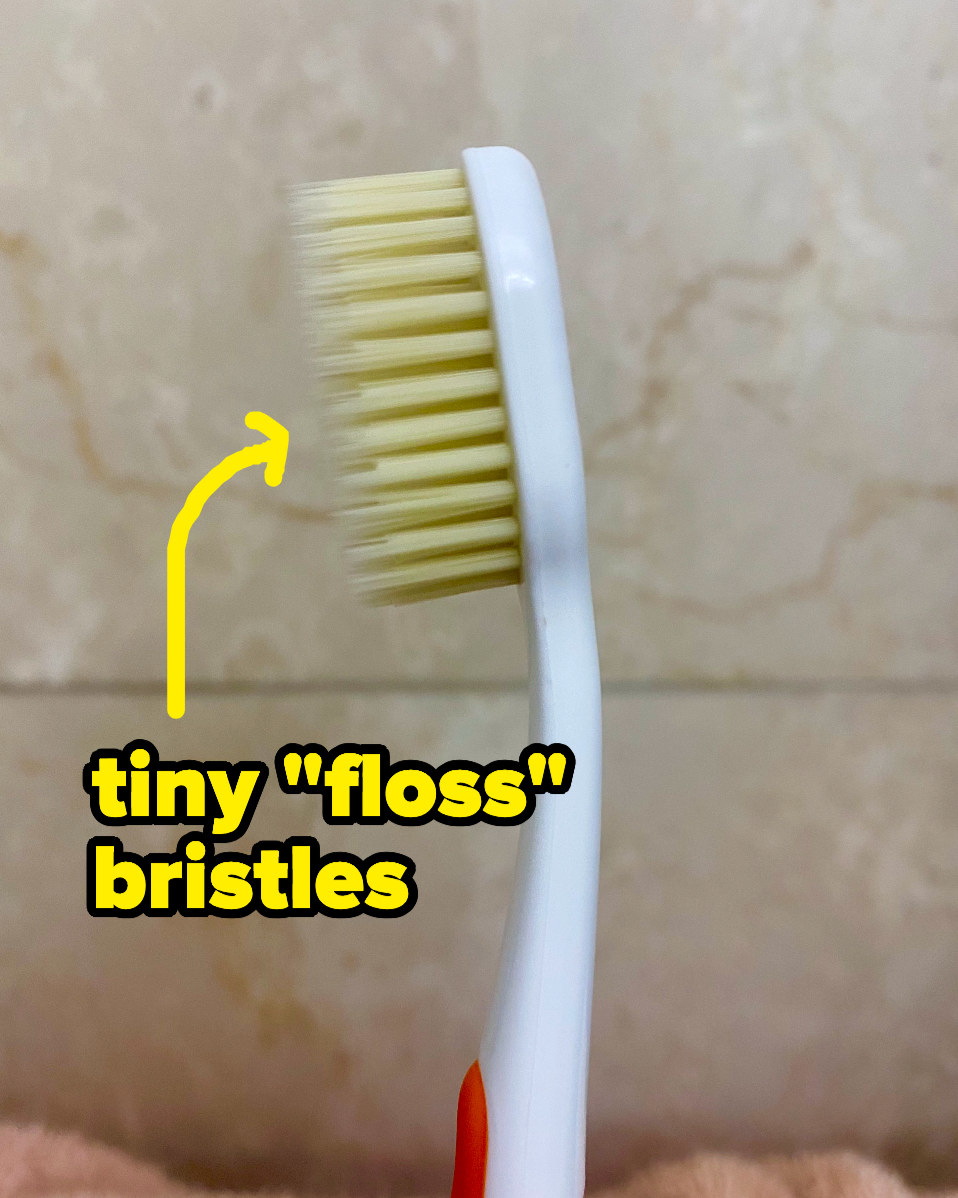 Mouthwatchers is a small business established by Ronald Plotka, DDS, that specializes in antimicrobial toothbrushes designed to get deeper cleans even patients with "great" dental hygiene might miss with traditional brush and floss routines. 
I personally bought this a few months ago and love it! I use an electric toothbrush usually, but I feel like I'm getting a much more satisfying clean from these?? Especially because I tend to get yellow stains between my teeth no matter *how* much I floss, and these bristles seem to actually target that a lot more effectively. I've switched to using this in the morning and the electric one at night and definitely see a difference in that area in particular. 
Promising review: "This was another one of my TikTok purchases! I was skeptical but my kids hate flossing their teeth so thought this might help in between making them floss. They work amazing! My kids said they could see and feel a different on the first use and I agree! They are definitely with a try! I would suggest not pushing too hard, those tiny bristles really get in there and if you push too hard you nights be sore like I was. It felt like after going to a dental cleaning." —Amy N. 
Get a two-pack from Amazon for $9.90. 

6.
A no-scrub weekly shower cleaner you can quite literally "set and forget" to maintain its cleanliness over time — once you apply it after a shower, you just have to wait 8 to 12 hours and it'll quietly tackle the soap scum, grime, oils, mold, and mildew stains without any elbow grease from you.
Promising review: "I have well water. Something in my well water reacts with copper plumbing and turns my shower tiles blue. Since my bathroom color scheme isn't on the blue spectrum, this is problematic. The well water also causes the shower glass to film up quickly. I've tried dozens and dozens of cleaners and scrubbed till my arms ached trying to get ahead of the blue and scumminess. My ambition in life is NOT to be a full time bathroom scrubber! I saw this stuff on a professional house cleaner's TikTok (sorry, don't remember which one) and thought 'what the heck, might as well give it a try.' Oh my goodness, the first day after my shower I sprayed this stuff all over and walked away. The next morning there was a NOTICEABLE reduction in the blue and the glass looked clearer too. Day two, sprayed again and walked away. The next morning the blue was gone except for a few spots on the floor tile and the glass looked amazing. Day three I sprayed the remaining spots and the next morning the shower practically looked new. NO SCRUBBING AT ALL!!!! This is my new favorite shower cleaner. The ONLY con I have is that it makes me sneeze while I'm spraying from inside the shower, but I can live with that." —L. J. Petillo
Get it from Amazon for $19.54.

7.
A set of extra soft cooling bedsheets so many reviewers with insomnia, night sweats, and overheating issues swear by that you might never consider buying another set of sheets again. Reviewers also are obsessed with how well these sheets wash and maintain quality over time. Bonus? These come in so many colors it's basically *impossible* not to find one to match your room's aesthetic. 

Sets come with a flat sheet, fitted sheet, and two pillowcases (with only one pillowcase included in the Twin size). 

Promising review: "These are the real deal!! I found them from a TikTok and my husband actually said after the first night, 'Let's just replace all of our sheets with these, they're so comfortable!' It's a beautiful blue and white pattern. They wash well and breathe at night — I am always hot but these stayed cool. Definitely buying more!" —Julia Monroe
Get it from Amazon for $39.97+ (available in sizes Twin—California King and 41 colors). 
8.
Dr Teal's Sleep Spray with melatonin to help wind you down for the night when your unsuspecting circadian rhythms are disrupted by the dark coming earlier. All you have to do is spray this on your pillow before bed for a relaxing sleep vibe. 

Check out a TikTok of the melatonin spray in action. 
Promising review: "A coworker suggested this product because I have a tough time falling asleep and do not want to take sleep meds. This smells incredible and, for me, has really worked. It's a little shocking actually as I didn't have big expectations for it. I'm on my second bottle however and both my boyfriend and I really enjoy it." —Amazon Customer 

Get it from Amazon for $7.79. 
9.
A hydrating intense-therapy lip balm complete with SPF 25 to not only help repair dry, chapped lips, but continually protect 'em against the elements. Reviewers note that this wasn't just more effective than other brands, but it worked *fast*. 
Promising review: "So I have been a loyal Eos fan for quite some time but you constantly have to reapply and honestly my lips are still cracked. I found Jack Black balm from a TikTok video and it has been glorious. I keep reaching for it to reapply and I don't need it. It doesn't feel greasy on my lips but it is a bit sticky? Or waxy. Either way, I don't mind it at all, and it also smells pretty darn good." —Trisha

Get it from Amazon for $8 (available in six flavors and in packs of three).
10.
A set of fast-acting Keurig cleaner pods you can simply put through a cycle on the machine to get rid of all the crusted-on grinds and residue that are *definitely* affecting the taste of your coffee, even if you haven't noticed over time.
Promising review: "I had no idea that cleaning a Keurig was a thing. I bought these because I saw them on TikTok, believe it or not. I wanted to give it a go because my Keurig isn't that old and I didn't think it would do anything. IT WORKS SO WELL! My Keurig wasn't as nasty as some I've seen lucky. I would highly recommend, keeps everything running correctly and clean." —Lauren
Get a set of six from Amazon for $9.95.
11.
E.l.f.'s Poreless Putty Primer, a lightweight base primer that reviewers swear by for reducing the appearance of pores and helping their makeup apply more smoothly and evenly. 
LOL, allow me to be the one to shout to GRAB THIS WHILE YOU CAN. Every time I've run out of it I've gotten mad at myself because thanks to TikTok, it's constantly out of stock. Now is finally our chance!
Promising review: "Highly recommend. Learned about it as several influencers used it on TikTok. Tried it and it's my favorite. Better than all the expensive brands I had tried before. Smooth application and does an excellent job! Excellent." —Binnyx1
Get it from Amazon for $9.50. 
12.
Essence's Lash Princess mascara, because TBH, we've all wasted too many years and too much money looking for the ~holy grail~ mascara. This one is less than $5, gives you instant length, and is DELIGHTFULLY sweatproof.
Hello, that is my face above, because I bought into the hype of all the 5-star reviews and now I will never look back!! Putting it on is like giving my eyelashes butterfly wings. It doesn't get clumpy, it stays put no matter how much you sweat, and you can apply it on very lightly if you don't want it to look so dramatic, or continue applying for longer lashes each time.
Promising review: "Saw this product on TikTok and thought it would be expensive looking at the results they got. I am beyond amazed with how my lashes look after about two coats. For around $5 you couldn't ask for a better mascara! I will be buying this same one when I run out. I was not expecting to like it as much as I do! No complaints." —Kd
Get it from Amazon for $4.99.
13.
A set of energy-restoring shower steamers for days when you wake up and you just can't even. These are made with grapefruit, cocoa orange, and citrus essential oils to give you a quick jolt *much* more relaxing than that rude alarm clock of yours.  
Promising review: "I kept seeing this product pop up on TikTok so I decided to buy a pack and I'm SO GLAD I DID! These smell so good and are a perfect way to relax while in the shower. I now recommend them to everyone I know!" —Merry
Get a pack of 12 from Amazon for $17.98 (clip the 40% off coupon on the product page for this price). 

14.
A bottle of Elizavecca Hair Treatment, an Olaplex "dupe" repairing mask infused with collagen ingredients and protein extracts that will help restore hair health and reduce shedding. All you gotta do is apply it on wet hair after a shampoo, wait five minutes, and rinse it out.
This is designed to work on all hair types, with reviewers with 2b–4c curls mentioning it worked for them! 
Promising review: "I have tried everything on the market to fix my damaged, bleached hair that keeps breaking off. I stumbled across this hair treatment on TikTok. I had never heard of it before but decided to give it a try. I used it for the first time yesterday and I couldn't believe how amazing it made my hair feel and look. It's sooo soft, shiny, bouncy and nourished. My bleached rat's nest now looks and feels like hair again. Even my boyfriend noticed a huge difference in my hair. I'm going to buy a lot more of this product. I've been really frustrated about my hair for years now because of all the damage. Now I can finally relax and enjoy my new hair." —Eline
Check out BuzzFeed's full review of the Elizavecca hair treatment for more deets!
Get a bottle from Amazon for $7.62.