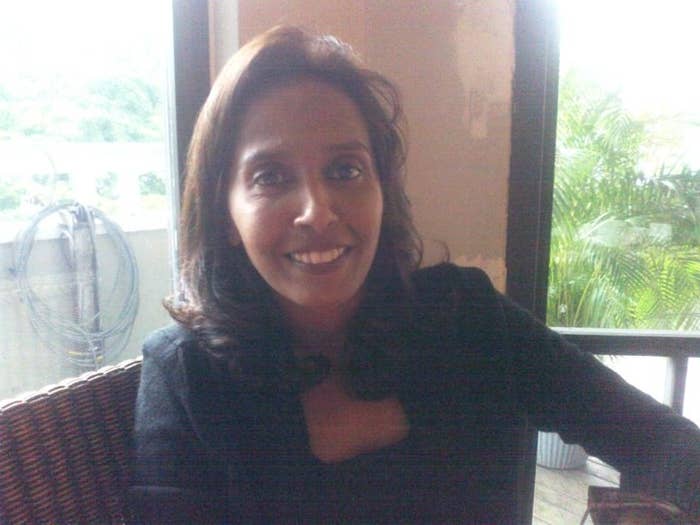 A grandmother who made headlines for being placed in immigration detention after living in Britain for nearly 30 years was forcibly removed from the country on Sunday.
BuzzFeed News revealed earlier this month that Irene Clennell, 53, was being held in Dungavel detention centre in South Lanarkshire because the government wanted to remove her to Singapore.
She is the main carer for her sick British husband, John, and has two British sons and a British granddaughter.

Speaking to BuzzFeed News from the plane on the runway at Edinburgh airport, she said she had just £12 in her pocket, nobody to stay with in Singapore, and no change of clothes.
Clennell had been planning to see a new lawyer on Monday morning to discuss the potential for a fresh case. She believes her sudden removal was planned for a Sunday so she would have no chance of getting hold of a lawyer to stop it.
Clennell, from Ouston, County Durham, said she didn't have the chance to see her husband before being bundled off to the airport this morning. "I didn't even get to say goodbye properly," she said. She was allowed a phone call to tell him the news, but was barely able to speak. "I was just in tears, I wasn't able to say much," she said.
Speaking on a phone provided by one of her flight escorts, she described how suddenly events had unfolded: "They just came to get me this morning and said they've already given me a chance. Now I'm on the plane. Four people are taking me to Singapore.
"I don't know what I'll do when I land. I called my sister [in Singapore] and she said she can't put me up, so I just don't know. How can I stay anywhere? I don't have a wallet with me, I've got about £12 in my pocket. I don't even have my clothes, they're at home. I just have what they took from the detention centre."
Clennell said she was told that if she has no money and nowhere to go she should contact the regional office of the International Organisation for Migration when she lands.

She is the latest victim of the government's spousal visa system, which requires the British partner to prove earnings of at least £18,600 – and the couple being able to show long stretches of uninterrupted time living in the UK.

Clennell spent too long out of the country while looking after her dying parents in Singapore, which meant she lost her leave to remain. Her subsequent attempts to get a more permanent visa have failed and her last visitor visa expired in 2014. The Home Office said she lost her indefinite leave to remain in the UK because she spent time living in Singapore.
Her husband was still in shock at the news that she was already on a flight to Doha, en route to Singapore. "I went to see Irene on Friday. I didn't get a chance to see her this morning," John Clennell said. "Dungavel is 150 miles up the road and I had no idea this was happening."
He added: "She's got nothing with her; all her clothes are here. What's she supposed to do with £12? She's got no clothes, no fresh underwear and nowhere to go."
Speaking about the decision to remove her from the country at no notice on a Sunday, John said, "I think it was done deliberately so we couldn't contact a solicitor or go through the courts." The Home Office has been accused repeatedly in the past of removing migrants outside office hours to make it harder for them to put up a legal fight.
"I think it's trickery to come on a Sunday when you can't contact your lawyer," John said. "I need people to see what these people have done."
Speaking to BuzzFeed News earlier this month, Clennell talked of her fear of being forced to make a life in Singapore without her husband and children. She said: "I just want to be with my family. I don't have anything in Singapore. I don't have a house to go to, I don't have a job. I feel closer to my mother-in-law and sister-in-law than my family in Singapore. My parents are both dead and I only have one sister there and we're not that close."
She added: "I'm British. When I'm here I feel at home. If I go to Singapore nobody will accept me there because they see me as a British woman. I wear Western clothes and my whole culture is here."
Her only hope of a life in Britain now is an out-of-country appeal, which she has 28 days to lodge but no means to fund. BuzzFeed readers have already started pledging money for her legal costs on a GoFund me page.
A Home Office spokesman said: "All applications for leave to remain in the UK are considered on their individual merits and in line with the immigration rules. We expect those with no legal right to remain in the country to leave."