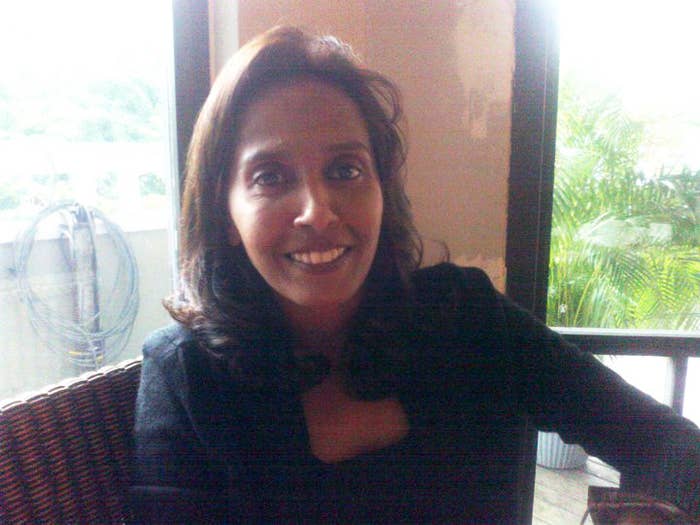 Irene Clennell cannot believe she is about to be kicked out of Britain.

She has lived in England for nearly 30 years and has a British husband, two British sons, and a British granddaughter. But now she is being held in Dungavel immigration detention centre, ahead of a forced removal to Singapore.
Clennell, 53, from Ouston, County Durham, is the latest victim of an increasingly draconian spousal visa system. Requirements now include proving the British partner earns at least £18,600 – and the couple being able to show long stretches of uninterrupted time living in the UK.
For the last year Clennell has been her husband John's main carer, after he suffered several serious illnesses, including an arterial bypass and complications from a hernia. She is horrified at the idea of him being left alone.
"My husband is so stressed. He's not well enough to travel," she told BuzzFeed News. "He's in constant pain and there's no one to look after him properly.
"I just want to be with my family. I don't have anything in Singapore. I don't have a house to go to, I don't have a job. I feel closer to my mother-in-law and sister-in-law here than my family in Singapore. My parents are both dead and I only have one sister there and we're not that close."
She added: "I feel British. When I'm here I feel at home. If I go to Singapore nobody will accept me there because they see me as a British woman. I wear Western clothes and my whole culture is here."
Like many dual-nationality families, the Clennells have visited Singapore from time to time, even spending five years there in the '90s when their children were young after John got a job there. There were also longer visits when Irene Clennell's parents were dying, but she never thought it would affect her immigration status.

She first came to Britain in 1988 as a tourist, and liked it so much that she got a visa to work in a London hotel. Later that year she met John and two years after that they married, had their first child, and moved to County Durham to be closer to his family.
She has been using visitor's visas for several years now while application after application for leave to remain has been rejected.

Then, last year, things came to a head. She was told she needed to make arrangements to return to Singapore and for the last three months she has had to travel every fortnight to an immigration reporting centre in Middlesborough.
Two weeks ago she went for a routine appointment and was detained and driven in a van to Dungavel immigration detention centre in Scotland. "They said, 'We have to detain you because you haven't made any arrangement to go back.'"

She is trying to make a fresh legal application but cannot afford the fees and is unsure if she will be able to get legal aid. "My husband is sick and I'm not entitled to work," she said, "so if I don't get legal aid I won't be able to put in an application."
John Clennell is struggling while his wife is being detained. He worked as a full-time gas engineer until he got ill in 2015. Now he is on sickness benefits and needs help with everyday tasks.

He said: "I just can't believe this is happening. It's a disgrace. She hasn't claimed any benefits here and I've worked nearly all my life, so I can't see what the problem is. She doesn't cost the state anything.
"I miss her. She's been looking after me and it's so hard without her. She helps me get out of the bath and my toilet needs and she cooks my meals. My mum is having to help now. She's getting on a bit. What else can we do?
"The Home Office said if she went to Singapore we can communicate using modern technology. When Irene told them she looks after me, they said why don't I go over to Singapore then. But why should I? I'm British."
Nazek Ramadan, director of Migrant Voice, said: "Irene Clennell's case is like many others we've worked with. It's yet another example of how arbitrary policies tear apart families and ruin lives.

"These kind of bureaucratic decisions are a direct result of a relentless drive towards unrealistic migration caps that don't take real lives into account.
"Most people in Britain will recognise the need for a compassionate system flexible enough to take family life into account. We urge the Home Office not to break up a family that have made this country their home for decades."
A spokesperson for the Home Office said: "We do not routinely comment on individual cases."