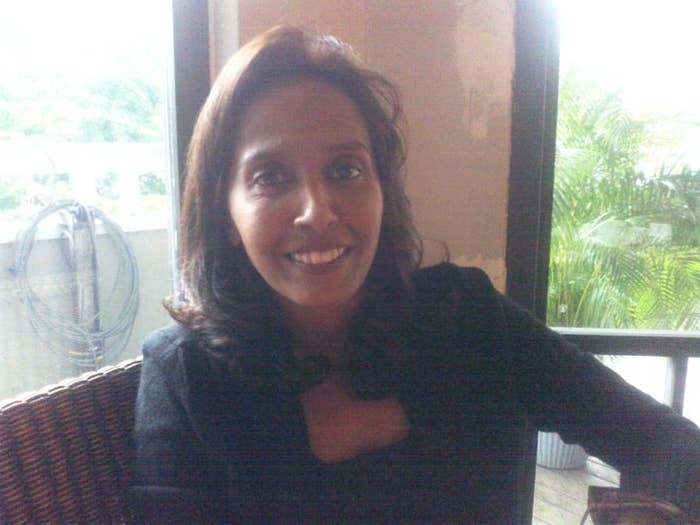 MPs are demanding that the home secretary overturns a "deeply troubling" decision to deport a grandmother who has lived in Britain for nearly 30 years.
BuzzFeed revealed last week that Irene Clennell, 53, is being held in Dungavel detention centre ahead of her forced removal to Singapore. She is the main carer for her sick British husband and has two British sons and a British granddaughter.
Alistair Carmichael MP, spokesman for home affairs for the Liberal Democrats, is raising Clennell's case with the home secretary.
Carmichael told us: "The case of Irene Clennell is a deeply troubling one. She has lived in the UK for nearly 30 years. Britain is her home, and there can be no justification for forcing her to leave. Her husband is here, her children, her grandchildren are here, and her home is here – there can be no justification for ripping this family apart and denying her husband the care he needs.
"Irene's case is as tragic as it is common. Too many families are torn apart by an immigration system which is simply not fit for purpose, and I will be raising this issue with the government as soon as possible."
Clennell's MP, Kevan Jones, has also written to Amber Rudd about her case.
Since BuzzFeed reported Clennell's story, readers have contacted the family pledging to contribute towards the family's legal costs. A crowdfunding page set up in the last few days has already raised several hundred pounds.
Speaking to BuzzFeed from Dungavel detention centre, Clennell said: "Since it was reported, everyone has been paying attention. I would like to thank those people who have donated. Many of them donated anonymously and they have good hearts. They can see how important it is to keep a family together, but the government can't see it.
"People think this country is racist but people here have good hearts. It's the government that won't keep families together."
Clennell, from Chester-le-Street, County Durham, was told that she had spent too long out of the country while she was in Singapore visiting her dying parents. The Home Office confirmed that Clennell was granted indefinite leave to remain in 1992 but that she lost it because she spent time living in Singapore with her family.
Clennell's sister-in-law Angela, who started the GoFundMe campaign, hopes that the family will get enough money together to pay for a lawyer to look again at Irene's case.
Angela said: "We are all desperately worried for Irene. It simply isn't right that a mother and grandmother who has been here for so long and whose whole life is based here can be ripped out of her family in this way."
A Home Office spokeswoman said: "All applications for leave to remain in the UK are considered on their individual merits.
"Ms Clennell's personal circumstances were taken into account but her application to remain in the United Kingdom as the spouse of a British Citizen and her subsequent application under Human Rights legislation have been refused. As Ms Clennell has spent the majority of her life, and her married life, living in Singapore, it is deemed she will not face reintegration issues upon her return."