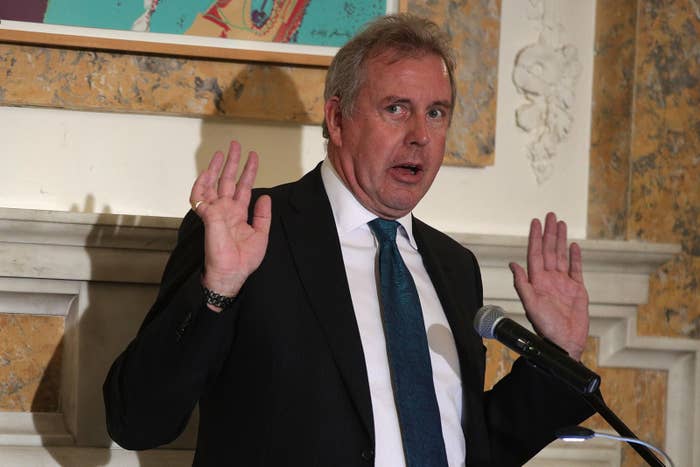 Boris Johnson, Britain's likely next prime minister, has come under fire from Conservative MPs after the UK's ambassador in Washington resigned — just hours after Johnson refused to stand up for him.
Sir Alan Duncan, a Foreign Office minister, said Johnson had thrown Sir Kim Darroch "under the bus" by refusing to say if he would keep him in post, following leaked memos revealing that Darroch had called Donald Trump "inept" and "insecure".
Johnson was asked outright at ITV's head-to-head debate Tuesday evening whether Darroch would remain in post until the end of the year if he became PM.
Johnson replied simply that he would "not be so presumptuous" as to assume he would remain in his job. "I and I alone will decide who takes important and politically sensitive jobs," he added.
Allies of Darroch pointed out that it was literally his job to provide assessments of the United States administration to the UK government.
But revelations in the Mail on Sunday about the language he used about Trump prompted fury from the US president on Twitter, who used the story to personally criticise both Darroch and PM Theresa May.
Darroch said Wednesday that the media storm had made it "impossible" to continue in his role and the "responsible course" was to appoint a new ambassador.
Simon McDonald, the top civil servant at the Foreign Office, said staff were "shaken" by what had happened. "The basis on which we have worked all our careers suddenly feels as if it is challenged," he told a House of Commons committee. "There is a need for reassurance and reflection."

Duncan, who was Johnson's number two when he was foreign secretary, told BBC News: "Boris Johnson, a former foreign secretary — and he hopes to be future prime minister — has basically thrown our top diplomat under the bus."
He said Johnson's decision was "contemptible" and "not in the interests of the country he hopes to lead".
It came after former Tory PM Sir John Major accused Johnson of "throwing him to the wolves" and said Darroch was "doing precisely what he was instructed to do".
"We really cannot have our ambassadors chosen by host governments; he should not be forced out of his office," Major told BBC Radio 4's Today programme.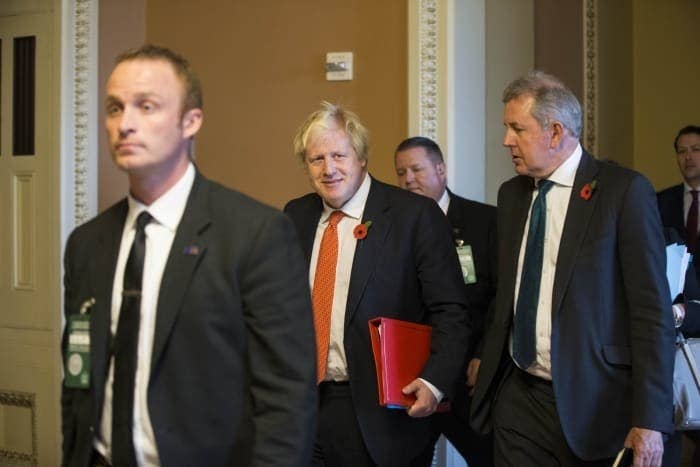 Meanwhile, Sir Patrick McLoughlin, a former Tory party chair, said: "It is unedifying to see someone who wants to be prime minister failing to stand up for hardworking civil servants who have done nothing wrong under attack from foreign governments.
"Leadership involves standing up for your team. If we don't call out those who want a witch hunt through the civil service, we are complicit in creating divisions that may never heal."
Tom Tugendhat, Tory chair of the foreign affairs committee, also tweeted his dismay at Johnson's failure to stand up for Darroch.
Speaking to the foreign affairs committee, McDonald said Darroch had decided to resign for two main reasons: "One is the pressure on his family who have been living every minute with him, and he did not want to put them through possibly months more.
"It was his judgment that as long as he remained in Washington he would be a target and his family with him.
"And second, the impact on the rest of the embassy in Washington and their ability to work. ... If he did not have access to the people he needed to have access to, then the work of the whole mission suffers."
McDonald said he knew of no other occasion where the head of state of a friendly government had refused to cooperate with a British envoy. "I have been in the Foreign Office for nearly 37 years and this is the first time in my service."
"The last time I know we had difficulties with the United States was 1856 when the incumbent was accused of recruiting Americans to fight on the British side in the Crimean War," he added.
McDonald said "candour" between ambassadors and governments was "vitally important, it's the only way we can work", adding: "The leaker is guilty of the worst breach of trust in our service in my career."
Confirming that the police were involved in the leak investigation, he also said he was "bracing" himself for more leaks from embassies around the world.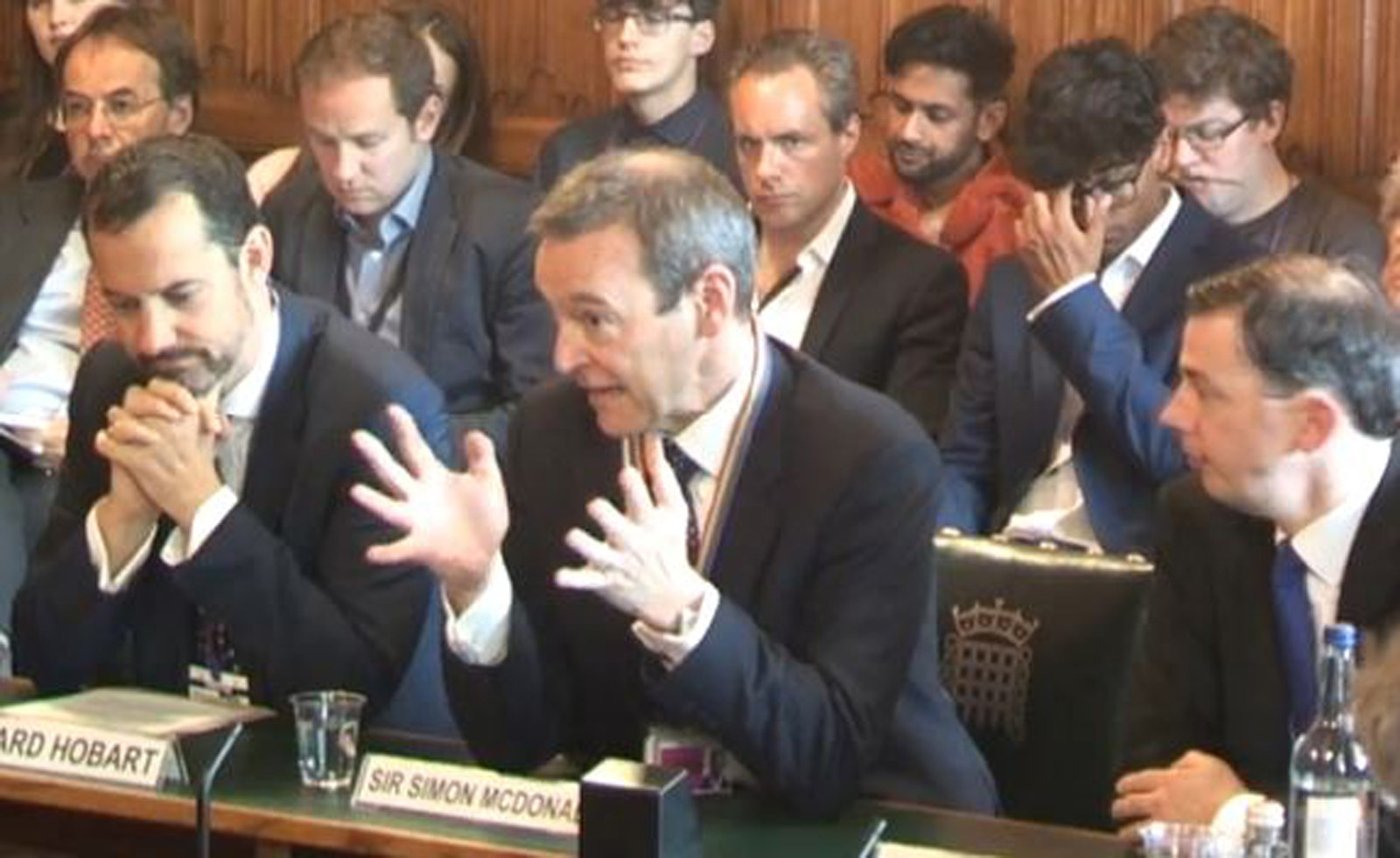 In his letter to McDonald, Darroch wrote: "Since the leak of official documents from this embassy there has been a great deal of speculation surrounding my position and the duration of my remaining term as ambassador.

"I want to put an end to that speculation. The current situation is making it impossible for me to carry out my role as I would like.
"Although my posting is not due to end until the end of this year, I believe in the current circumstances the responsible course is to allow the appointment of a new ambassador."
McDonald replied: "Over the last few difficult days you have behaved as you have always behaved over a long and distinguished career, with dignity, professionalism and class. The prime minister, foreign secretary and whole of the public service have stood with you: you were the target of a malicious leak; you were simply doing your job."
May told MPs at Prime Minister's Questions: "This morning I have spoken to Sir Kim Darroch. I have told him that it is a matter of great regret that he has felt it necessary to leave his position as ambassador to Washington.
"The whole cabinet rightly gave its full support to Sir Kim on Tuesday. Sir Kim has given a lifetime of service to the United Kingdom, and we owe him an enormous debt of gratitude."
In a thinly veiled swipe at Johnson, she added: "Good government depends on public servants being able to give full and frank advice. I want all our public servants to have the confidence to be able to do that, and I hope the House will reflect on the importance of defending our values and principles, particularly when they are under pressure."
But Johnson later attempted to defuse his role in the row, telling Sky News: "I think that whoever leaked his diptels [diplomatic memos] really has done a grave disservice to our civil servants, to people who give impartial advice to ministers. And I hope whoever it is is run down, caught, and eviscerated, quite frankly."
Johnson's leadership rival Jeremy Hunt had pledged that he would keep Darroch in his job until he wanted to leave. After Darroch's resignation, he said: "I profoundly regret how this episode has led Sir Kim to decide to resign. He deserves to look back upon his career as a servant of Britain with the greatest satisfaction and pride."
Shadow foreign secretary Emily Thornberry said: "The fact that Sir Kim has been bullied out of his job, because of Donald Trump's tantrums and Boris Johnson's pathetic lickspittle response, is something that shames our country.
"It makes a laughing stock out of our government, and tells every one of Britain's brilliant representatives abroad that the next Tory prime minister will not stand up for them, even when they are simply telling the truth and doing their job."
Liberal Democrat deputy leader Jo Swinson said: "Boris Johnson's failure to stand up for one of our most senior civil servants has once again proved that he will always put his own interests ahead of the country's. The UK deserves a prime minister who is willing to stand up to bullies and fight for what is best for our country."